Recruiting software has become widespread over the past decade. Research by Capterra found that:
75% of recruiters use some form of recruiting software.
94% of those who use recruiting software say it has improved their hiring process.
But how do you select the best recruiting software for your needs?
---
---
Download now:
Free Checklist PDF for Comparing Software
---
What is recruiting software?
Recruiting software is a category of platforms and digital tools that helps an organization optimize its hiring process. Recruiting software is used by hiring teams to find candidates, screen resumes, conduct video interviews, and send out a job offer.
On average, it takes 36 days for a company to fill a vacant position. There are many reasons why it can take over a month to find and place the right new hire. Recruiters must sort through dozens, if not hundreds of resumes; the back-and-forth of scheduling interviews takes time; at the end of the hiring process, a company's first-choice candidate might still be the wrong fit, forcing the hiring team to the entire search all over again.
Recruitment software can help solve some of these problems. Fortune Business Insights predicts that the recruitment software market will be worth more than $3,000 million by 2025. These tools can automate things like candidate sourcing, communication, job ad placement, candidate surveys, and more. Recruitment software makes it easier for a hiring team to quickly find and hire the right candidate.
This guide will break down the different types of recruiting software and what each tool can do for your organization, as well as how to choose the best recruiting software options.
Types of recruiting software
Applicant tracking systems, candidate relationship management platforms, video interviewing tools: these are just a few of the types of recruiting software a hiring team might use during the hiring process. While these terms may look familiar, few recruiters know how broad the recruitment software category really is.
There are four main categories into which recruiting software is organized:
Sourcing software: these tools help recruiters find lots of candidates, including passive candidates who may not be on the lookout for an organization's open position.
Candidate engagement software: these tools help manage communication between recruiters and candidates to streamline setting up phone screens , interviews, skill tests, and more.
Selection software: these tools screen large pools of candidates to help recruiters narrow down their search and accelerate their selection process.
Hiring software: these tools transition new hires from recruitment to onboarding.
Across the board, recruiters use these software tools to optimize their new hire search process. Recruiting software is roughly organized in this way to reflect key stages in a company's hiring process. As such, recruitment tools include:
Applicant tracking systems: an ATS acts as a giant database, processing candidate information, storing it, and creating searchable records for recruiters to dive into when they have a specific open position.
Tools for sourcing and attracting candidates: including job ad software, chatbots, career page building software, and recruitment marketing tools.
Conversion tools: these platforms and integrations attract qualified candidates to an option position and give you data points on how to convince them to apply; website analytics, heat mapping, and retargeting tools, for example.
Candidate selection tools: resume screening software, skill-testing tools, and video interviewing platforms help recruiters narrow down their search.
Onboarding platforms: these tools send new hires their paperwork and guide them through their first few weeks on the job.
Recruiting teams might use multiple of these platforms and types of software to optimize hiring. When deployed strategically, there are many benefits to adding recruiting software to your business.
Benefits of recruiting software for your business
The benefits of using recruiting software are undeniable. According to one survey, 86% of recruiters who use a software tool are able to hire faster; 78% say recruitment software improves the quality of the candidates they hire.
Overall, the main benefit of recruiting software is its ability to increase the efficiency of the hiring process. These tools automate the time-consuming manual tasks that weigh down recruiters and add days onto the time-to-hire metric. One company was able to cut its time-to-hire by 35% by adding a recruitment software platform to its hiring process.
For big enterprises, recruiting software helps large hiring teams coordinate messaging to all candidates across open roles. Great employer branding requires consistency. This consistency starts with messaging during the hiring process: letting a candidate know the next steps, giving them notice if their application is unsuccessful, and setting an individual up for onboarding with the same care that a company treats its employees. Recruitment software can ensure that each candidate goes through the same uniform process and receives that same attention to detail set by the brand standards.
Recruiting software improves the overall candidate experience. Recruiters often don't have the bandwidth to provide each applicant with the attention and frequent communication they deserve. HR tech can take over where a recruiter leaves off: applicant tracking systems automate key messages, such as interview scheduling or skill testing. A candidate relationship manager (CRM) tool can keep candidates up-to-date after they submit an application through your jobs page. And video interview tools allow recruiters to broaden their candidate base and include remote candidates in the interview stage.
Lastly, recruitment software provides important data points for the HR team to constantly iterate and improve the hiring process. These tools can illuminate bottlenecks in the hiring process, keep track of key performance indicators, and report on how well a recruiting strategy is working.
Cost of recruiting software
Given the breadth of the category, recruiting software costs vary. The cost of a recruiting software tool depends on a number of factors: how many people are using the tool, the size of your organization, and your specific hiring needs. Most tools use one of the following cost structures:
Pay per user: you will be charged either a monthly or a one-time fee based on the number of recruiters or hiring managers who will be using the software. These tools are typically priced at $50 – $100 per user per month or $250 – $1,000 one-time fee per user.
Pay per hire: you will be charged only when you successfully hire someone. This model is less common, but works well for businesses that hire seasonally and don't want to pay a monthly fee the rest of the year. These tools typically charge $200 – $500 per hire.
Pay per employee: you will be charged based on the total size of your workforce. This model targets big enterprises where some users accessing the tool may be employees outside the hiring team. Prices range from $4 – $8 per employee per month but may decrease as the number of employees increases.
When pricing out different software options, look for fees associated with getting set up. Are there one-time installation fees? Extra charges for add-on features? Annual licensing fees? Some vendors offer free trials, so it may be wise to try a tool and make sure it has the features you need before signing on a dotted line.
How to choose the best recruiting software
With so many options on the market, how do you know how to choose the best recruiting software for your business?
Start by understanding what you hope to achieve by adding recruiting tools to your hiring process. What challenges will your tool help you overcome? Many firms start using recruitment software to help get more candidates to their careers site, improve how recruiters approach passive candidates, or to lower new hire turnover rates. Define a specific goal to make your search for recruiting software more focused. 
Next, identify what features your software tool must have. It's critical that your tool integrate with your existing platforms and data sources, from your social media channels to email, career sites, third-party staffing platforms, and any existing recruiting software you may already be using. What else does your tool need to be able to accomplish based on your recruiting goal?
HR Technologist highly recommends that you find a tool that comes with built-in sort-and-filter capabilities to help find the right candidates quickly. Look for recruitment software that approaches hiring with the same efficiency as a sales and marketing campaign. The best recruiting software will support features such as:
Email automation
Ad publishing
Video communication
In-app messaging
Candidate relationship management
Skill testing
All tools should have some kind of reporting and analytics function to help you assess if your hiring is improving. Look to see how intuitive the reports are and if you need additional support to get set up pulling data from all your sources.
Start vetting vendors with your list of must-have features in hand. Get pricing specific to your organization and the number of users you intend to enroll in the platform. Here are some popular and well-regarded tools to get you started.
Top 15 recruiting tools
This list of recruiting tools is by no means exhaustive, nor will every tool be the right fit for every organization. Nevertheless, these are the top-rated and most popular recruitment software platforms on the market.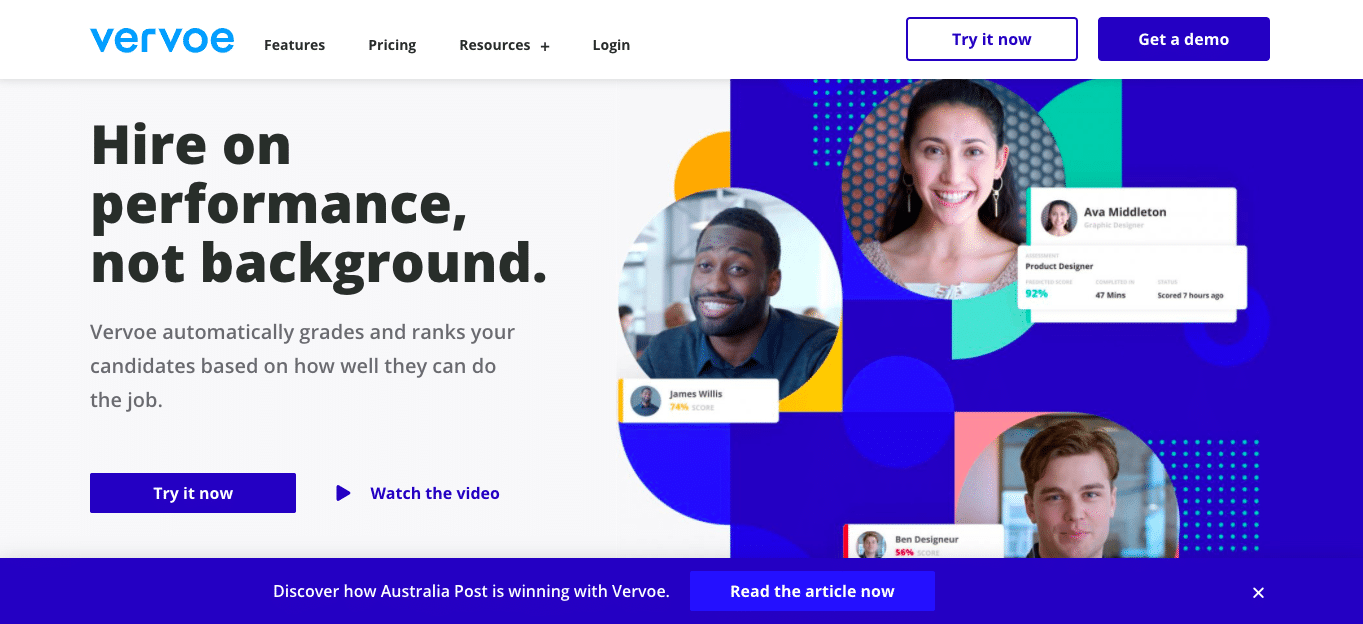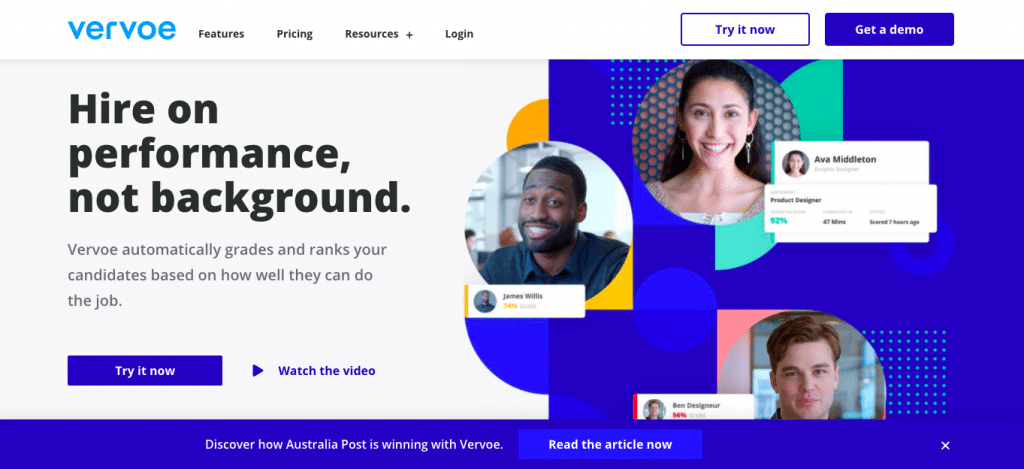 Vervoe's AI-powered skill assessment platform helps recruiters focus on the top candidates for the job – as defined by their capabilities, not what's on their CV. Turn assessments into job auditions with relevant and engaging assessments for any role.
Choose from a library of assessments to test candidates on technical and non-technical skills like coding and sales, as well as soft skills such as attention to detail and teamwork. The platform automatically ranks lots of candidates based on how well they perform the on-the-job simulation, so recruiters can quickly identify and move the right people through the hiring process.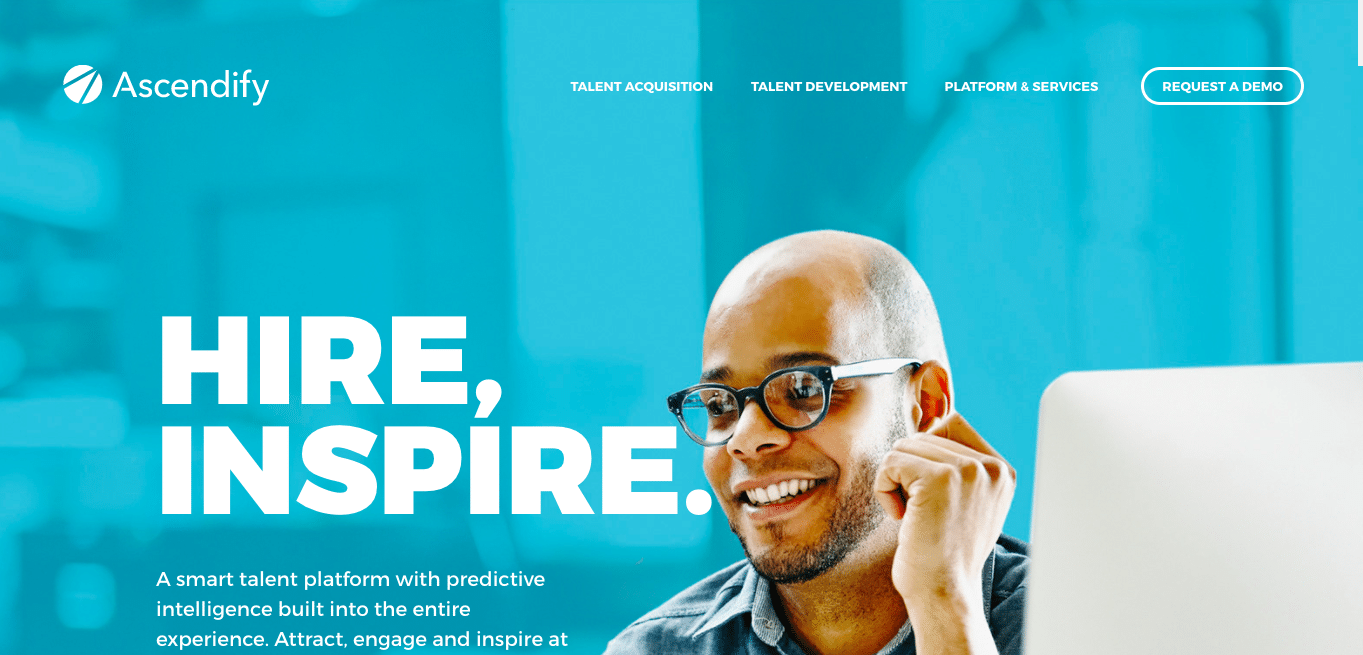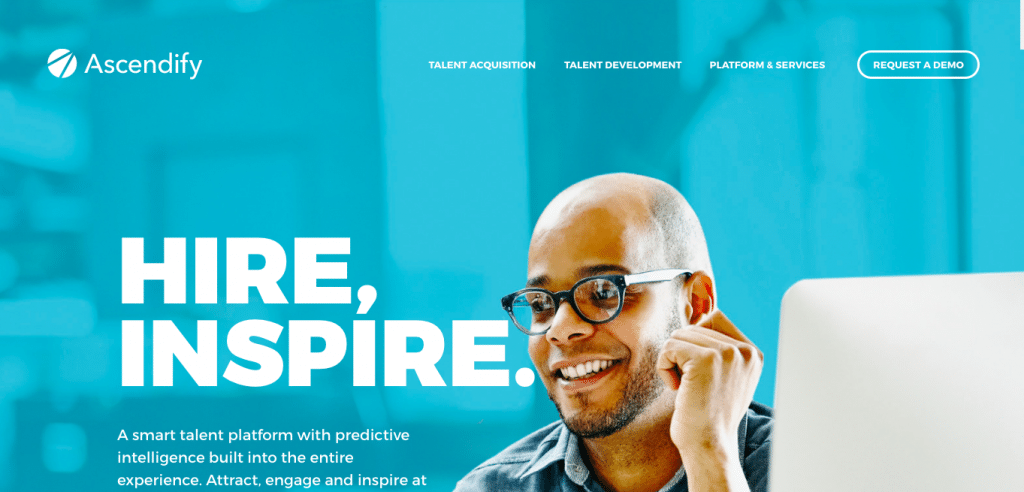 Ascendify's talent acquisition platform uses AI and predictive analytics to help recruiters provide an outstanding candidate experience. The tool learns from each hiring cycle, helping recruiters improve their candidate search and screening more intelligently each time. It comes equipped with features such as integrations with career sites, an employee referral tool, applicant tracking, and new hire onboarding.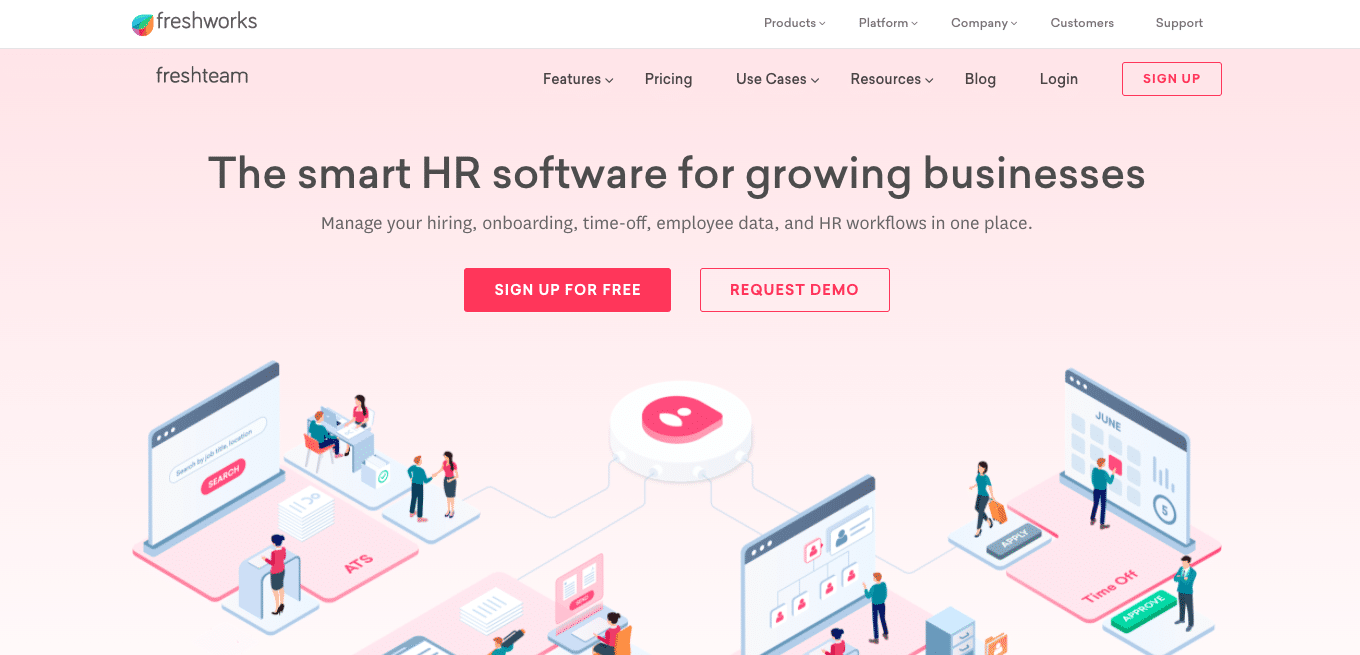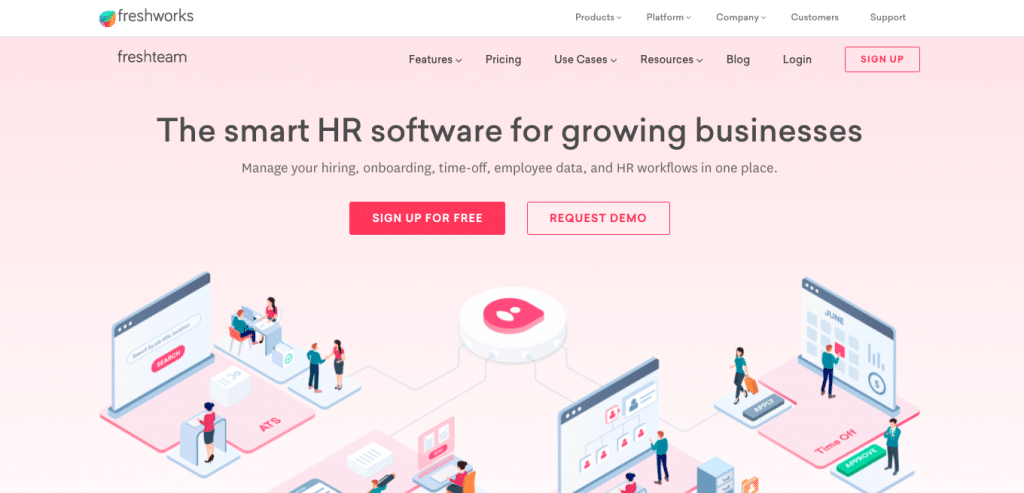 Freshteam by Freshworks is built for small and medium-sized enterprises and includes a range of tools for hiring, onboarding, and employee management. The built-in applicant tracking system allows recruiters to easily manage job postings, set up a hiring team, and share information among users. It goes beyond hiring to provide a dashboard for employee time and attendance as well as an org chart for your business.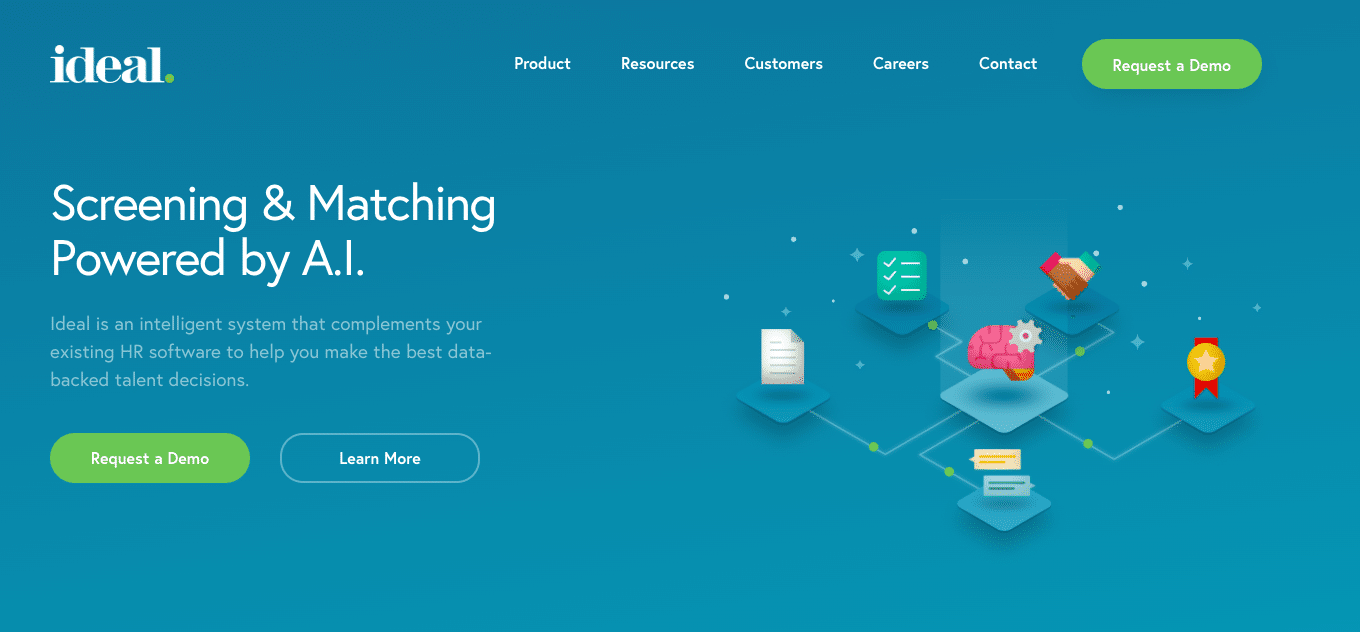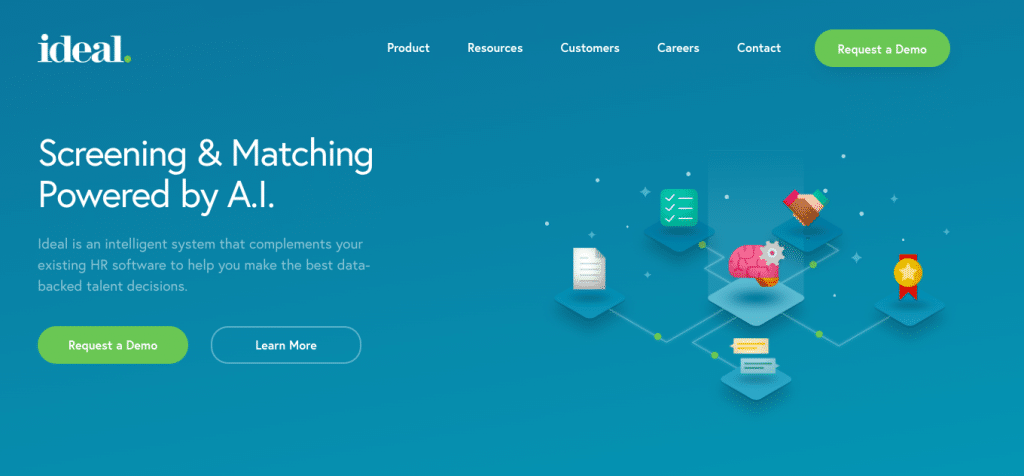 Like Ascendify, Ideal uses AI to make the hiring process more efficient. This platform screens candidate profiles and resumes based on the criteria you've established for your open position. It then grades each candidate depending on their suitability for the role. One customer reported a 71% cost saving per hire by adding Ideal to their hiring process.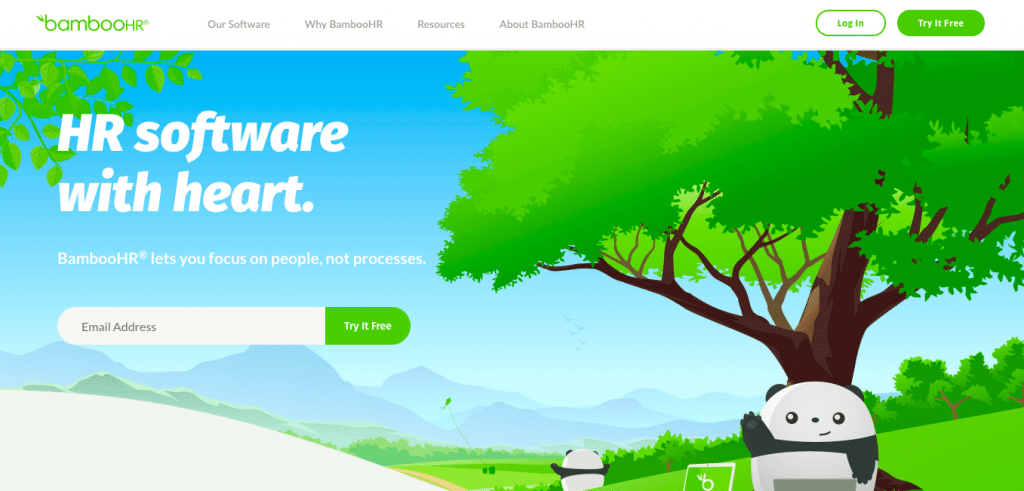 BambooHR's award-winning platform includes an extremely popular applicant tracking system, among other HR and onboarding tools. Powerful reporting capabilities include equal employment opportunity and benefits reports, among other useful statistics. This recruiting software is great for HR teams seeking to improve the candidate experience and smooth out the transition from candidate to employee.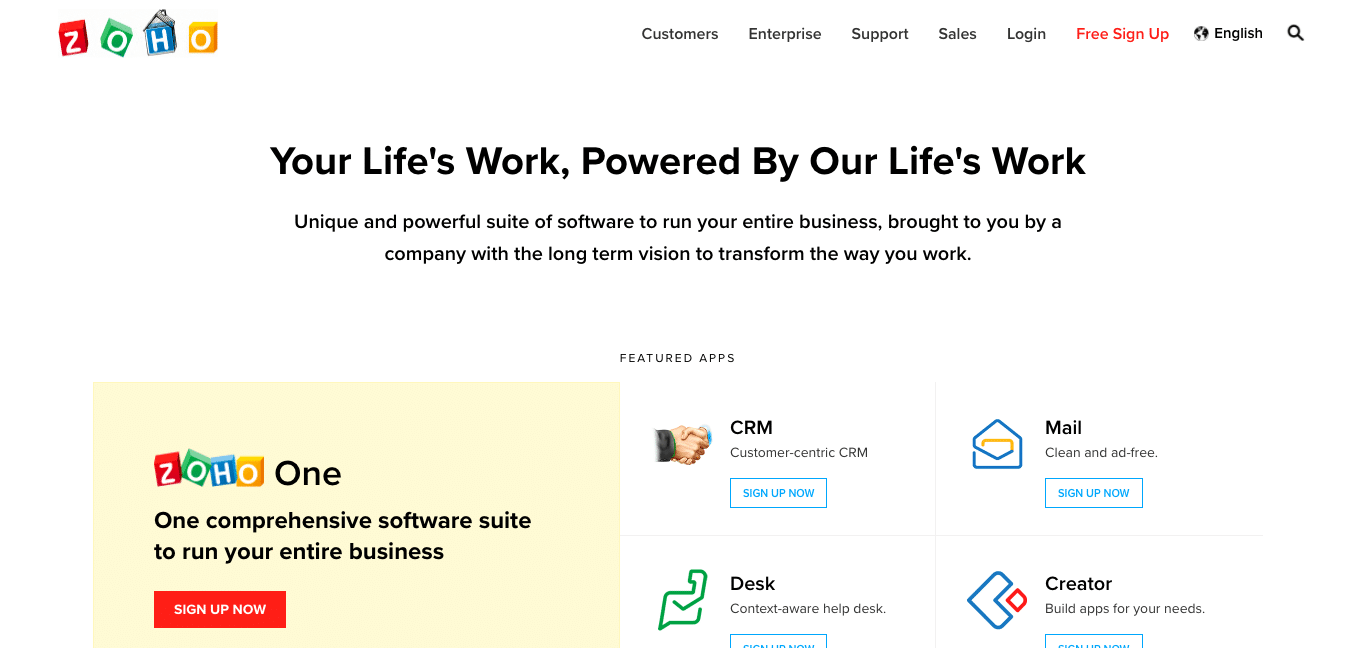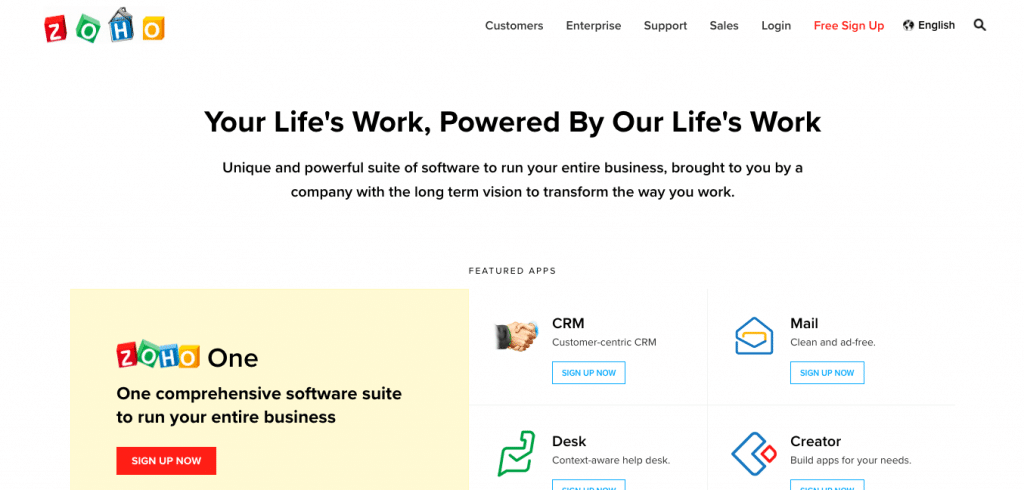 Zoho Recruit can be used either as a standalone tool or with Zoho suite of other HR tech. Zoho Recruit offers an easy way to create a customized career page, set up an employee referral system, and coordinate the hiring process from the initial screening step to final offer. The tool includes features such as pre-screening assessments, e-signature verification, and a resume collection and management tool. It's a great option for smaller enterprises.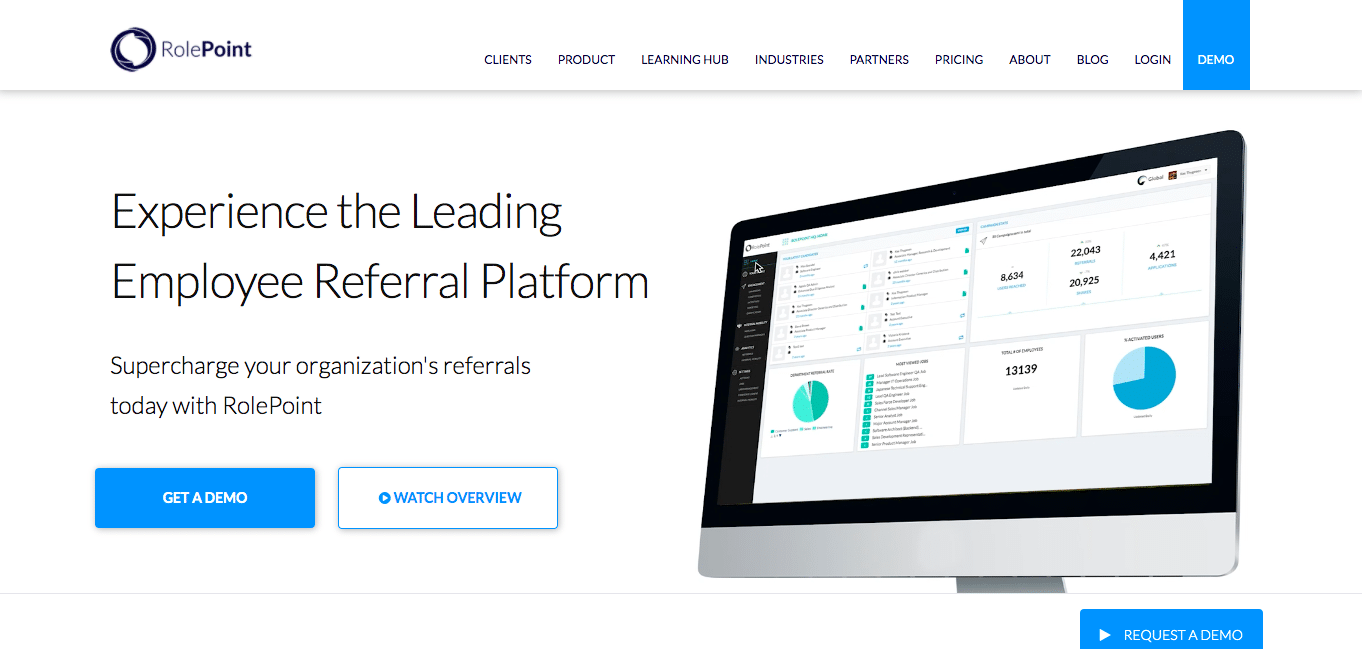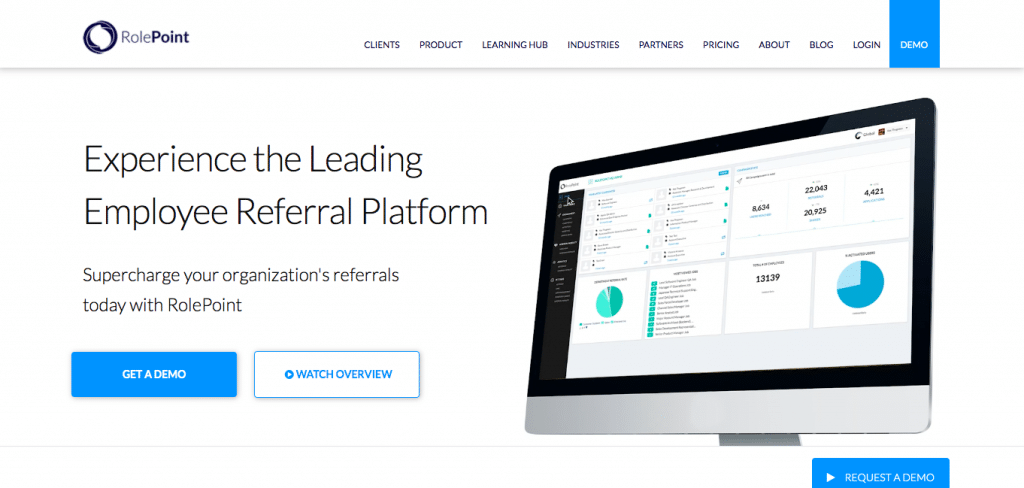 RolePoint systematizes one of the most reliable ways to attract great hires: employee referrals. The talent acquisition tool provides the employees who refer candidates a way to track their referral success. As one expert outlines, the tool show both the HR team and your employees
Who they've referred
Which jobs they've referred candidates to
How many times their unique links have been clicked
How many total referrals they've made
How many referrals have resulted in a hire
It's a great, easy way to improve your hiring without having to revamp your entire hiring process.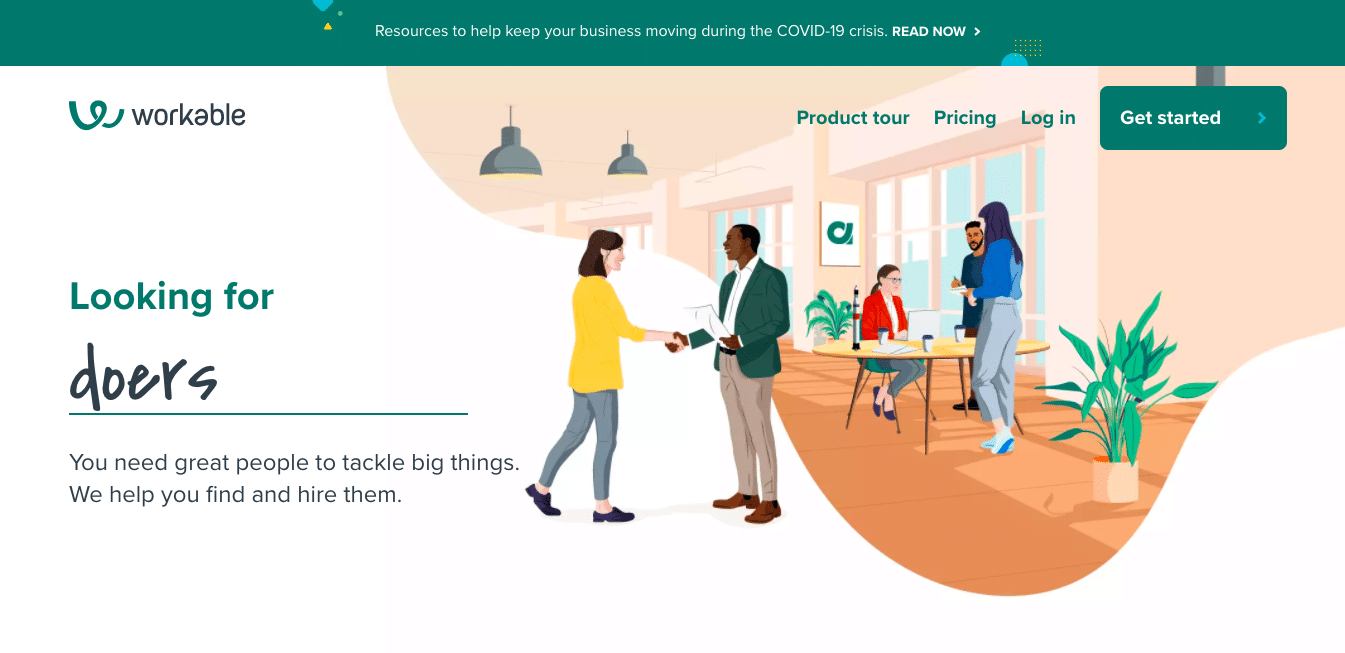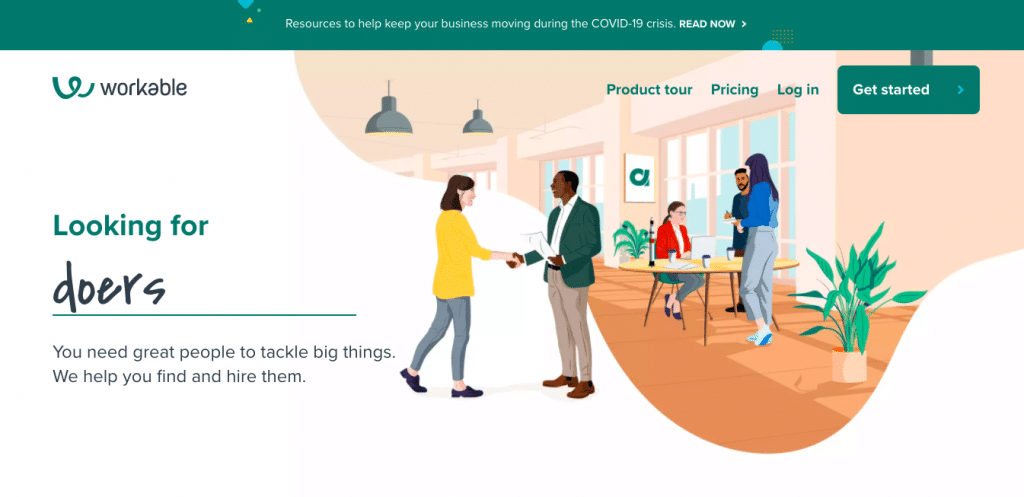 Workable's applicant tracking system uses machine learning with more than 40 different integrations to help small and medium businesses improve their sourcing. Workable includes access to "over 200 free and premium job boards, mobile-friendly application forms, more than 700 job description templates, and over 40 third-party integrations, including background checks and assessments."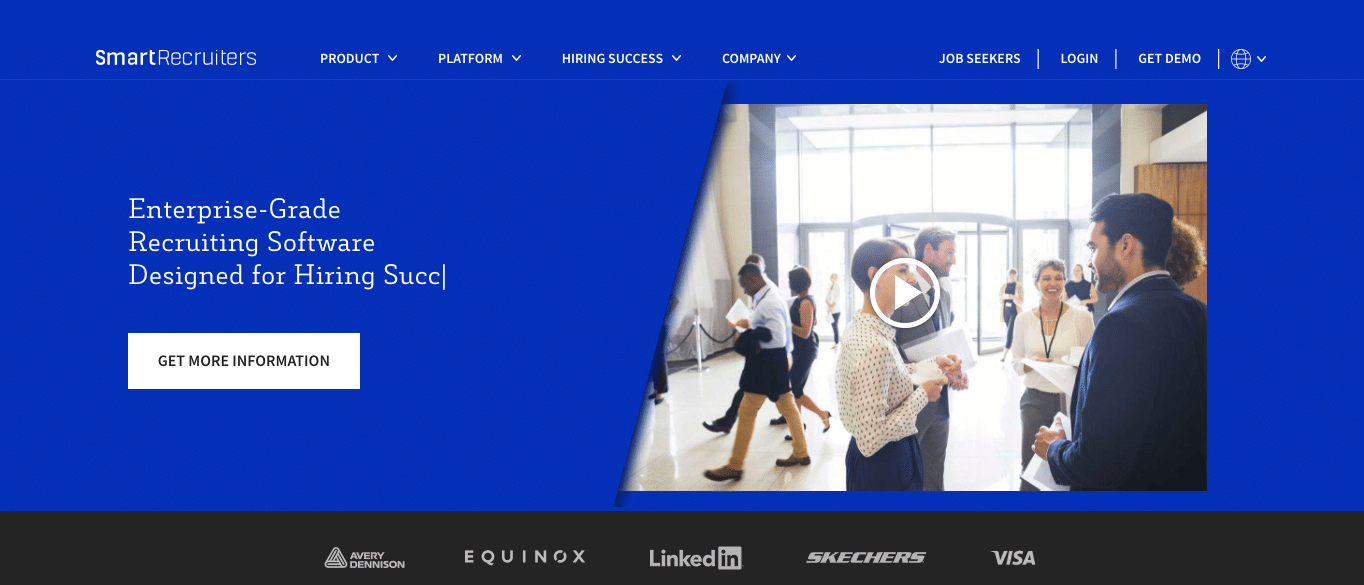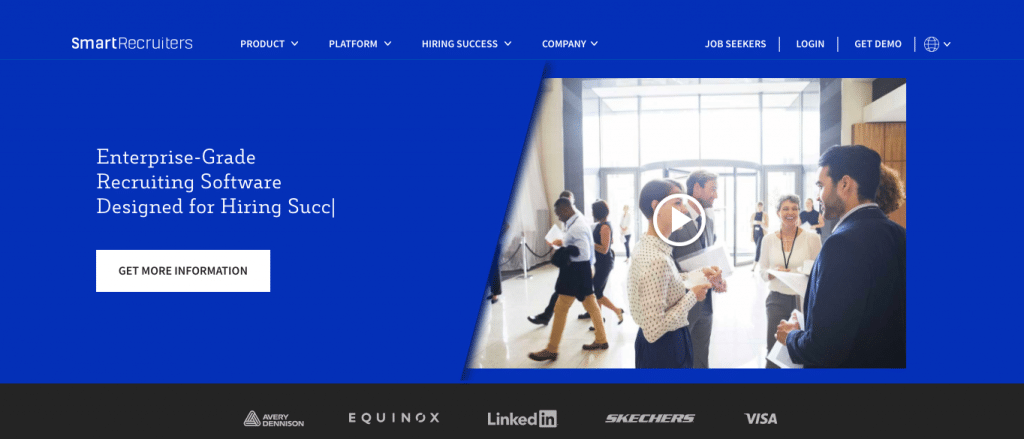 Big enterprises, like Visa, Skechers, and Equinox, favor this web-based hiring platform. SmartRecruiters focuses on providing a great candidate experience, with social media integrations, tools for collaborating within the hiring team, and applications that make it easy to communicate with large pools of applicants. Candidates love SmartRecruiters' straightforward application process.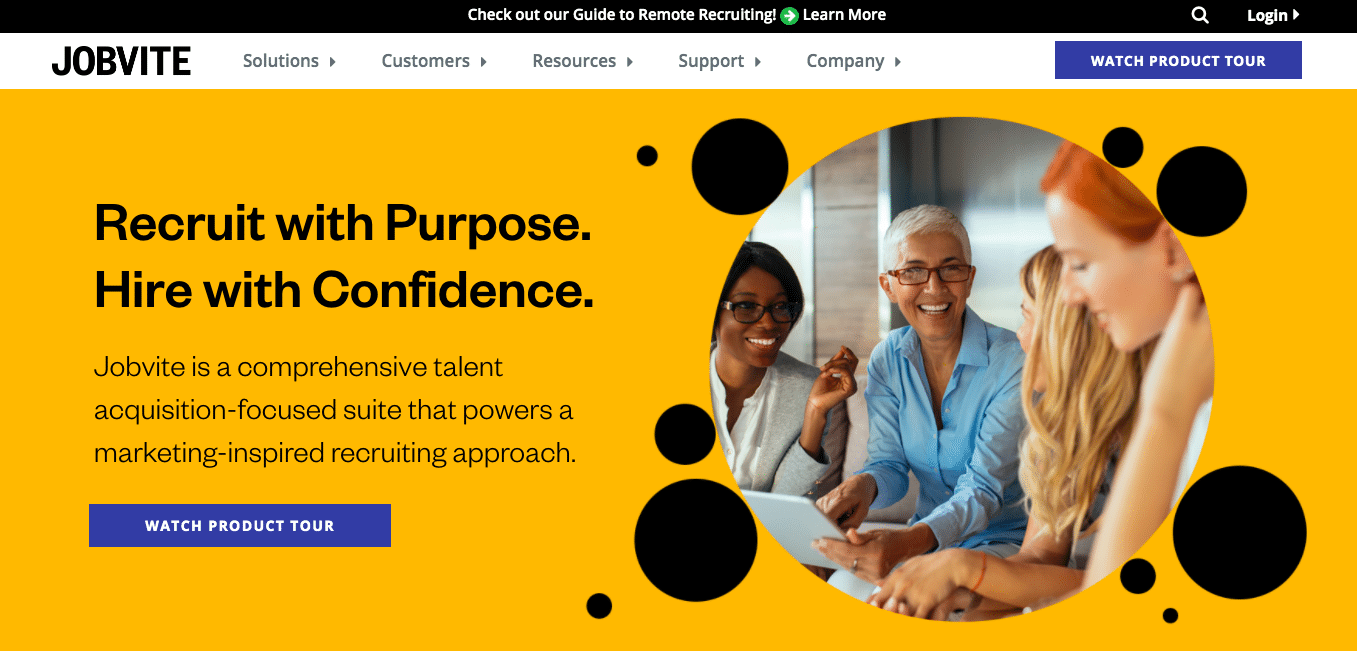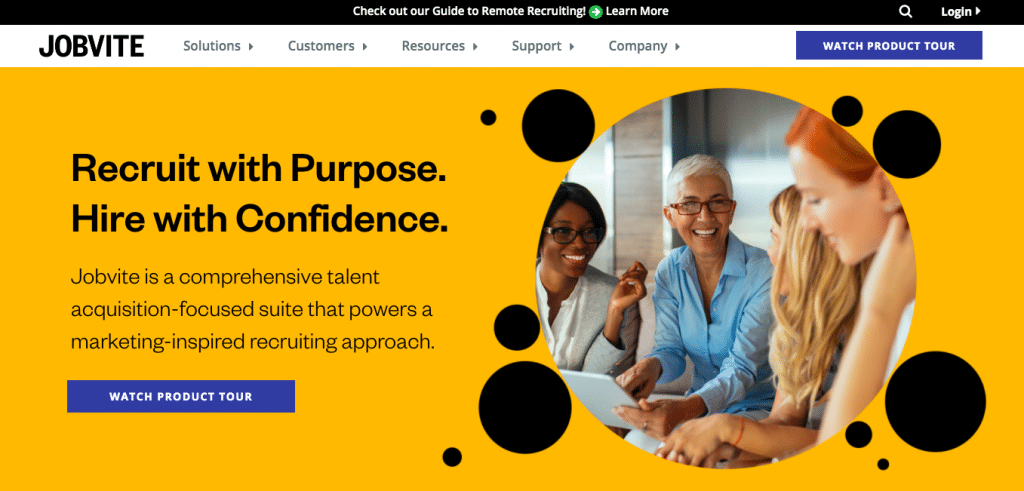 Jobvite combines the capabilities of an applicant tracking system with CRM software in one streamlined platform. It's a standard, solid option for organizations that want to increase referral hiring, improve their time-to-hire metric, and lower candidate acquisition costs. Jobvite is used by big enterprises like eHarmony, Spotify, Hulu, and Shutterfly.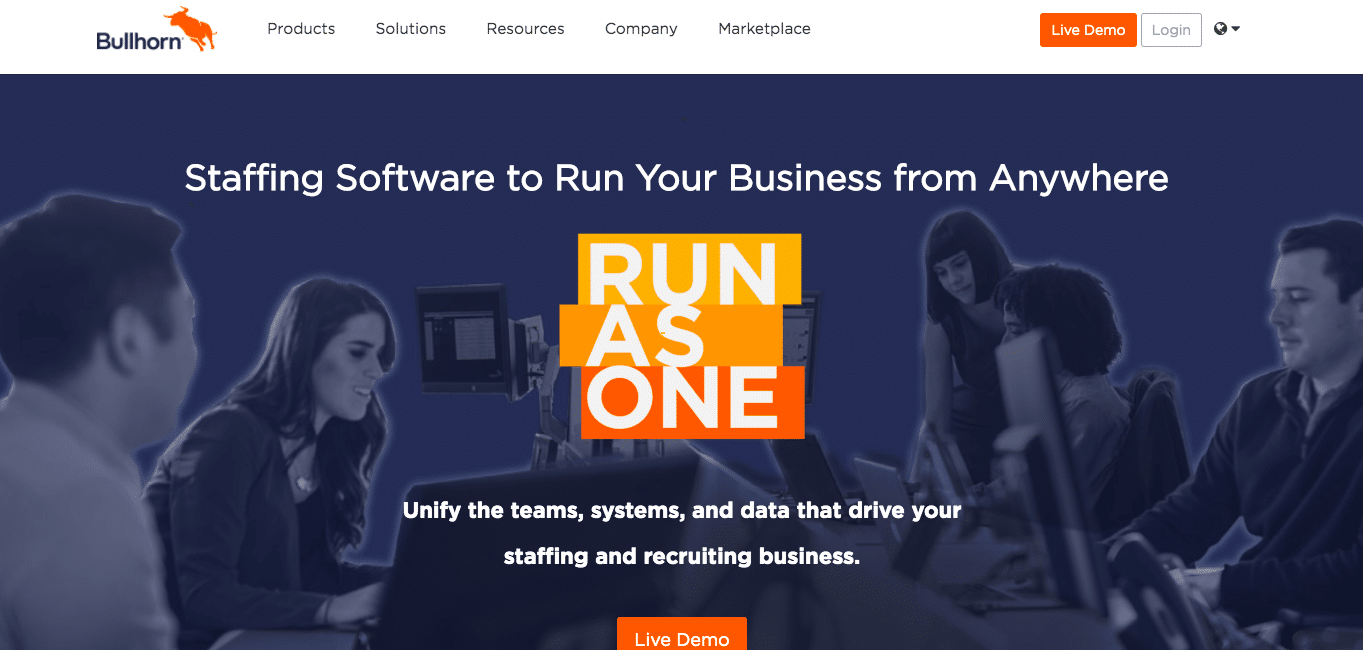 Bullhorn's platform combines an applicant tracking system and CRM in one intuitive interface. This recruiting software gets high praise for its add-on features and integrations with Gmail and Outlook, which make it easy for recruiters to manage communication with dozens of candidates. According to one recruiter, "The Bullhorn software or system catalogs candidate profiles, open search projects, communication with candidates and clients, interview schedules, status and feedback reports, etc."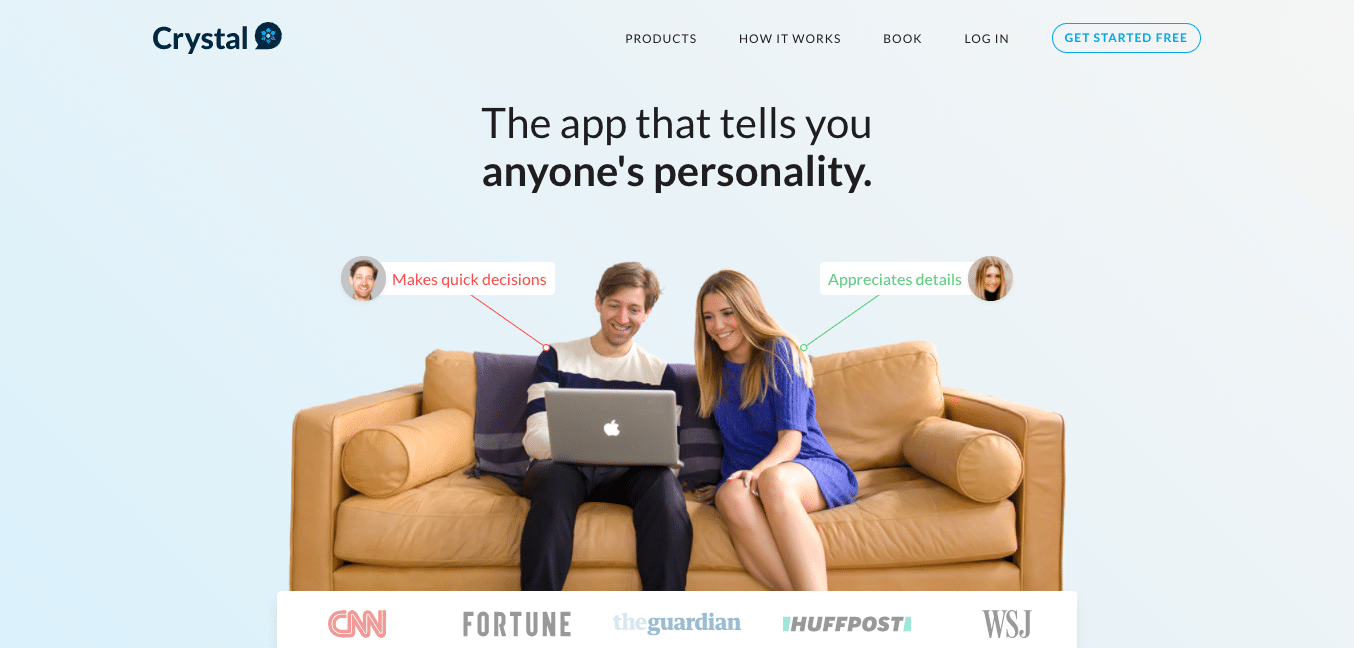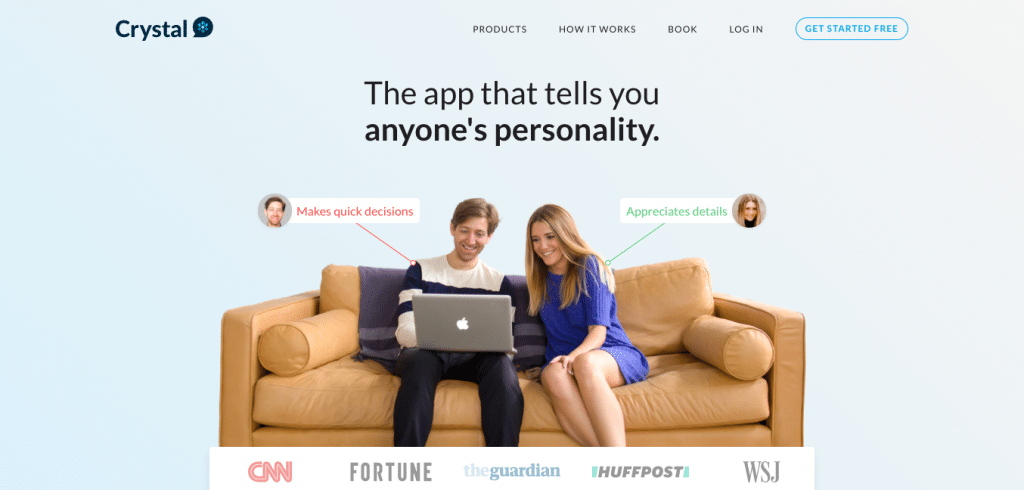 Crystal falls outside the traditional definition of recruiting software, but it can improve your hiring process nonetheless. This tool uses a candidate's online profiles to inform the way recruiters craft their outreach. By analyzing publicly available data from LinkedIn, Twitter, and Facebook, Crystal offers insight into how to communicate with different individuals. According to one expert, Crystal can boost your candidate response rate by helping you craft emails using language and style preferred by each individual.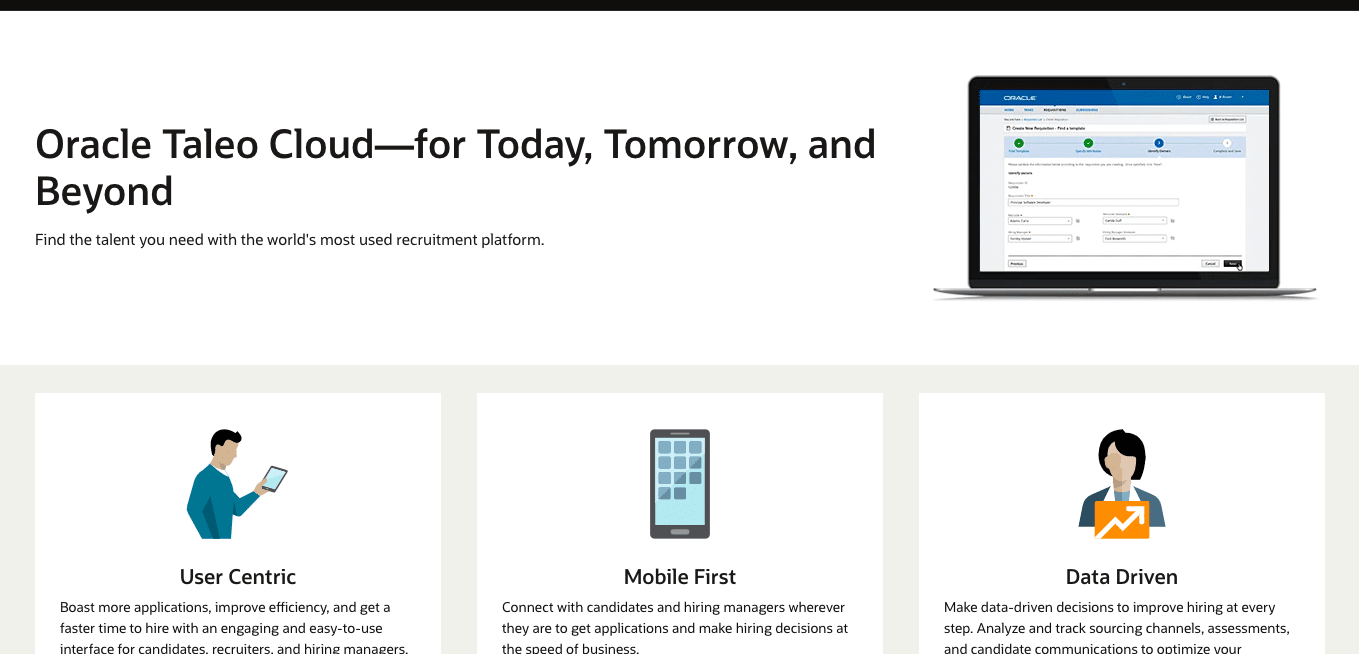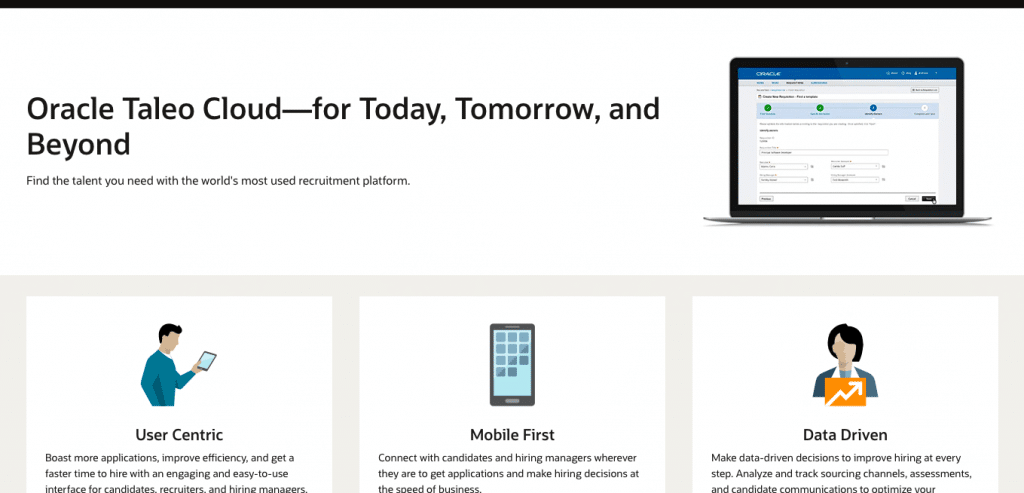 Taleo is truly a full-stack marketing tool. After being acquired by Oracle for nearly $2 billion in 2012, this tool has expanded to include recruitment marketing with internal referrals, as well as automated features that manage the entire recruitment process through employee onboarding. Taleo is the leading ATS software by market share, capturing 23% of the market. For recruiters seeking a tracking system that goes beyond the applicant phase, Taleo is a great option.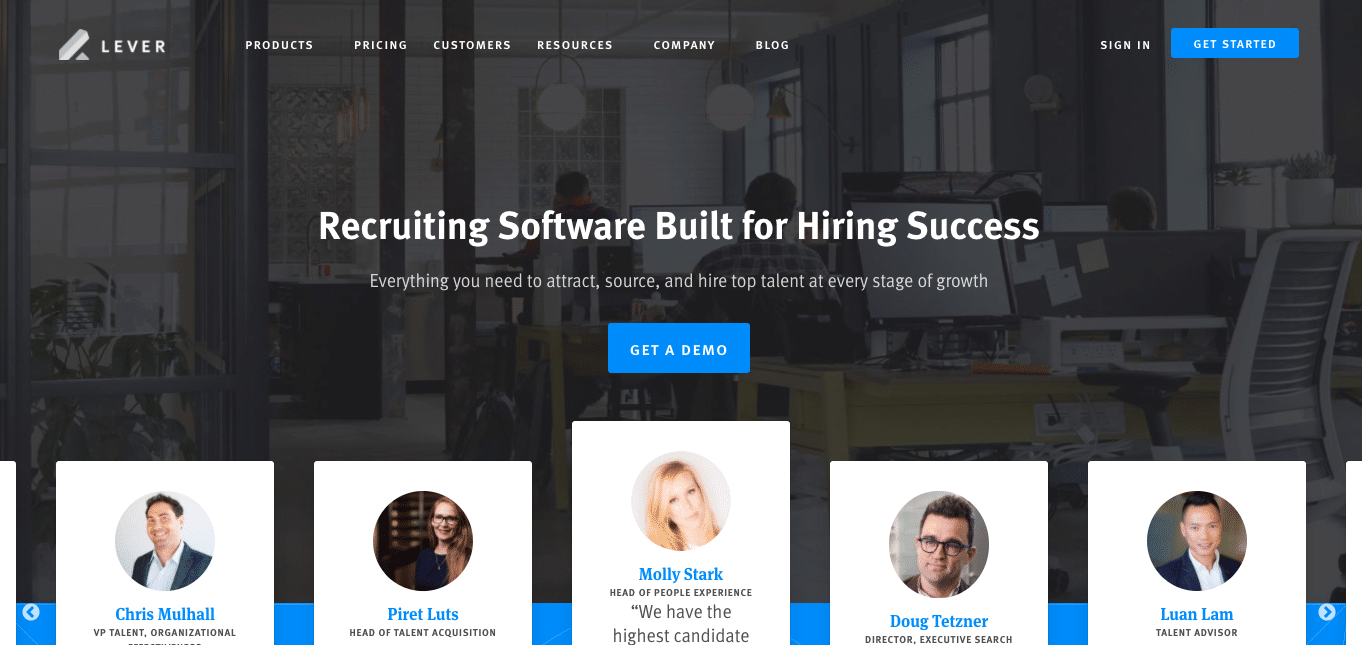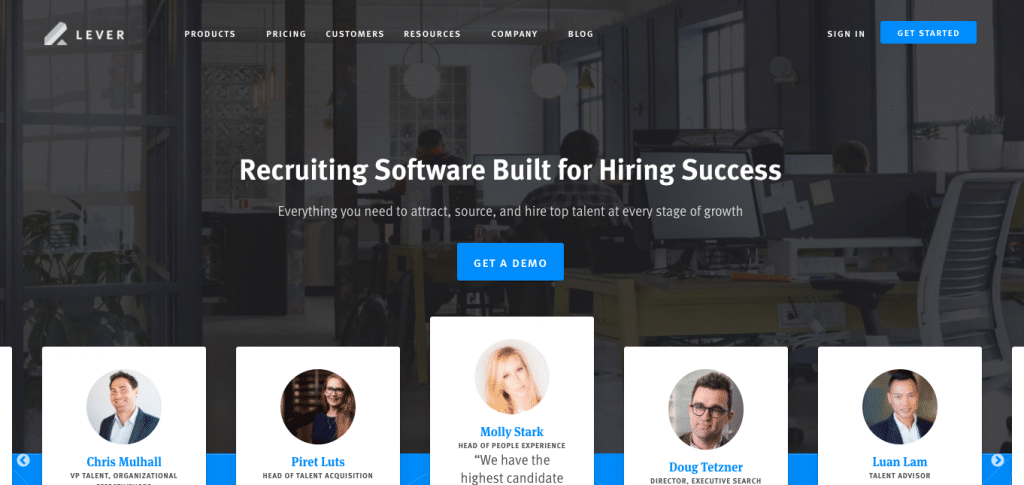 Lever brands itself as a "collaborative applicant tracking system." For big recruiting and hiring teams, this is a great solution to breaking down a siloed approach to hiring. The tool empowers organizational-level outreach, giving employees the chance to help choose candidates, suggest referrals, and bring in new hires that will integrate into the company culture quickly. Major companies like Netflix, Quora, and Lyft use Lever.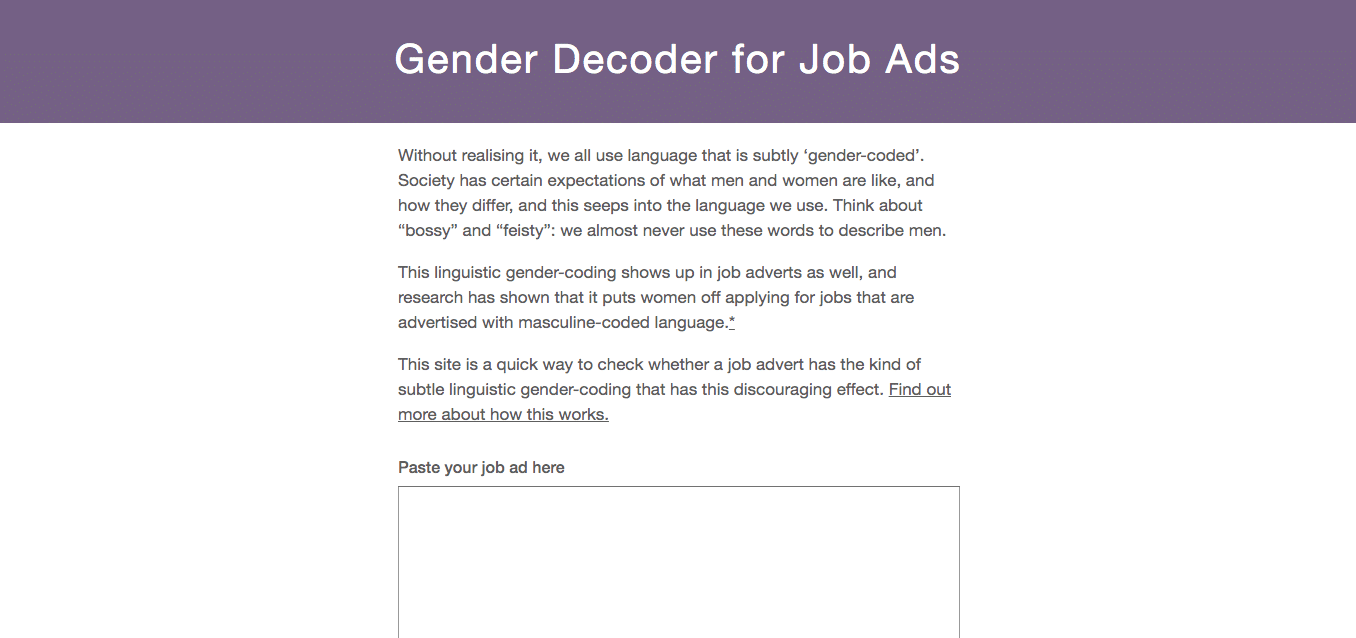 We've written about this free tool in the past, yet many companies still struggle to hire diverse candidates – even though many recruiters say it is their top priority. Run your job descriptions through the Gender Decoder to see if the language is accidentally skewing toward attracting more men or more women. When your ad is female-coded, it means the language might be subconsciously discouraging male candidates from applying (and vice versa). Using this tool can help make sure your pipeline is serving you a mix of diverse candidates and skillsets.
Free checklist for choosing recruiting software
Step 1: What are you trying to solve?
The right recruiting software helps you overcome some obstacle in your hiring process. What issue are you trying to solve?
Find high-quality or more applicants
Attract high-quality or more applicants
Strengthen your employer brand
Reduce your time-to-hire or time-to-fill
Reduce your cost-to-hire
Improve candidate engagement
Improve the candidate experience
Lower new hire turnover
Step 2: What features do you need?
Every recruiting software tool should have the following features:
Security and privacy controls
User training, customer support, and onboarding
Easy job advertising on free, premium, and niche job boards
Candidate sourcing and passive candidate search tools
Social media job promotion
Employee referral recruiting and campaigns
Applicant tracking
Hiring team collaboration and communication
Bulk resume upload and resume parsing
Candidate engagement tools and relationship management
Career site creation and optimization
Job application form customization
Skill testing and interview kits
Interview scheduling
Mobile recruiting
Hiring metrics, analytics, and reports
Step 3: How much does it cost?
Costs vary depending on the number of users, set-up fees, or open positions for which you intend to hire. Most recruiting software vendors will only provide pricing once you provide detailed information about the number of users who will use the platform and the features your team needs. Here are what some of the more popular tools cost:
Vervoe: plans range from a free trial to different prices depending on the features you need.
Freshteam: plans range from free to $200 per 50 users per month.
BambooHR: ranges from $6.19 per employee per month to $8.25 per employee per month depending on the features you need.
Zoho Recruit: plans range from $22.50 per user per month to $67.50 per user per month depending on the type of organization you are (staffing agency v. corporate HR).
Workable: plans either bill monthly or per open job; starts at $99 per job per month
Gender Decoder: free