With the rise of remote work, phone screens are once again being widely used by recruiters to meet and accept job candidates into the hiring process. Phone screen interviews have always been a traditional step in hiring, but as technology has made the screening process faster and automated, some companies have started to move away from telephone screening.
We've been critical in the past of the phone screen interview. This is because phone screening calls still tend to use a lot of a recruiter's time. Recruiters spend more than 78,000 minutes on the phone each year attempting to vet candidates.
Nevertheless, phone screens continue to be an integral part of the hiring process. And, as more companies shift to remote hiring, a recruiter phone screen can still provide important information about the candidate. Here's how recruiters can make the most of your phone screening candidates and use it to advance qualified applicants through the hiring process.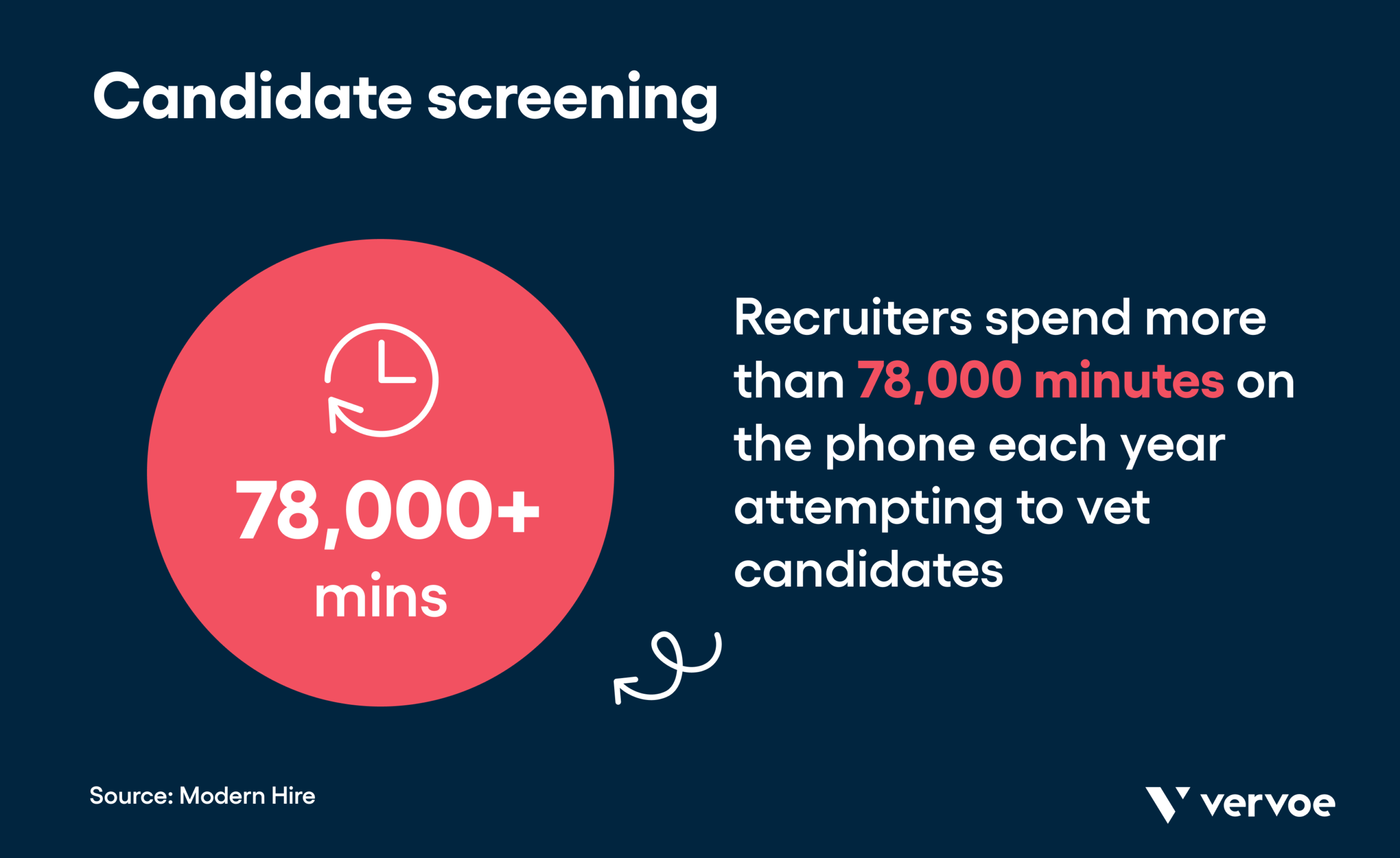 What is phone screening?
The phone screen interview definition is a brief phone screen interview that seeks to determine if a candidate is qualified to continue through the hiring process based on their skills, experience, and expertise. Shorter than a traditional interview, a phone screening interview is typically 30 minutes long and focuses on verifying basic details on the candidate's resume or job application.
[Read more: 7 Methods For Screening Candidates To Hire Better]
Why is phone screening used?
Typically one of the first steps in the hiring process, the purpose of phone interviews is to bridge the gap between sourcing and screening. The goal of a phone screen is to help whittle down the entire pool of applicants into the best candidates to continue through the hiring process, which will involve a more detailed interview, a skills test, and other screening steps.
As compared to other screening methods, like resume screening, mastering how to conduct a phone screen interview can contribute to a better candidate experience. Many candidates appreciate the personal outreach and the opportunity to speak to a real recruiter, especially if they expect to work remotely full-time.
A phone screen is also an opportunity to walk the candidate through the next steps of the hiring process, leveling expectations and giving transparency to the experience. Candidates appreciate knowing where they stand throughout the hiring process: 80% of job seekers say they would be discouraged to consider other relevant job openings at a company that failed to notify them of their application status. Phone screening is a high-touch way to engage with candidates early and strengthen your employer brand.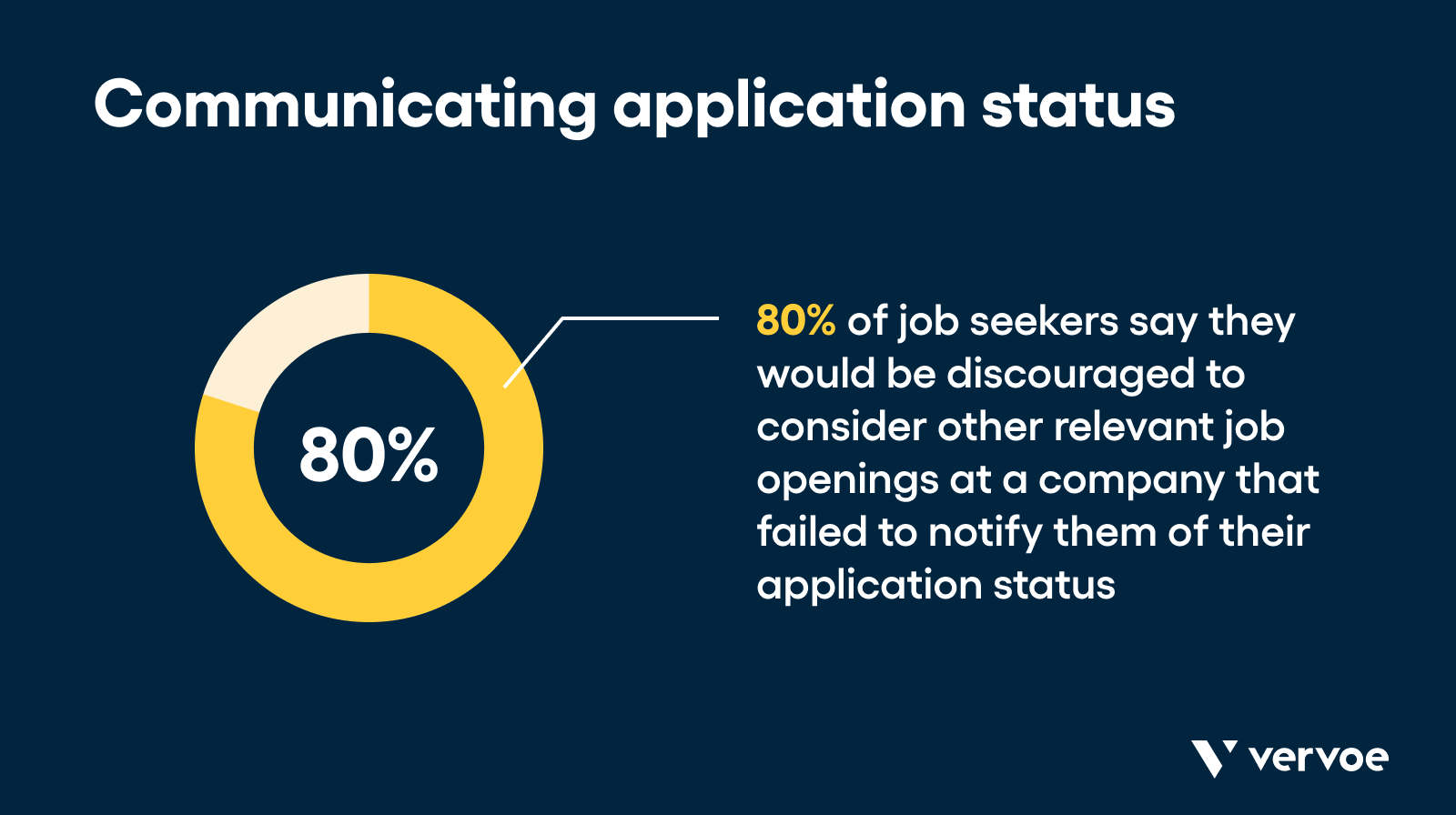 How scalable is phone screening?
One of the downsides of phone screening is that it's not especially scalable. The phone screen application process inherently takes time, as a recruiter must call each candidate individually to verify their expertise.
However, there are ways to streamline the process. Recruiters should limit themselves to a set number of questions — certainly no more than 10. Save open-ended and in-depth questions for the later interviews, and instead verify that the person has a good understanding of the role and expectations. If the person isn't available to start work until a certain date or has higher salary requirements than the position can meet, those are important things to know before investing in future hiring steps. Phone screens can be a good way to make sure expectations align: Ask about salary, availability (if a contract position), and experience working remotely (if applicable).
Using a consistent set of questions can also help minimize some of the risks of phone screening — including hidden biases that can influence candidate selection.
What are the risks of phone screening?
The ultimate goal of phone screening is to eliminate unqualified candidates. In the process, however, qualified candidates can be easily screened out. Because phone screening has limited scalability, recruiters are often forced to use heuristics — shortcuts rooted in bias — to eliminate candidates. Phone screens rely on surface-level information to determine if a candidate should be invited to the next round or not. Often, these surface-level signals tell us little about a candidate's true talent and prevent diverse candidates from serious consideration.
[Read more: How To Avoid The 12 Kinds Of Hiring Bias In Your Recruitment Process]
Another reason why we've been critical of job screening calls in the past is that they don't provide new information. Many initial phone screen interviews simply ask the candidate to walk the recruiter through their work history— which is already easily available on the CV. As long as a candidate has the right experience and can talk professionally, they usually make it to the next level. This process really tells you very little about the person's ability to do the job effectively.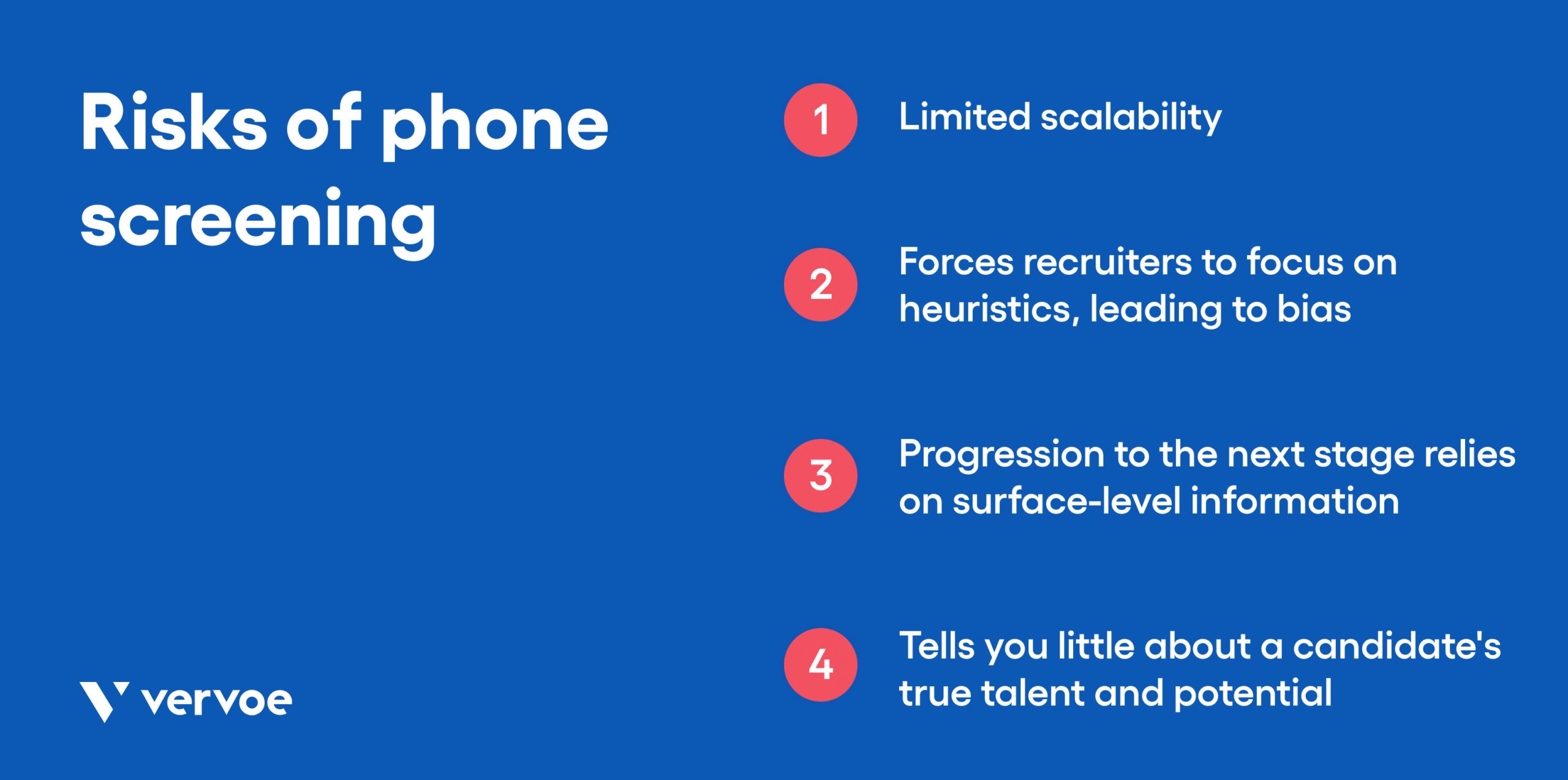 How to run a phone screen interview
If you're wondering how to conduct a phone interview as part of your hiring process, there are a few steps that can help you make the most of this conversation.
Recruiters should prepare ahead of time by reviewing the job specs and understanding the basic commitments and expertise needed to be successful in this position. For instance, if the hiring need is immediate, you should prepare to ask a candidate when their earliest start date might be. Likewise, if someone has "coding" listed on their CV, you'll need to learn more about what languages they know.
Come up with a set of phone screen guide questions that you can ask each candidate. Asking candidates the same questions allows you to compare "apples to apples", helping reduce the risk of hiring bias. Many companies use questions designed to help create a candidate shortlist. Your shortlist matrix of nice to have, necessary, and bonus skills can be used to guide phone screen questions.
In addition to your shortlist matrix, questions should center on availability, salary expectations, and interest in the role. Keep these phone screen availability and expectations questions high-level. While it's helpful to review each candidate's resume before the call, keep in mind that your phone pre-screen interview questions at this stage must be consistent and aim to screen candidates in, rather than out.
Leave time at the end of the phone call for a candidate to ask their own questions. A phone screen is also a great way to help candidates self-select out of the process.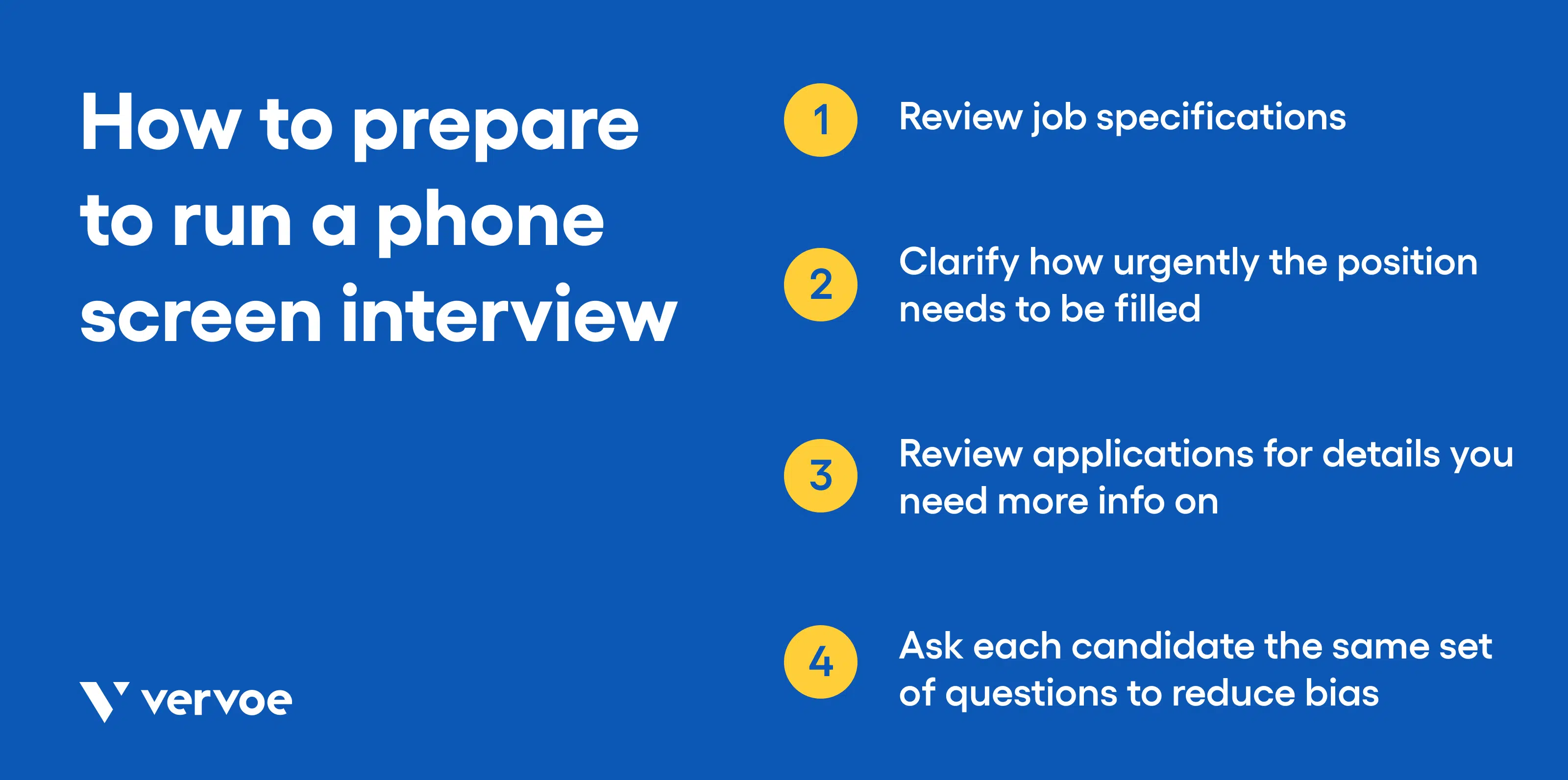 [Read more: The Recruiter's Guide To Shortlisting Candidates]
Things to look for in a phone interview
A phone screen assessment is something that recruiters should use to gain insight into a candidate's attitude, clarify their interest, verify missing information, and ensure they have a complete understanding of the role and responsibilities.
First and foremost, the difference between phone screens and interviews can be an advantage, helping to reveal the attitude a candidate will bring to the table before a more formal meeting. Someone who is enthusiastic, positive, and willing to answer questions during an initial screening call is likely a good fit to go through the rest of the hiring process. Those who are disengaged or uninterested can be filtered out relatively quickly.
Next, the phone screen should seek to clarify whether a candidate is logistically the right fit. This is where you can find out more about their target compensation and feasible start date. Figure out if they have a good understanding of the role's requirements and genuine interest in the company. Asking why they're interested in the position can be a good way to screen candidates, who aren't necessarily the right fit, out of the process.
Finally, make sure you follow up about any gaps or missing information on the resume. Especially for remote candidates, find out the best way to get in touch and make sure you have applicable contact information. Likewise, find out the time zone from which the candidate is working and outline the next steps in the hiring process, should the candidate be selected.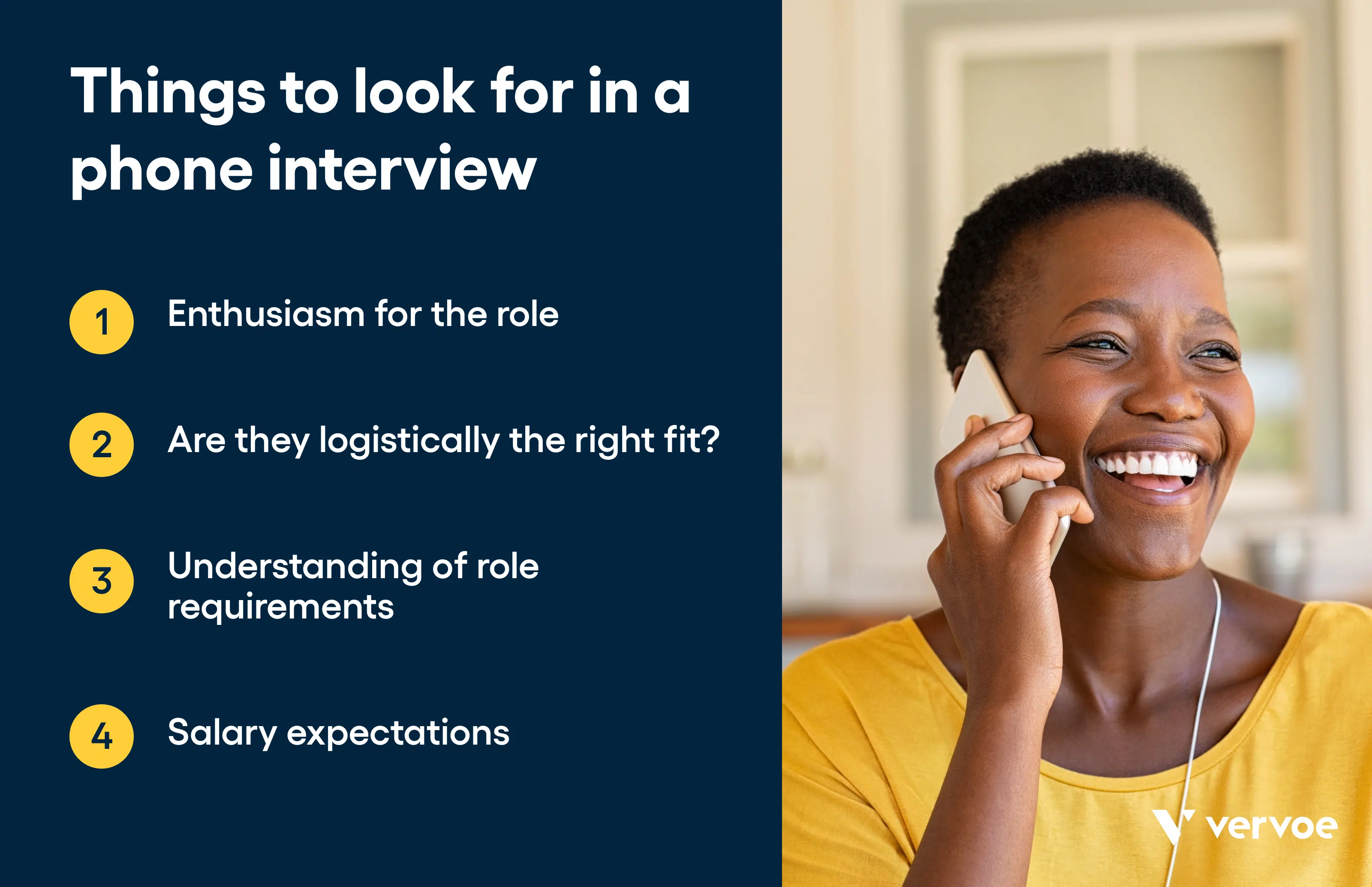 Final thoughts
Hiring managers who choose to use a phone screen can still get a lot of utility from this screening method. Just be careful to avoid falling into the trap of hidden biases, and try to screen candidates based on the requirements of the company and the hiring process, rather than things like education, background, or age.
Many recruiters use the phone screen to start building their candidate shortlist. Candidates, too, appreciate the personal touch of a phone screen, which can also help them decide whether or not to continue through the hiring process.