Shortlisting Matrix
Template
Use this shortlisting matrix template to streamline your hiring process and zero in on the best candidates.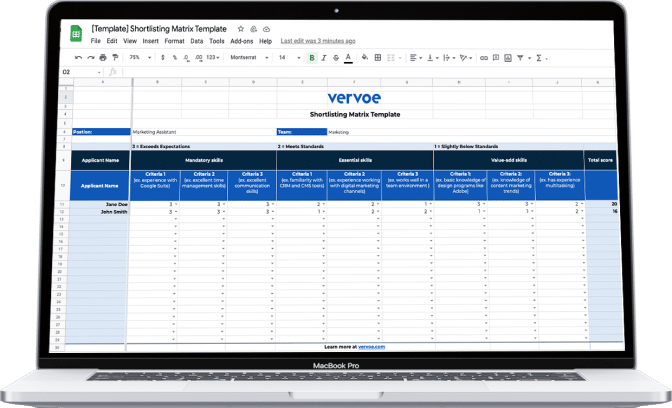 Vervoe's shortlisting matrix helps you assess all candidates fairly to provide a great candidate experience
This template shortlisting matrix includes fields for mandatory, essential, and value-add skills to help your team stay organized and consistent when evaluating applications. Try this scoring matrix when shortlisting candidates to keep track of applicants based on what they can do, rather than who they are. Easily customize this shortlisting matrix template with each role's mandatory, essential, and value-added shortlist criteria.
How to use this shortlisting grid matrix
Across the top, add the desirable criteria you will use to evaluate candidates: what are the nice to have skills vs. the must-have experience?

Review candidates using a tool like Vervoe or by screening resumes manually.
Add those candidates who meet your minimum criteria to your shortlist matrix.
Score candidates on your shortlist matrix with one point for a basic skill they possess; two points for every mid-level skill; and three points for every advanced skill.
Then, rank your shortlist based on each candidate's total score. Invite top candidates to move on to the next round!
Why use a shortlisting matrix?
Shortlisting allows you to narrow down your applicant pool while saving time and resources.
Evaluate candidates objectively and eliminate those who aren't up to the task. Efficiently narrow down your applicant pool to those suited to move on to the interview phase.
Set objective criteria that outline the skills and experience needed to succeed in a specific role.
View candidates holistically to see if they have transferable skills.
Spend less time reviewing resumes and more time getting to know your top candidates.
Let those who don't make the shortlist know early in the process that their application was not successful.
Get access to your free template
Fill in your details below to get access to your free shortlist matrix template.