Quality of hire is a highly valuable recruitment metric, which can be leveraged to improve and refine company-wide hiring processes. By recruiting employees of a higher caliber, organizations will see meaningful results, whether it's reducing turnover, driving innovation, or realizing business objectives.
But how exactly do you measure quality of hire? This article will give you some easy ways to do so and prove why it's a metric your business should be looking at.
Quality of hire definition
First off, what does quality of hire mean? Quality of hire measures the value a new hire adds to an organization by assessing their contributions to its long-term success. At the very least, one of the key indicators to measure quality of hire is to ensure the value added by an employee in terms of both performance and tenure exceeds what it cost to recruit them.
While quality of hire is a metric designed to assess the performance of individual employees, it is ultimately indicative of the effectiveness of an organization's overall recruitment processes.
Why is quality of hire important?
Organizations often prioritize efficiency when it comes to measuring recruitment success, which is largely as a result of the immense pressure they feel to quickly fill vacant positions. But hiring managers are increasingly citing quality of hire as the most important KPI for their recruitment and HR teams – and it's not too hard to understand why.
A LinkedIn report on Global Recruiting Trends described quality of hire as "the magic metric" on the basis that top performers will contribute vastly more value to their organizations. Indeed, research has found that high-performing employees can deliver up to 400% more productivity than their more average counterparts.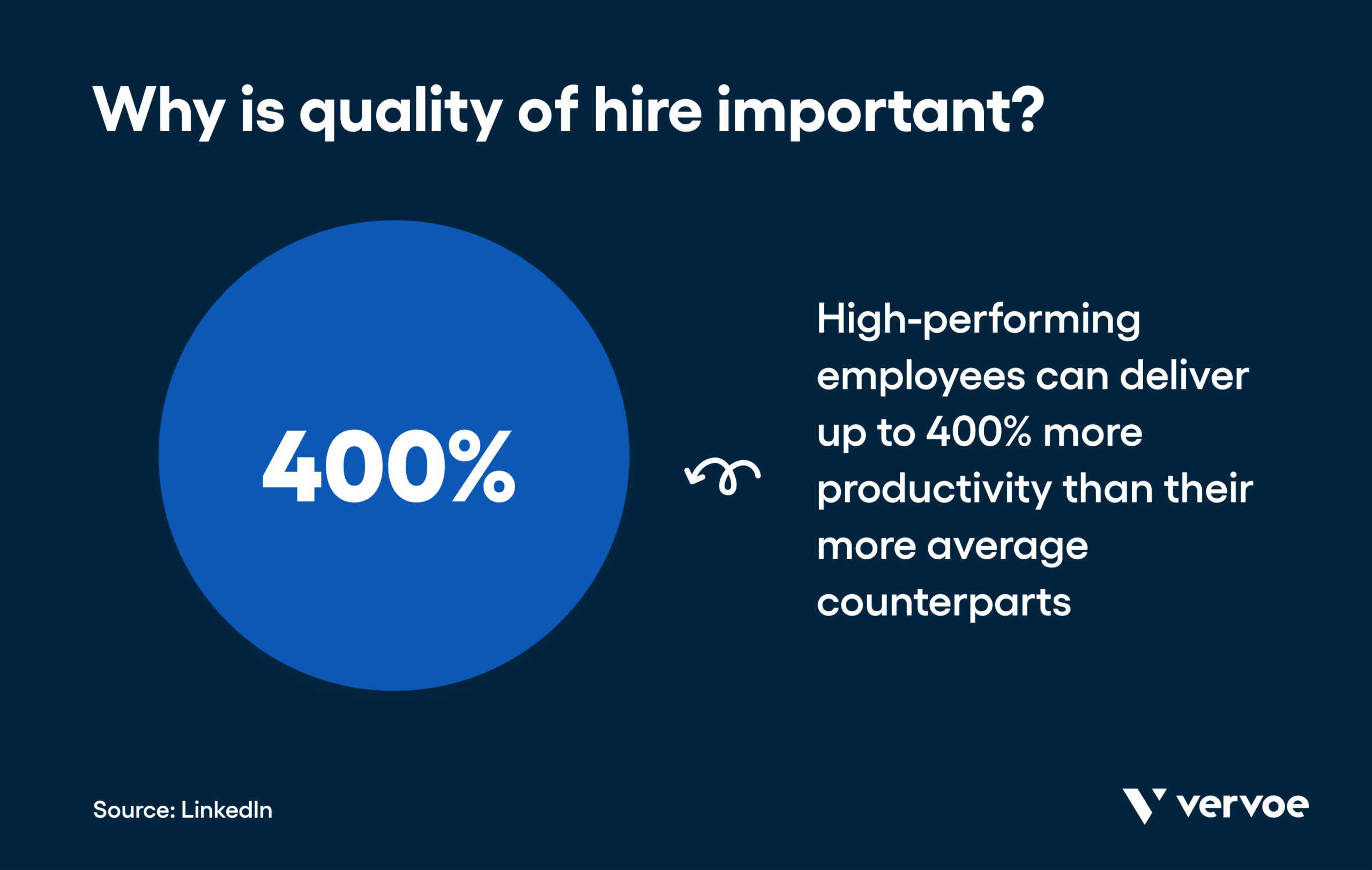 Meanwhile, LinkedIn's Future of Recruiting Report revealed that 88% of organizations believe that the metric will be very useful in the next five years. In the wake of COVID-19, organizations are especially mindful that having the right talent in the right roles will ultimately determine the future success of their business.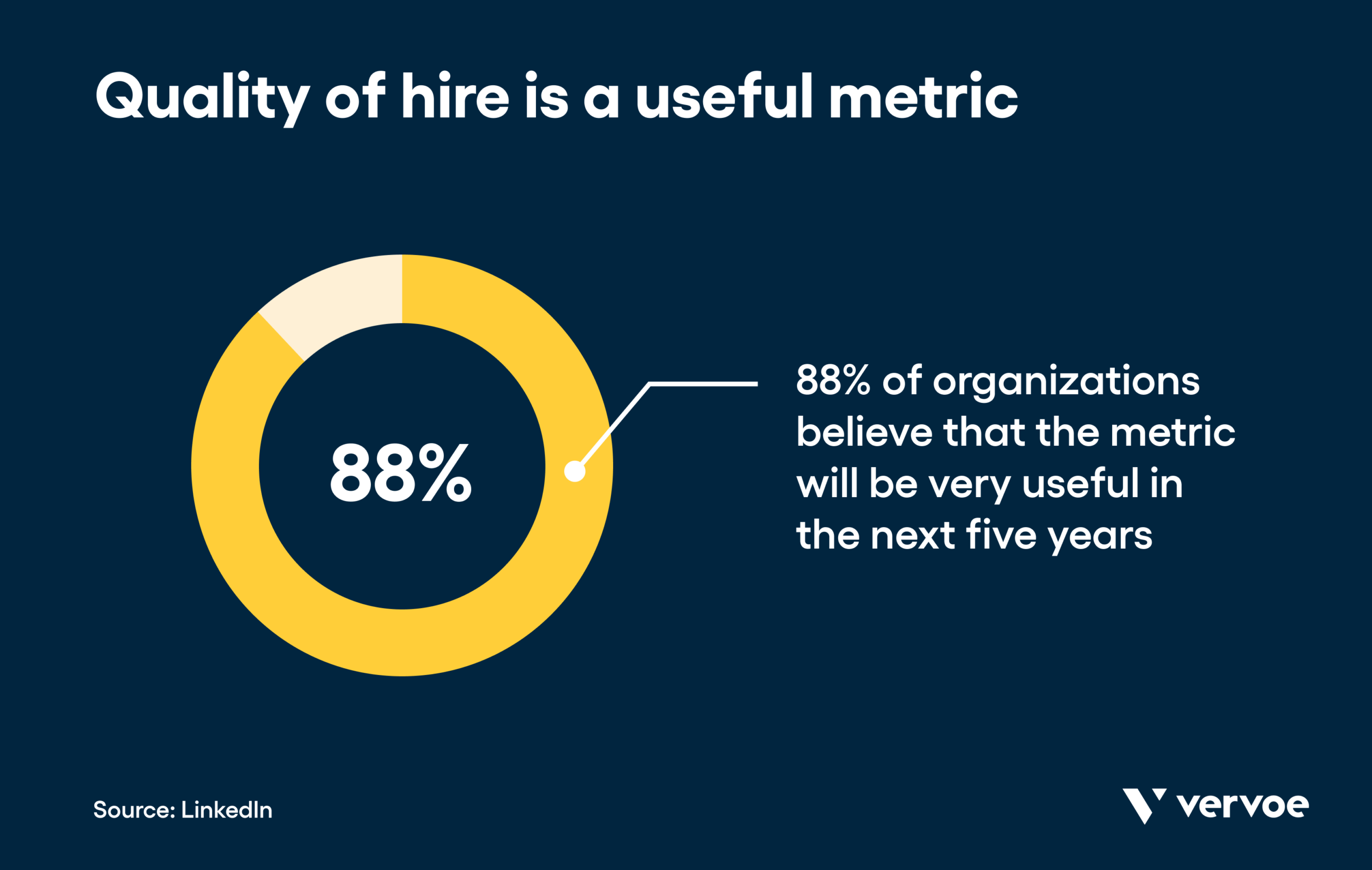 An organization will struggle to recruit a top-quality candidate if they haven't determined what that actually looks like in practice. By using a quantifiable measure to assess quality of hire, recruitment teams will be equipped with the information they need to refine their existing recruitment processes, hire the right people, and ultimately boost their organization's overall performance. An organization might, for example, note that all of its top talent is coming via one specific recruitment channel or method.
Providing quality of hire benchmarks and other evidence that a significant number of new recruits are becoming high performers is also the best way to illustrate HR and recruitment's value to the business.
Despite the many purported benefits of using quality of hire metrics, just 33% of LinkedIn's survey respondents admitted feeling confident in their ability to do so. So what are some of the best ways to calculate quality of hire?
[Read more: 6 Crucial Metrics To Measure Your Recruitment Funnel Effectiveness]
How do you measure quality of hire?
There is no quality of hire formula or standardized approach to calculating quality of hire, but organizations typically consider a range of both pre and post-hire metrics. This might include time taken to fill a job posting (also known as time-to-fill), the time it takes for an employee to get up to speed and work at full productivity (also known as ramp-up time or time-to-productivity), impact of new hire, pre-hire expectations, cultural fit, hiring manager satisfaction, source yield, retention, and overall job performance and output.
The best way to measure quality of hire depends entirely on the organization. Some choose to measure quality of hire for each new employee, while others focus on analyzing their overall quality of hire. Using a quality of hire calculation can help organizations better assess candidates and new hires. It's important to note that any formula used by a recruitment or HR team must be carefully considered to ensure it reflects the hiring organization's priorities and strategic business objectives.
How to calculate the quality of hire of an individual employee
To determine the quality of hire for an individual employee, the following formula is most commonly used:
Indicator 1 + Indicator 2 + Indicator 3 etc. / N
In this formula, the "indicators" refer to an organization's chosen metrics, while "N" refers to the number of indicators in any given equation.
For example, if an organization's chosen indicators are time-to-fill, job performance, hiring manager satisfaction, and ramp-up time the calculation would be:
(time-to-fill + job performance + hiring manager satisfaction + ramp-up time) / 4
It's up to individual organizations to tailor the formula to suit their needs and decide which quality of hire metric formula is most relevant. Most importantly, each indicator must use the same measurement scale, whether that's a percentage or a score out of ten.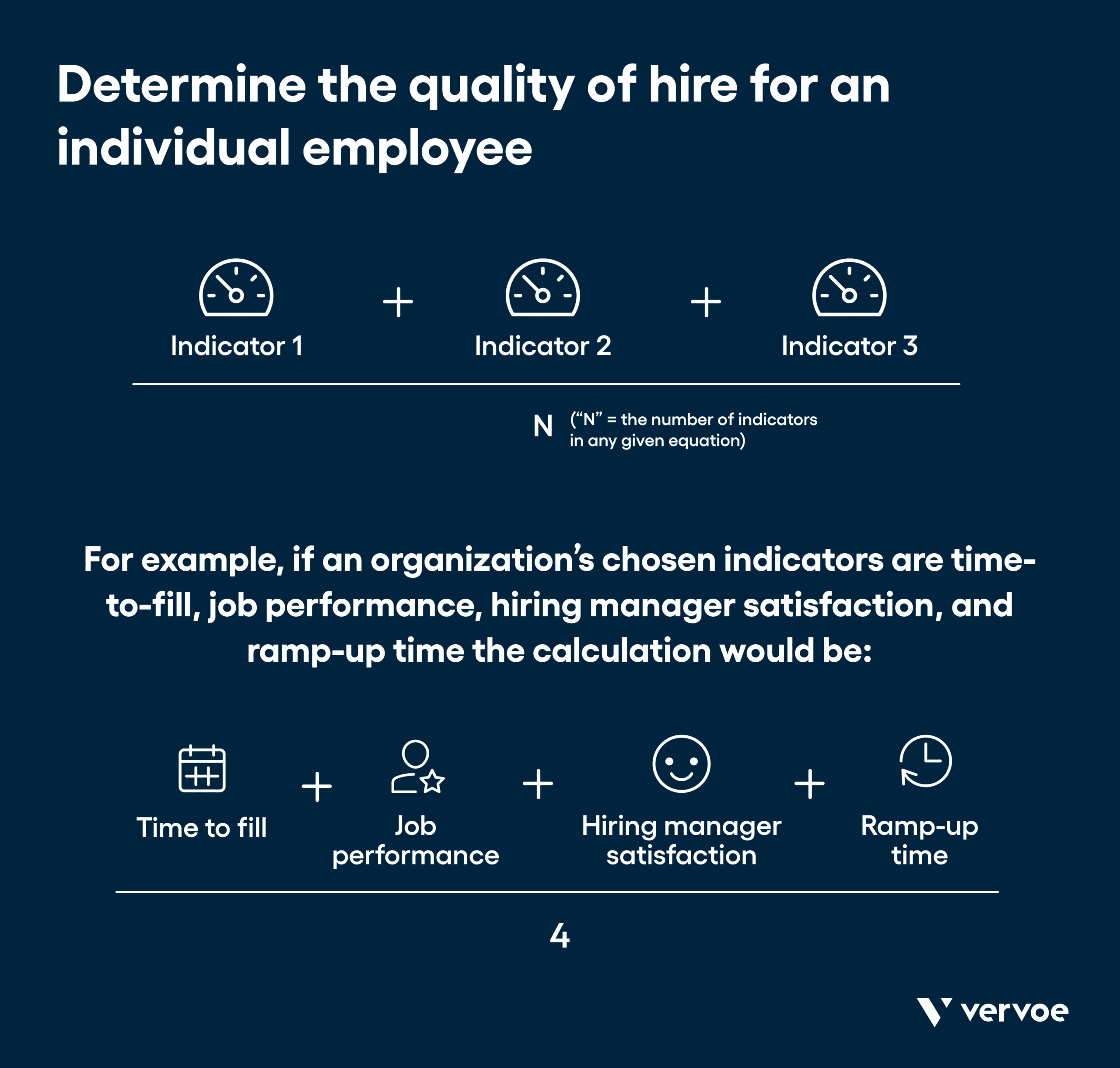 How to calculate the quality of hire of all new employees
Recruitment teams can better understand the impact and success of their hiring decisions by calculating the average of all its new employees' quality of hire scores.
Simply add together the quality of hire scores of all new employees and divide by the number of new employees.
How to measure the overall quality of hire of your recruiting process
For an organization to gain a better understanding of the overall success of its recruitment processes, it's necessary to consider retention rates – because this is almost always the most costly factor – alongside the average quality of hire score for all new employees as per the following formula:
(average quality of hire score for all new hires + retention) / 2
To calculate new hire retention as a percentage, use the following formula:
(Total number of new hires who are still employed at the end of the hiring organization's chosen measurement period) / (Total number of new hires who were employed at the beginning of the hiring organization's chosen measurement period) x 100
For example, if an organization hired 60 employees at the start of 2021 and 45 remain by the end of 2021, the calculation would be as follows:
45/60 x 100 = 75% retention rate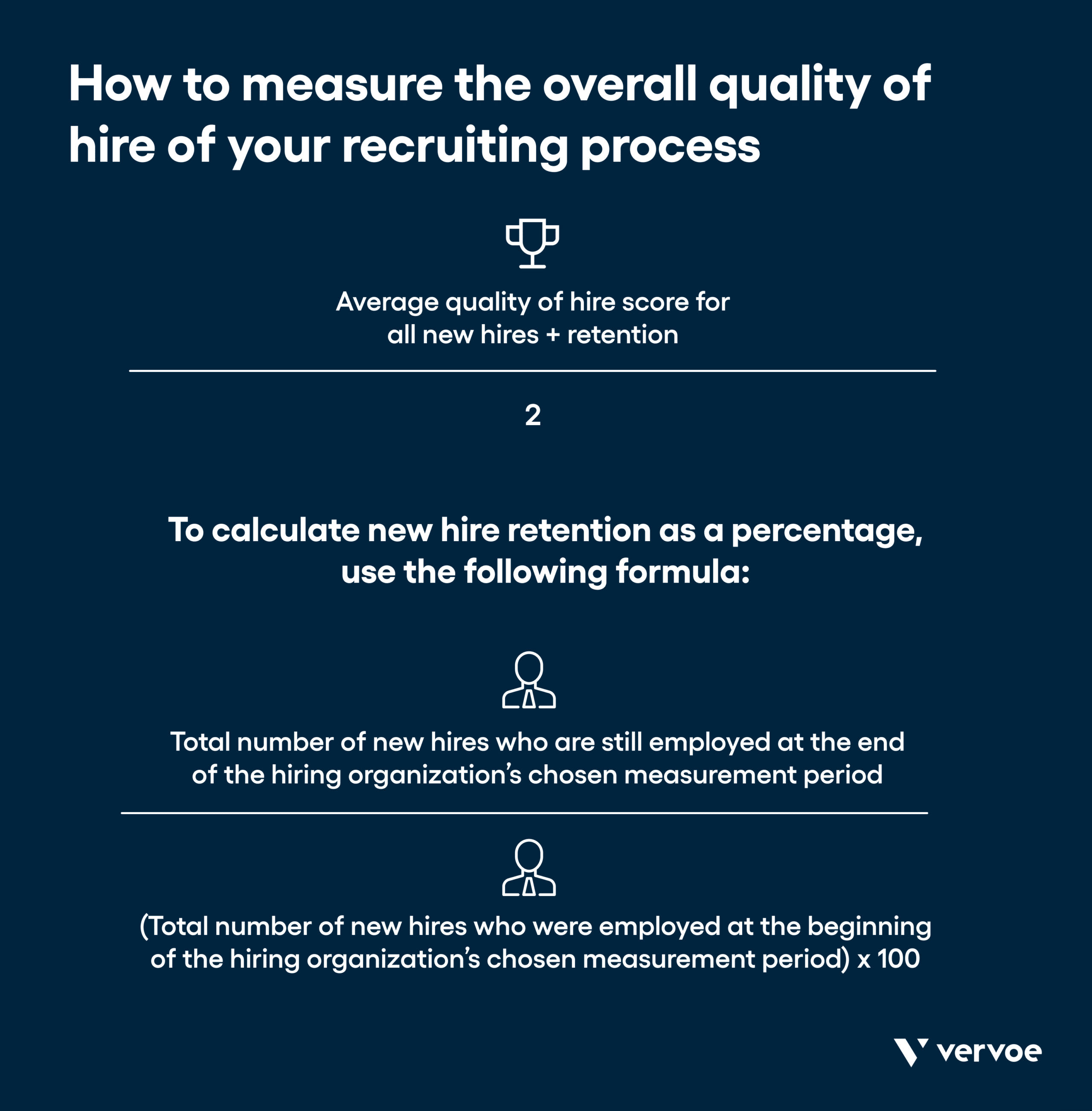 How to measure the quality of hire of a specific recruiting practice
The success of a particular recruitment method or source can be easily determined.
Imagine an organization wants to assess the success and impact of its employee referral scheme.
The recruitment or HR team would simply need to compare the average quality of hire scores for all new employees versus the average quality of hire scores for those recruited via the employee referral scheme. If the latter score is significantly higher, for example, it can be reasonably assumed that the scheme is working effectively.
How to link these measurements to business outcomes
Recruiters and hiring managers will be expected to work out how to measure quality of hire metrics, and link them to real business outcomes, whether that's specific long-term business objectives, a rise in the company's revenue, or cost savings.
For example, it's known that top employees contribute four times more value than the average employee. To quantify the increase in revenue generated by a high performer, an organization need only multiply the average revenue generated by a single high-performing employee by four.
[Read more: Design a Recruitment Process to Predict Job Performance]
How to collect data
Some metrics are more straightforward to measure than others. Collecting data on elements like time-to-hire, cost-to-hire, and turnover or retention rates, for example, is relatively easy.
But it is possible for organizations to collect meaningful data for more qualitative metrics using methods such as hiring manager satisfaction surveys, employee engagement surveys, and performance metrics.
Hiring manager satisfaction surveys
Organizations often require managers to fill out satisfaction surveys for new hires as a quick and easy way to assess quality of hire. Survey respondents will be required to provide ratings or scores based on how happy they are with the caliber of staff being brought in by recruitment teams.
Employee engagement surveys
Employee engagement surveys ask new hires to rate their recruitment and onboarding experience and their level of job satisfaction. There is often a direct correlation between an employee who feels happy and adjusted in their new role, and those who are high-performing team members.
New hire performance metrics
There are endless performance metrics that can be applied to measure quality of hire, which are dependent on an employee's specific role and responsibilities.
This could include specific metrics such as the number of sales made, revenue generated, or cost-savings implemented. In addition, organizations might measure whether a new employee is generally meeting or exceeding expectations, how they are assimilating into the workplace, and if they have long-term potential at the company.
[Read more: Remote Hiring Guide: How To Attract, Hire and Retain Remote Employees]
Challenges of measuring quality of hire
At present, as many as two-thirds of recruitment leaders say they have no metrics in place to measure quality of hire.
The biggest challenge associated with measuring quality of hire is the fact that it can take months, or even years, to collect the relevant data and draw meaningful conclusions. When an organization chooses to track a metric like retention rate, where should the cut-off point be? How long before it is reasonable to start assessing a new employee's contributions to the business?
Another challenge associated with measuring quality of hire is that the data collected is often highly subjective. It's especially difficult to quantify factors such as cultural fit or hiring manager satisfaction, and different recruiters, hiring managers, and business functions will have differing opinions on what matters the most.
When it comes to reviewing new employees, managers will have varying definitions of what makes a high-quality hire and it's easy for unconscious biases to influence scoring.
[Read more: 10 Pitfalls To Avoid When Building the Perfect Digital Recruitment Strategy]
How to improve your quality of hire
Once recruitment teams start collecting the data they require to effectively measure quality of hire, they will look to draw meaningful conclusions about how to improve their existing processes.
This is a worthwhile, if time-consuming, process that requires a close analysis of all results and a measured and thoughtful approach to making long-term changes.
For example, organizations might choose to streamline their onboarding processes, implement new technologies, increase the size of their candidate pool, or shorten the recruitment cycle. It might be worth exploring new or additional recruitment sources, such as specialized recruitment firms, or implementing more robust candidate screening and reference checking to quickly eliminate unsuitable candidates.
In some cases, organizations might discover that their existing interview format and questions are deterring or filtering out top talent based on factors like unconscious bias. Other times, it will become apparent that the biggest problem is an organization's failure to nurture new employees in the months following the onboarding process.
As an organization looks to develop and implement a new quality of hire measurement program, it's a good idea to create a quality of hire scorecard featuring the most highly valued metrics. These should reflect the long-term business objectives and hiring priorities.
For example, if an organization is most concerned with reducing costs throughout the recruitment process, it should focus on metrics including new hire retention rate, ramp-up time, and cost-to-hire.
Meanwhile, a quality of hire talent scorecard of an organization committed to recruiting talent of the highest caliber will look into performance ratings, hiring manager satisfaction, and ramp-up time.
How technology is improving quality of hire
Cutting-edge technology is enabling recruitment and HR teams to more effectively measure quality of hire. There are tools available that can track an employee's performance, generate surveys to collect feedback from peers and managers, assess candidate satisfaction, and automate various stages of the recruitment and onboarding processes.
Machine learning software, for example, can leverage historical data from resumes, interviews assessments, etc., and integrate multiple data sources to match prospective candidates to suitable roles and make predictions about their future success at an organization.
Not only can technology solutions make the processes of data collection and analytics far more efficient, but they help organizations execute a cohesive quality of hire measurement program and reduce instances of unconscious bias.
[Read more: 14 Recruitment Methods To Save You From Bad Hiring]
Final thoughts
While there is no right or wrong way to measure quality of hire, to truly reap the benefits of doing so, organizations must make a long-term commitment, allocate sufficient resources, and invest in suitable technologies to measure, record, and analyze their findings.
To ensure that all the data collected is accurate and actionable, it's important to standardize the criteria for measuring quality of hire company-wide, and collect data for multiple metrics.