Transform the way you screen candidates.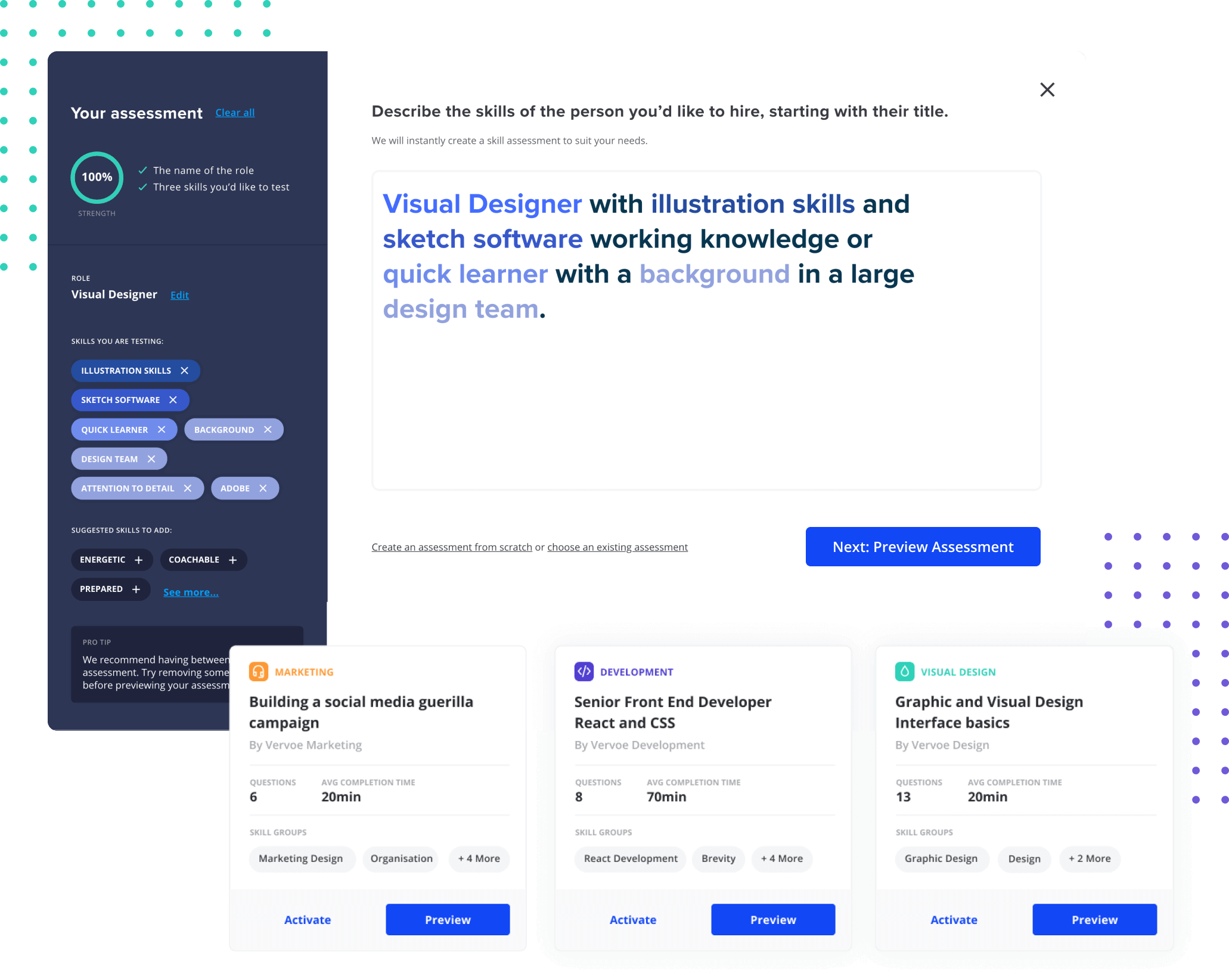 Customizable skills assessments
Test job-specific skills, technical skills or soft skills using tailored assessments that are generated instantly and graded automatically.
Automated skills test builder
Generate a made to measure, instantly auto-gradable skills assessment in less than a minute. Assessments are unique to your company and the role you are hiring for.
Library of ready-made expert content
Choose from a library of assessments created by industry experts. Customise any skills assessment to suit your requirements.
Load your own testing content or work with our in-house I/O psychology team to create something tailor-made.
Use a variety of questions and answer types, including text, multiple choice, video, document editing and more. See candidates perform on-the-job tasks.
Assess candidates through a platform branded to your organisation. AI-powered ranking surfaces the top performers so you can focus on the best people.
Multiple testing and grading formats
Save time by interviewing remotely. See how candidates communicate by asking then to record video responses. Use video-based questions to make the process engaging.
Save time by screening your candidates remotely. See how candidates communicate by asking them to record video responses. Use video to communicate your values and show candidates what it's like to work for your organization.
Never make another bad hire.
Traditional job interviews don't do the job, pun intended.

EVALUATE AT SCALE, FOCUS ONLY ON THE BEST
AI-powered hiring automation
Hire at scale by easily managing a high volume of candidates without compromising quality.
Keep candidates engaged and informed throughout the process.
Automated candidate ranking
Machine learning algorithms automatically grade, and stack rank, candidates based on how they perform. 
Reporting and talent insights
See what sourcing methods deliver the best performing candidates, and make talent decisions based on ROI. See completion rates and times for each stage and sourcing methods.
Automate your entire process. Auto progress or reject multiple candidates with one click. Give multiple candidates more time to complete skills assessments.
Seamlessly integrate with your ATS software.
No need to change your workflow. Our integrations allow seamless response to your systems.
Avoid lengthy implementations. Vervoe connects with your ATS so you can get started straight away. Start inviting candidates the day you register.
Import a list of candidates from your ATS, and invite them to be evaluated, then export back with scores.
No implementation required
No need to train an algorithm. Vervoe instantly autogrades your organization's tests, and continuously learns your preferences.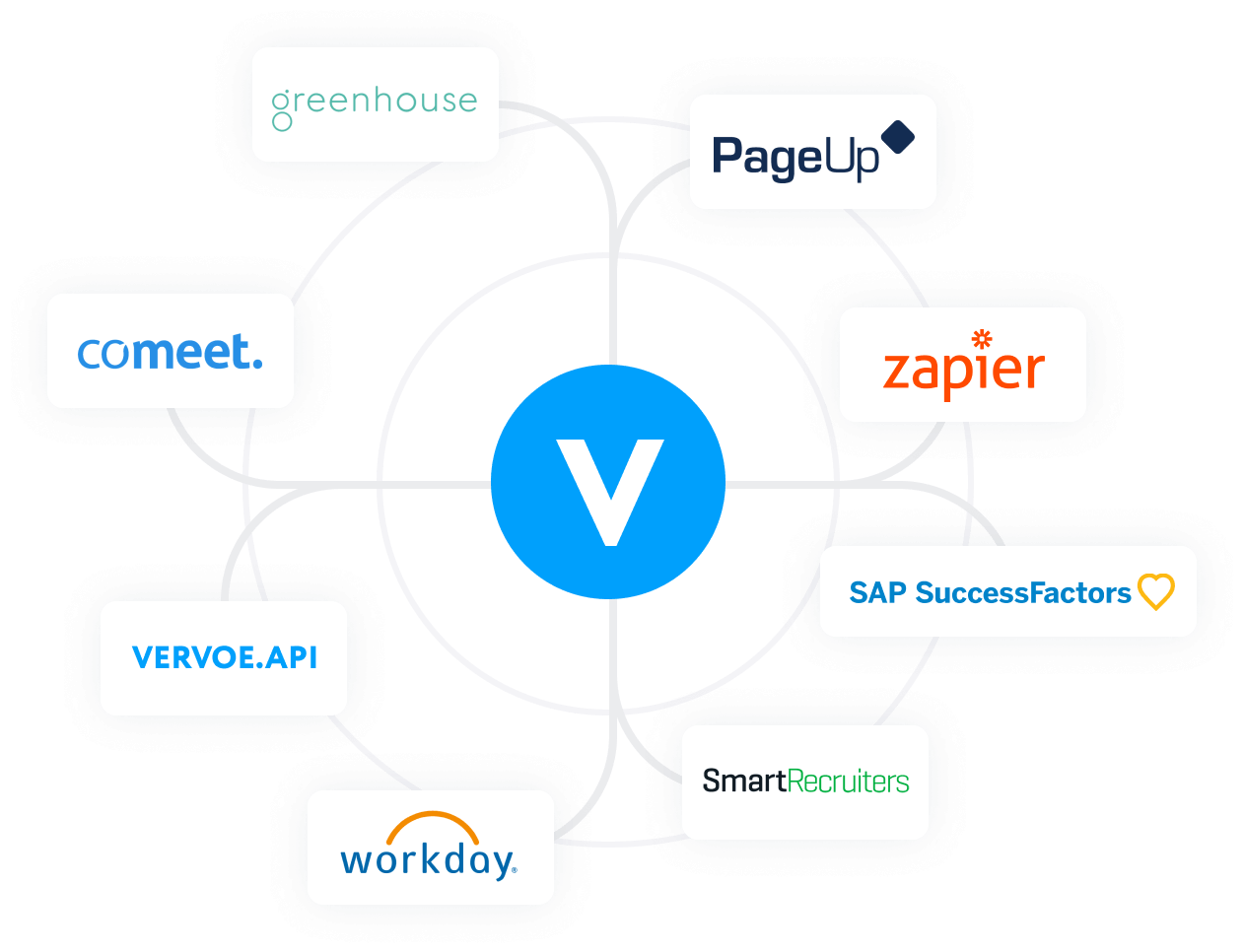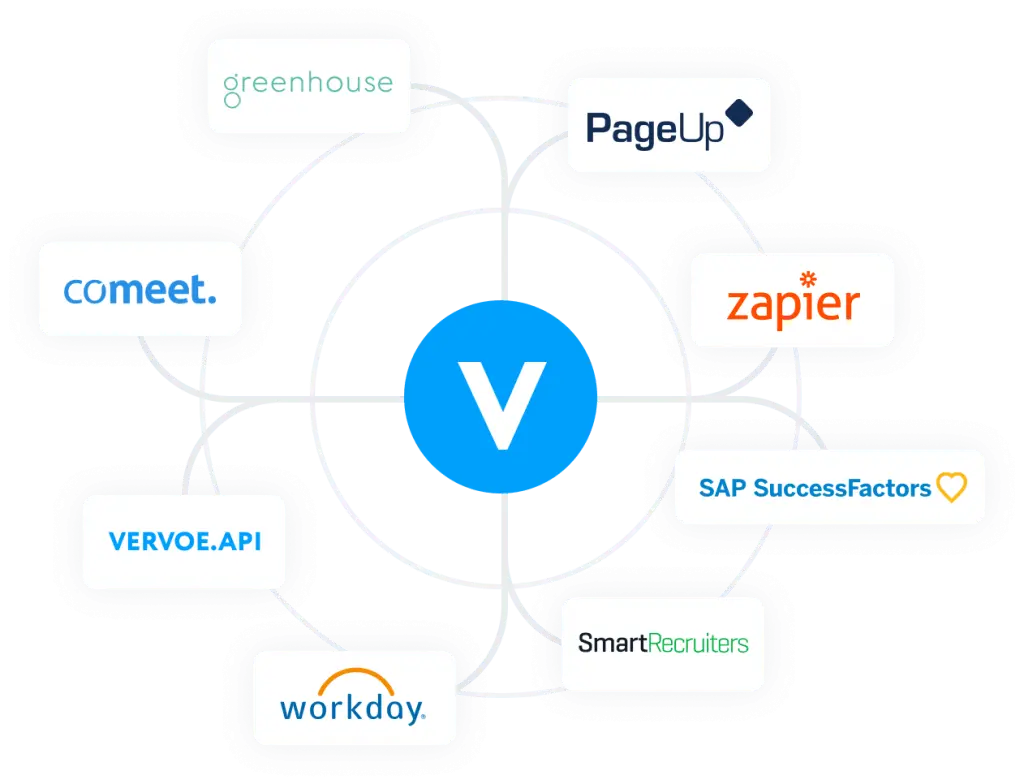 Turbocharge your hiring process with more features.
Test as many candidates as you want on all our paid plans! We believe everyone should get a chance to prove their skills.
Search and filter candidats across all jobs you've tested over time. Utilize their tested skills to place in different jobs.
Create trackable links with a single click and understand which sources perform best on your tests and double down on those.
Timed questions and tests
Limit the time to complete a specific question or for the entire test. One of the many ways to eliminate cheating and improve completion rates.
Make collaborative hiring decisions by sharing candidate details, and scores, with hiring managers and recruiters.
Ask any candidate to download any file type as part of a question. Let candidates upload any time type as their response. Think .pdf, .psd, .odt and any other!
Stay up to date when candidates open your emails, start taking a test or complete it.
Candidates can showcase their talent on any device. You can get work done on the go.
Candidates will be immersed in your brand using your logo, colors and tone of voice.
Attach a personalized video to the job application page or Skills Assessment. An effective way to humanize the process and make it interactive.
Invite candidates to showcase their talent and they'll seamlessly be taken into their test without having to create an account.
Communicate with candidates without leaving the platform. Customize email templates for each test and automate them.
Join these companies already hiring great people.