Transform the way you hire.
Tools to help you make hiring decisions based on merit, not background.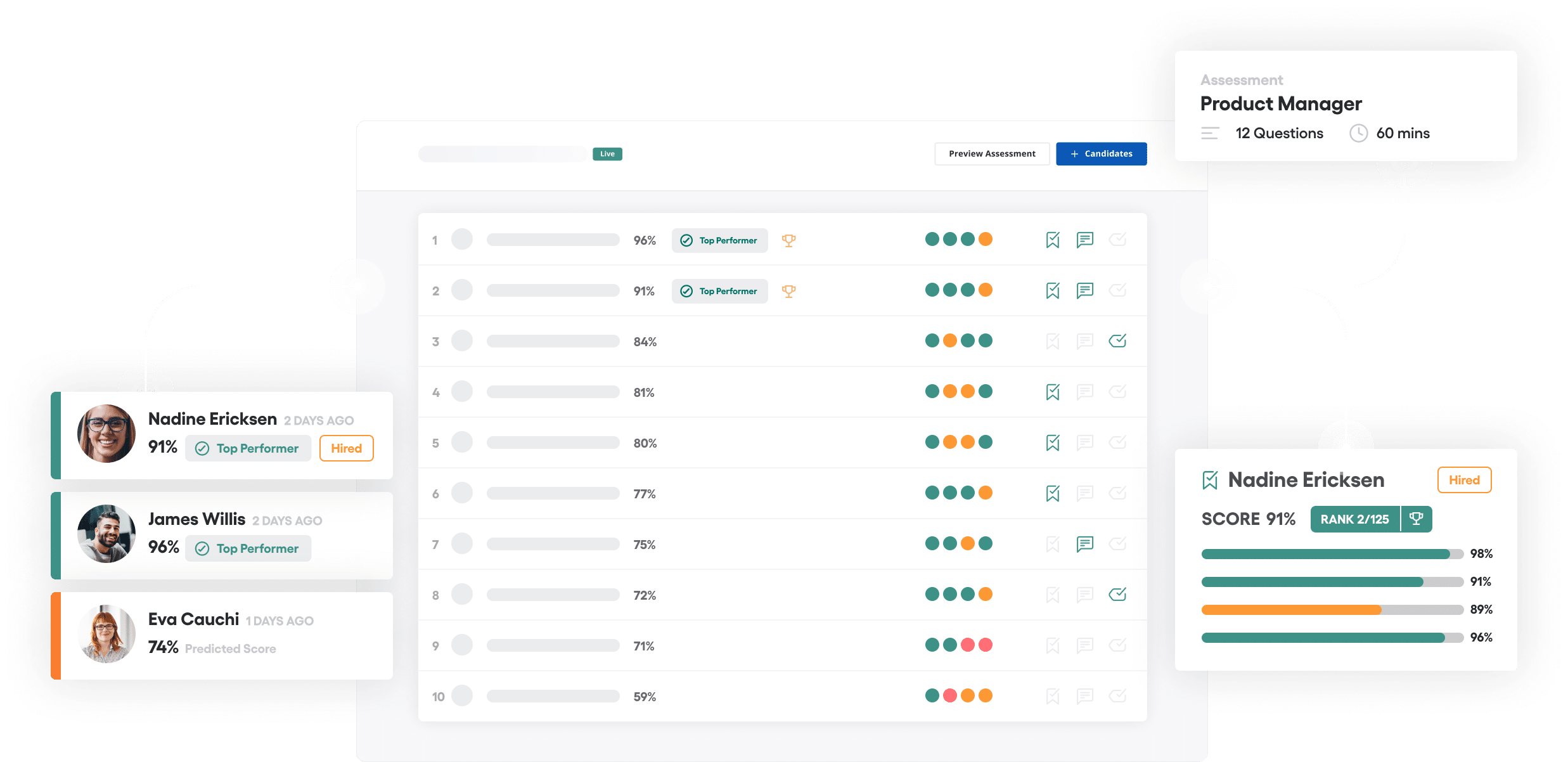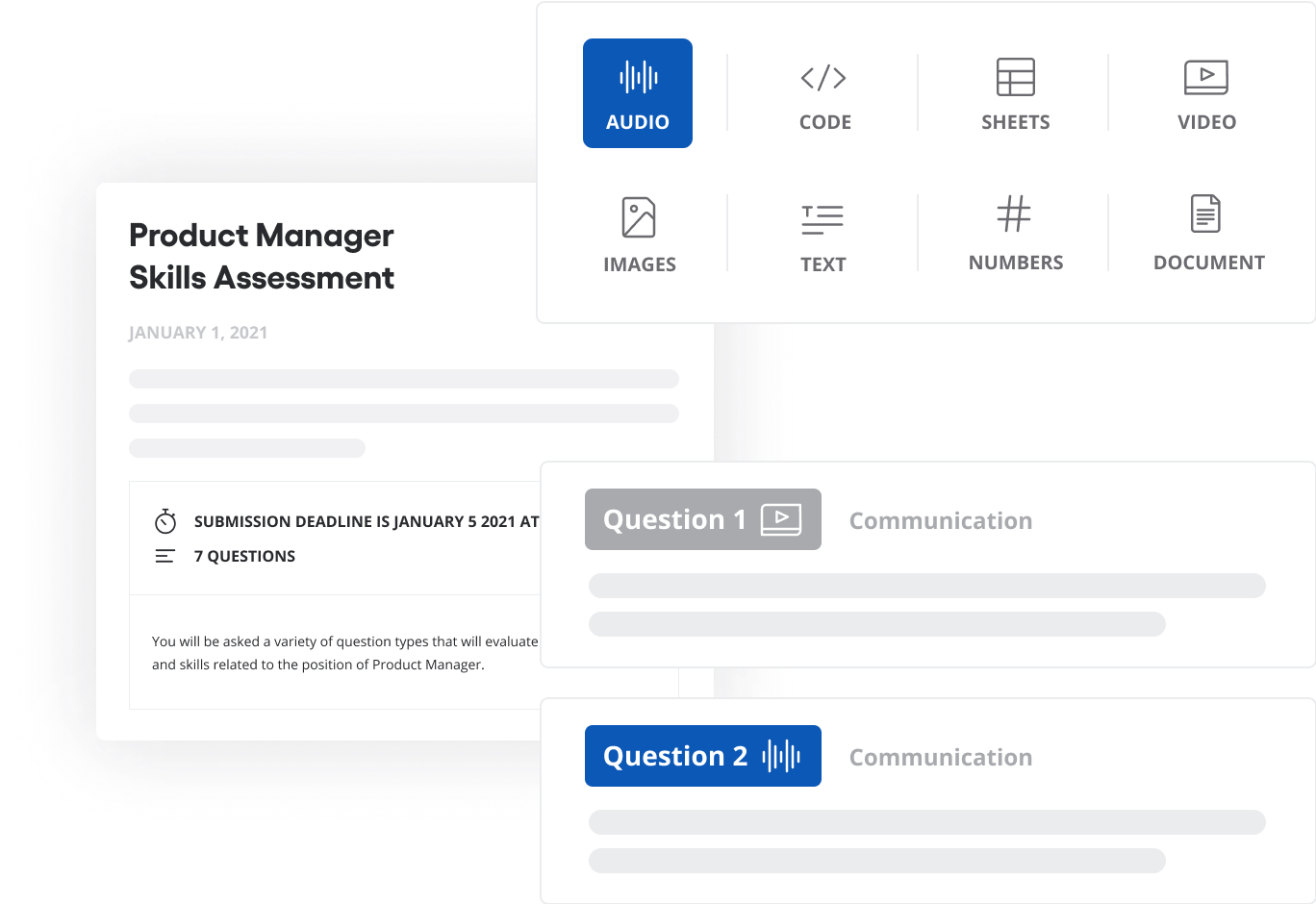 Vervoe lets you create a completely unique assessment that's tailored specifically to suit the requirements of the role you're hiring for.
Getting started is easy. Select a base template from our library of over 300 validated assessments and customize the skills or questions. Or using your job title generate one from scratch using our builder and be prompted with the right skills and questions to use.
Over 300 templates available, written by leading I/O psychologists. Everything from graphic design to sales reps, each test has correct sample responses and a range of different question types that you can customize to suit your own unique needs.
Create an assessment for any role using the builder. Just start with the job title and the builder will prompt you with relevant skills to test and suggest questions from our bank of over 300,000. In just a few minutes you'll have a complete assessment ready to use.
We offer a range of different question types to help engage and immerse candidates in the role. From coding challenges in 8 languages to presentations and live spreadsheets, our assessments create an experience that tests how candidates will really perform day-to-day tasks.
Eliminate cheating without introducing bias through Vervoe's unique anti-cheating features like question randomization that automatically rotates assessment questions so candidates always see a different order.
Don't just send candidates a link to an assessment - Improve your entire hiring process with seamless integrations and create a leading candidate experience that engages and delights your applicants.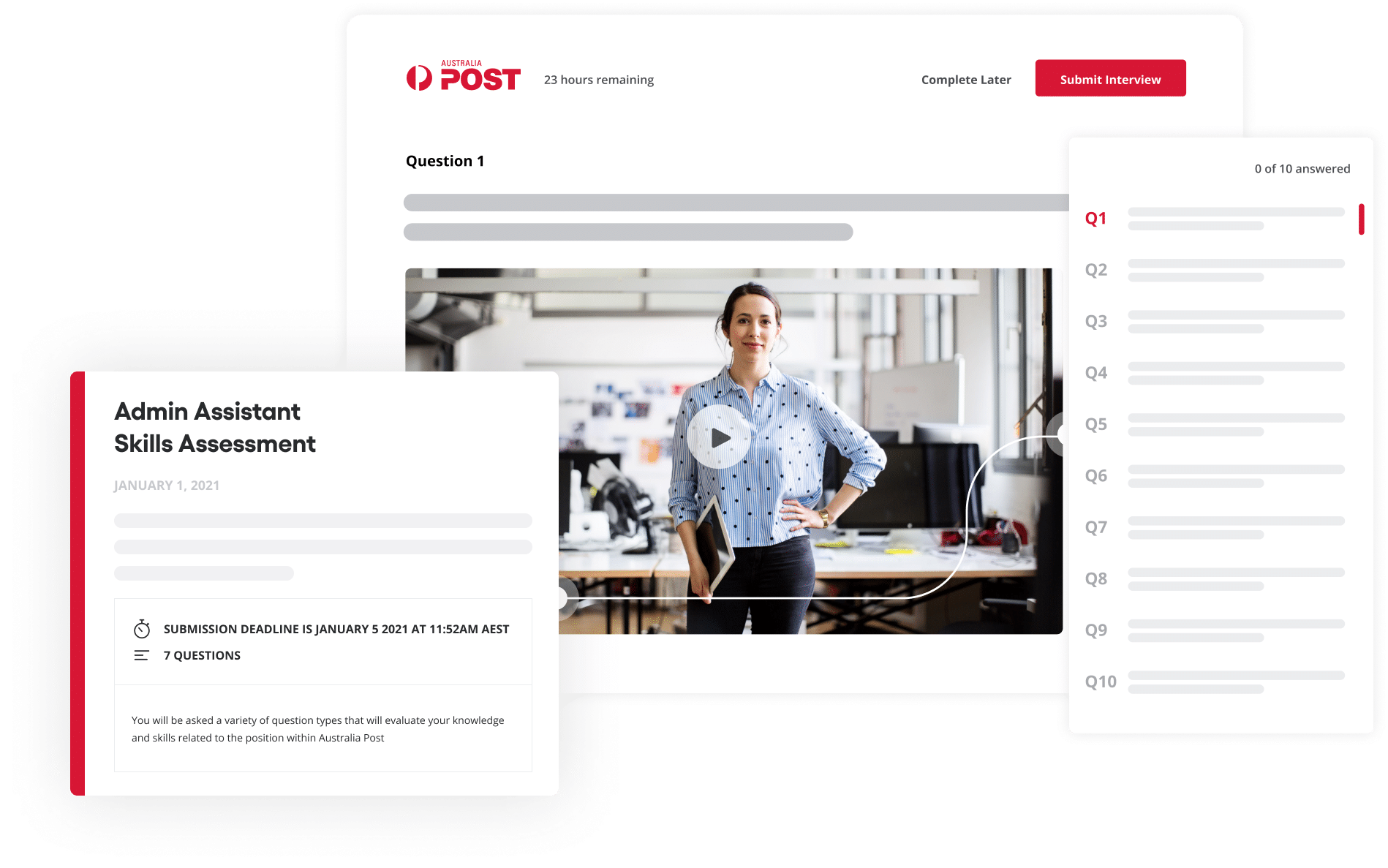 Keep every candidate updated on their application. In-app messaging makes it easy to communicate with candidates. Invite them to assessments and notify them of their progression through your hiring flow.
Welcome candidates to your organization with a fully branded assessment. Include your logo and brand colours, personalize platform messaging and communicate your values with video introductions. Vervoe's flexible platform lets you curate an online recruitment process tailored to your business.
Vervoe integrates with all of your favorite recruitment and workflow tools so you don't need to change the way you work. From Greenhouse and SmartRecruiters to Zapier you'll be connected in minutes with Vervoe immersed in your existing hiring process.
Let every candidate apply by taking your assessment with a job link. You'll skip the manual screening process and instead end up with a shortlist of candidates ready to progress to the next stage. Or import a CSV of email addresses and send an invite directly to your candidates.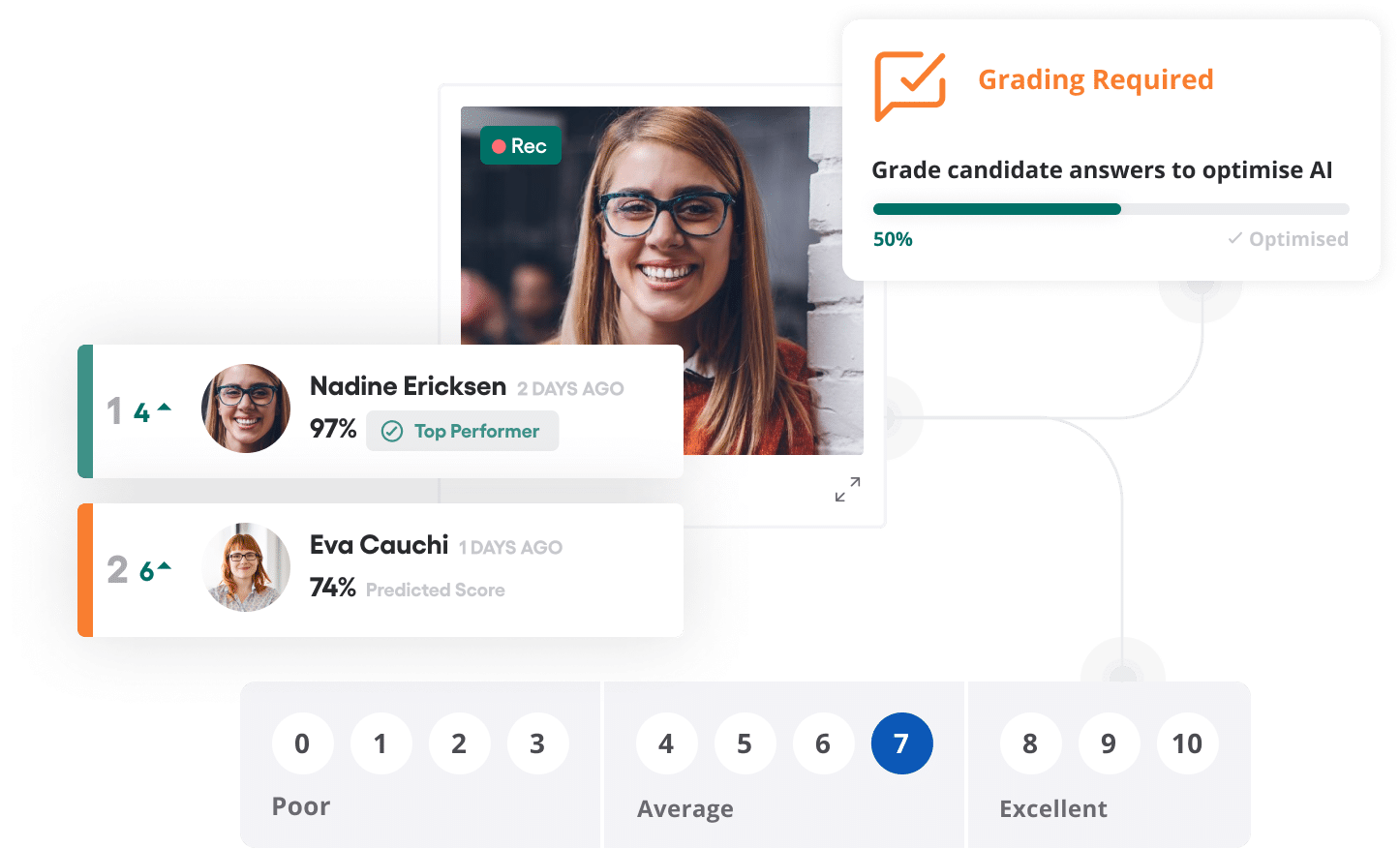 Our AI is powered by a set of machine learning algorithms that review and analyze human behaviour.
No two candidate's are the same so they shouldn't be graded the same. Our AI tracks each individual's interaction with an assessment along with the content of their responses to provide you with an accurate grade for their assessment.
We use a set of algorithmic models that measure the quality and interaction of a candidate's responses against millions of other similar responses and actions.
If you're hiring a Call Centre Agent you might be looking for someone with skills like attention to detail and empathy.
Our models process thousands of responses quickly looking for certain words, sentiments and actions that reflect these values accurately. Candidates that display more of these are graded higher.
Vervoe gives you tools to help you train the AI to value what you value through grading. You'll be shown a few responses and asked to provide a grade from 1 – 10. This grade is fed back into the AI so it understands what good and bad answers look like to you. The next time it grades it will use this information from you to determine the quality of the response.
Finding the right candidate doesn't always mean finding the overall top performer.
Vervoe gives you tools to dig deeper into candidate results, see complete score breakdowns per skill and easily identify those hidden gems. Clever team tools make it easy for you to share, compare and collaborate with hiring managers to make finding the right candidate simple.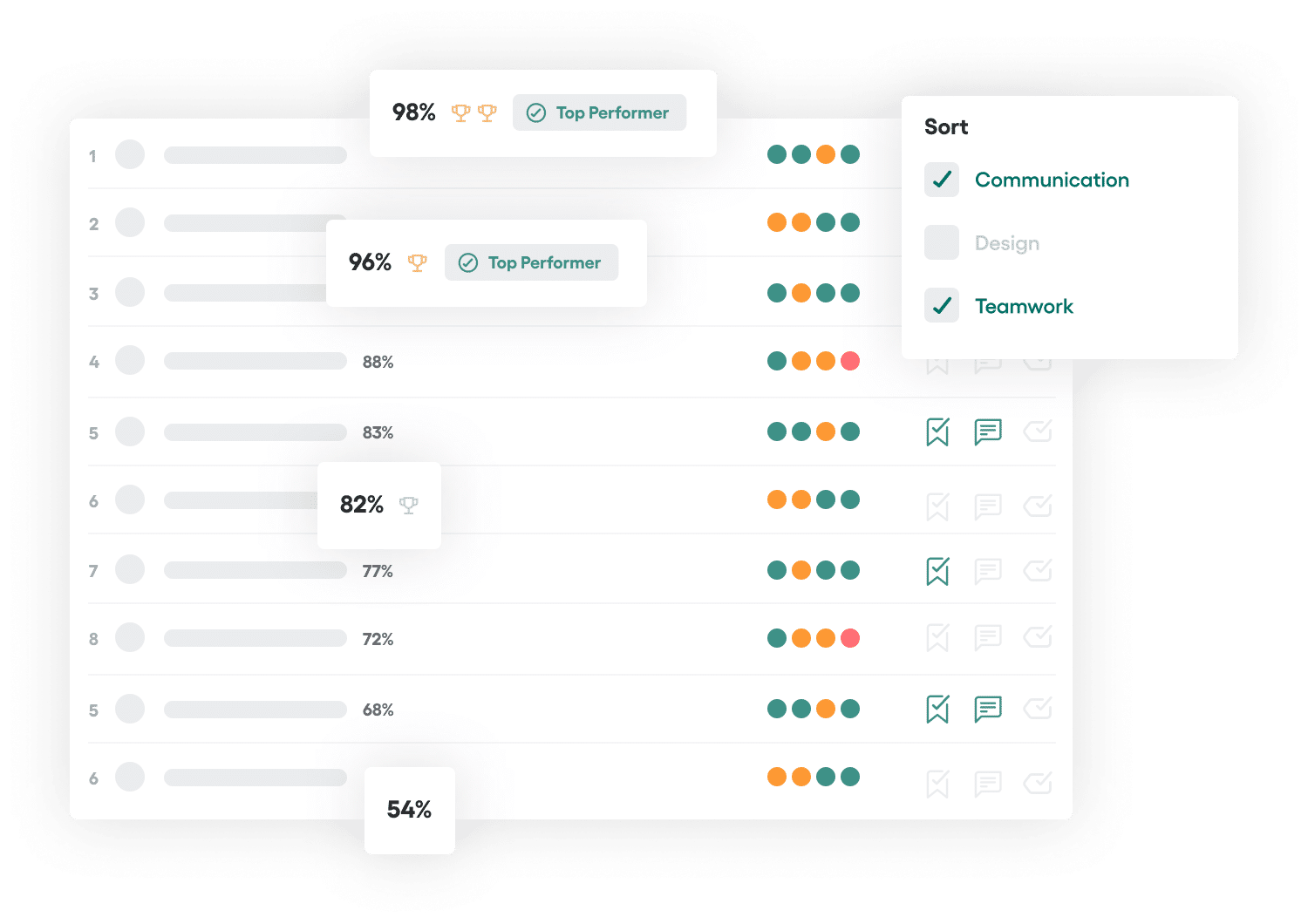 Automatic Grading and Ranking
Candidates are automatically graded, ranked and benchmarked once they complete your assessment. Top performers are highlighted with badges and trophies and you can customize the view to sort your needs by knocking out questions or skill groups and watching the results recalculate.
Complete candidate report cards breakdown an applicant's performance by skill with options to review individual responses and compare candidates side by side.
Drill into assessment stats like top performing invite channels.
With Vervoe it's easy to make hiring collaborative. Easily share candidate report cards, allow hiring stakeholders to review and grade responses, and add notes and comments keep your whole hiring team in the loop.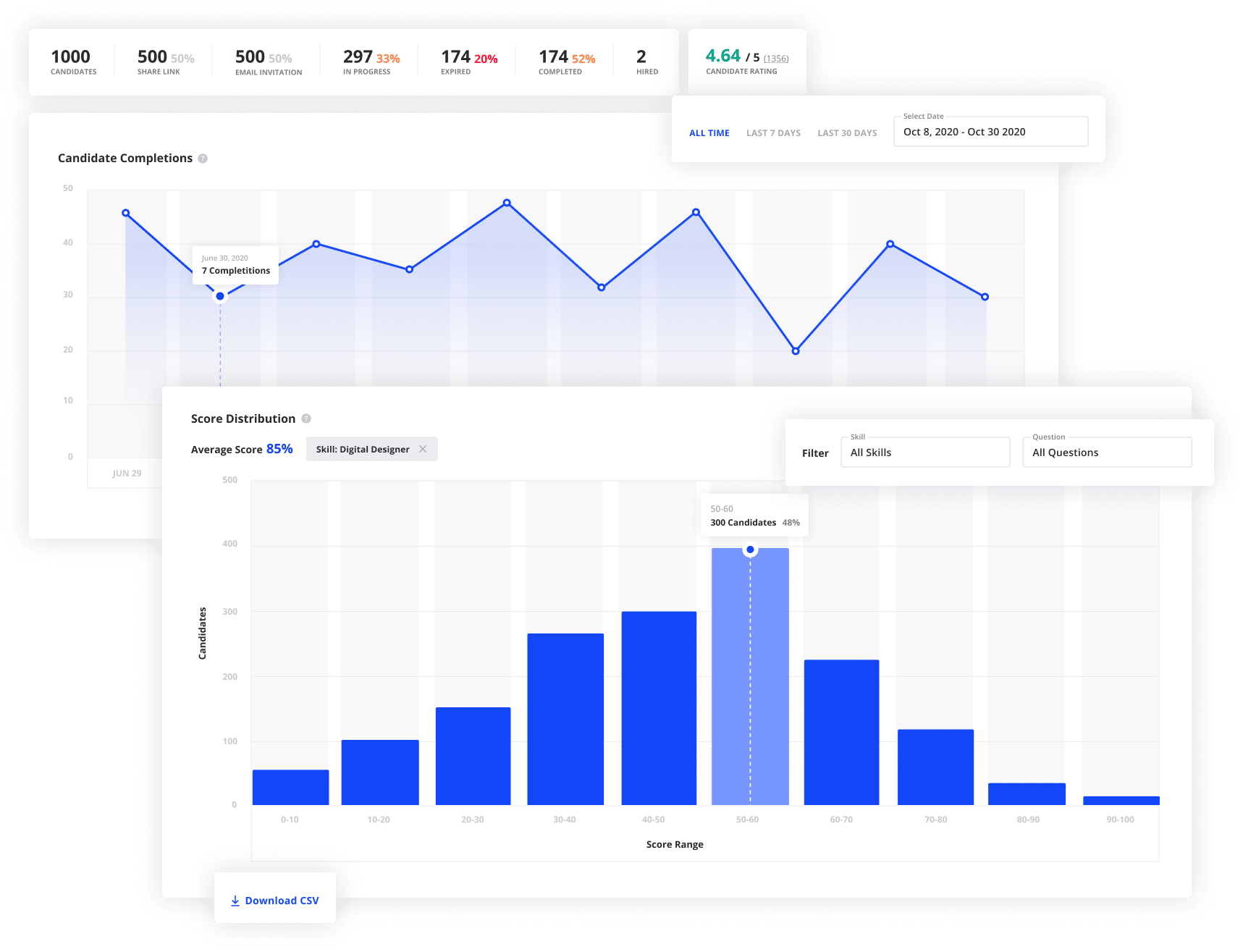 Vervoe insights put you in total control of your hiring with on-demand reporting that lets you see how your assessment is performing.
Dive into completions, score distributions, and question-by-question insights to check the health of your assessment with powerful user-friendly charts.
Easily identify peak days or times when your assessments are most likely to be completed by candidates.
These insights can be used to better plan when to invite candidates to an assessment and when to close applications for a role.
Track the health of your assessment and quickly understand if it's too easy, too hard or just right and how to make adjustments for optimal candidate completions and for an assessment that's at the appropriate level for your role.
Review your assessment question by question. In-depth insights will help you see if there's any questions in your assessment that need tweaking and help you understand if there's any roadblocks for candidates trying to complete.
Vervoe integrates with all of your favorite recruitment and workflow tools so you don't need to change the way you work. From Greenhouse to Zapier you'll be connected in minutes.


Vervoe's API provides access to core data including what assessments are available to send, sending the assessment to candidates, and returning their results.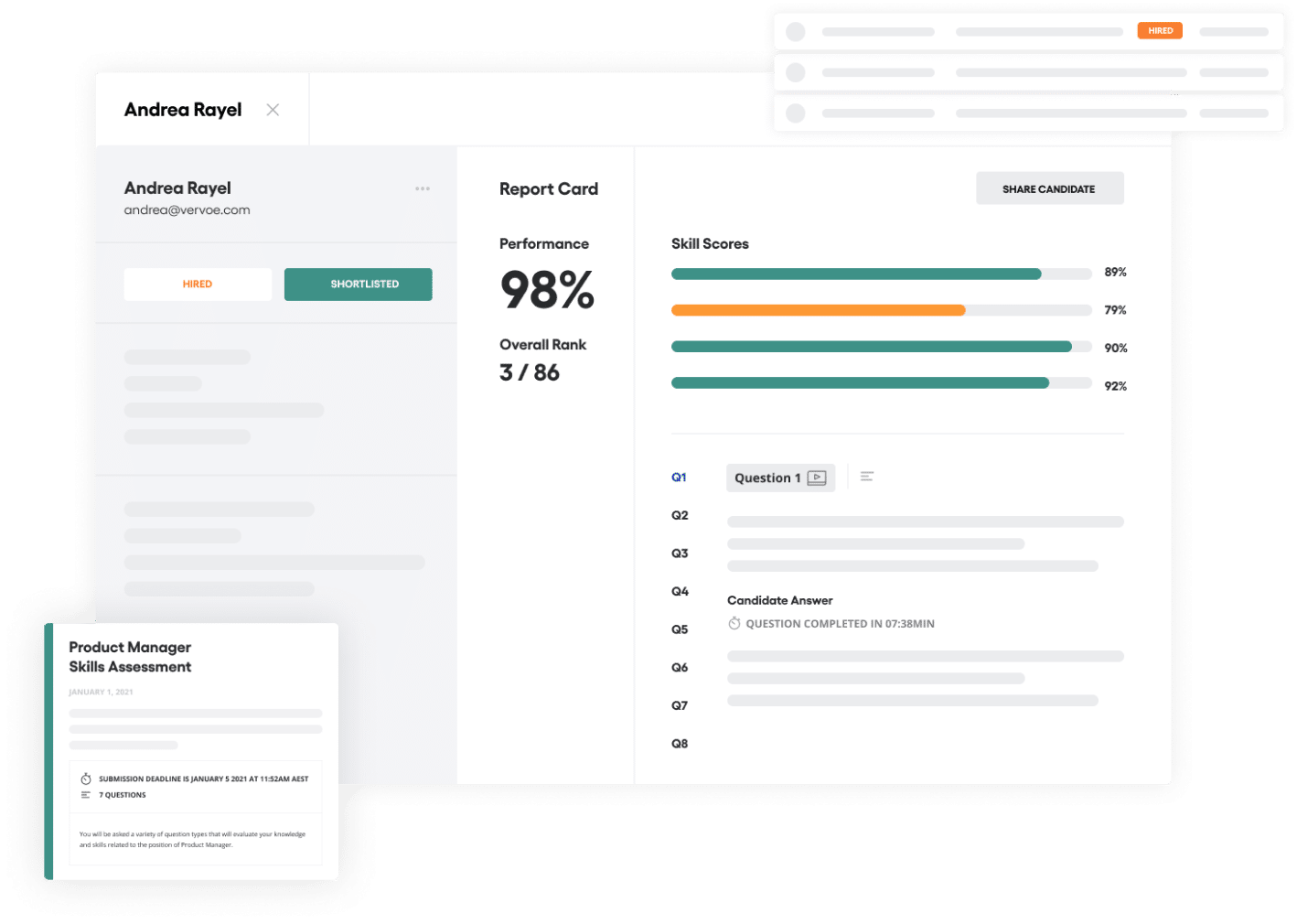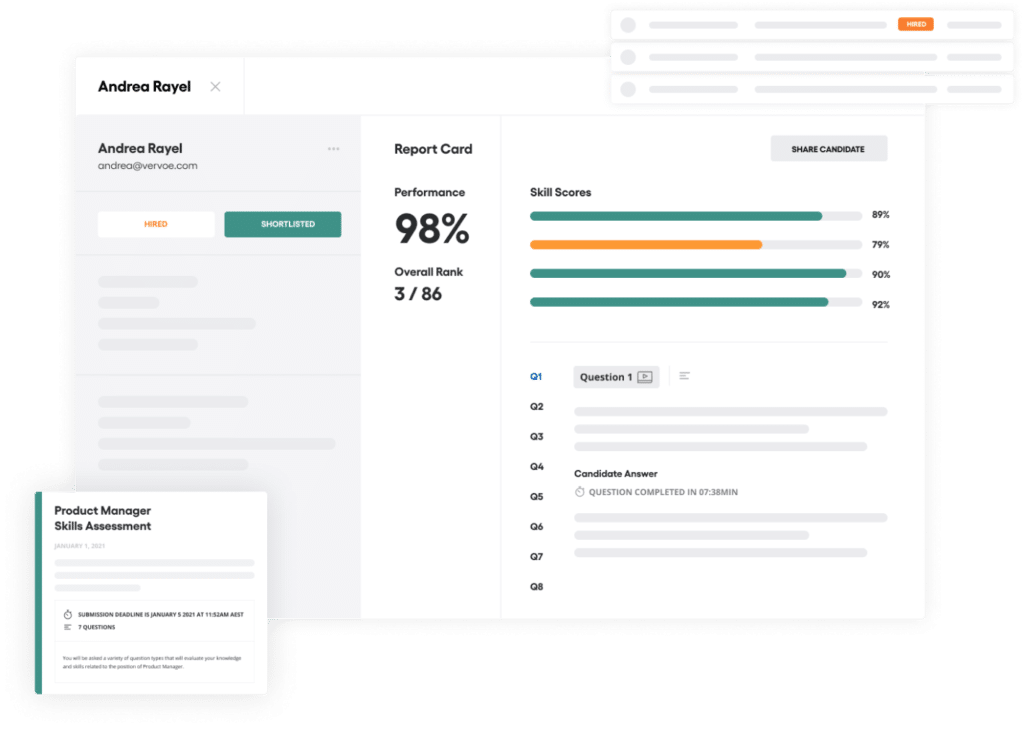 Easily keep track of great hires made through Vervoe with our closing the workflow. The data also feeds back into your AI model to optimize results for the next round of hires you do.
One click activation to mark candidates as hired and progress them to your next onboarding stage. Full candidate report cards are stored and easily accessible in future along with closing the loop data to help you make more informed future hiring decisions.
All candidates across all jobs you've tested over time can be easily searched and filtered. Utilize their tested skills to place them in other open roles across your company. Assessment data is saved along with their profile making it easy to review past responses and scores.
Your complete solution for skills testing
Create trackable links with a single click and understand which sources your best performing candidates are coming from.
Timed questions and tests
Limit the time to complete a specific question, or for the entire test. One of the many ways to eliminate cheating and improve completion rates.
Make collaborative hiring decisions by sharing candidate details, and scores, with hiring managers and recruiters.
Ask candidates to download any file type as part of a question, or let them upload in multiple formats. Think .pdf, .psd, .odt, or any other format they'll use on the job.
Stay up to date when candidates open your emails, start taking a test or complete an assessment.
Candidates can showcase their talent on any device. You can get work done on the go.
Find your next top performer for free
Start your free trial today and validate candidates skills instantly.