Transform the way you hire.
Tools to help you make hiring decisions based on merit, not background.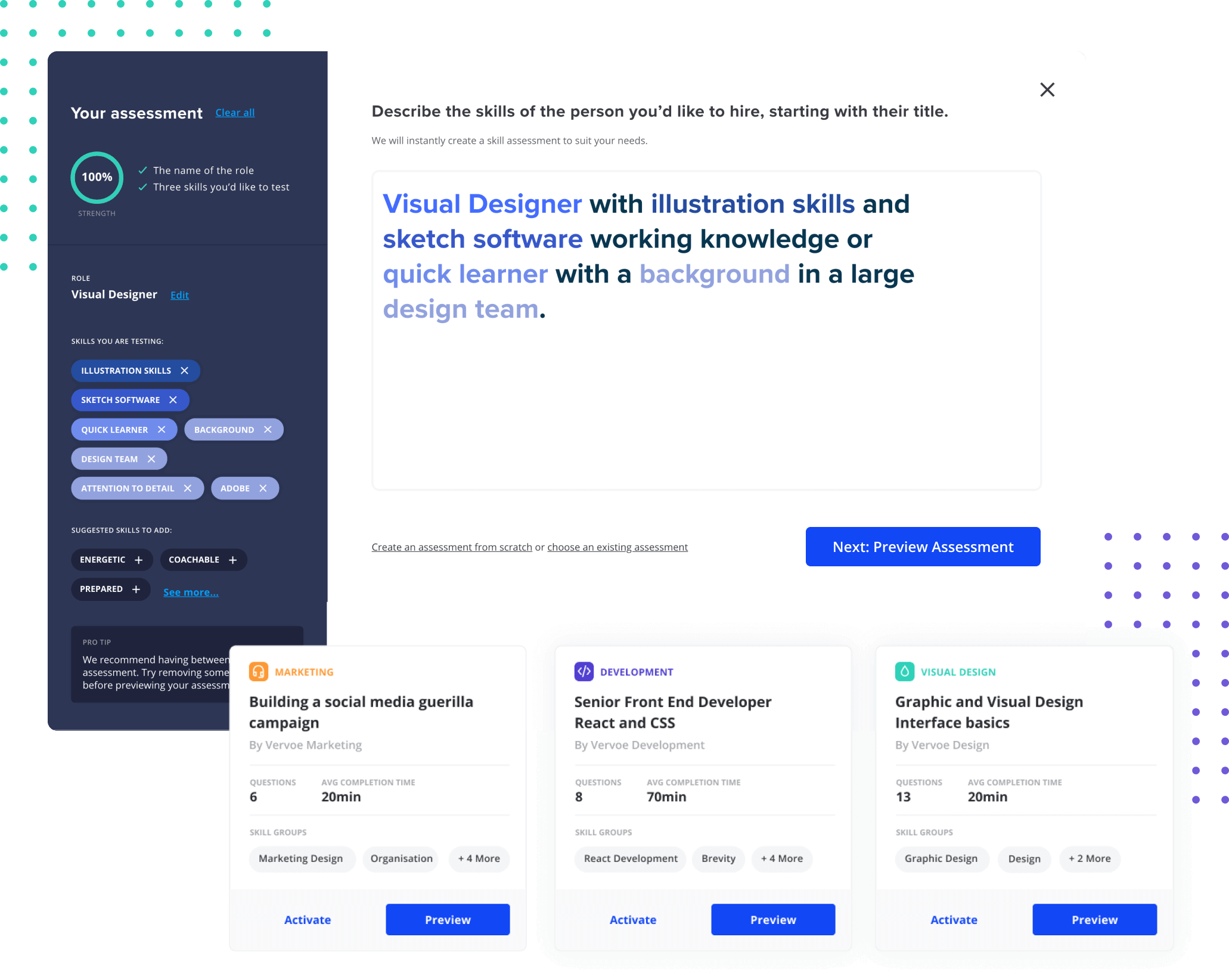 Assess soft and technical skills for any role
Start with one of our 200+ ready-to-use assessments based on real job roles. From customer success to coding, our templates have been created in consultation with I/O psychologists and industry experts.
Looking for inspiration? Our smart AI Assisted Builder can help. Start with the job title and the builder will prompt you with relevant skills for that role. In just a few minutes you'll have a complete assessment ready to use.​
Already have an assessment that's tailored to your role? Bring your custom content to life with a scalable platform and immersive experience.
Create an assessment that reflects your role and organization. With coding questions, document editing and autograded spreadsheet questions, our assessments create an experience that tests how candidates will really perform day-to-day tasks.
Personalized Candidate Messaging
Keep every candidate updated on their application. Tailor invitation, progression and rejection emails from the Vervoe platform, and easily notify candidates on their progress.
Welcome candidates to your organization with a fully branded assessment. Include your logo and brand colours, personalize platform messaging and communicate your values with video introductions. Vervoe's flexible platform lets you curate an online recruitment process tailored to your business.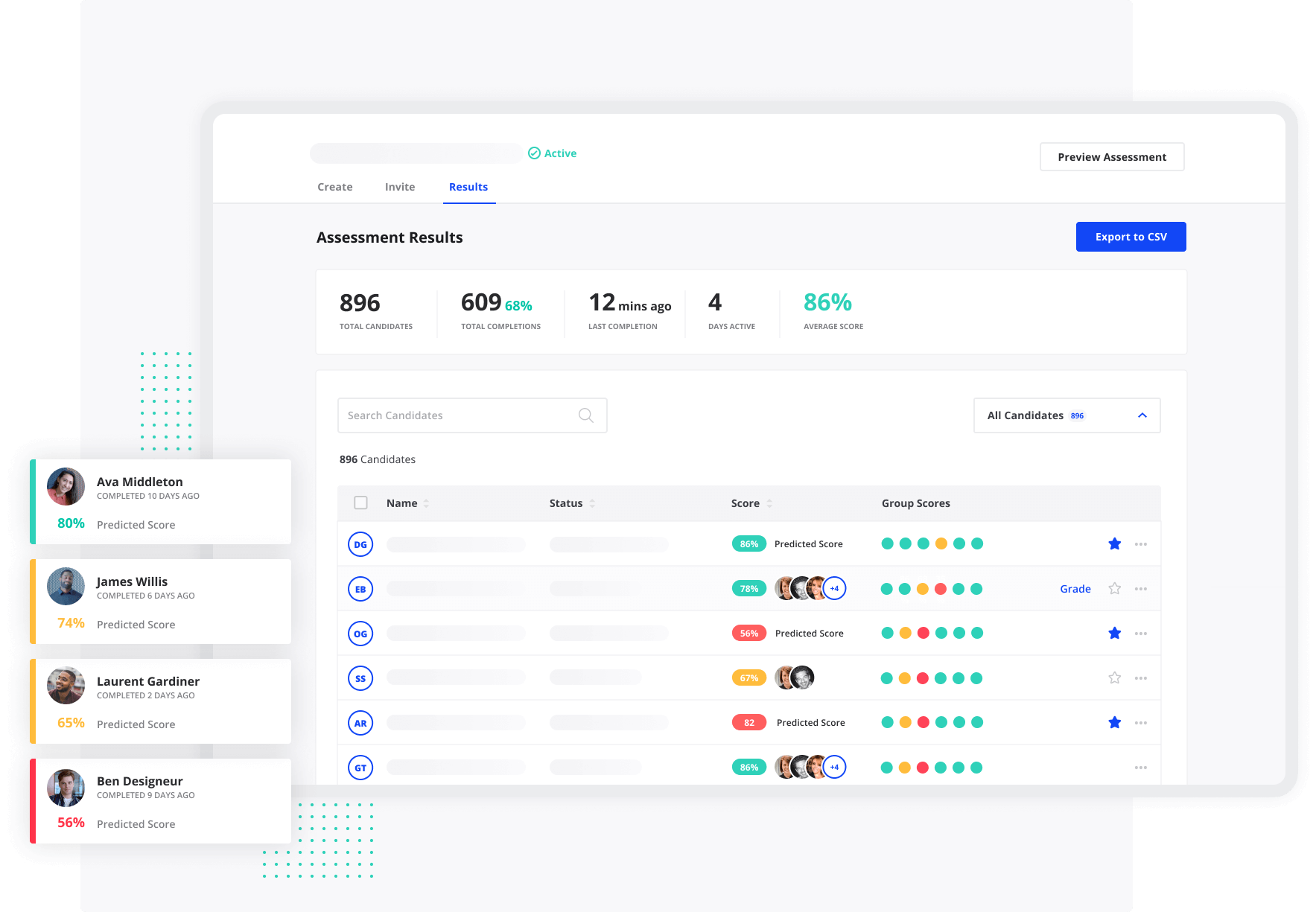 Instant candidate insights
Automatic Grading and Ranking
Vervoe's AI can compare your candidate's answers against millions of other similar responses. This means every response can be automatically graded for you, and candidates are stack-ranked based on how well they can do the job.
Access real-time insights from your Vervoe dashboard. See which candidate sources are delivering high performers, understand how your assessments are delivering value, and make data-driven hiring decisions based on skill.
Integrate with your workflow
Vervoe integrates with all of your favorite recruitment and workflow tools so you don't need to change the way you work. From Greenhouse to Zapier you'll be connected in minutes.
Let every candidate apply by taking your assessment. You'll skip the manual screening process and instead end up with a shortlist of candidates ready to progress to the next stage.
Make hiring collaborative. Easily share candidate summaries, allow others to grade responses, and keep your whole hiring team in the loop.
Never make another bad hire.
Traditional job interviews don't do the job, pun intended.

Your complete solution for skills testing
We believe everyone should get a chance to prove their skills. That's why we don't limit the number of assessments you can send on our paid plans.
Search and filter candidates across all jobs you've tested over time. Utilize their tested skills to place in different jobs.
Create trackable links with a single click and understand which sources your best performing candidates are coming from.
Timed questions and tests
Limit the time to complete a specific question, or for the entire test. One of the many ways to eliminate cheating and improve completion rates.
Make collaborative hiring decisions by sharing candidate details, and scores, with hiring managers and recruiters.
Ask candidates to download any file type as part of a question, or let them upload in multiple formats. Think .pdf, .psd, .odt, or any other format they'll use on the job. 
Stay up to date when candidates open your emails, start taking a test or complete an assessment.
Candidates can showcase their talent on any device. You can get work done on the go.
Join these companies already hiring great people.