Reduce the risk of cheating without lowering engagement
Our considered approach to anti-cheating means you'll trust the results without having to view every assessment and candidates will remain engaged in the process.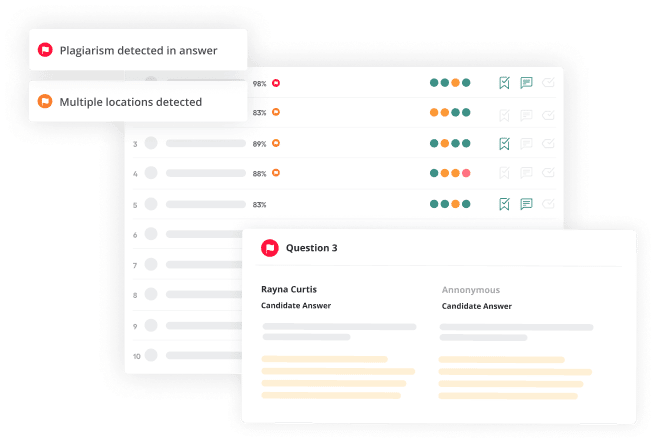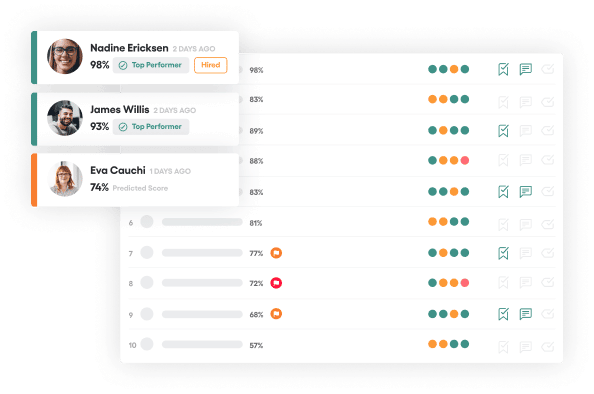 Anti-cheating that serves hirers and candidates
When we looked at anti-cheating methods for Vervoe we had to holistically consider the impact of some features on a candidate's ability to unbiasedly complete the assessment. Is authenticity more important than experience? Would losing great candidates due to privacy concerns be an outcome our customers were willing to accept?

We decided to take a considered position, rather than just developing a list of features, we aimed to find a balance that would complement our product.
Randomization is available to all customers and across all assessments. In its simplest form, it allows you to mix up the questions in an assessment so each candidate receives a slightly different set of questions to answer. This minimizes the risk that information will be shared about the content between candidates. Randomization can be on a question or skill level and some question types like multiple choice even allow randomization within the question itself.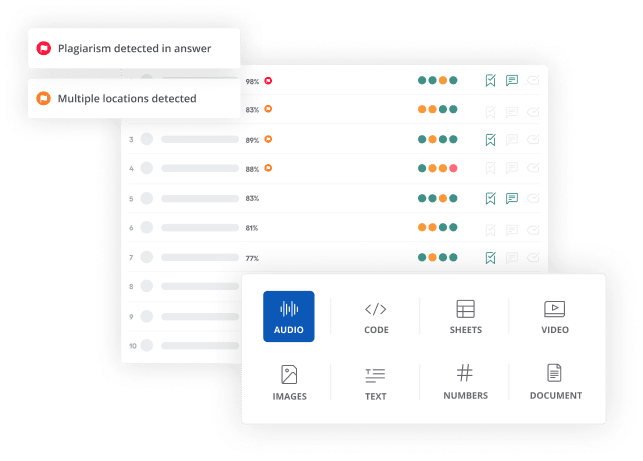 Randomize questions used in assessments to reduce the risk of cheating
Mix up the selection of multiple-choice answers shown to different candidates
Weed out any copying by randomizing questions assessing individual skills
Confidently test and evaluate candidates from anywhere in the world and improve your diversity sourcing.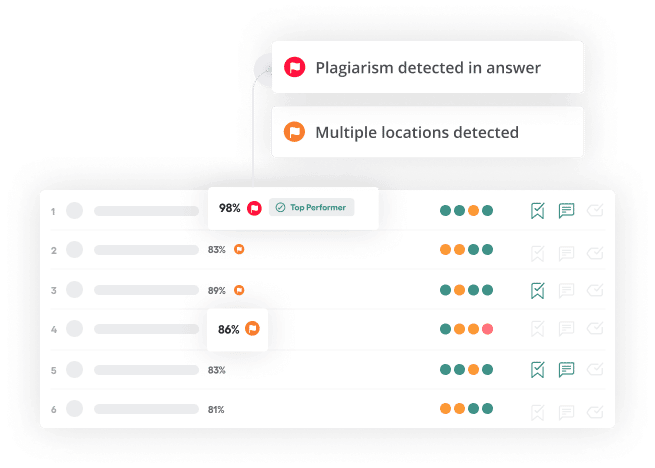 We use geolocation detection to determine if a candidate completes an assessment from multiple locations. If the locations and the timestamps are incompatible the candidate will be flagged for you to review. Our method ensures that genuine candidates that happen to start an assessment in one location and complete it in another location are not disadvantaged by this process.
Our plagiarism detection is powered by our machine learning models so it's constantly evolving and learning from what it finds. All candidate text responses are run through our plagiarism detector, if two or more candidates have the same sentence format for a particular question they'll be flagged for your review. You'll see the content highlighted that has been deemed plagiarism so you can review it. You can also turn this feature off for `complete this sentence-type` questions that test for English comprehension or questions that you know will have the same response.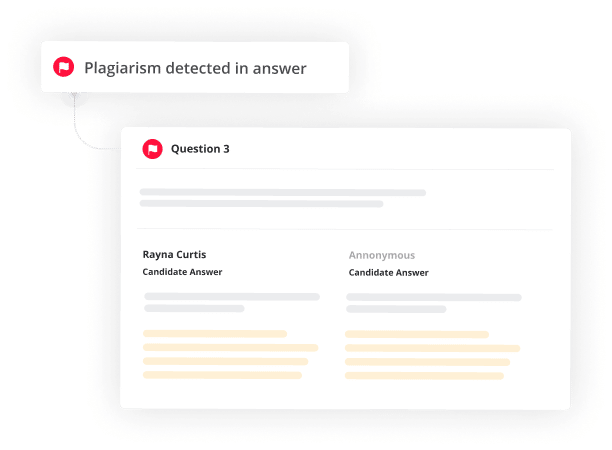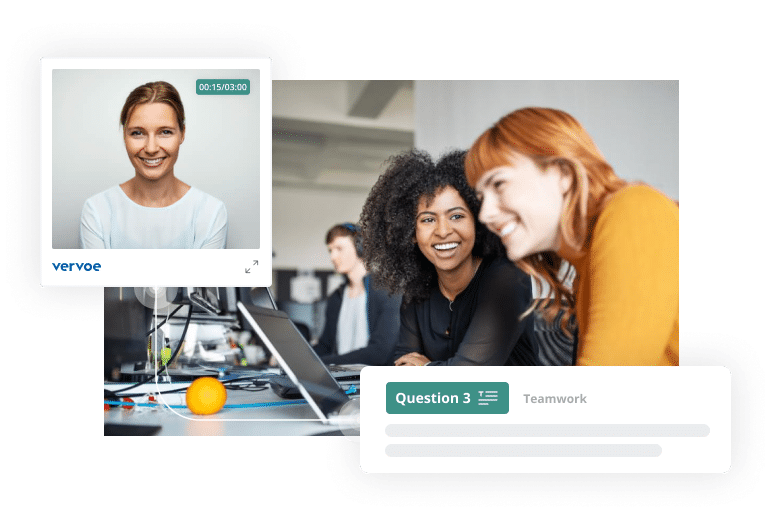 The use of video and audio questions gives you a real-time look at who is responding to the questions in the assessment if potential cheating has been flagged. Using imagery or voice match as the last step in detecting cheating ensures bias stays firmly out of your hiring process.
The features we implement:
Our skills assessments use immersive question types that bring your role to life and help you engage and test the ability of your candidates. Imagine watching an Enterprise Sales Associate give a live pitch from a deck they've just helped create, or a Marketing Analyst pull game changing insights from data in a spreadsheet or a UX designer unmuddle and optimize your onboarding flow in under an hour. Immersive question types help recreate the day to day tasks specific to your role so your candidates can shine.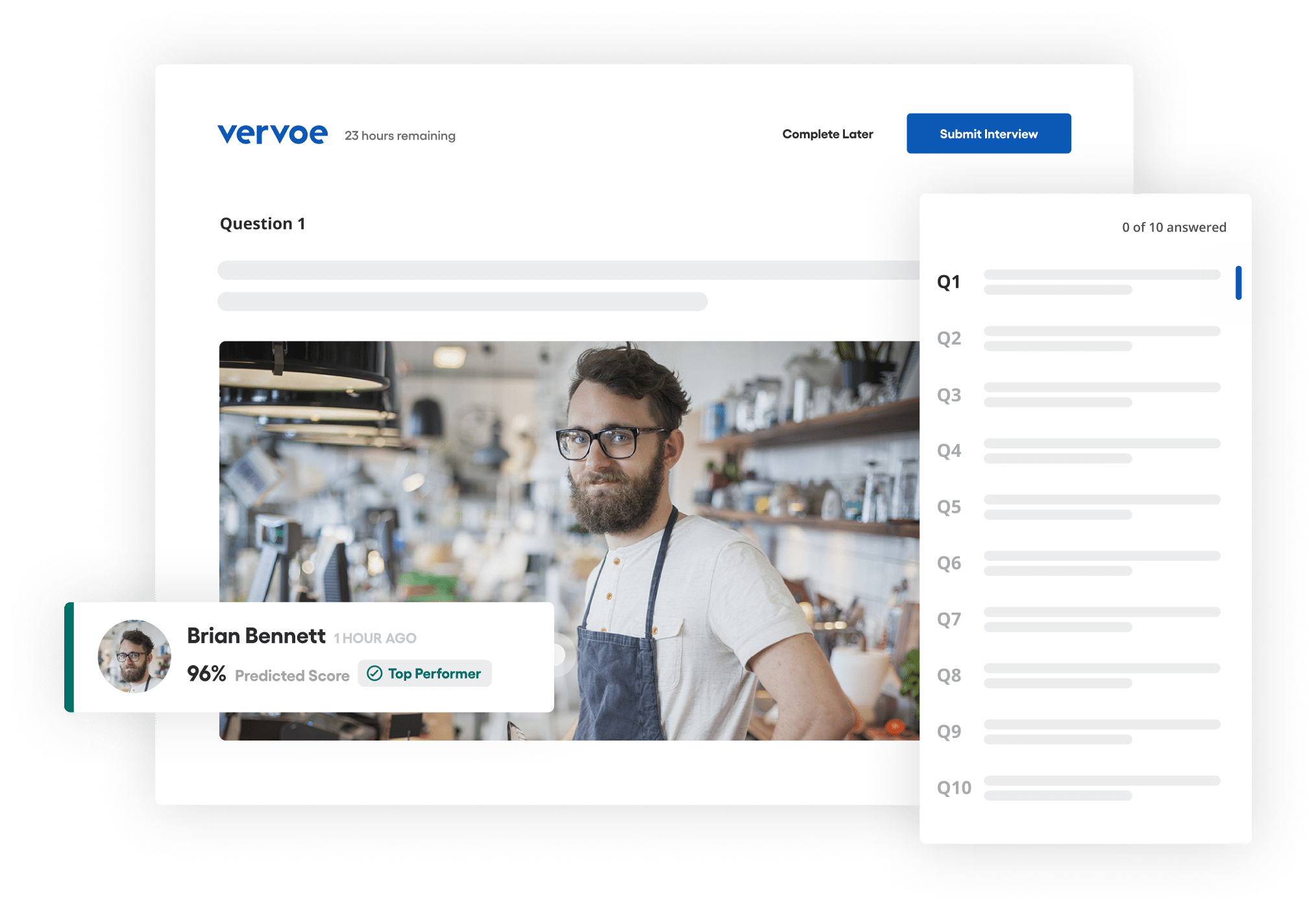 ChatGPT and other AI tools
Vervoe's immersive question types are best placed to minimize the effectiveness of candidates cheating using ChatGPT.Vervoe by design, goes beyond text based answers to simulate true day-in-the-life scenarios and test candidates application of their skills through tasks, rather than answering standalone questions that test their recall knowledge.Our suite of anti-cheating features have been introduced to combat plagiarism and we will soon be integrating ChatGPT to make detection even better; all without penalizing candidates who are able to leverage it to enhance their work performance.Our friendly support team can recommend best practices on using Vervoe skills assessments and job simulations to replicate real work environments, even using text based questions; designed to measure skills in context rather than something standalone that lacks practical application to the role.
Want more information on how we mitigate cheating?
Head over to our help center for more in-depth information about our:
Our AI powered assessment builder guides you through the creation from job title to skills and questions with sample answers.
Optimize your assessments with in-depth Insights through reporting and analytics and make better hires. 
Confidently test and evaluate candidates from anywhere in the world and improve your diversity sourcing.