Simulate real-world scenarios to evaluate candidate skills
Place job candidates in virtual job exercises and watch as they evaluate, troubleshoot, and solve challenges in responsive environments.
Launch immersive job-related experiences
Simulate A Variety of Roles
Place candidates in virtual work environments to solve real-world tasks and job-related challenges.
Compare how each candidate completed their experience to reveal the best candidates for hire.
Complete your hiring process and shortlist candidates you believe are the best fit for your role.
Explore our current simulations
Immersive work simulations
Job simulations take your hiring process to the next level by creating a stand alone immersive environment that fully replicates the work environment of the job you are hiring for and the tasks that are required for the job. Imagine watching an Enterprise Sales Associate give a live pitch from a deck they've just helped create, or a Marketing Analyst pull game changing insights from data in a spreadsheet or a UX designer optimize your onboarding flow in under an hour.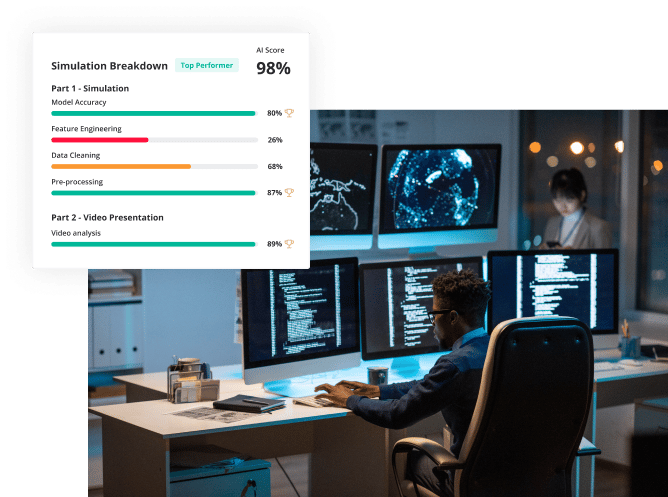 Monitor your candidates' behavior and watch them overcome role-specific challenges inside of realistic demonstrations that help you to bring your role to life, all while filtering for the best person for the job. Recreate the day-to-day tasks you want to test for, engage the abilities of your candidates to complete the assignments, and test their on-the-job knowledge. See what each candidate would be able to do tomorrow if they were hired today.
PERSONALIZED COMPETENCIES
Realistic job assignments
Any job simulation that your candidates interact with are designed by carefully-selected, pre-vetted industry experts and quality-controlled by our behavioral science team. Fill your next job opening with role-specific environments tailored to your candidate.
Our library of job simulations include: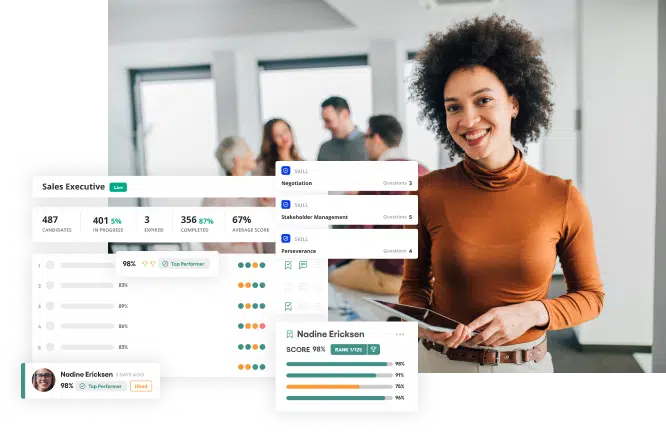 Discover top talent with job simulations and never make another bad hire.