Technical assessments for IT and software developers
Optimize your hiring process, shortlist top performers quickly, and unlock true talent with Vervoe.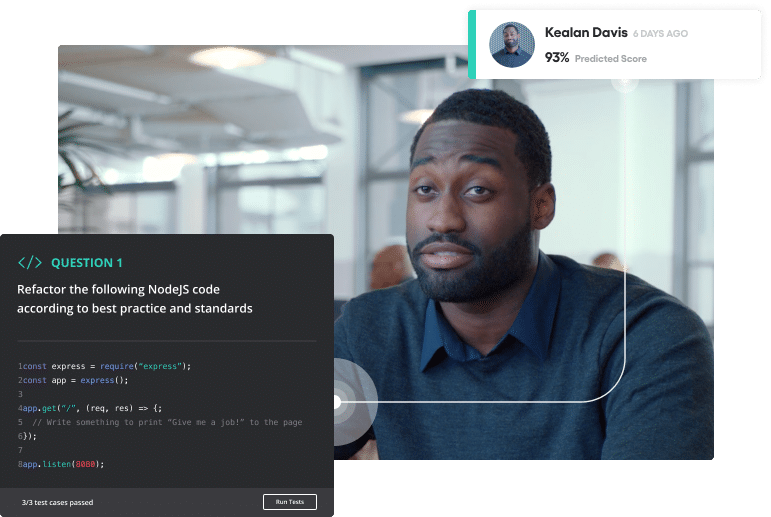 Make it simple to find the best developers using technical assessment software powered by machine learning
See who can do the job and surface the most qualified tech talent based on how they perform coding challenges and tasks specific to your business.
Test technical skills with our coding screening platform that includes challenges, videos, and task-based outcomes.
Test soft skills, including attention to detail, teamwork, and communication, for a complete candidate profile.
From PHP to Python: assess almost any candidate skillset
Find the right assessment from our library of coding challenges or create your own: from simple coding tests to detailed real-world scenarios.​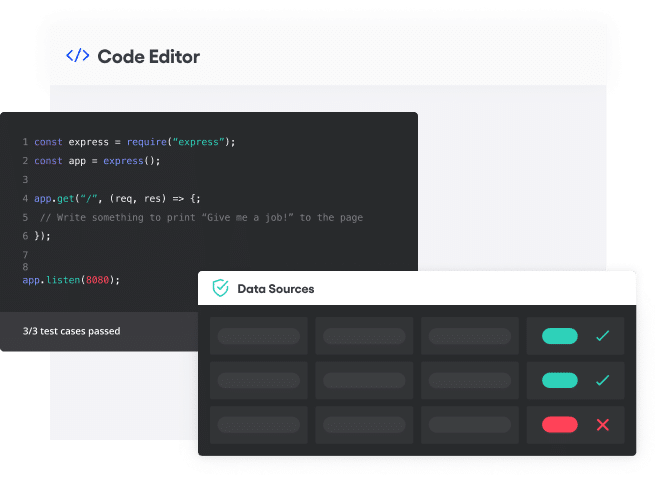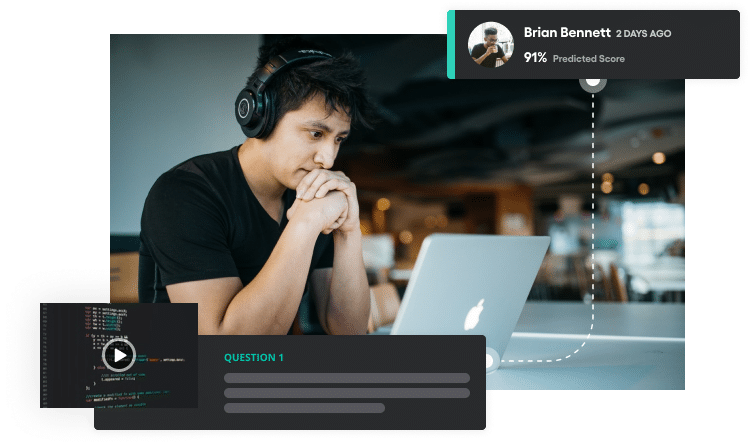 Evaluate soft skills at the same time for the complete candidate profile
Assess candidates for communication, teamwork, and other non-technical skills in the same assessment.
Pinpoint the top performers before you interview
Our AI grades and rank your candidates' responses according to the skills you value.

Streamline your talent acquisition and interview process with pre-employment testing. Instead of reviewing resumes, you'll be skills testing so you can be confident the candidate you progress to your hiring managers can do the work.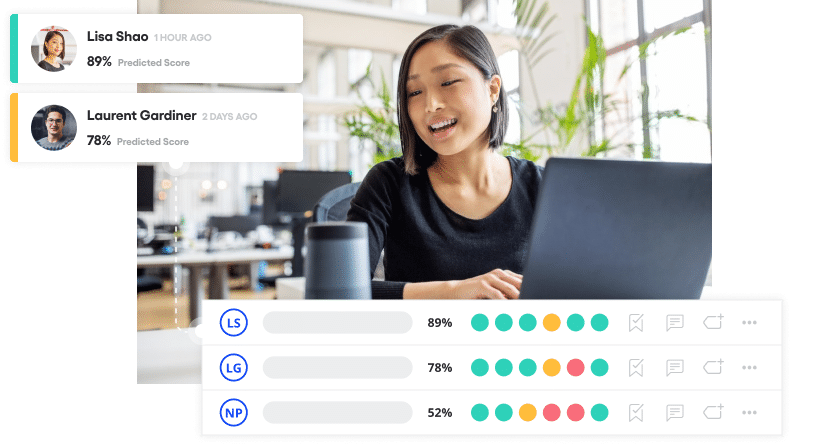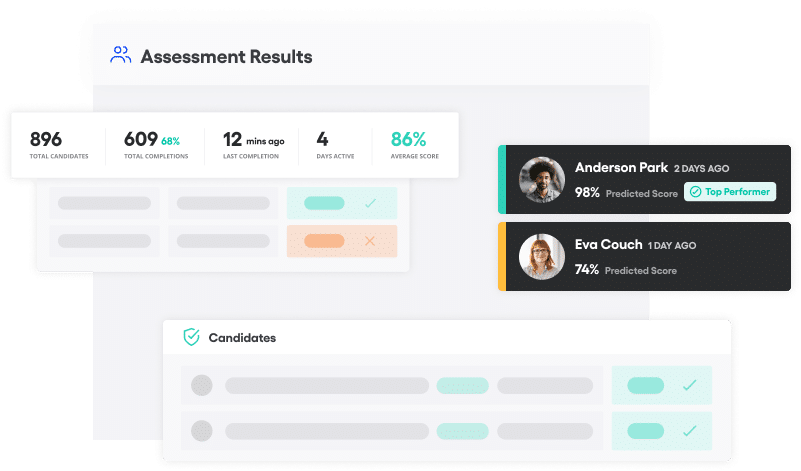 Find the top performers instantly with AI tech recruiting software
If you're hiring a Developer, you might be looking for someone with skills like software development and communication.

Our AI models quickly process thousands of responses, looking for specific words or sentiments that reflect these values accurately. Candidates that have more of these are graded higher, and those with less are scored lower.
From hiring guides to customizable candidate experiences, we're here to make your technical hiring simple with our developer assessment platform
Test skills across any coding language with technical assessment templates to get you started.
Link directly from your career site and test candidates as they apply, so you'll only spend time on top performers.
Shareable candidate scorecards and powerful recruiting tools let you collaborate in real-time with colleagues on your shortlist.
Automatic Grading & Ranking
Every applicant is graded and ranked in order of performance for the skills that matter most to you.
Link technical skills assessments to further test the technical skills of your top-performing job seekers.
Supercharge your recruitment marketing and create a seamless candidate experience with customizable emails and videos for branding.
Confidently test and evaluate candidates from anywhere in the world and improve your diversity sourcing.
"Everyone wants to hire superior talent. Vervoe allows us to scale and hire top candidates based on merit."
Technical Assessment Software
Frequently asked questions
Technical hiring is the process of sourcing and assessing candidates for technical roles. In many cases, technical hiring is done through the use of a technical assessment platform. This process enables recruiters to screen candidates for technical skills, such as coding ability and problem-solving skills. By using a technical assessment platform, recruiters can identify the most qualified candidates for technical roles.
This type of hiring process is commonly used for engineering roles, but it can also be used for other technical roles, such as product managers and data scientists. Technical hiring helps to ensure that only the most qualified candidates are hired for technical roles.
Technical assessment tests are a type of assessment that test a candidate's technical skills and knowledge. They are commonly used in the IT industry to screen candidates for technical roles. There are a variety of technical assessment software platforms, such as Vervoe, that businesses can use to test candidates.
Code screening platforms typically provide a library of technical questions and allow businesses to customize their own assessment tests. This type of software can be used to assess a wide range of technical skills, from programming languages to system administration. Technical assessment tests can be an effective way to identify the best candidates for technical roles, and technical assessment software makes it easy to administer these tests.
Knowing that someone is strong in a development language is only one piece of the recruitment puzzle. Watching candidates perform as part of a team or explain a problem to someone non-technical lets you see how they would actually perform day to day in your business.

Vervoe gives you the ability to see a candidate's complete skill profile to make a more informed hiring decision. Testing both soft and technical skills in one assessment allows you to collapse multiple stages of your hiring process into one.

Candidates also prefer it. Often additional interviewing stages of the hiring process are left to recruitment teams that lack technical knowledge and therefore ask lots of superficial questions. Not understanding a candidate's true capability can lead to frustration and mismanagement further down the line and often result in high turnover.

Vervoe allows you to test for any skill, knowledge level, and ability. Our automatic grading will accurately review and score every response without any input required from you. You can also compare candidates against one another on a skill by skill or question by question level.
Our code challenges can be autograded for the following languages:
Java
PHP
Python
C++
C#
Ruby
Nodejs
Go
C
Given the likeness of some other coding languages our code compiler can also support the following:
You can also set an assessment question to accept multiple programming languages so that the candidate can choose which one to use.
Yes, Vervoe offers a range of off-the-shelf integrations with leading ATS'. We can also create custom integrations to suit your hiring workflow
Join these companies already hiring great developers