Have you ever wondered how long your total hiring process takes? What about where exactly candidates are finding your job postings? Or, how many of your interviews end up turning into hires?
These are all types of recruiting metrics that you can — and should — be analyzing. The reason recruiting metrics are critical to consider is that they'll help you answer many of the niggling questions you have about your company's recruitment process.
With the answers you discover, you'll be able to finetune your recruitment process so that it's functioning as efficiently as possible.
If you're unsure of what recruiting metrics are or which are the most critical ones to keep in mind, you've come to the right place. In this guide, we'll provide an easy-to-understand recruiting metrics definition, as well as a list of 21 important recruitment metrics human resources professionals need to know this year.
What are recruiting metrics?
Recruiting metrics is a term used to describe the variety of measurements typically used by human resources professionals to achieve hiring success. Specifically, you can use them to measure, evaluate, and optimize your end-to-end recruitment process.

The insights you'll gain from using recruitment reporting metrics will provide you with the data you need to improve your recruitment process, and in turn, hire and retain top talent.
The most important recruitment metrics
1. Time to fill
Perhaps one of the most important recruiter productivity metrics is time to fill. Put simply, this describes the time between when your hiring process starts and when a candidate receives and accepts your offer.
As a human resources professional, it pays to move swiftly. A massive 46% of candidates lose interest in a role if they don't hear back from the employer within one to two weeks.
When it comes to hiring metrics, this one is super easy to calculate. All you need to do is add up the number of days from the 'start' of recruiting to the 'end' (i.e. when you hire a candidate).
2. Selection time/Time to hire
The selection time, or time to hire, is the period between a candidate applying for a role and accepting the job offer. Having a simple application process, using skill assessments, and investing in applicant tracking software (ATS) can all help to speed up your time-to-hire metric.
Of course, the average time to hire often depends on the industry. For example, professional and business services can expect a time to hire of just over 25 days while health services have an average of 49 days.
If you're after some inspiration for speeding up your time to hire, take a read of iSelect's Vervoe customer story.
Using Vervoe, iSelect was able to reduce its time to hire by 50%. The product enabled the company to complete its total recruitment processes online. So the iSelect team could significantly speed up their time to hire as they no longer needed to worry about scheduling issues to organize phone interviews with candidates.
What's more, by streamlining recruitment processes, Vervoe supported iSelect to increase attendance at assessment centers from 50% to between 75 and 100%.
"We felt Vervoe ticked a lot of our boxes and was able to solve a lot of our problems," says Fiona Baker, Recruitment Manager at iSelect. Baker believes Vervoe not only saved the company time in assessing candidates, but it also eliminated bias by focussing on assessing candidates purely on the competencies they were looking for. "It also had enough rigor to give our sales managers the confidence that candidates had the skills required."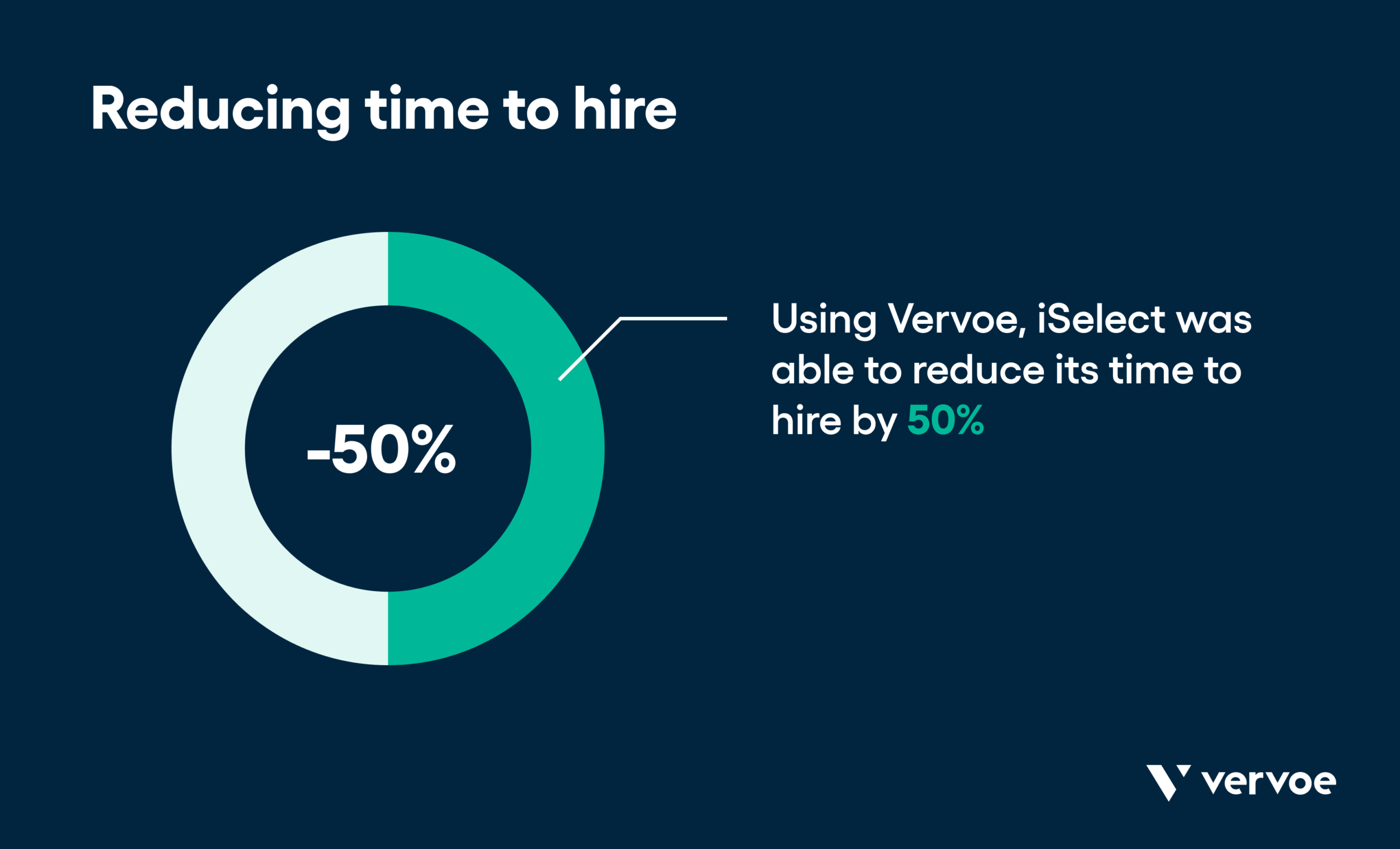 3. Source of hire (SoH)
Source of hire (SoH) is exactly what it says it is — a breakdown of the channels your applicants used to find you. This is one of the best talent acquisition metrics for evaluating your applicant outreach.
You may advertise new roles using a variety of channels, such as job boards, social media platforms, and direct sourcing. Employee referrals tend to be the key source of hire, delivering more than 30% of new hires in 2016.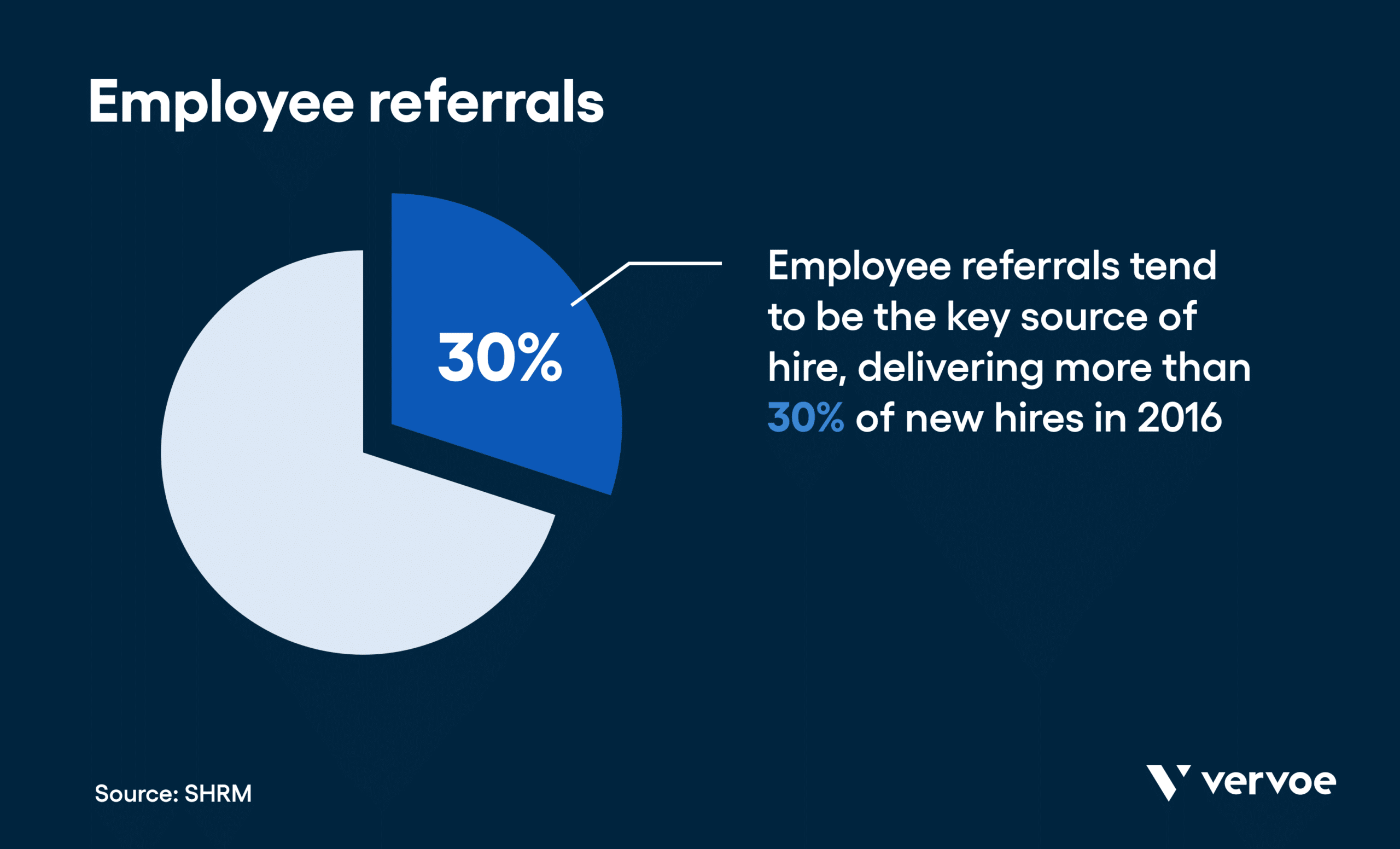 4. First year attrition
Let's face it, candidates who leave jobs within their first year can be costly. That's why, when it comes to recruitment reporting metrics, you shouldn't overlook the first year of attrition.
This can be one of the trickiest candidate metrics to manage. Believe it or not, 65% of employees believe that they can find a better position elsewhere. To keep hold of real talent, you need to up your game.
If you want to improve your first-year attrition rate, there are quite a few strategies you can try out. For example, you can ensure that you take steps to hire the right candidate for each role in the first place. Another tip is to avoid overselling the position, so your candidate pool focuses on quality, not quantity.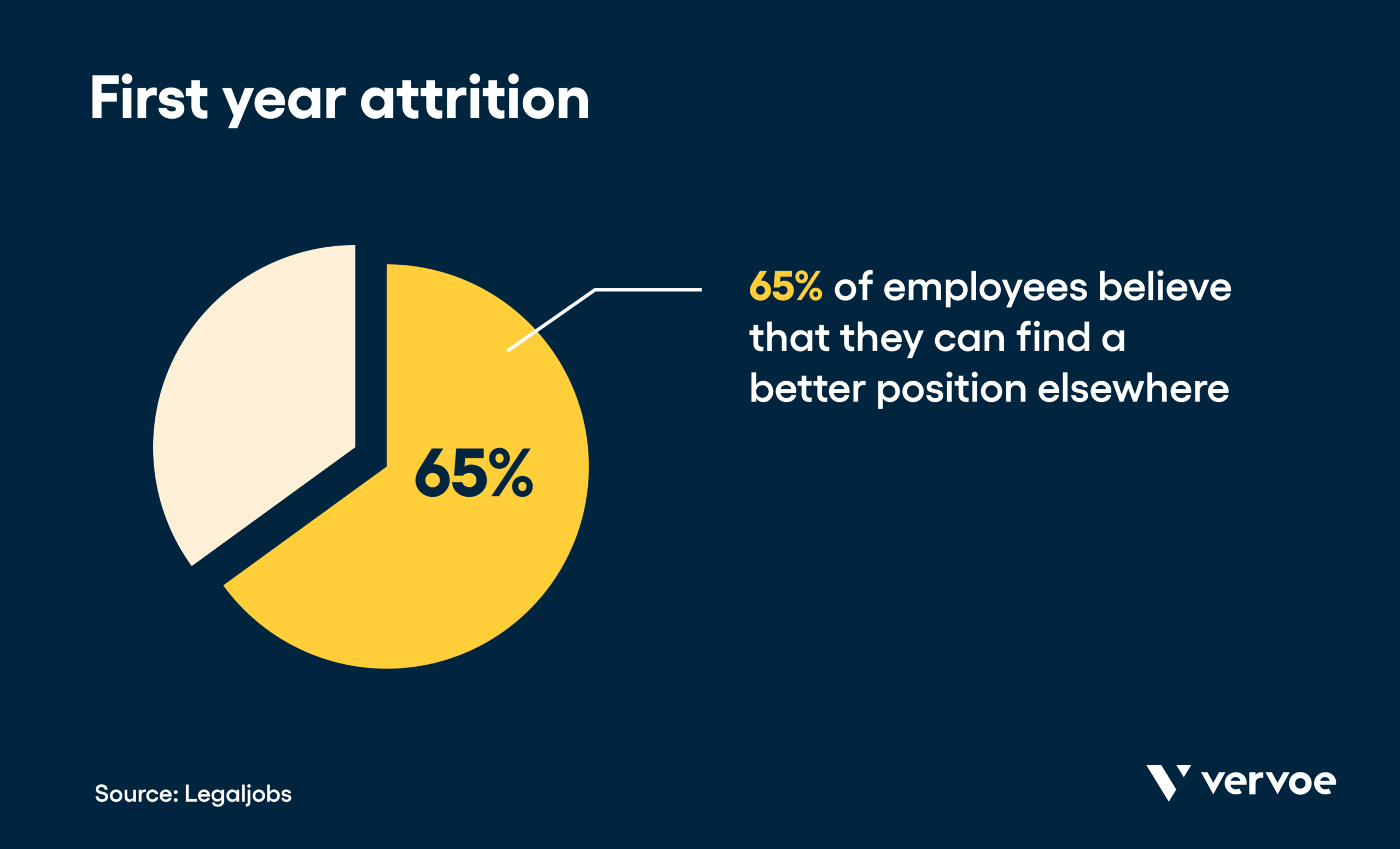 5. Quality of hire
Hiring the right candidate can be tough. One of the most important recruiting metrics for predicting a candidate's job performance is the quality of hire.
To calculate this metric, you need to evaluate new employees. You can measure their success over their first year to gain an understanding of their overall quality. Over 50% of companies use new hire performance metrics to keep track of how new hires are managing in the role, so it's definitely worth looking into.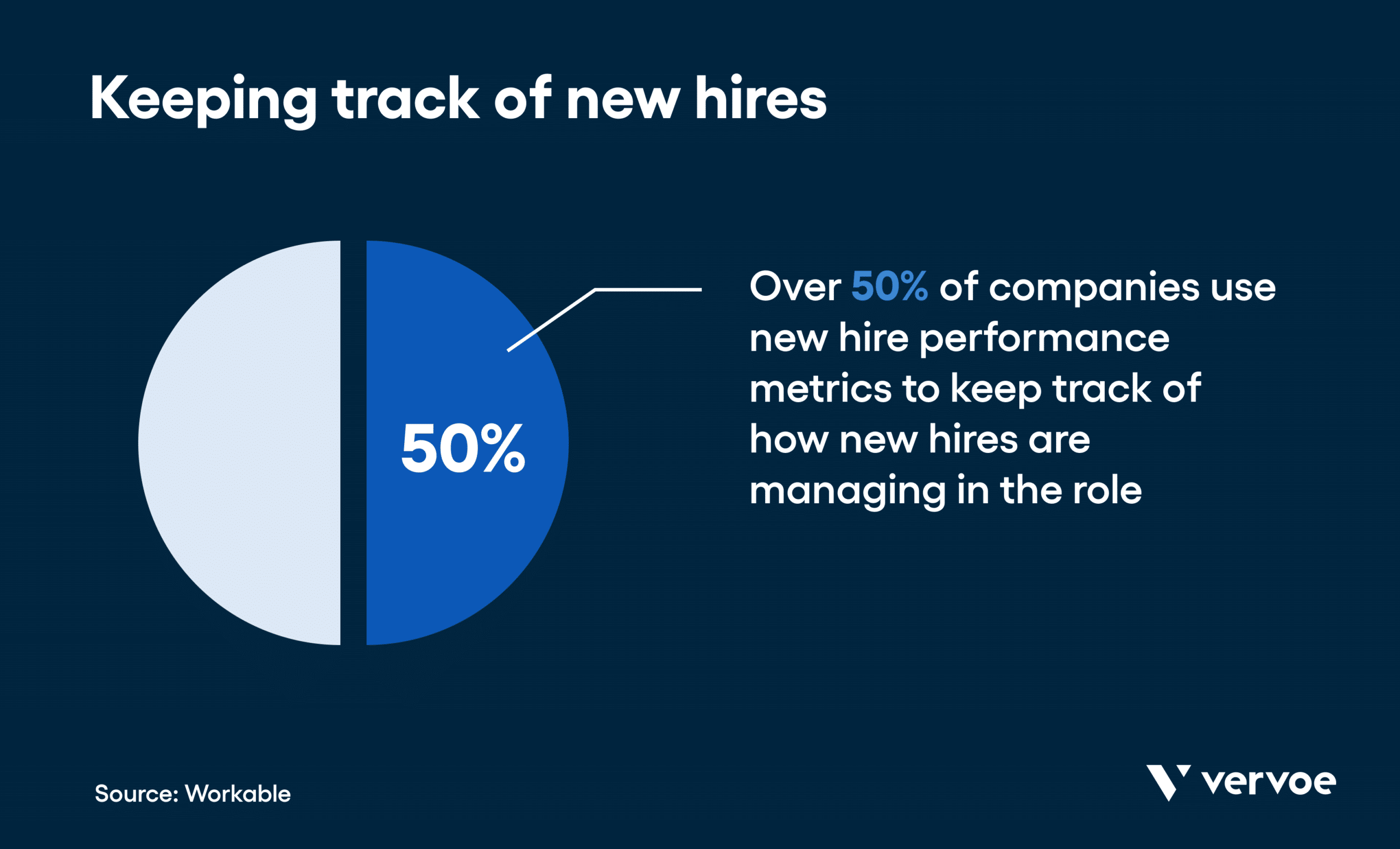 6. Hiring manager satisfaction
Aside from quality of hire, it's also critical to keep in mind a corporate recruiting metric known as hiring manager satisfaction. This metric indicates how successful the overall hiring process was and can help recruiters understand any potential pitfalls.
As far as HR hiring metrics go, this one can be relatively subjective. You're relying heavily on feedback from hiring managers. However, gaining these insights could prove invaluable.
It costs 16% of an employee's salary to replace them when they earn less than $30,000 a year. Hiring managers don't want to waste money, and so actively listening to their feedback is vital.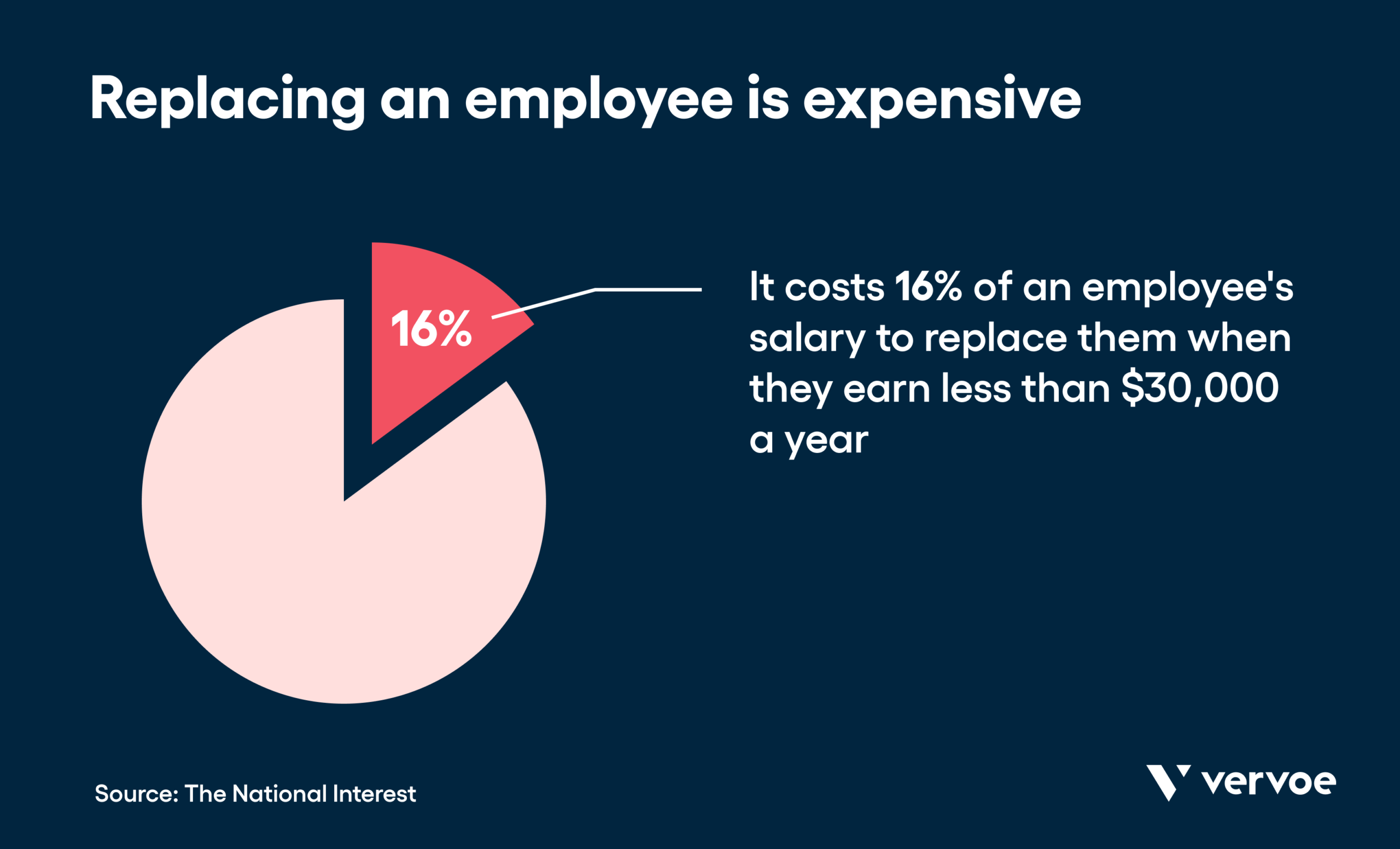 7. Candidate job satisfaction
Job satisfaction is a huge deal. 65% of employees are happy with their jobs, while 20% are passionate about their jobs. That leaves a sizable proportion of employees who are dissatisfied.
As you can imagine, retaining a dissatisfied new hire will no doubt be tough. There are plenty of factors that may lead to a lack of job satisfaction. For example, if the job description is misleading or incomplete, it may not accurately convey the nature of the role.
Recruiters can boost this recruitment metric by writing clear job descriptions that are transparent about the scope of jobs. The better a candidate understands the role for which they are applying, the more likely they are to enjoy it.
8. Applicants per opening
Otherwise known as applicants per hire, this recruitment metric looks at how many candidates apply for a job posting. The average number of applicants per job was 29 in 2018, which was down from 36 in 2017 and 52 in 2016.
How desirable a given job is will be one of the major factors here. Certain roles are more in-demand than others. However, there are ways that recruiters can boost their applicants per opening. For instance, choosing the right channel to post on and ensuring that the job description is clear, accurate, and enticing could help you to gain more applicants.
9. Selection ratio
One of the hardest corporate recruiting metrics to understand is selection ratio. You can calculate this by dividing the number of applicants by the number you hire. The easiest way to remember this is that the more candidates you have, the closer this ratio will be to 0.
When it comes to recruitment efficiency metrics, selection ratio helps you to understand how smooth the hiring process is. The more applicants you have, the larger the talent pool you will have to pick from.
10. Cost per hire
Filling a vacancy is far from cheap and can quickly add up. The average cost per hire is $4,425, while a vacancy costs around $98 per day to companies. With that in mind, the longer it takes for you to move candidates through the recruitment process, the more it will cost your company.
Understanding the cost per hire is the first step in lowering it. The key is making the hiring process more efficient and in turn less expensive to the business.
11. Candidate experience
Applicants have become increasingly picky for all the right reasons. They're looking to work in a company with a positive culture where they will be genuinely valued. From the moment they apply, they will be judging every aspect of their candidate experience.
Believe it or not, 78% of candidates say that their candidate experience is an indicator of how a company values its people. For that reason, it's important to create a strong candidate experience from the outset.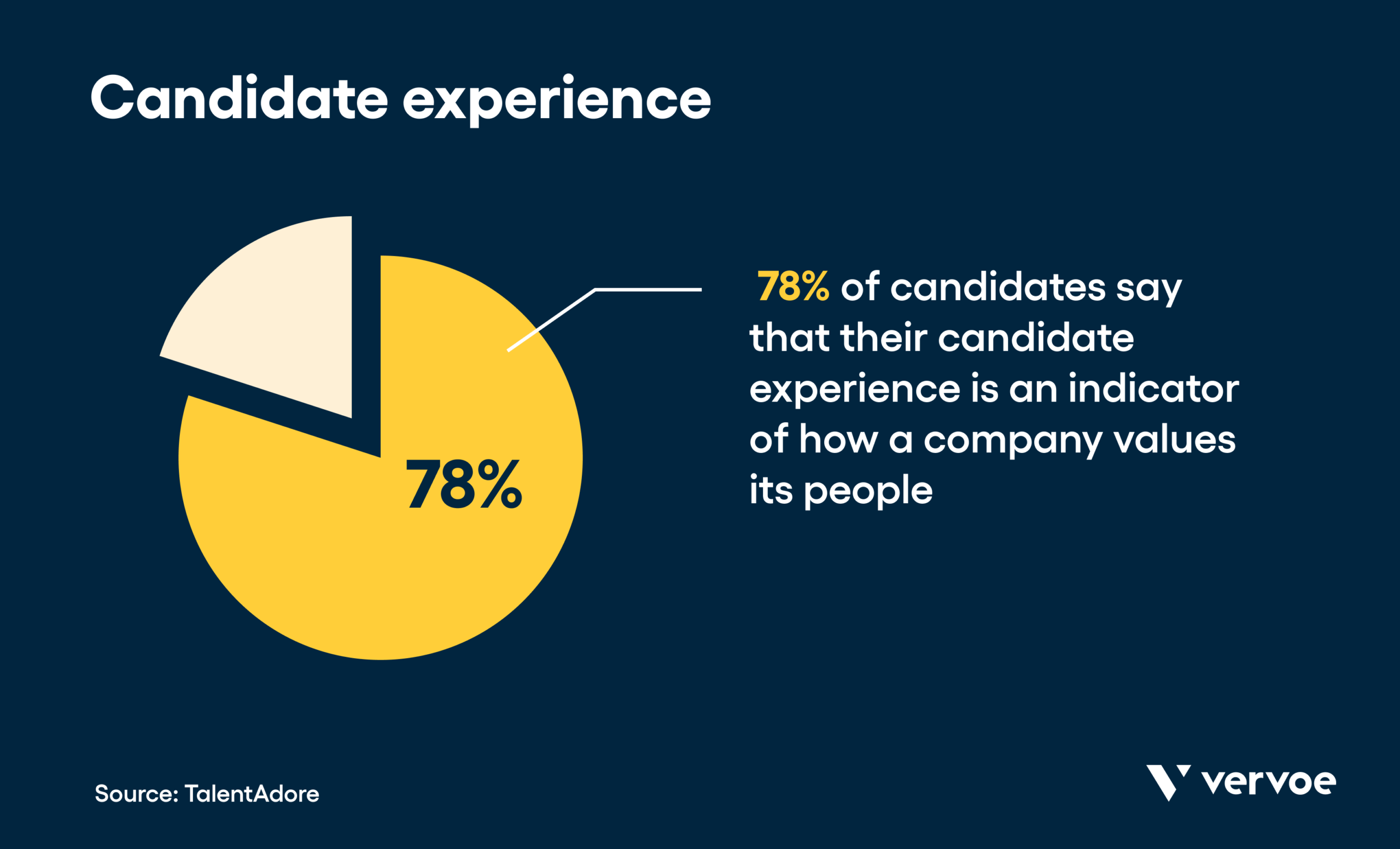 12. Offer acceptance rate (OAR)
The offer acceptance rate (OAR) is the percentage of candidates that accept a position when it's offered. An acceptance rate above 90% indicates that there is a good fit between a company's requirements and candidates' expectations.
If you're getting lower rates, it's important to evaluate why that is. Let's take a look at the facts: You can assume candidates are interested in roles they apply to. If they go through the hiring process and then reject an offer, there has to be a good reason.
So don't be tempted to just accept this and move on. Pinpoint why it's happening and promptly address the root cause.
13. Percentage of open positions
Does your company have hundreds of job adverts scattered all over the web? If you're serious about evaluating your TA metrics, be sure not to overlook this important one.
When you're looking to attract the best talent, having a high percentage of open positions could be a red flag for candidates. Remember, reputation matters. According to LinkedIn, 75% of candidates research a company's brand before applying for a role.
In short, if your company has countless open positions, it can put candidates off as they may — rightly or wrongly — view this as an indication of a high staff turnover.
14. Application completion rate
Is a complex application process hindering your hiring? The average application completion rate is just 10.6%, according to Recruiter.com. Keep in mind that candidates don't have countless hours to waste when applying. Ensuring that you're following recruitment metrics best practices is the way to go here.
Luckily, there are ways you can increase this rate. For instance, you may want to use an 'Easy Apply' application process on LinkedIn or allow candidates to upload their resumes rather than complete lengthy forms.
15. Recruitment funnel effectiveness
One of the relatively new recruiting metrics benchmarks is recruitment funnel effectiveness. Building a recruitment funnel can help you reach the right candidates and acquire quality talent. While funnels are leaky and you will inevitably lose candidates along the way, the aim is not to lose them too early or often.
It's all about engaging candidates every step of the way and not turning them off. 60% of job seekers drop out of applications because they are too long or complex, according to a Careerbuilder survey.
16. Sourcing channel effectiveness
Chances are, you already use a range of channels, from social media to job boards, when sourcing new candidates. There are two main ways that you can evaluate each channel's effectiveness: quality and quantity.
When you're looking at quantity, it's critical to know which channels candidates are using. According to one LinkedIn report, 60% of candidates use online job boards, 56% use social professional networks, and 50% use word of mouth when looking for new jobs.
Of course, it's not all about numbers. You also need to evaluate the quality of the candidates you gain from each source. That way, you can determine which channels you should be using.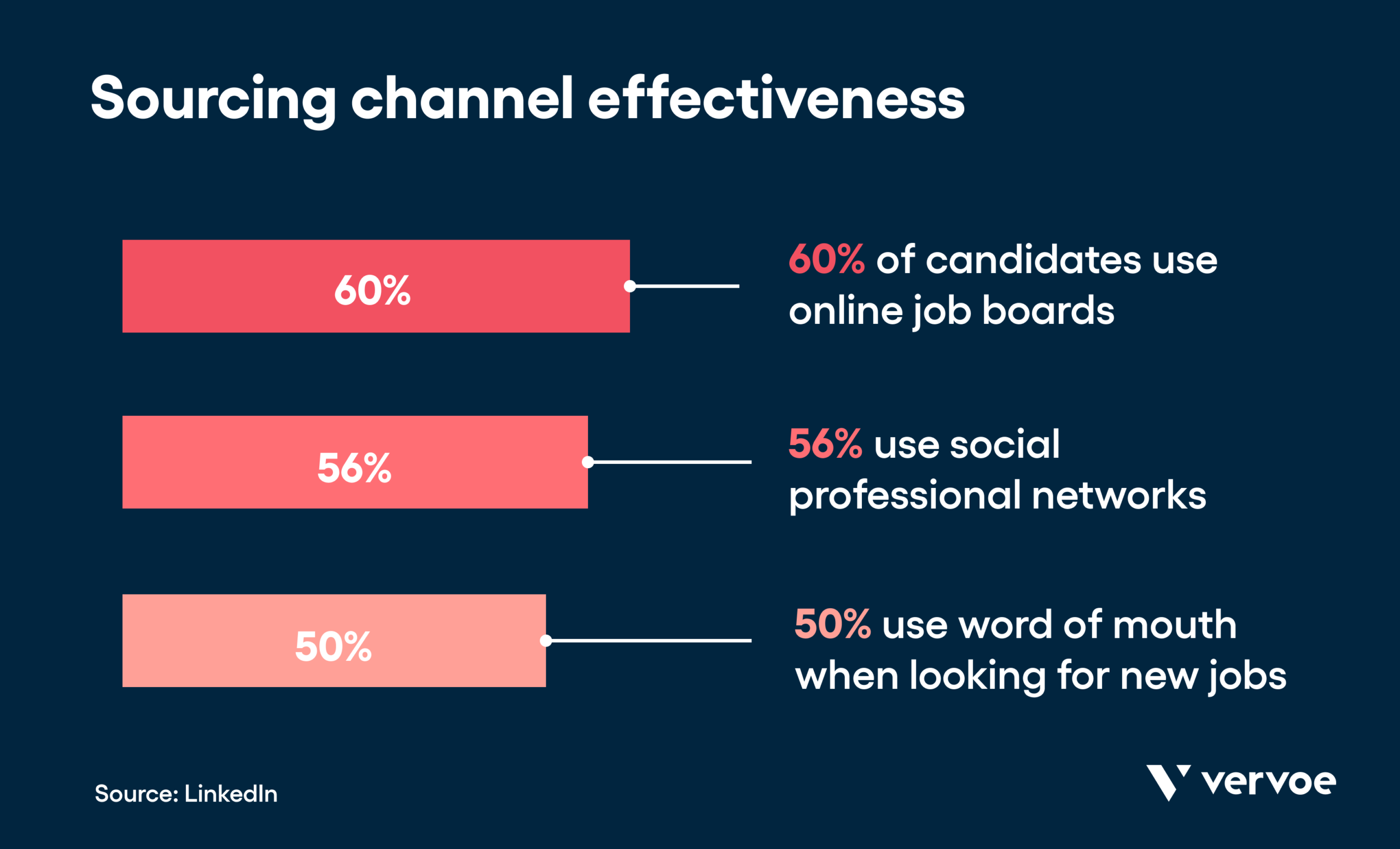 17. Sourcing channel cost
If you're looking at talent acquisition metrics in 2021, you need to consider the sourcing channel cost. The equation pretty is simple to calculate. Divide the ad spend per platform by the number of successful candidates from that source.
Pricing structures vary between job ad platforms. For example, posting a job on LinkedIn can cost as little as $0.10 per day, while other channels may allow you to promote roles for free. Learning which channels are the most effective and monitoring your spend could make all the difference here.
18. Cost of optimum productivity level
How long it takes for employees to become productive will depend on a range of factors. They include the candidate themselves, the experience they bring to the role, and the quality of training they receive once employed. Like all things that are worthwhile, it takes some time.
However, an unproductive staff member can be costly to businesses. Research from Gallup suggests that unproductive staff members cost American companies between $450 – $550 billion each year.
Measuring the cost of optimum productivity level means that you understand this metric. When it comes to talent acquisition metrics best practices, lowering the burden of this cost is a must.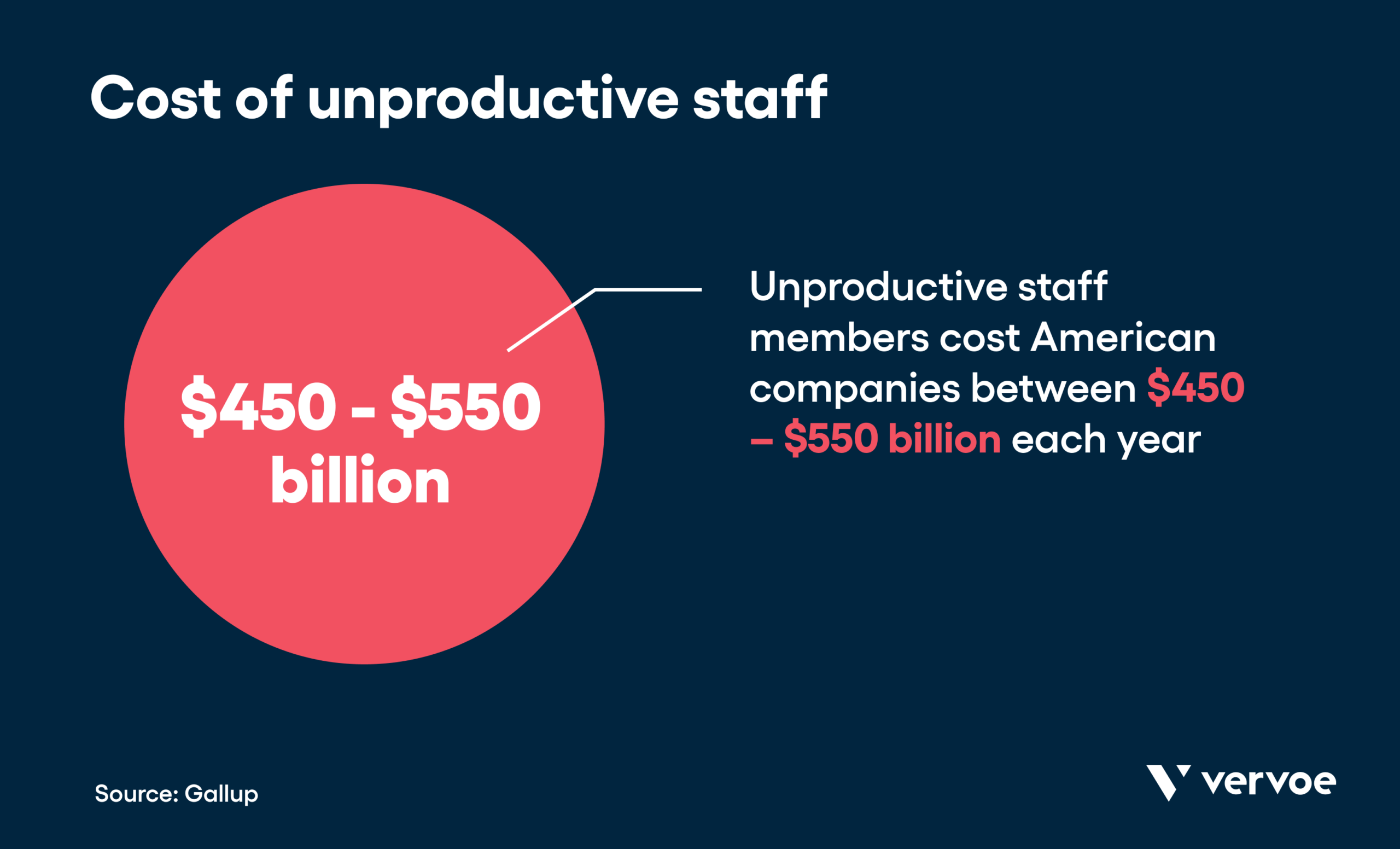 19. Time to productivity
Training up new hires takes time, energy, and finances. Time to productivity is one of the recruiting metrics examples that helps you to measure how long this process takes.
Want to better understand this recruiting metric? In basic terms, it's how long it takes employees to become 'fully productive' in any given role. Training Industry Quarterly suggests that this can be an average of one to two years. You may be able to beat the average by hiring the perfect fit for each given role.
20. Time to promotion
Another vital recruiting metric to consider is the time to promotion. The modern world is rapidly changing and people demand more from their careers. Early-career employees expect to gain a promotion every three years when they are working for the same business.
That's why this could be one of the most relevant recruiting metrics of 2021. You can measure this metric by looking at the start date of a new employee and how long it takes them to move up the career ladder.
21. Interview-to-hire
Interview-to-hire is one of the most insightful recruitment efficiency metrics, as it highlights how many of the interviews you conduct turn into hires.
To calculate it, you can compare the number of interviews conducted with candidates to the number of hires made. It's important to note that this recruiting metrics benchmark doesn't include rejected job offers.
For example, if you conduct 30 interviews and hire one person, your interview-to-hire ratio is 30:1. Interview-to-hire can also be expressed as a whole number. In this case, it would be 30.
According to Workable, the variance by location or industry in the number of interviews per hire is not as significant compared to some other key talent acquisition metrics best practices. Their data highlights that interview-to-hire metrics of major industries in the US and Canada typically range from 14 to 26.
Want to see how interview-to-hire is used in a real-life context? Take a look at Medibank's Vervoe customer story.
By leveraging the product to improve their online candidate experience, Medibank was able to improve their interview-to-hire ratio from 8:3 to 8:7. This is especially significant given that Medibank faced the challenge of hiring a lot of people, fast — in the middle of a pandemic, no less.
"We just wouldn't be able to interview 2,000 people in two weeks," says Jeremy Crawford, Head of Talent Acquisition at Medibank. "But what we could do is utilize Vervoe to more accurately and in quite an unbiased way, assess everybody's application during that period."
Instead of simply assessing the first 200 applicants and then hiring around 150 of them, Jeremy says that Vervoe's solution enabled the team to "actually assess all 3,000 applicants in a two-week period and still be able to select the best 150."
Final thoughts
Now that you've familiarized yourself with the 21 recruiting metrics we've just highlighted, you're probably wondering what the next steps you should take are.
Well, it's time to put your learnings into action. You certainly don't need to start using all 21 talent acquisition metrics. But it's a good idea to spend some time evaluating which ones will make the biggest impact on your recruitment process.
Once you start using recruiting metrics, you'll soon find that you're not only able to make smarter hiring decisions, but also better retain your talent.