Many people make the mistake of assuming that hiring salespeople is all about identifying the extroverts, but there are also plenty of other issues to navigate.
With uncertainty about the economy and talk of a recession, it would be easy to assume that many companies are holding back on hiring salespeople, such as Sales Account Executives, Sales Development Representatives, and generalized Sales Consultants.
While there's no denying that many industries have experienced a slowdown during the first quarter of 2023, the reality is that a team of highly skilled and talented sales professionals is a non-negotiable for any organization looking to secure regular revenue growth.
Unfortunately, hiring salespeople that have what it takes to meet this challenge head on is often easier said than done.
Why is hiring salespeople a challenging task?
All successful businesses have one thing in common: they know that without incredible customer service and a world class sales team, the quality of their offerings mean nothing.
While this philosophy sounds simple enough to follow, customer-facing sales positions face a significant amount of pressure to deliver this.
If you're struggling with hiring the right sales staff, it may be comforting to know that you're not alone. According to research from ManpowerGroup, sales vacancies are in the top three hardest roles to fill globally – the first time it's ranked this highly since 2011.
According to Tim Bertrand, Chief Revenue Officer of Acquia, one of the driving factors behind the sales talent shortage is changing priorities.
"The market is rewarding growth over profitability. Enterprise technology companies that grow 40-50% each year are valued much higher than companies that are growing at a slower pace. As a result, companies are recruiting salespeople on a much larger scale than before. Instead of needing a sales team of 100 people, they now need a sales team of 200 people to meet these benchmarks."
In addition to market demand, another reason why hiring salespeople is becoming increasingly challenging is simply because there aren't as many people working in this field as there once was.
Aside from the pressure tied to meeting quotas, lingering stereotypes of salespeople being seen as manipulative and slimy are also thought to be drawing fewer people to the profession.
Despite the growing obstacles, the good news is that there are several ways to overcome this tough hiring market.
Companies with big growth plans on the horizon should especially take note, as future success derived from sales requires advanced planning and preparation through addressing the key issues that often pop up when hiring salespeople.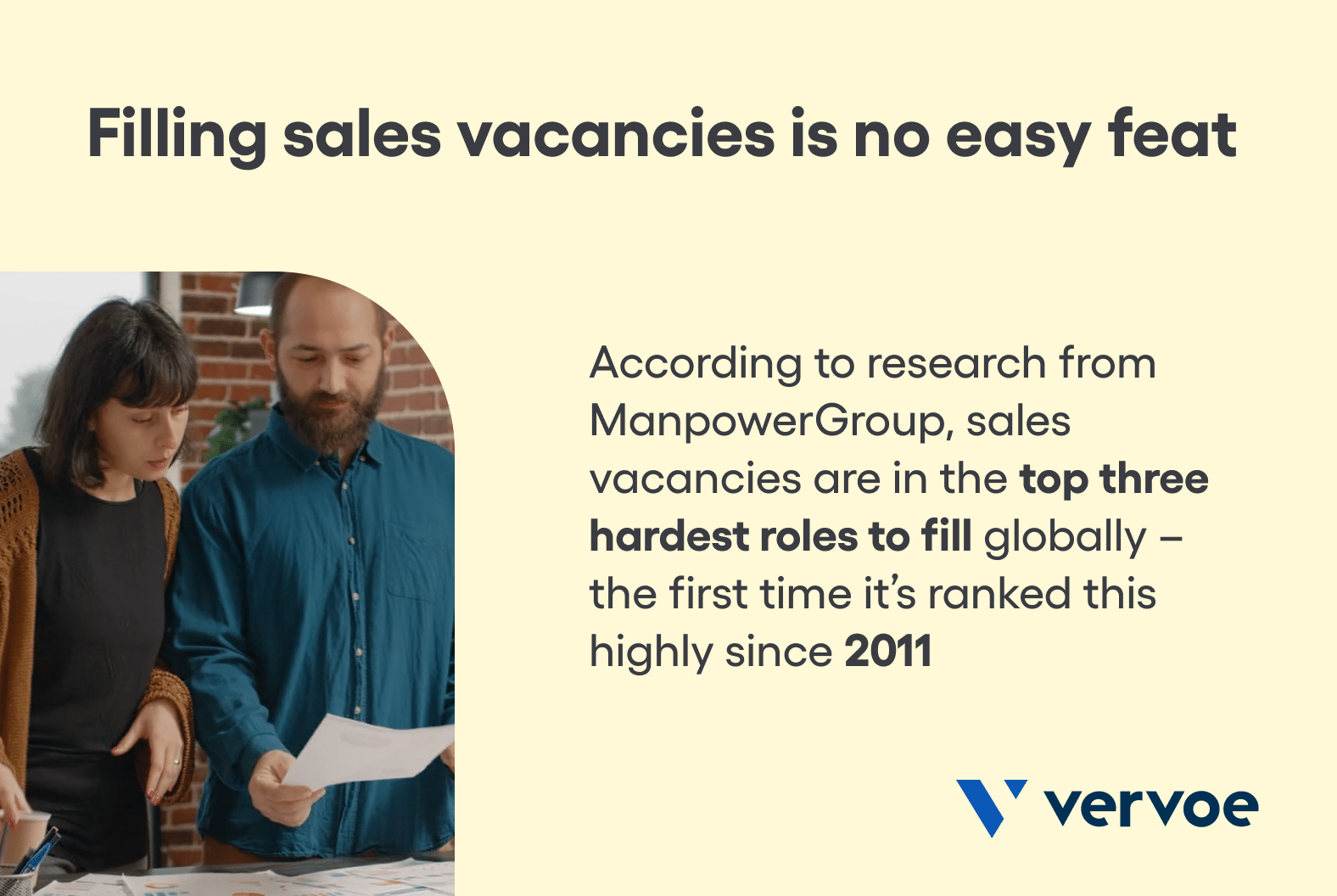 5 common issues recruiters face when hiring sales staff
Although there's always going to be standard hiring challenges that almost every organization faces at one point or another, irrespective of their industry or field, recruiting for sales positions has its own unique set of issues that regularly pop up during the process.
Unfortunately, too many recruiters make the mistake of either ignoring them entirely, or being blissfully unaware of them in the first place. However, taking proactive steps to solve these common conundrums is a must for any company looking to win the race for talent.
1. Poorly defined roles
When roles and responsibilities are not clearly defined from day one, it can lead to misalignment of expectations between the employer and the employee. This can result in confusion about performance and a lack of accountability.
As a result, employees may not be able to meet the employer's expectations as they were not being properly outlined in the first place, which can lead to decreased productivity.
To solve this common issue when hiring salespeople, start by conducting a skills gap analysis to assess what your organization is missing, and what type of role you should be recruiting for.
A common example of this is understanding the key points of difference between positions such as an Account Manager and a Sales Executive, which are two of the most misunderstood roles in this niche.
2. Falling for the spiel
Building rapport and establishing a connection with strangers is a crucial aspect of sales, and candidates applying for roles in this sector will often use their interpersonal skills to actively listen, engage with the interviewer, and ultimately, influence the outcome.
While this could be said for just about any job applicant, it's a particular point of danger when hiring salespeople.
This is because salespeople are particularly skilled at persuasion, and while they may be incredibly good at "selling themselves" to an interviewer, there's little to no proof that they can do what they say they can.
Therefore, it's important to incorporate skills testing into your recruitment process as a tool to validate these claims, and avoid falling for the spiel.
3. Undervaluing industry expertise
Many companies make the mistake of prioritizing sales staff who can prove their background as a "closer", have ties to big corporations, or have a shiny portfolio full of qualifications.
Unfortunately, past performance doesn't always equate to future success, and organizations may be overlooking one incredibly valuable asset in potential hires: industry experience.
In sectors that require specialized knowledge or technical expertise, such as healthcare or technology, employers should consider prioritizing candidates who may not have years of sales roles, but have a wealth of experience in a particular sector in a different position.
Quite often, this approach will help alleviate labor market shortages, avoid paying premium salaries, give fresh perspectives and faster onboarding.
4. Subpar onboarding programs
The average sales turnover rate has been reported as high 35%. By comparison, the average turnover rate for all professions is about 13% – meaning that turnover rates in sales is three times as high as the average employee turnover rate.
To help address this issue when hiring salespeople, having an effective employee onboarding program in place is a must.
Ultimately, salespeople need to have a deep understanding of the products or services they are selling. Onboarding programs provide them with the necessary product knowledge, including features, benefits, pricing, and competitive positioning.
In turn, this enables salespeople to confidently communicate the value of the product or service to potential customers, leading to increased sales and customer satisfaction.
5. Non-sales specific assessments
According to the Talent Board's Candidate Experience Research 2019 report, 82% of organizations are using skills assessments in some form.
While this is great news for the skills-based hiring revolution that is making hiring about ability and not background, using these tools to hire salespeople can see the benefits evaporate if the assessments are not sales specific.
As skills assessments are designed to provide a clear picture of employees' skills and expertise, they need to be tailored to specific roles.
One such example of this is Vervoe's soon to launch sales job simulations, which will place candidates in fully immersive CRM environments. Candidates are taken through a series of tasks, including pitching and presenting, objection handling, and closing across communication channels.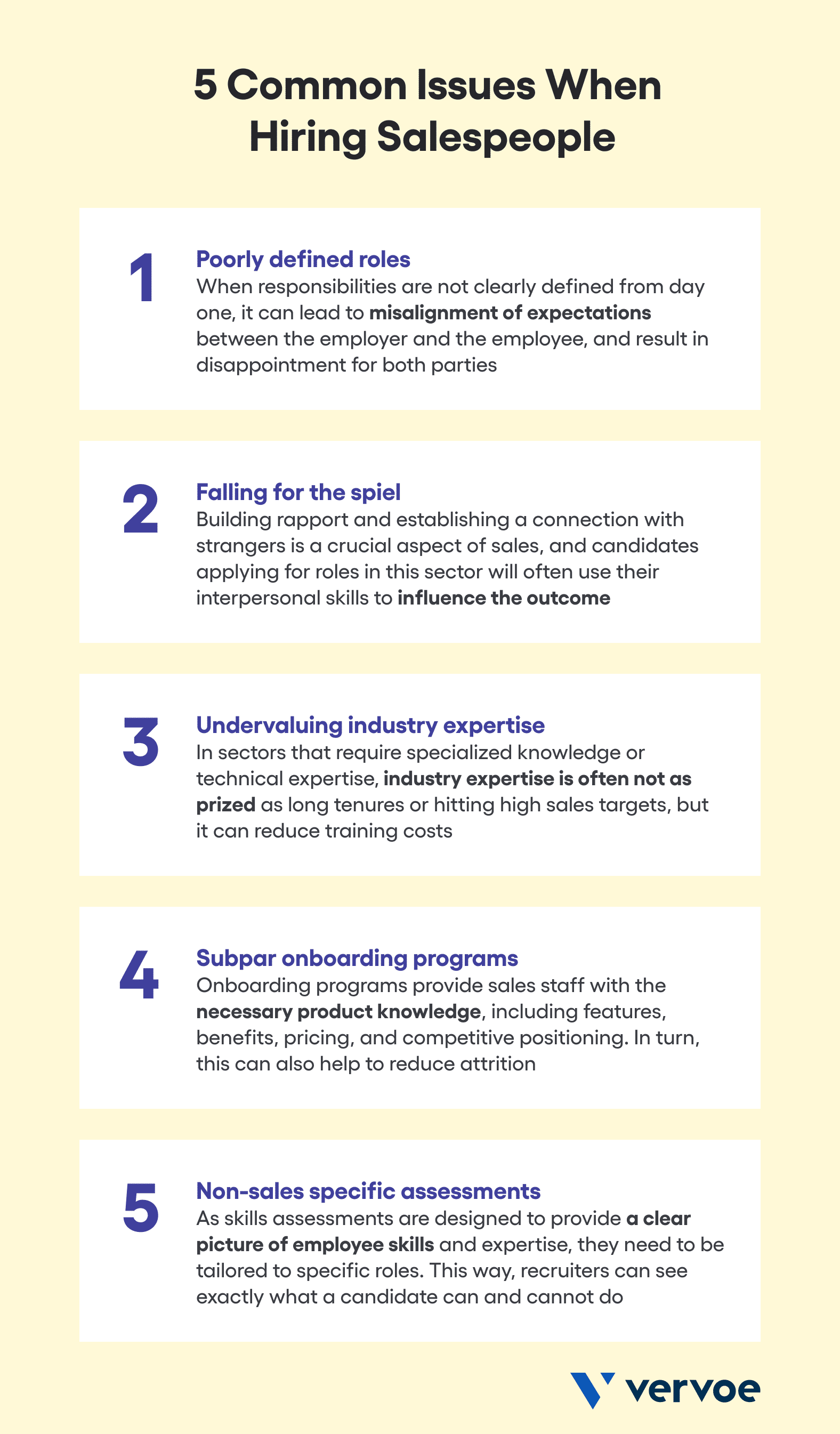 Is skills-based hiring the solution to hiring the right sales team?
When we think of technical skills, it's usually linked to practical abilities like learning a trade or heading off to university to obtain a degree.
In reality, advancements in technology mean that the lines are starting to blur between what the average person has to do to obtain technical skills and how to keep them relevant and accurate.
What's more, is that soft skills are also becoming increasingly relevant for recruiters, and just as important for identifying top tier talent.
In fact, recent data sourced from LinkedIn shows that the top five in-demand soft skills to hire for in 2023 are management, communication, customer service, leadership, and sales – all of which are crucial qualities to have in (you guessed it) sales based positions.
If you consider the very nature of sales based positions, it's no surprise that a growing number of organizations are using skills-based hiring practices such as job simulations and skills assessments to unearth candidates who can perform as well as they say they can on paper.
Skills-based hiring also encourages applicants from more diverse backgrounds, as outdated recruitment tools like resume screening are notorious for overlooking qualified candidates. If this philosophy is something that your organization could benefit from, then pay attention, as the future of sales recruitment is tied to skills.
6 key skills to look for when hiring salespeople
Working in sales can be both rewarding and challenging. As sales professionals are responsible for selling products, services, or solutions to customers, their primary goal is to generate revenue for their company – and that can come with a lot of pressure.
Sales professionals utilize various sales techniques to engage with customers and close deals. This may include consultative selling, solution selling, relationship selling, and objection handling.
In addition, sales professionals also need to be proficient in using sales tools and technologies such as CRM systems, sales automation software, and sales analytics platforms.
Regardless of whether you're hiring salespeople to fill a role for a Sales Account Executive, a Sales Account Manager, a Sales Development Representative or even a Director of Sales, every type of position in this field demands very similar core skills, with just a handful including the following.
Relationship Builders
Sales professionals often focus on building relationships with customers, and this involves understanding their needs, preferences, and pain points, and establishing trust and rapport. Building strong relationships with customers can lead to repeat business, referrals, and long-term loyalty.
Target Driven
Salespeople are usually assigned sales targets and quotas, which can be based on various metrics such as revenue, volume, or customer acquisition. Meeting or exceeding sales targets can be challenging, and requires proactive prospecting, effective communication, negotiation skills, and closing deals.
Good Communicators
Excellent communication skills are crucial in any sales role. Salespeople need to effectively communicate the value proposition of their products or services, understand customer needs, and address any questions or objections. Active listening, effective questioning, and persuasiveness are important skills for sales success.
Time Management
Salespeople often work in fast-paced environments, and need to manage their time effectively. This may involve prioritizing leads, managing follow-ups, and coordinating with internal teams. Time management skills are critical to ensure efficient and effective sales processes.
Established Resilience
Sales can be challenging, with rejections, objections, and setbacks being a part of the job. Sales professionals need to be resilient and able to handle rejection and setbacks positively. Maintaining motivation, staying persistent, and learning from failures are important aspects of working in sales.
Continuous Learning
The sales industry is constantly evolving, and successful sales professionals need to continuously update their skills and knowledge. This may involve staying updated with industry trends, learning about new products or services, and honing sales techniques through training and professional development opportunities.
Overall, working in sales is not for the faint of heart, and requires a combination of hard and soft skills. The good news? Many of the above qualities are considered to be transferable skills, so make sure you don't overlook ideal candidates with outdated recruitment tools, such as resume screening. Instead, make hiring salespeople easier than ever by embracing sales skills assessments. 
[Free Download – Vervoe's Sales Executive Hiring Kit]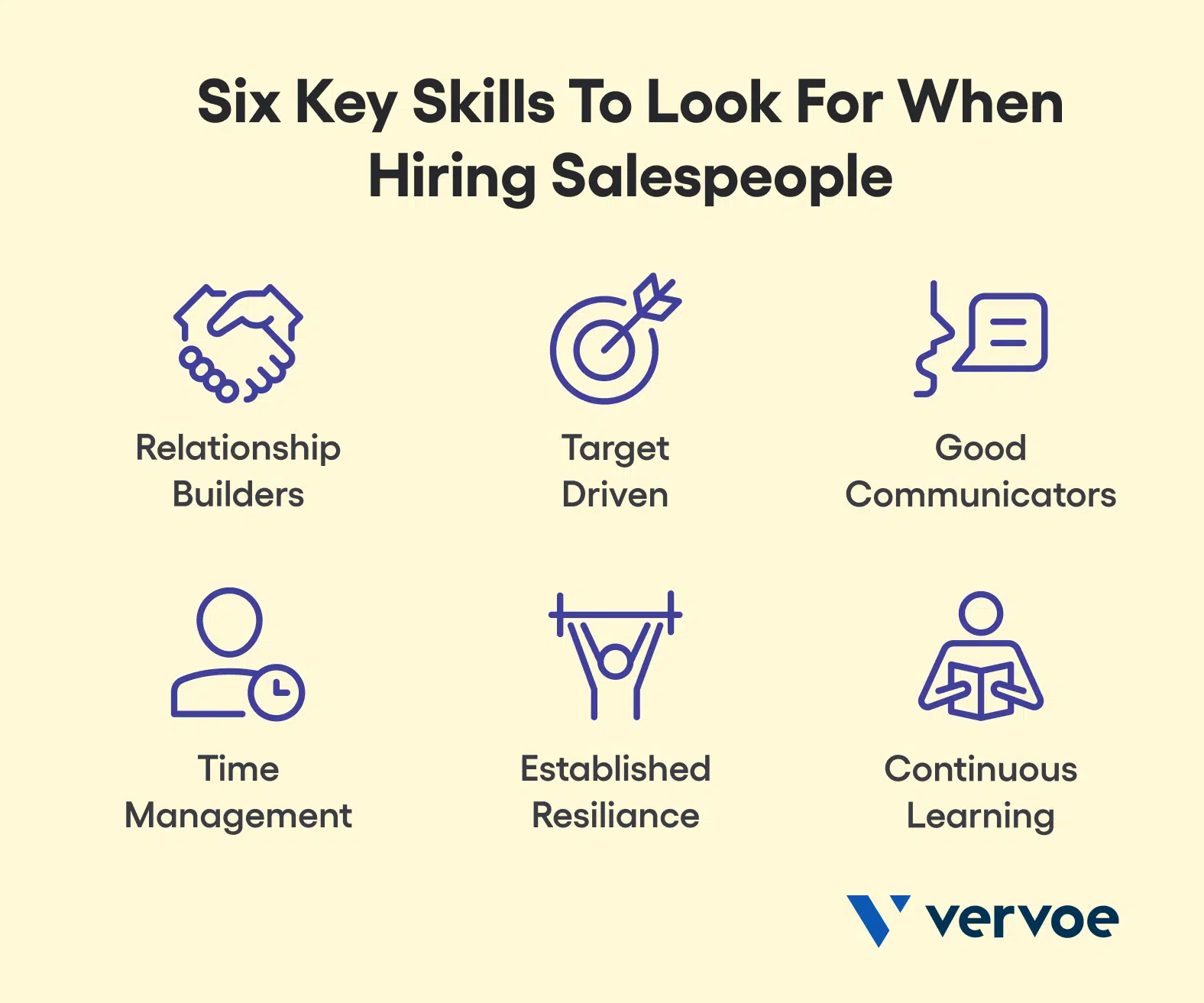 How a sales skills assessment can transform your hiring process
While sales is one of the biggest professions in the world – and the oldest – less than a quarter of all sales reps exceed quota.
Another alarming statistic tied to the sales industry is the fact that employee turnover in sales is actually three times higher than other professions – which makes creating good recruitment strategies all the difficult for hiring managers.
To help companies avoid the disastrous consequences of making a bad hire, Vervoe's latest role specific job simulations have been custom built to address top, middle and bottom of the funnel sales based positions.
As a reflection of market demand, the three roles that the new suite sales skills assessments that include job simulations will focus on hiring Sales Development Representatives (top), Account Executives (middle) and Account Managers (bottom).
In a fully immersive CRM environment, candidates are taken through a series of tasks, including pitching and presenting, objection handling, and closing across communication channels that include email, phone, video link and other documents.
This way, hiring managers can quickly identify highly skilled sales professionals who can not just talk the talk, but can walk the walk. Ready to take our Sales Simulations for a test drive?
Talent stands out with job simulations
Vervoe is an end-to-end AI-powered solution that is proudly revolutionizing the hiring process through skills testing, job simulations, and machine learning recruitment.
By empowering businesses to create role specific assessments designed to suit the unique requirements of a position, Vervoe predicts performance through skills-based hiring practices that showcase the talent of every candidate.
Ultimately, our job simulations focus on the work — and not the person. To see people do the job before they get the job, book a demo today and let our experienced team run you through Vervoe's full range of ready-made and tailored solutions.