AI-POWERED SALES SIMULATIONS
Vervoe uncovers sales superstars who can 'sell, not tell'
By seeing candidates do sales tasks in an immersive CRM environment, Vervoe stops you hiring sellers who can only talk a big game.
MADE FOR SALES HIRING TEAMS
Identifies the best closers and revenue generators
You know previous experience doesn't always correlate with performance and meeting quota. Vervoe is quick to verify candidates who can walk the walk AND talk the talk.
In our sales simulations, candidates get the chance to show off their sales skills by selling to fictional prospects with very real demands.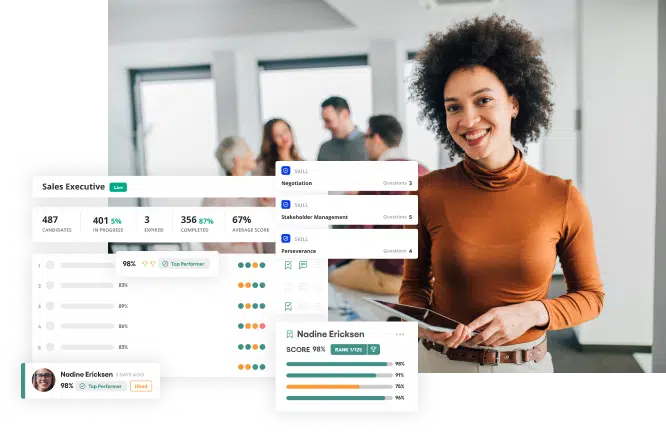 IMMERSIVE CRM ENVIRONMENT
Evaluate hard and soft sales skills
Our comprehensive simulations identify top performers within real life sales scenarios. 
Candidates run through a series of tasks, including pitching, objection handling and closing, and get every chance to showcase skills.
AI-POWERED SCORING AND ANALYSIS
Saves you time and generates deep insights
Candidate performance is automatically graded and ranked by Vervoe's machine learning. Rich candidate profiles allow you to understand top candidate skills without spending hours in interviews.  
Easily check if key sales competencies were passed and dive deeper to view outputs like emails sent, CRM status updates or video responses. 
The best part? It's ChatGPT proof and no prior learning is required.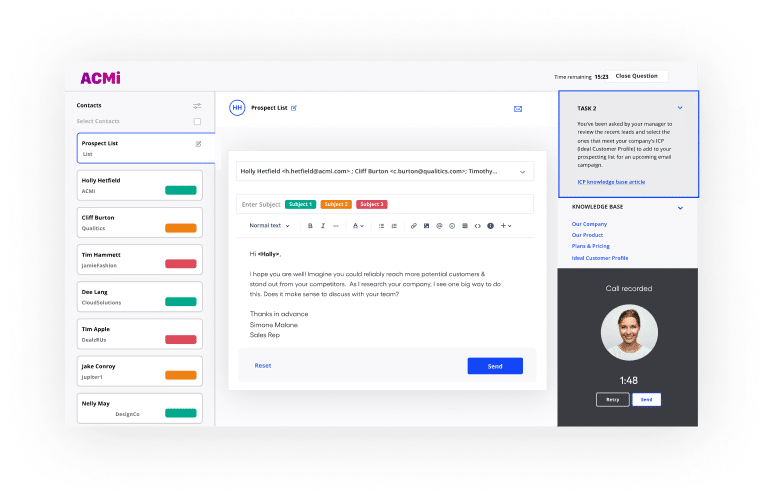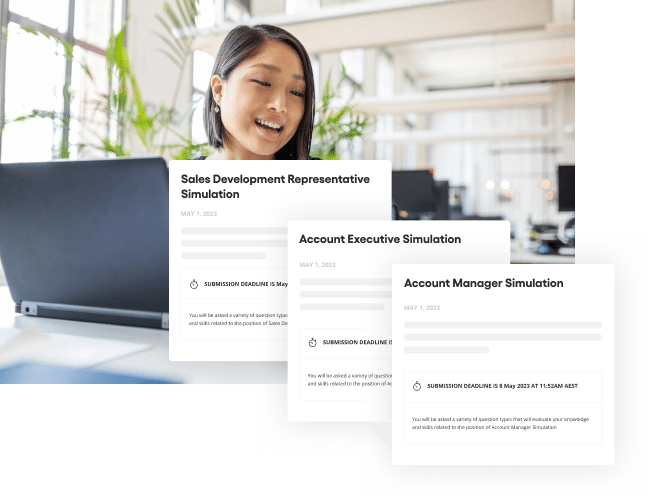 THREE DIFFERENT SALES SIMULATIONS
Supports sales hiring teams at every level
We've created three different sales simulations to address your lead gen, new business and relationship management needs:
Sales Development Representative

Business Development Manager / General Sales Executive 

Account Manager
You'll even be able to change role titles to better suit your organization. 
Observe and test real world sales skills
Best-Fit Customer Identification
Time Management & Prioritization
Test skills in context and unearth true talent
Sales Development Representative
Our immersive Sales Development Representative Simulation helps you identify top performers for top of the funnel sales roles.
Our immersive (Sales) Account Executive Simulation helps you identify top performers for middle of the funnel sales roles.
Our immersive (Sales) Account Manager Simulation helps you identify top performers for bottom of the funnel sales roles.
Hiring teams and candidates love Vervoe
Sales SIMULATION PLATFORM
Frequently asked questions
We've tailored the three versions or suite of Sales Simulations to cover most roles in the market. Plus, you have the flexibility to customize other question types outside the simulation and update role titles to better fit your organization. 

We've designed the CRM environment to be familiar to applications candidates may already have used. If candidates haven't used a CRM before, the Sales Simulations remain totally candidate friendly and no prior experience or knowledge is necessary. All simulations include an intuitive walkthrough to guide them through all the main parts of the CRM and the simulation is designed to test their core sales skills; while keeping them on task within the immersive environment. 

Vervoe's suite of Sales Simulations are the next frontier in immersive hiring and even closer to seeing people do the job, before they get the job. While all Vervoe's skills assessments are application based; the Sales Simulations are one step deeper with interlinked tasks, requiring candidates to familiarize themselves with a fictional company, product, pricing and other relevant information and use that to respond to dynamic customer and prospect enquiries. 

Answers are all automatically graded and ranked via Vervoe's machine learning. Intuitive scoring and rich candidate profiles allow you to understand a candidate's skills without spending hours in live sales role play scenarios, assessment centers or months of candidates not making quota.
In addition to Vervoe's robust anti-cheating measures. Prospect information and use case scenarios are always unique without affecting the simulation logic and task flows to cover all skills in a sales funnel. Candidates also cannot skip tasks or go back and change a response to a task once submitted – like in real life!

Get a demo from our team on how Vervoe's newest suite of 3 Sales Simulations will revolutionize your sales recruitment game or request them in a trial account now for a limited time. 
Book a demo with our friendly team to see how Vervoe uncovers sales superstars