Startup Recruitment Software
Great hires the first time with recruitment software for startups
Vervoe helps you find top talent for your growing company with engaging skills assessments candidates love.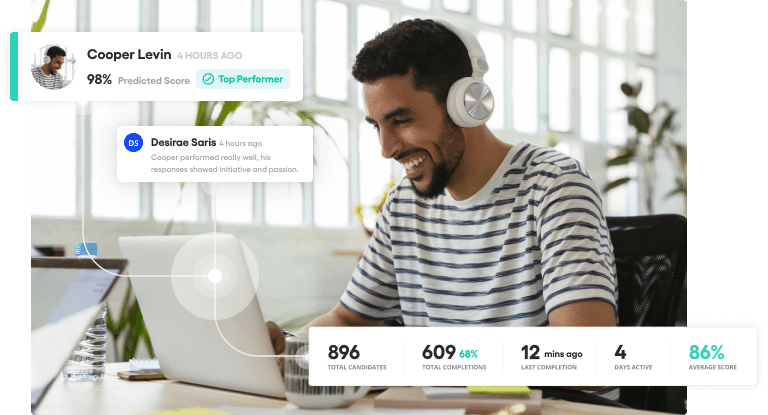 Improve your hiring process with AI-powered startup recruitment software
See who can actually do the job and surface the most qualified people based on how they perform tasks and challenges specific to your business.
Test technical skills with coding challenges, interactive question types, and virtual task-based outcomes.
Test soft skills like communication, collaboration, and for unique traits required to survive startup life like resilience.
Get it right the first time
Avoid costly miss-hires and make decisions with confidence for your small business by testing and assessing each candidate's job-ready skills.

See how they would perform specific tasks required of the role with immersive question types like spreadsheets, presentations, code challenges, and more.

Sit back while our AI confidently grades each candidate, leaving you with a list ranked in order of performance to explore.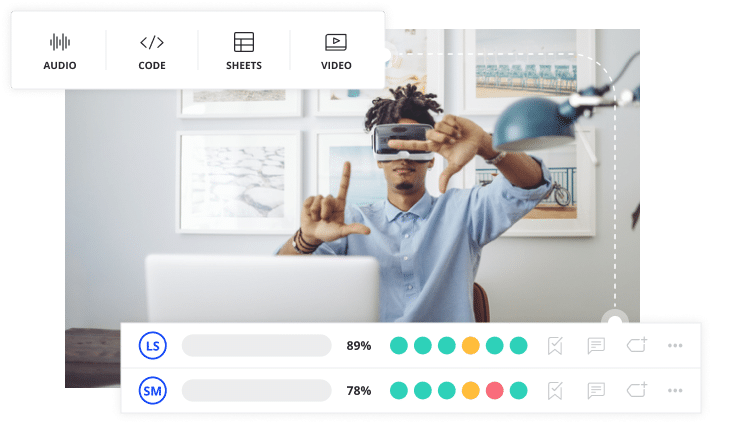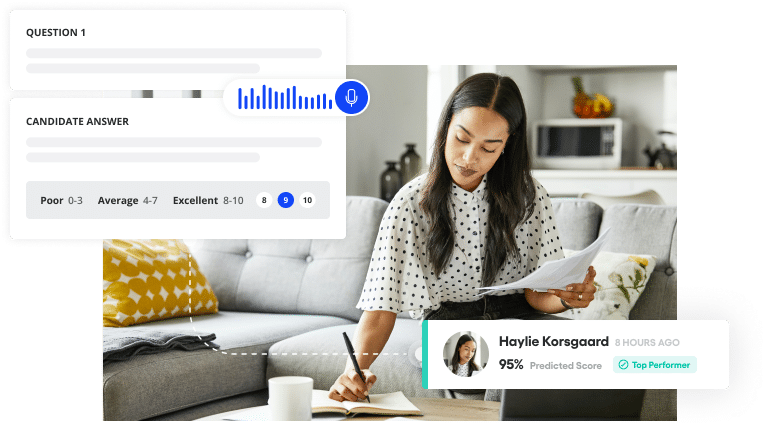 Go beyond video interviewing. One assessment can test a range of skills, including technical or software-specific, so that you can replace multiple stages of your hiring process, saving you time and money.

Our expert assessment library and question bank will also help you create a quality assessment quickly—no need for recruitment and HR teams. So you can focus on creating a memorable onboarding experience for your new hire.
Offer job seekers a compelling reason to consider your startup. Immerse them in an engaging assessment that shows them what the job would be like.

Add personalized intro videos that showcase your journey and where you're heading, and add your company branding as part of our candidate experience settings.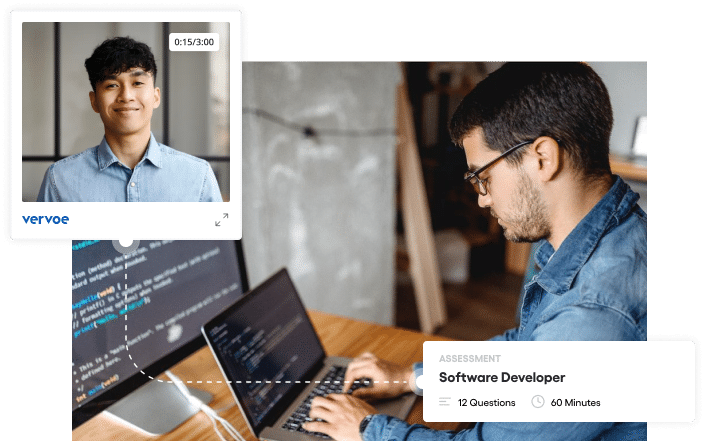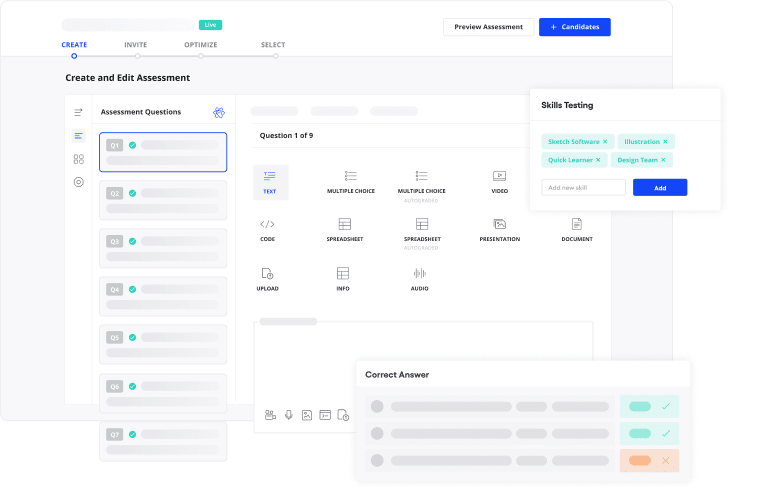 Find top performers instantly with AI
If you're hiring a new employee, you might be looking for someone with strong communication and time management skills.

Our AI models quickly process thousands of responses, looking for specific words or sentiments that accurately reflect these values.

Candidates that have more of these are graded higher, and those with less are scored lower.
From engaging question types to customizable candidate experiences, we're here to make your hiring simple with our recruitment software for startups
Range of customizable templates written by leading I/O Psychologists for your hiring managers to use from design to sales roles.
Shareable candidate scorecards that let you collaborate quickly with colleagues on shortlists.
Generate your own cloud based assessment in minutes. All you need is the job title, and our HR tech will do the rest to help you test skills essential to your startup.
Link directly from your career site, job boards, or your applicant tracking system and test candidates as they apply, so you'll only spend time on top performers.
Automatic Grading & Ranking
Every applicant is graded and ranked by our AI in order of performance for the skills that matter most to you—helping to surface candidates from underrepresented groups that might have previously been overlooked.
Create a seamless candidate experience with customizable emails and videos for branding. No more scheduling Zoom calls or Google Hangouts as part of your video interview process.
Confidently test and evaluate candidates from anywhere in the world and improve your diversity sourcing.
"Everyone wants to hire superior talent. Vervoe allows us to scale and hire top candidates based on merit."
More resources you may be interested in
Startup Recruitment Software
Frequently asked questions
Vervoe's AI
learns from millions of data points collected from real humans grading real job applicants. Through behavioral observation and natural language processing, our algorithms apply this logic with 80% accuracy to your candidate responses.
Vervoe's AI
will automatically grade your candidate submissions. If you would like for the predicted score to calculate, you will need to allow at least two hours for the system to generate the predicted score while leaving the candidate card in the assessment stage. This also means that you should not grade the candidate manually before the predicted score has had time to calculate. In order to improve your AI accuracy, we encourage you to include examples of correct answers (there is a field to add these when you are editing your assessment questions). The AI also learns from when you grade candidates. As a best practice, we do recommend that you manually score several candidate responses once the predicted score has been calculated.
Skills assessments and all candidate emails are fully customizable. We have customers all over the world, and skills assessments have been completed in many languages, including Chinese (for Uber). Embedded features like buttons are in English and are currently not customizable. Localizing the platform is something we have added to our roadmap but can't guarantee and commit to a time frame.
There's no lengthy implementation or training process with Vervoe. Simply create an account, select your plan and then start creating your assessments. You can choose from our library of pre-built assessments or create your own in minutes.
Vervoe offers much more than your typical
video interview
. You can thoroughly evaluate skills and cultural fit by asking questions, and seeking responses, in any format. In addition to video, you can try file upload and download, audio, text, multiple-choice, and more.
Join these startups already hiring great people​