The demand for AI recruitment software is huge — and growing.
Analysts estimate that the market for AI in recruitment will grow at a compound annual growth rate (CAGR) of nearly 7% until 2025, as talent acquisition teams seek solutions to help speed up the recruiting process, predict employee success, improve the candidate experience, and increase diversity.
The introduction of artificial intelligence has many implications for job seekers and hiring teams alike. Used throughout the hiring process, artificial intelligence, machine learning, and natural language processing can help with sourcing, screening, and hiring — from small tasks like interview scheduling to larger responsibilities, such as skill testing and vetting.
The AI talent acquisition tools on this list offer a range of features, integrations, and software to make the hiring process easier and more pleasant for recruiting teams and interested candidates alike. First, we'll break down some of the ways that an AI recruiting tool could be used in the hiring process. Then, read on for our list of the best AI tools for talent acquisition.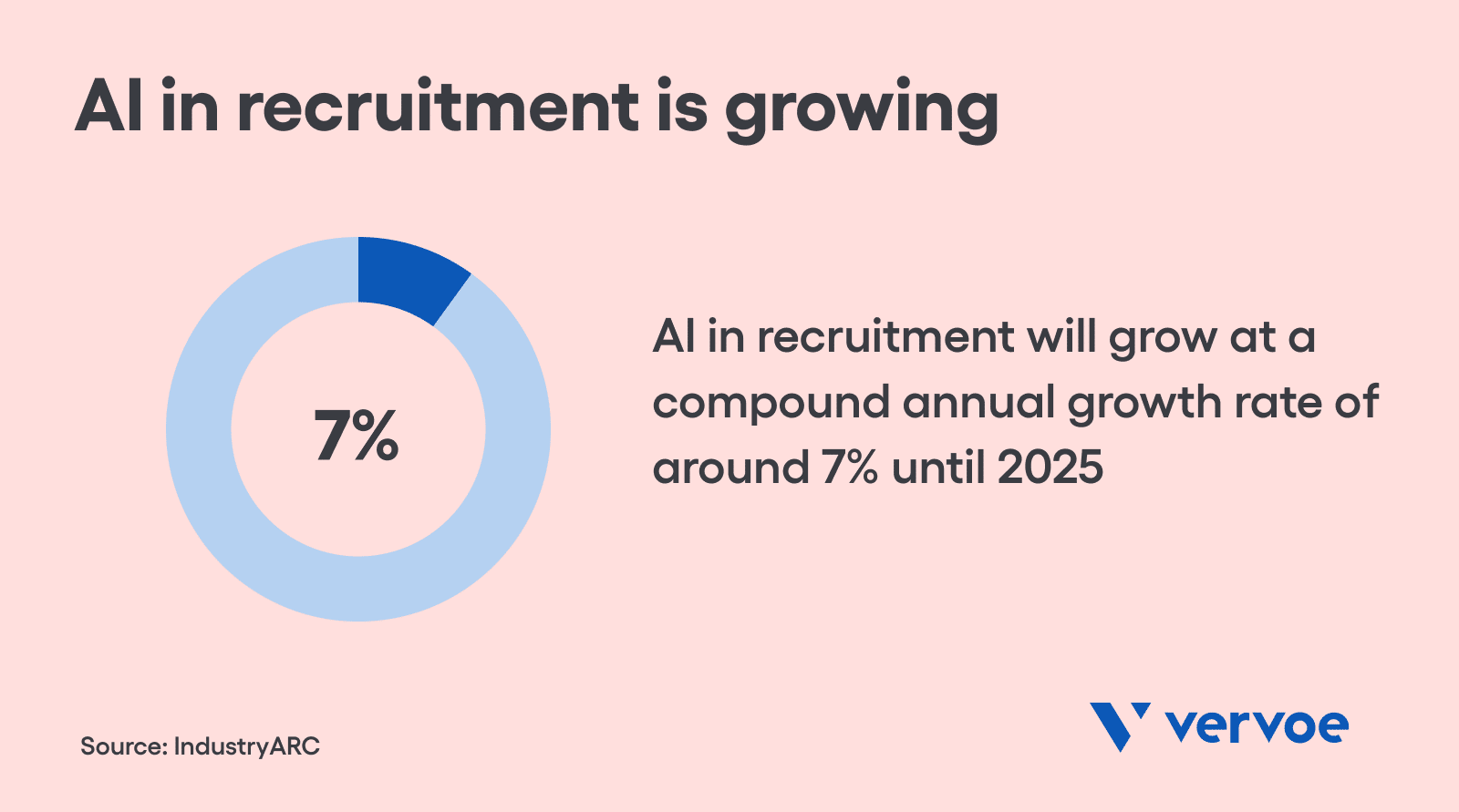 What are AI tools for talent acquisition?
AI has been integrated into many aspects of talent acquisition. Recruiters and talent teams want to use AI to automate the hiring process to make it faster, less expensive, and easier to manage.
There are three main ways recruiters are using AI in the hiring process:
Sourcing: to find and connect with suitable candidates quickly
Screening: to derive the most qualified candidates from the talent pool
Interviewing: to facilitate remote hiring and save time
[Read more: How To Use AI Recruitment To *Actually* Automate and Save Time]
AI sourcing tools help recruiters find and connect with potential candidates faster. Artificial intelligence can search for profiles across job boards, an applicant tracking system, or internal databases to fill an open position. Others help maximize marketing efforts and connect with candidates in real-time. And, there are AI chatbots that can interact with a candidate to determine what specific role will be the best fit and show them how to apply through the job site.
AI screening tools use technology such as machine learning and natural language processing to quickly derive information from applications and speed up the screening process. These tools range in approach, from resume parsing to behavioral and skills assessments. When set up properly, artificial intelligence can help improve diversity hiring by screening candidates in, not out.
Finally, artificial intelligence interviewing software is often used in two ways. First, AI can be used to assess video interviews, using voice and facial expression analysis to assess personality traits. While this can help cut down on the time and attention required of recruiters to review each candidate's recorded response, it can also lead to unintentional discrimination against diverse candidates.
AI can also be used to analyze the content of a pre-recorded video interview. For example, a skills test may ask a candidate to write a sample blog post on a topic relevant to the company's industry. Then, in a pre-recorded video interview, the tool asks why the candidate selected the topic they chose to write about. This step gives more context to the candidate's skills test and helps a candidate stand out beyond their initial response.
Separate from these main categories, there are AI tools that can help with things like scheduling interviews, managing administrative tasks, and for predictive analytics to help improve the organization's overall hiring strategy.
Why are AI tools for talent acquisition rising in popularity?
As AI technology becomes more accessible, talent acquisition teams use AI recruitment software to get through the most time-consuming aspects of the recruitment process. For instance, pre-employment screening remains the biggest drain on recruiter resources. The number of candidates per open req has increased, and finding quality candidates has become more challenging.
AI recruiting technology can help hiring teams improve their time to hire, quality of hire, save time and money, and minimize some of the hidden human bias that prevents minority candidates from getting a fair evaluation.
AI technology is skyrocketing in popularity for recruiting teams because it:
Ultimately AI recruiting tools enable talent acquisition professionals to automate repetitive tasks, identify top talent, and have better candidate conversations, improving overall hiring outcomes.
What should you look for in an AI tool for talent acquisition?
While we've mentioned three broad use cases for AI — sourcing, screening, and interviewing — there are many features that can streamline the details of hiring. Understanding what each tool offers, as well as the cost, implementation, learning curve, and ROI of each can be tricky.
As you vet different artificial intelligence recruiting solutions, keep these things in mind…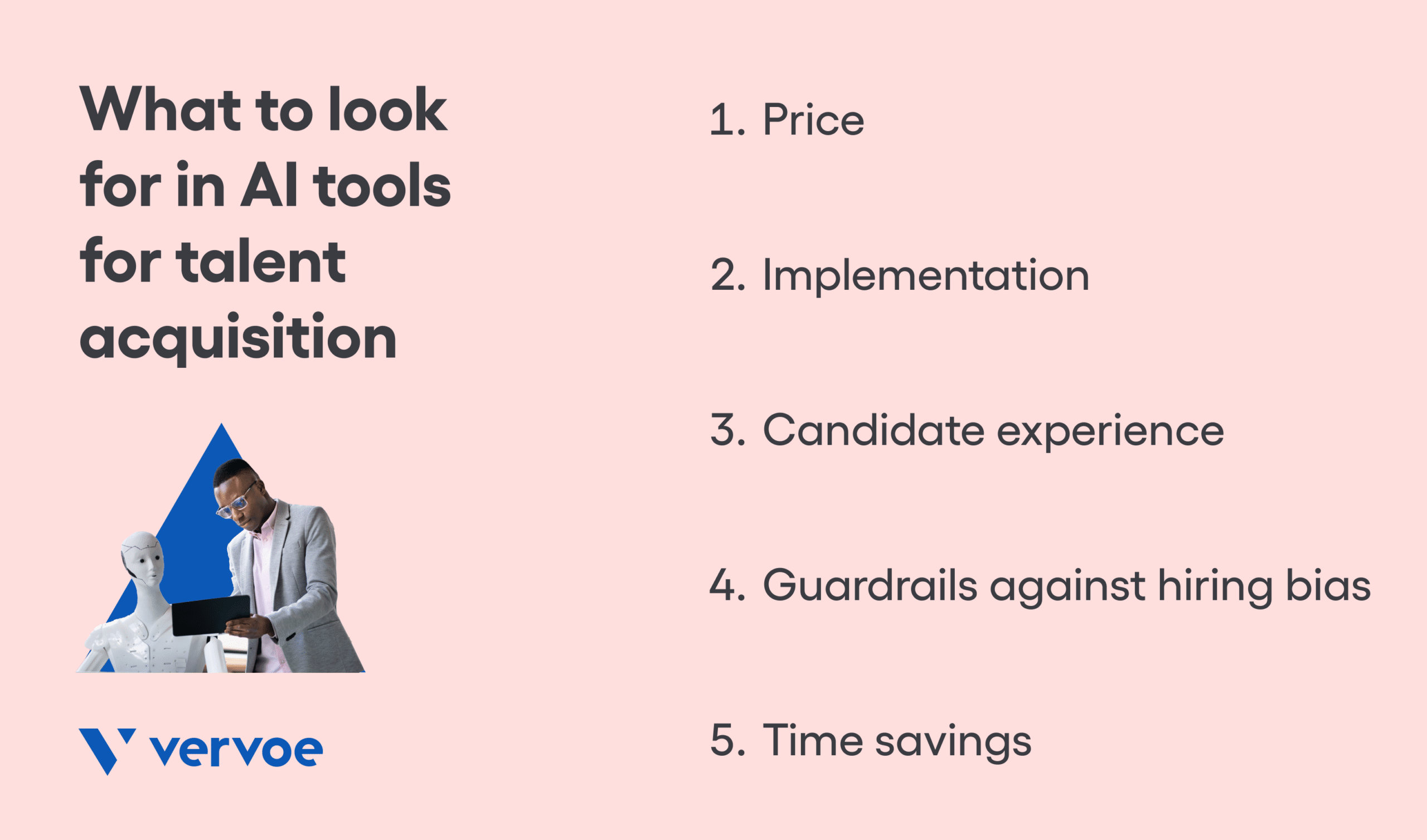 1. Price
Early stats show that recruiters that use AI see a 30% reduction in cost-per-hire. With the average cost-per-hire hovering around $4,100, make sure the AI recruiting software you choose offers an acceptable ROI.
Ask each vendor about their pricing model to learn more about the fees associated with using their software.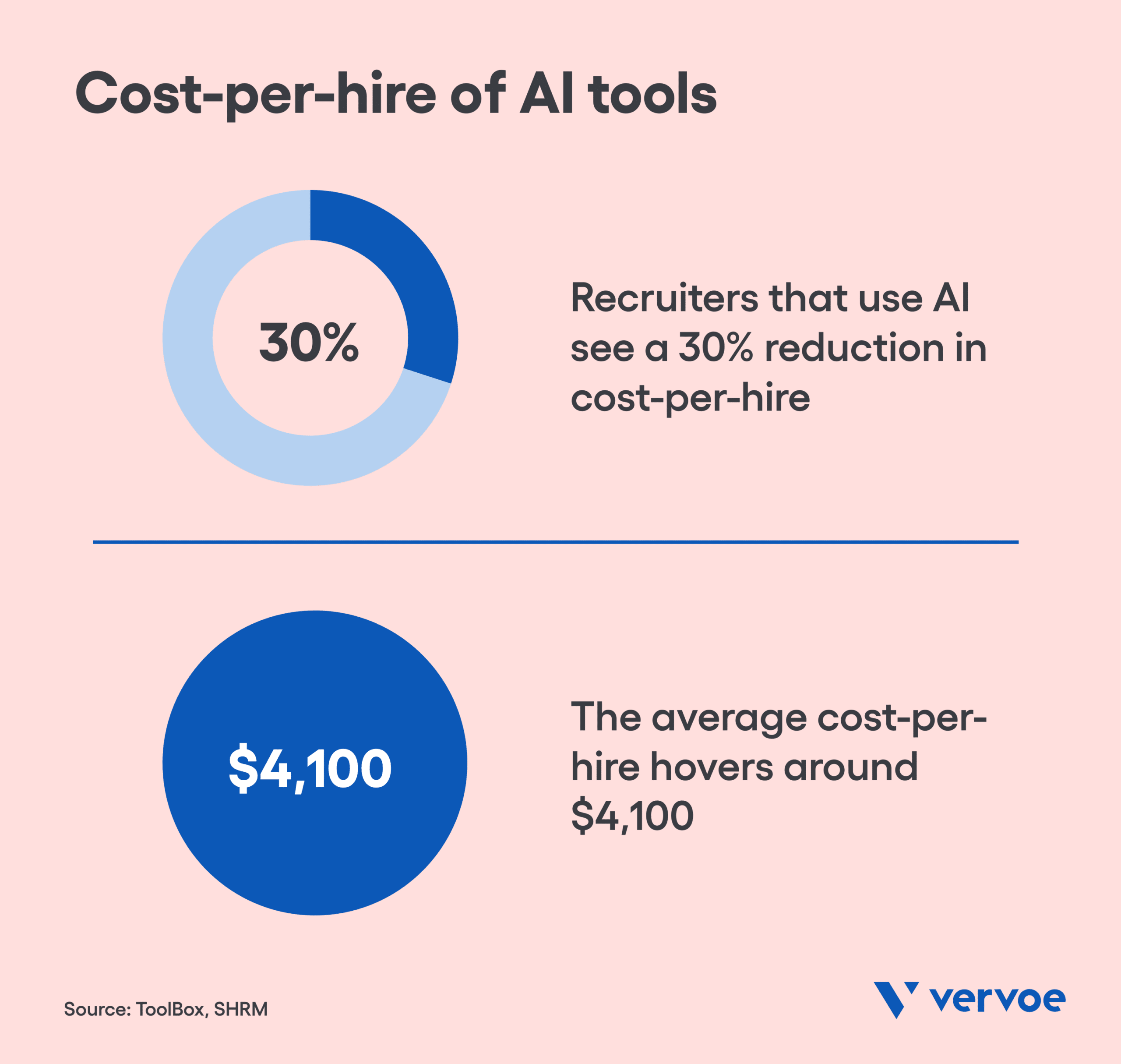 2. Implementation
Machine learning algorithms rely on thousands or millions of data points to accurately mimic human intelligence. This might mean there is a lengthy implementation process required to get started. Note that algorithms that rely on existing internal data, like testing your high performers, are usually more costly and time-consuming.
3. Candidate experience
How do prospective candidates interact with your recruiting tools? In some cases, chatbots and other artificial intelligence software can ease the candidate experience. In other cases, candidates are left feeling like another number. Learn about the ways in which the tool integrates moments of person-to-person interactions with technology.
4. Guardrails against hiring bias
Worst-case scenario, an AI recruiting platform replicates the unconscious bias that's present in your current hiring process. It's important to ask vendors what protocols and safeguards they have in place to make sure that no one is unfairly screened out. Read more in this guide: Using AI To Eliminate Bias In Hiring.
5. Time savings
In what ways does the recruiting platform or screening tool help save your hiring managers time? Traditional pre-employment screening and shortlisting can take up to 23 hours of a recruiter's time for a single hire. Learn how each AI tool can streamline the recruitment process through automation.
Some tools will claim to do it all — from candidate sourcing to pre-hire assessments to automated interview scheduling. But, in the process, these recruitment platforms may sacrifice human connection. It's all about finding the balance that works best for your employer brand and company culture.
The 20+ best AI tools for talent acquisition
The top 8 AI tools for candidate sourcing
AI for talent acquisition starts with sourcing tools that can help you find passive candidates, reduce your time to hire and expand your search to include diverse individuals. Try some of these AI sourcing tools to maximize your effectiveness in attracting applicants.
1. Arya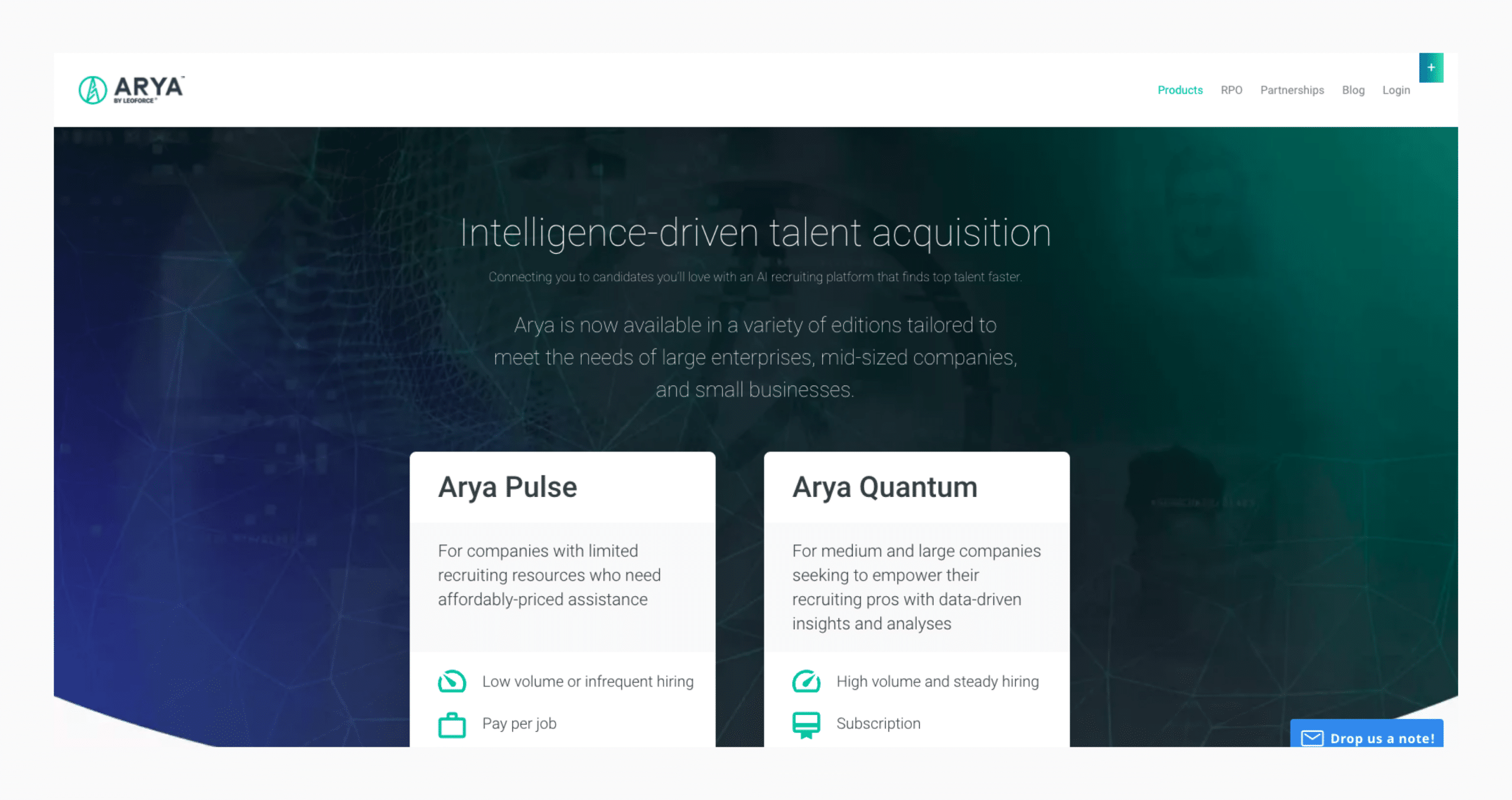 Arya is a sourcing tool that uses artificial intelligence to source talent from over 50 professional social channels simultaneously. This recruiting platform builds a shortlist of candidates based on the requisite skills listed in your job description. Arya's artificial intelligence can also engage with clients to reach out to applicants, ask them screening questions, and schedule time with recruiters. 
To improve your hiring process, Arya also offers predictive analytics and data-driven insights to help your team improve its talent pipelines. AI sourcing and candidate engagement come together in one unified dashboard, so your team can see each task and recruiter's activity in a single view.
Best for: RPO firms, staffing and recruiting firms, SMBs, corporations, and organizations of all sizes and in a wide range of industries.
Cost: Arya Pulse – low volume/infrequent hiring: $199-$500, Arya Quantum – high volume/steady hiring: subscription.
2. hireEZ (formerly Hiretual)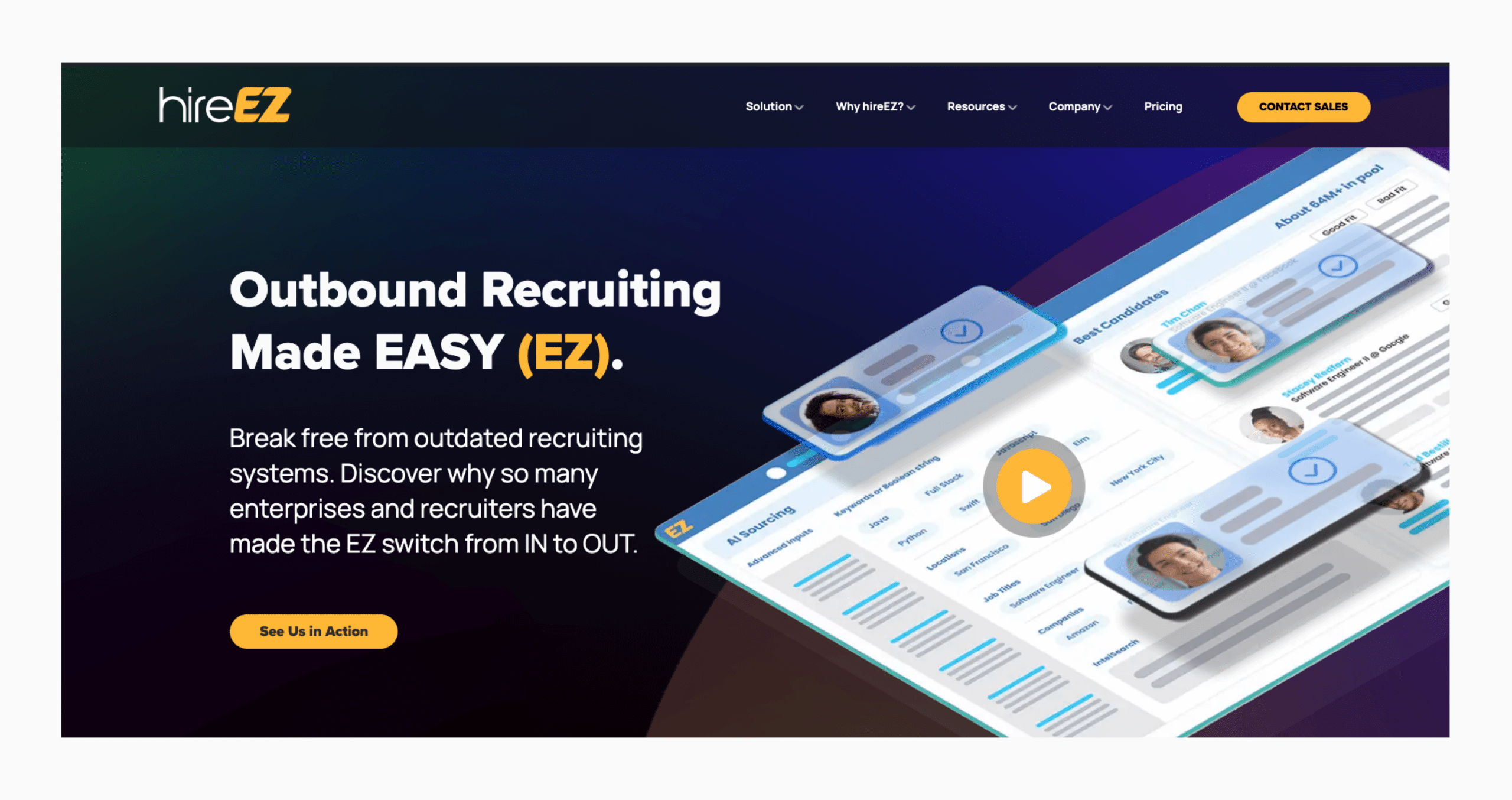 hireEZ can identify great talent with AI-powered search filters. Its tool enables hiring teams to find five times more qualified leads. The AI recruiting software sources using criteria for past and current job titles, companies, diversity, industry expertise, and even by internal ATS stages. 
One of its key value propositions is that hireEZ's Advanced AI Sourcing can build extremely targeted searches to uncover niche or hard-to-find profiles — great for industries that require specialized expertise.
hireEZ integrates with popular applicant tracking systems and other recruiting platforms to keep candidate information centralized and up to date. It securely sources candidates from more than 45 open web platforms, with a contact-finding success rate of about 85%.
Best for: technical sourcing, healthcare, clearance sourcing, scholar, and diversity sourcing.
Pricing: plans start at $149 per month and increase from there.
3. Fetcher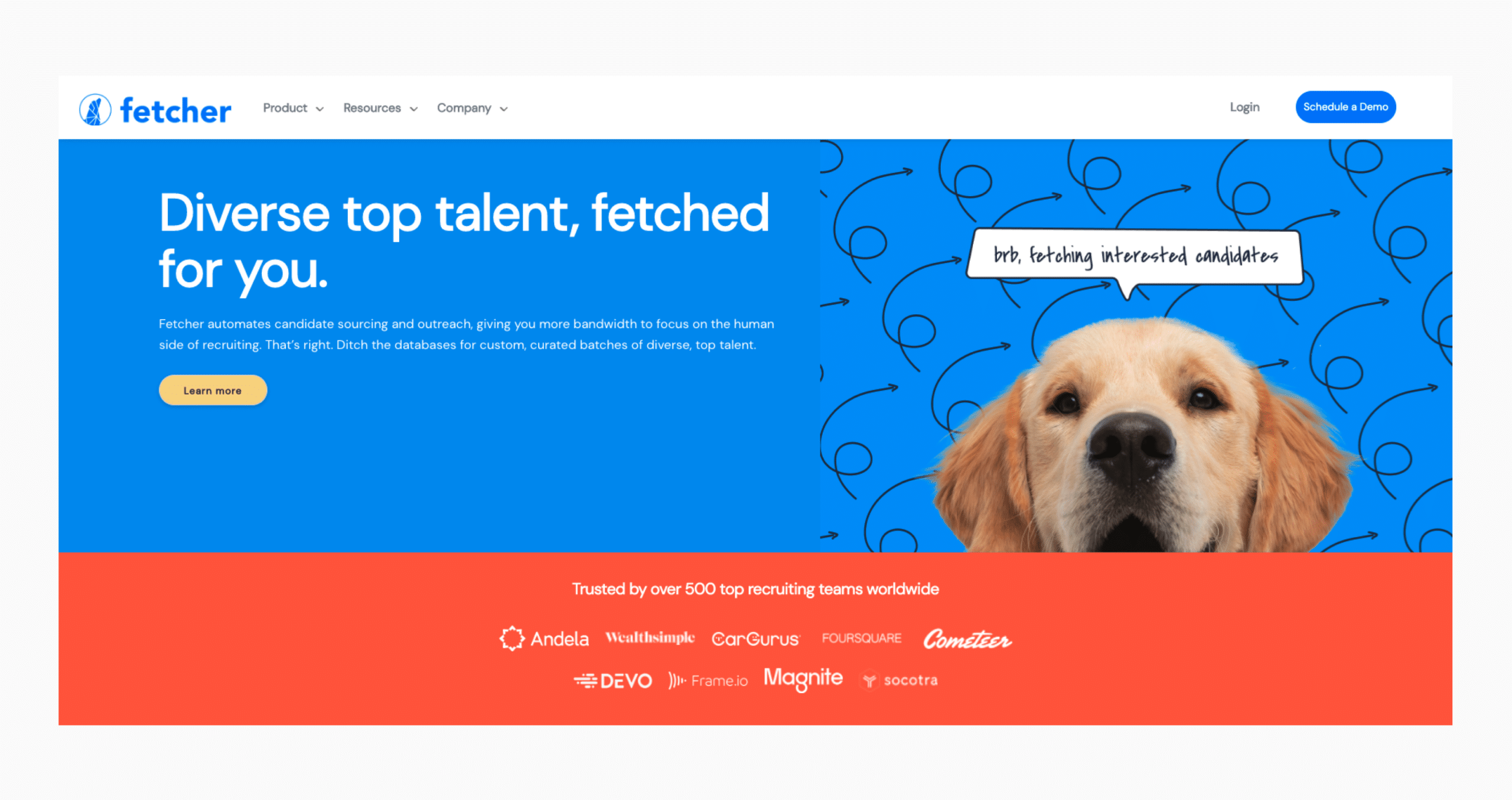 Fetcher focuses on top-of-funnel hiring with its AI tool that uses machine learning to find relevant candidates, reach out to them via text or email, and automate the repetitive aspects of candidate engagement. Fetcher offers an easy one-click web extension that helps maximize your sourcing efforts. It aggregates candidate information from social networks and other platforms to give you candidate profiles that can be reviewed quickly. 
Fetcher also offers outreach tools to improve candidate engagement. Fetcher customers can use personalized email sequences and re-messaging campaigns to automate outreach. Responses from interested candidates are sent directly to your inbox.
Best for: recruiters, sourcing professionals, and DE&I leaders
Pricing: not publicly available
4. SeekOut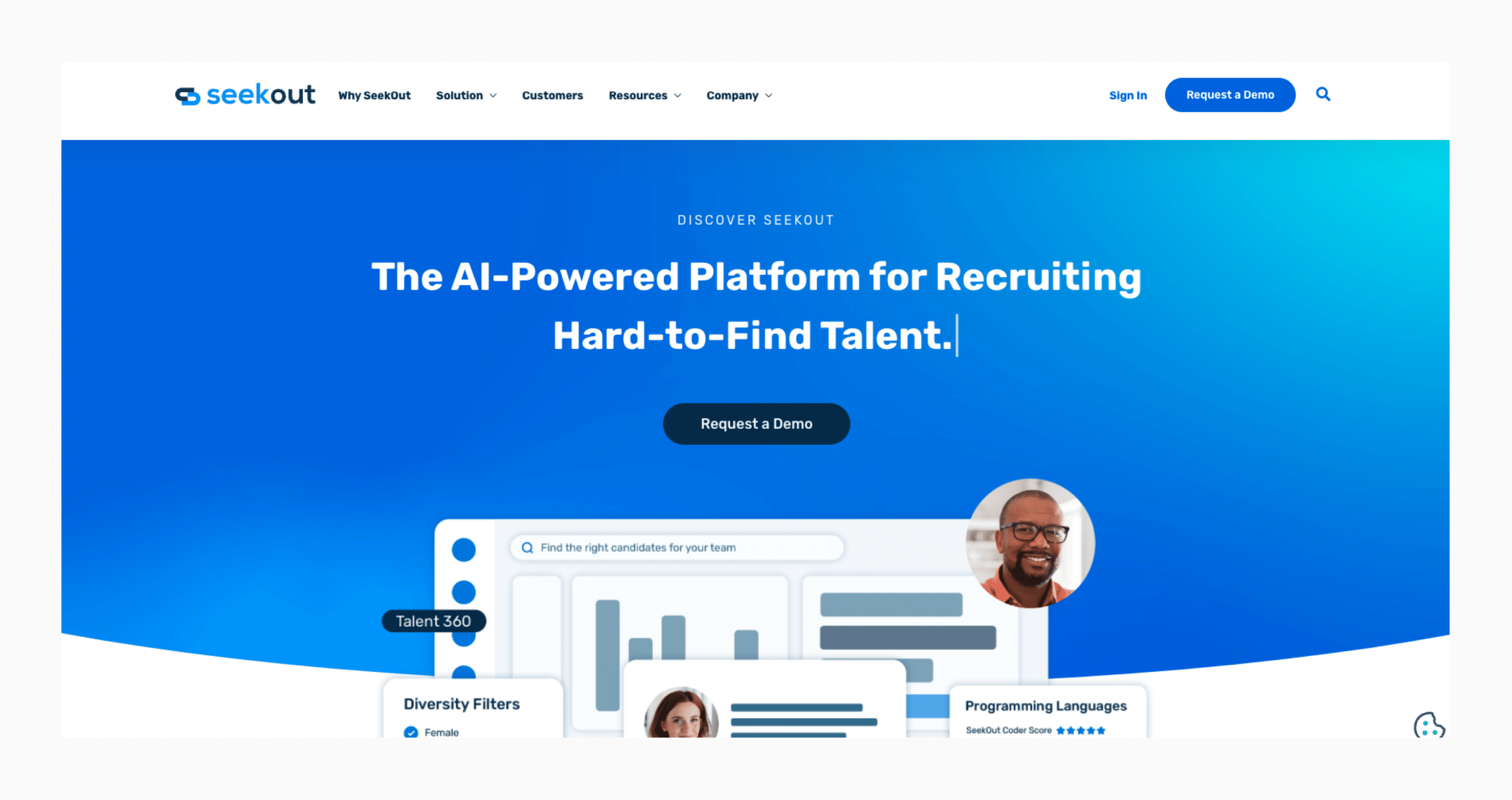 SeekOut's AI helps recruiting teams hire for difficult-to-fill positions. AI is used to create custom shortlists of qualified candidates based on the job description. This shortlist is generated from your company's applicant tracking system (meaning there may be some passive candidates included) as well as 500 million talent profiles saved in SeekOut's database. SeekOut's AI can then be used to reach out to candidates with personalized messaging. 
One of the biggest benefits of using SeekOut is that the AI learns as it works to find relevant candidates. Recruiters can review and approve or reject candidate profiles that don't match what they are looking for; artificial intelligence will learn from its mistakes to deliver better results.
Best for: companies in niche industries or with niche positions
Pricing: not publicly available
5. Textio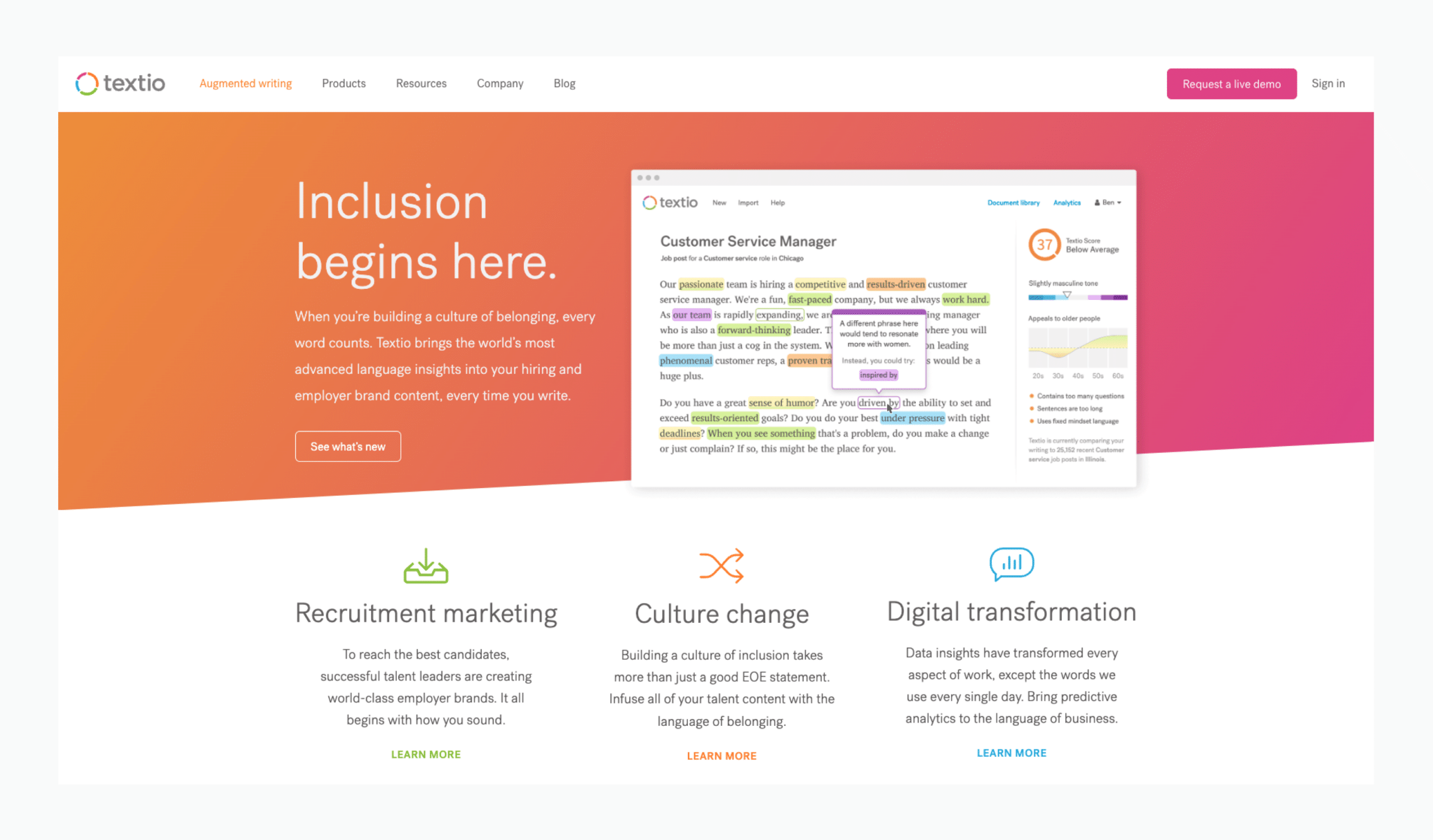 Textio uses natural language processing and text analytics to ensure your job descriptions are sourcing the best candidates. Before you post on online job boards, make sure your job descriptions are written in such a way that attracts diverse, qualified candidates. Textio's AI helps identify any language that could turn off women and minorities, picking up words or phrases that have strong underlying connotations. 
Textio can also help with your employer branding. "Building a culture of inclusion takes more than just a good EOE statement. Infuse all of your talent content with the language of belonging," wrote the brand.
While Textio has limited use as a sourcing tool, in that it won't actively find you new candidates, it does improve the overall candidate experience and can help increase the number of applicants entering your talent pipeline.
Best for: everyone
Pricing: not publicly available
6. Entelo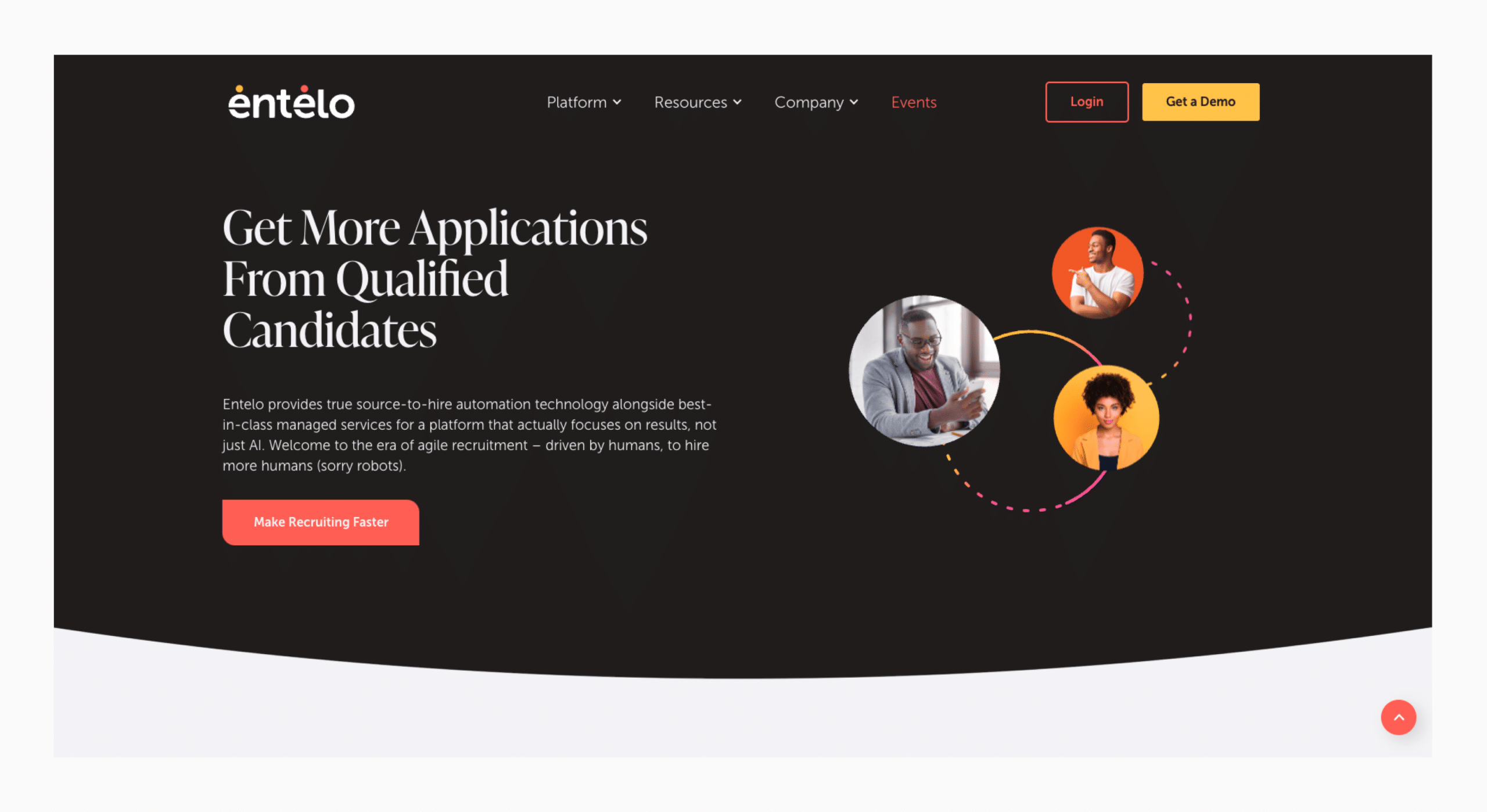 Entelo is an intelligent sourcing platform that helps recruiters find candidates based on characteristics such as gender, ethnicity, and veteran status. Using NLP and predictive analytics, recruiters can find passive candidates who might not be browsing job postings. This can be a huge competitive advantage for recruiting teams. 
Entelo analyzes dozens of variables to predict candidates' receptiveness to new opportunities.
In addition, Entelo offers engagement tools and analytics to help improve your talent acquisition process. This recruiting software helps remove roadblocks that prevent the best talent from engaging with your hiring process. It's been used by big brands such as Target, Lyft, and Paypal.
Best for: diversity hiring, mid to large enterprises
Pricing: not publicly available
7. Talemetry by Jobvite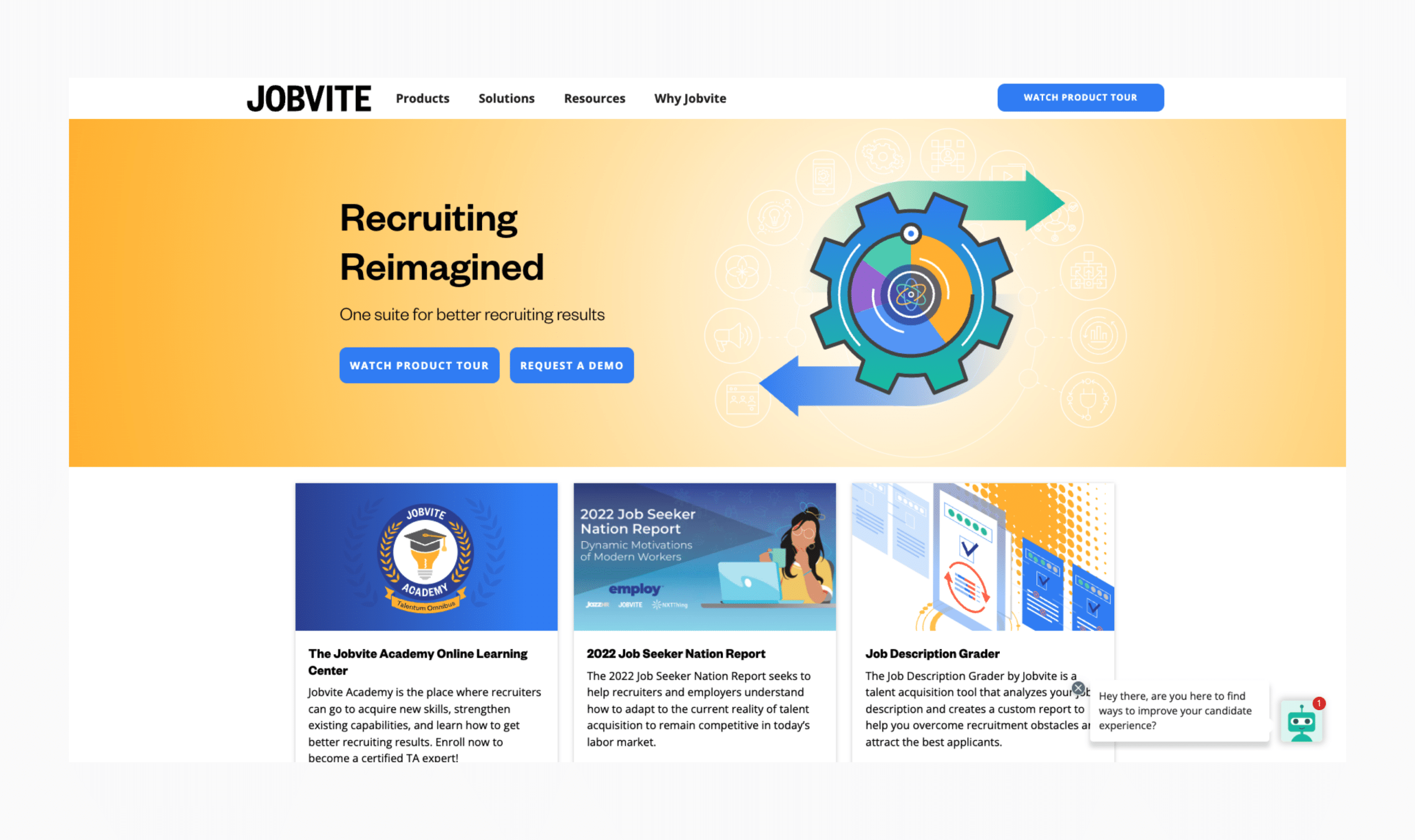 Talemetry is a recruitment marketing platform that uses AI automation and deep analytics to drive candidate sourcing. One of its features, Zero Click Intelligent Sourcing, dramatically reduces time-to-hire while bringing potential candidates into a company's recruitment process. 
Zero-Click Intelligent Sourcing is an award-winning and powerful tool for recruiters that automates the sourcing efforts when a job requisition is first opened. The solution saves recruiters valuable time, as much as 30%, while surfacing and activating qualified candidates from their CRM, according to the brand's website.
As part of Jobvite, Talemetry is just one in a suite of tools covering the entire recruitment process. Talent acquisition teams can use Jobvite for screening, high volume hiring, employee referrals, and more. It's worth investigating Talemetry as a part of the overall recruiting software, but other tools on this list might be better suited for candidate screening at smaller firms.
Best for: enterprises in healthcare, manufacturing, financial services, technology, business services, and more.
Pricing: not publicly available
8. HiredScore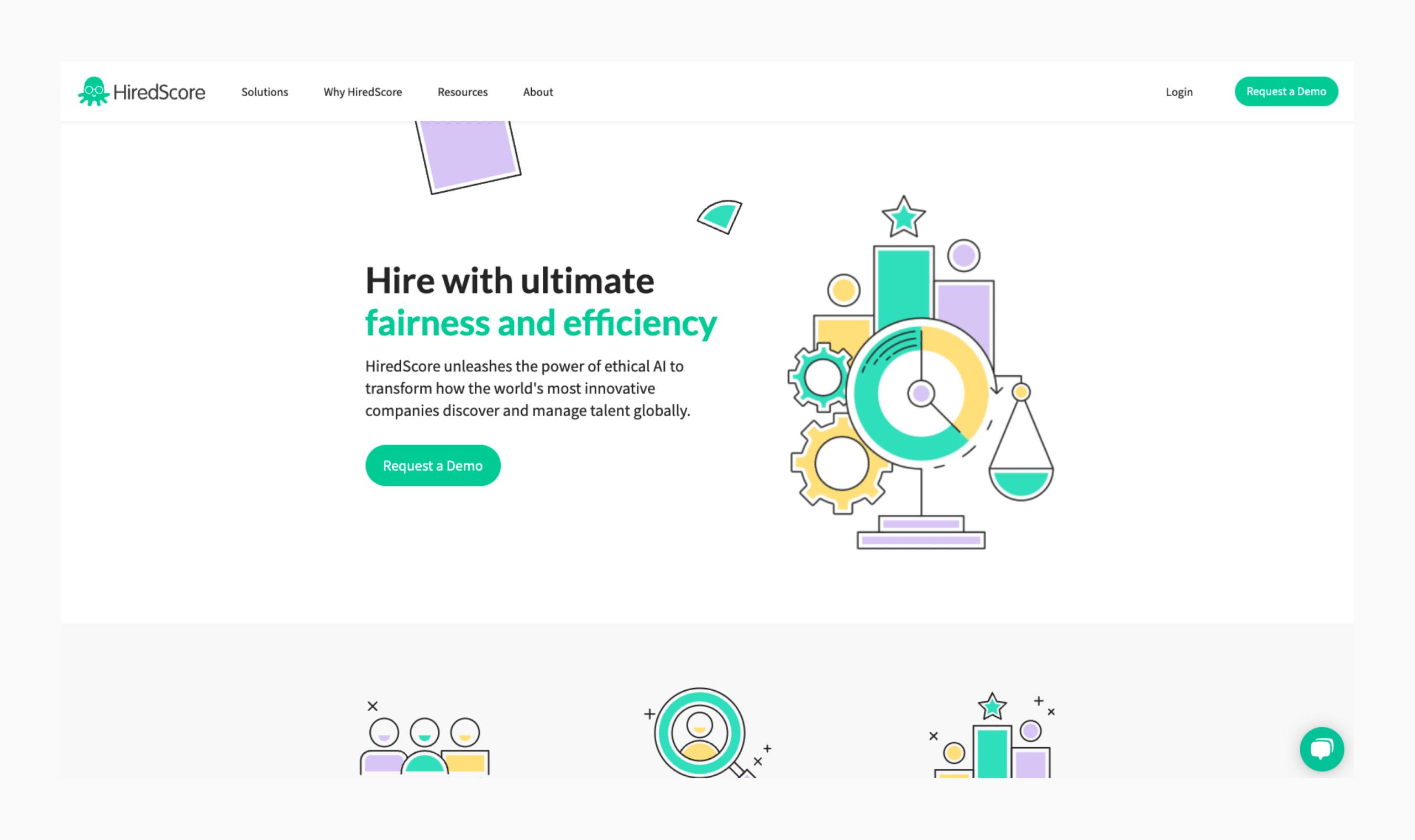 HiredScore uses so-called "ethical AI" to automate the sourcing of passive internal and external talent. This recruiting software uses a tool called Spotlight to generate automatic and unbiased scores for every applicant against every role. In addition to delivering a list of scored candidates, the tool also provides a report outlining why the candidate received that score so that recruiters can ensure there are no errors or heuristics used during the process. HiredScore takes resume parsing to the next level with recruiting tools that reduce time to screen by up to 68%. 
While the transparency reports are a great tool for hiring managers seeking to improve diversity, it does add an extra step in the screening process. Not only do hiring teams need to create accurate job descriptions and review the candidate shortlist, but they will also need to review the AI report to ensure the tool did its job.
It's likely that this talent intelligence platform requires overcoming a learning curve in order to reduce your time to screen.
Best for: recruiting teams seeking to increase diversity
Pricing: not publicly available
The top 8 AI tools for screening
AI screening tools run the gamut, from resume parsing technology to skills assessments and one-way video interview software. Here are a few great AI tools for screening candidates.
[Read more: How To Get the Best Out of AI in Resume Screening]
1. Vervoe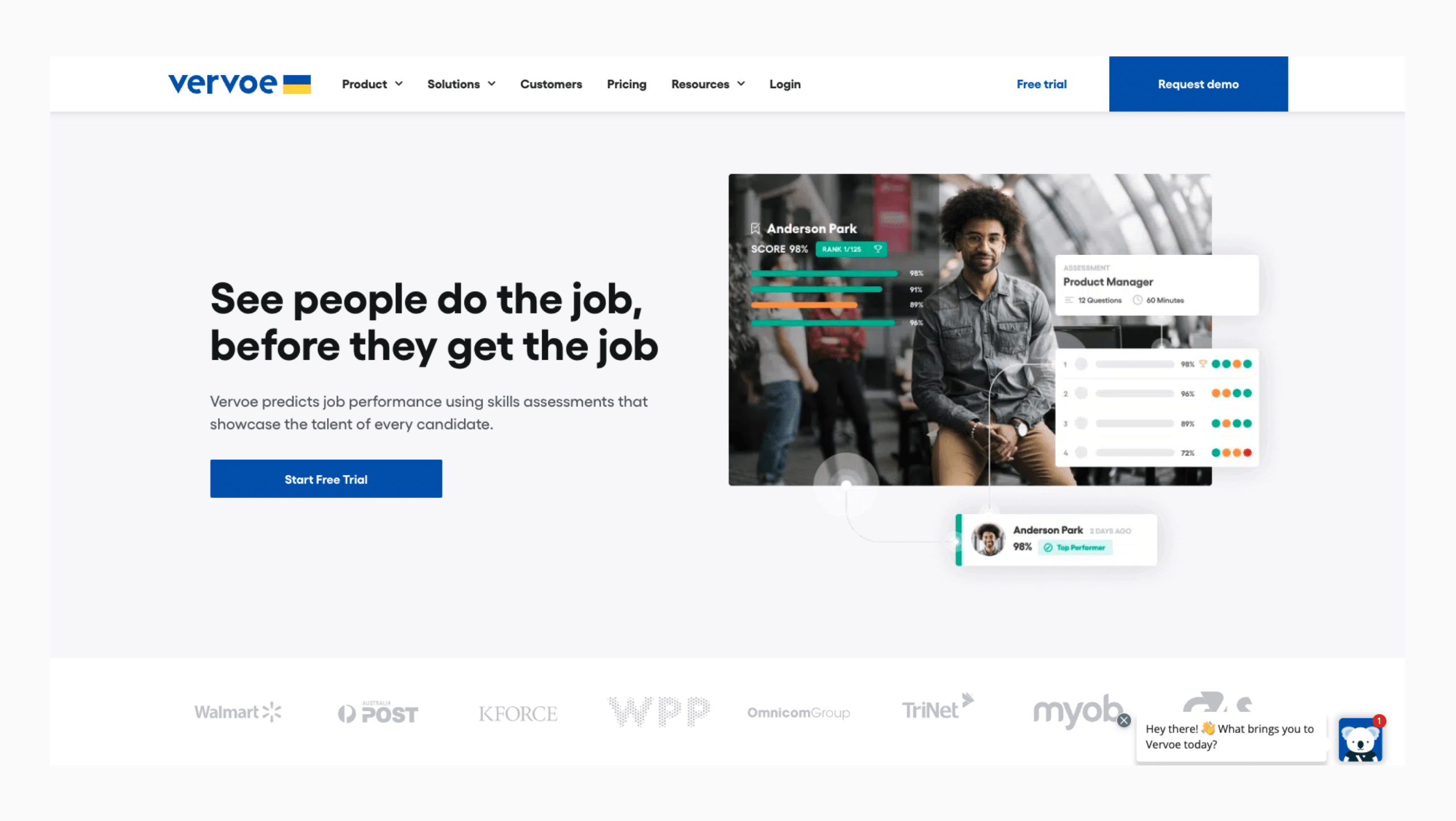 Vervoe's skills testing platform uses artificial intelligence with three different models to measure and predict a candidate's performance:
The "How" model: the AI tracks and analyzes the way a candidate interacts with the assessment, recording metrics such as how long it takes for someone to answer a question or if they go back to make revisions.
The "What" model: the AI analyzes the candidates' responses and benchmarks them against millions of others. Natural language processing helps the AI analyze those answers, and compares them to existing blind data sets.
The "Preference" model: the AI is trained to understand what a great answer looks like to your business and according to your preferences. It uses the Naive Beyes method to predict probability.
Vervoe screens candidates in, not out, meaning no one is eliminated from the hiring process based on their assessment results. Instead, candidates are ranked — that shortlist is sent to the talent acquisition team, which can then decide which candidates should continue.
Vervoe offers a variety of question formats, including multiple-choice, coding tests, one-way video interviews, and free-form short answers.
Best for: companies of all sizes for graduate hiring, high-volume hiring, technical hiring, remote hiring, and diversity hiring. Assessment questions can be tailored to specific roles in marketing and advertising, customer service, healthcare, retail, and more.
Pricing: Pricing starts at $109 per month and includes access to Vervoe's content library, candidate report cards, and tools for tailoring assessments with your company's branding.
Begin a free trial today or get a demo to see what Vervoe can do for you.
[Read more: The Top 14 AI Assessment Tools To Test for Job-Related Skills]
2. Humanly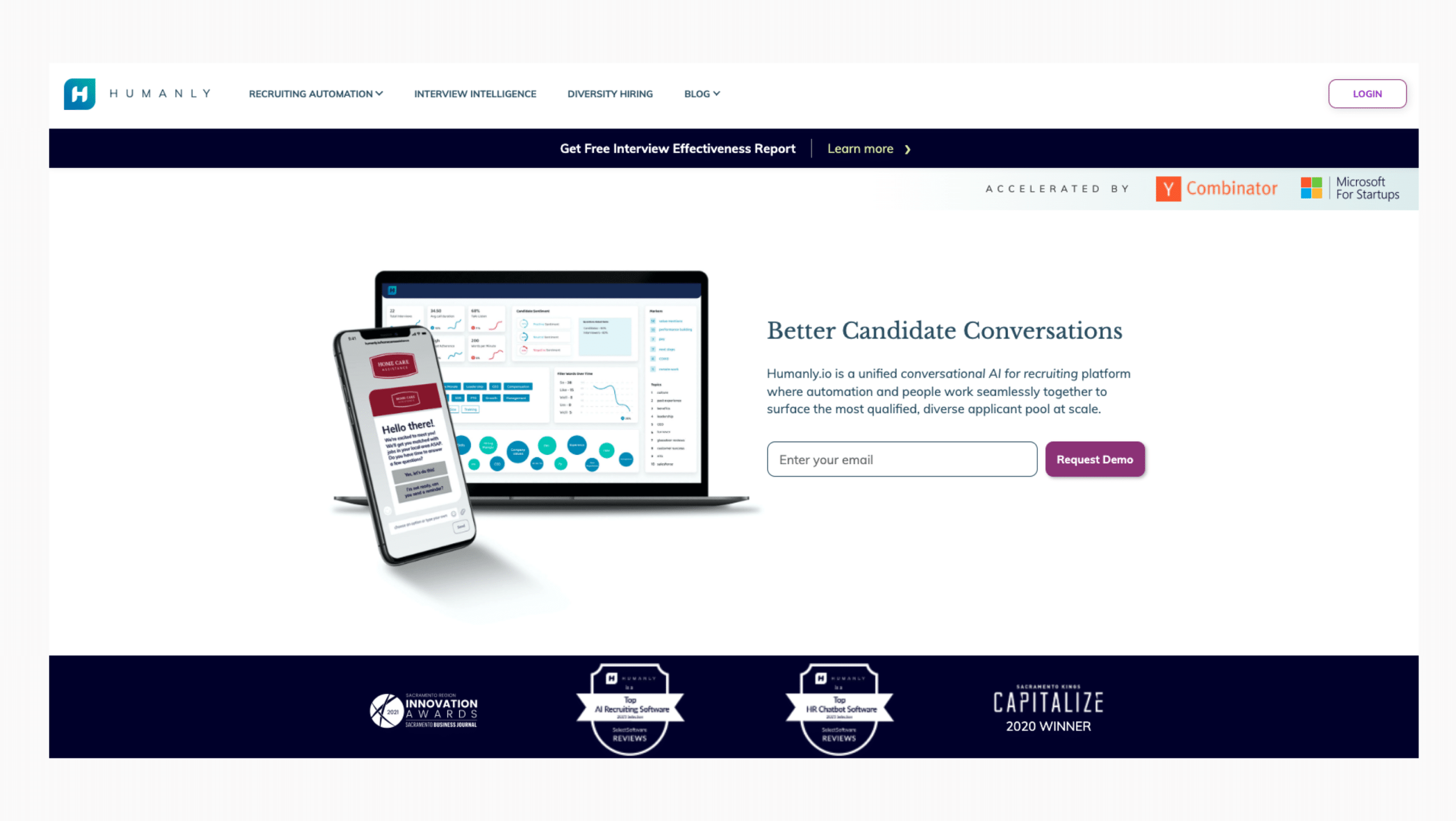 Humanly uses natural language processing to hold conversations with your applicants as part of the screening process. It's estimated that Humanly can save recruiters 60 hours that would be spent screening and scheduling per open position. 
Humanly's AI for recruiting covers the time-consuming aspects of screening and scheduling, reference checking, and candidate re-engagement. "Humanly asks candidates the right set of questions to get a holistic view of their skillset and background without adding bias. Drawing on our library of role-specific conversational templates, we make asking the right question at the right time easier than ever," the brand says on its website.
Humanly can also automate interview scheduling and manage reference checks. Impressively, Humanly is backed by both Y Combinator and Microsoft for Startups, indicating that its technology has been vetted by some of the best.
Best for: mid-market companies; DE&I leaders
Pricing: not publicly available
3. XOR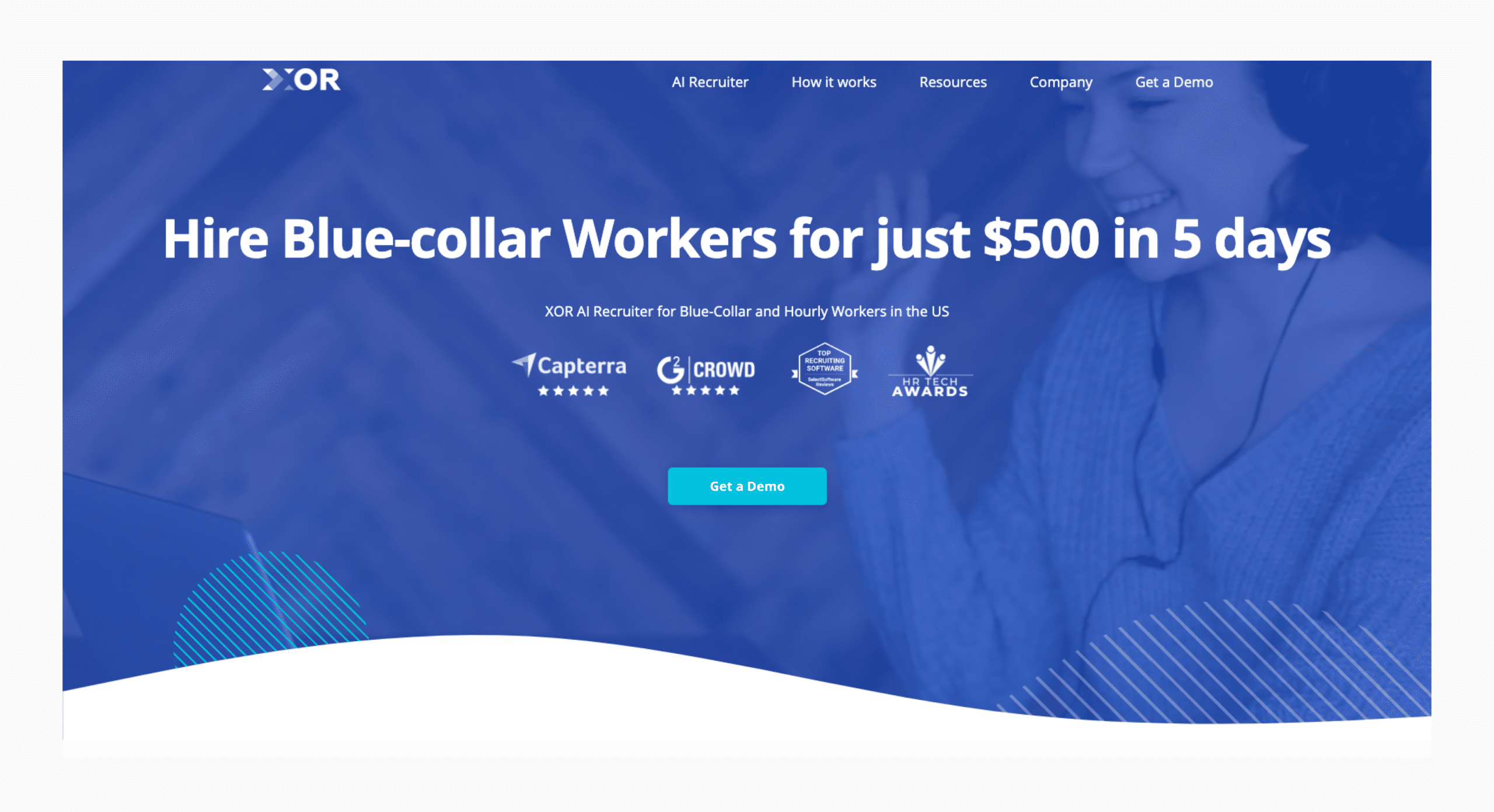 XOR's AI recruiter attracts, pre-screen,s and schedules the best candidates into recruiters' calendars, moving them quickly through the process and into the interview phase. The AI chatbot can answer questions over text, email, live chat, recorded videos, and even Whatsapp. As a result, XOR claims that it can deliver qualified and ready-to-hire candidates five times cheaper than the market price.
XOR bridges the transition from sourcing to screening, quickly identifying the best talent to move through the recruitment process. It mostly works with inbound job seekers to validate candidate data, create a shortlist of qualified candidates, and schedule time with your hiring managers for in-person (or virtual) interviews. Other tools can also provide onboarding and HR for new hires.
Best for: hourly and seasonal workers
Pricing: not publicly available, but expect it to be around $500 per hire.
4. Beamery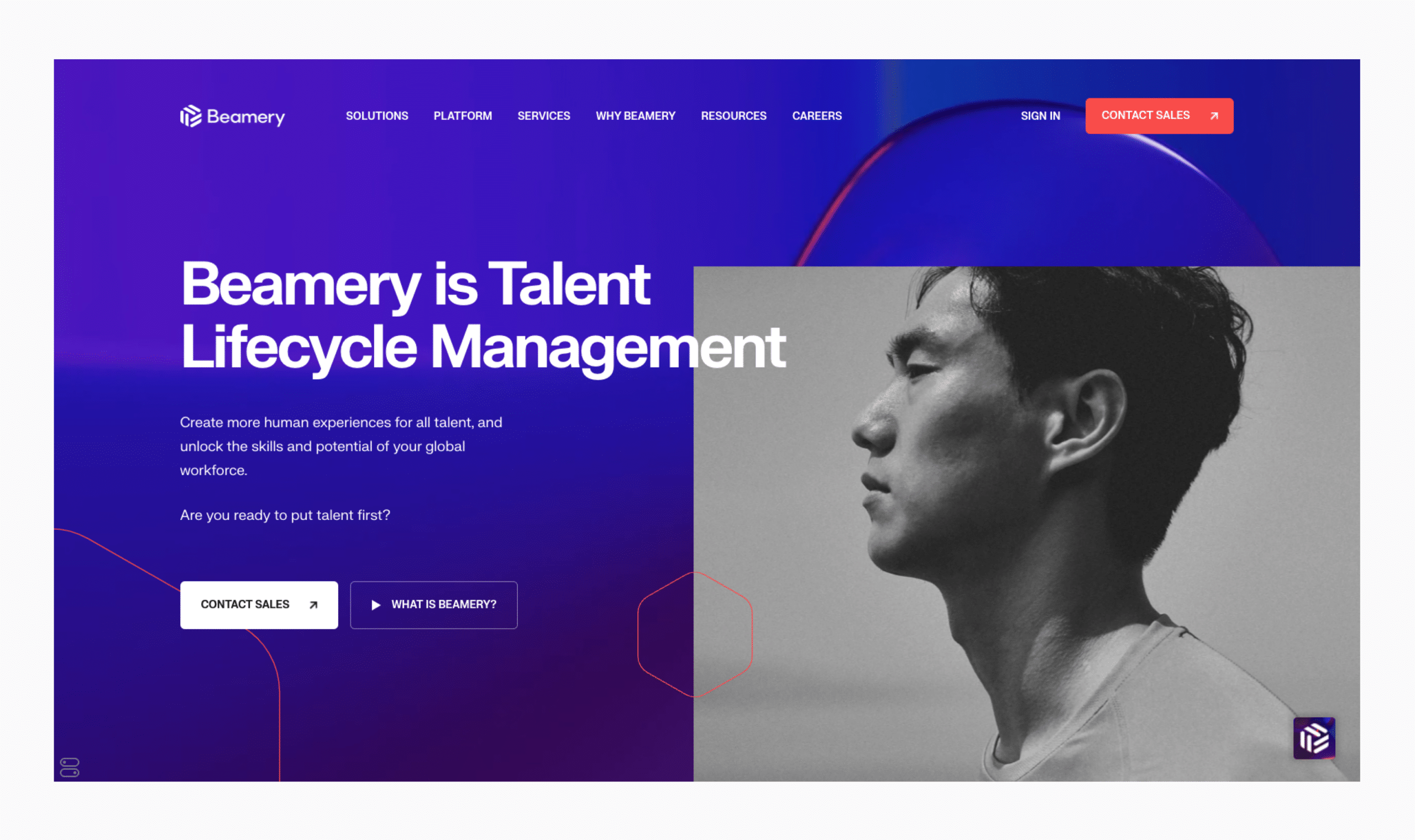 Beamery leverages bias-free AI to screen candidates and employees, identifying the top skills needed to build a workforce equipped for the future. Beamery's AI-driven candidate recommendations are based on skills and potential, rather than experience. In addition to skill testing, and using predictive analytics and NLP, Beamery analyzes interactions between hiring managers and candidates to help recruiters build better relationships. 
It's worth noting that this AI recruiting platform assesses candidates based on their similarity to high performers in the same role at your company, in addition to skills and potential. If you're interested in future-proofing your workforce, be aware of this limitation. Beamery can simply replicate what's already working — not solve a problem you didn't know you had.
Best for: companies seeking to build a talent pool
Pricing: not publicly available
5. Pomato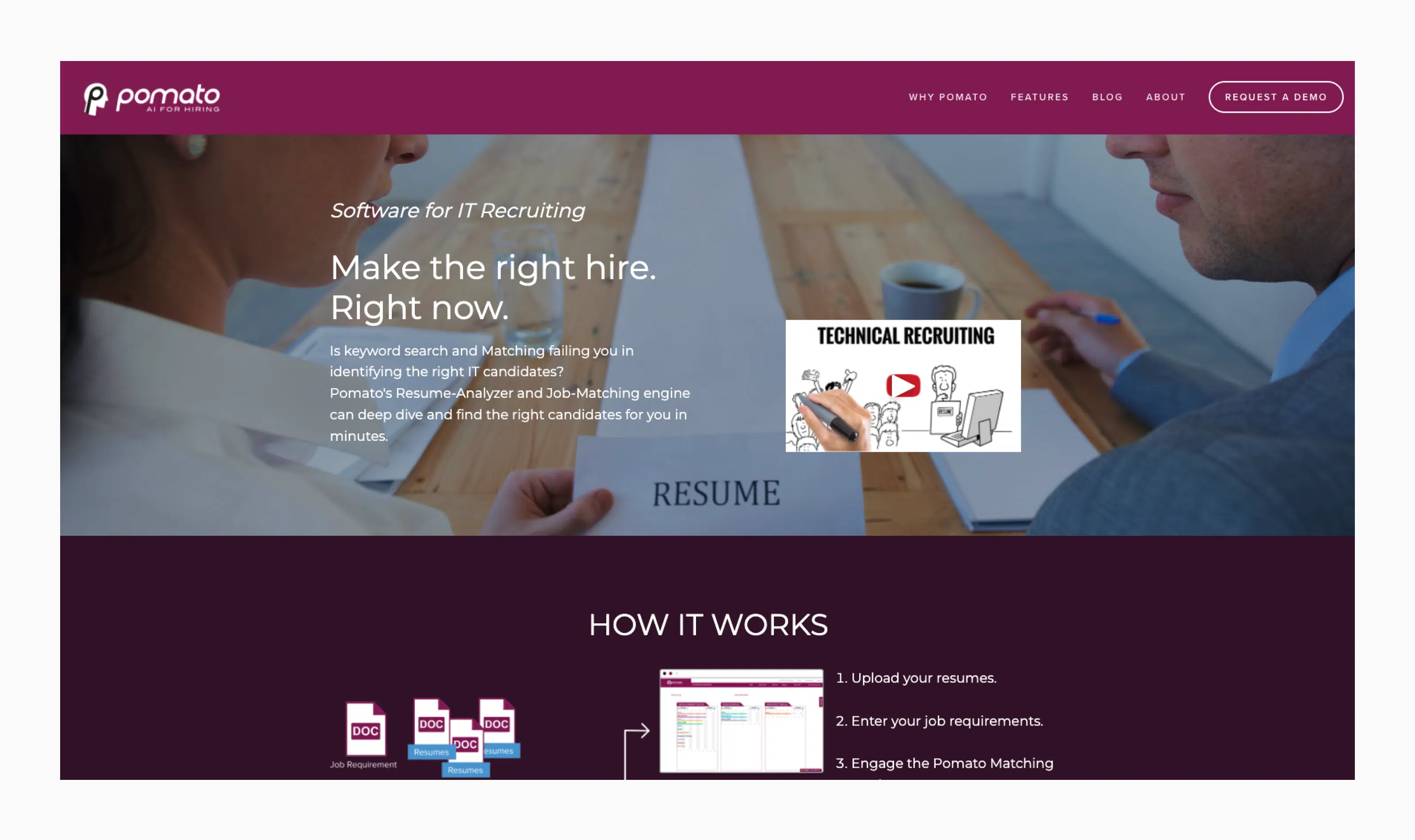 Pomato falls under the category of resume parsing, meaning this AI recruiting software scans each document (such as a CV or cover letter) and extracts information relevant to the hiring manager's needs. Hiring managers simply upload resumes to Pomato, enter their job requirements, and set the Pomato Matching Engine to rank all candidates based on job requirements — not keywords. 
"Pomato's groundbreaking technology analyzes a resume based on how well a candidate matches your job requirements based on skillsets, roles, and level of expertise, and then ranks all your candidates," said the company.
Pomato's talent intelligence platform performs 200,000 computations on a candidate's resume, going beyond simple parsing with deep analysis. In addition, Pomato offers skills tests and interview questions that match the criteria of your job requirements.
Best for: recruiting teams seeking to improve early funnel screening results
Pricing: not publicly available
6. Ideal
Ideal — recently acquired by Ceridian — is a screening tool that leverages AI to ​​identify better candidates faster, reduce time-to-fill, and reduce screening bias. Ideal's screening AI can identify candidates who are good matches for openings, engages candidates via chatbot, automate status progressions, and reduce elements that lead to hiring bias. 
The software introduces a range of features that integrate directly into your ATS, including AI-powered resume screening, candidate matching, a chatbot, and automation that progresses candidates through your talent acquisition process. Its machine learning improves over time, utilizing deep learning to optimize results with transparent reporting.
Best for: recruiting teams seeking an integrated, holistic AI approach
Pricing: not publicly available
7. HackerRank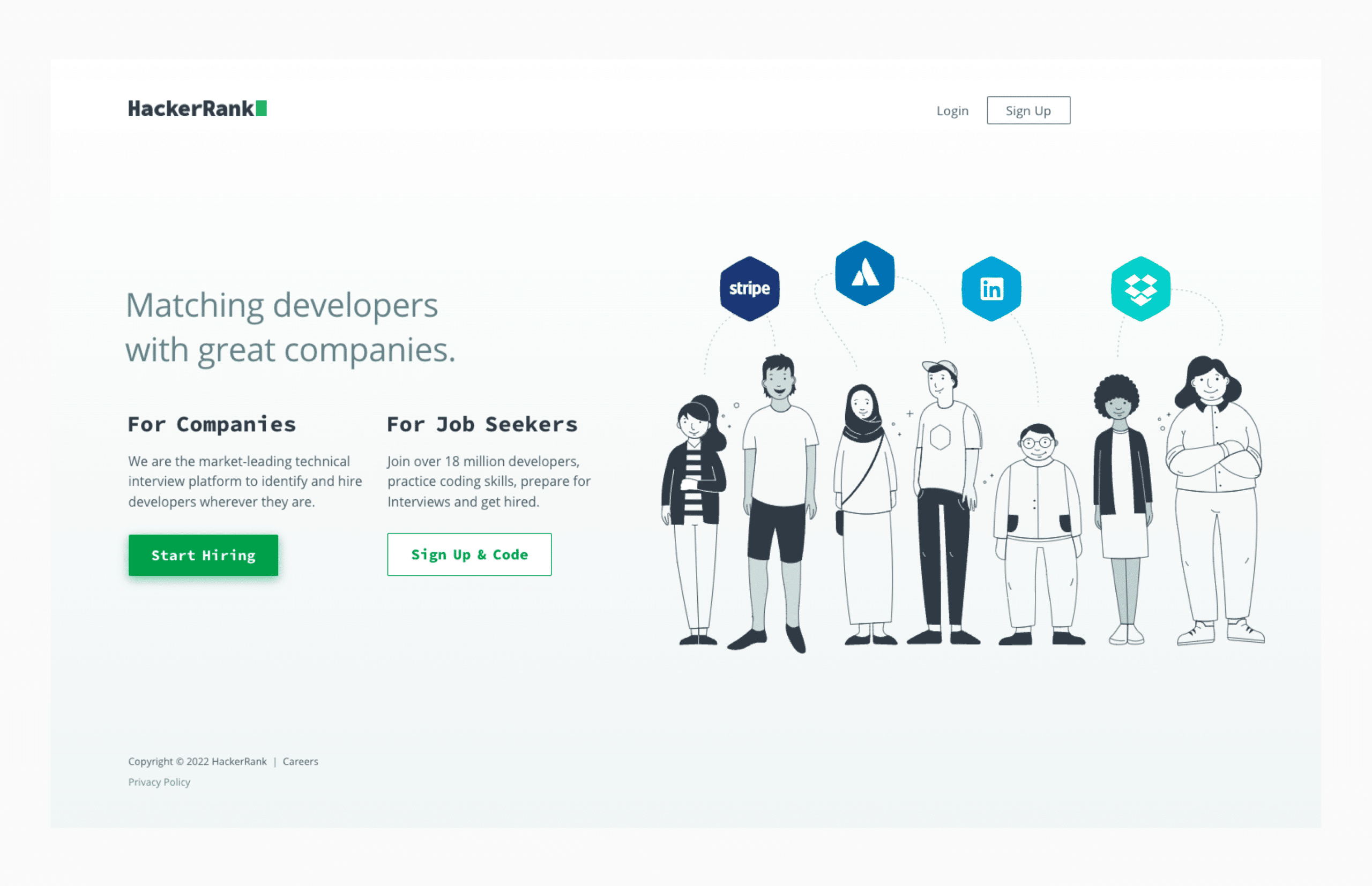 HackerRank, as the name implies, is a screening tool for developers. It claims to have assessed 40% of the developer population. HackerRank offers technical challenges and live interviews for any developer role: from software engineering to QA to cybersecurity. 
HackerRank offers millions of assessments that are grounded in four "pillars":
Job Relevancy (e.g., technical skills)
Field-tested Unbiased Content
Validation Studies (to ensure no unconscious bias)
Reliability Studies (for accuracy)
HackerRank's recruiting software also includes interview tools for remote hiring and plagiarism detection, ensuring everyone who goes through the process is given a fair shot.
While HackerRank's AI recruiting software is very comprehensive, it does have some limitations. For instance, HackerRank's assessments don't consider soft skills like leadership or communication. There's no bespoke reporting option and limited customization.
Best for: companies seeking to hire developers at scale
Pricing: starts at $25/month for one interview; full feature access for $599+ per month
8. Harver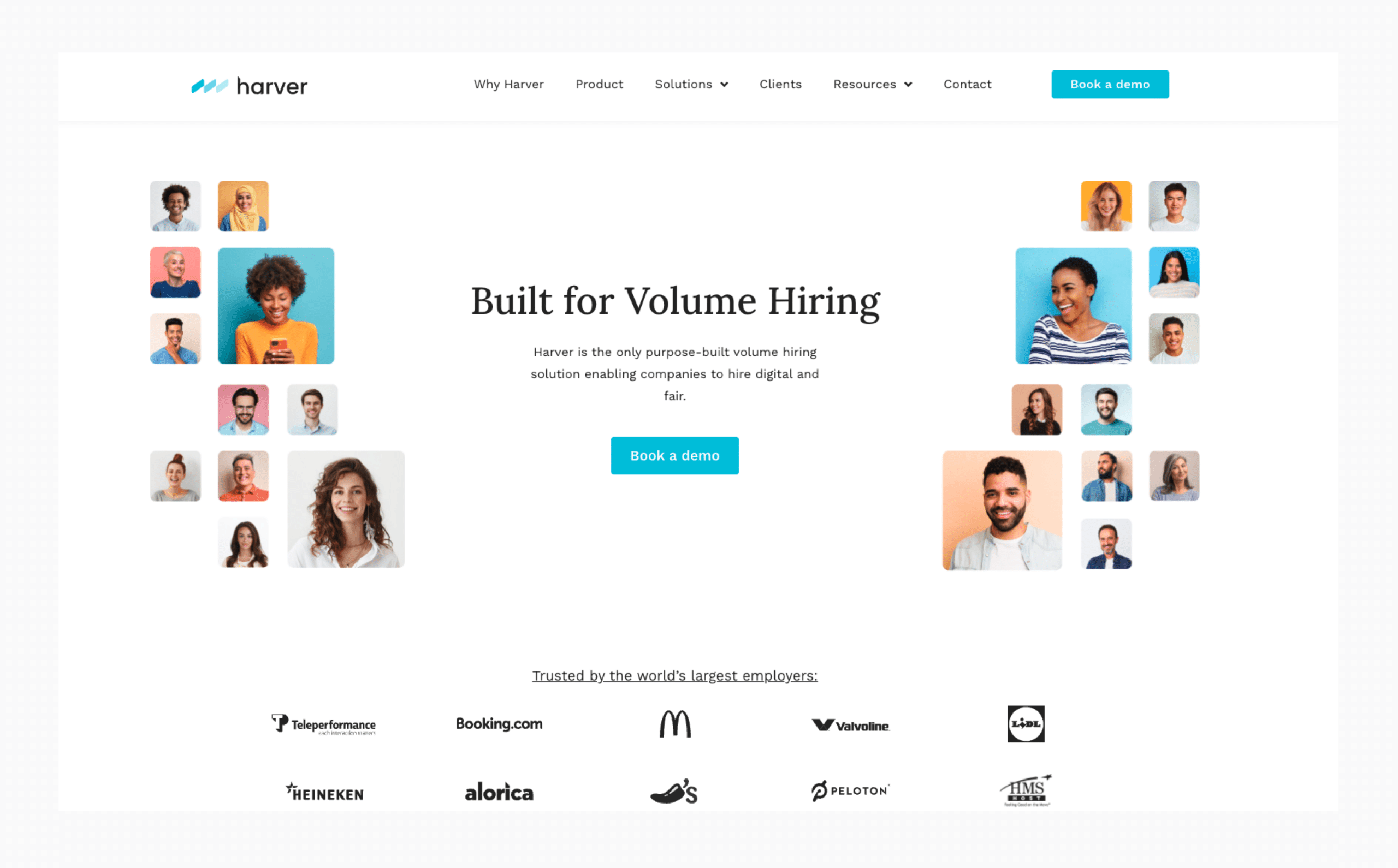 Harver offers a range of screening solutions, including pre-employment assessments. Harver's 15+ assessments are part of its larger suite of tools designed to help manage high-volume hiring events: the platform is equipped to collect applications, screen, match, interview, and hire the best candidates. 
Harver's assessments are grouped into four categories: hard skills, such as a typing test or language test; cognitive ability, such as a learning agility test; behavioral, such as a virtual interview or personality questionnaire; and job fit, such as a situational judgment test.
It's worthwhile to note that Harver's assessments aren't tailored to specific roles the way Vervoe's are. Instead, Harver assigns an IO-psychologist to work with your company to create an ideal candidate profile and determine the key characteristics for success. Then, its matching framework uses performance feedback loops to optimize over time.
Best for: consumer brands, retail, customer service, hospitality, and more. 
Pricing: not publicly available
The top 6 AI tools for interviewing
AI recruiting tools can help with scheduling interviews, recording one-way videos, and even analyzing the candidate's response. These tools help further screen top talent so that your team only spends time speaking to the best candidates.
1. MyInterview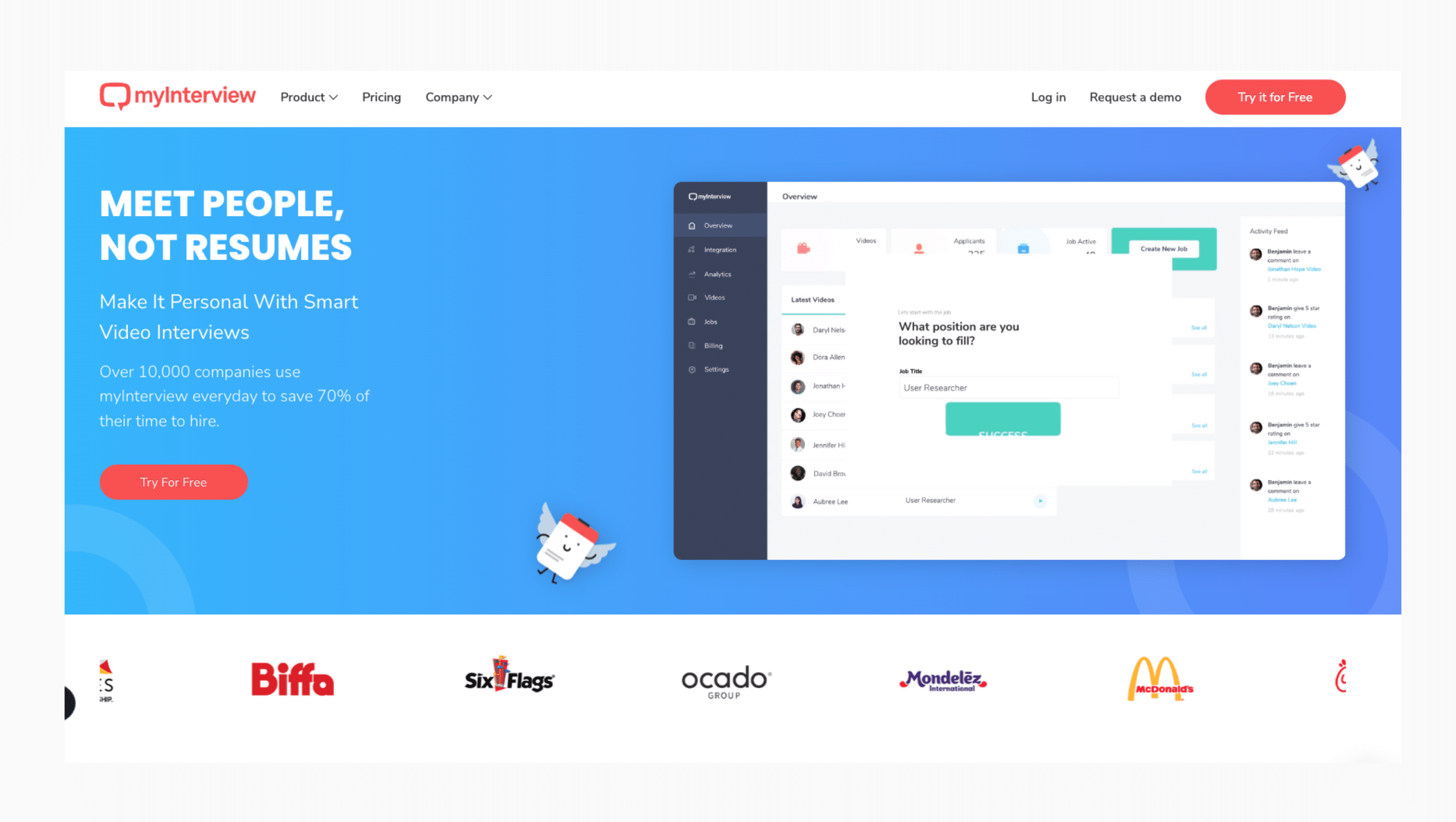 myInterview specializes in AI for video interviews. The platform sends through questions for a one-way video interview that a candidate completes during a certain window. Then, AI recruiting software analyzes each video for soft skills, personality traits, and keywords to help find the best talent for your company culture and reduce the risk of unconscious bias. 
Notably, myInterview does not match candidates based on career skills, focusing instead on soft skills. You would not be able to use this tool to test for things like coding, sales, or other job description requirements. It also has limited question types — basically only offering video-based questions. But, myInterview's AI recruiting software can save time in the recruiting process, with the company claiming its clients have saved 150 hours per hire.
Best for: teams seeking candidates with specific soft skills
Pricing: free to $279+ per month
2. Hirevue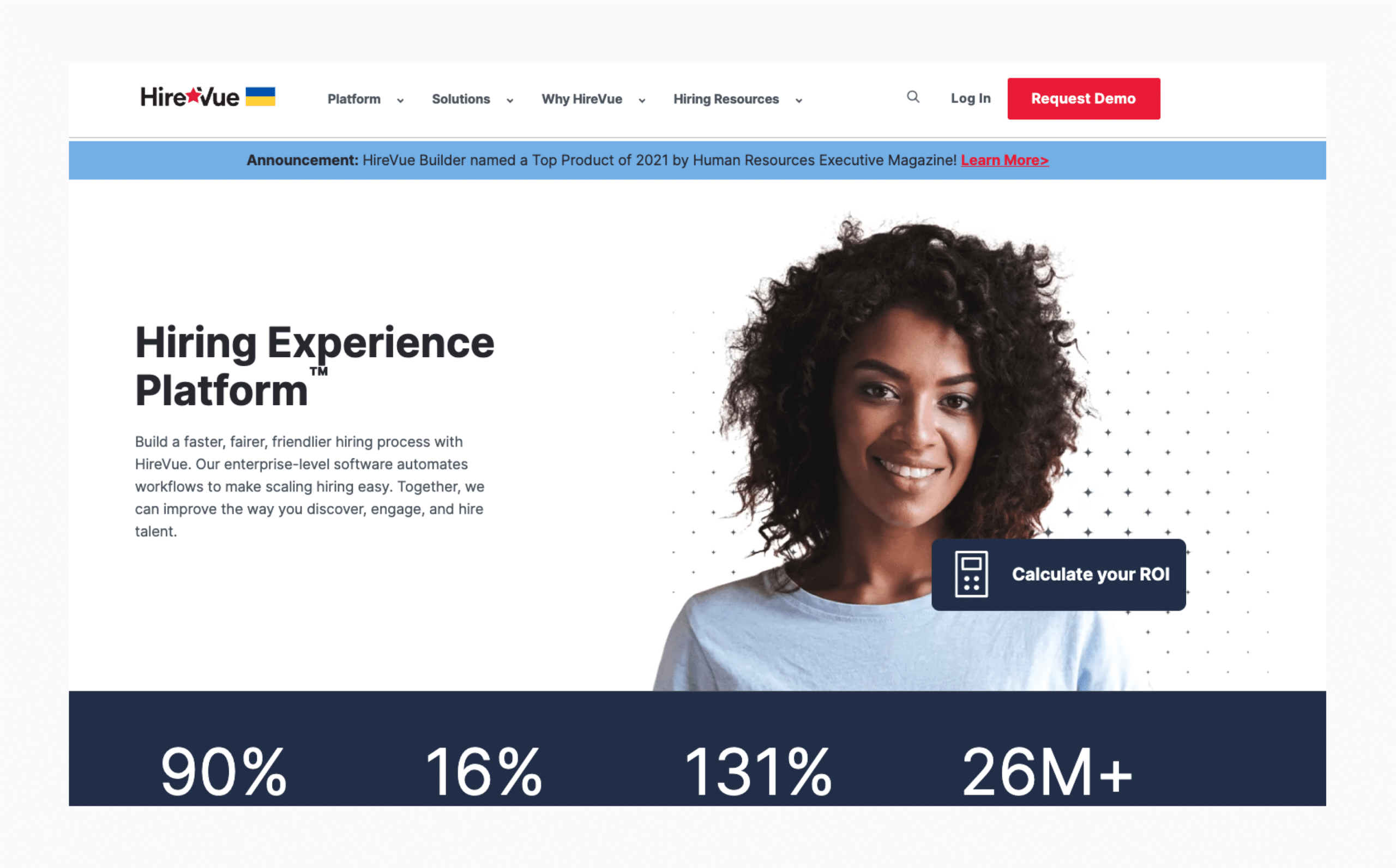 HireVue has a variety of video interview, game-based, and coding assessments. You can use this recruitment software to mix and match different types of questions with assessments able to be set up to measure soft skills, hard skills, and general competencies. 
HireVue offers three different options: video interview assessments, that are designed to be used early in the screening process, taking up to 20 minutes for the candidate to complete; conversational AI via SMS and WhatsApp, that take care of the scheduling and setup of the entire experience; game-based assessments, that offer metrics for a recruiter to understand individual cognitive skills and behavioral traits related to job performance; and, coding assessments, that go beyond simple coding tasks to reveal a candidate's ability to problem-solve and communicate.
It's worth noting that HireVue doesn't offer AI grading, team and guest grading options, and lacks some functionality such as the ability to upload documents, spreadsheets, and presentations. It's up for debate how well the platform can help companies scale their hiring, and reduce bias, particularly when reviewing video interviews, which is questionable for such an expensive product.
Best for: big enterprises
Pricing: one of the most expensive options, HireVue starts at $35,000 for organizations with 2,500-7,500 employees.
3. Talocity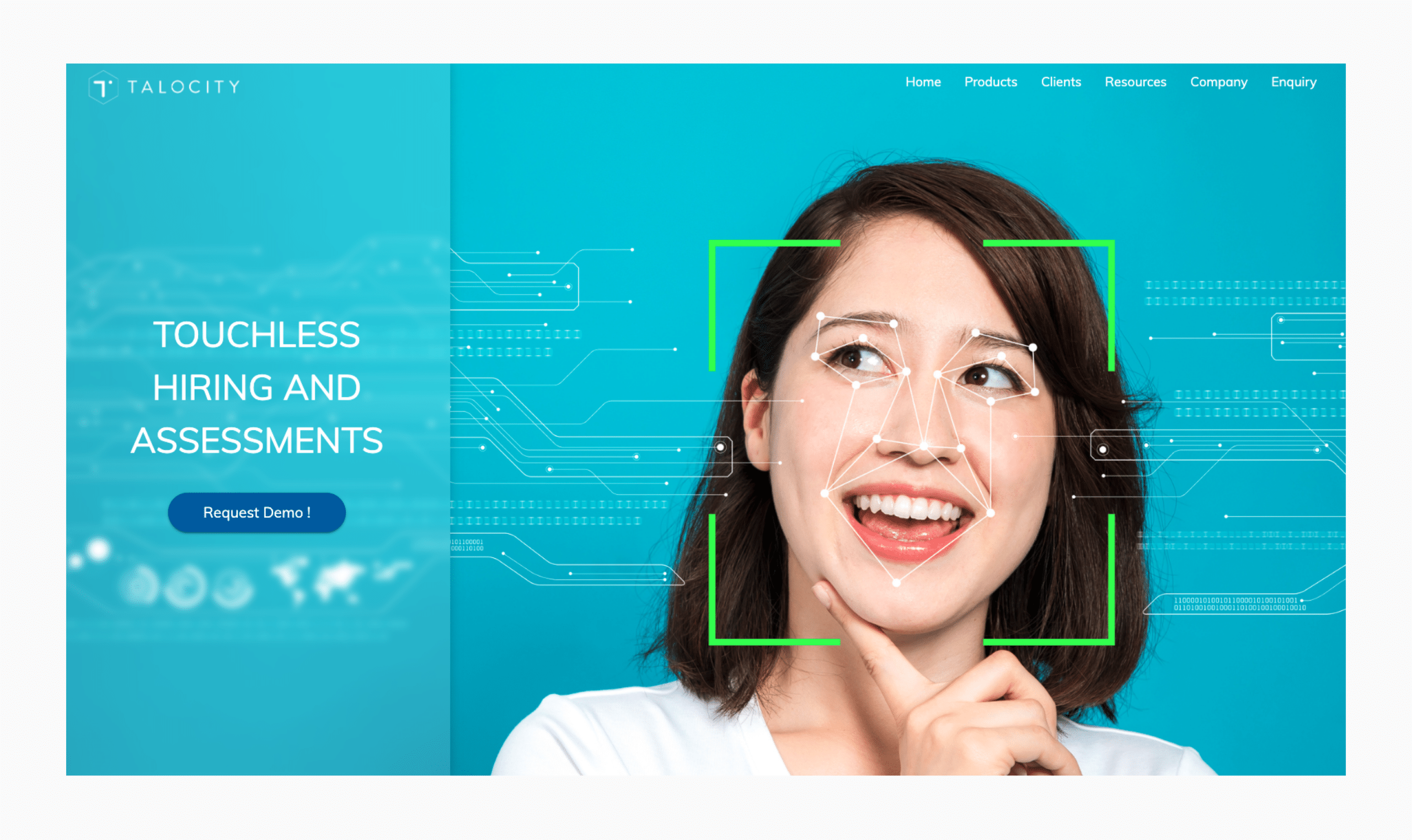 Talocity offers a range of AI recruiting tools: one-way video interviews, voice assessments, typing assessments, and more. 
"​​Combining machine learning and artificial intelligence, we understand the tonality of conversations (positive, negative, or neutral), emotions, and sentiments displayed by the individual through facial and tonal analysis. We can analyze any unstructured or structured data through any communication channel," the brand claims on its website.
Facial and voice recognition AI recruiting tools have come under fire for perpetuating stereotypes and leading to unfair hiring practices. While Talocity claims bias-free hiring, it's worth investigating more about this tool before diving in.
[Read more: Using AI To Eliminate Bias In Hiring]
Best for: Talocity has clients all over the world since the platform can offer interview questions in 39 different languages.
Pricing: not available public
AI tools for everything else
Whether you need help covering administrative tasks, automating small details in the recruiting process, onboarding, or improving candidate engagement, these AI recruiting software providers can help with that.
1. TurboHire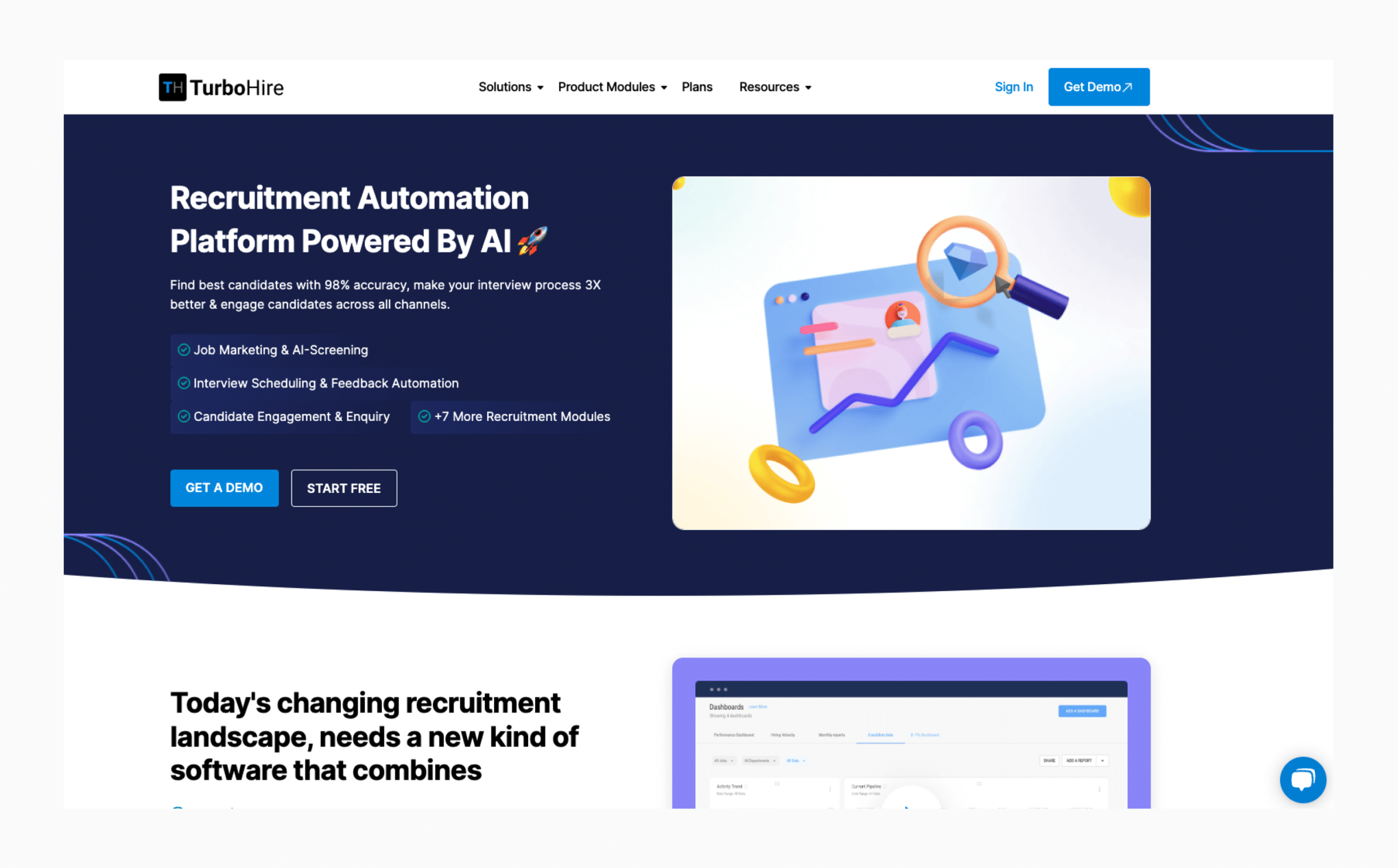 TurboHire uses AI throughout its modern hire platform, not only for resume scoring & candidate similarity matching but also to automate things like the feedback process and interview scheduling. TurboHire's algorithm matches qualified applicants with jobs based on their skills, interests, and availability without relying on resumes or job interviews.
TurboHire integrates with CRM software, your company's hiring site, and other systems so you can use AI technology to reduce the time spent interviewing candidates. It can help you set up a talent pipeline that brings your recruiting team on the same page and streamlines the entire process, from candidate discovery to screening to interviewing.
Best for: companies scaling their hiring; high volume hiring
Pricing: ranges from free to $1340 per month.
2. SmartPal (formerly JobPal)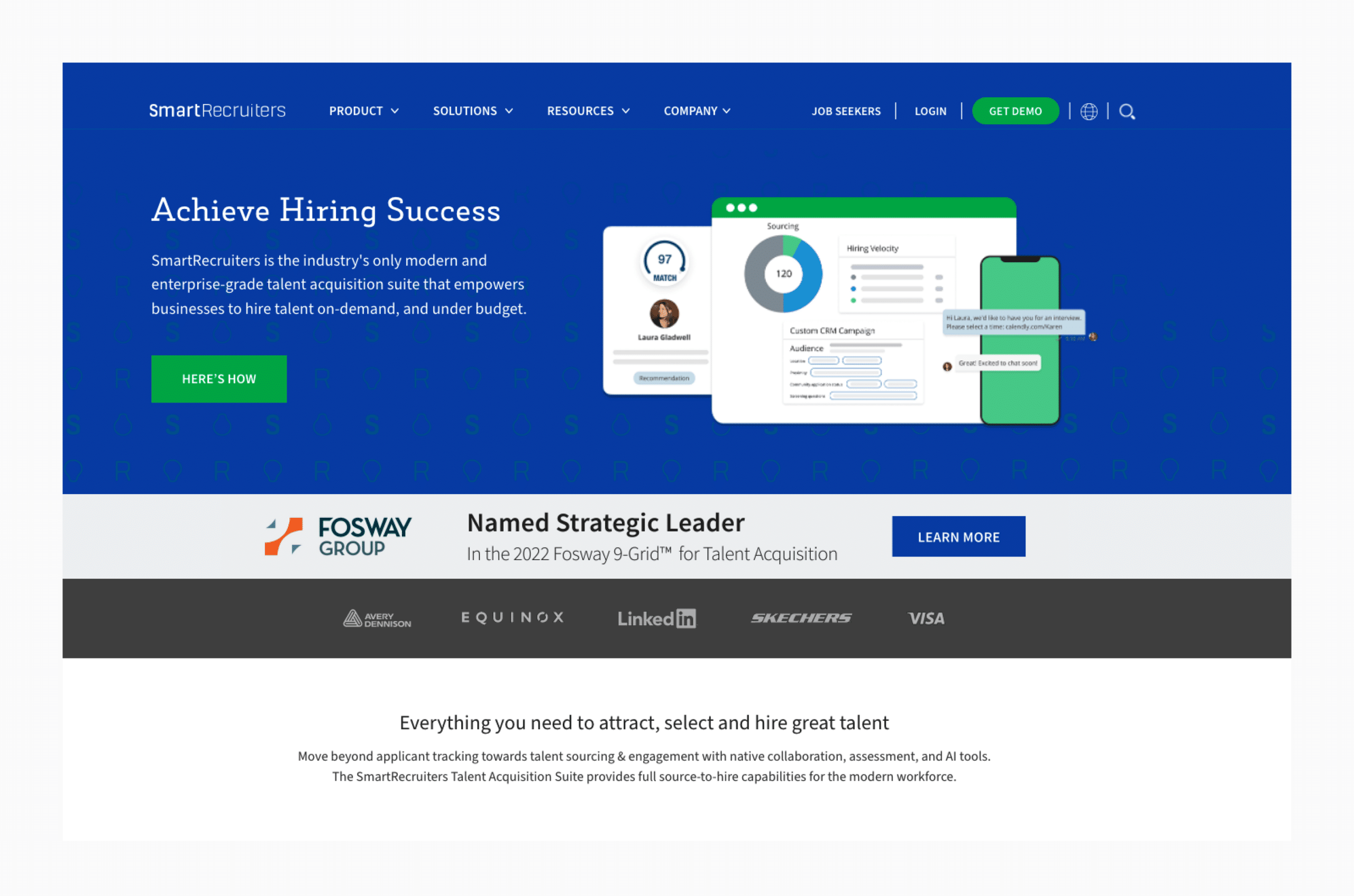 SmartPal by SmartRecruiters is an AI chatbot that takes on some of the time-intensive manual processes of recruitment. This chatbot can perform candidate screening as well as answer FAQs, connect to a recruiter's calendar, and automatically coordinate availability, and schedule interviews. It's available 24/7 across multiple languages and can facilitate scheduling on virtually any messaging platform. 
Best for: small teams with a big administrative burden
Pricing: not publicly available
3. Enboarder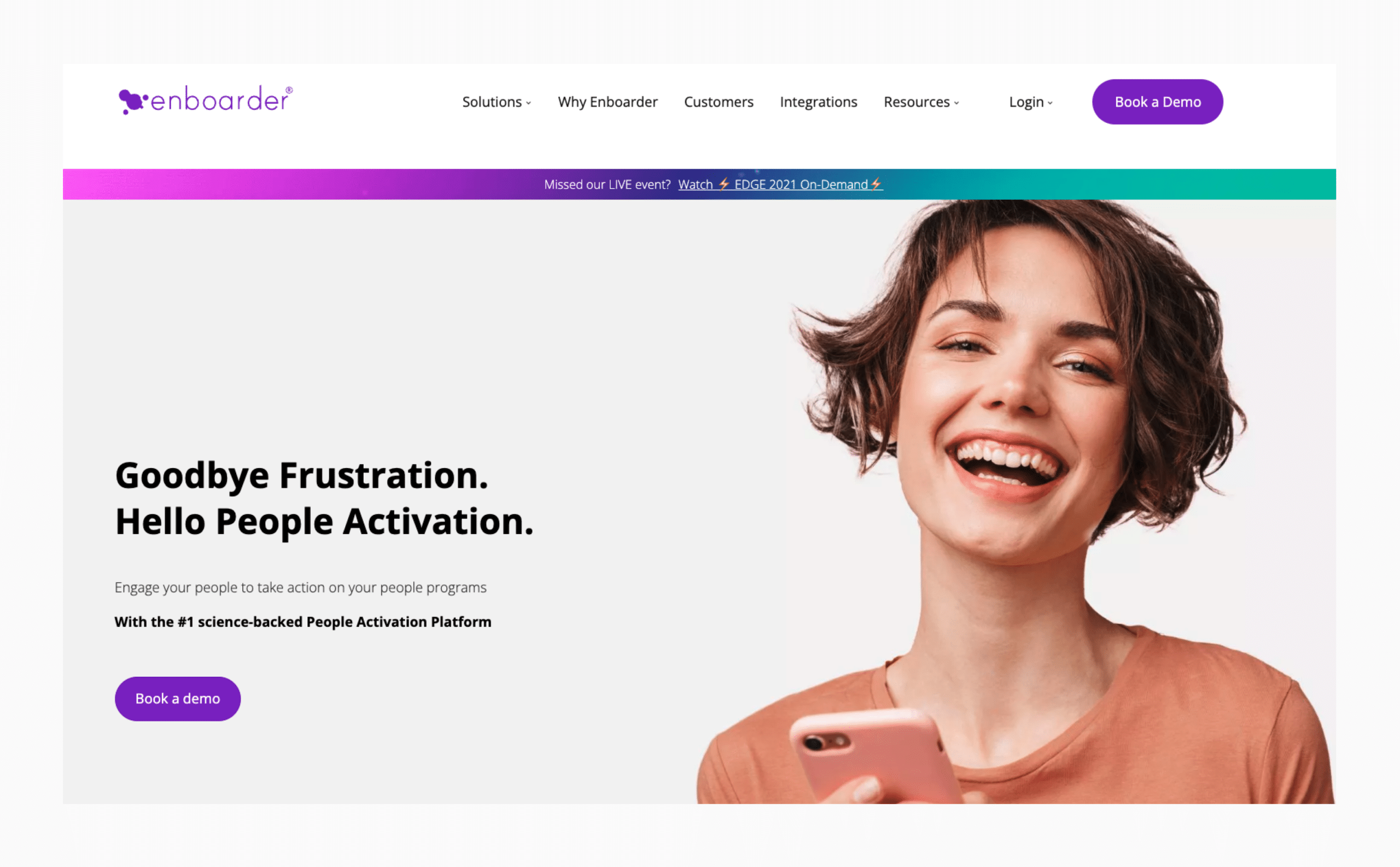 Enboarder's AI recruiting software focuses on the final step in the recruiting process — onboarding. It offers all the tools needed to maximize employee engagement using machine learning, automating tech requests, uniform orders, ID badges, business cards, and any other service or equipment requests as needed. It also facilitates new hire intros and provides relevant content to help immerse new hires in the company culture. 
Best for: remote teams, virtual teams
Pricing: not publicly available
Conclusion
There are many types of AI recruiting software products available to help speed up recruiting and identify the right candidate. Different machine learning tools can rank candidates, screen job postings for the right language, conduct interviews, and even manage the onboarding process.
As you explore different tools to add to your talent acquisition process, you should aim to find ways to combine machine learning with a personal touch. As at the end of the day, it's the people in your organization the successful candidate will be working with — not the AI.
Vervoe is here to help. Begin a free trial today or get a demo to see what Vervoe can do for you.