PRE-EMPLOYMENT SCREENING SOFTWARE
See who can do the job, before they get the job.
Vervoe is the most predictive way to screen applicant skills, using customizable pre-employment assessments specific to your business.
Automatically grade and rank candidates
Simulate the tasks 
of any role type
Insights into on-the-job performance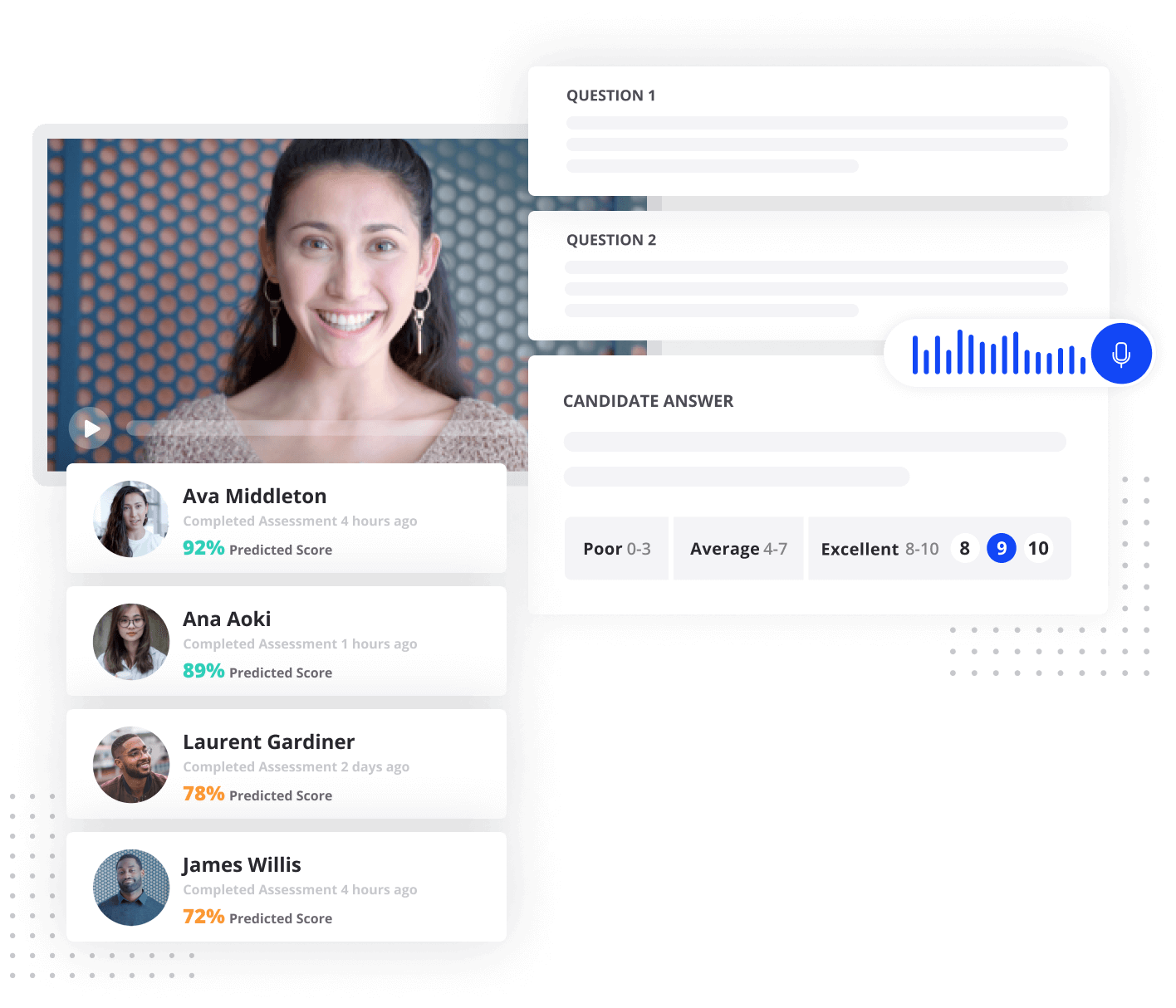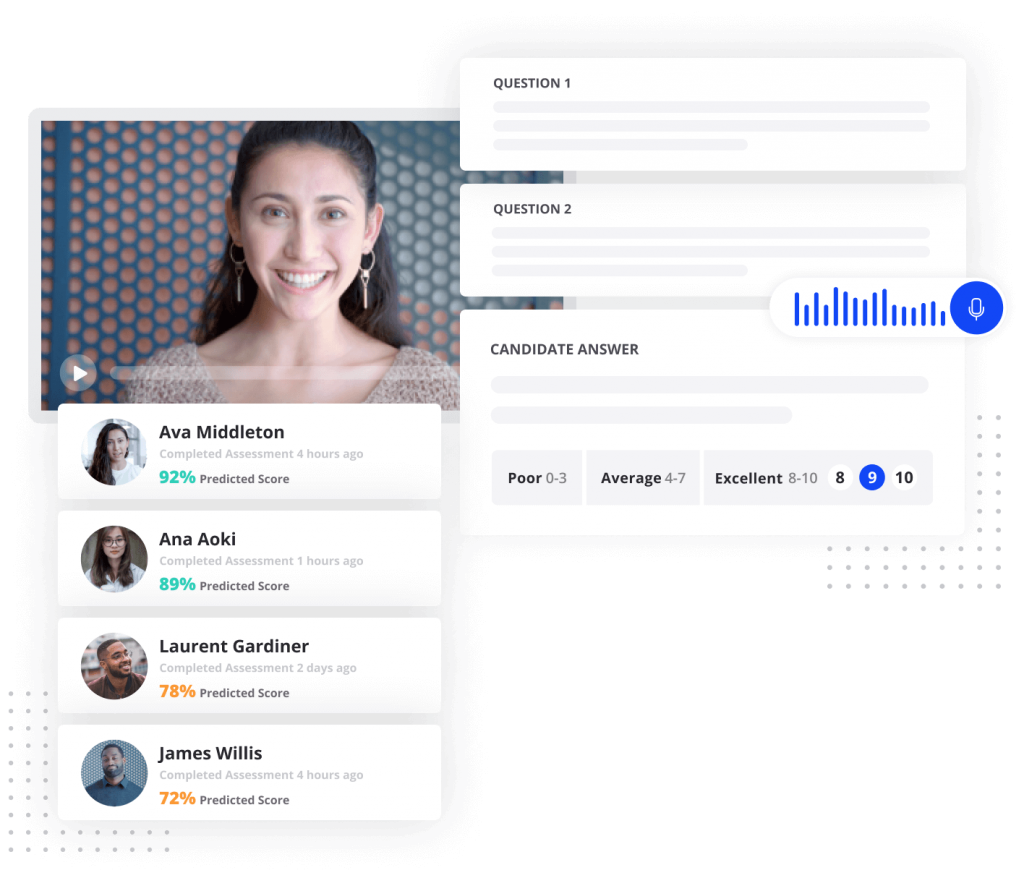 "Efficient and effective"
I like that I can customize the questions and have a section that reminds me and colleagues what we're specifically looking for in the response.
G2 Reviews
"Easy way to pre-screen applicants"
We wanted a flexible way to pre-screen candidates and test essential skills. This allows us to weed out candidates with great resumes but poor skills at the top of the process.
G2 Reviews
Screen candidates based on performance
See who can do the job before they get the job.
Choose a screening assessment
Choose an assessment that reflects the role. Use an assessment from our expert library, customize it for your brand, or bring your own script and questions.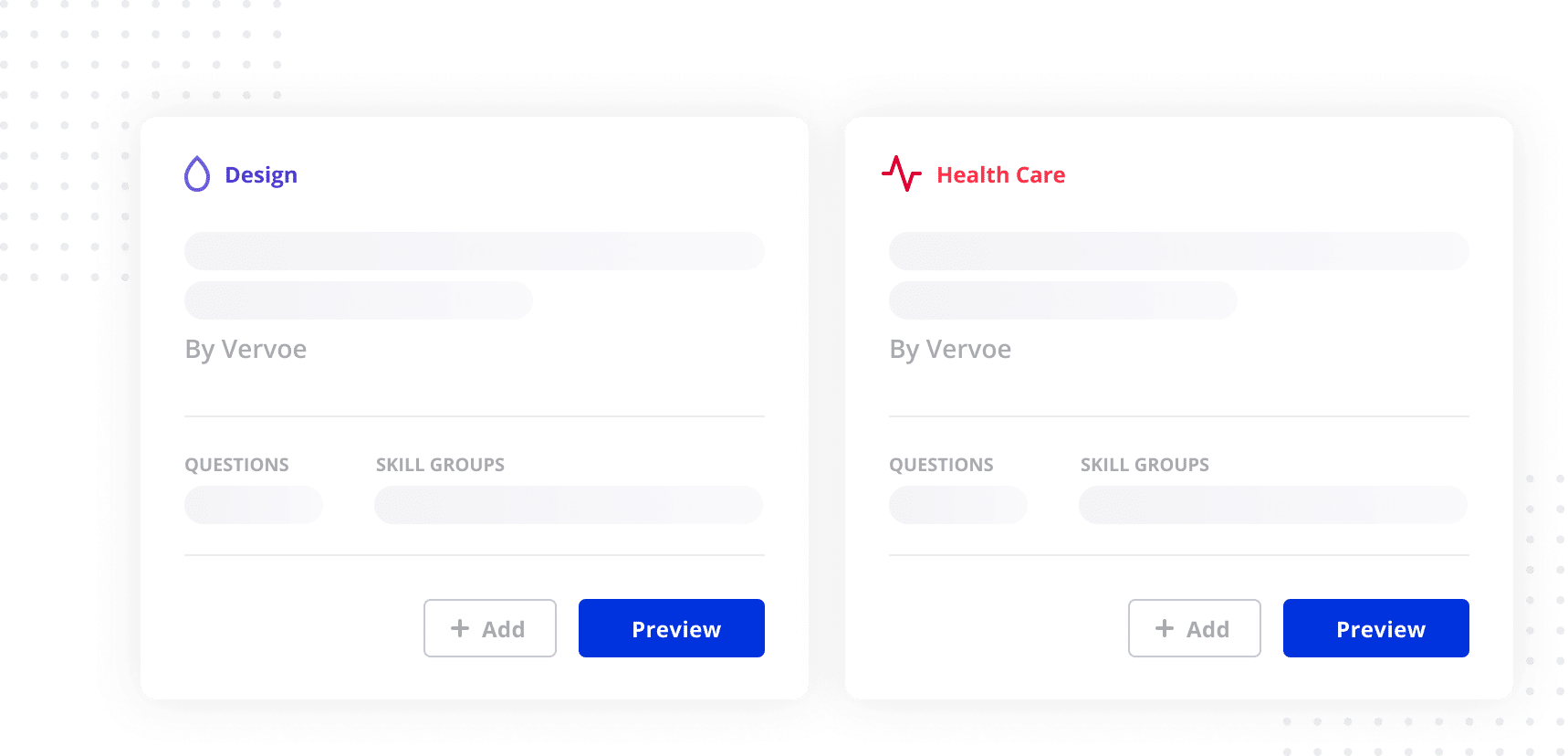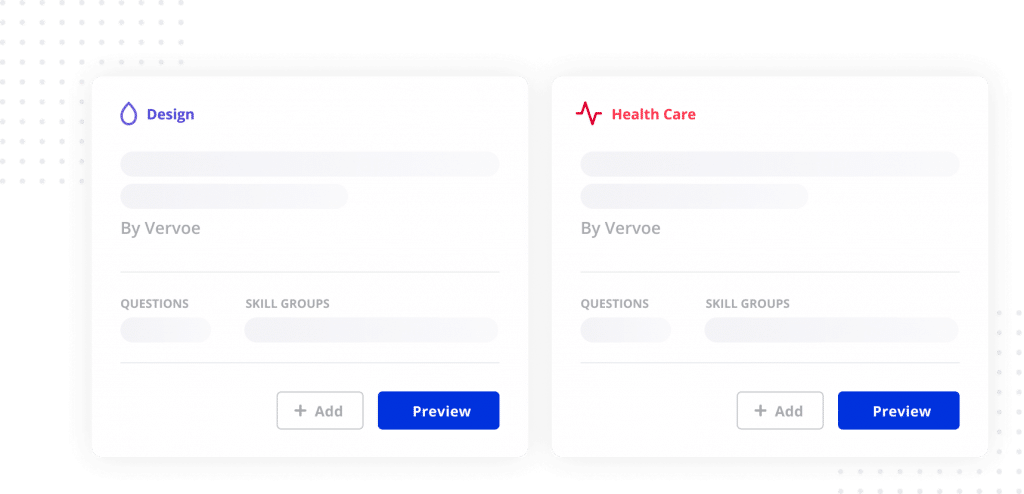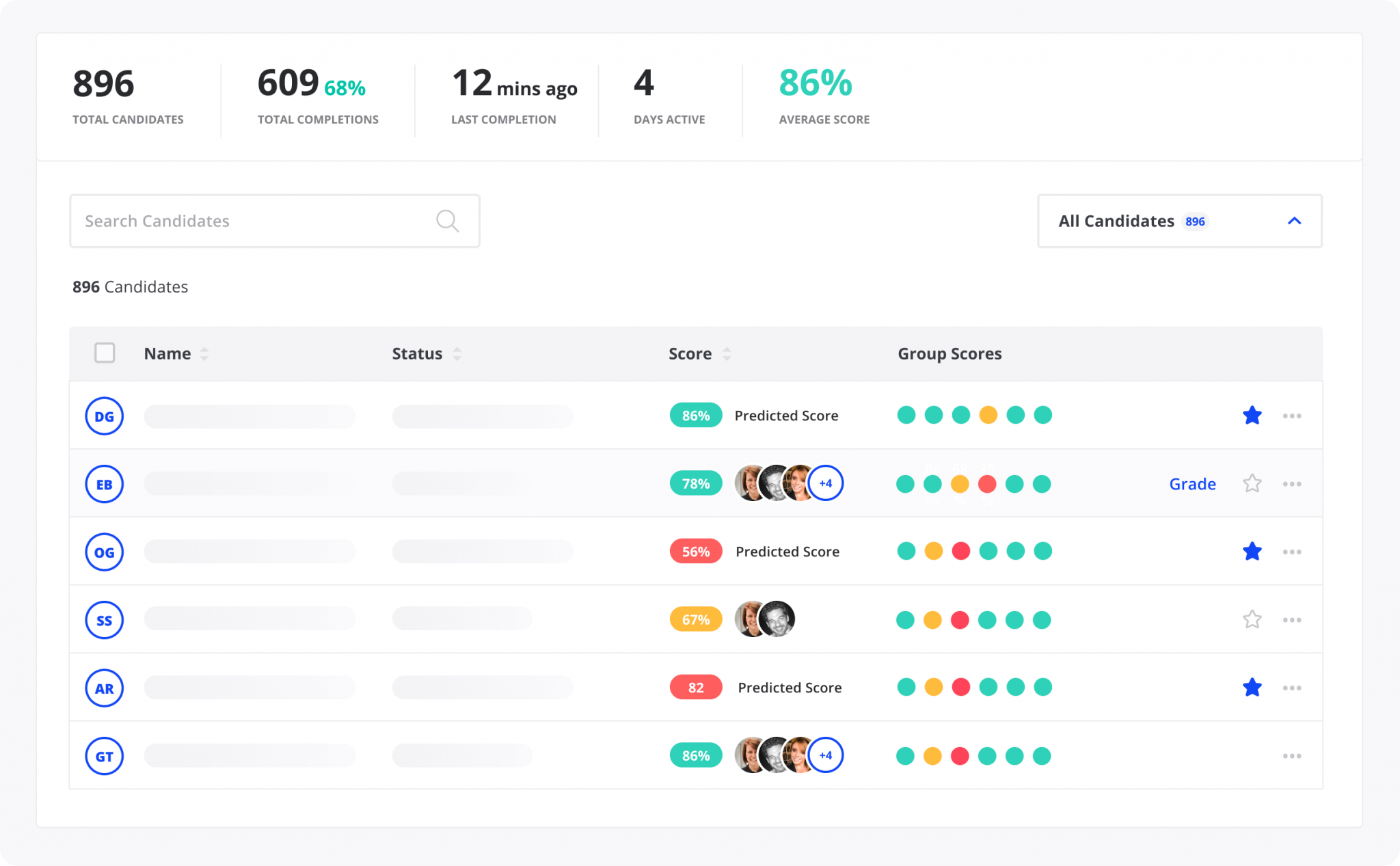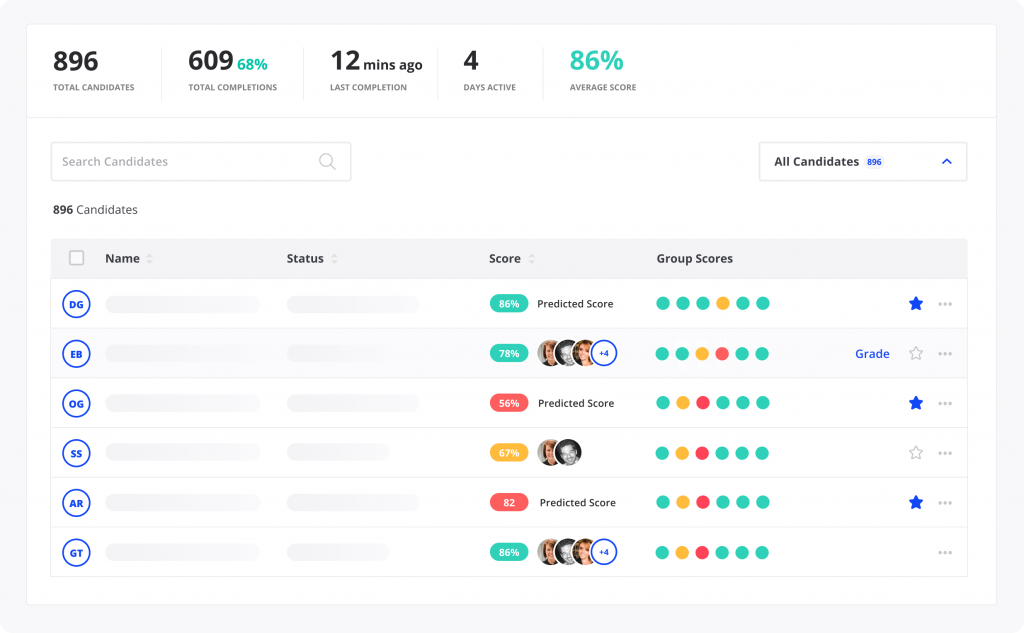 Invite every candidate 
to show their skills
Allow every candidate to complete an assessment. Show applicants what a day in the role involves, and let them showcase their skills.
Easily see the who has the right skills for the job
See the most suitable candidates to progress based on their skills. Focus only on those with the validated ability to do the job.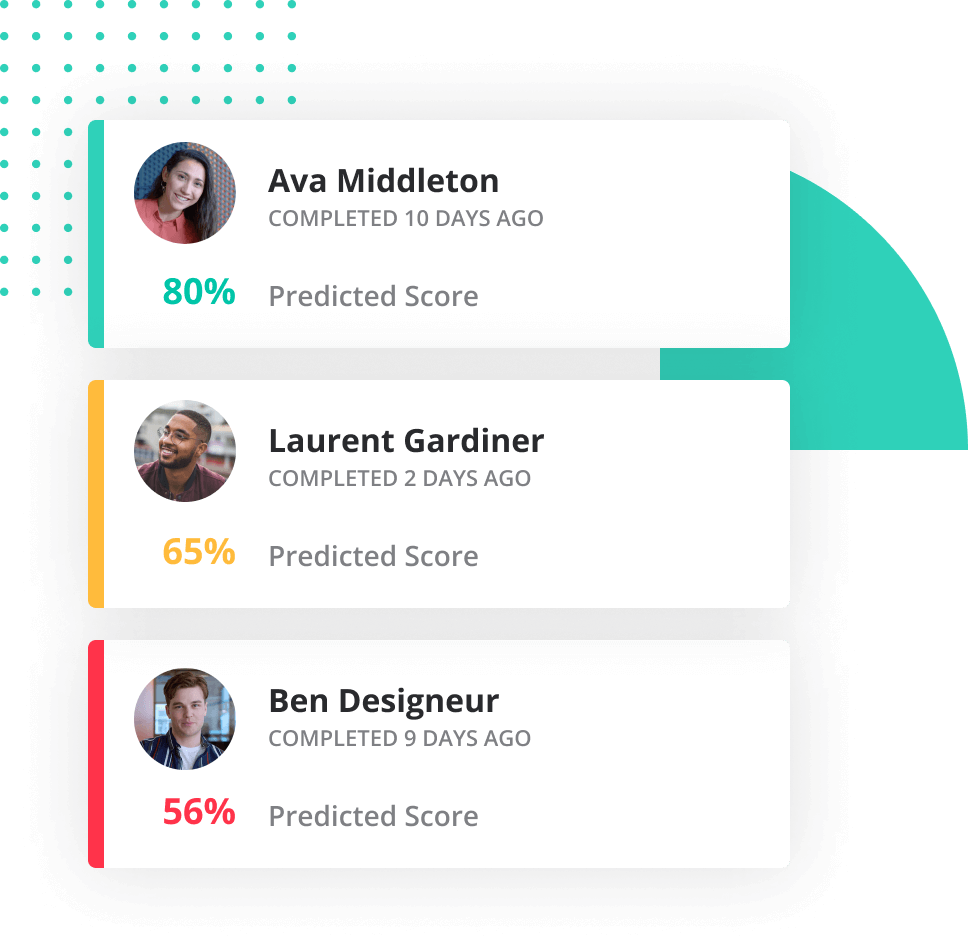 Focus on the people with the right skills
Give every applicant the chance to showcase their talent
What is pre-employment screening?
Pre-employment screening, sometimes called employment screening testing, pre-employment assessments, or screening interviews, is part of the recruitment process. Pre-employment screening is used at the beginning of the hiring process to assess applicants' skills, knowledge, and general suitability for the role.
Though the whole hiring process is really a test to find out who the most suitable person is for the role, pre-employment screening tests are usually standardized tests.
The performance of the job applicant in a pre-employment screen is usually used to decide if an applicant will move to the next stage of the process.
Types of pre-employment screening tests
There are a lot of options for pre-employment screening. Some of the more traditional tests are listed below.
Integrity tests
An integrity test might also be called an honesty test. This type of test is designed to determine whether an applicant is honest, dependable, and trustworthy. The aim of finding out whether someone has a high level of integrity is to limit the risk of theft, absenteeism, or other disciplinary problems.

The answers to integrity tests can be easily faked, as it can be easy for applicants to spot the "correct" answer. They're also similar to personality tests, which don't help predict employee performance.


Job knowledge tests
Job knowledge tests aim to measure someone's technical knowledge of a role or industry. For example, a software developer might be asked to write some code.

It's important to make sure job knowledge tests are used in context. Even if someone understands the theoretical part of a role, they need to be able to apply their knowledge to the role.


Cognitive ability tests
Cognitive ability tests aim to measure the general intelligence of applicants. Used in recruitment, they are interpreted to mean that people with greater mental ability will perform better on the job.

Hiring should never be based on mental ability alone. Some standardized tests leave you open to racial and ethnic discrimination. Not only that, but these tests are also often used out of the context of the job, so they should only be used as a guide, if ever.


Personality tests
Usually, personality tests are used in hiring as a proxy for 'cultural fit'. Using personality as a basis for hiring decisions is a biased practice that doesn't predict on-the-job performance.

Candidates can find personality tests invasive, which will hurt your candidate experience. People also tend to respond to personality tests with the answer they perceive as being "right", so they may not give accurate results.


Skills assessment tests
Skill assessment tests let you hire based on someone's technical or soft skills, without taking into account personality, race, or background.

Traditionally, skill assessments have been manual and hard to use at scale. However, AI technology allows software like Vervoe to help recruiters screen every candidate based on their skill set.
Why pre-employment screening is important.
Screening candidates is an important task for a recruiter or hiring manager. Among the hundreds of applicants for every role, there has to be a deciding factor to find the most suitable person for the job.
Hiring a new person for the company is a big investment. The company invests time not only in screening and interviewing candidates but in onboarding and training. Making the wrong decision in hiring can lead to a monetary loss that's 1.5x the salary of that hire.
When faced with the manual task of screening résumés however, it's easy to rely on factors like education and background to help make the decision on who should progress to the next stage.
Pre-employment screening tests give an unbiased and evidence-based way to make this decision. With a screening tool like Vervoe, you can speed up the hiring process and find the most suitable candidate based on their skills.
The cost of making the wrong hiring decision is a loss of screening, interviewing, onboarding and training costs that's up to 1.5x the salary of that hire.
What does pre-employment screening involve?
Traditionally, pre-employment screening tests have been standardized, off-the-shelf, and manual. This means recruiters are limited to a certain set of measures to compare candidates, which may not be relevant for the role.
With Vervoe, you have the flexibility of designing a pre-employment assessment that is unique to your company or role. This means candidates have the experience of virtually trying out for the role right from the time they apply.
How to choose a pre-employment screening assessment
Can I customize the assessments?
Standardized tests are limiting. Recruiters and hiring managers can only compare results based on limited factors, which might not be relevant for the role. Ask if you can customize the pre-employment screening test for your organization.
How easy is it to use?
Most pre-employment screening tests are mobile-friendly, which means that candidates can complete their pre-employment screening tests anywhere and at any time. But make sure the admin side is tidy as well. If your hiring team can't access, change, send, and review applications easily, they won't use the tool, and that's wasted money for you.
How much will it cost?
Pre-employment assessments are traditionally used for only a handful of candidates once most of the screening process is complete. This is because most pre-employment screening tests are expensive. To get the most efficient and fairest assessment of applicants, look for a solution that you can use at scale.
Will candidates complete the assessment?
With standardized pre-employment screening, assessments are usually long and arduous online questionnaires. It's hard for a candidate to see how the test is relevant to the role, so completion rates are often low.
For a great candidate experience, the assessment should be relevant and immersive. The test should be based on the tasks that the candidate is required to do in the role so they can showcase their skills in a meaningful way.
Will you get support and training?
Support is important both for your team and your candidates. Will you be shown how to get the most from your tool? And what happens if candidates have technical questions about their interview?
How does it fit into your other HR systems?
Make sure that any testing you intend to do integrates with your existing tools, like your ATS, to get a complete view of all your candidates in a way that makes sense for your process.
Ready to make better hiring decisions?
Making a new hire is a big investment.

From the hundreds of people who apply for every role, you need to make an informed decision on the most suitable person for the role.
Vervoe's pre-employment screening assessments are a scalable and evidence-based way to find the most suitable candidate for any role.
Schedule a demo and start screening for skills.

Make informed hiring decisions based on skills. See how Vervoe can make it faster to find the right person for the role.
Get email help day or night, 24/7.
A dedicated global client success team
Implement and start assessing in minutes