Whether you want to improve efficiency, boost productivity, increase profitability, or simply give yourself a few hours back in the day to focus on the tasks that matter, there's an endless number of reasons you'd likely benefit from adding an assistant to your payroll.
From small start-ups to global corporations, assistants can help streamline daily processes, simplify administrative tasks, manage communication and travel, and help deliver crucial strategic material for businesses of all sizes.
The downfall? It's not as simple as posting a job ad and waiting for the influx of quality resumes to roll in, and taking your pick from the bunch. Sourcing the perfect assistant requires you to analyze your needs, understand the necessary skills, and decide on the type of assistant that best fulfills that criteria — whether it be a medical assistant, customer service agent, office assistant, or executive assistant.
This article will teach you what to consider when hiring an assistant — including evaluating what you need assistance with, differentiating between common types of assistants, and determining what type is right for your business. Additionally, we'll help you consider the finer role requirements (i.,e., budget and contract details) and how to adequately screen and assess their capabilities.
Step 1. Evaluate what tasks you need assistance with
Unfortunately, there isn't a one size fits all approach to sourcing an assistant. While one type of assistant may focus more on business strategy, another may be organizing, scheduling, and coordinating events, meetings, and customer communication.
The point we're getting at? The roles, responsibilities, and expertise vary across assistant positions. As such, it's essential to understand your business's unique requirements clearly and where an assistant would have the most impact in your workplace. This will help you decide what type of assistant is most beneficial.
For example, consider the following questions when deciding what tasks you require the most support on:
What are your personal struggles?
Have you found yourself spending too many hours organizing and booking work trips? Or perhaps you're struggling to find enough daily hours to restock office supplies? Whatever your pain points, record all of them.
What are the business' needs?
How much time is spent focusing on strategy vs. ensuring the daily operations run smoothly? Do the key stakeholders and decision-makers have time to prioritize the critical tasks, or are they simply trying to stay afloat? Write down a list of pain points the organization struggles with and what tasks are taking attention and resources away from more important responsibilities.
What tasks are you willing to let go of?
Recruiting an assistant sounds like a fantastic idea, in theory, right? Yet, many business owners and employees struggle to release control when it comes to onboarding and delegating tasks. Whether you're used to wearing multiple hats and feel vulnerable handing over duties or feel you could do a better job, it's not uncommon to feel hesitant when it comes time to hand over the reins. But you ended up here for a reason. Consider the following:
Write down your daily tasks and how long each one takes you to complete.
Which tasks are propelling you forward and helping the business grow, and which are non-negotiable but chewing up your time?
Which of the non-negotiable tasks are you happy to delegate to someone else?
Step 2. Decide what type of assistant fulfills your requirements
Once you know what tasks you need support with, you'll have a clearer understanding of what type of assistant is best equipped to fulfill your needs. For example, you wouldn't hire an executive assistant if you require support running your daily professional and personal errands. And by the same token, you wouldn't hire a personal assistant if you need assistance managing, coordinating, and supporting the entire team's tasks.
To better understand this, let's compare the roles and responsibilities across a range of assistant types:
Role:
Responsibilities:
Personal Assistant (PA)
A personal assistant may manage the following tasks:
– Administrative support — filing reports, restocking equipment and stationary, tracking expenses, data entry, taking meeting notes, printing, etc.
– Scheduling — coordinating meetings, organizing calls, managing calendars, etc.
– Travel Coordination — creating itineraries, booking travel and accommodation, responding to support queries, etc.
– Personal assistance — picking up coffee and lunch, running family-related errands, dropping off dry-cleaning, etc.
Executive Assistant (EA)
An executive assistant may manage the following tasks:
– Similar administrative duties as a PA, yet more focused on business support.
– Financial coordination — overseeing executive budgets, regularly tracking expenses, providing financial updates to stakeholders, etc.
– Process and procedure creation — creating and managing administrative processes.
Office Assistant
An office assistant may manage the following tasks:
– Team assistance and office management — supporting the entire team through communication, answering calls, managing calendars, and scheduling meetings and appointments.
– Travel coordination — booking and arranging travel, transport, and accommodation.
– Event/meeting support — organizing events and conferences, etc.
Senior Administrative Assistant
An administrative assistant may manage the following tasks:
– Senior management support — assisting senior executives with daily administrative tasks.
– Meeting coordination — organizing meetings and taking minutes.
– Office administration — answering phone calls and connecting callers, coordinating appointments, managing calendar updates, greeting visitors, managing filing systems, etc.
– Technical support — creating presentations, spreadsheets, budget reports, office policies and procedures, etc.
Step 3. Decide on the finer role requirements
At this point, you know where you require support and who the most capable type of assistant is to support you with your needs. Next? It's time to iron out the finer role requirements to clarify what their role will look like.
What is your budget?
While your wishlist may be extensive, your assistant's role will be largely dictated by your budget. As such, we recommend doing independent research to understand the hourly wage and salary expectations for the type of assistant you require and let this influence the variables to follow.
The following table features average assistant salaries based on full-time employment in the United States, according to Glassdoor and Payscale.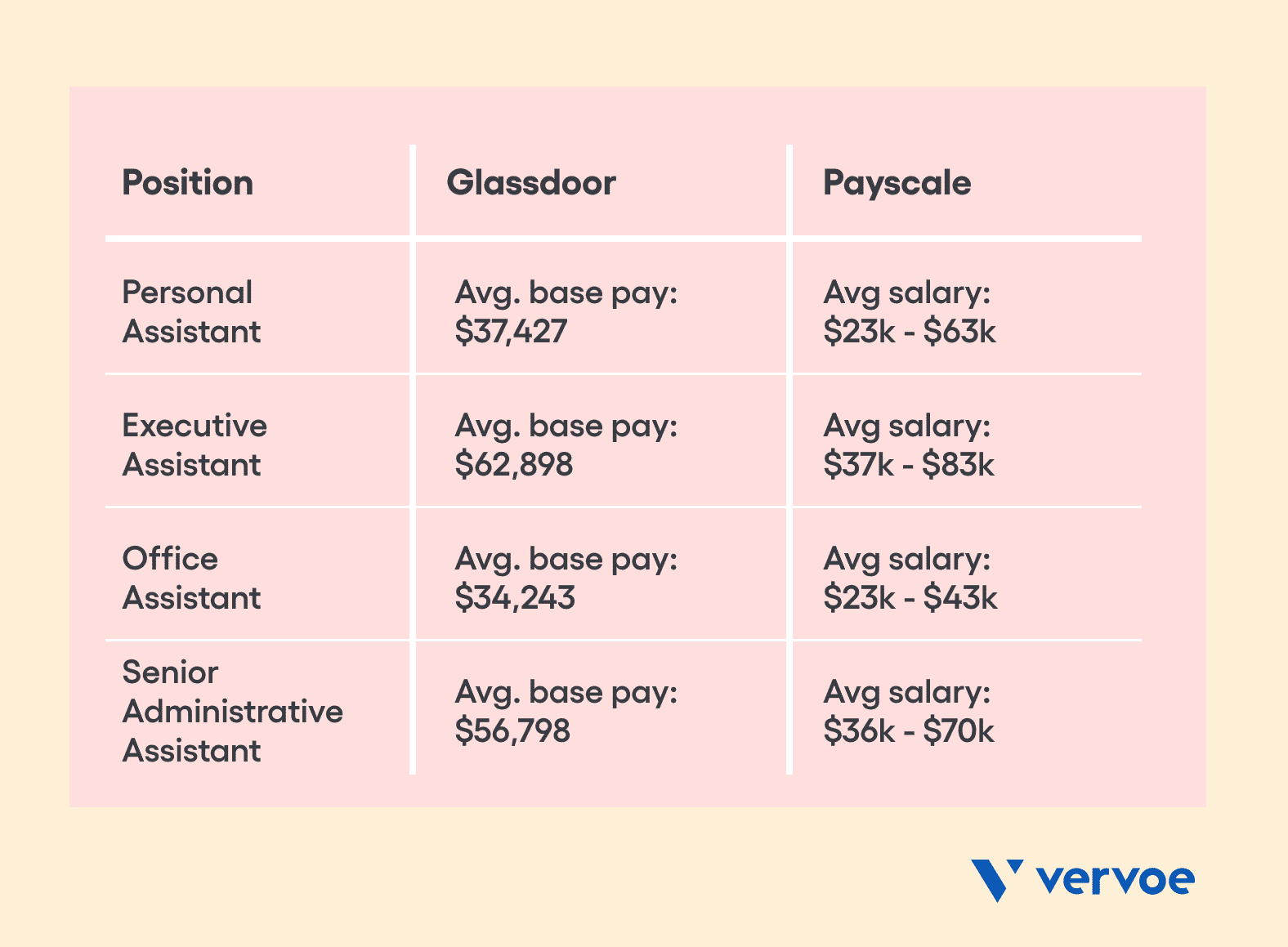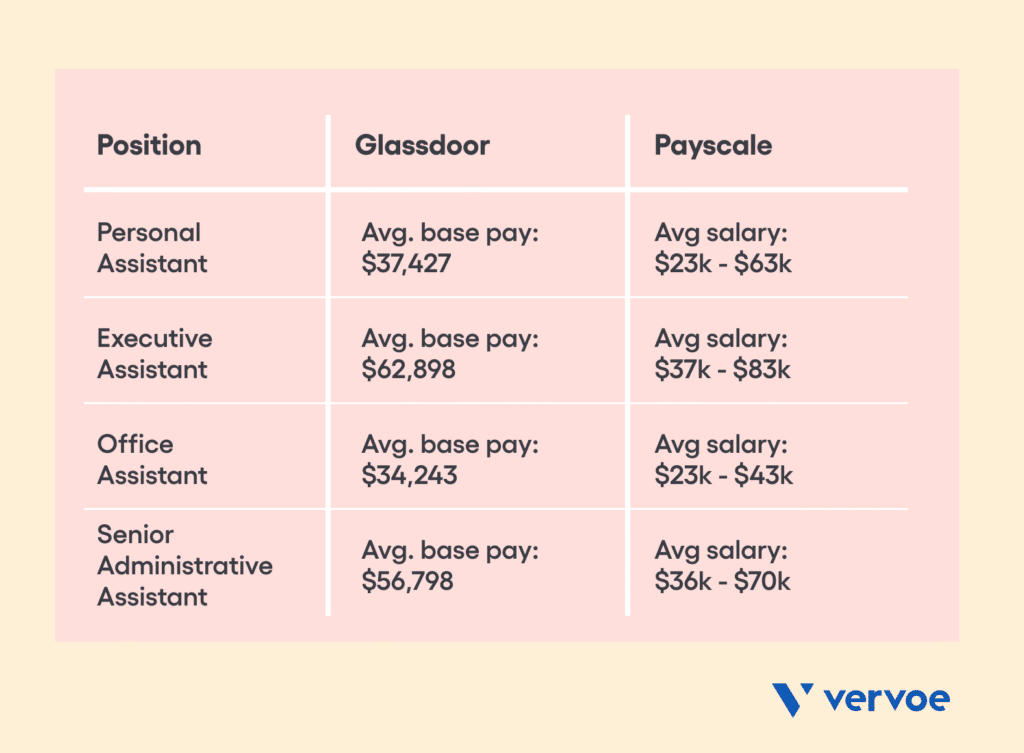 Will they work in-house or virtually?
While the pandemic has negatively impacted many aspects of business worldwide, there has been one bonus: it's normalized remote working and proven that workers don't need to be in the same location, office, or time zone to work effectively.
Depending on your role's requirements, this may allow you to decide whether a virtual assistant can offer the same benefits or if a more traditional in-house setup is required to fulfill your duties. Ask yourself the following questions:
Does the job require someone to be physically present? For example, a remote assistant can't perform simple duties like greeting clients, coffee runs and collecting dry cleaning. Whereas a business assistant could still take calls, manage team calendars, and create spreadsheets.
Could you still effectively onboard an assistant in-house or remotely?
Do they need to be in the same timezone as you? For example, if they're required to answer calls and reply to emails promptly, you could still opt for a remote assistant, but ensure their hours align with your business hours.
Let's take a closer look at the pros and cons of hiring in-house or virtual assistants:
| | |
| --- | --- |
| In-house assistant pros | Virtual assistant pros |
| They're on a contract, which may translate to long-term loyalty. | Generally, much more cost-effective. Often, they're paid hourly rather than a salary. |
| They can take on different tasks and duties as the business grows and changes, including responsibilities that can only be performed in person. | If they're in a different timezone, they can support round-the-clock. operations and make your business available online 24/7 for customers. |
| They're in the same location and timezone and thus can react to last-minute tasks and changes. | Lower set up costs as they generally have their own equipment. |
| In-house assistant cons | Virtual assistant cons |
| Higher upfront cost. | Tasks may be performed slower as they're on an hourly rate. |
| Employees may not feel incentivized to work as hard as they're on a contract. | It may be harder to onboard and train. |
| | Not every task can be performed virtually. |
Do you need full-time or part-time support?
Not all businesses require full-time support to keep operations running smoothly. Depending on the size of your business, the requirements you need help with, and your capacity, you'll need to decide if you require a full-time assistant or someone on a part-time basis (including an hourly rate).
Here are a few points to consider when making the decision:
Of the tasks that require support, how many hours do you estimate they'll take per day or week?
If money is the most significant influence, part-time employment will generally cost you less in salary and medical/health benefits.
If you want a larger talent pool to choose from, generally, more job seekers are looking for full-time employment.
If you require a fast learner who will get up to speed quickly, be mindful that a full-time employee in-house will have a better chance of achieving this than a part-time remote assistant.
Step 4. Consider your hiring process
Once you've finalized the critical details, it's time to promote your role and look for the right candidate.
In a global candidate shortage, it's more important now than ever to consider your approach to hiring. This means looking at how you will promote the role, how you will screen candidates, and how you will ensure they have what it takes to succeed in the role — all while managing a positive candidate experience. Consider the following questions:
What factors are you basing your ideal candidate on?
The current job climate has forced many businesses to reassess how they hire and what they determine as an accurate indicator of success. For example, does the candidate really need a bachelor's degree in business and four years of experience as an executive assistant to be the best worker in the room? Or will a candidate's hard and soft skills tell you more about their overall suitability for the role, irrespective of their formal education and experience?
It's time to look at what factors actually predict performance, rather than unnecessarily shrinking your talent pool because of an assumption that experience and qualification translate to success.
Just ask yourself:
What does your ideal candidate look like, and why? I.e., have you broken down the requirements of the role or based your assumption on other job postings?
Does the role require experience? If so, why and how much?
Does the role require a degree, or are there non-traditional forms of education someone could've used to obtain that same skill set and understanding?
Degree-based hiring vs. skills-based hiring
| | |
| --- | --- |
| Degree-based hiring | Skills-based hiring |
| What it is: Uses credentials to assume skill level (i.e., degrees, work experience, etc.) | What it is: Uses competencies to attract candidates with the skills needed for the job. |
| The job posting lists qualification requirements that lack specificity or prioritization, i.e., what does this look like in the context of the role? | Distinguishes qualifications between required and preferred competencies. |
| Job postings contain unintentional biases that act as barriers for certain candidates, shrinking the talent pool. | Clearly illustrates what hard and soft skills are needed to succeed in the role. |
| | Reduced bias or assumed knowledge, giving organizations access to a broader talent pool. |
Our recommendation: Analyze the hard skills (i.e., technical skills) and soft skills (i.e., traits such as communication, empathy, time management, exceptional organizational skills, detail oriented, etc.) required for an applicant to succeed in the role and focus your job description language on this, rather than experience and formal qualification.
How are you going to screen and validate a candidate's skills?
The reality: candidates often embellish the truth on their resumes. According to a 2022 ResumeLab study, 36% of Americans admit to lying on their resumes. The study found that:
27% lie about experience
18% lie about their skills
17% lie about job duties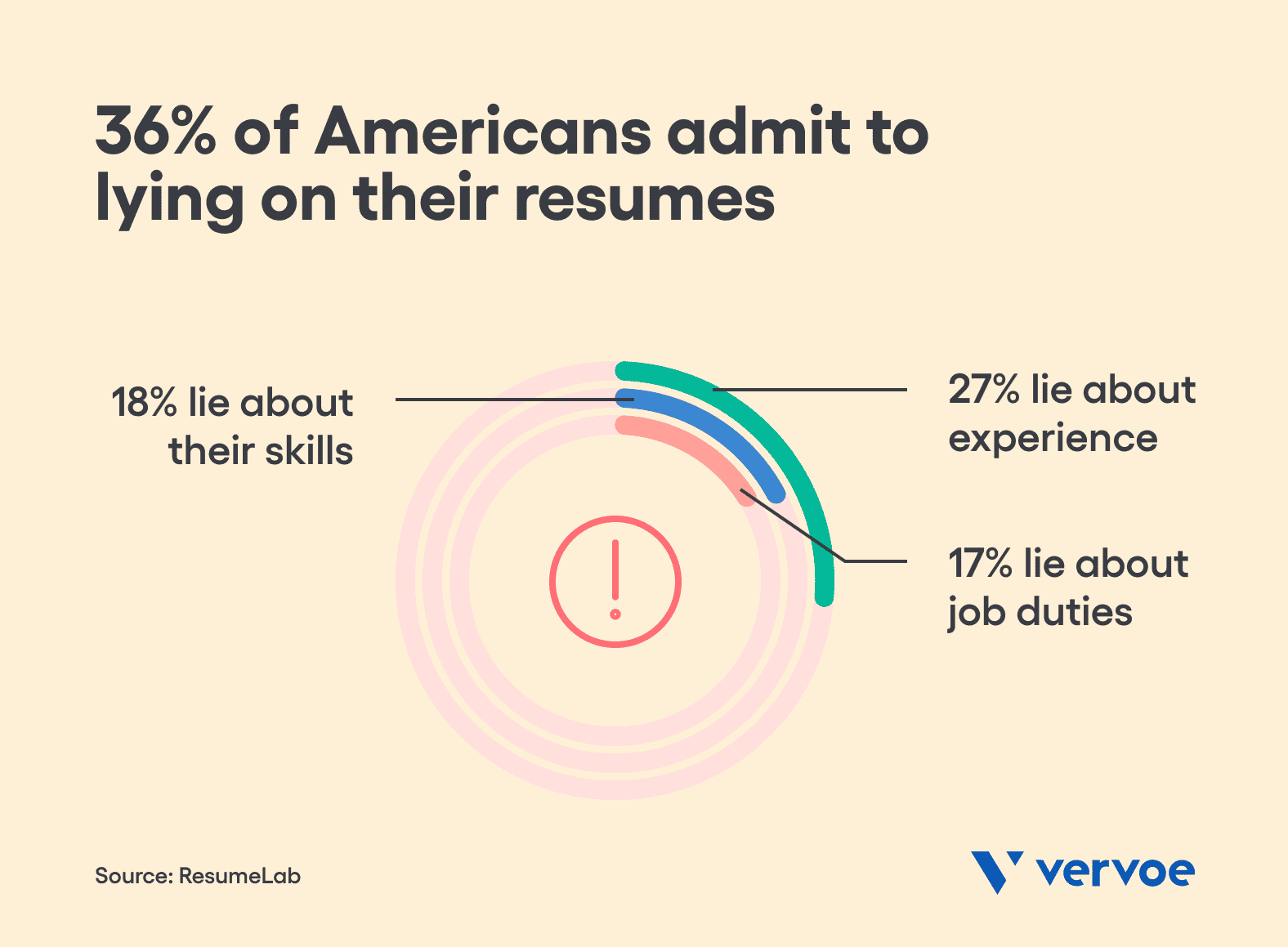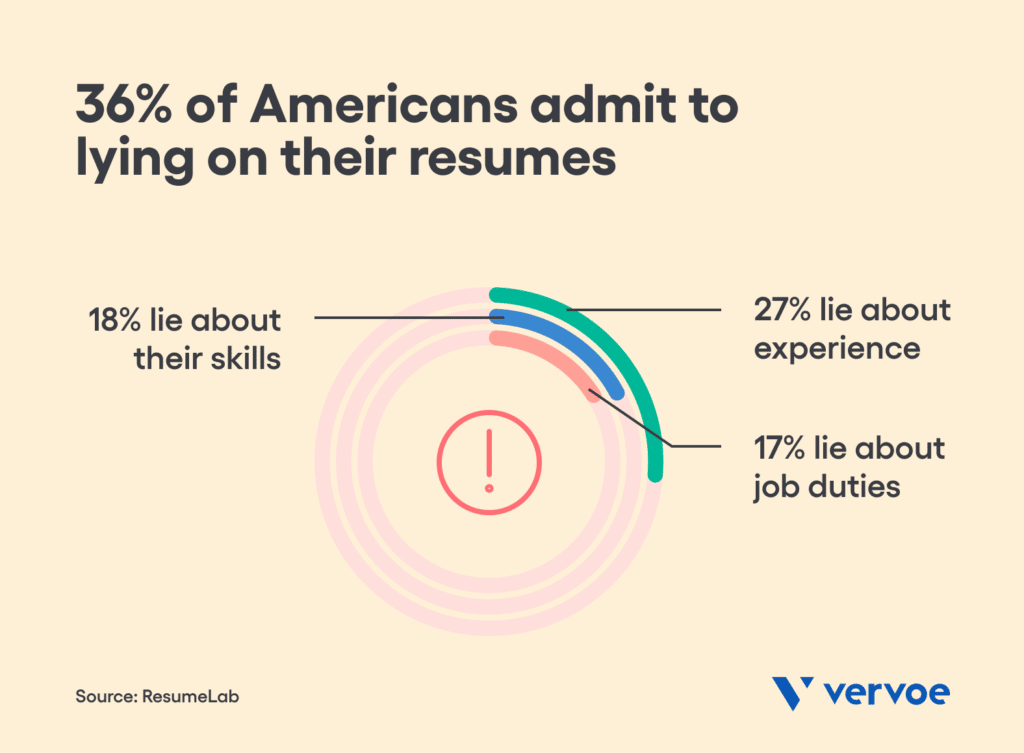 Why does this all matter? With 29% of respondents claiming to being good at something on their resume that they wouldn't feel comfortable doing when asked, it places greater importance on organizations to adequately screen and assess candidates' skills to ensure they have what it takes to succeed in the role.
Yet, it's not the only reason. Assessing a candidate's skills also adds reassurance to your hiring decisions and allows you to confidently open your hiring funnel to people who've obtained skills through various pathways (i.e., non-traditional methods, skills learned on the job, self-teaching, etc.). The result? A broader talent pool of potentially incredible applicants to choose from.
This is where Vervoe's AI-powered skills assessment platform can assist.
What is Vervoe?
Vervoe is an AI-powered machine learning platform that assesses candidates' skills in the context of the role. A Vervoe assessment uses a range of question types to take candidates through a job simulation that mimics the nature of the position and the kinds of scenarios they may encounter. This gives applicants a realistic preview of what a day in the life of the role looks like while also allowing organizations to better understand a candidate's potential suitability.
Vervoe's intuitive AI automatically grades and ranks candidates by benchmarking their responses against millions of others on our platform, ensuring an accurate, fair, and efficient recruitment process.
Organizations can choose from our impressive library of 300+ ready-made assistant assessments or opt for a tailored assessment built from scratch. Once you enter the job title in the assessment builder, the builder will prompt you with relevant skills to test and suggest questions.
Consider the following examples of Vervoe assessment questions for an administration officer role:
Administration officer online test sample questions
Technical Ability
Question Type: Audio
Communication
Question Type: Video
Organization
Question Type: Text
One of the employees you support asks you for help with inviting multiple team members to a meeting. They are using Google Calendar and need to see if everyone required is available at 2 pm on Monday. Is there a way they can do this in Google Calendar? Please record yourself explaining this to your colleague.
It is your first day in your new role, and you have been asked to stand up and introduce yourself to the office. Please record a video of you introducing yourself.

You are the Administration Officer for a company that occupies three floors in a building and 250 staff. You are finding that staff requests and complaints about small things like the kitchen are taking up much of your day and preventing you from getting any work done. What could you do to manage that?
[Read more: Administration Officer Skills Assessment]
Final thoughts
Knowing you need help is easy, but sourcing the right person to help you is often hard. From knowing what type of assistant will best fulfill your needs to understanding the hours and budget required to get the job done, it's no secret that recruiting an assistant — whether it be a legal assistant or a personal assistant — requires a level of planning, analyzing, and understanding.
Before recruiting an assistant, there are several questions to iron out first:
What tasks do you require assistance with, and how long will each task take?
What type of assistant do you require based on your needs?
What budget have you set aside?
What will their contract look like?
What hard and soft skills are essential to the role's success?
How will you screen and assess candidates?
Answering these questions will help influence how you advertise the role, what your ideal candidate looks like, and what tools you use to validate their skills (i.e., Vervoe's AI-powered skills assessments).
Ready to get started on finding your ideal assistant? Try Vervoe's ready-made admin assessments or build a custom assessment from scratch by requesting a demo today.