The job market writ large has been dealing with a hiring imbalance since the Great Resignation. But, for SaaS companies, the disconnect is even more pronounced.
The pandemic has caused demand for SaaS products to escalate in recent years. And, although many SaaS companies have been able to take advantage of this huge growth opportunity, the talent pool has not kept up.
According to OpenView's State of the SaaS Talent Market: 2022 report, the current relentless competition for talent is unprecedented, with many organizations willing to pay top dollar for the people they need in a way not seen before.
Competition is just one challenge talent acquisition teams face in SaaS recruitment. As such, many recruiters are revisiting their hiring plan, looking for new ways to attract candidates and hire the best talent that's going to take their business to the next level.
In this SaaS hiring guide, we'll take you through some of the key changes you can make to your hiring process to create sustainable, long-term growth for your SaaS company. Here's how to bring top talent to your SaaS company and make your next new hire your best hire yet.
How to figure out who you really need to hire
Before you begin the hiring process, your company must assess the talent it needs now and in the future. SaaS companies face specific hiring challenges that make the recruiting process more complex than in other industries.
First, hiring needs can evolve quickly, especially in a fast-growing SaaS company. SaaS companies tend to grow quickly and hire to fulfill an immediate need, rather than with an eye toward the future.
Then, once the company reaches a certain level of success, the business can start coasting — leading to hiring stagnation. This stop-start dynamic makes it difficult for SaaS hiring teams to create long-term, sustainable hiring strategies. It also means that the company quickly outgrows its new employees.
You'll find a significant number of employees are actually sub-par for the industry and may not have what it takes to survive long-term in the fast-moving SaaS world. Yet it can be a challenge to filter them out during the hiring process, according to ContractRecruiter.com
To avoid these pitfalls, SaaS hiring teams can start by analyzing the business' true hiring needs and crafting a strategy to meet these demands.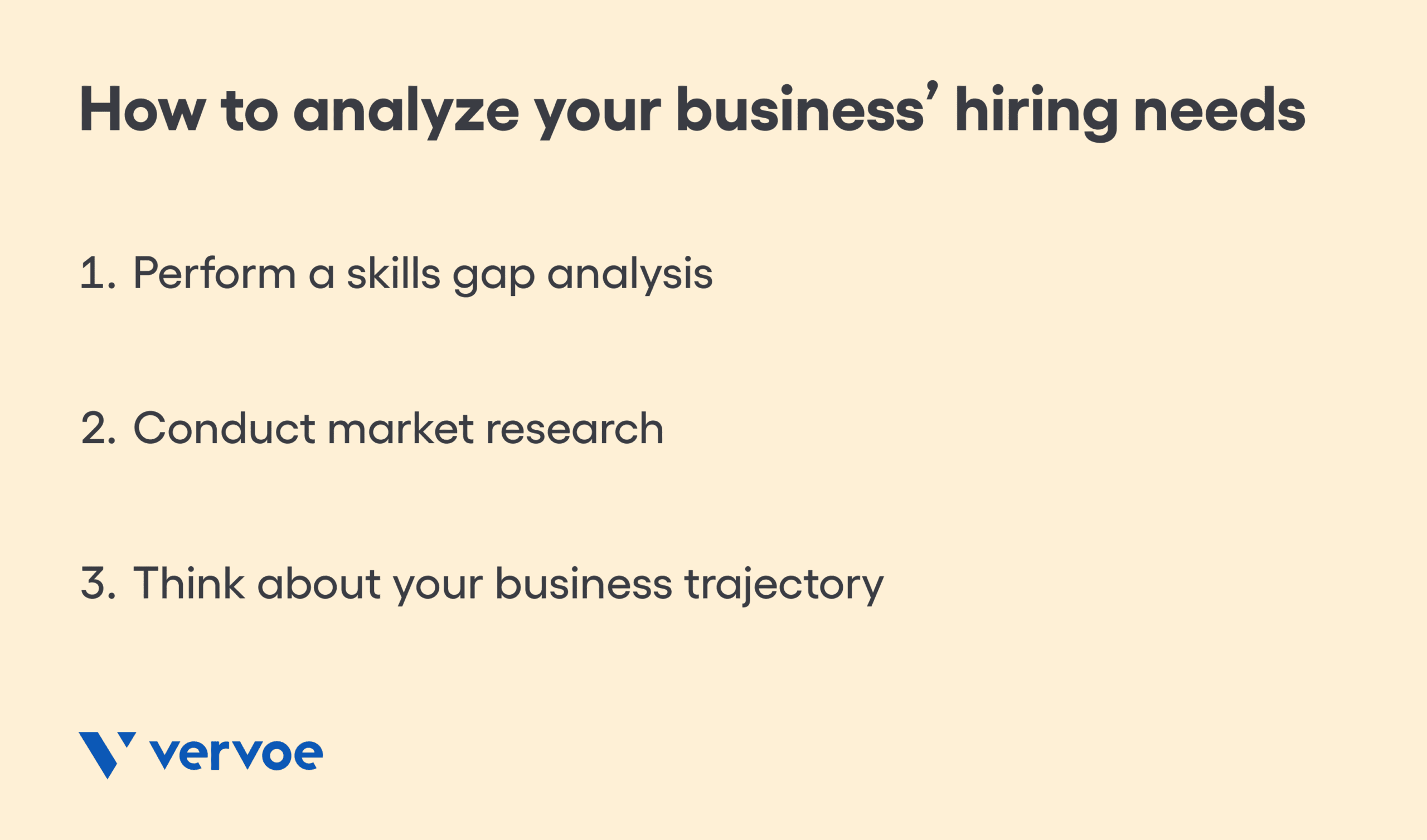 Perform a skills gap analysis
As you consider implementing a scalable hiring process, start by integrating a skills gap analysis into your practice. A skills gap analysis can be used to identify which skills your workforce needs but doesn't necessarily have yet. The analysis can guide hiring priorities, create opportunities for training and development, or lead to allocating funding for new technology or partnerships.
[Read more: How To Perform An Effective Skills Gap Analysis And Future Proof Your Business [Free Template]]
Part of the process of completing a skills gap analysis is comparing your company goals with the skills of your current employees. Especially in the tech industry, software development, digital marketing, sales, and customer service change quickly. It's important to square your 10-year company vision with the positions you recruit.
Conduct market research
The SaaS market is heavily influenced by macro trends, such as the pandemic, the rise of remote work, and new technologies. Understanding these high-level changes can help your hiring team identify the skills that will be needed in the future.
The skills that your team has today may quickly grow obsolete. Changing compliance regulations, such as GDPR and the CCPA, mean that tomorrow's developers need to be well versed in data privacy and information security standards that didn't exist 10 years ago. It's also no longer enough for your developers to only code in one language.
According to Talent500, a blog for software engineers, developers applying for SaaS roles will not only need to be proficient in programming languages and platforms like Python, JAVA, PHP, Linux, and others, but they'll have to have a great level of innovative thinking for every mod of operation. For example, IT specialists may be required to create solutions that work within an organization to automate menial tasks and increase efficiency across different departments.
As you think about hiring, consider the ways in which the industry has changed in the last few years. Some things, like cybersecurity, compliance, and UX skills, will likely always be in demand for SaaS products. But as more companies move to the cloud, other positions won't be as relevant.
Think about your business trajectory
Finally, consider the ways in which your business will change in the next few years. OpenView's research found that most SaaS businesses are focusing on go-to-market execution, rather than technical development.
In fact, 29% of smaller business survey respondents voted sales leaders as the highest priority hire in 2022. For larger businesses, 44% of respondents say the highest priority role is product leader.
For many SaaS companies, candidates who can land potential clients have more value than candidates who have coding skills. Is the same true for your business?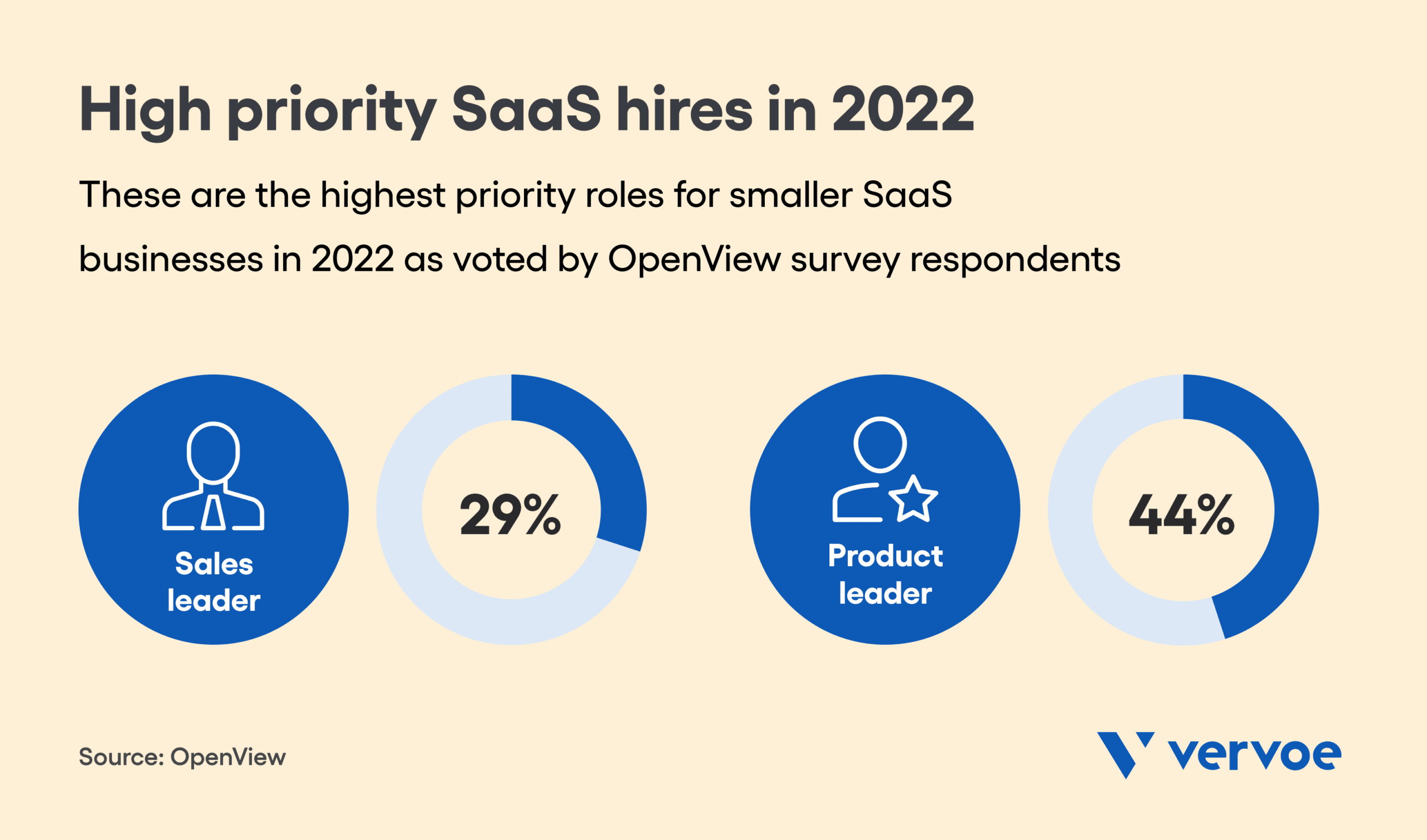 What to emphasize in your job ad to ensure you attract the right candidates
In the past, job ads would be written to try to attract candidates who are a potential "culture fit" with your SaaS company. Unfortunately, that idea leads recruiters to rely on unconscious bias to make hiring decisions. To one hiring manager, someone who is a good culture fit may have gone to the same university. To another manager, it means that they're high energy and outgoing.
Search for organizational fit
A better way to hire is to focus on "organizational fit." Organizational fit is a term that describes how well a candidate meshes with your organization or is able to understand its culture and structure. Factors at play here include the candidate's values and working style, as well as the organization's overall values.
Integrating organizational fit into your hiring process places weight on a potential candidate's attitude and values, instead of basing hiring decisions purely on someone's qualifications. Instead of just hiring a qualified candidate, this method ensures you'll hire a qualified candidate who can navigate your company's structure and adapt to its way of doing business.
[Read more: Hiring For Organizational Fit Should Be A Priority]
Include your culture and values
A good way to attract the right organizational fit? Update your job descriptions to include information about the company's mission, vision, values, and company culture. Use the summary section of the job opening to help someone picture what it would be like to work for your brand.
Talking about your culture and values starts with meaningful employer branding, which we'll cover in a later section. Essentially, however, there should be space in your job description to communicate what makes your organization appealing. A small business owner, for example, might talk about what led them to get started and their passion for their product or service. A larger company might share the founder's story and the journey they took to turn the product into what it is today.
Use compelling language
The best job descriptions have a few key features. They start with a strong headline that includes keywords a candidate will be using to search, as well as a familiar title. Great job listings often include videos or images rather than corporate jargon. And, the language used to describe the open position is straightforward, clear, and concise. There's no need to list dozens of requirements and soft skills at this stage of the recruitment process.
It's also a good idea to strip any biased language from your job descriptions. Use a tool like Textio or the Gender Decoder to identify and eliminate any words that would discourage a potential candidate from applying to your SaaS business.
The best way to test whether candidates will suit your business
Once you've started sourcing high-quality leads, you'll want to verify that your applicants have the right skills for a long career at your company. Using a digital hiring skills assessment allows you to whittle down your candidates. Competency, or skills assessments, provide insight into each applicant's unique abilities. They help hiring teams identify top talent based on real results from a software development simulation, pre-recorded video interview, and other tests crafted for specific skill sets.
Not only can Vervoe's assessments evaluate someone's professional skills, but they can also identify an organizational fit. There is a variety of hiring assessments that accomplish this goal, but the main two Vervoe recommends are values-based assessments and situational assessments.
With an AI assessment tool, a hiring team can screen hundreds of potential candidates at scale. Machine learning and artificial intelligence enable HR teams to whittle down a talent pool by screening candidates in, not out. Find out more about AI assessment tools in our recent guide: ​Top 14 AI Assessment Tools For Hiring.
How to communicate your employer brand and values
Your employer brand will inform key parts of your job description, but it plays a much bigger role, too. Your recruitment strategy is only as strong as your employer brand. If candidates don't believe in your company, there's little that job ads, career pages, and Twitter chats can do to help you convince them to apply.
Employer branding is anything your company uses to convey that your work environment is attractive. Employer branding helps to differentiate your SaaS company from other established companies within and outside your industry.
In this case, SaaS talent — software developers, devops engineers, and even tech-savvy sales and marketing candidates — are likely to explore opportunities from other SaaS businesses and even companies outside the industry. Not only do you need to craft your employer branding to your ideal candidate, but you also need to ensure it differentiates your company from everyone else.
Create an employee value proposition
What makes your company unique? The answer should be clearly defined in your employee value proposition.
An employee value proposition contains five key components:
Rewards: salary, stock options, benefits, soft perks, or time off
Work: job-interest alignment and work-life balance
Organization: the company's mission statement, product or service, and social responsibility
Opportunity: career growth, education, and personal development
People: the employees, from executives down, and the company culture
As you can see, the best candidates aren't just looking for compensation packages. They're looking for a combination of financial incentives, non-monetary benefits, an inclusive work environment, great colleagues, and exciting opportunities. It's not always just about making money for everyone. For some, it's about making a difference in the world or finding something that works around their commitments at home or elsewhere in life.
Many candidates will look to your career page to find out more about your company culture, values, compensation packages, and current employees. If you want some inspiration for showcasing your employee value proposition, look to these examples: 13 Inspiring Employee Value Proposition Examples To Attract Great Talent.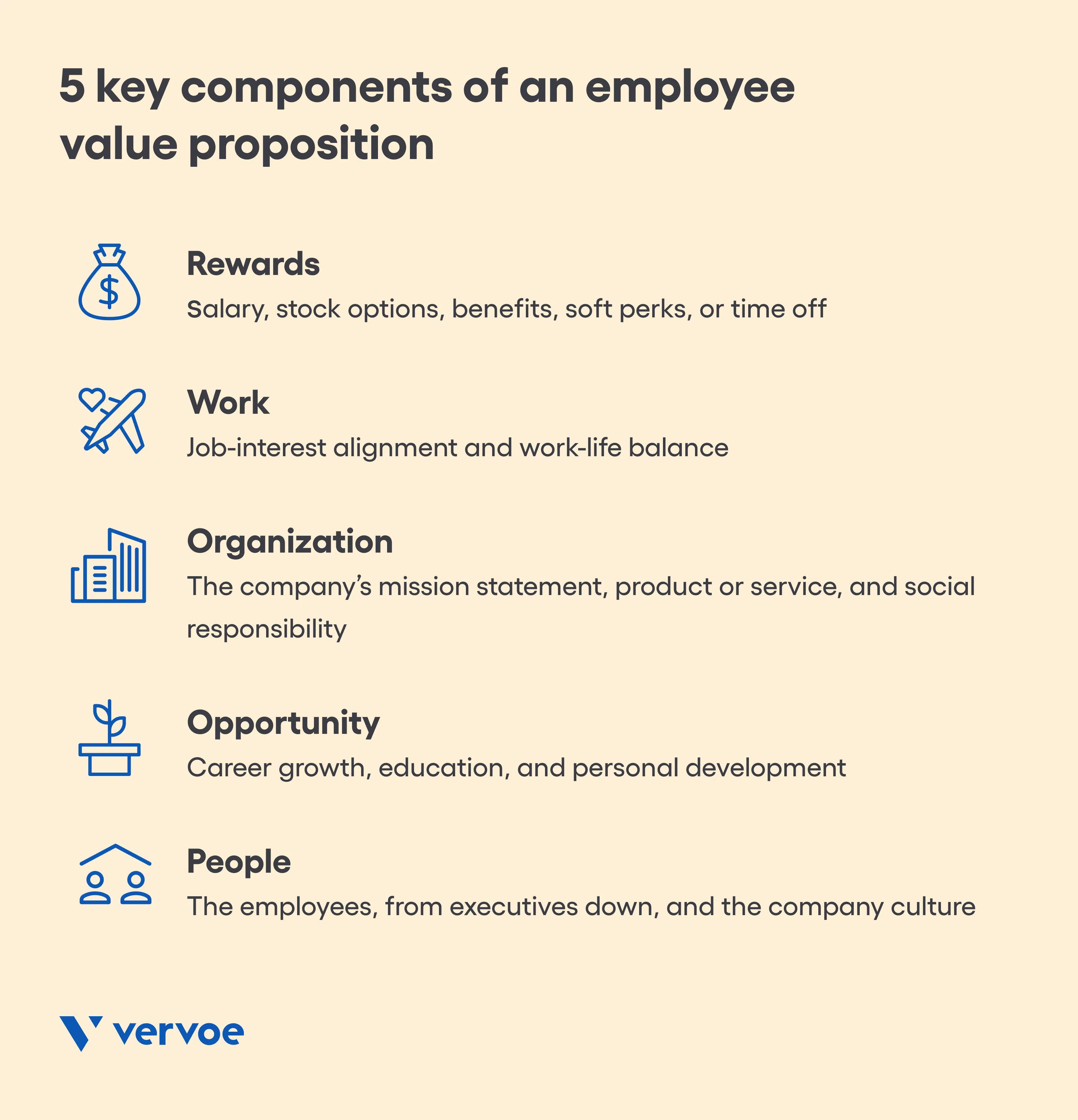 Use social proof
When you watch advertisements on TV, how often do you trust what the commercial is telling you? The same is true for potential candidates: it's one thing to hear you talk about how awesome your company is, and another to hear it from your existing employees.
One way to attract new talent is to lean on your existing talent. Encourage your employees to engage in LinkedIn groups and Facebook Groups and talk about the work environment. Create job ads that lean on real feedback from your team. Testimonials, videos, and Glassdoor reviews can all play a part in your job advertisements.
Offer inclusive benefits
Finally, be transparent about what you're offering. The competition for SaaS talent is steep: as a result, any job advertisement should include a clear salary range, a list of benefits, and details that show your company is considerate of all types of candidates. Do you offer on-site daycare? Paternity leave? Student loan repayment options? Share these with potential candidates. This transparency helps your ideal candidates self-select into your hiring process and makes your talent search easier.
How to source candidates beyond your network
Once you have your job ad and EVP in place and have upped your employer branding game, it's time to expand your outreach. SaaS recruitment isn't limited to technical roles: SaaS talent includes salespeople, marketing experts, HR leaders, and other key roles. Who you're looking to hire determines where you might look.
Reach out to passive candidates
A passive job seeker is someone who is currently employed and not actively looking for a new opportunity. They can also be found in your applicant tracking system if they've applied for something in the past, and either withdrawn from the hiring process or not completed their application.
One way to reach out to these candidates is to send a personalized message through social media. LinkedIn Inmail is a good tool for reaching passive candidates. You can even send them a skills assessment to see if the job is something that they would enjoy or even be interested in pursuing. Creating a job assessment for prospective SaaS talent takes a lot less effort than posting an opportunity on dozens of job boards and hoping for hits.
Ask your team for referrals
Referral candidates are a largely untapped pool of talent and bring more to the table than traditional job seekers. According to recruiter surveys, these passive job seekers have more experience, possess valuable skills, and take their careers more seriously than traditional job seekers.
[Read more: Employee Referral Program — Recruiter Guide + Checklist]
Referrals can also help improve your candidate diversity. Encourage your existing employees to become team ambassadors and consider incentivizing diverse employee referrals. Team leads, in particular, should connect you to potential candidates who they think would be a good fit for your SaaS business. Make talent acquisition a part of everyone's job to increase your pipeline of suitable SaaS talent.
Integrate new sourcing and screening tools
There are dozens, if not hundreds of sourcing tools that can help you expand your outreach. Beyond the usual outreach methods — social media, job advertisements, and updating your career page — consider using search engine optimization, video advertising, and online recruitment software.
The key part of this step is to integrate: that is, automate as much of the entire hiring process as possible. Make sure your applicant tracking system connects to your job board. Work with skill assessments that use machine-learning AI to grade and automatically create a shortlist of potential new hires. Automate messaging to help set up interviews with key stakeholders and candidates. As a SaaS company, your team should be able to utilize recruitment technology to make this process run smoothly.
[Read more: 13 Recruitment Strategies That Will Transform the Way You Hire]
Conclusion
In the next few years, SaaS companies will be challenged to find new talent that can help take their business to the next level. As the hiring market gets more competitive, and companies begin the transition from high-growth to maturity, the search for talent must evolve accordingly.
Revisit your hiring process to find opportunities to future-proof your talent acquisition. Conduct a skills gap analysis to learn what future skills will benefit your business. Draft job descriptions that entice qualified candidates to reach out. And, implement an assessment tool that can help you hire for organizational fit, rather than culture fit.