If one change to your hiring process could transform the quality of your candidates, the speed at which you find them, and the cost of your recruitment process, would you take the plunge?
Hiring is complex, expensive, and vital to your organization's survival. On average, the cost of hiring an employee includes expenses for advertising, travel, referral bonuses, relocation costs, and training, that can quickly add up to over $4,000.
And that's not even including the cost of time spent discussing the vacancy, screening candidates, interviewing, conducting background checks, and more. As a result, the company can lose a lot in terms of productivity.
Companies are fighting tooth and nail to get the best candidates these days. Considering there is more competition among hiring managers than the candidates themselves, improving your recruitment process is more important now than ever before.
In this post, we'll dig into ways you can improve your recruiting process, and how implementing Vervoe can improve your chances of hiring the right person every time.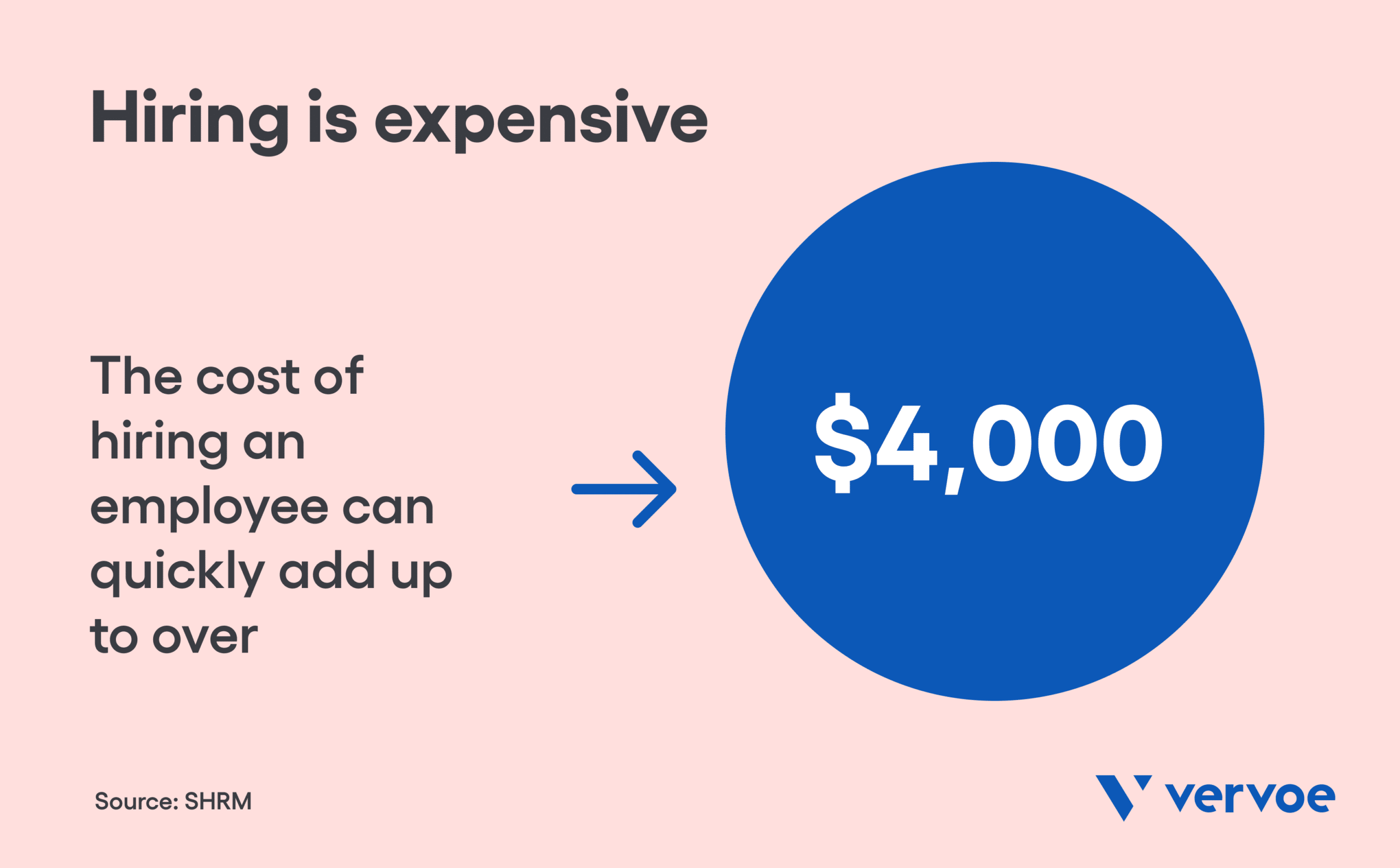 [Download now: Vervoe's free Hiring Playbook]
Hiring challenges
Hiring teams are stacked with responsibilities. Sometimes, tedious tasks interfere with the reason we have hiring teams in the first place. After all, you want your recruiters actually assessing candidates, not picking through resumes.
Below are some challenges you'll likely relate to, as well as some solutions:
Time required for manual processes
Recruiters spend up to 22.9 days posting ads on job boards, answering emails, updating spreadsheets, and returning phone calls. This limits the time available for identifying and building solid relationships with high-quality candidates. Automating parts of the process with the right technology gives recruiters more time to focus on actual candidates.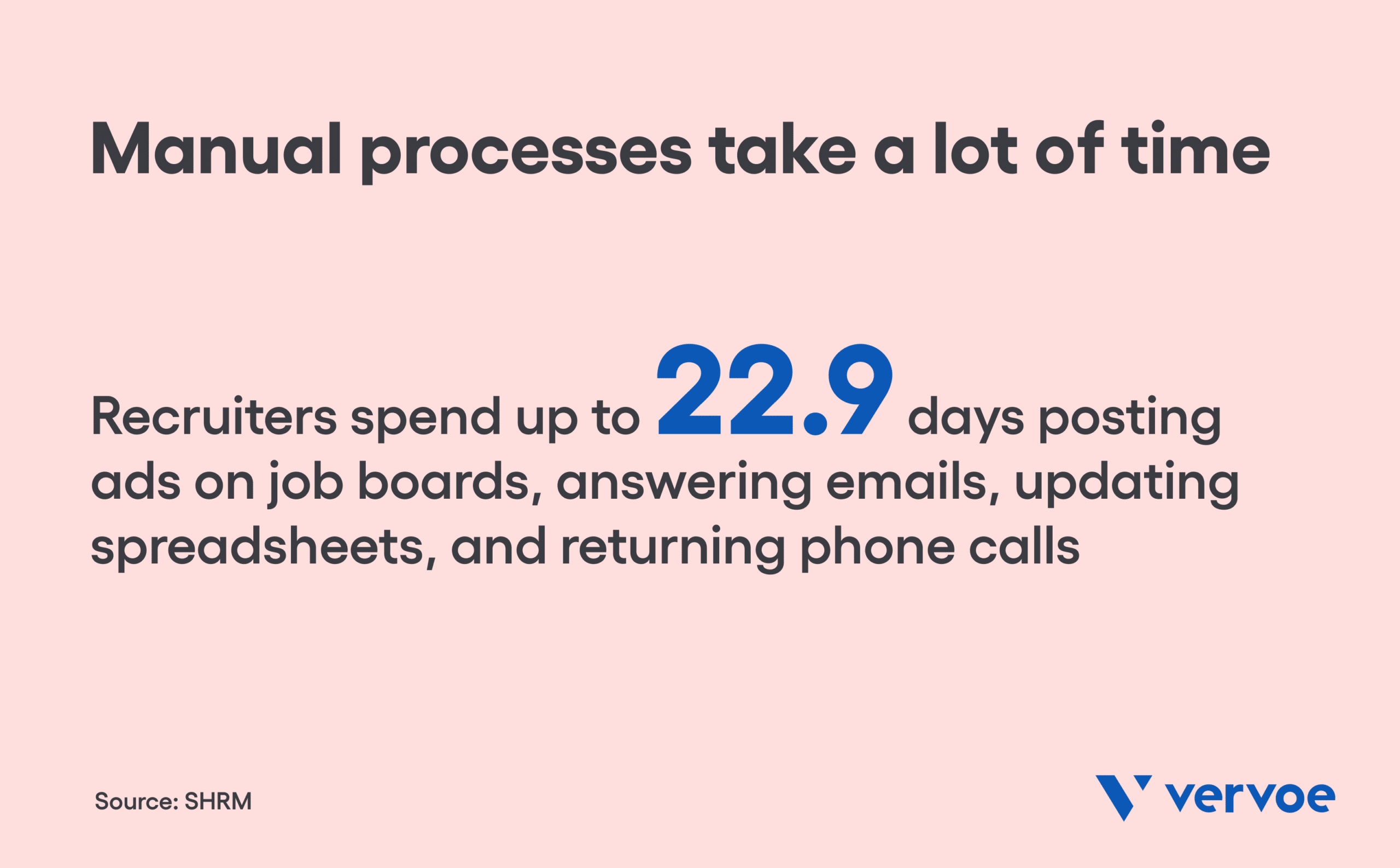 Time spent reviewing unsuitable applications
On average, hiring managers spend up to a week reviewing and responding to applications. Much of this time is spent completing manual tasks. With the right technology, you can narrow your applicants down to a pool of candidates that fit your requirements and are likely to succeed in the open role. This significantly speeds up the selection process.
Keeping track of an applicant's applications and information can be a challenge
When you rely on a manual system, keeping track of a candidate's applications and information becomes complicated. This can hinder effective communication with the applicant, which isn't a good first impression.
66% of job applicants believe that interactions with hiring managers show candidates what they can expect from a job and the company as a whole.
To get top talent in today's tough market, the recruiting process needs to be organized and efficient from top to bottom. That way, candidates can accept your offer without fear of what unorganized chaos the job might have in store for them.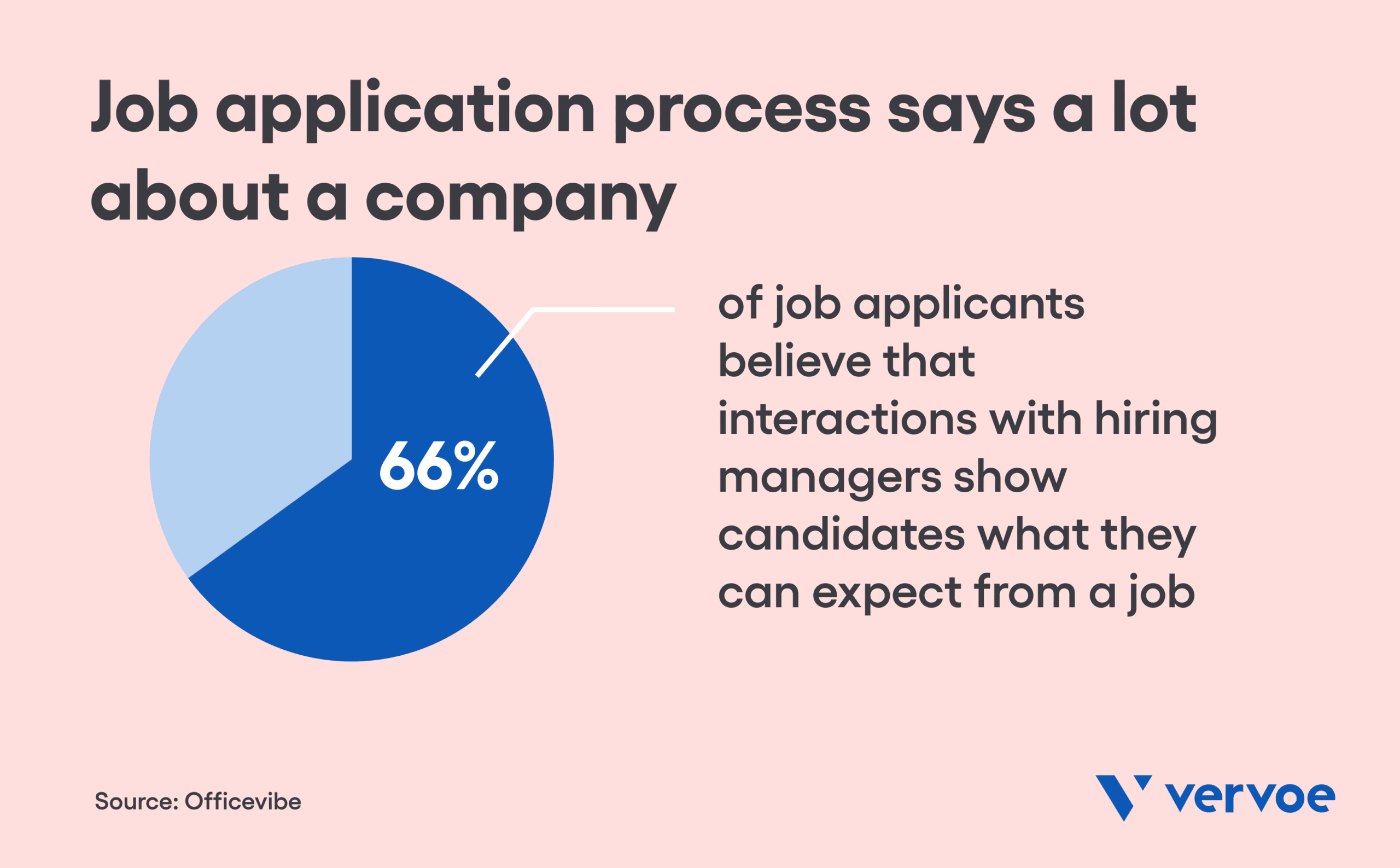 You may not hire the right applicant because the process is too slow
Research shows that top talent is off the market in less than two weeks. If you want to fill your open roles with top-tier candidates, wasting time is not an option. You need to get your role on the market, start sifting through applications and get the recruiting ball rolling as quickly as possible.
Candidate expectations
The more efficient recruiting processes become, the more candidates expect a swift and easy process — and they're willing to look elsewhere if you're not offering it. Up to 60% of candidates abandon a recruitment process when it becomes cumbersome. Some won't even apply to jobs posted on LinkedIn if the easy apply feature isn't activated. To hook the best candidates and keep them on the line, you need a hiring process that checks all the right boxes:
Simple
Fast and efficient
Transparent
Interactive
Seamless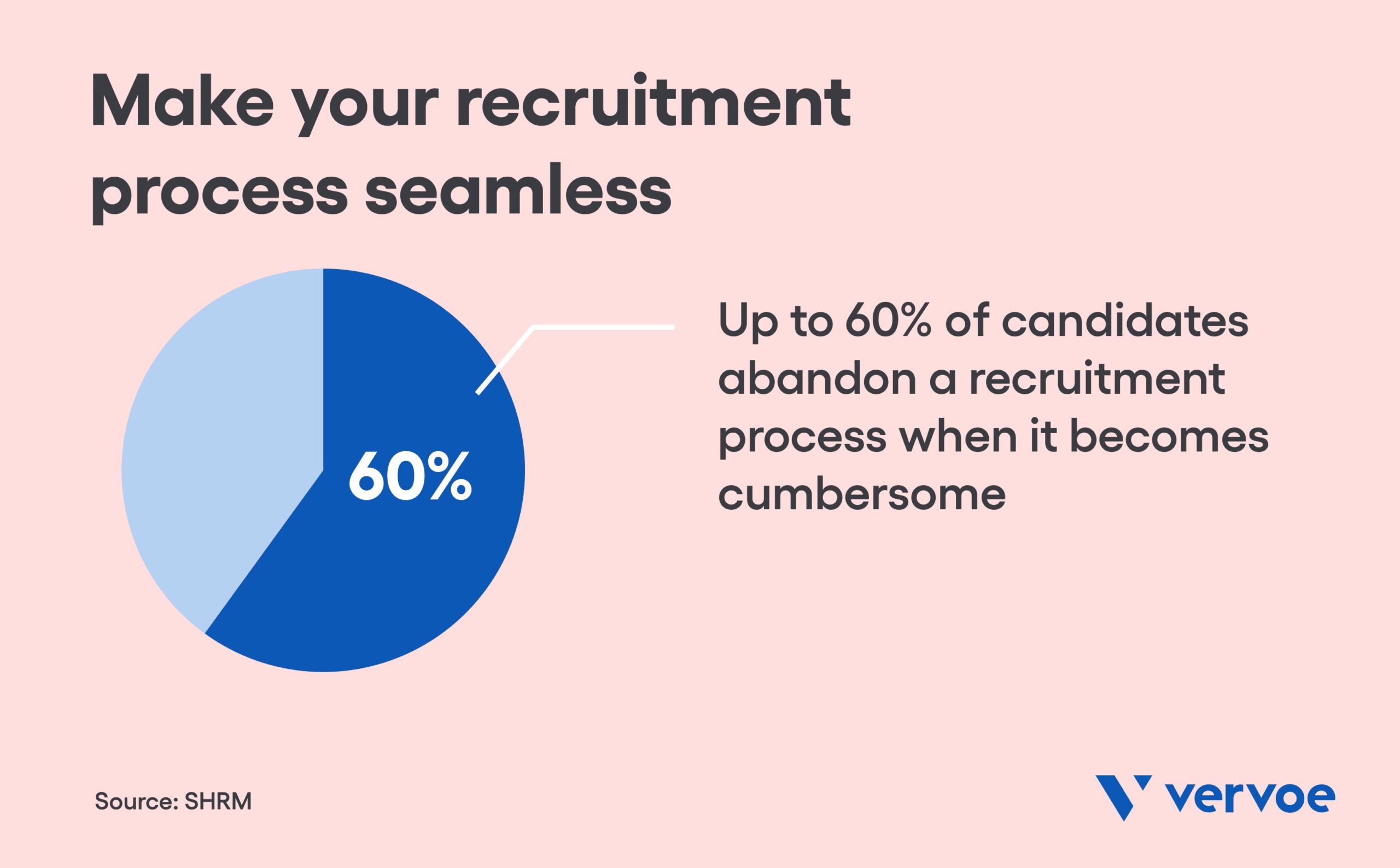 Leveraging Vervoe technology through skills assessments
After analyzing the challenges recruiters face and knowing what job seekers expect, the next step is finding the technology that simplifies the hiring process and guarantees a great candidate experience.
If you want to reduce turnover while hiring top talent in your industry, you need a robust and highly flexible skills assessment system in place.
Skills assessment tests dive into the nitty-gritty of the applicant's unique abilities. You won't just find out what candidates have done in the past — you'll also get insight into what actions they may take in your role through situational analysis.
Thanks to advances in technology, skills assessment tools are easily accessible, flexible, and affordable. They're convenient for hiring managers because they guarantee favorable candidate selection, reduce turnover, and benefit the company's bottom line.
Vervoe has a set of highly customizable tests to assess an applicant's skills, which is invaluable when it comes to deciding whether a candidate is the best fit for a job.
By using Vervoe skills assessments, hiring managers can significantly reduce screening time, sifting out applicants who can't demonstrate the skills needed for a role in a fraction of the time manual processes require.
It's highly efficient and eliminates the need for a larger team to assess each applicant's skills.
Unlike traditional methods, focused on background and education, Vervoe's hiring process is competency-based. This ensures every applicant gets a fair go, reducing bias.
Even if a candidate lacks experience in a directly related role, our hiring assessments pick up on any relevant experience that can be useful in the role they're applying for. Situational hiring assessments ensure that candidates who are well-equipped for the job without direct experience are also identified.
The recruitment process is consistent, which allows for equal treatment of candidates.
Applicants can even use skills assessments to analyze their skills, identify weaknesses, and work towards filling gaps for future applications.
How Vervoe skills assessments work
As mentioned earlier, Vervoe has a robust system for instantly selecting the best candidates from a large number of applicants. This facilitates an unbiased, authentic, competency-based assessment of an applicant's skills for the position in question.
Vervoe has a test library equipped with standard parameters that hiring managers use to select the right candidates. There are different types of skills tests that help find the right candidate for a particular job.
Here are the different categories:
Hard skills assessment
These tests measure a job applicant's skills in certain areas such as design, accounting, and IT. The results provide important information about an applicant's ability to perform assigned tasks.
In addition, there are tests and multiple questions created by top experts in various fields. The system is flexible and allows you to add and preview questions or tests from other assessment tools.
Work sample test
This test consists of realistic tasks that mimic specific activities that the employee will perform once hired. It can be case study presentations, technical coding tests, or situation assessment tests.
Vervoe's system applies immersive experiences such as work simulations and coding tasks to mimic an applicant's ability to perform work in a real work environment.
Soft skills
For soft skills, the system has a validated psychometric assessment that allows you to identify the skills that are in demand for a particular role, such as motivation, resilience, emotional intelligence, and conscientiousness.
Unlike traditional job interviews or resume reviews, competency testing allows recruiters to find diverse and high-performing individuals by analyzing a person's qualifications and experience.
Leveraging Vervoe's structured assessment system
In addition to skills assessments tests, Vervoe has a multi-stage process that evaluates and ranks applicants based on their performance. This eliminates the need to manually rank applicants based on specific parameters.
Competency ratings are tailored to the different stages of your recruitment funnel, simplifying the hiring process from start to finish. The system narrows the applicant pool until an in-depth interview and recruitment process is manageable for companies that wish to proceed in that route.
The funnel can vary depending on the company or applicant. For example, if you have a large company with a huge workforce, you'll need a more elaborate and formal process.
Top
Middle
Bottom
Objective
Tests candidates in an interactive session
Involves key tasks that test a candidate on essential job-related skills

Tests a candidate's communication skills
Focuses on a particular outcome through real-life job simulations. The tasks are more elaborate.
Basics
Screening candidates through:

Multiple-choice questions

Videos

File uploads

Quick test question
A blend of Multiple choice questions, video interaction, and media

Also includes task-based code challengesPresentationsDocuments uploads
Text

Code challenges

Documents

Spreadsheets
Duration
20 minutes
40 minutes
90 minutes
Skills needed
A candidate's qualifications

General knowledge
Job-related skills
A candidate's ability to deliver a particular simulation task
Media compatibility
Mobile phone
Works well with desktops or PCs
Works well with desktops or PCs and laptops
Leveraging Vervoe's hiring experience
Vervoe provides a reliable system that tests millions of applicants, siphoning out the best candidates with the most valuable skills, experience, and personalities. In addition, the system is equipped with a skills database that shares individual assessment results with applicants. This keeps the recruitment process transparent while giving applicants the opportunity to learn and grow from the application experience.
The system also enables human resource managers to track applicants' performance once they've been hired, definitively gauging whether or not hiring goals have been met.
And to top it all off, Vervoe creates a database for future assessments. While one applicant might not be the right fit today, they could be perfect for a position opening a few months from now. The database helps identify these opportunities for reconnecting with past candidates.
Hiring is tough right now. Implementing Vervoe into your hiring process can give your organization the best possible chance at attracting qualified candidates and developing a solid pipeline of talent for the future.
Find out why every hire you make should go through Vervoe by checking out Vervoe's free Hiring Playbook.