An employee value proposition or "EVP" is an often overlooked asset that organizations can utilize to save money, improve recruiting, and prevent brain drain. According to research from Gartner, "Organizations that effectively deliver on their EVP can decrease annual employee turnover by just under 70% and increase new hire commitment by nearly 30%".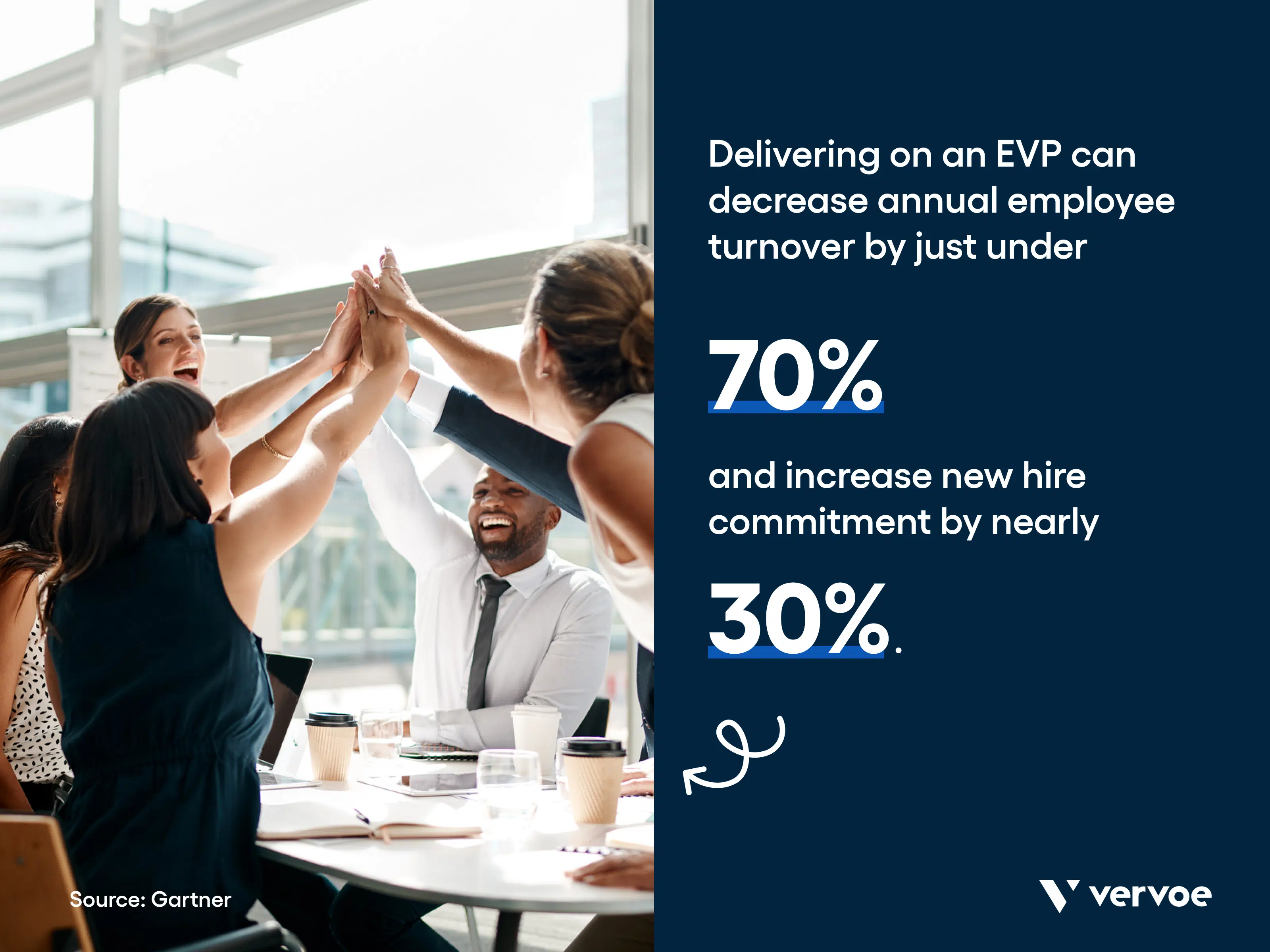 Many organizations have elements of an EVP in place. For instance, an organization may have a page dedicated to compensation and benefits, or a few recruitment videos featuring testimonials from existing employees. When combined under a clear statement of purpose, an EVP can improve the employee experience and attract future candidates.
What does employee value proposition mean?
An employee value proposition is a combination of rewards and benefits that employees are given in return for performing well at work. Gartner's research found that for most people, the things that make up a compelling EVP include compensation, work-life balance, stability, location, and respect. Essentially, an employee value proposition should provide incentives that not only reward hard work but create a supportive, inclusive work environment for all.
An EVP is manifested in a combination of statements, tangible benefits, and intangible culture. Some companies have strong EVP statements (see below for some EVP statement examples). Others utilize testimonials, quotes, or blog posts to provide a varied and diverse view of life at the organization. All EVPs describe the compensation, perks, and benefits available to those who work at the company. It also unites those at the organization under a common manifesto.
While an EVP plays a role in employer branding, these are two distinct assets. An EVP is internally-focused: it is a promise a company makes to its employees, defining what you will give in return for their dedication and talent. An employee brand is the value proposition that you market externally to potential candidates.
These two assets should align. Ensure that your EVP delivers on the promises that you make in your employer branding. Otherwise, customers, candidates, and employees alike will lose trust in your organization and your brand reputation will suffer.
[Read more: How Employer Branding Improves Recruiting]
Why do you need an employee value proposition?
An employee value proposition is more than just a marketing exercise. These programs can help reduce employee turnover, improve profits, provide a great employee experience, and build an inclusive workplace. Research shows that organizations that deliver on their employee value propositions are able to decrease employee turnover by nearly 70%.
EVPs don't simply address compensation, either. For instance, "your organization can reduce the compensation premium by 50% and reach 50% deeper into the labor market when candidates view an EVP as attractive," Gartner says.
In the US, health benefits and location are the second and third-highest ranked factors for employees considering a new job. Some of the companies use perks like paid family leave, stock options, and student loan repayments as part of their EVPs. It's up to your organization to find the right combination of incentives that simultaneously saves money and lowers turnover costs.
The best employee value propositions also help build the inclusive work environment needed to attract and foster diverse talent. We know that diverse companies outperform their more homogenous peers across a number of different metrics, including innovation, profit, and customer satisfaction. An employee value proposition that combines thoughtful benefits with fair and equal compensation is likely to increase a company's chances of bringing on diverse talent — and achieving big results.
[Read more: The 39+ Most Diverse Companies In 2021]
Best employee value proposition examples
Here are some strong EVP employee value proposition examples that you can use as inspiration to define your own EVP.
1. HubSpot
Hubspot's EVP starts with the tagline, "Your best work starts here". Hubspot's benefits page backs up that statement with a host of benefits, including unlimited vacation, fully remote work, five-year sabbatical, parental leave, "fun stuff", and more. The core promise of Hubspot's EVP is a balance between work and life that promises to "help you be the best 'you' that you can be". Hubspot is transparent about its priorities, with an emphasis on inclusivity and diversity, as well as a 100+ page document called the "HubSpot Culture Code" that details specifically how this culture is implemented.
2. Nike
One of the headlines of Nike's employee value prop is "Win as a team". That sentiment filters across the company's benefits and life at Nike depictions. Nike's culture emphasizes accomplishing innovation in the world of sport with a team mentality. It approaches benefits and compensation with the same perspective. The company offers perks such as fitness discounts, relocation benefits, competitive pay and retirement plans, and advanced learning opportunities, among other things.
3. Gartner
Gartner, a market research firm, articulates its EVP in five pillars: challenging work; talented people; limitless growth; community impact; and big rewards. Gartner is a large, global enterprise that is committed to diversity and growing the capabilities of its professionals. As far as rewards go, Gartner takes a holistic approach, offering benefits from telehealth and professional counseling to stock purchase plans to family leave, and ERGs. Gartner's EVP encourages employees to "live well — in all aspects of your life".
4. LinkedIn
LinkedIn's EVP is articulated in the trendy #LinkedInLife slogan, which encourages employees to post all about the company culture across the social media channel. The company offers a diverse set of benefits divided into categories such as health, family, passion, must-haves, and extras. This is a comprehensive benefits and compensation package, covering everything from childcare, eldercare, and pet care subsidies to education reimbursement and life insurance. Employees get a "paid shutdown" at the end of the year, in which the company closes for a week to celebrate.
5. PwC
PwC recently announced a company-wide initiative, "Be well, work well". The goal of this EVP is to prioritize the well-being of PwC employees across four dimensions: physical, emotional, mental, and spiritual health. This manifests in benefits such as access to mental health coaching, discounted gym memberships, a rewards program, and even counseling to quit smoking. PwC offers tons of other benefits to its employees, including a student loan paydown program and caregiver support. Mentor Moms connects new mothers with PwC working moms for guidance and coaching.
6. Airbnb
Airbnb unites its employees behind the mission, "Create a world where anyone can belong anywhere". This mission is supported by four core values that determine what it's like to work at Airbnb, values that champion inclusivity, caring, support, and innovation. Their EVP example ties in nicely with the travel community of guests and hosts that the platform empowers. Likewise, Airbnb offers a series of travel-friendly benefits, such as annual travel and experiences credit and paid volunteer time.
7. Starbucks
Starbucks' career site unequivocally states that employees can expect to work for a "different kind of company" when they join the coffee chain. Their EVP holds team members at every level in high regard. "We call our employees partners because we are all partners in shared success. We make sure everything we do is through the lens of humanity—from our commitment to the highest-quality coffee in the world to the way we engage with our customers and communities to do business responsibly," their careers page says.
Starbucks' rewards and benefits are varied and generous. Team members (partners) receive a free pound of coffee or a box of tea every week. The company also offers in-store discounts, a free Spotify Premium subscription, affiliate discounts, and even support to those partners who compete in sports at an elite level. There are commuter benefits, the opportunity to earn a bachelor's degree, parental leave, and even stock options available as well.
8. Canva
Canva offers not only a wonderful culture and benefits but a chance to contribute to something bigger. Canva team members have created 229 million designs per month — more than 80 designs per second. This statistic helps Canva articulate how much it means to be part of the collective power that makes Canva one of the fastest-growing companies in Australia. Canva's perks are also attractive: including free lunch and breakfast, free memberships to local fitness studios, clubs and sports, relocation benefits, and more.
9. Shopify
Shopify offers its employees "strong values and purpose, empathetic leadership, and a place where all people feel they belong". The e-commerce platform believes in building a diverse and inclusive culture where team members can make a real impact. It's a very people-first culture that allows employees to work virtually anywhere, focusing on core hours rather than commuting hours — employees can work when they're at their best and in an environment that sparks motivation and creativity. It equips employees with an internet allowance to work remotely and tons of learning opportunities both within and outside the company.
10. Merck
Merck is consistently rewarded as one of the best places to work, with accolades such as Glassdoor's 2021 ​​Employee's Choice Award and Forbes' 2021 America's Best Employers. Merck offers comprehensive benefits to its employees, including paid parental leave, year-end shut down days, a global recognition program, and flexible work arrangements that include flextime, summer hours, remote work, telework, job sharing, and part-time work. It also hosts a "Returnship" program for those who left the workforce to start or care for family, return to school, or follow a passion and are now ready to come back to work.
11. Strava
Strava takes a "values-based approach to the employee experience". Naturally, for a fitness platform, this translates into many wellness-based benefits, including a $1000 annual gear stipend, $500 annual gym reimbursement, weekly workouts, and free yoga classes. There are also many culture-based perks, such as free breakfast Tuesdays, twice-weekly dinner for those working late, and employee affinity groups. Strava also places high value on anti-racism initiatives, diversity, and inclusion.
12. Netflix
Netflix is beloved by consumers and by its employees. Their culture videos, like the one below, and blog show what it's like to work at the streaming platform. The company's culture memo offers a very detailed breakdown of how the culture prioritizes "people over process". It can be summed up in the five values:
Encourage independent decision-making by employees
Share information openly, broadly, and deliberately
Be extraordinarily candid with each other
Keep only our highly effective people
Avoid rules
Finally, we would like to include some Vervoe customers in this piece but only the ones that have great EVPs.
13. Salesforce
Salesforce is a giant in the enterprise software world and a Vervoe client. It prides itself on an EVP that falls across three pillars. The first is meaningful work, providing a compelling mission that makes each employee feel purpose-driven as they look to help customers connect in engaging ways and improve the state of the world.
"There's actually an opportunity to volunteer all together in your first week at Salesforce virtually," the company's Director of Employer Brand and Customer Engagements, Lindagrace De la Cruz told us in a recent webinar. "So you're creating a community and doing good for the environment, good for the planet all together in your first week."
The second pillar is about culture and working with good people in a good environment that values transparency, innovation, and customer success. And the third focuses on recognition, being recognized, and rewarded for the work you do.
Final thoughts
An employee value proposition should include some combination of the intangible and tangible benefits of working for your company. Intangible benefits would address things like diversity, inclusivity, and the culture within your workplace. Tangible benefits would be things like parental leave, salary, health benefits, and more. Each workplace is different, and your employee value proposition should reflect that: it's more than just a branding exercise. Your EVP is a manifestation of what it means to further your mission.
Check out our guide to creating your own employee value proposition and sign up for our newsletter for more hiring insights.