When hiring a new employee, you're looking for someone with the right characteristics to be a good organizational fit, be able to adapt and contribute to your culture, and have the soft skills necessary to thrive on your team. But above all, you want to make sure the candidate you pick has the right hard skills that will enable them to perform in the role.
Hard skills are the tangible, technical skills that directly impact a worker's ability to perform the main tasks associated with their role. They're the things in your job ad that candidates should be looking through and self-assessing their competency at. And they're one aspect of what you should be looking to test when you're hiring.
In this guide to hard skills, we'll spell out the difference between hard skills and soft skills, explain how hard skills differ from technical skills and tell you which hard skills are more in demand.
Reading this guide should provide you with the tools and tips you need to create better ideal candidate profiles, write better job ads, and have a better chance of getting the right workers with the right hard skills to fill your next open role.
What are hard skills?
Hard skills are technical skills that an employee must master to succeed at their job. While soft skills can refer to broader, more vague skills that sometimes refer to a quality a person possesses or make some reference to emotional intelligence, hard skills usually relate to the ability to complete specific, tangible tasks that are core parts of any job.
How to learn hard skills
Hard skills are usually learned through one of the following ways.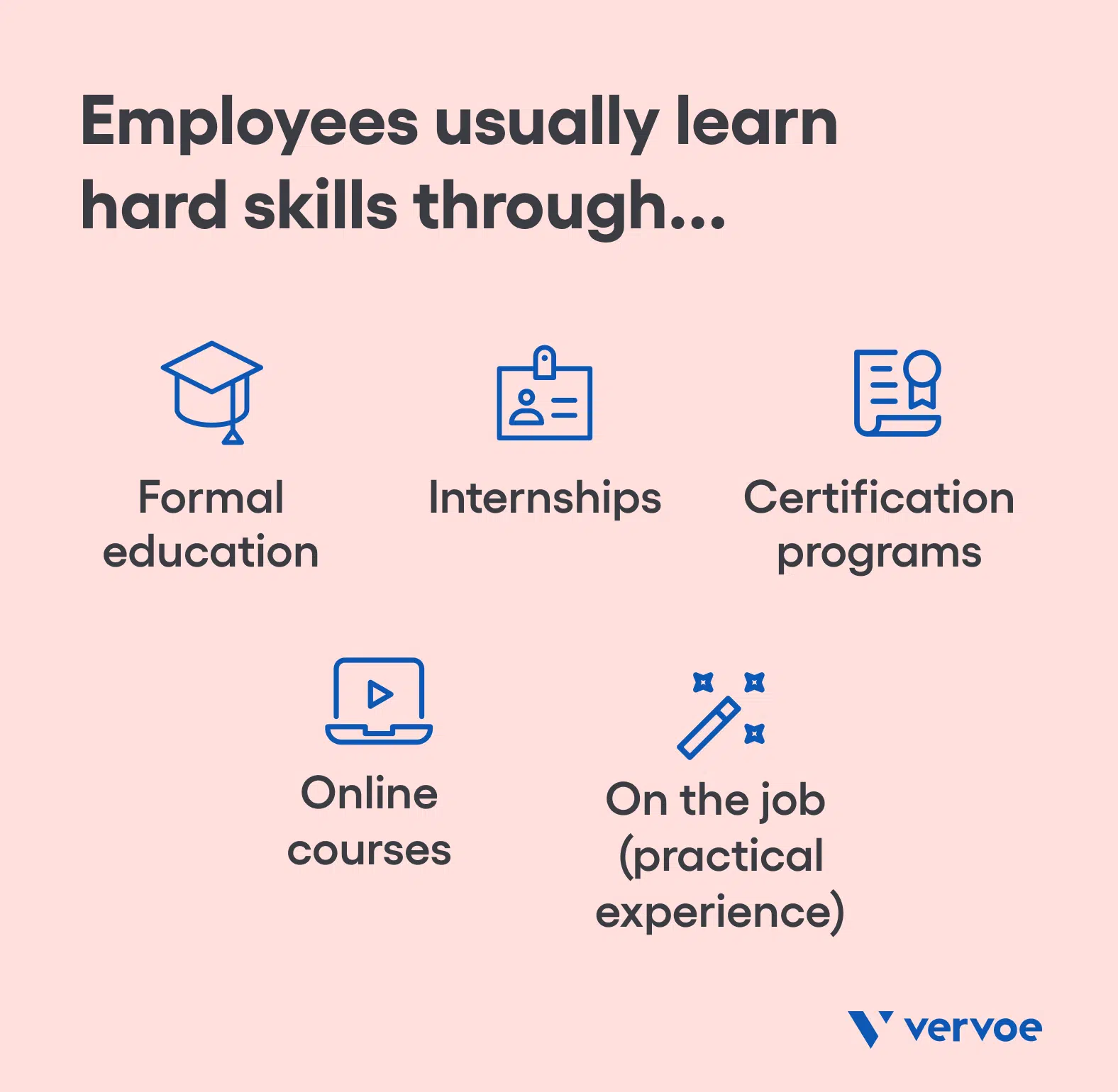 Formal education
This is one of the most common ways an employee can learn hard skills. Formal education means that the individual learned the hard skills through school (elementary, middle, high school, grad school, or university). An example of formal education would be a physicist or a doctor who got their formal education in a university.
Internships
Internships are when an intern — often a student or person new to the field — joins a business or organization to learn about the industry. They'll often be mentored by employees and take on a number of different tasks, learning on the job. Usually, internships last between 6 months and a year, but it's not uncommon for highly specialized and niche areas to have internships last for longer. Sometimes they can result in the intern getting a permanent position at the end of their internship.
Certification programs
A certification program helps people gain mastery over a set of skills or abilities. With a certification program, a person is granted a certificate that indicates that they have a sufficient level of mastery in a certain skill and that they can implement a certain standard over time. These programs have now evolved to online certifications with companies like Certsy offering skills verification, using Vervoe to test job candidates on particular skills they may heave self-taught or learned on the job.
Online courses
With online courses, an employee can learn different skills completely remotely. It's not uncommon for employees to take Massive Open Online Courses (MOOCs) such as Coursera or Udemy and learn new skills. One of the most popular courses on the platforms is related to programming and digital marketing.
On the job (practical experience)
Employees can also learn hard skills on the job. They can learn relevant skills by doing them for a prolonged period of time or they can bring their practical experience from previous jobs to the next one.
What's the difference between hard skills and soft skills?
Hard skills are job-bound; they're connected to specific tasks, sets of skills, and abilities that allow the employee to successfully complete a certain task. On the other hand, soft skills aren't job-bound. They're a set of personal habits, character traits, and behaviors that the individual brings into the workplace.
Soft skills are related to the worker's interpersonal abilities and qualities. You will sometimes hear the term interpersonal skills or transferable skills. Some common soft skills are effective communication skills, strategic thinking, and analytical skills.
All employees need a mix of both soft skills and hard skills to be productive team members in a professional setting.
Hard skills are easily quantifiable while soft skills are more elusive.
Hard skills are easily measured and indicate objective expertise on a topic, while soft skills are more subjective. It's easier to distinguish if someone knows how to use Python than if they're a solution-oriented individual.
Hard skills are easier to teach since they require observation and repetition, while soft skills are harder to teach since they require the individual to change a part of their personality.
When assessing candidates for open roles in your organization, you should aim to attract candidates that have the necessary hard skills to do the job, but who also have a set of specific soft skills that amplify that knowledge.
For example, having a software developer who knows how to code JavaScript is great, but having a software developer that knows how to code JavaScript and has excellent communication skills is even better. The combination of hard and soft skills is what brings the best outcome.
When screening candidates for an open job position, you don't need to screen them for every soft skill possible. Select the ones that are highly relevant for the position. For example, if you were hiring a mechanic, you might favor problem-solving skills over empathy.
What's the difference between hard skills and technical skills?
As stated, hard skills are skills that allow a worker to perform specific tasks within their role. Technical skills are a subset of hard skills.
Technical skills are specialized knowledge and expertise on tools and technologies that allow individuals to use their skills in real-world situations. Technical hard skills are applied in a variety of fields and industries such as IT, business administration, data management, health care, and software development.
Here are a couple of examples of hard skills that clarify the difference between hard skills and technical skills:
An individual has hard skills in business administration. They know how to structure the workflow for others, track time, and ensure that everyone involved in the project delivers their work on time and with high standards. That individual will then have technical skills that allow them to implement the hard skill of business administration; they will use technical applications such as ProofHub or Flodesk to apply their business administration knowledge.
An individual has received a medical degree from a university (hard skill) and they're using a program called Materialise (technical skill) for medical imaging and visualization.
An employee has sales skills (job-specific hard skills) and they're using Substrata or Salesforce to attract more leads and close more deals.
What are the top hard skills in the workplace?
Now that we've broken down what hard skills are, let's take a look at the top hard skills in the workplace. The following seven skills are currently in high demand in the marketplace, and hiring employees who have them can provide a competitive advantage for businesses.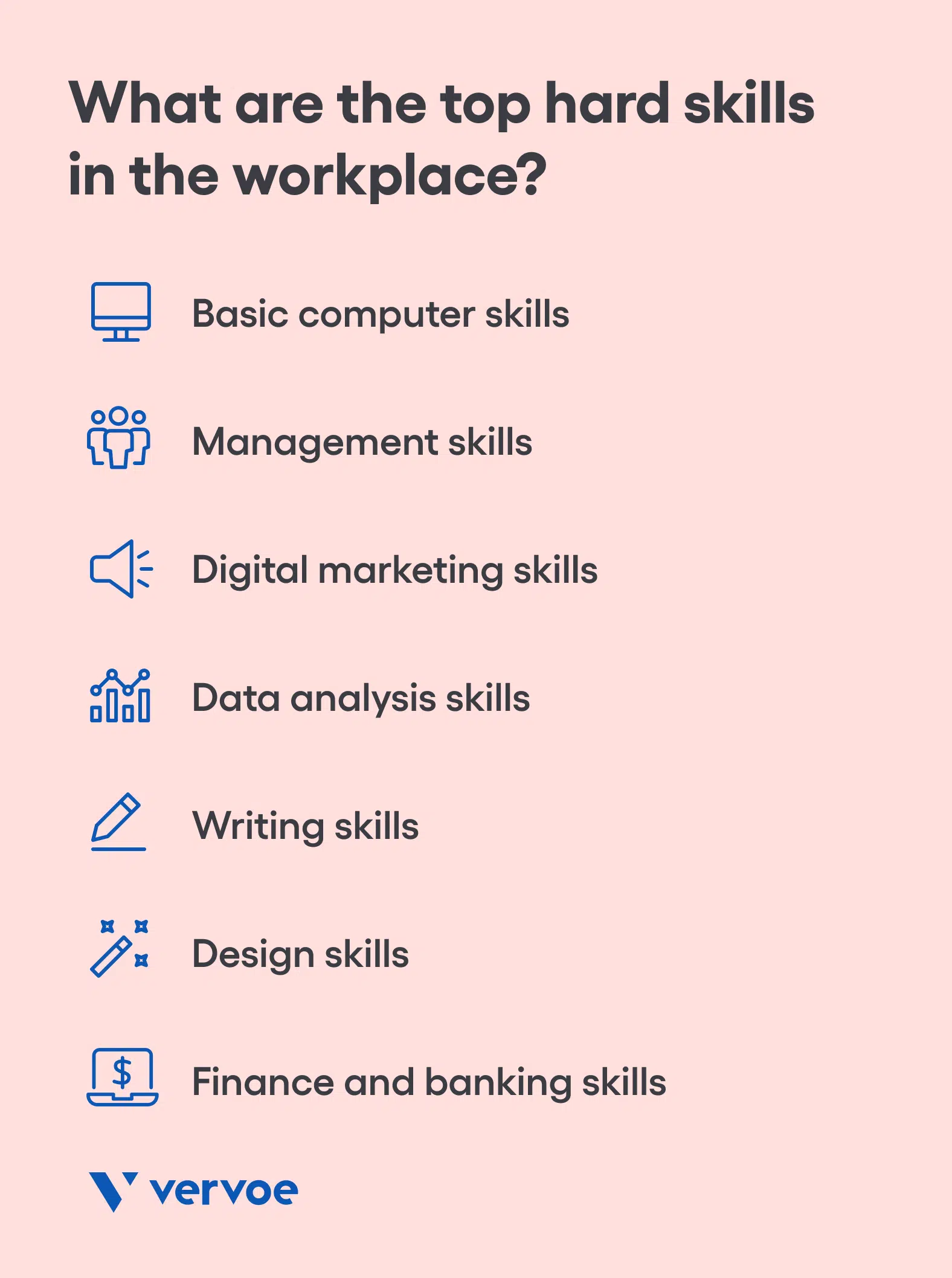 1. Basic computer skills
Computer skills are an umbrella term for skills such as Microsoft Windows and Microsoft Office, social media skills, and software development coding skills in programming languages such as Magento, C#, C++, Java and JavaScript, Python, HTML5, CSS, SQL, NoSQL (databases), Perl, and many others.
2. Management skills
Management requires good people skills and leadership skills. But it can also require job-specific skills such as project management, sales, HR, business development, planning, managing logistics, scrum management, and office management skills.
3. Digital marketing skills
When it comes to digital marketing skills, the employees who are working in the marketing department are usually expected to have some of the following hard marketing skills: Search Engine Optimization (SEO), Conversion Rate Optimization (CRO), AdWords or Facebook ads, social media management, social media marketing skills, PPC skills, email automation, and Google Analytics.
4. Data analysis skills
Companies have started to use data in almost all of their teams to analyze the challenges and make informed data-backed decisions. Employees can use different skills when it comes to data analysis such as data mining, Google analytics, analytical reasoning, research and diagnostics, data engineering, and data presentation.
5. Writing skills
Most employees in today's business environment will need to have good writing skills because they'll be using them almost on a daily basis. Writing skills such as email writing, technical writing, writing proposal, and research papers, writing memos, copywriting, content writing, reporting, press releases, editing, and proofreading are just some of them.
6. Design skills
Design skills such as skills in Photoshop, Illustrator, Autocad, User experience and user interface design, video production, and print design are all in high demand in the modern workplace.
7. Finance and banking skills
Skills such as auditing, bookkeeping, accounting, banking, and data modeling are all necessary skills in the modern workplace. These are particularly important for roles in finance, administration, and some management positions.
Why are hard skills important in the workplace?
Without hard skills in the workplace, there's no efficiency and productivity.
The employees need to have the required skills that will enable them to do what's written in their job descriptions and hit their targets, goals, and objectives. That's why companies need to ensure that they hire good candidates who have the necessary hard skills to fulfill their job duties.
On top of that, organizations need to keep track of the current skills and skill levels of their employees. The company needs to organize training for employees to update their skills and keep them relevant through time. It's not enough to just hire someone who has the necessary hard skills; you need to ensure that their skills advance with the flow of time or you risk them becoming obsolete.
How do you assess hard skills when hiring?
There are two main ways to assess hard skills when hiring candidates…
1. Implement competency assessments
When you're hiring candidates, you want to make sure that you hire the best possible candidate that can fulfill the tasks listed in the job description. You don't want to hire the wrong person because then you'll have to redo the hiring process which costs both time and money.
To avoid hiring the wrong worker, you should move to a skills-based hiring approach and implement pre-employment skills assessments in your recruitment process.
Using a skills assessment platform, like Vervoe, you can pick a relevant skills test from our library and invite candidates to complete it, or you can create one from scratch. Depending on the platform you use, you'll be able to track candidates' progress and mark each test as candidates submit them. If you're using Vervoe, you can sit back and watch our machine-learning AI auto-grade each test, based on your preferences. You can then compare candidates based on their competency at each task with the auto-ranking and candidate comparison features.
On top of their efficiency, providing a way of assessing candidates on the most relevant skills to the job, pre-employment tests like these reduce hiring managers' reliance on unconscious bias to make hiring decisions. Each hard skill is tested, along with each soft skill in a way that's less influenced by personality traits of a candidate that may distract from their raw ability.
You're not making a decision based on where job seekers went to school or what's on their CV. You're making a call based on their competency at core skills associated with the role.
2. Create a structured interview
There are a couple of elements that you need to get right before you start interviewing your candidates:
What position are you hiring for?
Who will make the questions and in what order will you be asking them?
Who will lead the interview?
What pedagogy are you using to score candidates?
Once you have answers to these questions, you'll be able to create a structured interview. With a structured interview, you're asking all of the candidates the same set of questions in the same order.
To properly evaluate the candidates, you should also make sure that all of the interviewers have scorecards so that you can compare candidate scores later on.
When it comes to specific technical questions for the open position, you should go through a collaborative hiring process and have other teams help you out.
For example, if you're hiring a programmer who needs to know to code in JavaScript, you need to ensure that you collaborate with your software development team by asking them to come up with questions to help you understand the skill level of the candidate. With this, you don't need to know how data structures work in JavaScript, you just need to ask someone in your company who does know.
The same principle applies when you're hiring a candidate for any of the other teams. Use the expertise of the teams around you to help identify the right candidates in the interview process.
3 ways to develop employees' hard skills?
There are three ways how you can develop your employees' hard skills:
1. Set up company-wide training
Did you know that the average half-life of skills is only four years? According to the research done by the World Economic Forum, you should invest in training your employees since their skills in four years will only be half as valuable as they are now. So you should invest in training your employees to keep their skills relevant.
2. Use 1-on-1 meetings to identify professional development goals
Team leaders and managers should decide on professional development goals with their employees. In 1-on-1 meetings, they can help the employee set up goals such as improving their hard skills and then hold them accountable.
3. Provide Massive Open Online Courses (MOOC) for training
MOOC such as Udemy or Coursera are great ways to help workers learn hard skills or increase their proficiency levels. By providing your employees with accounts on these platforms, you can give them a convenient way to start learning and developing new hard skills that will be useful in the workplace. It creates great value for you as you're upskilling your employees, and makes them more hireable in the long term.
Conclusion
Finding the right candidate means verifying their hard skills and the best way you can do that is by giving them a pre-employment skills test. If you want to start implementing pre-employment skills assessments in your company, you should start using Vervoe today. Or Book a demo to see the power of our platform.