While every company's internal structure is different, how do you know if a Sales Account Executive or a Sales Account Manager is the right hire for you?
Despite being one of the oldest professions in the world, there's a lot to know about working in sales. As a general rule, successful sales positions require a combination of skills, including communication, relationship building and problem-solving – but there's a lot more to it, depending on your company's needs and growth goals.
While the type of sales role will often dictate what skills top candidates need to possess in order to succeed, identifying those skills requires clearly defined positions, with two of the most commonly muddled roles being a Sales Account Executive and a Sales Account Manager.
The importance of hiring the right salespeople
Like it or not, hiring the right salespeople is a critical factor in achieving success and growth for any business. Sales professionals are the driving force behind revenue generation, and the right team can make all the difference in achieving business objectives.
In fact, research from Harvard Business Review indicates that companies with effective sales teams are 81% more likely to have higher revenue growth than those with ineffective teams.
Dollars aside, another primary reason why hiring the right sales staff is important is because they are ultimately the face of the company to potential customers.
First impressions count, and these types of industry experts have the ability to establish relationships with customers, and create a positive impression of the organization.
Inevitably, this then leads to the revenue growth that managers and department heads want top sales talent for in the first place.
To confirm this, a study by the Corporate Executive Board found that B2B customers who have a high opinion of a salesperson are more likely to buy from that salesperson again and refer others to do the same. Put simply, good sales staff are the gift that keeps on giving.
On the flip side, the cost of hiring the wrong salesperson can be significant. According to a report by DePaul University, the cost of a bad hire can range from 30% to 200% of the employee's first-year salary.
While this figure includes costs associated with lost productivity, recruiting and training, and potential customer dissatisfaction, it still doesn't cover the risk of lost revenue.
Many recruiters make the mistake of assuming that to hire salespeople, all roles in this field demand the same types of skills. In reality, this couldn't be further from the truth, especially when comparing the key points of difference between an Account Manager vs Account Executive.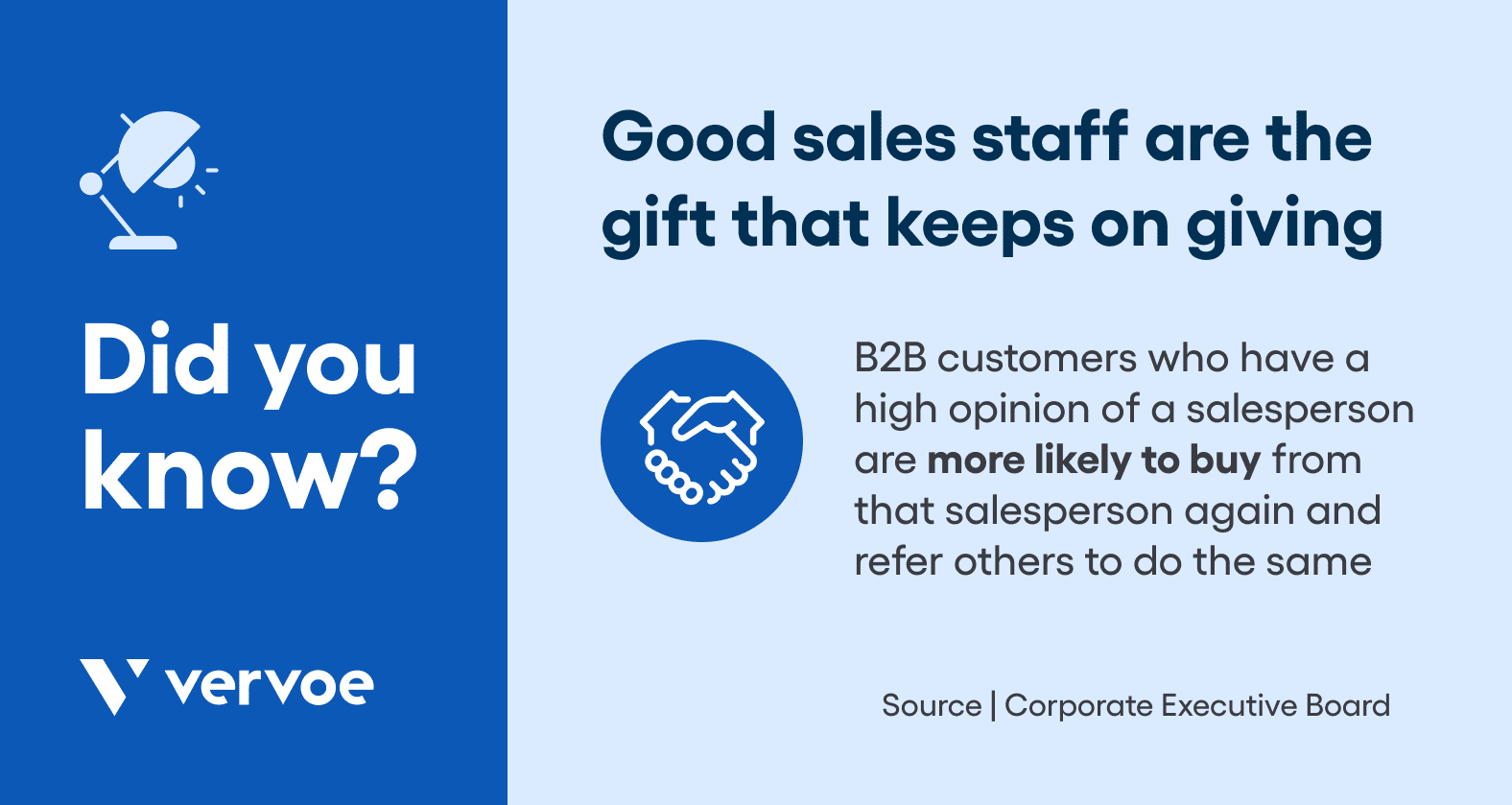 Is a Sales Executive and Account Manager the same?
No. Despite the roles often being used interchangeably, a Sales Account Executive and a Sales Account Manager are actually two completely different positions.
If your organization is looking to generate new business and expand its customer base, then hiring a Sales Account Executive who can focus on lead generation, customer acquisition, and sales may be the right choice.
A Sales Account Executive can help your company grow by identifying potential customers, promoting products or services, and closing deals. Essentially, they're all about acquisition.
On the other hand, if your organization already has a sizable customer base and wants to focus on maintaining and growing those existing relationships, then a Sales Account Manager may be a better fit.
Unlike the responsibilities of a Sales Account Executive, this position can help your company retain clients, increase customer loyalty, and generate additional revenue through upselling and cross-selling.
A Sales Account Manager can also help identify opportunities to improve the customer experience, address any concerns or issues, and act as a liaison between the customer and the company. Think of this role as being one that focuses on retention.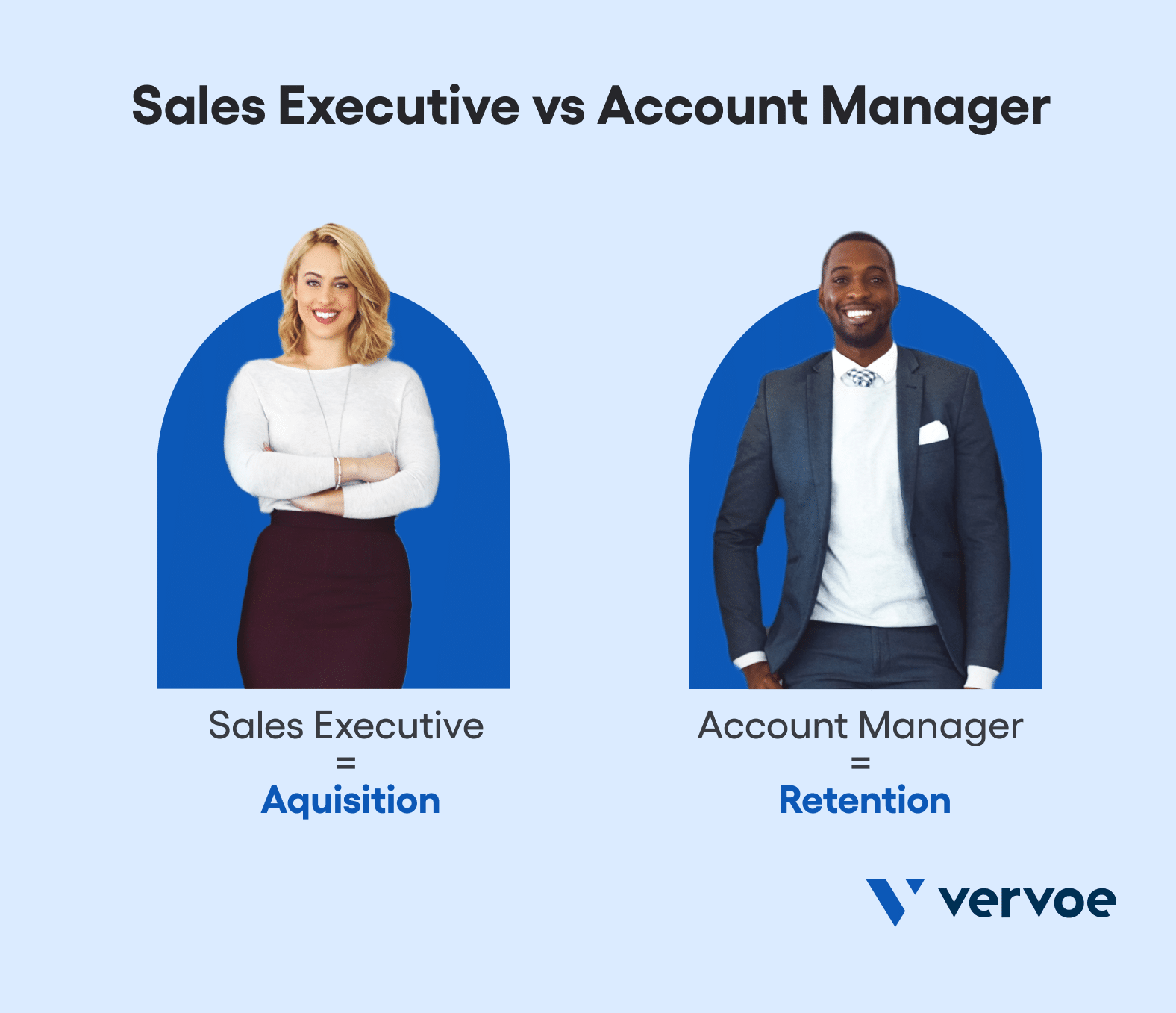 What is a Sales Account Executive?
If you're unfamiliar with this role, an Account Executive is a sales professional who is responsible for generating revenue, primarily by developing and maintaining relationships with clients.
As the role is sales based, Account Executives are present across a wide variety of industries, such as advertising, technology, or professional services, or basically any sector that requires the promotion and sale of products or services to businesses.
Account Executives must possess excellent communication and interpersonal skills, in addition to possessing a strong understanding of the products or services they are selling, and the needs of their target market. Quite often, these professionals need to be able to work well under pressure in order to meet their quotas.
In addition to sales and relationship management, Account Executives may also be responsible for market research, creating and delivering sales presentations, and managing client accounts. They may work closely with other departments, such as marketing and product development, to ensure that customer needs are met and sales goals are achieved.
While they typically have a bachelor's degree in marketing, advertising, or a related field, relevant work experience in sales or business development will often deliver the same skills – if not more so – as a tertiary qualification.
According to the most recent statistics collected by the Bureau of Labor Statistics, the median annual wage for advertising sales agents, which includes Account Executives, was $52,340. It's also worth noting that the lowest 10% earned less than $28,700, while the highest 10% earned more than $125,370.
The job outlook for Account Executives is expected to grow by 3% from 2020 to 2030, which is about as fast as the average for all occupations.
Overall, Account Executives play a crucial role in driving revenue growth for businesses in a wide range of industries, making them an important part of the sales and marketing landscape.
What is a Sales Account Manager?
In contrast to the responsibilities of a Sales Account Executive, a Sales Account Manager essentially operates on the opposite end of the spectrum, and focuses on managing client accounts to ensure they are satisfied with the products or services they are receiving, all as a means to enhance retention.
Much like a Sales Account Executive, Account Managers work across various industries, where they build and maintain relationships with clients, upsell and cross-sell products or services, and identify opportunities for revenue growth.
In addition to the day-to-day requirements of managing client accounts, Account Managers may also be responsible for creating and executing account plans, tracking customer satisfaction, resolving issues or concerns, and collaborating with other departments to ensure customer needs are met.
To succeed in their role, a Sales Account Manager must be an effective communicator, have strong business acumen, and are results oriented.
A bachelor's degree in marketing, business, or a related field is considered to be a "nice to have", but relevant work experience in account management or customer service is often considered to be just as important.
The latest figures from the Bureau of Labor Statistics show that the median annual wage for advertising, promotions, and marketing managers, which includes Account Managers, is $133,460.
The job outlook for advertising, promotions, and marketing managers is expected to grow by 10% from 2020 to 2030, which is much faster than the average for all occupations, and is arguably an indication of the increasing demand for client retention for a growing number of organizations.
A Sales Account Manager plays a critical role in maintaining and growing client relationships, generating revenue, and ensuring customer satisfaction for businesses in a wide range of industries. Without them, companies risk losing the clients they worked so hard to attract in the first place.
Is an Account Manager higher than a Sales Executive?
No. Despite what the names of the positions would suggest, Account Managers and Sales Executives are often equal within a company's hierarchy. The positions usually require similar training, education and skill sets, so one is not necessarily higher ranking than the other.
However, in large companies or organizations that handle extremely large or valuable accounts, senior Account Managers with more experience might get assigned to those accounts rather than novice Account Managers, and the same may happen with Account Executives.
Account Managers usually report directly to the Account Director or Agency Director of the activity and status of accounts and transactions. An Account Manager may also manage a single account or a variety of accounts depending on the requirement of the company.
In contrast, a Sales Account Executive usually works with various internal employees such as the Sales Manager or Sales Associate. Depending on the company hierarchy, they can report to the Vice President of Sales or Senior Director of Sales.
Therefore, it's not uncommon for Sales Executives and Account Managers to report to completely different department heads despite their similarities.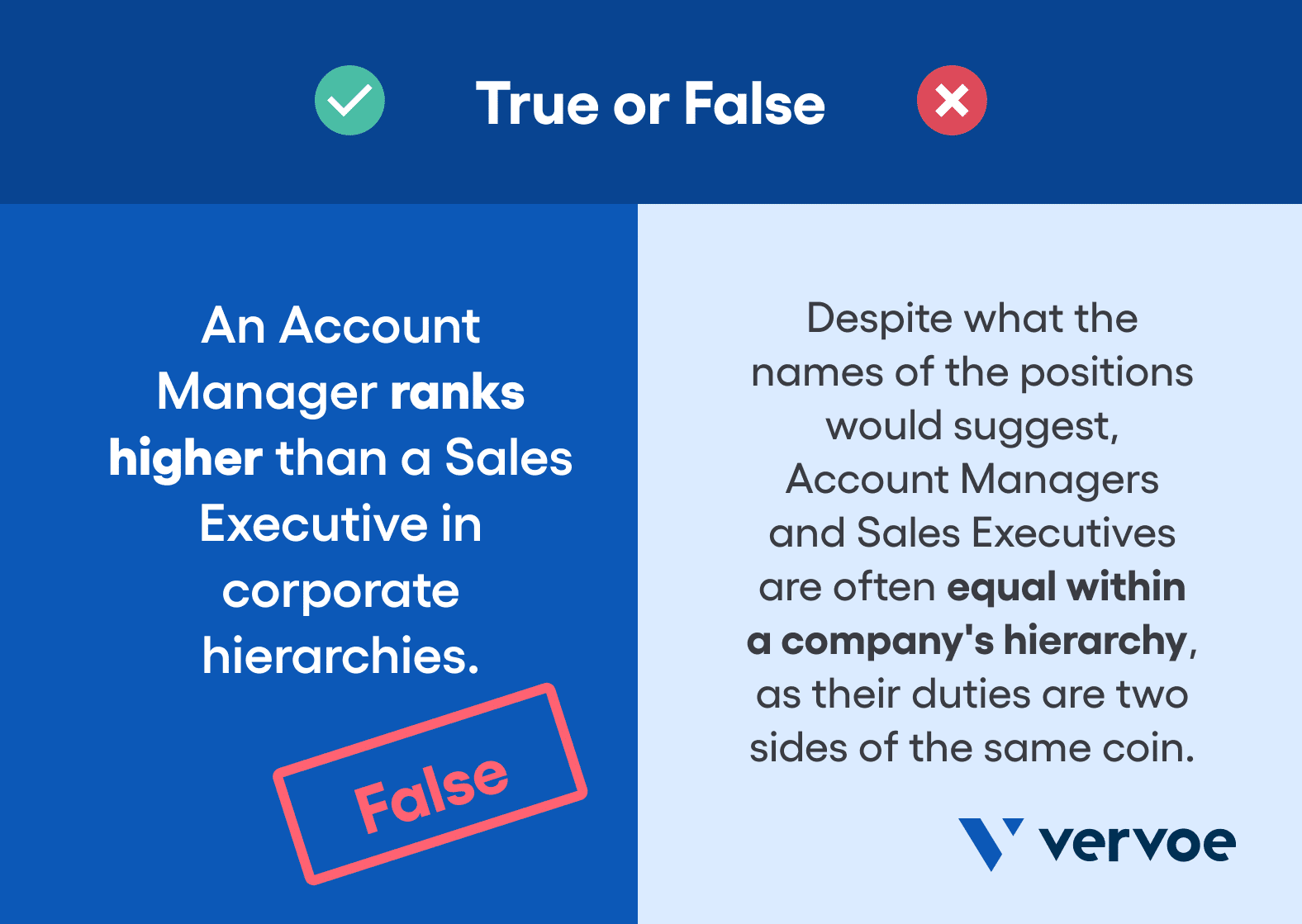 The problem with identifying top talent in sales
Anyone looking to hire salespeople needs to keep one vital thought in mind: sales professionals often have great communication skills and can sell themselves, which makes it incredibly difficult to identify candidates who can walk the walk, and not just talk the talk.
Sales is a results-driven profession, and assessing a salesperson's performance can be challenging. Factors such as market conditions, product quality, and customer needs can all impact a salesperson's performance, making it difficult to attribute success or failure solely to the individual.
[Watch Now – How To Hire Sales Reps That Hit Targets]
While skills such as communication, persuasion, and relationship-building are essential for sales success, attitude and work ethic are equally important.
Finding candidates who possess the right combination of skills and attitude can be challenging, especially in a high-pressure, results-driven profession that can lead to burnout and high turnover rates.
Salespeople come in different shapes and sizes, with unique backgrounds, skills, and personalities. Identifying the right fit for a particular sales role requires a deep understanding of the organization's sales needs, as well as the ability to assess candidates' potential to perform effectively in those roles.
Once you've settled on what type of sales based role your company needs, particularly with the battle between an Account Manager vs Account Executive, the easiest way to find the right person for the role starts with giving your recruitment process an overhaul by embracing skills-based hiring practices.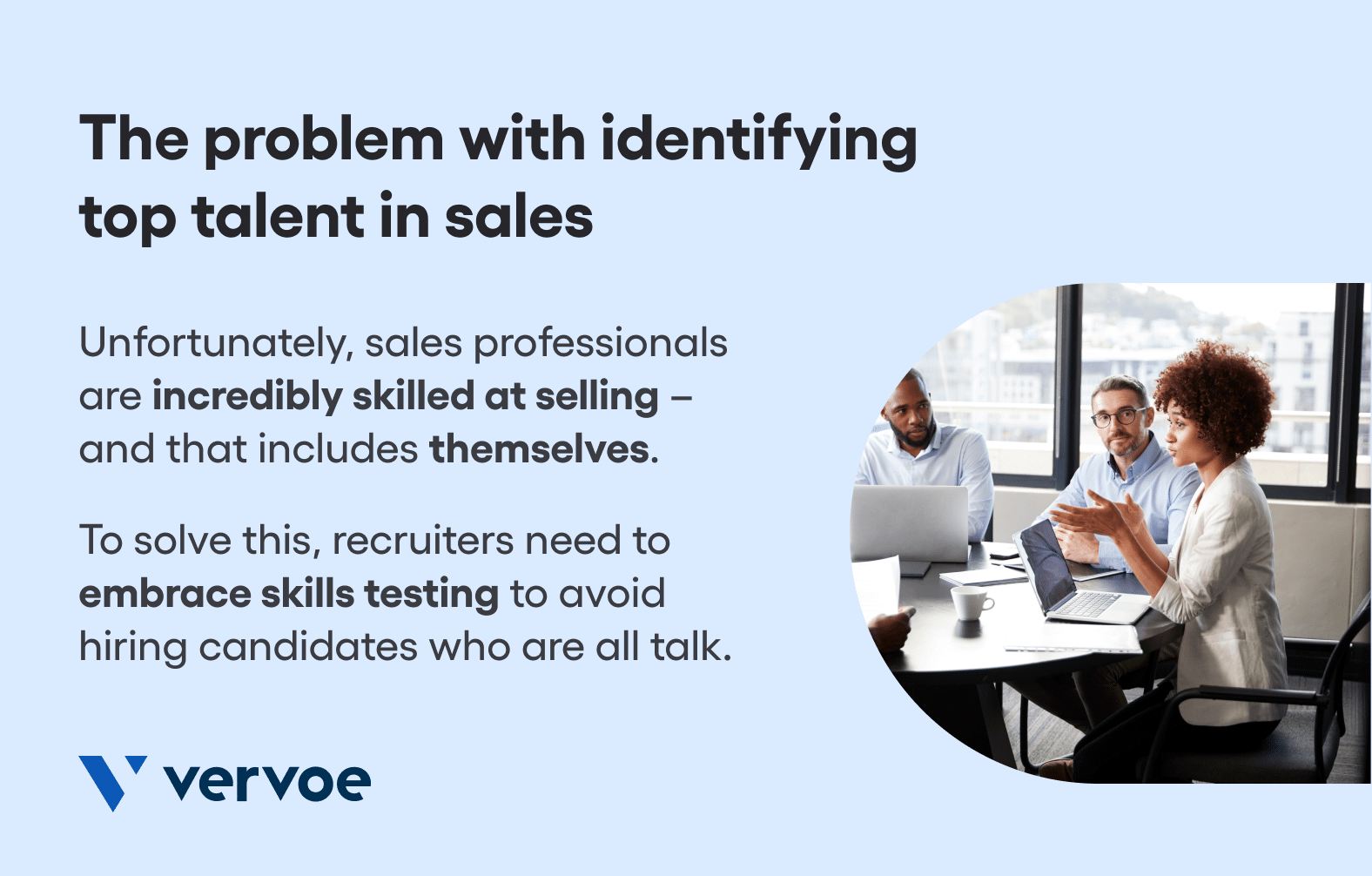 How a sales skills assessment can revolutionize your hiring process
As sales become more complex to master in challenging economic conditions, companies are understandably looking for highly skilled applicants with strong communication, negotiation, and problem-solving skills.
Unfortunately, sales professionals are incredibly skilled at selling – and that includes themselves.
While sales is one of the biggest professions in the world, less than a quarter of all sales reps exceed quota.
What's more, is that employee turnover in sales is three times higher than other professions – which makes creating good recruitment strategies all the difficult for hiring managers.
To help companies avoid the disastrous consequences of making a bad hire, Vervoe's latest role specific job simulations have been custom built to address top, middle and bottom of the funnel sales based positions.
After conducting significant market research, the three roles that the new suite sales skills assessments will focus on hiring are Sales Development Representatives (top), Account Executives (middle) and Account Managers (bottom).
In a fully immersive CRM environment known as a job simulation, candidates are taken through a series of tasks, including pitching and presenting, objection handling, and closing across communication channels that include email, phone, video link and other documents.
This way, hiring managers can quickly identify highly skilled sales professionals who can not just talk the talk, but can walk the walk. Ready to take our Sales Simulations for a test drive?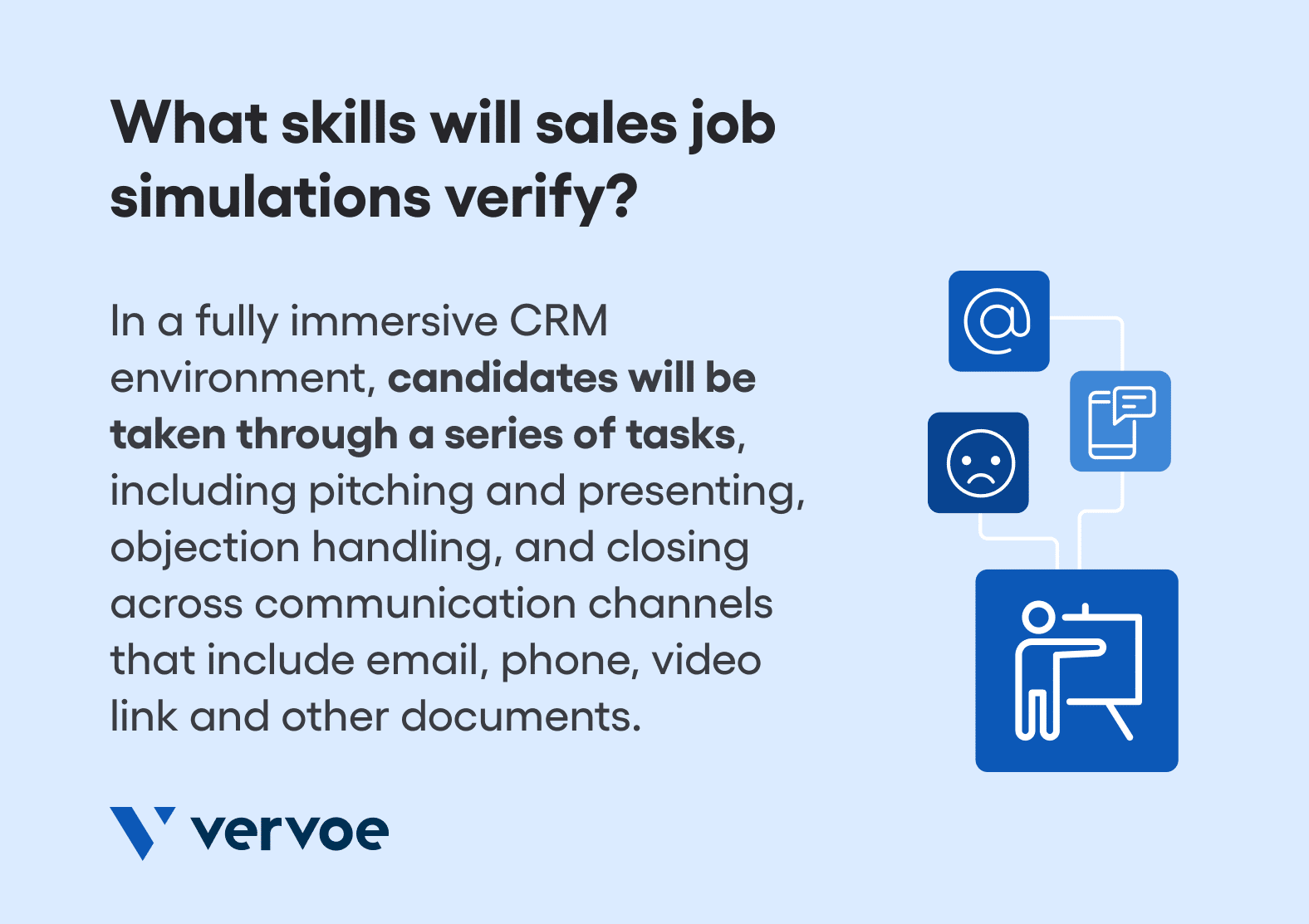 Talent stands out with job simulations
Vervoe is an end-to-end AI-powered solution that is proudly revolutionizing the hiring process through skills testing, job simulations, and machine learning recruitment.
By empowering businesses to create role specific assessments designed to suit the unique requirements of a position, Vervoe predicts performance through skills-based hiring practices that showcase the talent of every candidate.
Ultimately, our job simulations focus on the work — and not the person. To see people do the job before they get the job, book a demo today and let our experienced team run you through Vervoe's full range of ready-made and tailored solutions.