A good employee onboarding experience shows new hires that their workplace prioritizes the well-being of their team — so what can managers do to get it right, and when should the process start?
Most of us have started new jobs before, and understand the nerves that this experience can instigate. Much like your first day at school, it's natural to feel pangs of anxiety about wondering how you'll fit into the social hierarchy, whether your grades will be good enough, and learning how everything works in this new environment.
In the same way that schools have orientation programs for new students, employee onboarding is an essential part of ensuring that new hires are comfortable in their new working environment, can more easily acclimate, and are given the tools to ensure they're on the right path to success.
Although onboarding employee software can help with this, managers are often the first point of contact for an employee's life at a company. Furthermore, good employee onboarding isn't as simple as ensuring that the staff manual is up to date, and should instead be viewed as a multifaceted initiative. But where do you start?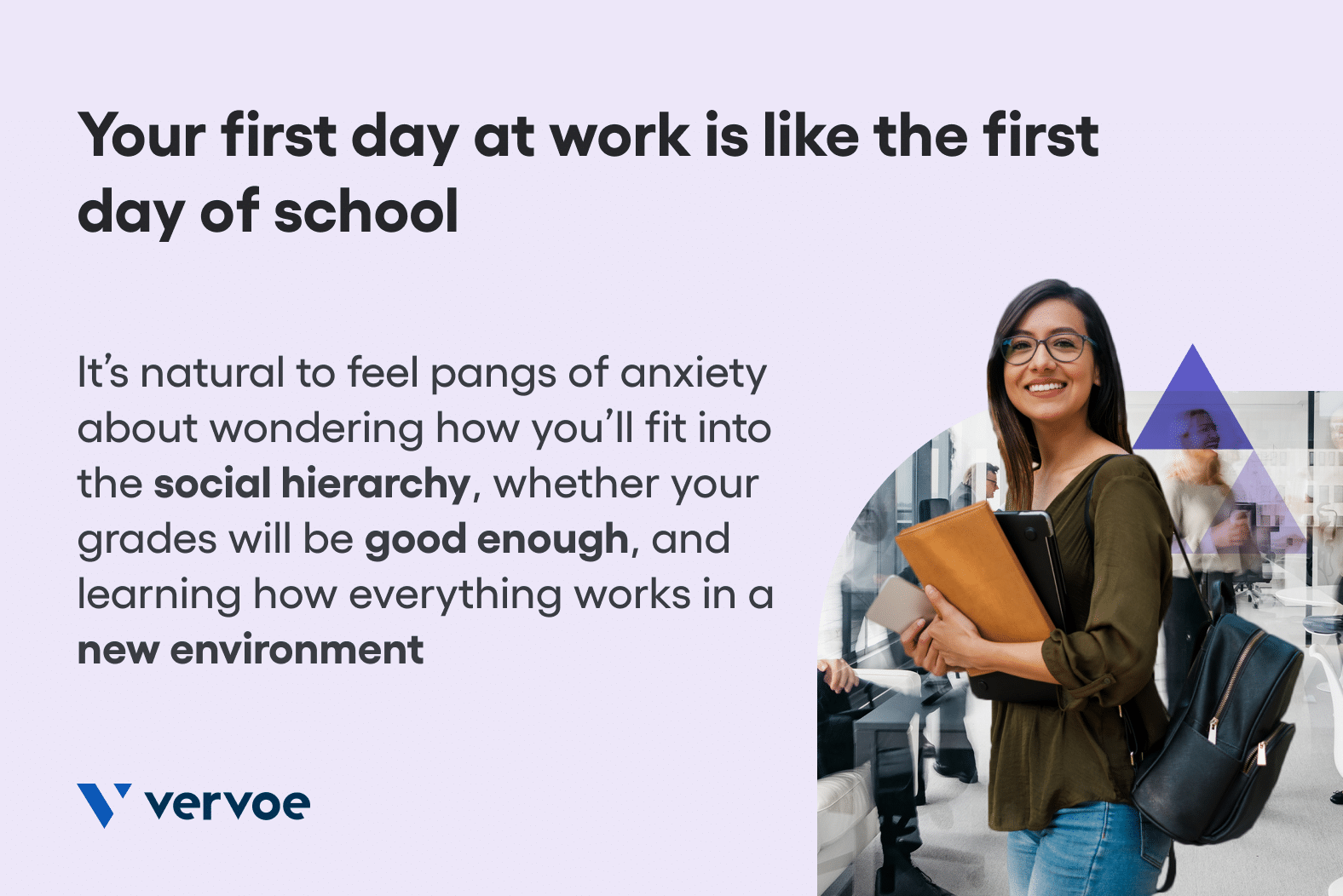 What is employee onboarding and why is it important?
Employee onboarding is the process of integrating new team members into an organization and is designed to help them adapt to their new roles, team, and work environment.
The process typically involves a combination of orientation, training, goal-setting, and socialization activities, all with the aim of assisting the new employee to feel connected to the company's culture and values, while getting them up to speed on how things work at a specific company.
Understandably, new hires can take a while to operate at their full capacity. In fact, data suggests that new hires have a productivity rate of just 25% during their first month on the job after completing new employee training. That number then increases to 50% in their second month of work, before increasing to 75% in their third month on the job. Despite this, employee onboarding programs rarely ever match this same time frame.
What's more, is that according to a recent CareerBuilder survey, over a third of employers do not have a structured onboarding process at all, and a significant number are reporting costly consequences.
Of those surveyed, negative outcomes of poor employee onboarding processes include lower productivity, higher employee turnover, lower employee morale, a lack of trust within the organization, and even missed revenue targets.
In contrast, good employee onboarding programs have been proven to improve new hire retention by 82%, and productivity by over 70%. Not only does this show an uptick in positive experiences for new hires, but organizations who prioritize their employee onboarding are seeing a tenfold return on their investment. So what separates the good from the bad?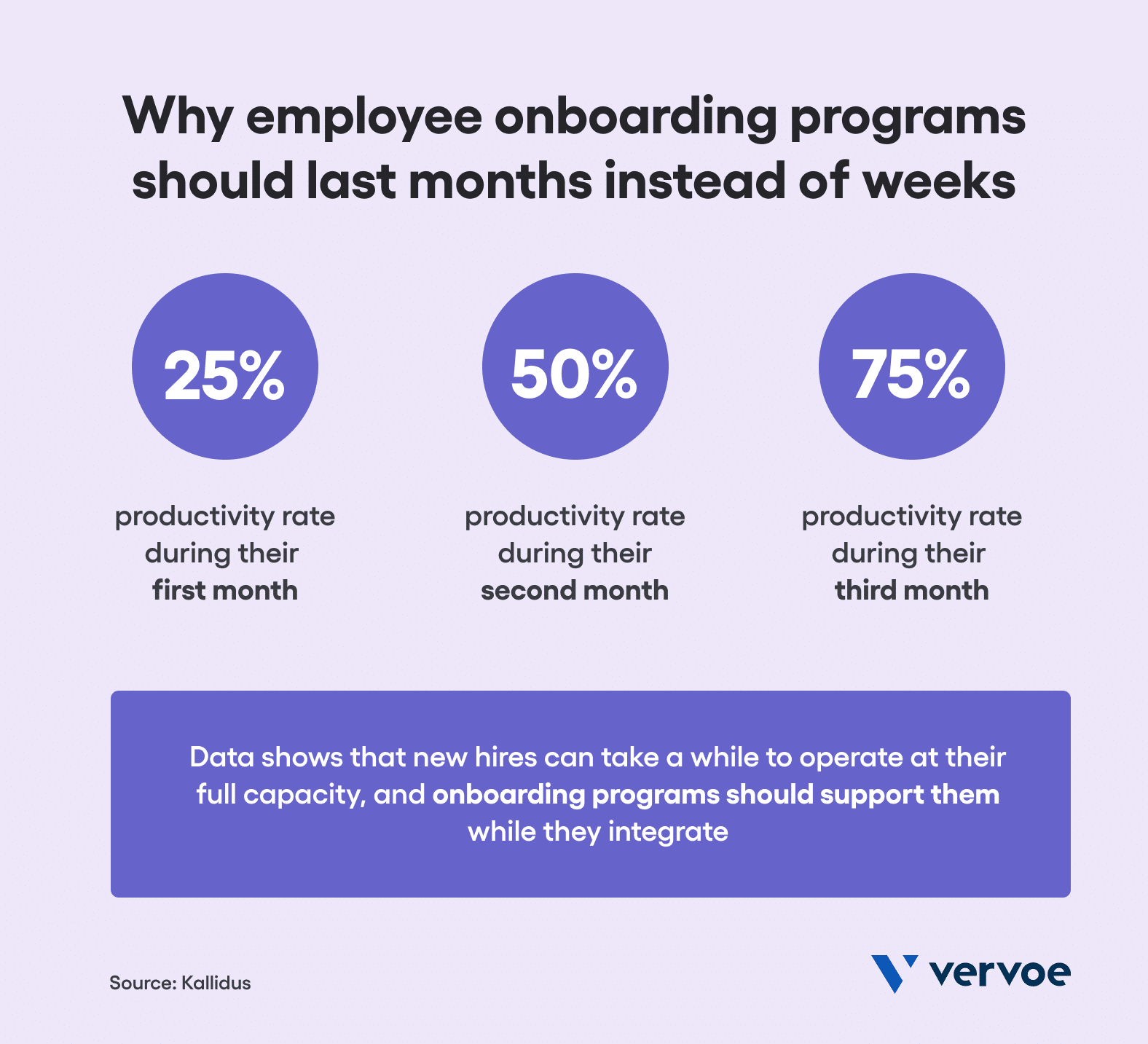 Employee onboarding starts long before the candidate is hired
We're going to let you in on a little secret.
The primary benefits of good employee onboarding, such as reducing job shock and setting clear expectations, start from the moment you receive an application from a potential candidate.
Failure to produce accurate job descriptions on an advertisement will increase the chances of making a bad hire, as does failing to validate skills.
If you aren't actively testing the skills of potential candidates during the hiring process, then the employee onboarding process has the capacity to become much more difficult if you've failed to identify a skills gap early on.
In addition, using job simulations as a part of your recruitment and employee onboarding process helps to ease a future hire into their role. This way, the candidate has a preview of what they can expect from a role.
For hiring managers, this technology also helps them to hire with confidence, and do everything in their power to fill the vacancy with the best person for the job – which of course, makes the employee onboarding experience significantly easier for all parties involved.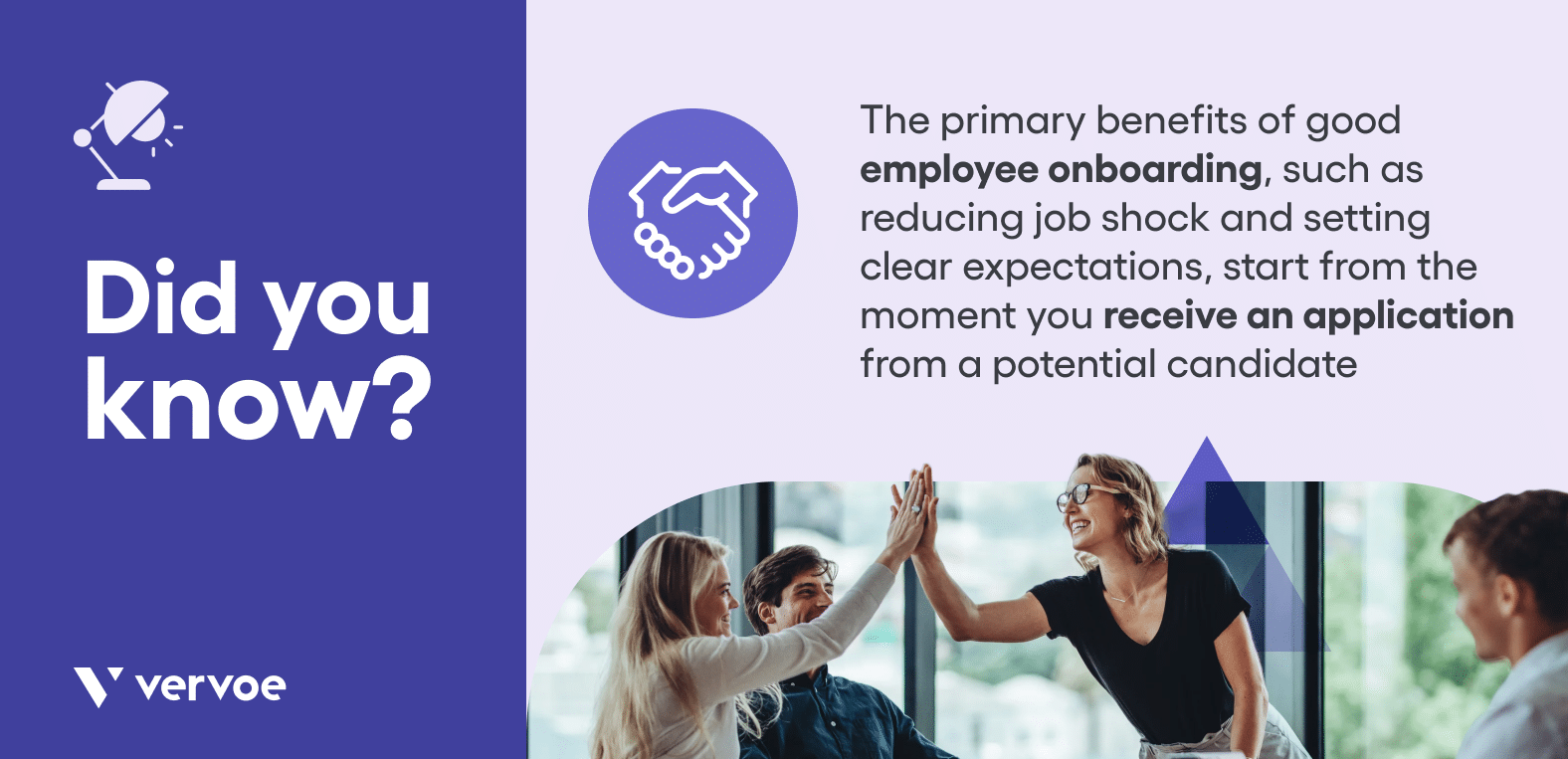 6 tips to creating an effective employee onboarding checklist
A survey by LinkedIn found that the most important factors for successful employee onboarding included clear expectations, effective communication, and support from managers and colleagues. Thankfully, these are all very achievable with a thorough and clearly defined employee onboarding checklist.
This way, both the new hire, their manager and the HR department are all on the same page with what to expect. While slight variations may be appropriate depending on the role, the industry, or if the workplace is remote or not, guidelines for creating an effective employee onboarding checklist include the following.
1. Give your new hire a warm welcome
One of the key employee onboarding best practices is to pass on as much knowledge to your new hire as possible, and this philosophy should apply long before their first day at work. Around one week before their start date, managers should send an email to the new employee to touch base, see how they're feeling, and provide any essential information the new team member will need to do their jobs.
For the latter, this information will usually include the start time and location, any platform logins, supplying a copy of the employee handbook for the new hire to go over, and any applicable dress codes if required. This is also a good opportunity to provide the new hire with their own employee onboarding checklist so that they know what to expect in the weeks to come.
2. Prepare your existing team and systems
An easy way to derail an employee onboarding program is not informing the existing team of a new arrival. In addition, the existing ecosystem has an enormous influence on whether or not your new hire feels welcome and supported, so make sure you give everyone the head's up. This way, nobody is caught off guard by any potential training requirements, and your new hire knows who to go to for relevant information.
When this is addressed, it's also a good time to ensure that your new hire has the right level of access to each of your company's internal platforms and systems, and this can include payroll, operating systems, rosters, email accounts, and company cloud storage platforms. While this will vary depending on the position and workplace environment, make sure your new hire also has the right tools for the job, such as laptops.
3. Don't forget about documentation
Thorough human resources documentation ensures consistency, efficiency, and standardization when managing employee performances, but including it as a part of your employee onboarding program is often an afterthought. Leaving a paper trail is a good idea for any commercial activity, but when it involves people, it needs to be watertight.
Although your legal requirements will vary depending on your state or jurisdiction, employee documentation used as a part of the onboarding process should include emergency contact information, tax declaration forms, any relevant working visas, or providing proof of any applicable qualifications. This should be issued to the new hire after they've viewed a letter of offer and signed an employment contract.
4. Set up relevant management meetings
According to a BambooHR survey, employees who had effective onboarding feel up to 18 times more committed to their workplace, and unsurprisingly, their managers. To build trust while humanizing a corporation, giving a new hire the opportunity to meet one on one with their direct manager makes sense, but it's also a good idea to do the same with the CEO.
Putting faces to names can go a long way when it comes to instilling a sense of loyalty among new hires. While meeting with the CEO might not be the first thing people think of when forming an employee onboarding checklist, this level of care and attention shown towards new hires helps them to feel valued from day one, and ideally well into the future.
5. End of week check-in with new hires
Almost all of us can remember the whirlwind first week at a new job, but how many of us can say that we truly felt supported throughout the process? Good employee onboarding is about having a clear roadmap for the first few days at work, and while you may have provided the new hire with a week-one schedule of things to do, don't forget to check in with them to see how they are, and how much information they actually absorbed.
This also provides a great opportunity for a manager to set some goals for the new hire to hit in the weeks ahead, clarify any misunderstandings or knowledge gaps, or book in further training if required. Communicating your company's culture during the first week of employee onboarding also helps new hires to understand the company's values, their roles, and how these overlap.
6. Conduct monthly meetings for the first six months
Unfortunately, too many organizations make the mistake of believing that effective employee onboarding finishes after the new hire's first week. In reality, a new member of your team will need months of support before they're fully up to speed with how things run and how they fit, so be sure to book in regular catch-ups at least once a month for the first six months.
If your company is serious about improving its employee onboarding process, this is also a great time to ask your new hire to complete a survey or provide feedback about their own experiences. Just 12% of workers agree that their organization has a good employee onboarding program, so don't create your process based on guesswork — ask those who have lived experience.
5 common employee onboarding FAQs answered
Despite the fact that new hires who went through a structured employee onboarding program are 58% more likely to still be with the organization after three years, this fundamental pillar of recruitment often gets pushed to the wayside in favor of other priorities, such as reducing time to hire and attrition.
For many, this is because the task of forming an effective employee onboarding program is filled with too many variables, particularly in line with the rise of remote working agreements. To separate fact from fiction, we've gathered some answers to a few of the most frequently asked questions.
What is a good onboarding process?
In its simplest form, good employee onboarding is all about communication, support, and clear expectations. Instead of pointing your new hire to their desk and leaving them to it, the new employee should have a clear understanding of their job responsibilities and how they fit into the larger organization while receiving mentorship and training for their first six months with the company.
What is the most important part of onboarding?
While every aspect of employee onboarding is important, the most crucial part is ensuring that the new hire feels welcomed and supported. This means creating a positive first impression, helping the employee feel comfortable and connected to the organization, and providing the necessary tools and resources to succeed in their new role. In turn, this helps the new hire to feel confident in their choice to join your organization.
What are the 4 phases of onboarding?
Every organization will have a different employee onboarding checklist to work from, but as a general rule, there are four stages tied to the employee onboarding process: pre-boarding, orientation, integration, and ongoing development. If organizations are able to apply these basic concepts, the new hire will be able to follow a clearly communicated blueprint that sets them up for long-term success.
How long should it take to onboard a new employee?
The length of time it takes to onboard a new employee will vary depending on the organization, the complexity of the job, and the employee's prior experience. While most new hires will get up to speed within three months, employee onboarding should be able to offer support and structure to the new employee for at least the first six months. This helps to ensure that there are no knowledge gaps in their role in the company.
What are the most common mistakes during the onboarding process?
The employee onboarding process is critical to the success of new employees, but there are several common mistakes made by organizations that can negatively impact the experience. A lack of preparation, poor communication methods, insufficient training, a lack of personal connection, and overloading new employees are often identified as serial offenders, but it's important to note that none of this applies if you make a bad hire.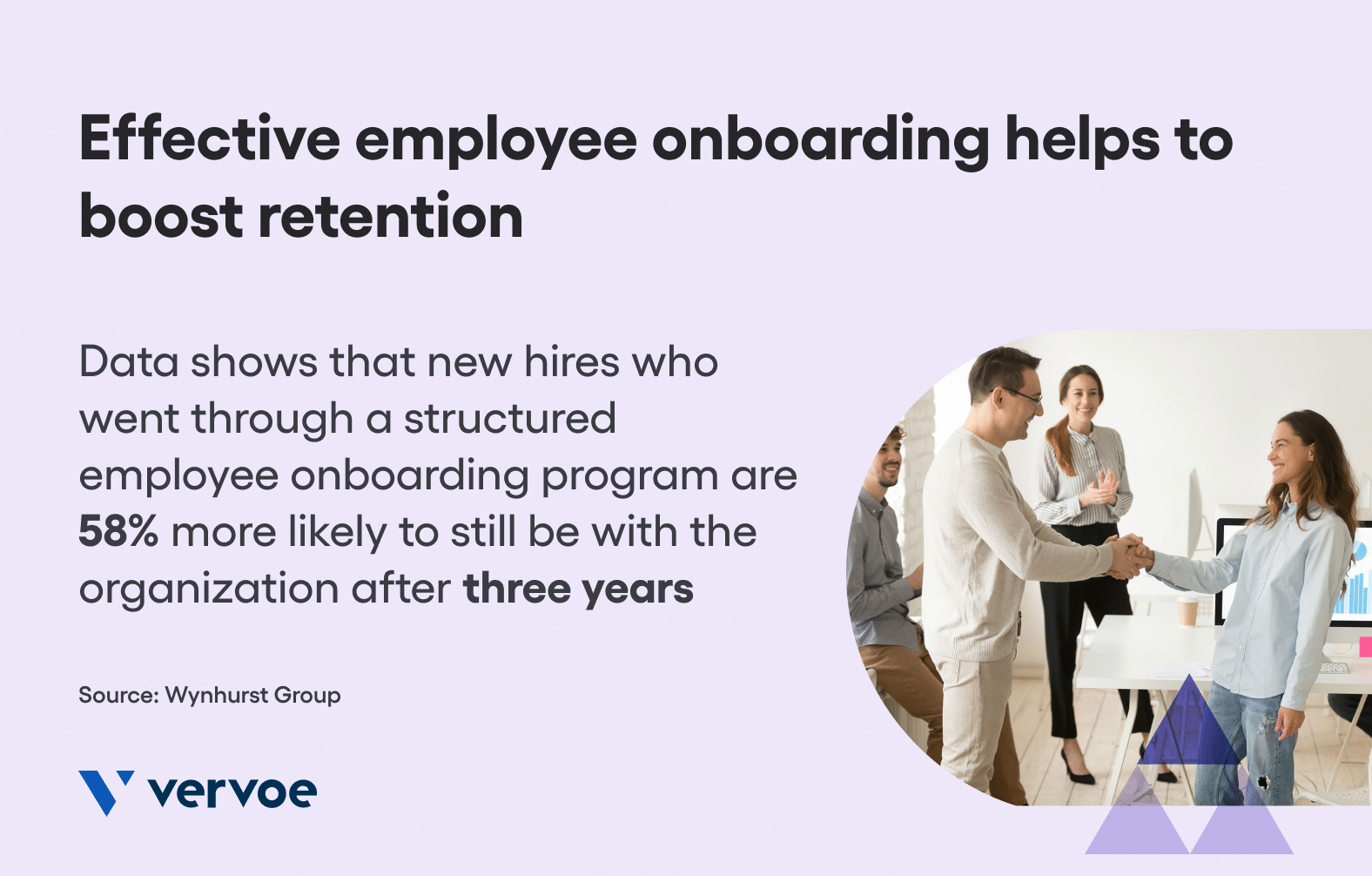 Why pre-employment assessments make onboarding easier
Like it or not, even the most carefully crafted employee onboarding programs won't save your company from the cost of making a bad hire. In layman's terms, these are new hires who, one way or another, are not a good fit for the job or the organization.
This undesirable situation can happen when the recruitment process fails to pick up on a candidate's poor work ethic, mismatched cultural fit, or lack of skills. While the cost of a bad hire can cost up to 2.5 times more than the employee's salary, lost productivity, negative impacts on staff morale and the resources required to recruit and train a replacement can leave a legacy for years to come.
Thankfully, pre-employment assessments can help to reduce the odds of a bad hire, with job simulations being particularly effective for seeing people do the job before they get the job.
As a form of skills testing, job simulations are the closest a hiring manager can get to placing a candidate in their potential working environment, and see if their skills match what their resumes say.
Unlike outdated recruitment methods like resume screening and personality tests, using job simulations as a part of your onboarding employee software and recruitment process helps recruiters to make hiring decisions based on ability, and not background. This way, the odds of unintentionally landing yourself with a bad hire are significantly reduced.
Despite claiming to offer such features, very few skills assessments include fully immersive experiences, such as job simulations.
In fact, Vervoe is one of the very few enterprises that offer truly authentic job simulations, with examples including tasks like Zendesk ticketing or coding challenges designed to mimic how a candidate performs when faced with a real-life scenario.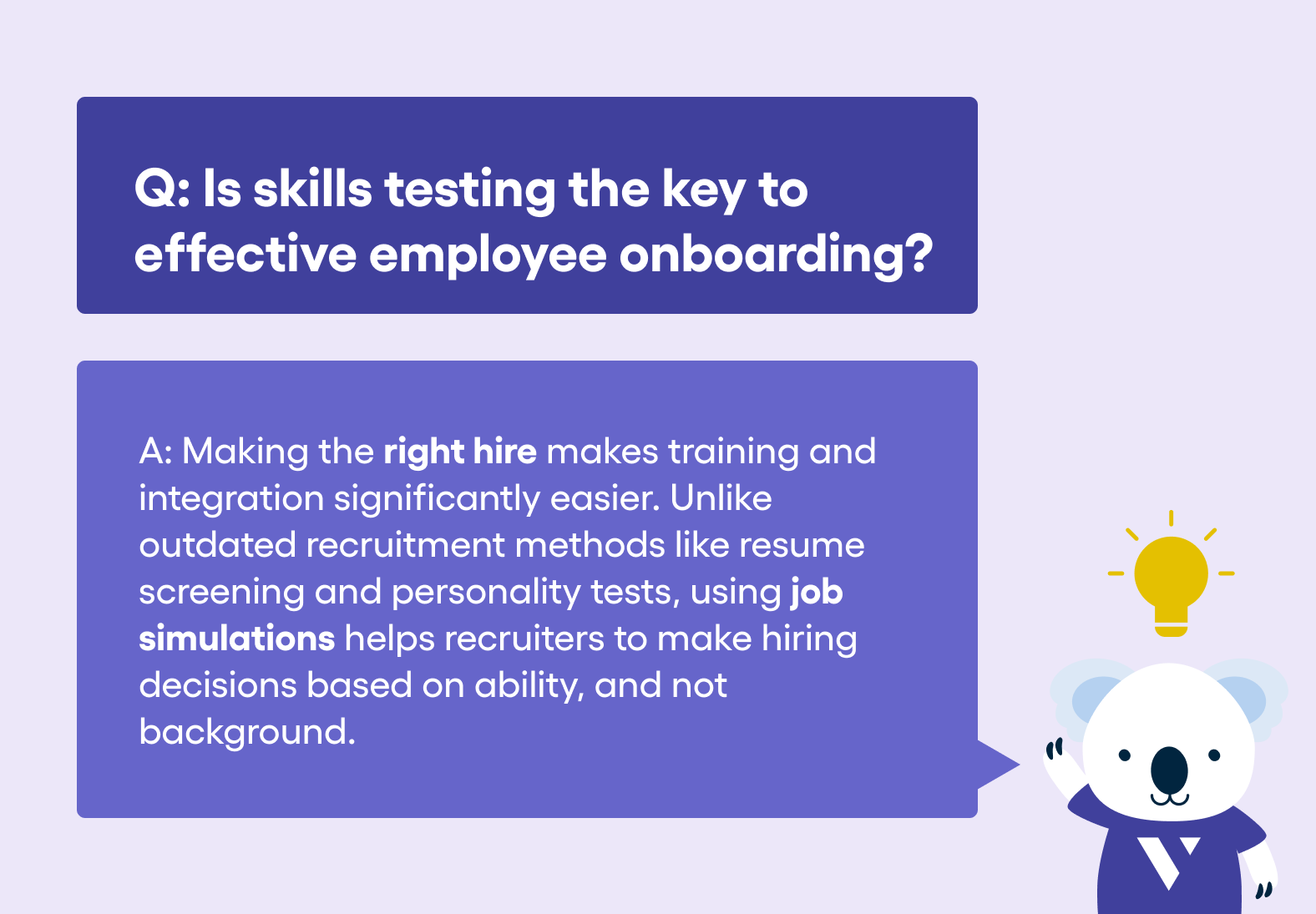 Vervoe is here to help you hire with confidence
Vervoe is an end-to-end AI-powered solution that is proudly revolutionizing the hiring process through skills testing, job simulations, and machine learning. By empowering businesses to create assessments designed to suit the specific requirements of a role, Vervoe predicts performance that showcases the talent of every candidate.
By assessing an applicant's ability to perform the role through a skills assessment, our job simulations focus on the work — and not the person. To see people do the job before they get the job, book a demo today and let our experienced team run you through Vervoe's full range of hiring solutions.