It's hard enough to find good healthcare talent at the best of times, but apparently it's only going to get more challenging.
According to Mercer, demand for healthcare workers will outpace supply by 2025, with the growing US healthcare sector likely to struggle to fill roles fast enough.
These challenges, along with demographic trends and regulatory uncertainties are forcing a transformation in how roles are filled in the healthcare sector.
In this article, we'll take a look at healthcare recruitment strategies you can use to stay ahead of this curve and fill the emerging skills gaps ahead on the horizon.
Top 8 healthcare recruitment strategies to fill essential roles
1. Prioritize healthcare job boards for job ad posting
General job boards like Indeed and Monster may have larger pools of candidates, but niche boards will have better-qualified candidates. That means fewer bad fit applications to sort through, and more time to focus on each qualified application.
Niche job board postings can also attract candidates who may be casually looking even though they are employed.
Some niche job boards to consider:
JAMA Career Center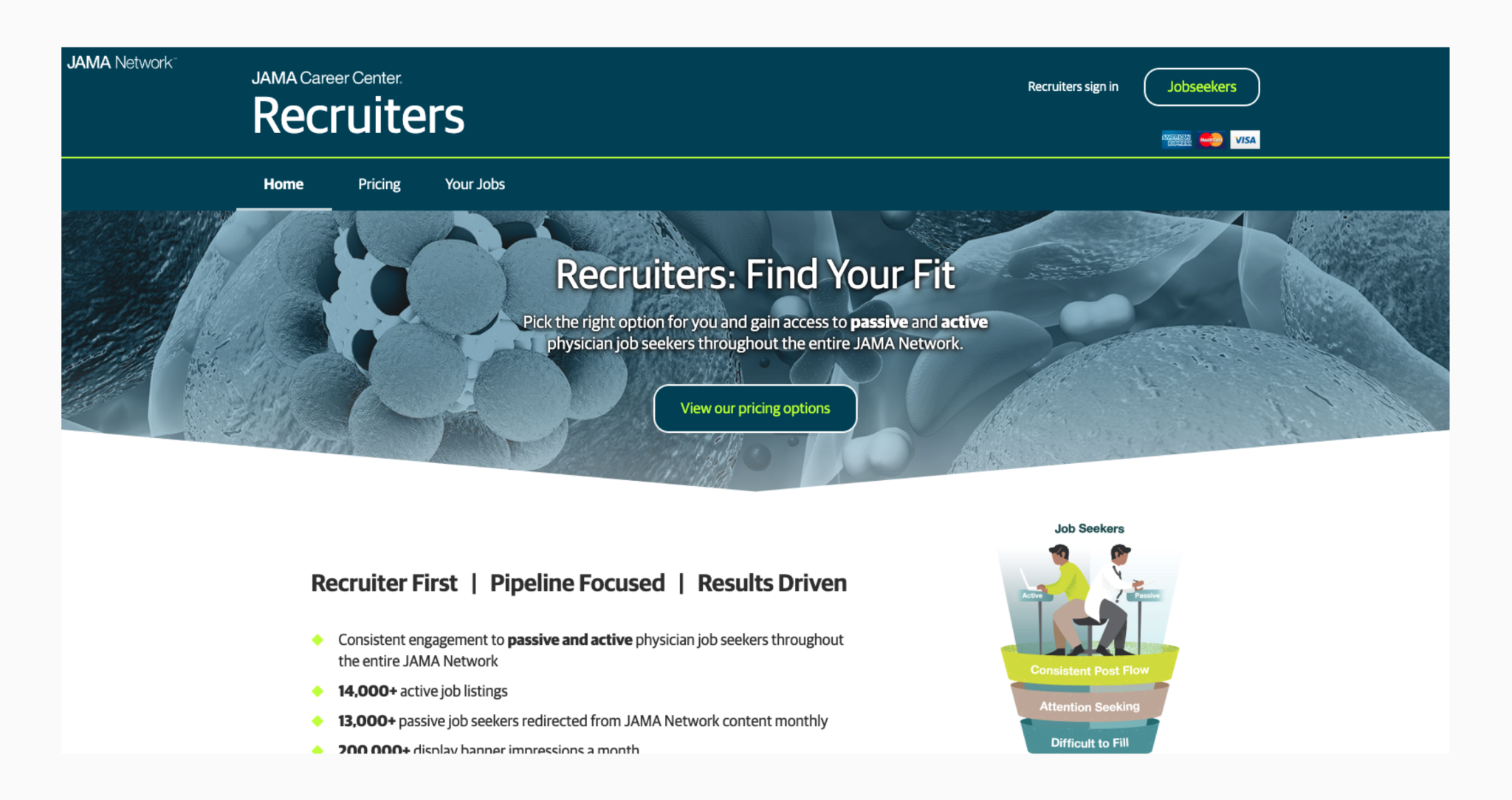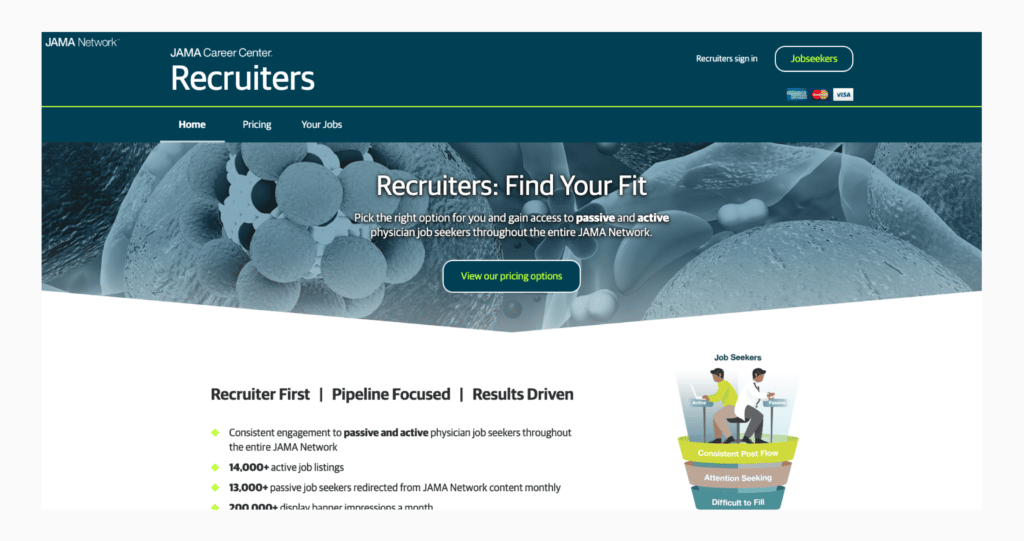 JAMA Career Center is affiliated with the Journal of American Medical Association and trusted by Westmed Medical Group, Dartmouth Health, and Indiana University Health.
Health eCareers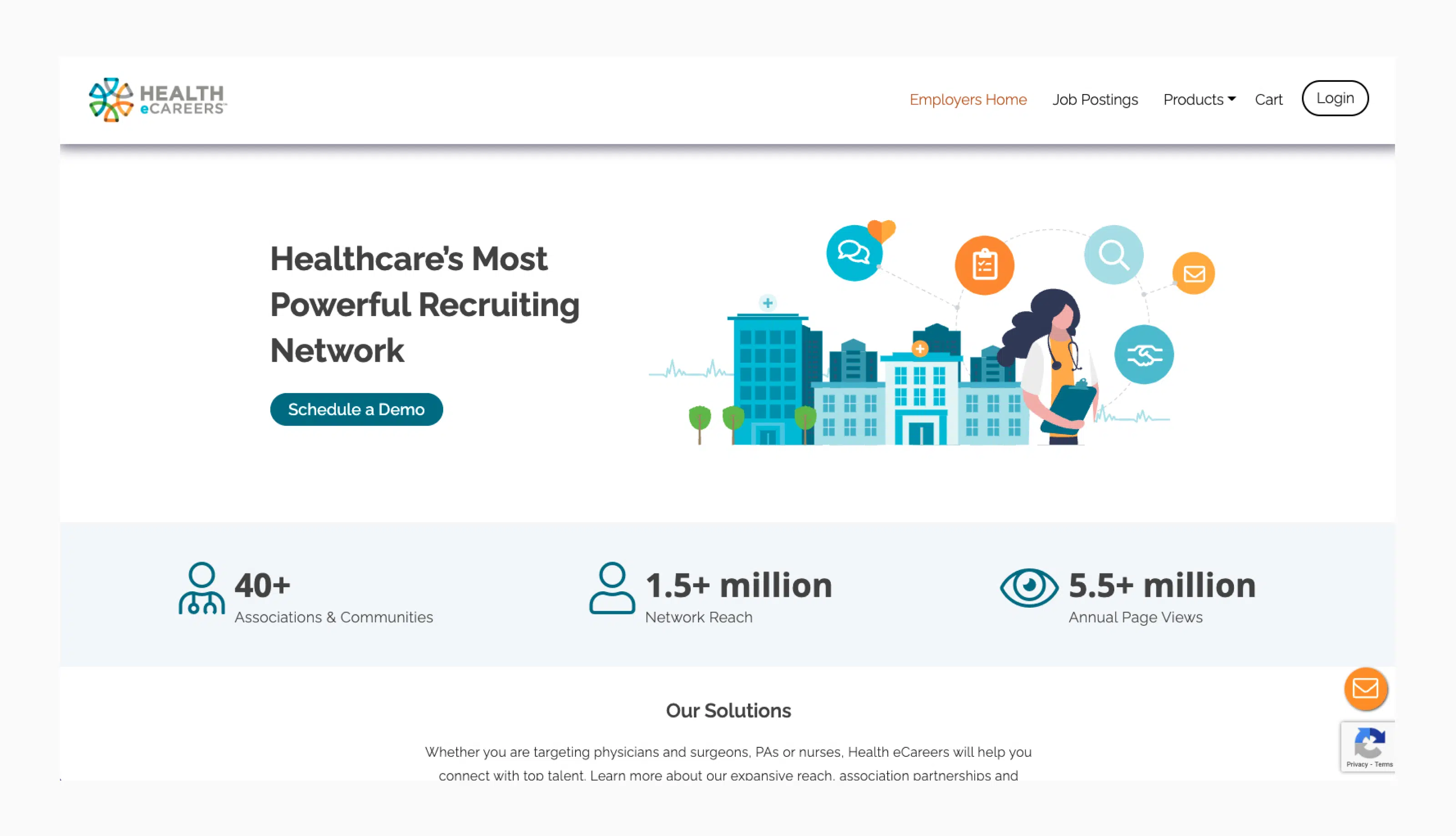 Health eCareers offers job alerts and claims to get 20,000 monthly responses from job seekers. They also share healthcare industry trends and career insights. Job seekers love it here because they have a standard salary calculator and a guide to help them evaluate employers' offers.
HospitalCareers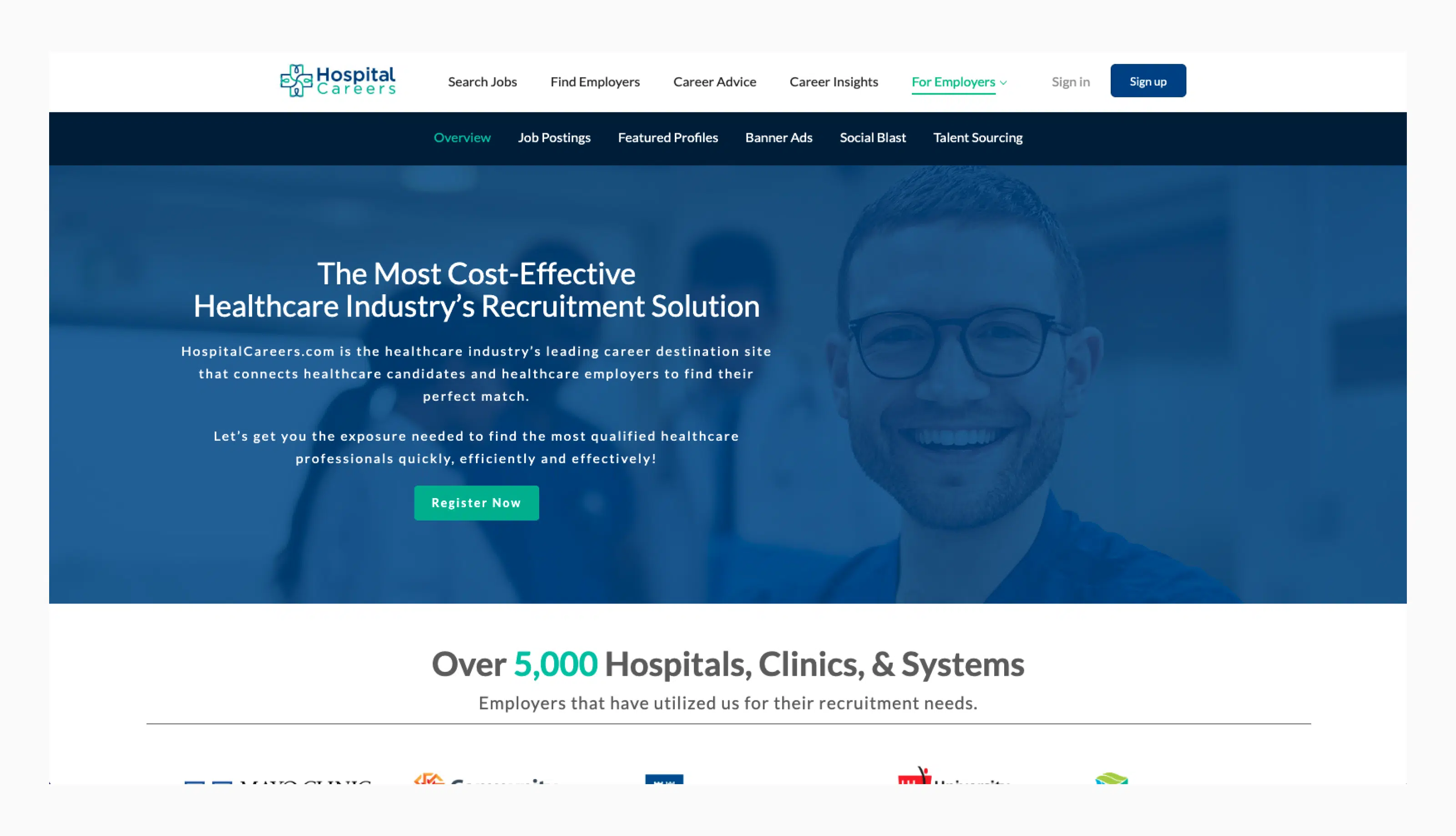 HospitalCareers is a job site that has over 300,000 registered users and 38,000 newsletter subscribers. They integrate with Google for local job visibility. A review from Valir Health claims that 90% of candidates that applied for their opening through HospitalCareers had the licensure and experience required for the job.
Careervitals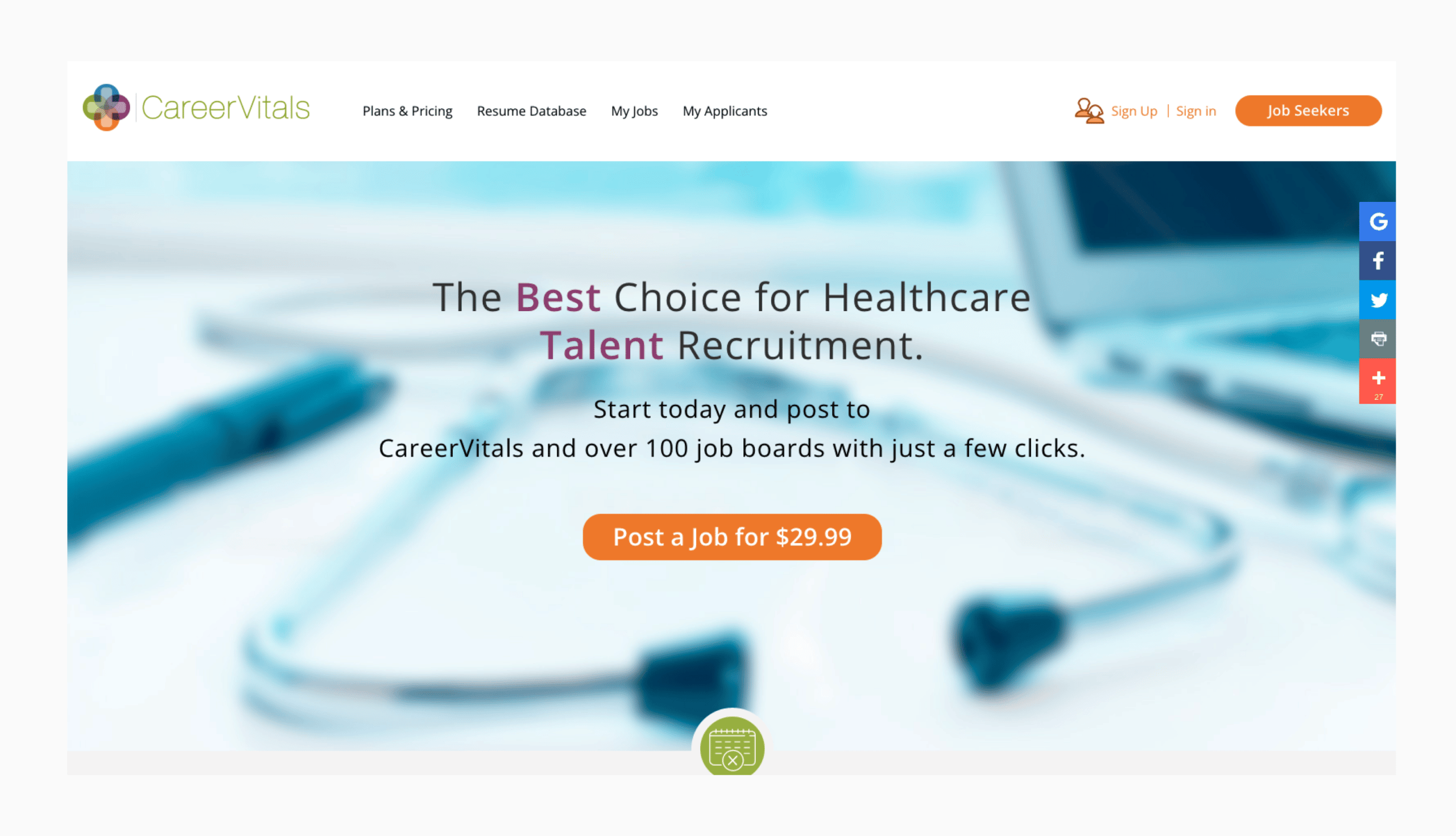 Big industry players like Good Samaritan Hospital, Precyse, and Parkland Careervitals. They have more targeted searches to help candidates quickly discover your post and they don't require a monthly subscription; you pay as you go.
2. Target candidates early with campus recruitment and internships
Research from the National Association for Colleges and Employers (NACE) shows that employees who start out as internal interns stay longer with the company.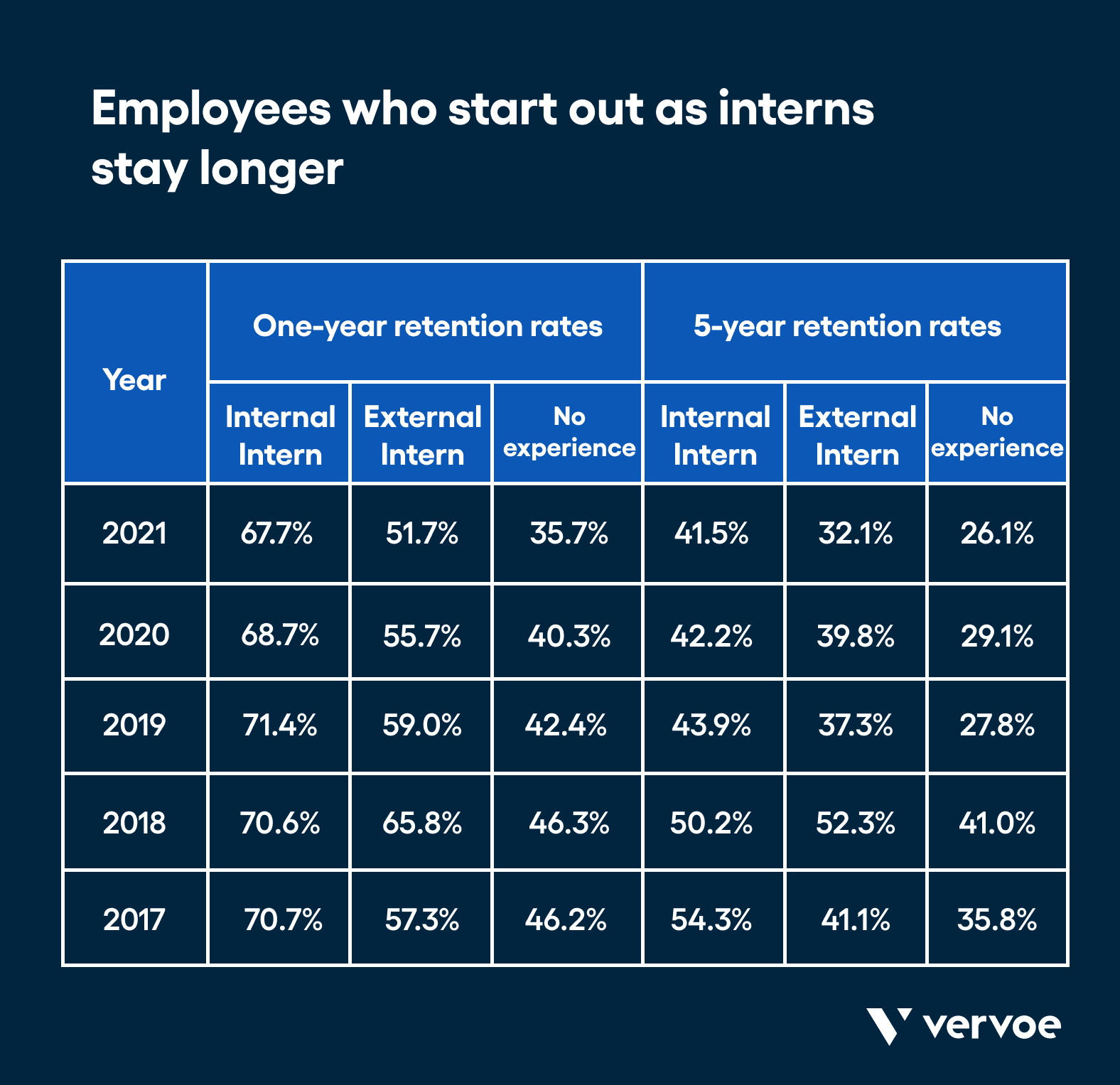 Healthcare recruiting at the college and medical school level not only gives you first dibs at talent, you earn their loyalty as well.
Building good relationships with universities can help build a pipeline of promising students you can offer mentorships and internships to.
Career fairs and workshops are also a good place to find promising university talent.
3. Optimize your candidate experience for positive reviews
Glassdoor reports that four out of five candidates read company ratings and reviews before making a job decision. A bad candidate experience will affect your company reviews and‌ discourage good candidates from applying.
Imagine seeing a review like this one for a company you want to work with. What are the chances you would go ahead and apply?

Your candidate experience begins when prospects see your job ad, click to the career site you use, interview, and receive the offer or rejection.
Some tips to improve your candidate experience,
Optimize the job application page for mobile users
Keep your recruitment process short (24 days is the average)
Update candidates about which stage of the hiring process they're and what the next steps are
4. Keep track of promising candidates you rejected with an ATS
When you put out a job ad, you'll get some applications from candidates that aren't an exact match for what you're looking for‌. Some of those candidate profiles will match other roles, or seniority levels you may hire for down the line.
Keep track of those candidates with an Applicant Tracking System (ATS). That way, you can invite them to interview for future roles where there's a good match — giving yourself a head-start in recruiting excellent candidates.
The ATS you choose should have advanced search and filter options. Greenhouse, for example, lets you filter for rejected candidates, and search through the list for specific values.

Tip: Choose an ATS that has candidate-facing dashboards. This way, candidates can see where they are in the application and screening process, improving the candidate experience.
5. Assess candidate skills using skills assessments
One-third of Americans have lied about their educational background, skills, work experience, or length of the position held on their resumes.
Instead of screening candidates based on unverified claims, take a skills-based hiring approach using skills assessments to verify their competence first. That way, you'll have fewer unqualified candidates to review, and more time to dedicate to each qualified candidate.
Your applicants will also have a better candidate experience because your screening process is faster — while not making candidates feel rushed.
Use healthcare recruitment software with skills assessment features to set up tests for your candidates.
With Vervoe, for example, you can set up a skills assessment with your own questions, or search our assessment library for a template to help you get started.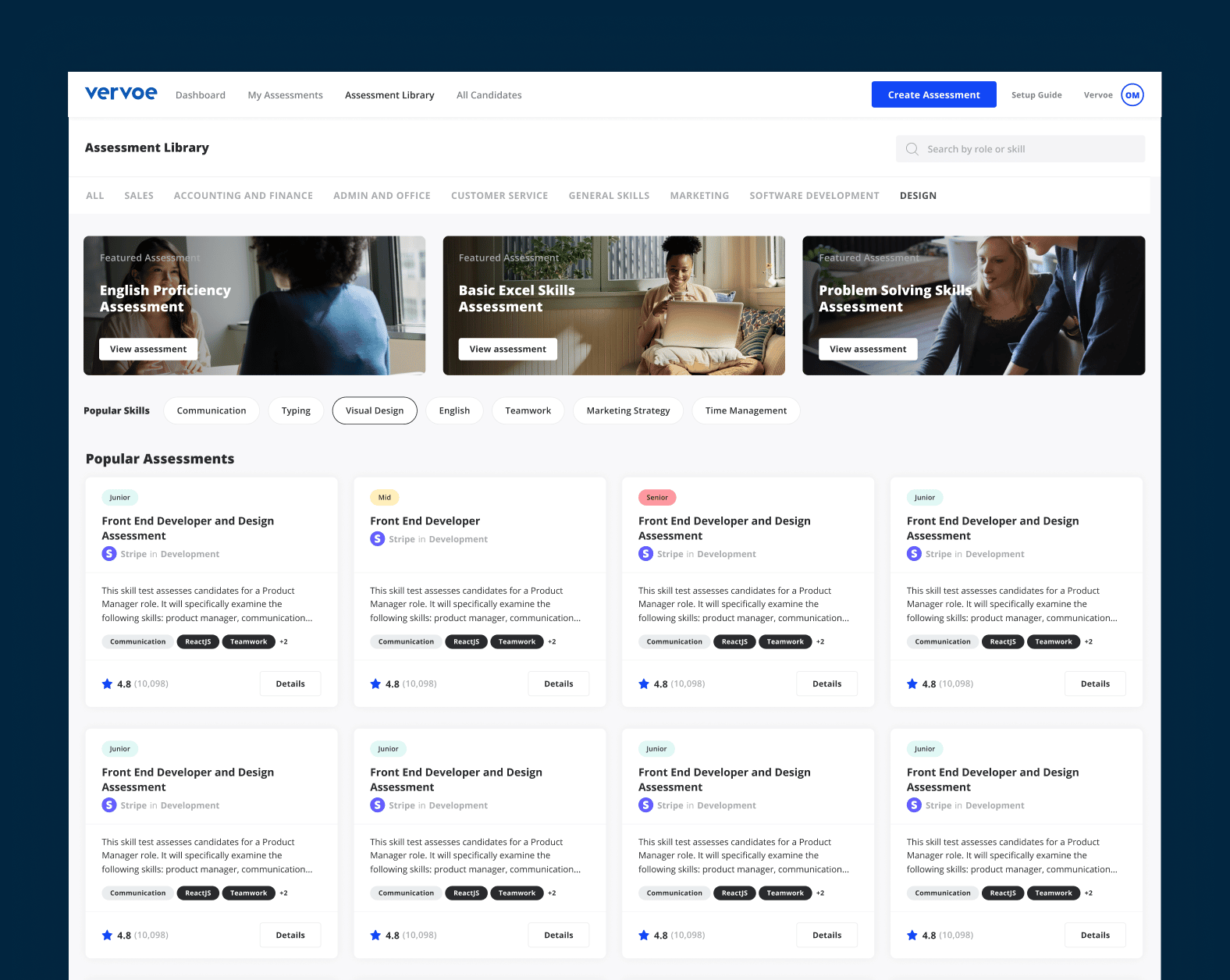 Here's a preview of questions from our Medical Receptionist skills assessment template: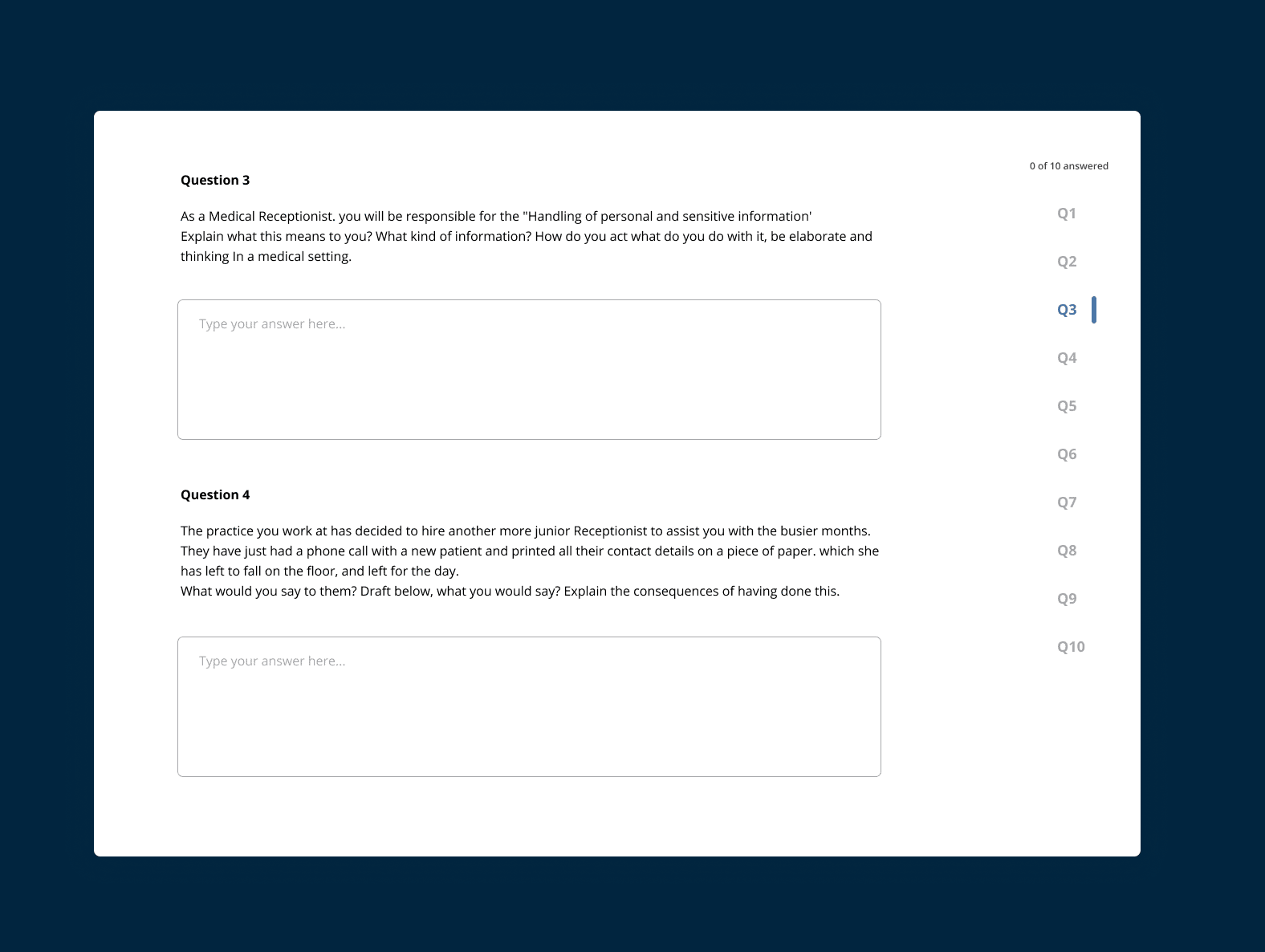 6. Polish your employer branding
According to Linkedin, 75% of candidates consider employer brand before applying for a job. 52% even check the company's social media account and website to know more about a potential employer. Hence, employers with poor branding lose out.
Here are some tips to improve your employer branding: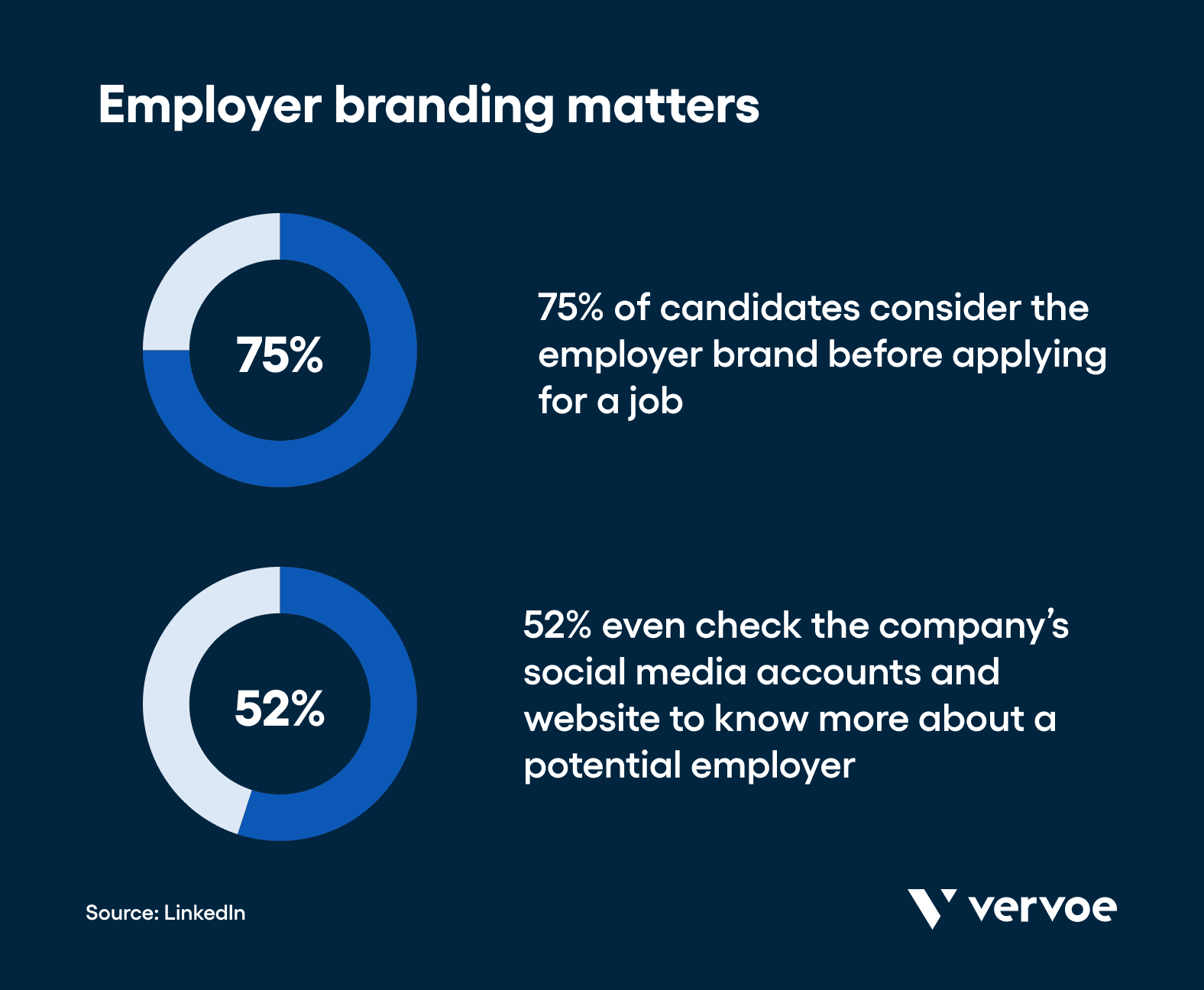 Use consistent brand messaging across your social media accounts
Healthcare provider, ZoomCare, has the organization's mission plastered all over its social channels.
Here's an example from their Linkedin page.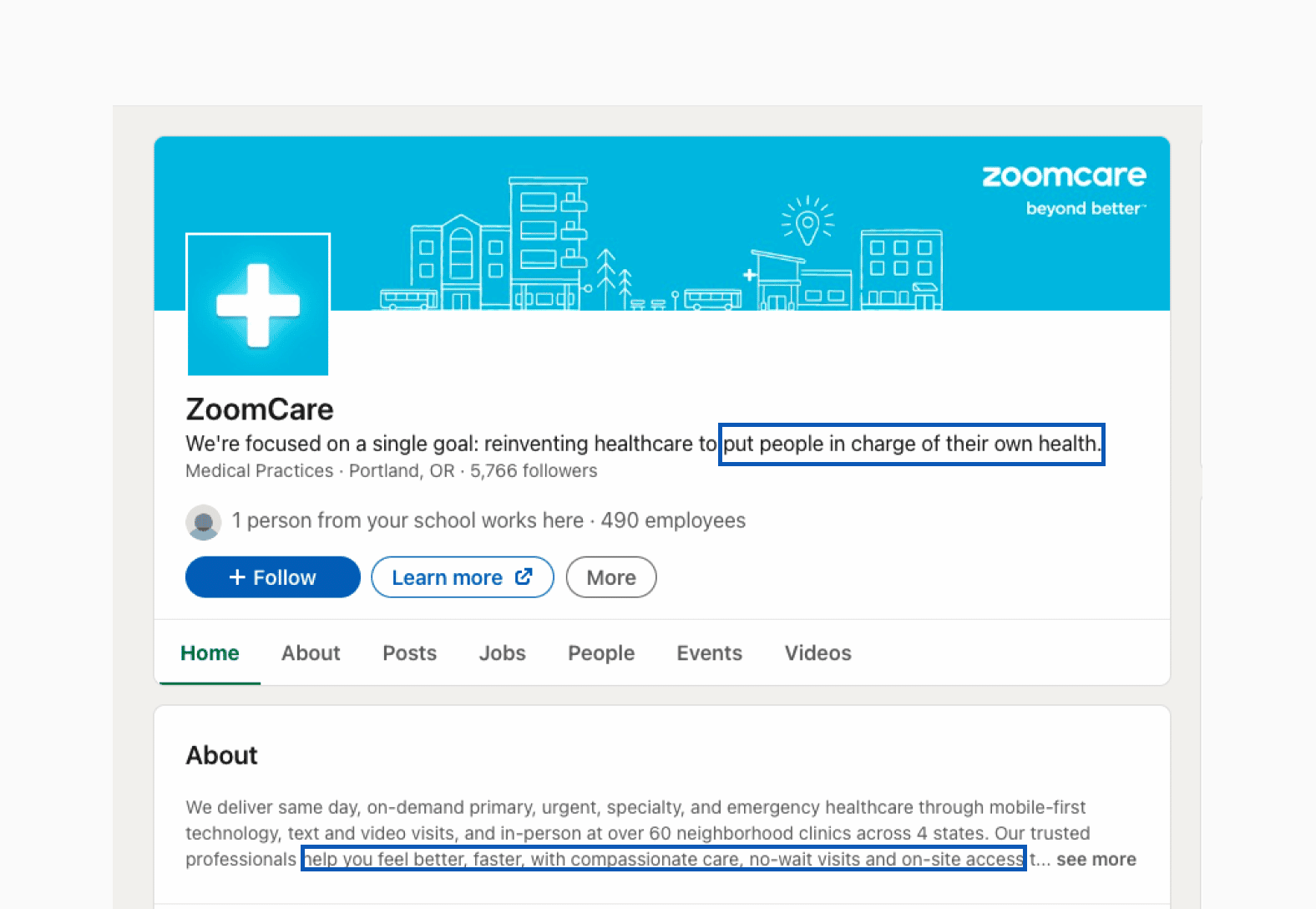 And from Instagram: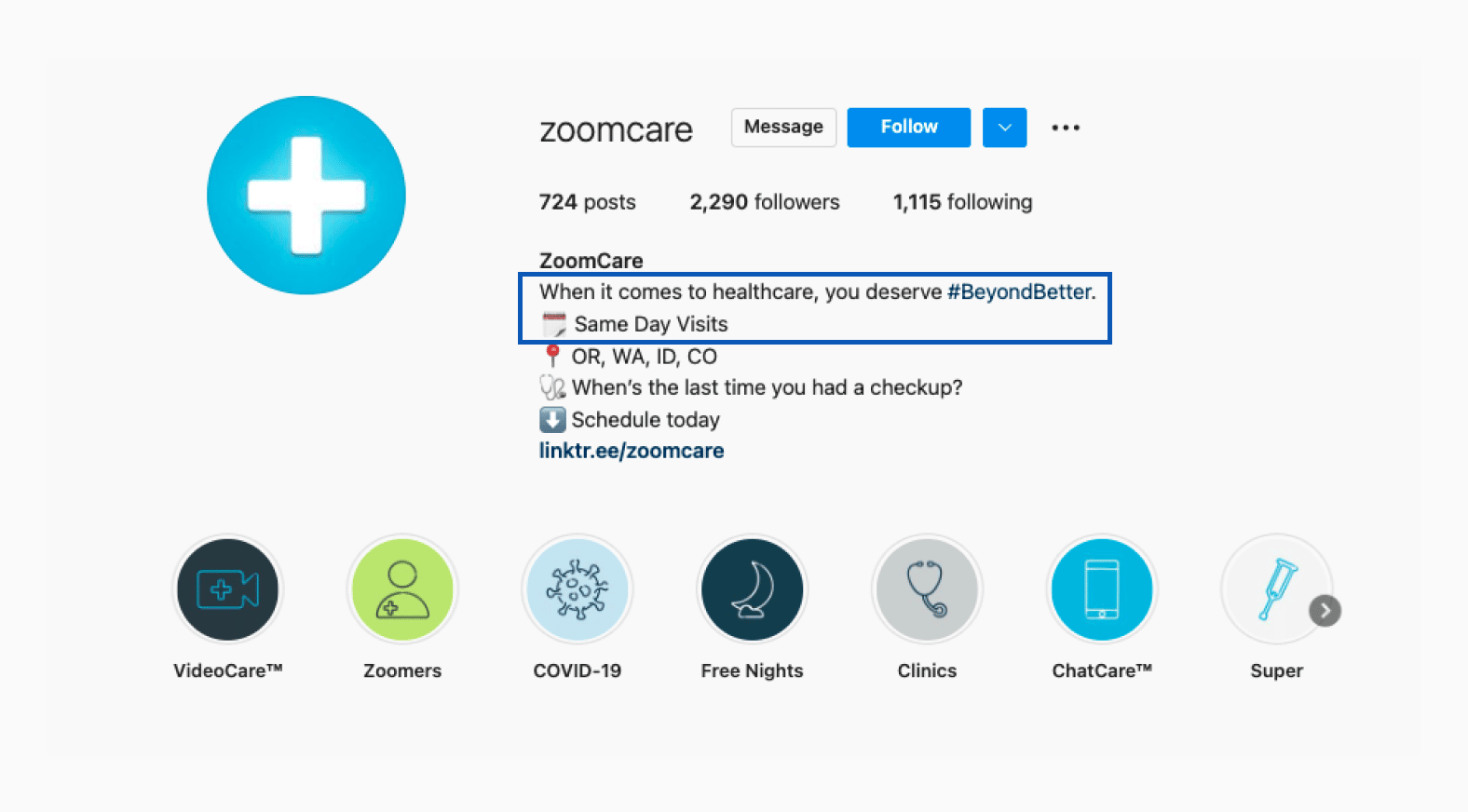 Anyone who visits their profile or sees their posts immediately recognizes that their priority is revolutionary healthcare. This makes it easy for candidates who identify with this mission to notice ZoomCare and apply to work there.
Encourage employees to advocate for your brand
A good Glassdoor rating will attract new candidates. Ask current employees who have given you positive feedback to leave honest reviews on your Glassdoor profile. Be sure to communicate that a higher rating means you get better candidates, and ultimately, better teammates for them.
Also, encourage employees to share day-in-the-life photos and positive experiences on social media.
7. Perfect your employee value proposition (EVP)
A strong EVP sets you apart from the competition and helps you attract and keep quality candidates. Many employers craft it into a statement, one that every candidate expects during recruitment.
To craft a strong EVP, think about:
Your company's goals and how your candidates' skills can help you achieve them
What your current employees love about working with you
What you offer candidates that other employers don't
Healthcare organization, Merck, offers year-end shutdowns, parental leave, and flexible work for example.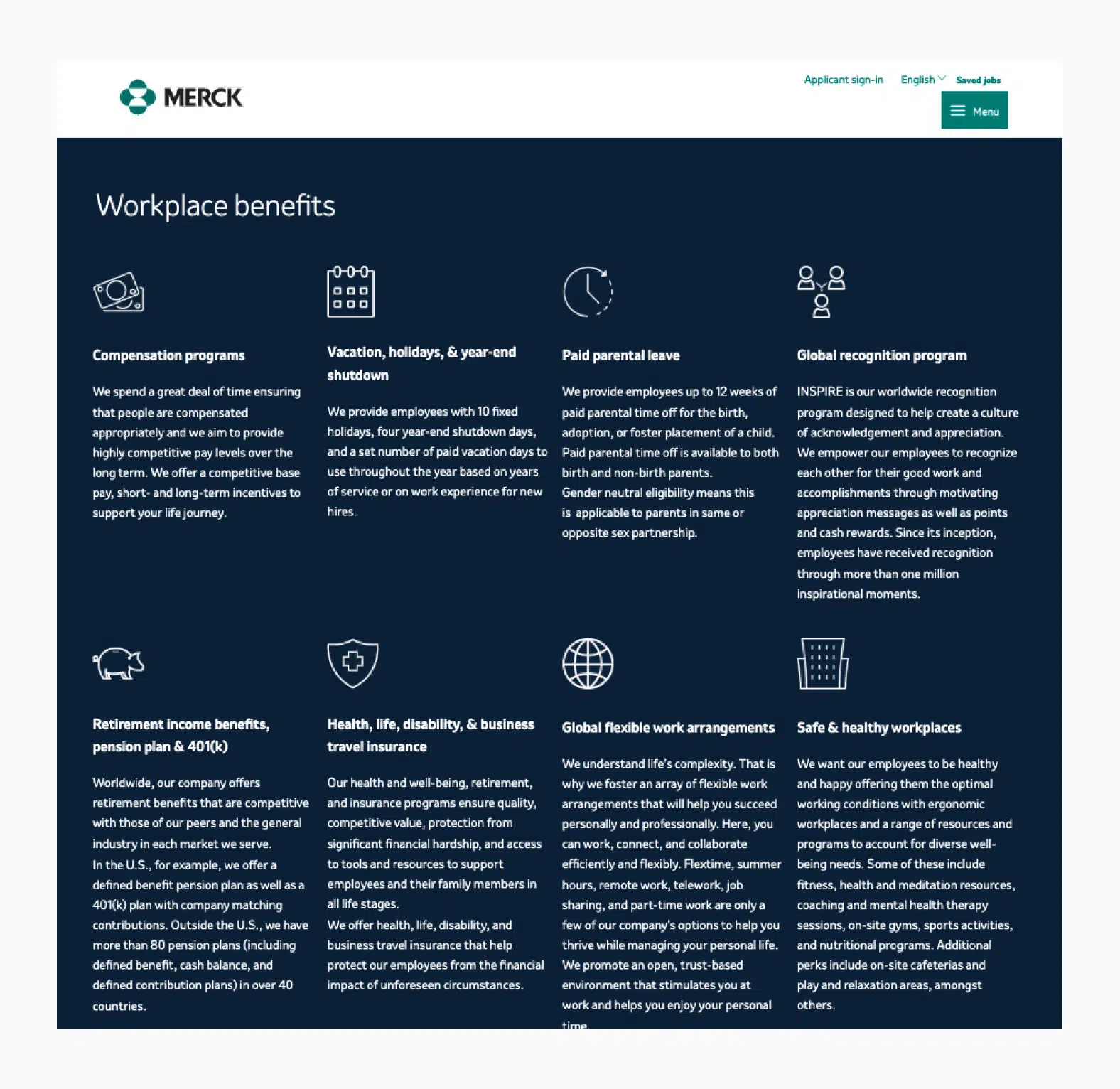 Where possible, offer outstanding salaries, and perks like generous bonuses and stock options.
But remember that a powerful EVP has to do with more than a paycheck. Include other perks like healthcare plans, paid time off, parental leave, and flexible schedules, especially for strenuous shifts.
Also, consider defining career growth opportunities for each role. A recent Gallup report revealed that 59% of millennials search for learning and growth opportunities when they apply to jobs. It's no wonder this is so relevant to them, given the fast change in technology and the increased use of AI in healthcare.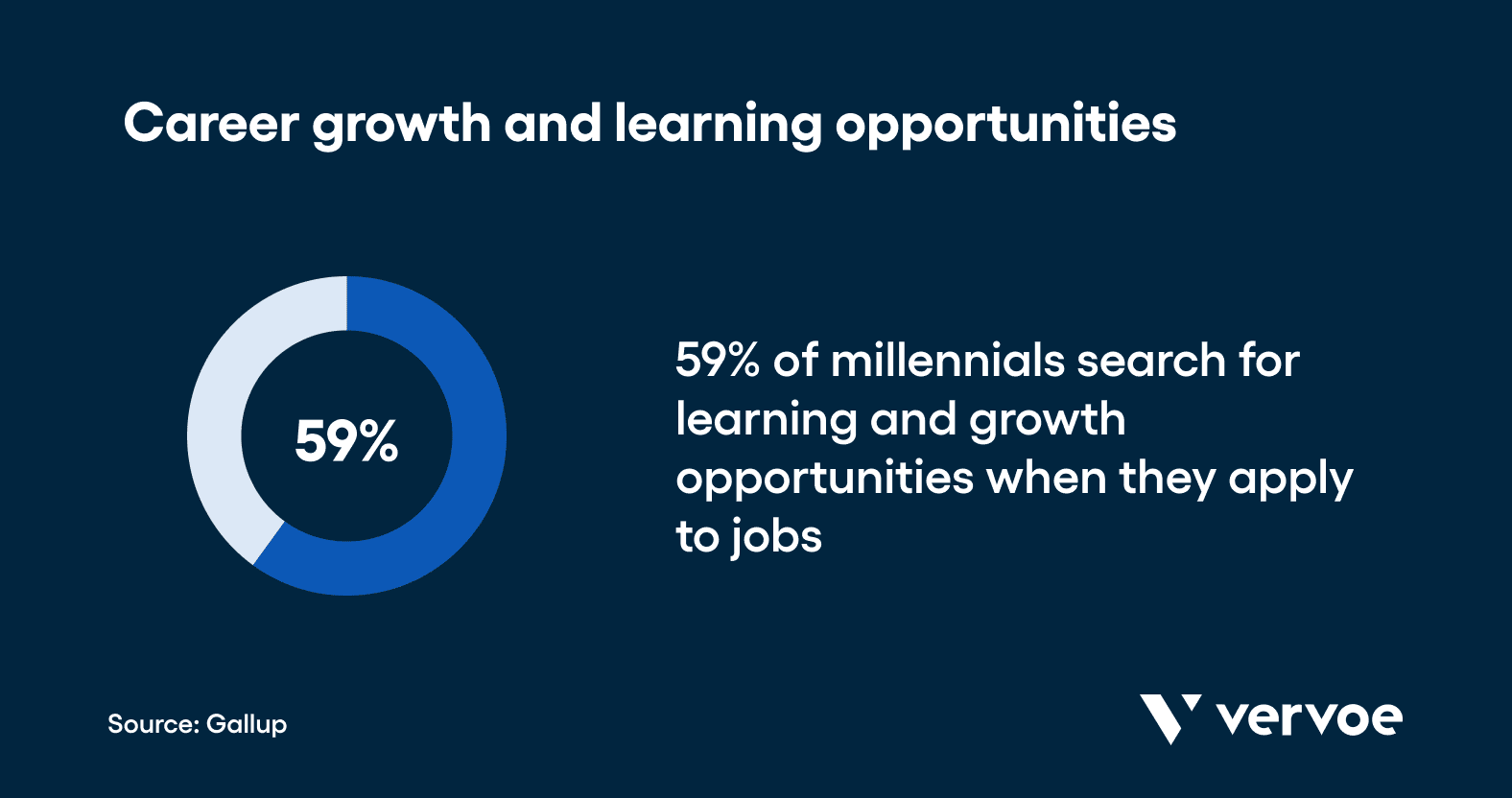 8. Promote from within
It costs an employer six to nine months of an employee's salary to hire and train a replacement. You can save that much by training a current worker with a proven track record to fill a new role.
Lack of career development is a top reason why organizations lose talent. This is a way to both retain talent and fill more advanced roles.
Before you put up a job ad for a role, announce it internally and allow a few weeks for internal candidates to apply.
Bonus: Learn how to structure your interviews with our healthcare interview guides:
[Read more: How to hire an aged care nurse | Recruitment guide]
The healthcare job market is changing. How will you respond?
Ditch the general job boards for healthcare-specific ones. Polish your employer branding, and craft job ads that convey your EVP.
Above all, optimize your candidate experience for excellent reviews. If several candidates say your hiring process is long, confusing, or just plain bad, you may miss out on recruiting healthcare professionals that care about the experience.
Want to hire the best healthcare professionals fast? Use a Healthcare recruitment software that screens in candidates based on skills proven with skills assessments. Try Vervoe for Healthcare today.