Gender diversity in the workplace is a hot topic. While progress has been made to close the gap, the harsh reality is, that we're miles behind where we need to be. One hundred years to be exact, according to a 2020 global gender gap report by the World Economic Forum. And this number is only set to increase with the impact of COVID-19.
Despite making up more than half of the population, it may (or may not) come as a surprise that women generate only 37% of GDP globally, according to McKinsey.
Yet, recent studies have demonstrated the direct impact gender diversity has on business outcomes. And we're not just talking about improved staff satisfaction and retention, increased productivity and innovation, and lower turnover rates. Gender diversity is also proven to remarkably impact a company's bottom line. The data is in, and the findings can no longer be ignored.
What is gender diversity in the workplace?
Simply put, gender diversity is the equal and fair representation of people of all genders — including men, women, transgender, and nonbinary individuals — within a company.
Gender diversity is much more than meeting a quota; it's about providing an environment that empowers and gives all genders the same opportunities to succeed, including equal pay, working conditions, and promotional opportunities.
For gender equality to mean more than just a number, organizations must prioritize inclusivity across all aspects of the business. This means ensuring a safe working environment, up-to-date anti-bullying and anti-harassment policies, eliminating unconscious bias from recruitment and organizational processes, and ensuring gender diversity is present in roles of power (i.e., executive team, management roles, etc.).
Where are we currently at with gender diversity in the workplace?
As things currently stand, there is a lot of work to be done to achieve gender parity in the workforce. While there have been some notable strides in progress (see below), the statistics still paint a frightening image of the reality of gender imbalances in organizations worldwide.
The 2020 Global Gender Gap Report illustrates a growing urgency for change. The report, which looks at gender-based gaps among four key dimensions — economic participation and opportunity, educational attainment, health and survival, and political empowerment — revealed it would take almost a century to close the global gender gap at the current rate of progress.
A timeline that could extend another ten years in the aftermath of COVID-19 if no changes are made now.
More alarmingly, the report calls out the lack of progress in closing the economic participation and opportunity gap, which, based on the rate it's moved since the first report in 2006, will take 257 years to close.
It's worth noting that there is a lack of data on transgender and nonbinary genders in the workplace, presenting a significant gap in the following analysis.
Here is a snapshot of the current reality of gender diversity statistics, according to the Global Gender Gap Report 2020:
As of 2020, a 31.4% average gender gap remains to be closed globally. This is an improvement from the year prior, with a YOY increase for 101 of the 149 countries covered.
Women represent 39% of the global workforce but accounted for 54% of job losses as of May 2020. This is due to the overrepresentation of women in industries primarily affected by COVID-19, including hospitality.
Economic Participation and Opportunity is the second-largest gap for women of the four key dimensions, with only 57.8% of the gap closed. Unfortunately, this regressed slightly from the year prior.
The number of women in senior roles increased by 2%. Globally, 36% of senior managers in the private sector and officials in the public sector are women. However, the efforts to close this gap remain concerning as only select countries actively try to achieve gender equality.
There has been a global increase in the percentage of women on boards.
As of 2021, The Fortune Global 500 reached a record high, with 23 women CEOs, including six women of color. However, perspective is critical here. While a tremendous improvement for women in leadership positions, the number of female CEOs accounts for just 4.6% of the total.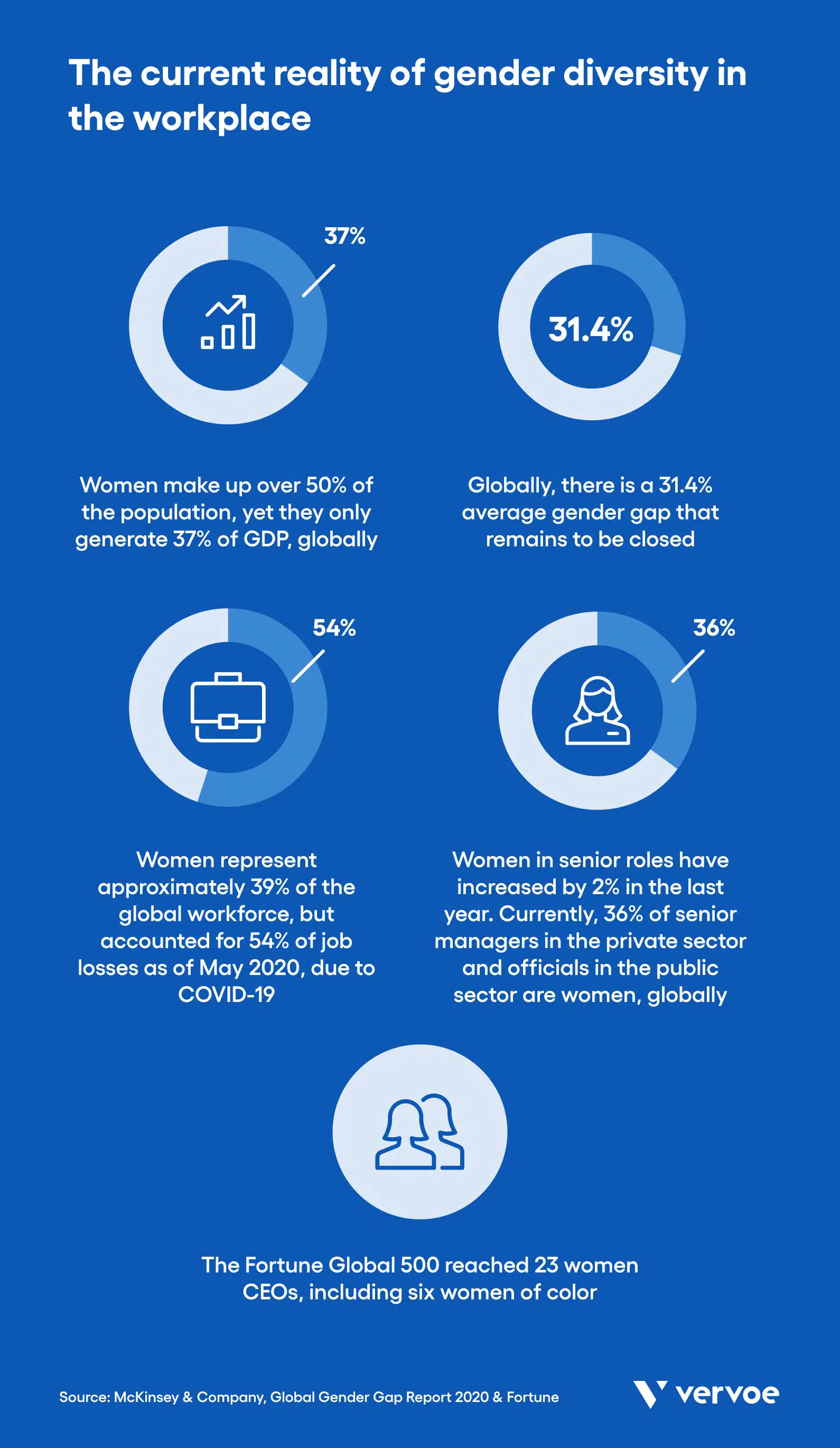 What are the top benefits of gender diversity in the workplace?
Gender equality gives everyone an equal chance to perform and show what they're capable of. Yet, the benefits don't end here. A diversified workplace benefits all areas of a company — from staff retention and reputation to innovation and company performance. Let's take a closer look at the five main benefits of gender diversity in the workplace.
1. Gender diversity improves a company's bottom-line
Undoubtedly, the most compelling reason to get serious about gender balance is its proven ability to improve a company's financial performance. Companies in the top 25th percentile for gender diversity are 21% more likely to experience above-average profitability. This is due to the culmination of various perspectives, greater collaboration, more room for innovative ideas, improved brand reputation, and greater customer connection, resulting in better decision-making.
Another study of more than 1,000 firms across 35 countries and 24 industries found that gender-diverse companies saw greater productivity, measured by market value and revenue. However, it's important to note that this only occurred in contexts where gender diversity was considered normal and accepted, meaning a widespread belief in favor of gender diversity.
A Gallup study of more than 800 business units from two companies within two industries — hospitality and retail — further supports this sentiment, finding:
A 14% higher average comparable revenue for gender-diverse business units in the retail company compared to less-diverse counterparts.
Compared to less-diverse business units, a 19% higher average quarterly net profit for gender-diverse business units in the hospitality company.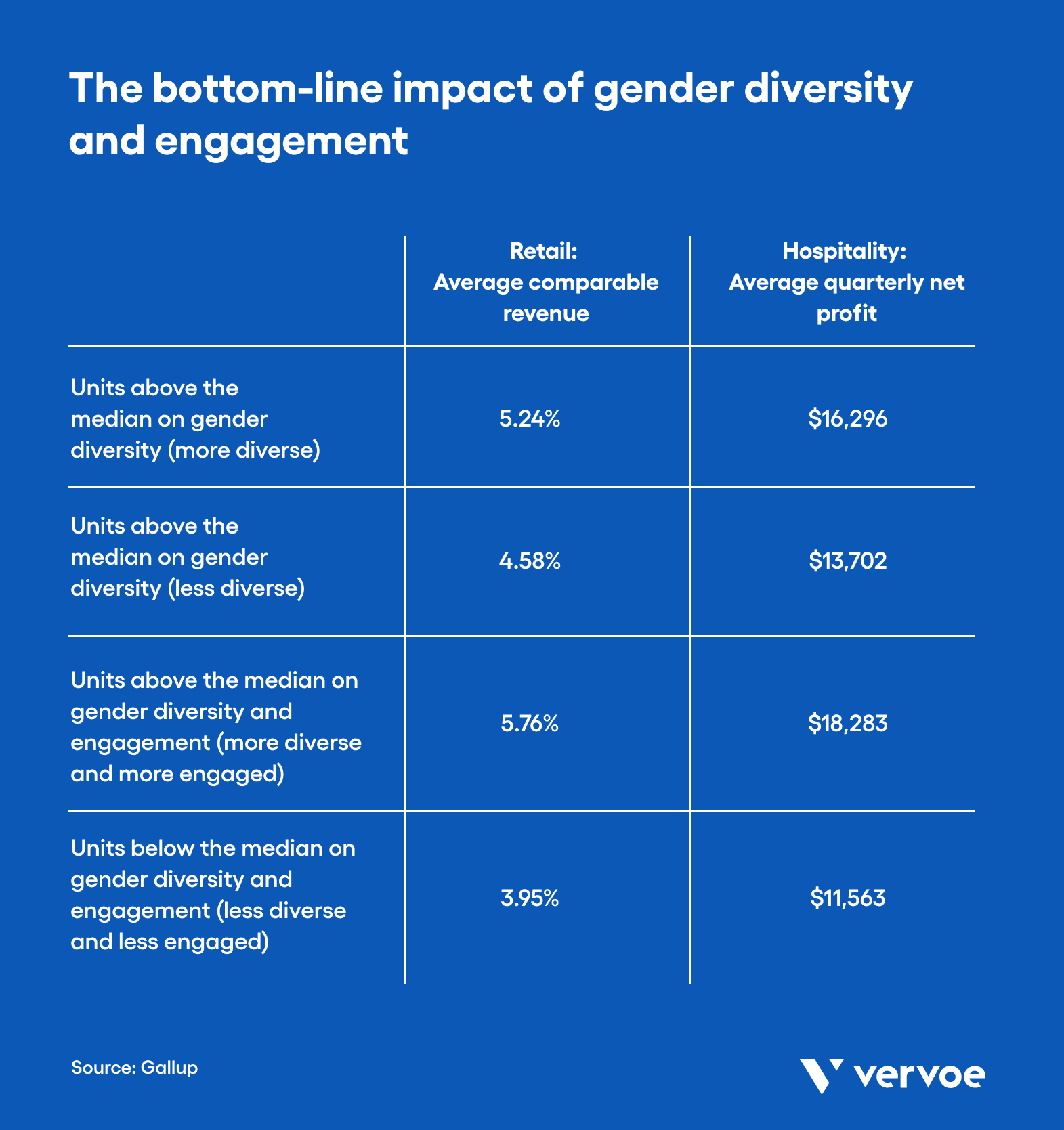 2. Gender diversity boosts innovative thinking
While someone's gender does not define their skills, different life experiences bring altering points of view and approaches. This makes for a more explorative and progressive workplace. A multiplicity of perspectives boosts creative and innovative thinking, helping propel organizations forward.
Studies show a direct connection between people in leadership positions with diverse backgrounds and greater innovation. This suggests that leaders are more likely to create a workplace where new ideas are welcomed, encouraging psychological safety where employees feel valued and safe to contribute and express ideas.
3. Gender diversity allows you to connect with your customers more deeply
Additionally, with more gender diversity, studies found greater resonance with understanding customers' needs and wants, resulting in better quality products and services.
In 2018, women globally spent roughly 40 trillion US dollars, according to Harvard Business Review. Women have significant buying power when it comes to purchasing decisions, meaning there's more opportunity to connect with a large portion of a company's audience by creating a gender-diverse workforce.
4. Gender diversity improves staff retention
This one should come without shock. Diverse companies with more inclusive cultures result in higher employee retention. Inclusivity empowers employees to contribute and collaborate, resulting in higher team morale, growth opportunities, and a lower employee turnover rate. The added bonus? Due to a satisfied workforce, diversity hiring results in less money spent on recruiting and onboarding new candidates.
5. Gender diversity boosts brand reputation and recruitment attraction
A workplace that inclusively empowers all genders is a walking recruitment billboard. A gender-diverse workplace positions a company in an attractive light for potential employees as it signals inclusivity and safety. Studies demonstrate a direct correlation between an attractive organization and favorable gender diversity policies, increasing candidates choosing diverse workplaces over those falling short on initiatives. Consider the following findings: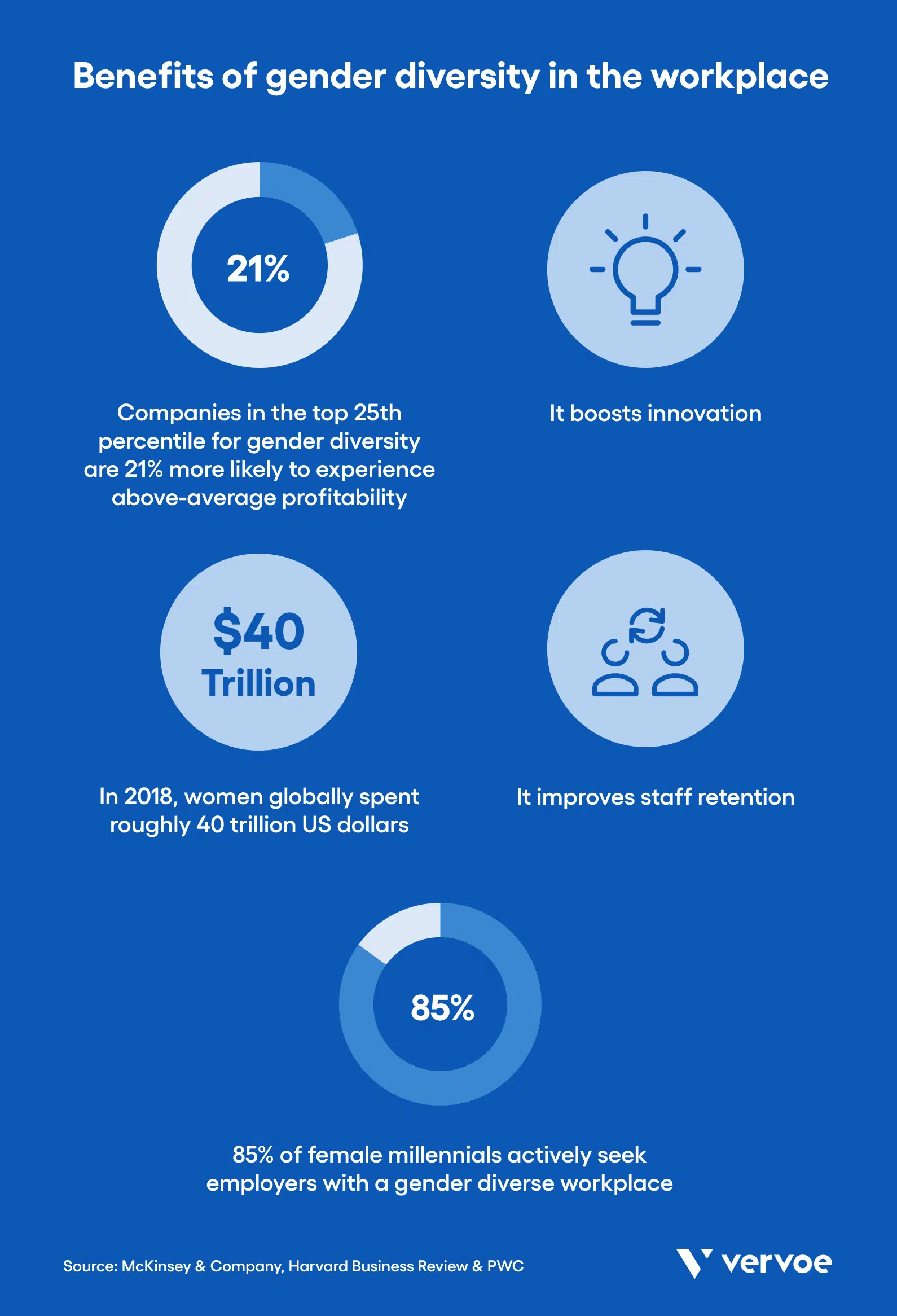 [Read more: 39 Awesome Companies Leading the Way in Diversity]
How can organizations be more gender-inclusive?
To recap: gender diversity and inclusion go beyond simply hitting a quota. It's about setting up intentional diversity and inclusion measures that promote inclusivity to give everyone — regardless of gender — a fair chance to reach their potential in the workplace. Here are three ways you can achieve a more gender-inclusive culture:
1. Make sure your language is inclusive
Inclusivity starts with how an organization speaks to and about its employees. Why? Because your words reveal your company culture and dictate to employees what's acceptable and valued.
Start by reviewing corporate policies and documents to assess how inclusive your language is in official documents, job descriptions, offer letters, onboarding material, etc.
AI-powered augmented writing tools, such as Textio, are worth considering if you need support removing discriminatory language, complicated business jargon, and potentially harmful phrases that could discourage candidates and lower your retention rate.
2. Be aware of your unconscious biases and stereotypes
Traditional recruitment processes are riddled with unconscious biases. As the name suggests, unconscious bias refers to different beliefs an individual may hold that result in them favoring certain employees and candidates over others. This can include reasons associated with gender, similarities, age, behavior, conformity, and more.
Where gender is concerned, we all carry biases. Some are based on personal experiences; others may be societal views perpetuating what is expected of certain genders. For example, while certain behavior exhibited by men is considered 'assertive' in a workplace, the same behavior in women may be regarded as 'bossy' or 'domineering'.
In the recruitment process alone, several studies have found that women are disadvantaged over men. One study that looked at 238 males and females found that both men and women prefer male candidates, even if they have identical resumes to that of a female.
Consider adding diversity recruiting tools to your processes, such as Vervoe's AI-powered skills-based testing, to help remove bias from the hiring process, ensuring you're finding the best candidate based on merit and nothing else. Take a look at what beliefs may influence your workplace actions, and try to challenge gender stereotypes.
3. Celebrate various perspectives and voices
The varied perspectives and opinions that gender equality brings to a workplace are among its most valuable benefits. It allows for more meaningful collaboration and ideas, resulting in better business outcomes.
Yet, to achieve higher gender diversity, inclusivity and open collaboration must be the priority. To achieve this, it's important to ensure your female, transgender, and nonbinary employees receive the same treatment and opportunity for contribution as male employees. And to welcome and consider all ideas, which creates trust and safety.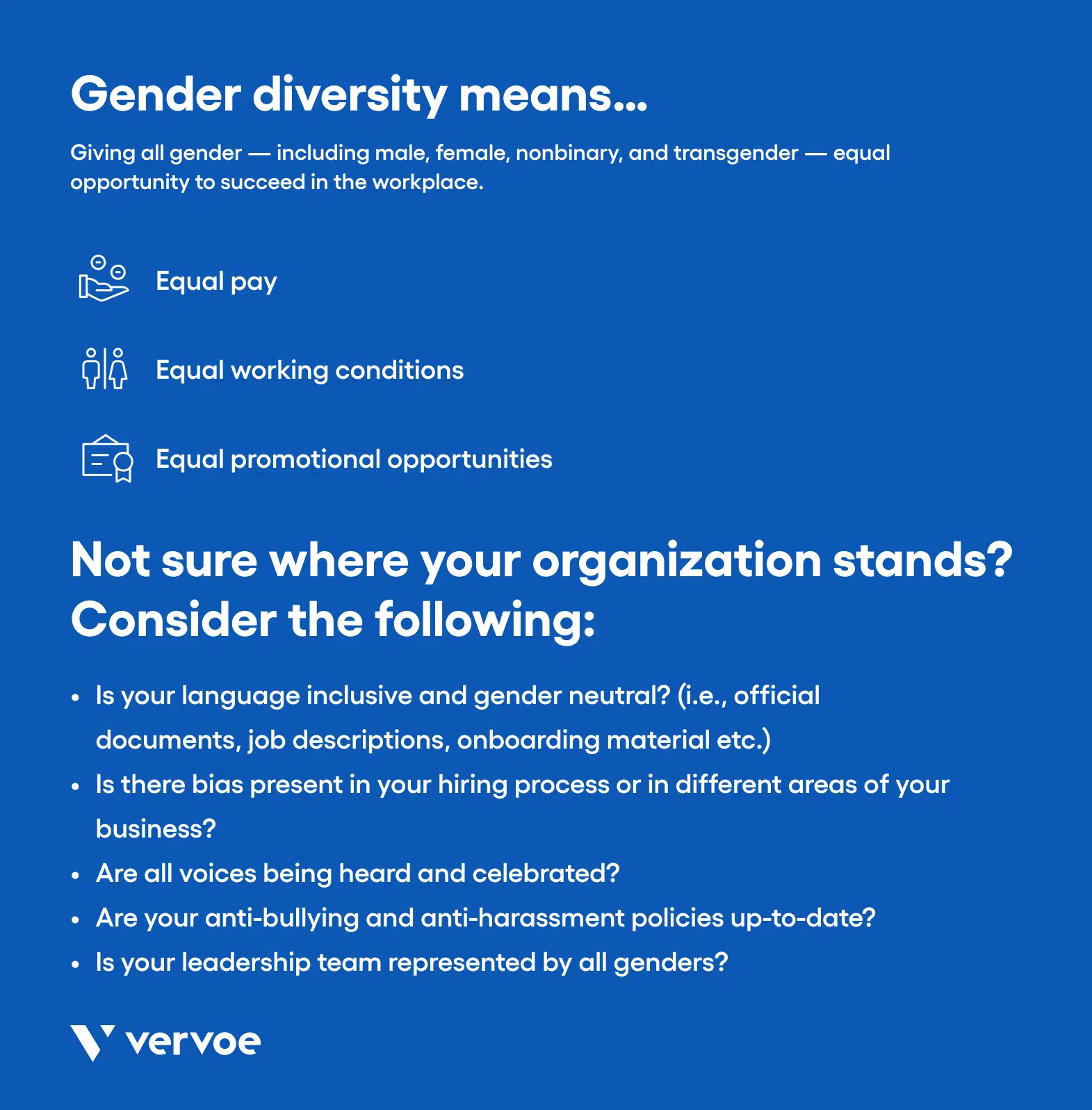 Final thoughts
The benefits of gender diversity in the workplace are undeniable. Not only does a gender balance in the workplace improve staff productivity and innovation, but results indicate a direct link with a company's bottom line and brand reputation. While, globally, we've got a considerable way to go to close the gender gap and reap the full benefits that a large portion of the workforce is proven to contribute, there are simple measures and initiatives organizations can implement now to encourage change.
Yet, what's glaringly evident in the findings is that it's simply not enough to meet a quota. For a gender-diverse workforce to genuinely have an impact, organizations need to buy into its intrinsic value and implement changes that allow for greater inclusivity from the top down.
Looking to improve the diversity in your hiring process and company? Learn more about our diversity recruitment software