When it comes to customer service job titles, there are many variants across different industries.
In fact, there are a lot of job titles that sound very similar, but depending on the company or industry, they could do something completely different.
To help you avoid this confusion, we're going to take you through some of the most popular customer service job titles you should know, and articulate the different responsibilities they have.
From customer success to customer support roles, this piece should give you a better understanding of different customer service functions and the job titles that best fit them.
On top of that, we'll share the most popular customer service jobs (according to Google's monthly search volume) so you can get the most traffic out of your job title keywords.
What are customer service jobs?
Customer service jobs are an umbrella for many job titles and terms such as customer service, customer support, customer success, and customer experience. All of those roles play an essential part in key business operations such as providing support during the buying process and helping customers use the products after they've purchased them.
Customer service jobs are all about helping clients, whether they're assisting them with the everyday problems that can stem from using the product or enriching the experience by providing quality support.
Most employees that work in customer service know that they have to help other people as a part of their everyday activities so there's a special kind of profile of people that love customer service jobs — outgoing people, who think fast on their feet, have a lot of empathy, and have a solution-oriented mindset that helps solve problems.
The difference between customer success and customer support jobs
Customer success jobs look after customers or accounts after the sales team has closed the initial sale or contract.
A person in charge of a specific client account will probably have the title of "customer success" in their job role. They will probably have a call with their clients on a quarterly basis to discuss how the state of the relationship, and how it might be upgraded or renewed.
A customer support representative or any title that has "customer support" in it refers to an employee who will respond to any requests (tickets) that a customer makes regarding a problem. This person will be the one that is the "first responder" to the problem and they will try to solve it on a call or through a live chat.
What's the role of the account manager?
There can sometimes be confusion when it comes to the difference between customer success and account management. The roles have some overlaps, but they're not the same.
An account manager is often a role that's close to sales. They can be tasked with finding new clients/businesses, but sometimes they can also be in charge of customer success tasks such as supporting existing clients.
To distinguish between the account manager which is more of a supportive role and ones that are actively trying to grow the business, some companies insert "sales" in the titles of the account managers that are on the hunt for new clients.
Customer service job titles hierarchy
When it comes to customer service jobs, there's a hierarchy of them. There are higher levels of customer service positions — they're usually strategic and have more impact — and there are lower levels of customer services positions — they're usually tactical and have less impact on the overall business operations.
The hierarchy is the following:
Chief Customer Officer (CCO). When it comes to this hierarchical level, the roles that can be found here are Chief Experience Officer, Chief Customer Officer, and Chief Client Officer.
Vice President of Customer Service. The customer service job titles on this level are VP of Customer Experience, SVP of Global Customer Service, and Customer Service Executive.
Director of Customer Service. This level has the roles of Director of Client Services, Customer Experience Director, and Director of Implementation.
Customer Service Manager (CSM). When it comes to this level, the roles you can usually find are Customer Success Manager, Client Service Manager, and Customer Experience Manager.
Individual Contributors. At this level, you will find roles such as Implementation Specialist, Customer Service Agent, and Support Specialist.
Entry Level. And on this, the lowest hierarchical level, you will find titles such as Customer Success Intern, Customer Service Trainee, and Customer Success Assistant.
We'll take a look at each hierarchical level and provide more detail about the roles and customer service job titles so you can get a better grasp of the roles.
Customer service leadership titles
Customer service leadership titles are about providing customer service job titles to the employees that have leading roles in the companies, have more responsibility in the company, have a greater impact on the overall success of the company, and have strategic roles. Companies such as HubSpot, Asana, Okta, Uber, and Northwell all use customer service leadership titles in their job roles.
The roles that you can give to the employees that are in customer service leadership roles are the following:
Chief Customer Officer
Chief Experience Officer
Chief Client Officer
Chief Customer Service Officer
Head of Customer First
Head of Global Customer Service
Head of Customer Success
Chief Experience Officer
Head of Global Customer Service
Head of Customer First
Customer service executive titles
Customer service executive titles are given to employees that are on the vice-president level in the company regarding customer service. Here is a selection of job titles to consider for customer service executives:
Vice President of Customer Service
Customer Service Executive
VP of Customer Experience
VP of Client Services
Customer Operations Executive
VP of Client Success
Vice President of Customer Success
SVP Client Management
Customer Experience Executive
Customer Solutions Executive
Customer service director titles
The director level is responsible for creating company-wide policies that will improve customer experience and will set goals that will align team members towards a single objective.
Job titles you can give to your employees that are working on this level are:
Customer Service Director
Customer Experience Director
Director of Client Services
Director of Implementation
Director of Customer Service
Voice of the Customer
Member Services Director
Director of Guest Services
Customer Success Team Lead
VP Client Relationship Manager
Customer service manager titles
The Customer service manager role is in the middle of the organizational chart — they're the ones tracking and supervising the customer service teams, training new people to the company's standards, and ensuring that they stay on track. They need to align their teams towards the company's goals and make sure that the entire team functions as a single unit.
Job titles you can give to your customer services managers can be the following:
Customer Service Manager
Call Center Supervisor
Relationship Manager
Client Services Manager
Relationship Manager
Client Care Manager
Customer Care Manager
Guest Services Manager
Customer service representative and specialist titles
All the roles we mentioned above are working at a more strategic level, ensuring that internal processes are aligned with the company's objectives and that the team members are trained. This level now works directly with the customer. They're the ones that are reaching out to customers, being proactive, and offering new and improved business services and products.
The job titles you can give to your employees at this level are the following:
Customer Service Representative
Implementation Specialist
Customer Service Agent
Implementation Consultant
Support Specialist
Customer Advocate
Customer Service Specialist
Client Service Associate
Client Service Representative
Customer service entry-level titles
At the bottom of the hierarchy, there are the customer service entry-level titles. These job roles are for the employees who are just starting out and who still need to go through the company's training. The employees on this level are still learning about the company's standards when it comes to customer service and they're usually observing and learning from their colleagues until they're ready.
Here are job titles that you can give to your employees who are on this level:
Customer Service Trainee
Entry Level Client Service Intern
Customer Success Intern
Customer Service Assistant
Customer Experience Intern
Trainee Customer Support
9 most popular customer service job titles to use on your team
When it comes to picking titles for your customer service team, you should pay close attention to what people are searching for.
People actively looking for work as customer service employees are likely on the lookout for specific job names. So if your job ads have these titles in them, they have a better chance of getting the attention of the people who you want to apply.
For example, if a "call center representative" has 2,400 searches a month, you would probably want to use that title instead of "call center team leader", which has only 40 monthly searches. Using "call center representative" will help you reach way more people and you will, in turn, receive more applications for the role.
So, with that in mind, here are some of the most popular customer service job titles for employers to use for their customer service teams: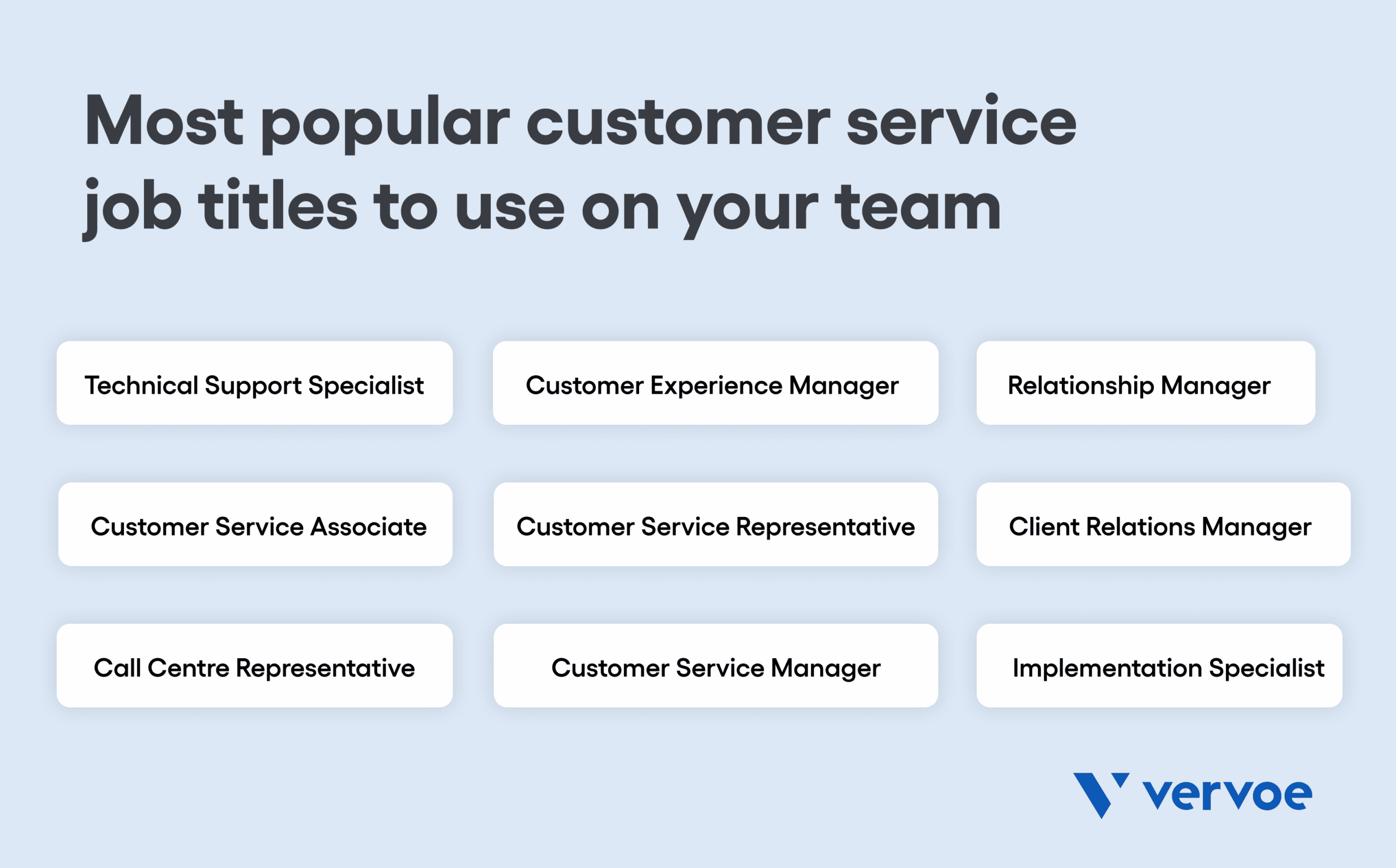 1. Customer Service Representative
This is a popular term with 14,800 monthly searches. You can use this job title when you want to find someone who will work directly with customers, be proactive, and offer them new products.
2. Relationship Manager
This term has 4,400 monthly searches. This role is for someone who will set up meetings with potential new clients, ensure that their needs are met, and document the customer experience process.
3. Technical Support Specialist
This job title has 2,900 monthly searches. A technical support specialist will cover the client's needs when it comes to technical (IT) services. They will troubleshoot customer inquiries that are technical over the phone, by email, or via live chat.
4. Call Centre Representative
This term has 2,400 monthly searches. A person in this role will maintain customer databases and resolve problems by troubleshooting.
5. Customer Experience Manager
This job title also has 2,400 monthly searches. A customer experience manager will help the strategic roles in the company create, design, and implement internal processes that will improve the customer experience.
6. Customer Service Manager
This title has 1,900 monthly searches. An employee in this role will oversee the customer service team, train customer service representatives, and keep track of their progress. They're the ones ensuring that team members are meeting company standards.
7. Customer Service Associate
This title also has 1,900 monthly searches. This role is more aligned to an employee who is on an intern level, where they still need to learn the company's processes and standards of operation.
8. Client Relations Manager
This job role has 1,600 monthly searches. The role requires the employee to work, build, and maintain a good relationship with a company's clients. They work closely with clients to create strategies that remove obstacles to the relationships thriving and provide clients with ways to reach their objectives.
9. Implementation Specialist
Finally, implementation specialist has 1,600 monthly searches. This role supports customers once they purchase products or services from a company. An implementation specialist will then manage, configure, and set up the product or service for the client, creating a schedule for it and even training them on how to use the products and systems.
Create the best customer service job titles
When creating a job title for a customer service representative in your company, make sure that you pick a popular job title. That way, your job ad will reach more people and you will receive more (qualified) applications for your open position.
If you are now ready to start hiring candidates for customer service job roles, it's the perfect time to read our article about the 18 key customer service skills you should be hiring for. This easy-to-digest guide will help you figure out which skills are most essential for hiring a role in this field.