The field of customer support has evolved. Whether you're a small business building a customer support team for the first time or evaluating how your support function could work better, good customer service has come a long way from the traditional help desk.
Great customer service is an expectation, rather than an added benefit. Consider some of these statistics:
Customer service and support impact everything from marketing to customer acquisition and retention to profit. Therefore, it's worthwhile spending the time to build an excellent customer service support team.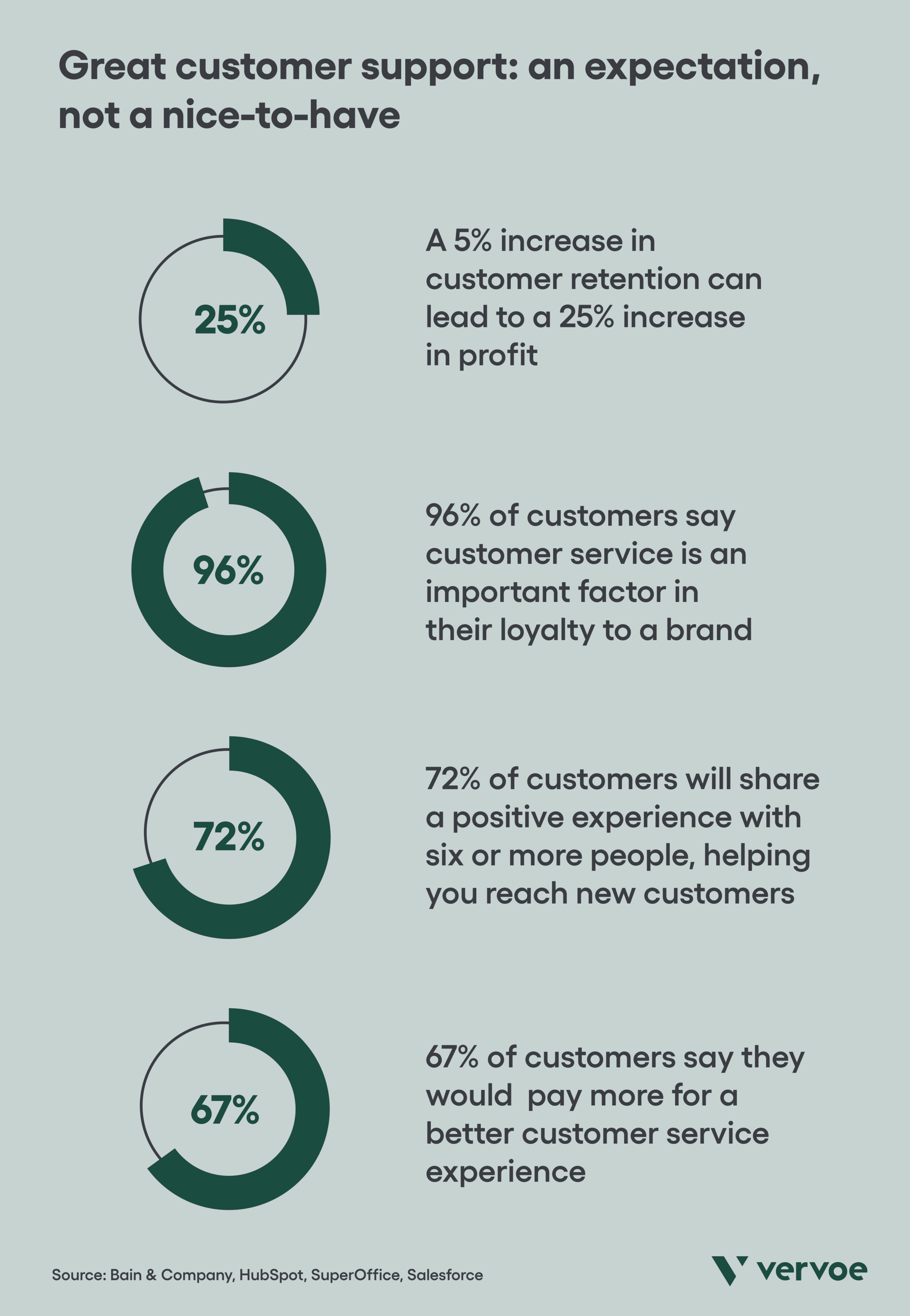 What is a customer service support team?
Traditionally, customer service and customer support have been divided into two distinct business functions. Customer support was considered to be a subset within the larger category of customer service. However, technology has rendered this division incompatible with the way customers interact with brands, leading to the rise of the customer service support team.
As a category, customer service focuses on providing a specific service to a customer. Customer service team members would perform activities such as locating a product, ringing up a customer, or upselling. Customer service is a transactional activity that assumes there are no issues or complex problems that need solving.
Customer support falls within customer service. It involves troubleshooting and improving the customer experience to ensure customer satisfaction. Customer support agents not only use customer service skills, but also work with the product team to provide documentation, feedback, and other communication that enhances the way customers interact with a product.
Today, few customers differentiate between customer service and customer support. A customer can communicate with brands through multiple channels but expect to receive the same level of care and attention regardless of the medium. In response, more brands are creating customer service support teams that integrate support and service in every customer interaction.
What makes a good customer support team?
A good customer support team is dedicated to addressing client needs and helping a customer achieve their goals. Good customer service isn't limited to carrying out a transaction efficiently; it continues beyond the initial sale to include assistance with onboarding, troubleshooting, or upgrading in the future.
An effective support department needs team members who have a variety of both hard and soft skills. This includes obvious skills such as communication, listening skills, and emotional intelligence, as well as writing skills, point-of-sale (POS) experience, and data entry.
[Read more: 18 Key Customer Service Skills and How to Hire For Them]
In building your customer service support team, reframe your goal as customer relationship management. Seek to build a team that understands that great customer service starts before the transaction and doesn't end with payment.
And, seek new team members who are comfortable using the support tools of a modern business: including social media channels, reporting tools, and self-service support software.
Is it necessary to have a customer support team or department?
The rise of self-service support tools has caused many companies to question the efficacy of having a customer service team at all. A study from Nuance Enterprise found that 67% of customers prefer to use self-service options instead of speaking to a company representative.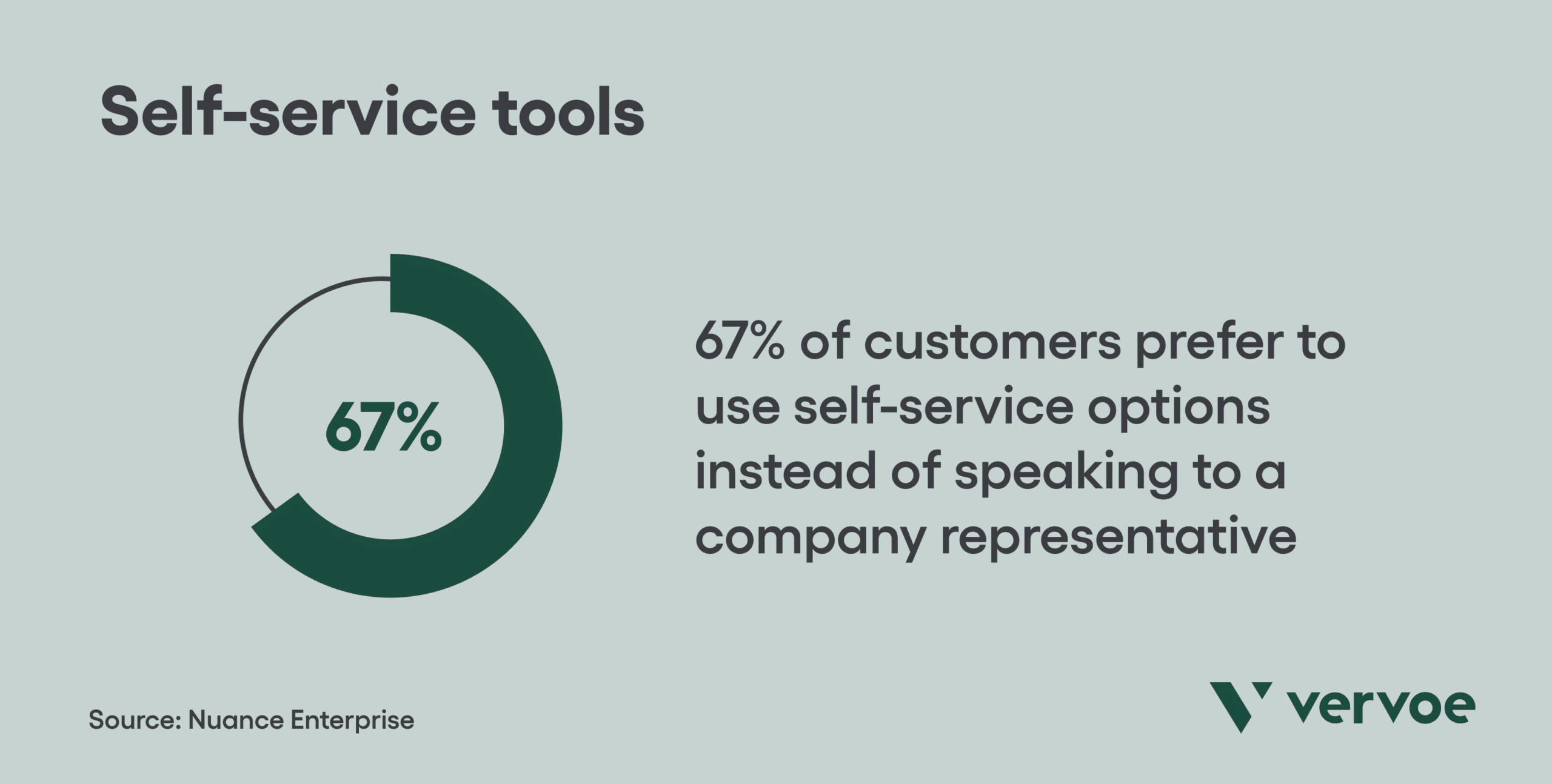 Self-service support tools should be an integral part of your customer service strategy, but they don't replace the personal touch of the customer service support team. There are some issues, particularly in the realm of customer support, that simply can't be resolved using technology.
Not only can customer support team members provide a better customer experience, but they can also help build your brand. Customer service employees can collect deeper insights through customer conversations about what is and isn't working. Simply by answering customer questions, your service team will learn what problems customers have with using your product and can ask for customer feedback to build upgrades, ancillary products, or a knowledge base.
This has implications for your employee retention, too. "[The] more you improve the customer experience, the harder your employees will work," writes HubSpot. "Research shows that companies that invest in customer experience also see employee engagement rates increase by an average of 20%."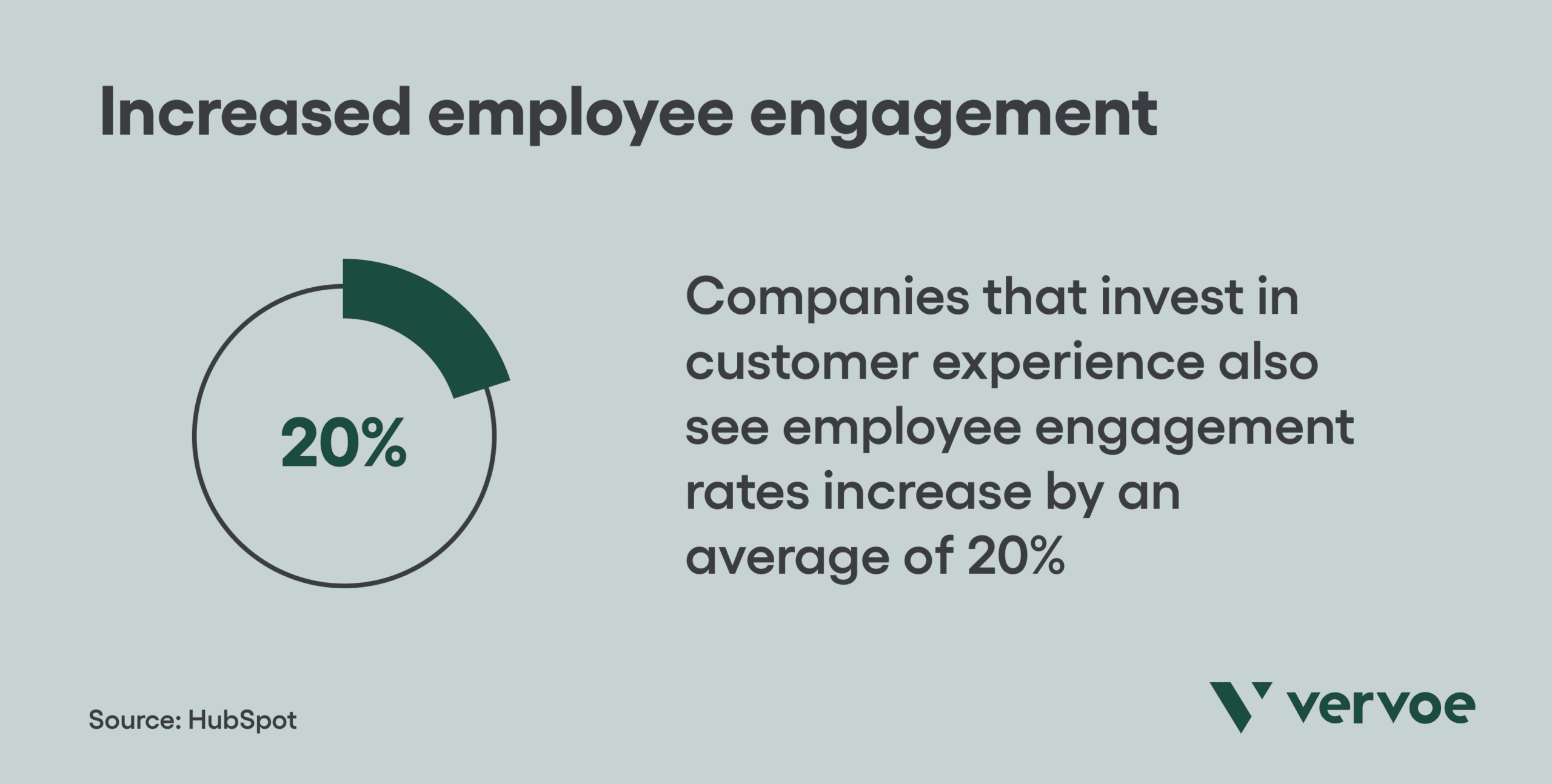 7 steps for building a customer support team
Wondering how to build a customer service team and looking for tips on creating a customer support function? These steps can help you create a support department that leads to higher customer satisfaction and many happy customers.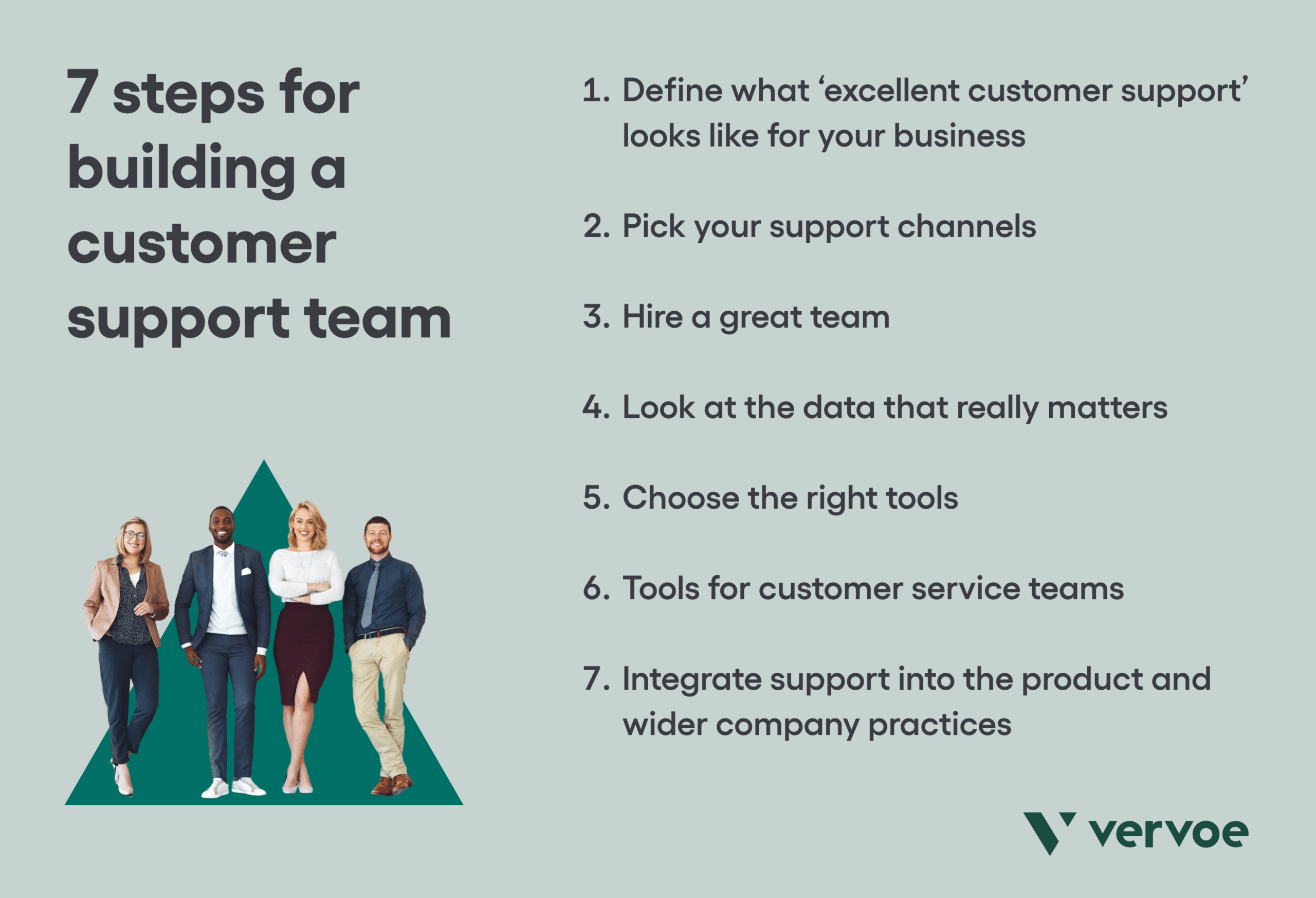 1. Define what 'excellent customer support' looks like for your business
Excellent customer support can mean different things in different industries. For logistics companies, for instance, excellent customer service could mean providing on-time delivery with regular updates. For a retail company, it could mean a flexible returns policy or detailed sizing information to help customers find the right fit. Here are a few questions to consider as you define what excellent customer support could be for your brand:
1. How does customer service align with company values?
Your customer service should align with your mission and your employee value proposition. These core brand elements provide a solid foundation for building a customer service philosophy that augments and reflects your company culture.
2. What customer expectations do you need to meet?
Good customer service is defined by those you serve. Today's customers often have high expectations for a quick response, clear communication, and thoughtful resolution when they have a question or issue.
3. What does the competition offer?
Customers have many brands to choose from, and 67% of customers would pay more to get a better customer service experience. Great customer service can make a huge difference in customer acquisition and retention.
4. What are your legal obligations?
Some industries are governed by service-level regulations. In Australia, for example, there's a government decree that sets forth time requirements for phone repairs — meaning customer service teams must respond promptly when a phone connection is down.
Customer feedback and industry research can help you find information to answer some of these questions. Your employees can also provide feedback as to what the customer experience should offer.
2. Pick your support channels
There are many support channels through which your service team can interact with customers. And, it's nearly impossible to monitor and respond to customer interactions on all of them at once. As you decide how to prioritize your resources and energy, there are a few key questions to consider.
What channels are your customers using?
Prioritize the communications channels on which the majority of your customer conversations are already taking place. This could include email support, a help desk, social media, or phone calls. Ask your marketing team to provide insights into your customer personas to better understand who it is you're serving and their preferred method of communication.
What channels are best for your brand?
Some support channels are better suited for different products or services than others. For instance, if you're providing technical support, you may decide to use visuals — in which case email is best. For retail products or for travel, sometimes live chat is preferable. Keep in mind which channels offer the best medium to solve customer problems for your particular brand.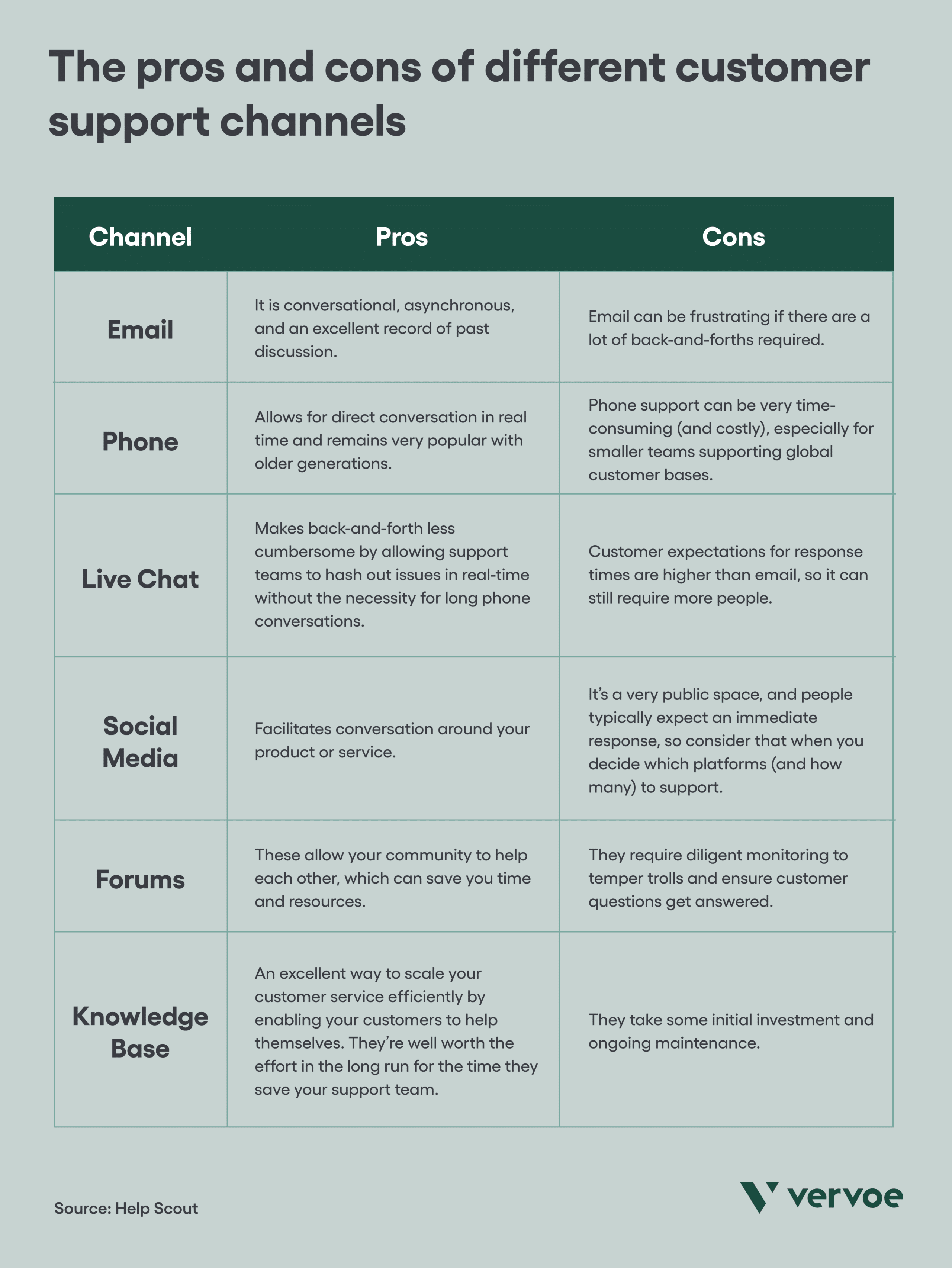 Use the talent you have
Make use of any social influencers or creatives on the support team who can help. Customers usually want to work with people they trust, and building a customer service team that has some recognizable faces or names can be a big benefit.
3. Hire a great team
All the channels and all the tools will only take you so far when it comes to providing a great customer experience. You'll also need to hire a great team.
[Read more: A Comprehensive Guide To Customer Service Hiring]
Define the right hard skills
While soft skills are often easier for customers to appreciate, the best customer service professionals have a balance of both hard and soft skills. For example, to be efficient, a customer service representative must be able to skillfully work their way around a Point of Sale system. Read more about the hard skills that benefit a customer service team in our guide, 8 Vital Customer Service Hard Skills To Hire For.
Define the right soft skills
The demand for soft skills is rapidly increasing across positions and industries. For customer support team members, strong soft skills are imperative. This includes things such as:
Communication
Listening skills
Emotional intelligence
Friendliness
Ability to remain calm under pressure
Strong organizational skills
Look to your high performers to see if there are other specific soft skills that would be helpful to add to your customer service support team.
[Read more: 10 Key Customer Service Soft Skills Your Team Should Master]
Hire proactively, not retroactively
Create a customer service recruitment strategy to anticipate and avoid skill gaps and grow your team in line with business demand. You should also work with other departments to align your hiring goals with the growth trajectory of the business. There are plenty of tools you can use to forecast your future hiring needs from job task analysis and skills gap analysis templates to Vervoe's skills assessment platform:
Retain and engage existing employees
Your customer experience is only as good as your employee experience. Make sure you carefully consider ways to retain your best talent, starting with onboarding new team members, improving diversity and inclusion, and buying into your employee value proposition.
4. Look at the data that really matters
The bottom line: metrics matter. As you build your customer service team, it's important to track the right metrics that will translate to an excellent customer experience and ensure your team is equipped with the right skills to improve those metrics.
What are you looking to report and why?
Avoid reporting fatigue by zeroing in on the data that will provide the best feedback about your customer service goals. If you're not sure what metric to track, consider these questions:
1. Why are you reporting?
If you're searching for data, such as trying to discern skill gaps or to see where the majority of your support requests originate, you can work backward to find the right metrics to answer those questions.
2. Who needs this information?
The detail and regularity with which you track each metric should relate to the end-user. An HR team will need different information than a CEO.
3. What do you want the outcome to be?
Report on metrics that are most relevant to the change you hope to achieve by building your support team. For instance, if you're hoping to provide a broader range of support channels, focus your reporting on the number of interactions that happen on social media channels, email, phone, etc.
There are some common customer service metrics that can help you understand the efficacy of your team. Some of these metrics include:
Customer satisfaction rate
Positive vs negative reviews
Resolved cases
Time to resolution or average handle time
Upsells
Interactions to resolution
For more ideas of how to track your success, check out our guide, How To Find the Right Customer Support Team Structure for Your Business.
5. Choose the right tools
You can hire the best customer service representatives, but without the right software and tools, they will be unable to significantly improve your customer satisfaction scores.
The right tools can make serving customers faster, easier, and more effective. These types of tools include your help desk as well as internal tools for collaboration, productivity, and communication.
Articulate the functionality you need
As you vet and research different options, find out what each tool can offer as well as its limitations. Is your entire team able to use it? What conversations can it handle (e.g., live chat, phone calls, social media, etc.)? What are its reporting features?
Must-have vs need-to-have features
Create a list of the features your customer service technology stack must have, versus those that are an added bonus. Quality essentials are a better value-add than a tool that is too complicated for your team to navigate.
Apps you need to integrate with
Make sure any technology you choose integrates with your existing systems and platforms. For instance, can your CRM connect with your social media tools? Can your email marketing sync using an API, or do you need a workaround? Audit the internal tools and systems currently in use to determine whether it's better to update them, replace them, or keep them.
Tools for customer service teams
Generally speaking, a modern customer service team needs to have access to:
Helpdesk software
Live chat software
Phone support software (or outsource to a call center)
Knowledge base
A social media management tool
A shared email inbox
A customer relationship management tool (CRM)
Many of these tools will also have reporting functions, but some companies find it helpful to bring all metrics together in one real-time metrics dashboard tool.
6. Create a comprehensive knowledge base
A knowledge base is a published library of FAQs, guides, instructions, and how-to videos that help users find answers to their problems without having to ask a live representative.
A knowledge base is a win-win for customers and support teams. Service agents and consumers can save time by making it easy to answer simple questions. Instructions are more easily accessible. And, many knowledge base tools provide reporting that can show you where customers are having repeated issues. This helps product teams prioritize upgrades and improvements.
Likewise, a knowledge base can be a good onboarding tool. Asking a new hire to review and update the knowledge base will help pass along valuable information that they can use to answer common requests and become familiar with the product and company.
7. Integrate support into the product and wider company practices
Finally, it's worthwhile to recognize that support isn't the responsibility of a single team. Customers expect that every employee will go the extra mile to help them. As a result, it's imperative to integrate support into wider company practices.
Become a customer-focused company by providing training throughout the business. Empower all frontline workers to answer questions and troubleshoot as necessary. Automate simple processes or offer a self-service option to minimize friction.
Most importantly, create systems that help all departments share information and route issues for follow-up. One of the easiest ways to lose customers is to spend forever resolving a customer need; internal transparency and feedback loops can help make sure everyone is on the same page.
Start building your customer support team today
Building a great customer service team starts with understanding your customer's needs. For some companies, their customer base wants simple, straightforward support delivered via a forum or webpage. For other companies, customers need complex assistance with setting up and using the product.
Look for team members who have a combination of hard and soft skills. Hard skills can help them onboard with useful customer service tools, such as CRM software, live chat software, or a social media management tool. Soft skills will allow your brand to retain customers and provide an excellent experience.
As you hire, try Vervoe's Customer Service Simulator. This immersive hiring tool allows you to see how well a candidate performs in the role you've designed by creating life-like customer support simulations and testing their ability to search for the right answers and respond in real-time.