The year might have only just commenced, but we've been busy ensuring that Vervoe's core technology remains innovative and ahead of the curve.
To improve the experience of our users, make adjustments based on market changes and to ultimately take the next step of what our technology stack can do, we've been busy behind the scenes to launch a range of exciting new features that we're confident our customers will love.
With just a handful of these our groundbreaking Cybersecurity Job Simulations product launch, refreshed user experience to our Assessment Library and search filters, Question weighting updates, integrations for Candidate Sources and transcriptions in AI Health, these all add up to what makes Vervoe an industry leader in recruitment technology.
Cybersecurity Job Simulations Are Live
As one of the most widely anticipated new products that we've ever launched, our initial suite of six job simulations place candidates inside a live terminal to complete a range of job specific tasks, such as configuring firewall systems, patching vulnerabilities, hardening operating systems, and investigating intrusions.
A hiring manager shouldn't have to be experts in order to hire an expert. Skilled cybersecurity professionals are notoriously difficult to identify, but our six role specific job simulations use state of the art immersive experiences to take skills testing to a whole new level, and can be viewed here.
We've even embedded them into a handful of in-demand industry roles in our assessment library, with positions including System Administrator, Network Engineer, Cyber Security Officer, Cyber Security Analyst, Technology Risk Analyst, so you can hire faster, and with confidence.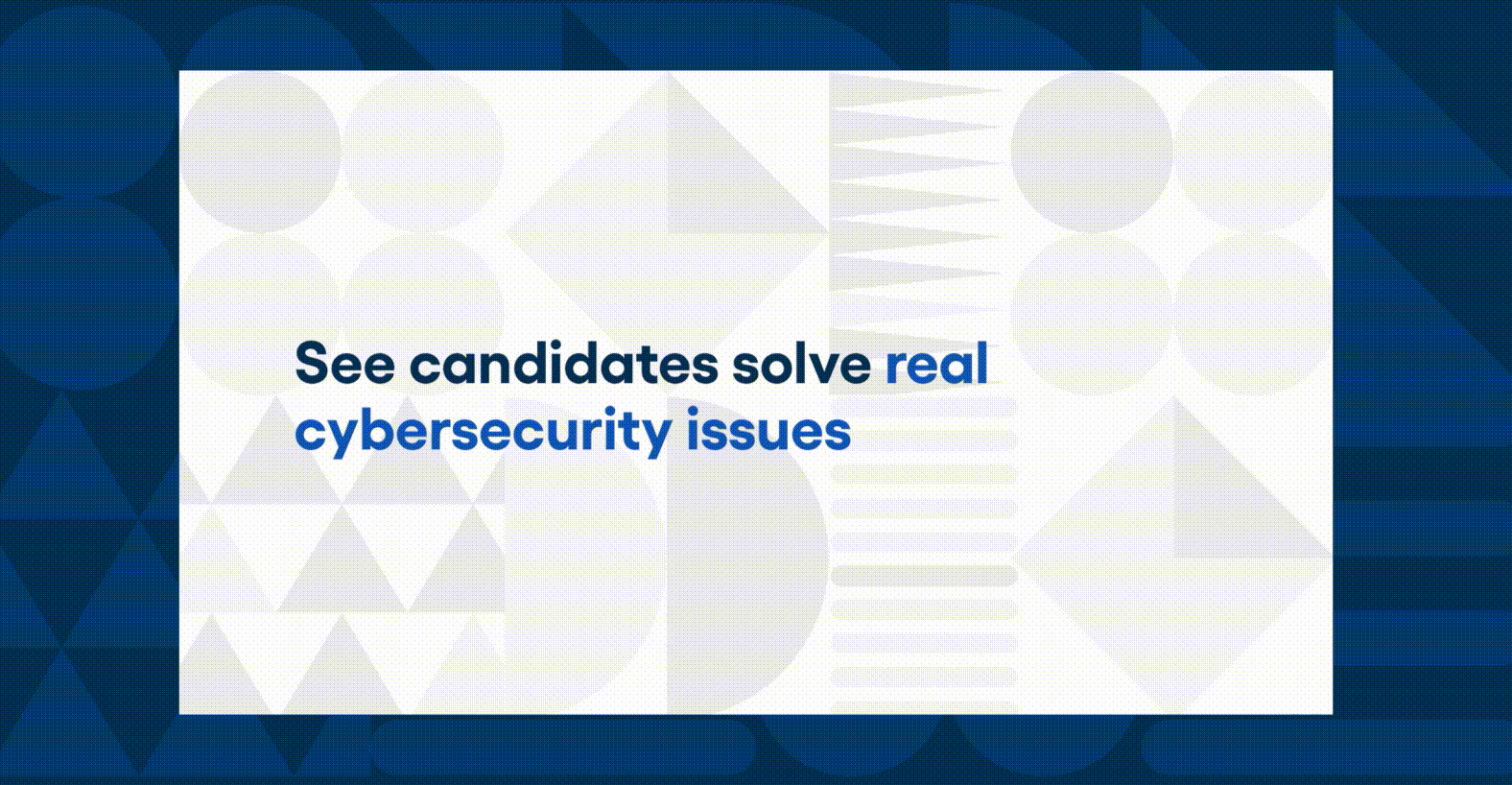 Assessment Library Refresh
Each assessment in our library has been created using a competency framework that maps the skills and attributes for success in the role. However, with over 300 assessments to choose from, we've given this hub a refresh to make it easier to filter assessments by category, skill level or question type.
To further improve the experience of our customers, we've also introduced tools to sort assessments via date, popularity or by alphabetical order. This way, our busy customers can now access the information they need faster, and more accurately.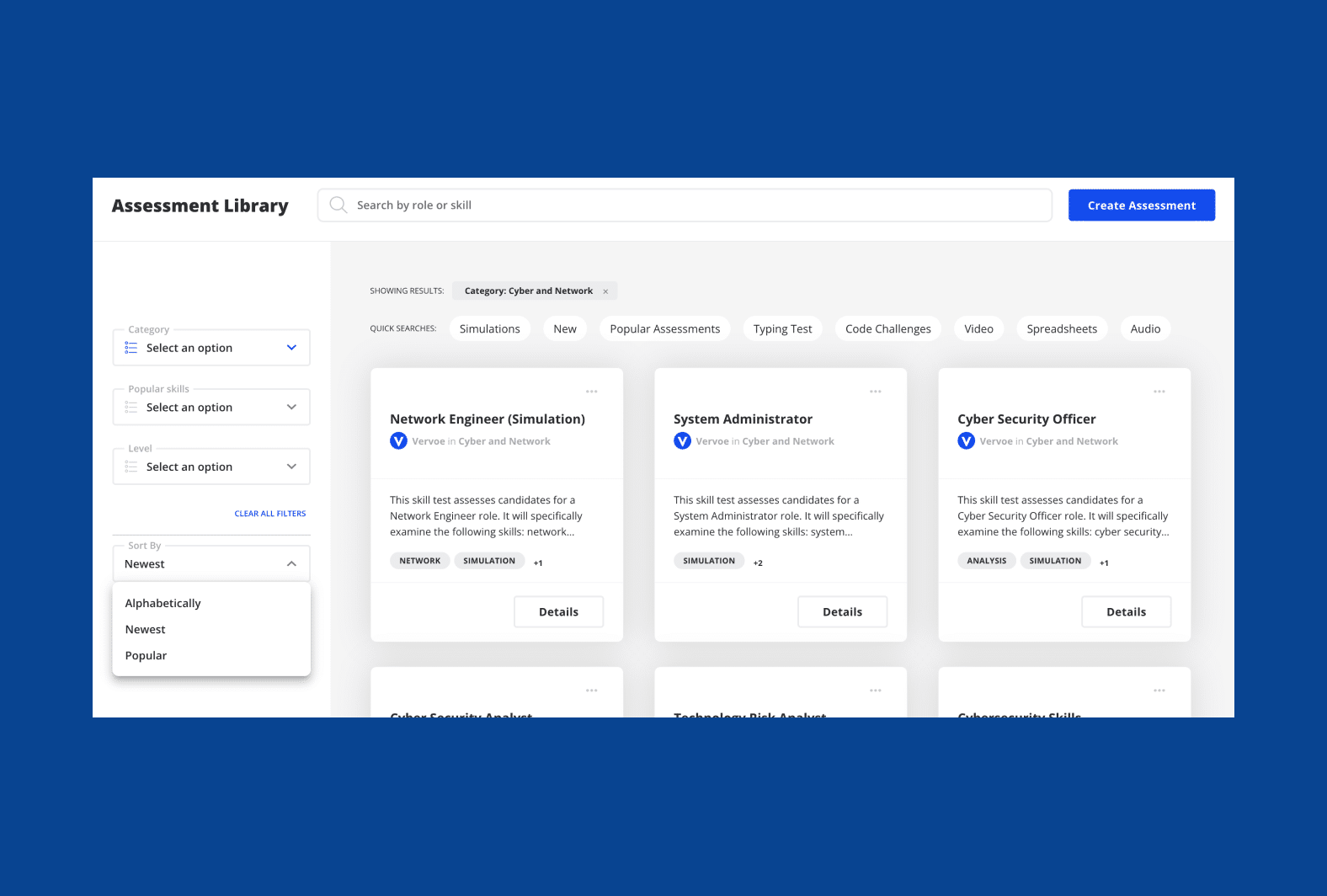 Question Weighting Update
Over the years, the question types that candidates encounter during skills assessments have improved and increased. As we continue to build them, some are now much more immersive, requiring significantly more effort from the candidate to complete – ensuring that the results are just as insightful for recruiters.
To recognize this differentiation between question types, we've implemented updates to question weighting to reflect that question types are more valuable to a score than others. This update will help to identify top performers, as those that score well on highly weighted questions will naturally rank higher in Select.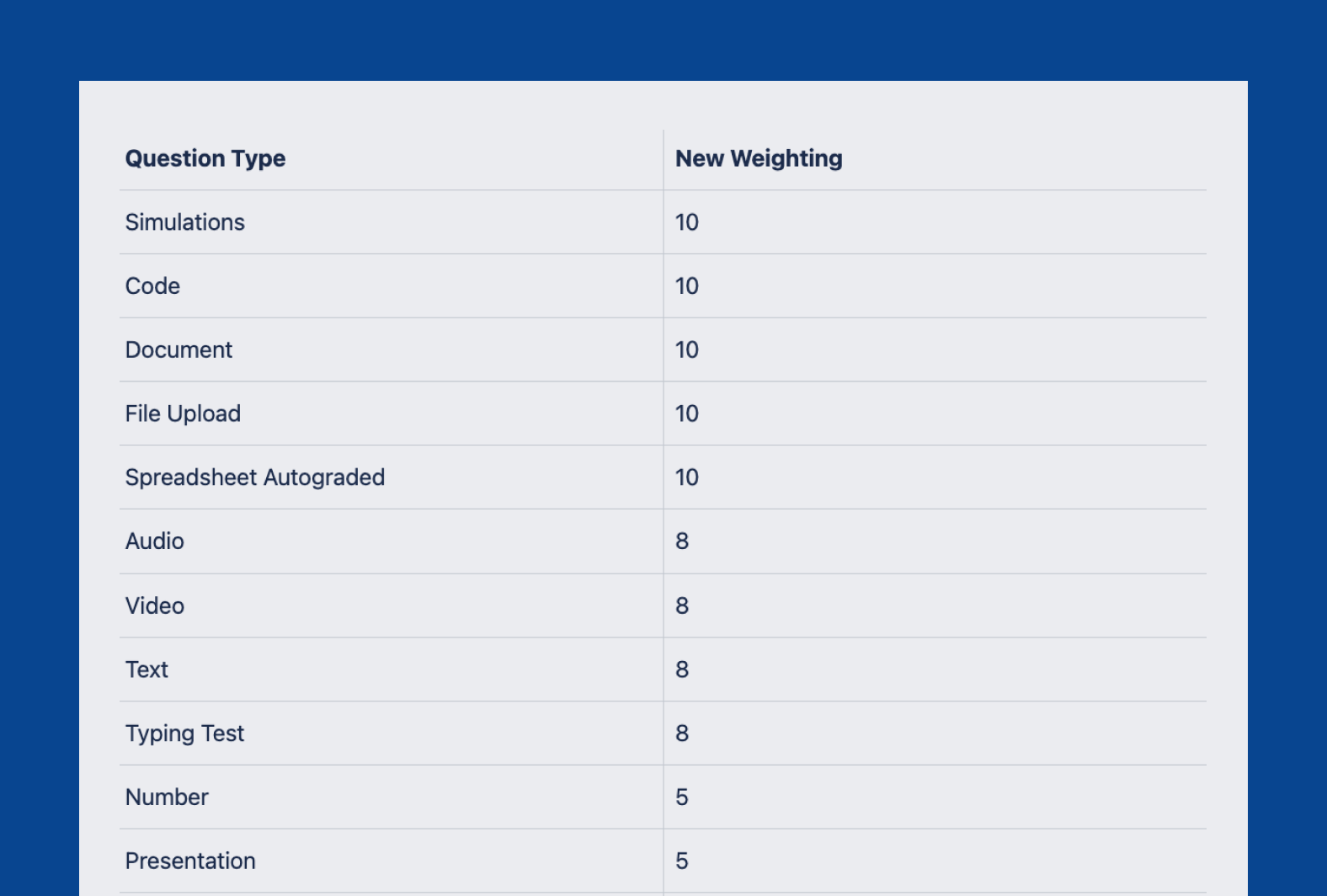 Integration For Candidate Source
Around 99% of Fortune 500 organizations utilize applicant tracking systems (ATSs) to streamline their hiring process. Additionally and as per the same report, data shows that 86% of all ATS users are recruiters, who claim they can fill positions more quickly by using such a system.
To reflect this, all ATS integrations have now been added as a candidate source. This is now visible in the invite list, as a filter in Select, and on the candidate card. By improving our integration offerings, recruiters and hiring managers now have greater access to seamless communication between channels.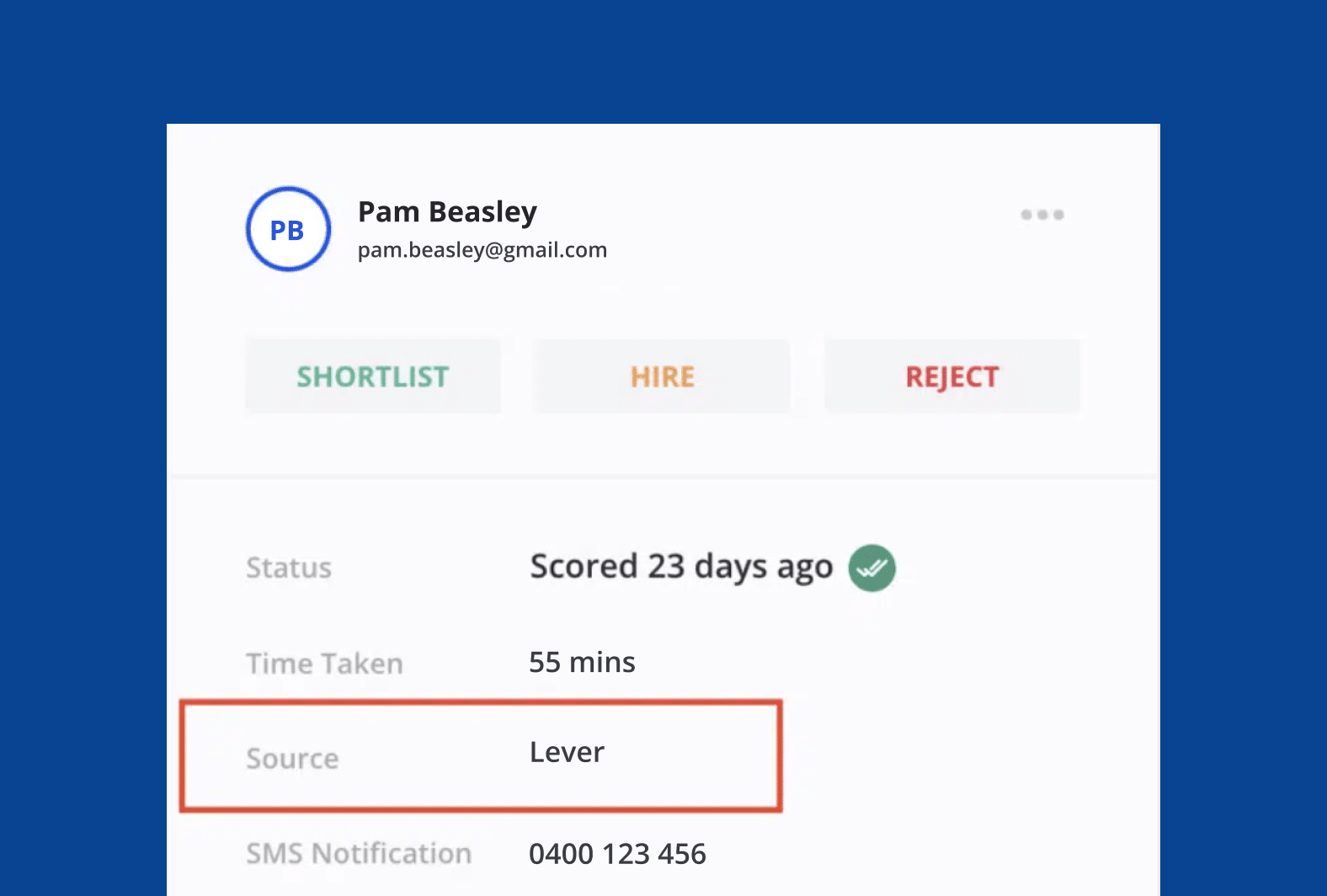 AI Health Transcription
We take enormous pride in the efficiency and accuracy of our grading powered by artificial intelligence, and our latest update is just way we're ensuring that our machine learning actually offers the tools that our customers want and need.
We've made it so that skills assessments which feature audio and video based questions now have transcripts available in AI Health grading, where the field is collapsable and closed by default. This way, recruiters and hiring managers have greater flexibility with how they view candidate results.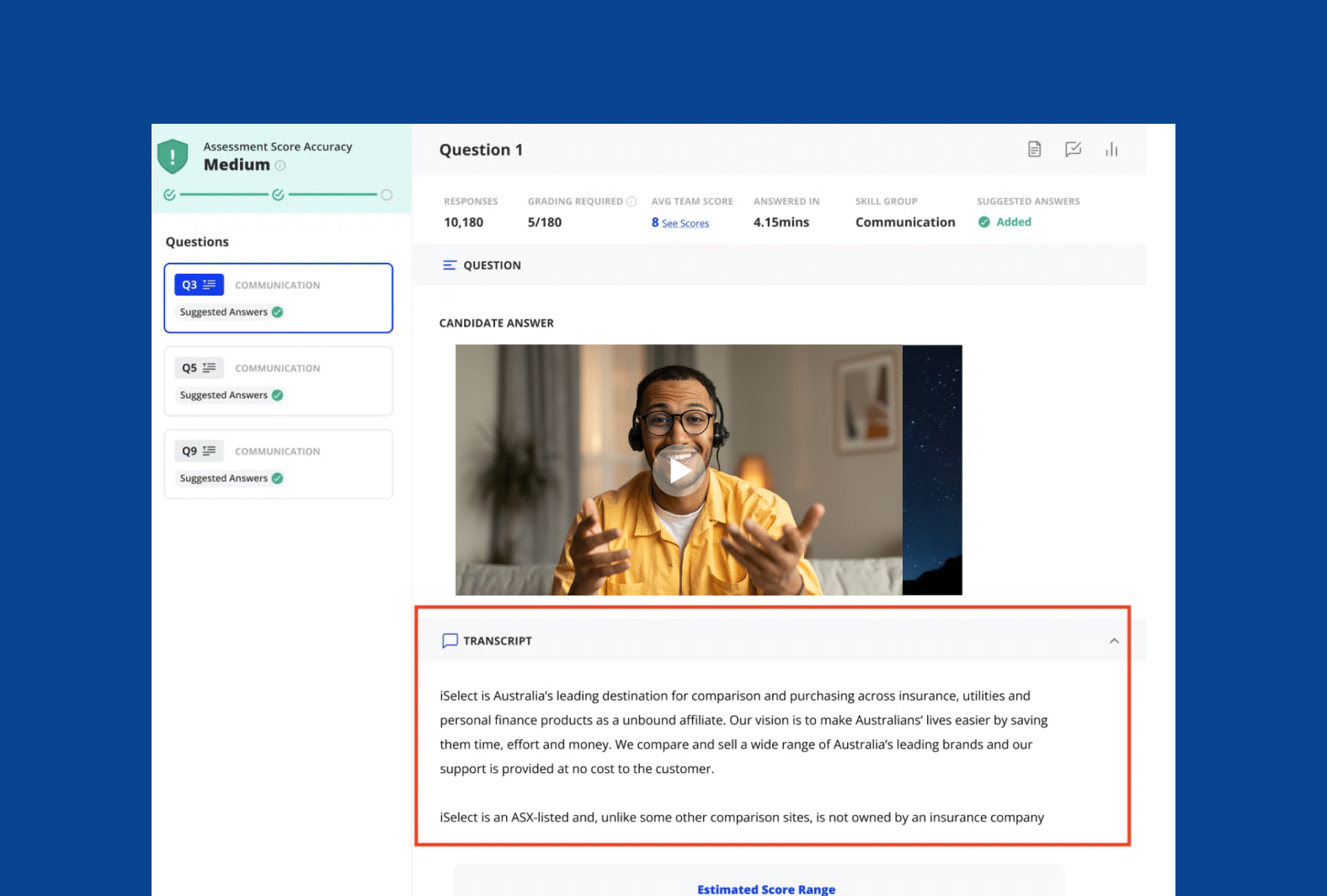 Join The Skills Based Hiring Revolution Today
Vervoe is an end-to-end solution that is proudly revolutionizing the hiring process. By empowering companies to create assessments that are tailored to suit the specific requirements of a role, Vervoe predicts performance using skills testing that showcase the talent of every candidate.
By assessing an applicant's ability to perform the role, our job simulations focus on the work — and not the person. To see people do the job before they get the job, book a demo today and let our experienced team run you through Vervoe's full range of ready-made and tailored solutions.