We're thrilled to announce the launch of our new embedded Excel based question type, updated integrations and more ways to combat the rise of cheating via tools like ChatGPT.
Here at Vervoe, we've been working hard behind the scenes to enhance the user experience and push the boundaries of our technology stack. As a result, we are thrilled to announce some new and exciting features we think our customers will absolutely adore.
Excel Question Type
You asked and we listened. Our latest Excel question type allows customers to natively embed MS Excel into any assessment. Whether you already love the Google Sheets question type and just need some advanced features and functions, or it's just an application your candidates and organization are more familiar with, we've got you – so you can get that Excel expert.
98% of candidates love using Vervoe because they get the chance to truly show their skills. This question type will help you test advanced functions of MS Excel like macros, pivot tables and linking worksheets. While it's up to you to choose how you use this exciting new feature, the aim is to learn how proficient a candidate is with this system and to see if they can decode numbers into something meaningful.
In addition, some roles and industries like Finance may require Excel more specifically than others, such as using other data analysis tools for specific tasks, or Google Sheets for a more general range of business tasks. We believe the closer the skills assessments and job simulations reflect a true day in the life – the better.
Now, MS Excel and Google Sheets are both supported applications in Vervoe, and can be directly added in Vervoe assessments. As most users already know, Excel supports advanced features and functionality, and can be used across business functions to store, calculate, perform data analysis, visualizations, transform or even code – truly the swiss army knife of MS applications! Find it in the Create editor today.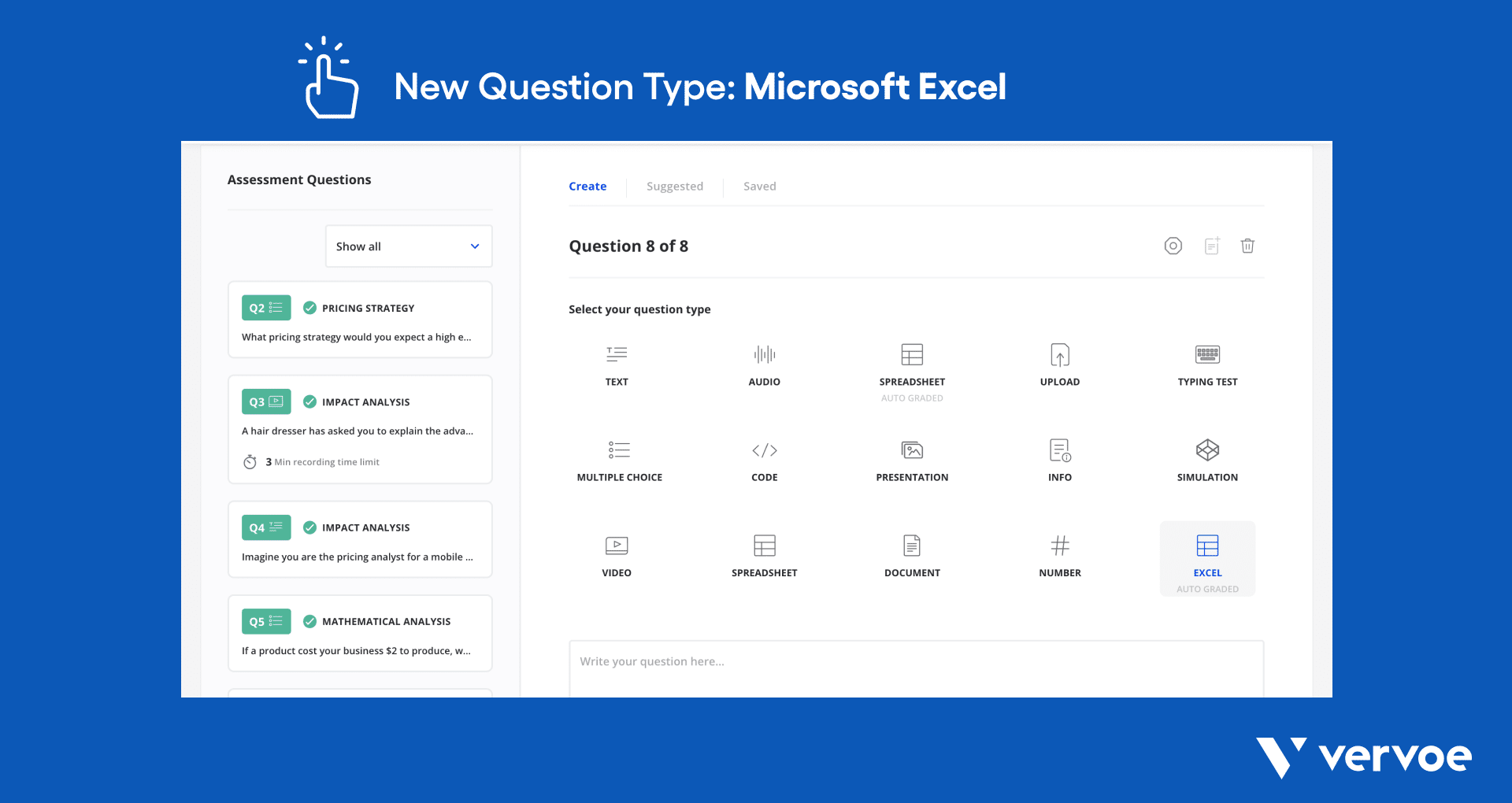 Smart Recruiters Integration (Version 2)
There's now an easier way to see how top candidates would actually do your job within SmartRecruiters. The latest Vervoe integration with SmartRecruiters means streamlining your talent acquisition workflow and predicting candidate performance is now more seamless than ever.
Connect Vervoe and SmartRecruiters and enjoy benefits such as –
Previews of how candidates would do the job through Vervoe's 300+ skills assessments and job simulations
An instant shortlist of top performers with Vervoe's best in class AI grading
Rich candidate profiles that can be accessed and shared directly from your SmartRecruiters dashboard
A streamlined process with Vervoe intuitively mapping to corresponding candidate statuses in SmartRecruiters
A winning candidate experience that allows candidates to shine and prevents job shock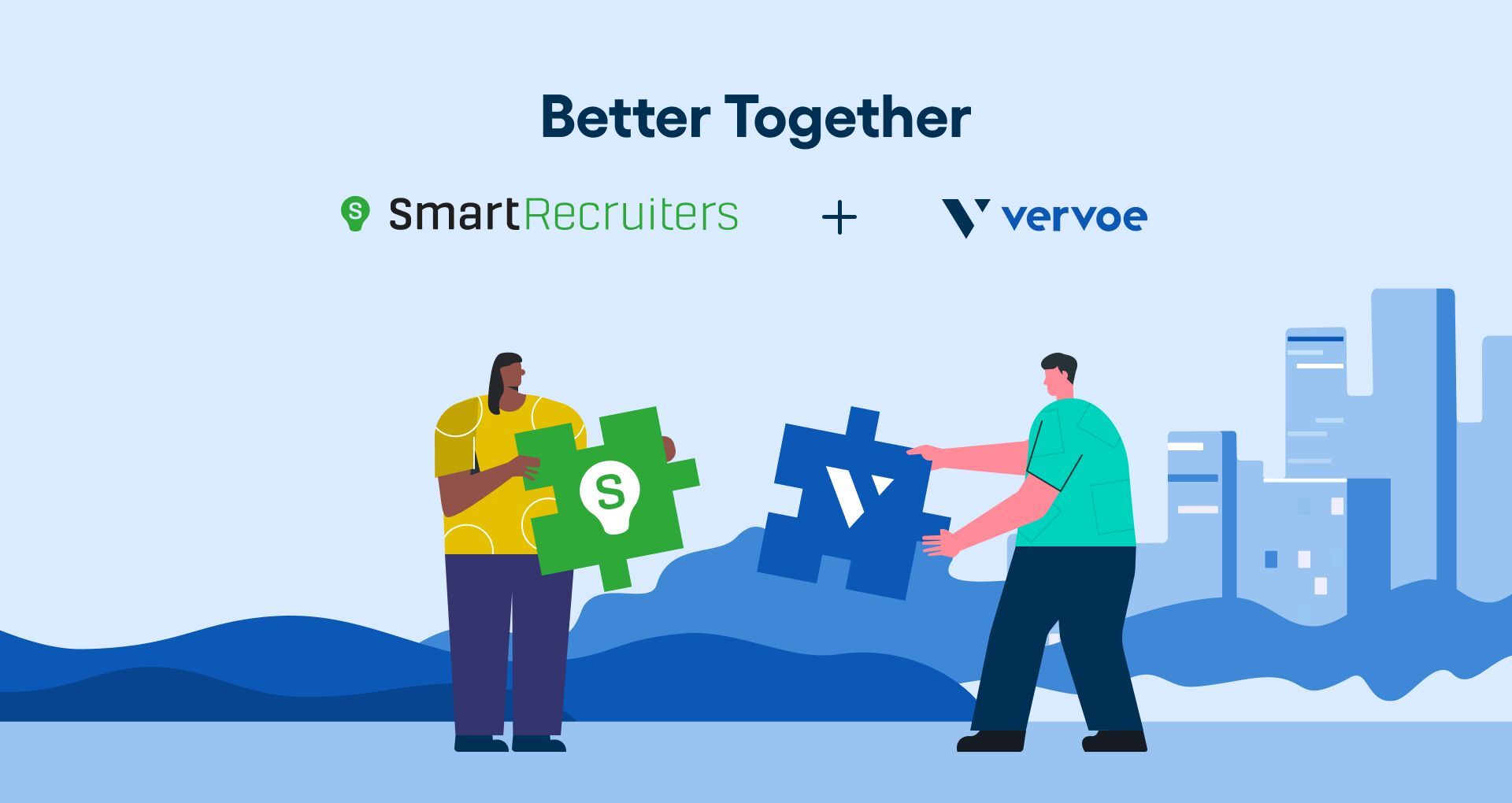 Anti-Cheating Updates
AI powered ChatGPT now has an estimated 100 million monthly active users, and many of our customers are looking for more measures to ensure their recruitment process has safeguards against potential ways to cheat or provide false information.
As a result, did you know candidates are no longer able to copy the text or content from a question?
Designed to make it more difficult for candidates to copy and paste content into tools like Chat GPT, you can read more about this update and our anti-cheating feature set here. Alternatively, sign up for a free trial now to check out the new Excel question type and test new anti-cheating updates.
Join The Skills Based Hiring Revolution Today
Vervoe is an end-to-end solution that is proudly revolutionizing the hiring process. By empowering companies to create assessments that are tailored to suit the specific requirements of a role, Vervoe predicts performance using skills testing that showcase the talent of every candidate.
By assessing an applicant's ability to perform the role, our job simulations focus on the work — and not the person. To see people do the job before they get the job, book a demo today and let our experienced team run you through Vervoe's full range of ready-made and tailored solutions.