Used intelligently, remote hiring tools can save an organization time, money, and effort. They can improve the remote candidate experience, drive better hiring outcomes, and make it possible to hire remotely at scale.
But in an increasingly crowded technology marketplace, how do you pick the best solution for your needs? In this article, we'll give you some tips for doing so, and present Vervoe's pick of the six best tools for remote hiring.
What to look for in remote hiring tools
Every organization is unique, which is why you should beware of salespeople offering a one-size-fits-all solution.
Start by reviewing your remote hiring process and determining your organization's needs at every step of the recruitment journey. Understand what your priorities are, and look for tools that will help meet those goals: perhaps you want to reduce your time-to-hire, get access to better reporting capabilities, or improve the candidate experience.    
Other factors to look for when choosing remote hiring tools are:
Integrations: Does the solution integrate seamlessly with existing tools, such as your Applicant Tracking System (ATS) or your company's ERP?
Ease of use: The tool should be easy to use for the hiring team and other stakeholders within the business and, most importantly, for remote candidates. Ideally, it should require minimum or no training.
Affordability: Different vendors offer different payment structures, with some offering monthly subscriptions and others charging per user. Look for a solution that will remain affordable even as you scale up.
Customizability: Can the product be customized or altered to suit your needs? For example, can you customize a skills assessment, upload your logo, or change a platform's colors to match your brand?
End-to-end system or tech stack?
One of the critical questions to ask yourself when investing in digital tools is whether you want a single, end-to-end system or a customizable tech stack.
End-to-end systems try to do everything. They could be an enterprise-wide ERP such as SAP or an HR-wide solution such as BambooHR, covering everything from hiring to payroll. Different solutions are offered within the products suite as "modules" – a culture module, a skills-assessment module, and so on. One of the problems with these all-in-one solutions is that companies end up paying for modules they never use.
The alternative is to take a tech-stack approach. This means looking for best-in-breed solutions that do one thing only but do it very well. You may use one software provider for payroll, another for onboarding, and a third vendor for reward and recognition. The number one factor to keep in mind when building a tech stack is integration. Each solution should connect with and "talk with" the others, sharing data to create a connected HR software ecosystem.
Here are our recommendations for six tools to use at different points in the remote hiring process.
1. Automated Job Posting: JobAdder
Researching and posting on job boards can take up a great deal of time. It's frustrating, repetitive, and challenging to tell if you're getting a return on investment.
With JobAdder's job posting software, recruiters simply write a job ad once, select job boards and parameters, and automatically post them to thousands of social media sites and job boards such as Seek, Indeed, and Monster. Users can post to international job boards – an essential feature for remote hiring.
Features include:
Easily post job ads from one system
More job boards than any other provider
Automatic source tagging (to understand where candidates are coming from)
Time-saving job ad templates
2. Applicant Tracking Systems (ATS): SmartRecruiters
Applicant Tracking Systems were originally designed as a place to store candidate information and resumés for compliance reasons. Today, they're used for tracking and communicating with candidates as they move through the hiring process, screening (often via automated keyword searching), reducing time-to-hire, and increasing visibility.
SmartRecruiters offers an ATS that promises to improve efficiency and enhance the candidate experience.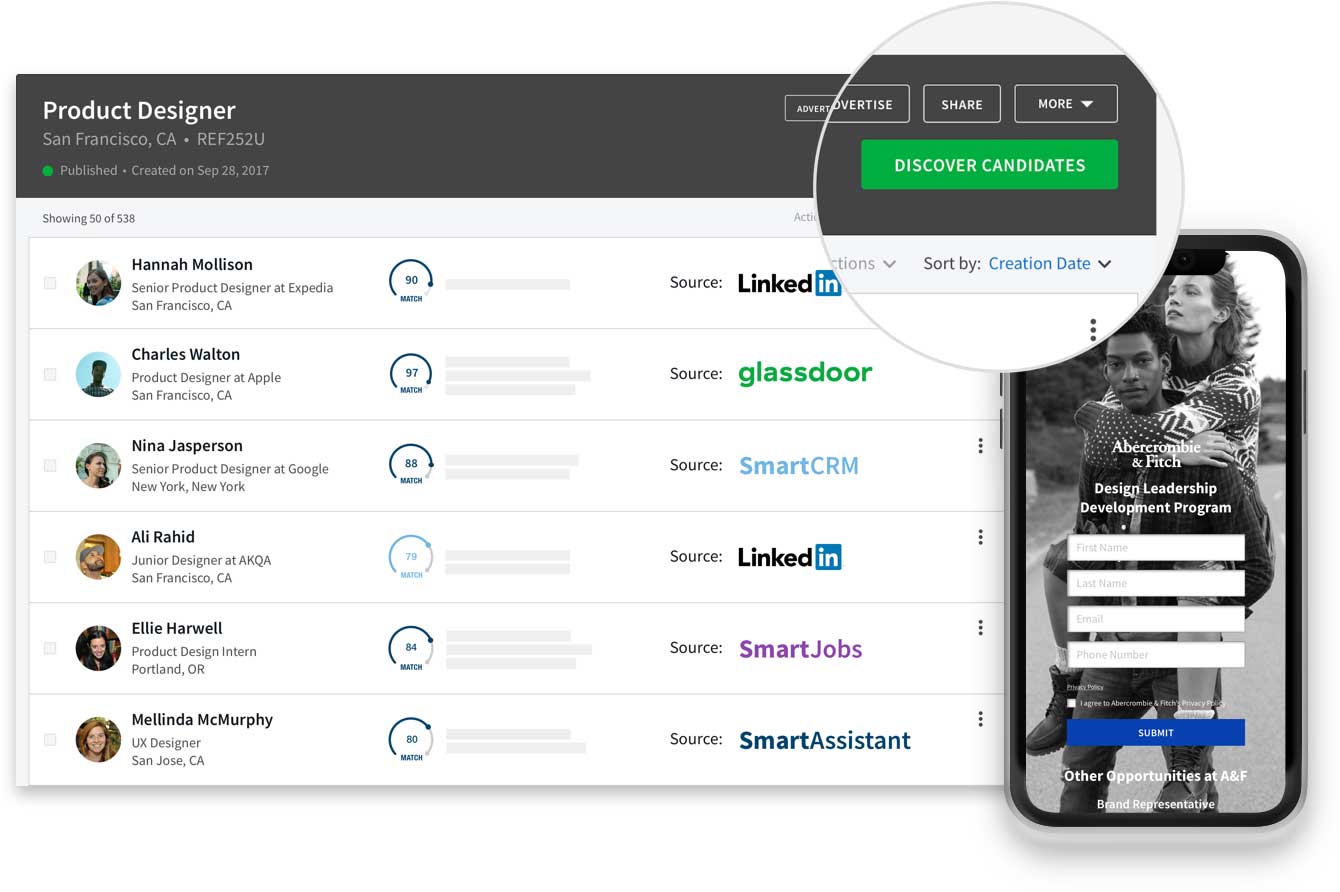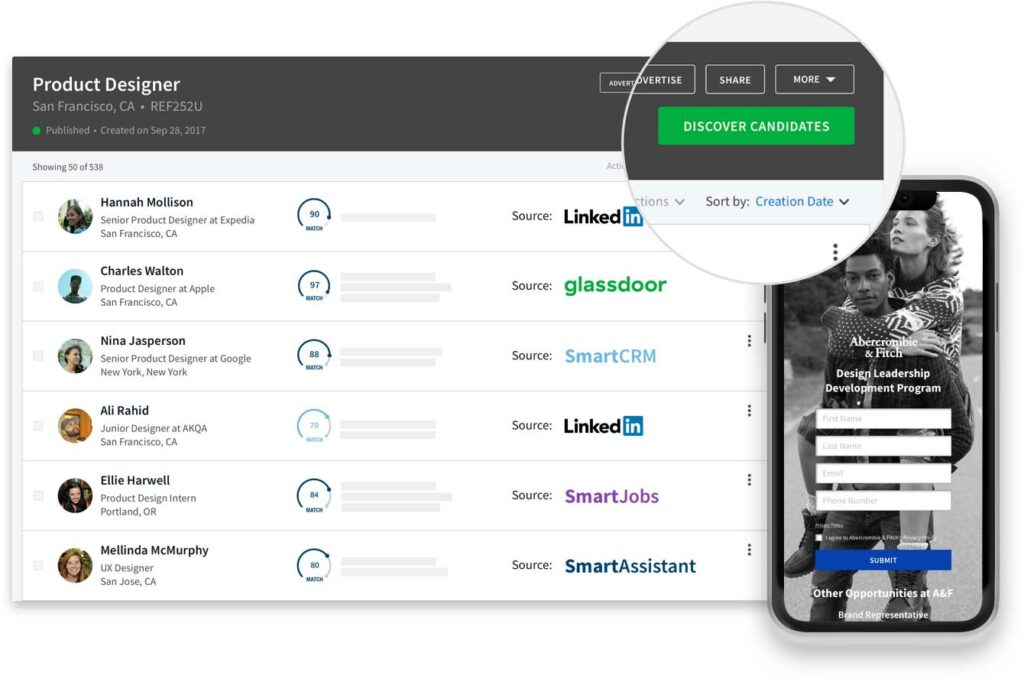 3. Video-conferencing tools: Zoom
Remote interviews require a videoconferencing tool that will not let you down. Reliability and stability are therefore the key factors to look for.
You'd be hard-pressed to find any remote worker who hasn't used Zoom. Supercharged by the COVID crisis, the videoconferencing platform jumped from 10 million to 300 million daily users between 2019 and 2020.
Features include:
Ease of use: Zoom is easy to set up, use, and manage without any training or IT support
Multiple participants: Zoom videoconferences can handle up to 100 participants at once, which means the average remote job interview (with two to six participants) is a breeze
Single platform: Users can run video calls, phone calls, webinars, or text-based chat via Zoom
Devices: Zoom works on desktops, web browsers, mobile devices, and can be connected with conference rooms via Zoom Rooms
4. Skills Assessment: Vervoe
Vervoe makes it simple to hire top-performing remote team members using AI-powered skills assessments and remote interview software.
Features include:
Custom assessment builder
Shareable candidate scorecards
Personalized candidate messaging
Automated grading, ranking, and insights
Branded assessments
Both technical and soft-skills testing, including the skills necessary for successful remote working
5. Meeting Scheduling: Calendly
Calendly is an appointment scheduling tool that eliminates the time taken to send emails back and forth when attempting to book a meeting with a remote candidate. Users simply let Calendly know their availability, then send the candidate a scheduling link with a list of available timeslots to choose from. This is particularly useful for organizations hiring remotely across several timezones, or booking online meetings with several participants.
Features include:
Calendar integrations: connect with up to six of your calendars to automatically check availability
Notifications: Send confirmation and reminder emails and texts to improve no‑show rates
Buffers: Add extra time before or after events
Minimum scheduling notice: Avoid last-minute meetings and give yourself enough time to prepare
Time zone detection: Display availability in your invitee's time zone with intelligent time zone detection
6. Remote Onboarding: HROnboard
HROnboard focuses on creating amazing employee journeys. Remote onboarding helps automate many of the time-consuming tasks that typically take up the first week of a new hire's employment. Remote onboarding can help new hires get up to speed faster and keep them engaged in the lull between the job offer and their first day. Remote onboarding tasks may include meeting the team via video calls, completing online training and compliance activities, and induction tasks such as setting up an email account and payroll.
Features include:
Paperless (digital) job offer creation and offer acceptance
Engagement indicators
Team leader prompts
Drag & drop induction journey builder
Audit trail and reporting
Integration with learning systems
---
Take your hiring to the next level by making Vervoe a part of your remote hiring technology stack.