Great onboarding can improve employee retention by 82%, yet 88% of organizations don't onboard well; most likely because over half of organizations say their onboarding program is focused on paperwork and processes.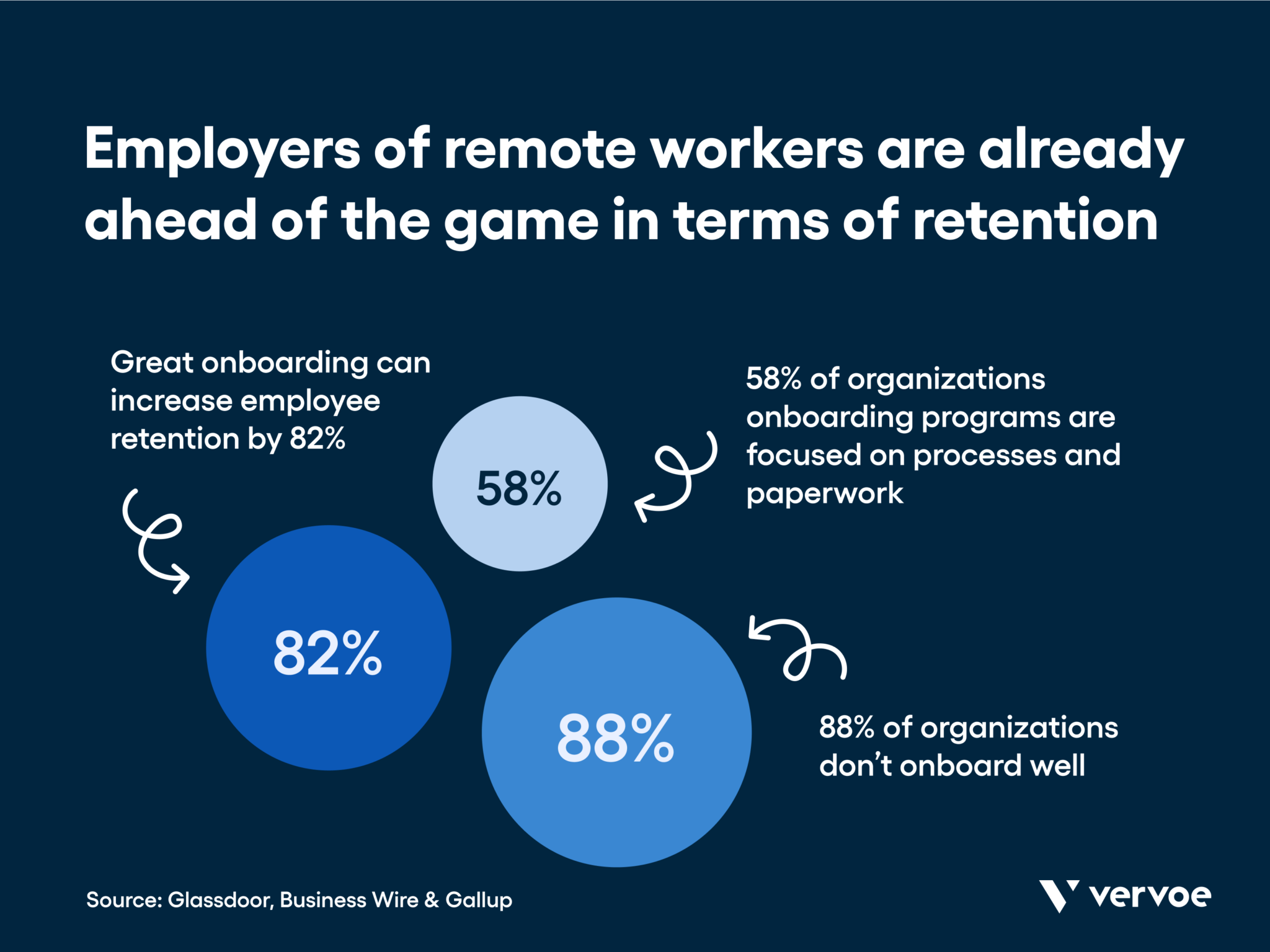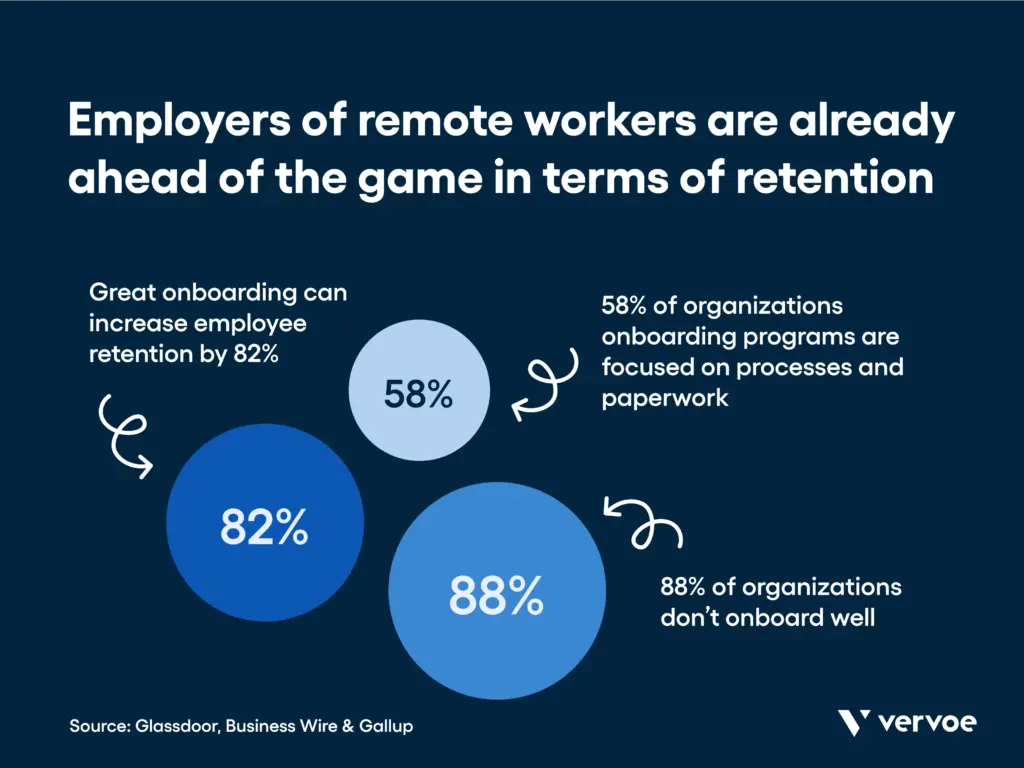 The challenge of onboarding remote workers is made even more complicated when hiring remotely. Without the office tour, face-to-face introductions, and in-person training, how can employers make their new remote employees feel welcome, introduce the company culture, and set them up for success?
This guide to remote onboarding will show you how to run a great remote onboarding process. Below, we explore:
What is remote onboarding?
Remote onboarding involves welcoming a new hire to the remote team, helping them understand the business and how their role contributes to the overall picture. It's an opportunity to assure new hires that you value them while showcasing the company culture.
Onboarding also means setting the new hire up with everything they need to do their job: giving them system access, introducing them to the rest of the team, taking them through policies and procedures, compliance paperwork, training, and administrative tasks such as payroll.
With a geographically distant new hire, all of these onboarding tasks need to be conducted remotely. This is made possible with digital tools, including dedicated onboarding software and videoconferencing platforms.
Remote onboarding challenges
1. Keeping the candidate engaged before their first day
Nothing compares with the buzz that a candidate feels when they receive a job offer. It's a heady mix of excitement, anticipation, and pride in the fact that they were chosen over dozens – or even hundreds – of competitors.
New hires usually have around 30 days before their first day in the new role. Unfortunately, many organizations squander this opportunity to keep that candidate engaged and enthusiastic.
This period is either filled with incredibly dull paperwork requests ("please print, sign, scan, and send back…") or – even worse – silence from their new employer. Consequently, the high levels of excitement and engagement gradually ebb away.
2. Disorganized or lengthy remote onboarding process
For many organizations, onboarding doesn't start until day one of employment. If you've ever been through a traditional onboarding process, it may have sounded something like this:
"Welcome to your first day! We're so glad to have you on board. Oh… it looks like you haven't been given access to the shared drive yet. Has someone arranged an email address? No? Hmm, I'd better call IT. In the meantime, I've tried to arrange an introductory meeting with a key stakeholder you'll be working with, but it looks like she won't be available until next Thursday… how about you just read this health and safety manual for now?"

– HR
Disorganized onboarding processes are not only disheartening for the candidate, but it means they won't get productive for a week or more while they get up to speed with paperwork, compliance, training, and introductory meetings.
3. Remote employees missing out on onboarding
Many traditional onboarding processes have proven hopelessly unsuited for the remote hiring boom. Without the usual office tour and face-to-face meetings, remote employees may miss out on any sort of organized welcome or induction process.
Unfortunately, remote onboarding is often reduced to the uninspiring basics: processes, policies, and paperwork.
Remote onboarding software
Luckily, dozens of onboarding and induction software options are available to choose from, with more entering the market every year. These products bring workflow efficiency to employee onboarding by automating everything from candidate messaging, video meeting bookings, reminders to IT to set up system access, and more. They also help eliminate paperwork through the use of digital signatures.
Importantly, onboarding solutions such as Enboarder, HROnboard, and SaplingHR have been built with employee engagement as a top priority.
When choosing a solution, look for mobile-friendly software, 100% paperless, can accommodate video introductions, integrates with existing HR software, including (importantly) your learning management system (LMS) for digital training, and gathers feedback on the onboarding process.
Onboarding solutions include stand-alone products to be integrated into your HR tech stack or onboarding modules that are part of end-to-end HR systems.
When does onboarding start, and when does it end?
Traditionally, onboarding started on the employee's first day at work and continued for one to two weeks. But best-in-class onboarding expands these timelines to start earlier and finish much later.
When should onboarding start?
As mentioned above, the period between the job offer/acceptance and the new hire's first day at work presents an opportunity to get a great deal done.
Onboarding software can be set up so that the process is triggered the second the candidate accepts the job offer. Many of the engagement and compliance activities that usually occur in week one can be completed before the candidate starts work – saving time, keeping the candidate engaged, and helping them get productive sooner.
A word of warning, though. There's a lot of goodwill during this period, but don't try to pack too much into these 30 days because the new hire isn't getting paid for their time. Short tasks such as signing a form with a digital signature are fine but don't expect someone to spend hours completing lengthy tasks such as training for free. Also, keep in mind that the new hire may still be working full-time in their previous job.
When should onboarding finish?
One school of thought is that onboarding should be completed as soon as possible. With the efficiencies offered by onboarding software (and by moving much of the process into the period before they begin work), onboarding can be completed within days or a week at the most.
Other HR professionals believe onboarding should last much longer – sometimes even up to a year. After the initial induction, this may involve a series of check-ins (perhaps at 30, 60, and 90 days) between HR and the new hire to ensure they are settling in well. This is a great way to keep an eye out for any factors that may lead to the new hire quitting and keep the HR/talent team involved in their success well beyond the first week working remotely.
Tips for onboarding remote employees
No doubt your organization already has an onboarding checklist for remote employees, and if not, many of the software vendors provide onboarding checklists as part of their offering.
In short, the goal is to simplify and streamline processes while simultaneously boosting the candidate's engagement and experience. Here are three remote onboarding best practices for doing so.
1. Boost engagement between the job acceptance and day one
Use your onboarding portal to enrich the 30-or so days before day one with plenty of engaging communication. Make sure it's 1) all digital, 2) creates an audit trail for compliance reasons, and 3) is efficient and scalable.
Alongside the standard forms such as employment contract, payroll, etc., the candidate should receive information about their new employer that introduces the company culture. This could be a video message from the CEO, a note from the head of marketing about the company brand, or a short history of the company. This can all be pre-recorded and automated.
2. Make sure nothing gets forgotten
It's disheartening and inefficient when something gets forgotten during onboarding. Don't leave anything to chance. Use your onboarding systems to send out automated reminders to key people before the employee's first day, such as:
A message to the new hire's manager reminding them to give them a call
A reminder to their new colleagues to set up a virtual introduction
A note to IT to arrange system access.
3. Make it integrated
The key to digital efficiency is data integration. Ensure your onboarding software is set up in a way that it speaks with your applicant tracking system, learning management system, payroll solution, and more.
4. Focus on the experience
Your onboarding process should align with your overall company brand. This not only means being consistent in terms of tone, fonts, colors, and other elements but thinking about the experience.
For example, if your company is a cutting-edge, super-modern, digital start-up, a new hire will expect an onboarding experience to match and will be surprised to receive paper forms in the mail or a phone call instead of a video interview.
Similarly, the remote onboarding process should feel like a continuation of the recruitment experience. Don't make the mistake of creating a world-class recruitment experience but letting it all fall apart with a clunky onboarding process.