Forget robots: super agents are coming.
Call centers across America are training so-called "super agents." These are call center representatives who are able to deal with any and all customer problems that come through the line. In an effort to reduce industry-high rates of turnover, call center recruiters are investing in hiring candidates who can go the distance.
The role of a call center representative is one of the few positions where assessment metrics during the interview process can reliably predict on-the-job success. Super agents need to have high achievement in things like communication skills, multi-tasking abilities, analytical skills, and more. As more companies begin to hire these super reps, the hiring process can begin to quantify the skills necessary to rise to the challenge.
Hiring great call center representatives starts with writing a job description that stands out. Meanwhile, training super agents requires an investment from call centers – in time, money, and resources. Therefore, recruiters need to make sure their job description is sending the right signals to candidates who will stick around. Focusing on the benefits and perks of working at a call center can help bring in candidates who are interested in long-term growth potential within an organization. These are the employees who will make it as super agents and can help improve the organization and reach its goals.
Attracting talent with a great job description is just the first step. A candidate who seems like a strong fit for a call center position is only on the market for an average of five business days. This is an extremely competitive talent market in which call center recruiters need to be agile and consistent in vetting their top candidates.
Talent Trials are a critical tool that many call centers use to help identify the qualities that make a call center rep successful. Talent Trials combine all types of assessments, from skills tests to immersive assessments and job simulations to give candidates an opportunity to showcase their talent. Each Talent Trial can be built to automatically grade and stack-rank candidates based on how they perform. This way you can streamline your interview process by focusing on those who perform best on three to five real-world scenarios.
Here are a few mock situations real call centers are using in their Talent Trials to help identify super-agent potential.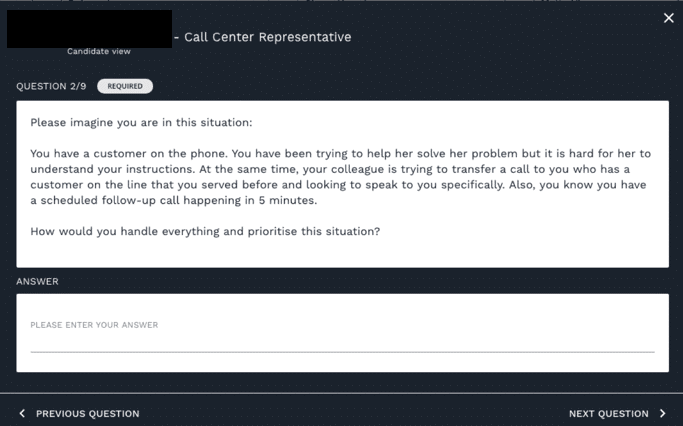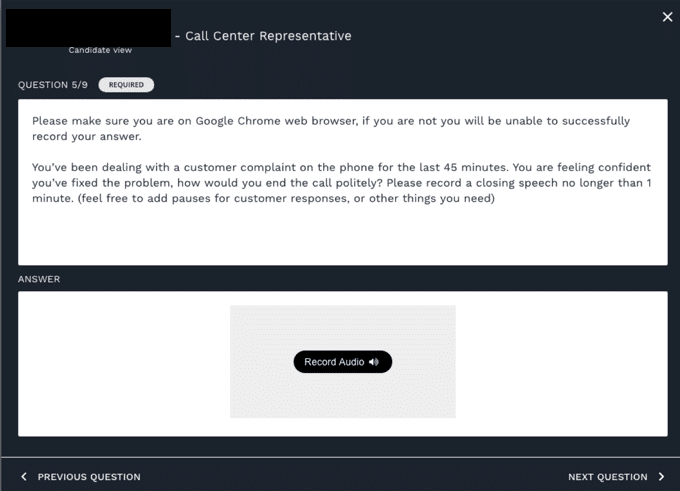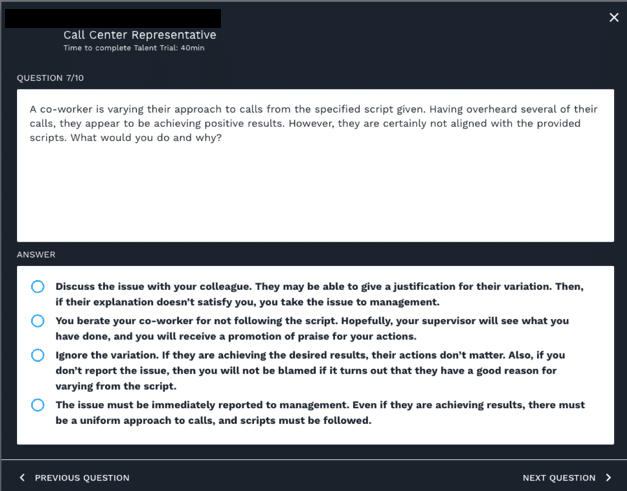 Personality is a significant predictor of success at call centers – and also, historically, a difficult metric to measure. Luckily, Talent Trials can be built to include validated psychometric assessments. Companies like Xerox who have added questions targeting personality have seen significant success in their call center hiring. Xerox determined that "personality" was the most telling indicator of who would continue to work at their call centers over time. A half-year trial of including personality-centered questions in their hiring process cut attrition by a fifth – dramatically increasing the ROI on both their recruitment budget and their employee training program.
Talent Trials and "voice auditions" are where your hiring process can really shine. In addition to written responses, some call centers conduct simulated call scenarios by using one-way video interviews. While the "video" part of the one-way video interview is largely irrelevant, recruiters will be able to hear a candidate's "phone personality" and match it to the specific call center position. Timed, pre-recorded video interviews allow a potential new hire to showcase their speaking voice. Recruiters can hear their pitch, pacing, and power – and understand who will be best for following the script and representing the client well.
See how Vervoe can improve your process for hiring call center representatives. From customizable Talent Trials to AI-powered candidate ranking, we're here to help you bring super agents to your team.