As we outlined in our Ultimate Guide To Diversity Hiring In 2021, hiring diverse talent requires re-evaluating every stage of the hiring process. And, sourcing, at the top of the hiring funnel, is a great place to start. Unless you can find a way to bring more diverse candidates into your pipeline, your goal of building a diverse workforce — and reaping the benefits of diversity in your workplace — will ultimately fail.
These diversity job boards for employers can help you reach a wider range of candidates. As you begin to post job opportunities on these diversity-focused job boards, make sure you're using inclusive language and integrating some AI diversity and inclusion software in the following step of your hiring process to ensure your hiring decisions are based on merit, not on unconscious biases that affect every recruiting team.
Here are just a handful of the best diversity job boards on which to post your next job opportunity and reach high-quality candidates from all different backgrounds.
Minority job boards
Looking to hire a minority? Check out some of these minority job boards to find candidates from underrepresented groups.
Diversity.com

Diversity.com allows job postings from employers in a wide range of industries, including manufacturing, education, non-profit, finance, healthcare, technology, and marketing. The family-owned company is 100% African American and has been operating for more than 20 years.
DiversityJobs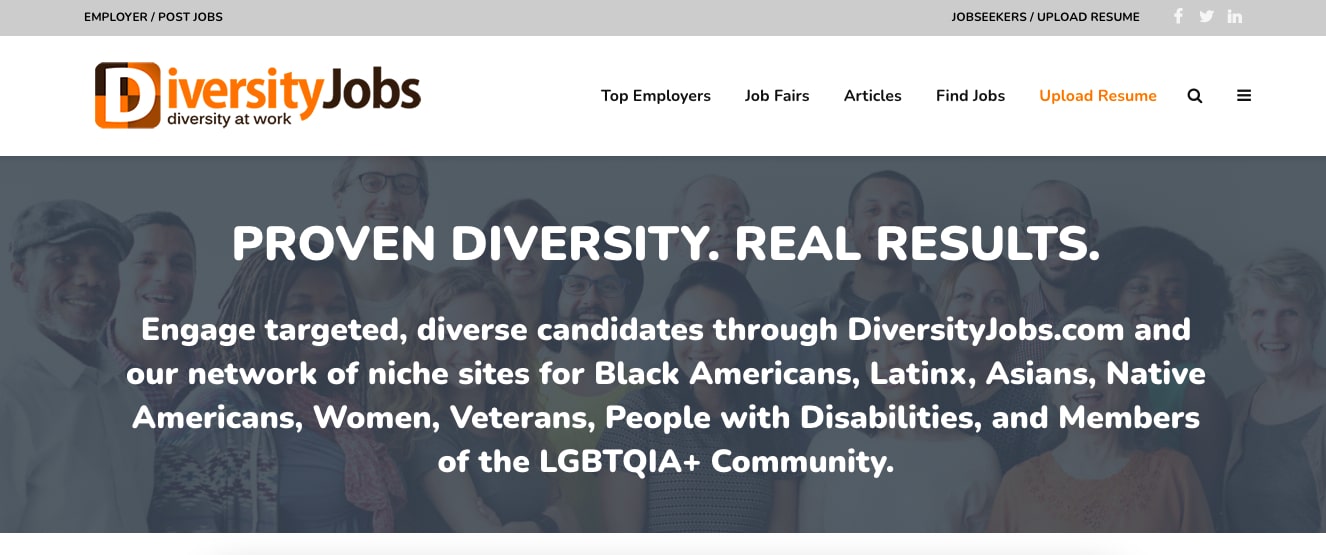 DiversityJobs has a range of features that makes it easy to manage job postings on their platform. It integrates with many ATSs and provides recruiters with access to more than 5000 job seekers from many underrepresented communities.
BlackJobs.com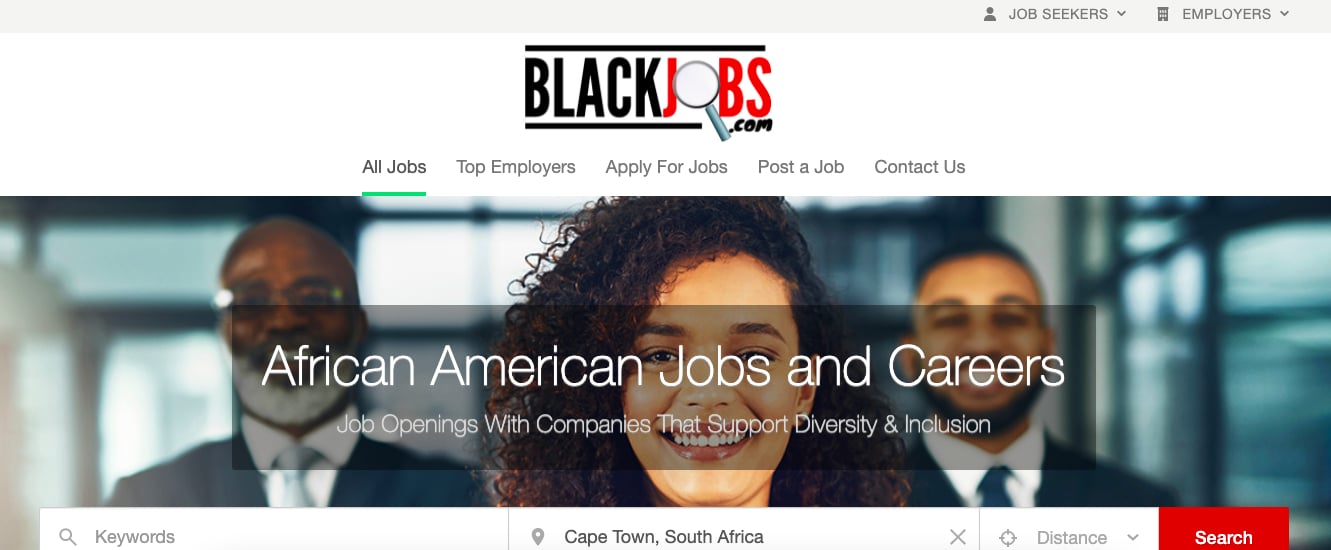 BlackJobs.com focuses on providing well-paying job opportunities to the Black community. It claims to be the largest African American online career community. Big brands like Netflix, Amazon and the Oprah Winfrey Network use this platform to find their next hires.
[Read: The 39+ Most Diverse Companies in 2021]
iHispano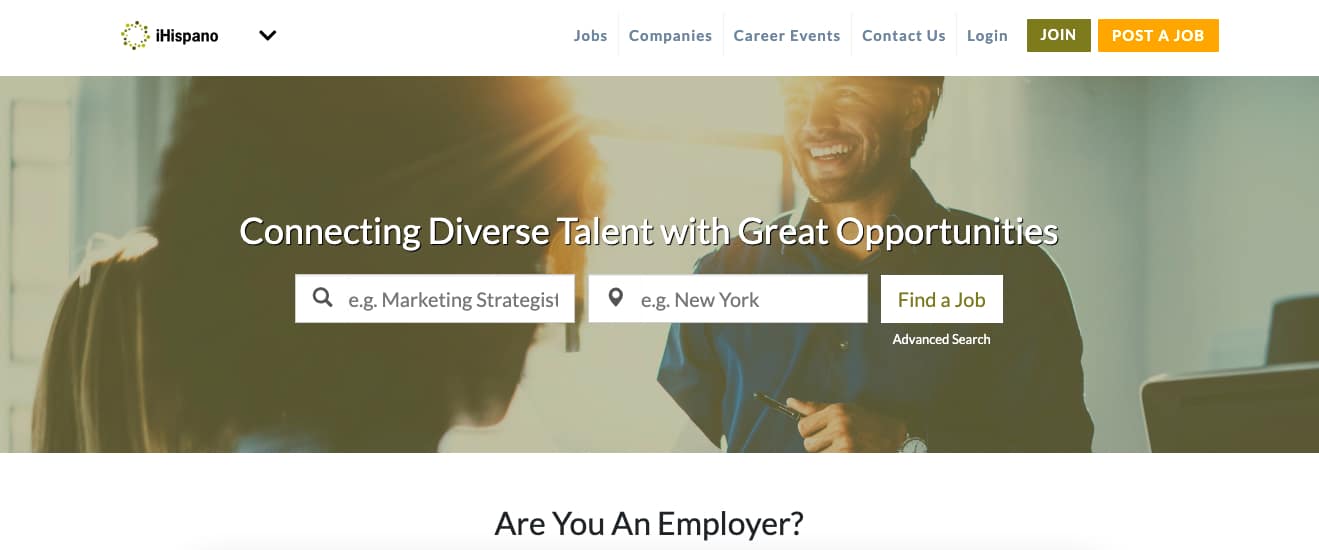 Powered by the Professional Diversity Network, iHispano connects employers with qualified, talented Hispanic job candidates. There are over 350,000 monthly new members as well as networking and mentorship opportunities posted on the platform.
Female job boards
These job boards are set up to specifically connect companies with female candidates. Here are three of the top diversity job boards for women.
FairyGodBoss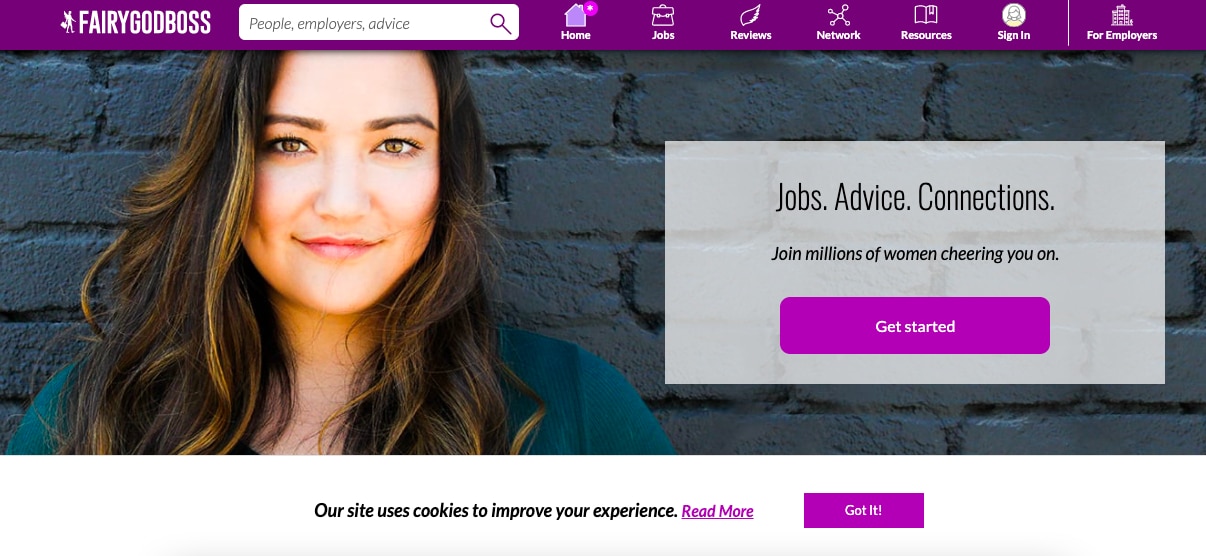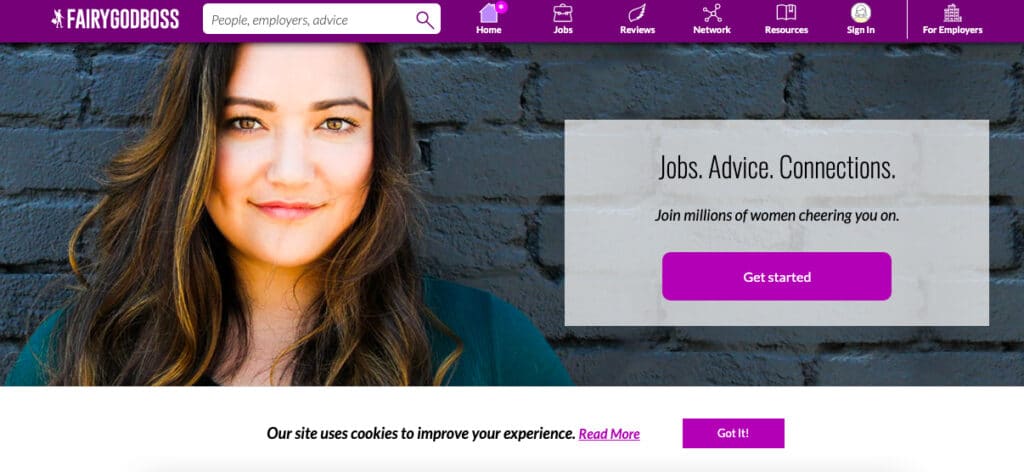 FairyGodBoss not only connects brands with women seeking employment, but it offers a community for women in the workplace. It's a great place to go to advance your employer branding and showcase your inclusive work culture.
PowerToFly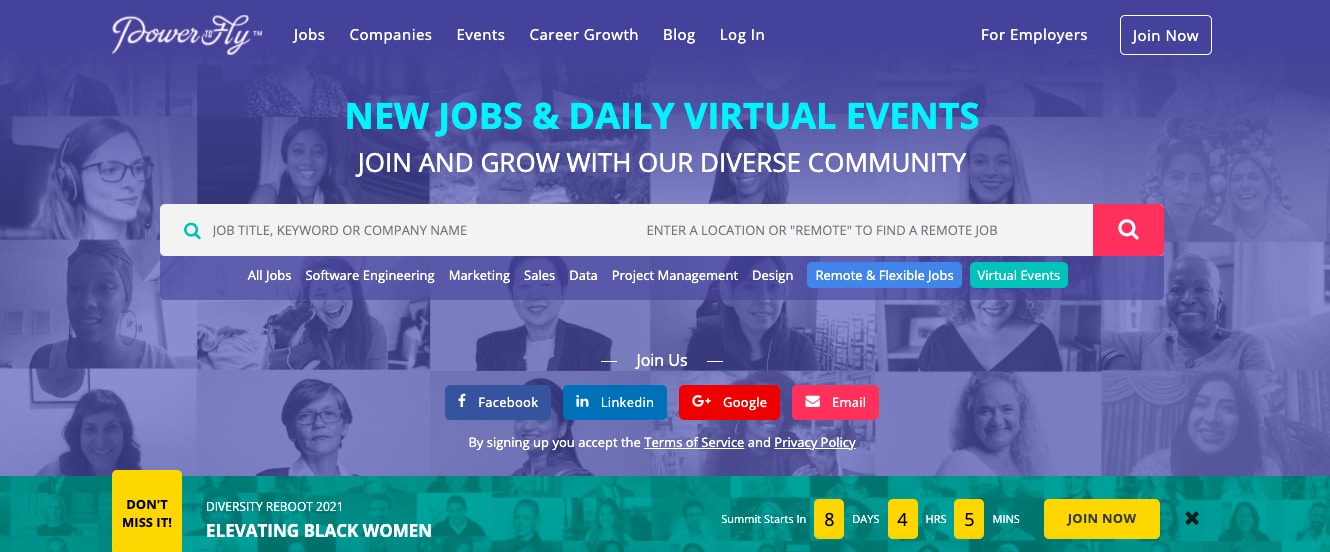 Founders Katharine Zaleski and Milena Berry were ahead of the curve when they launched PowerToFly, a platform that matches qualified women with remote work in technology. This website is primarily for employers in the tech sector, though companies like Hearst and Buzzfeed have also used it.
Female Executive Search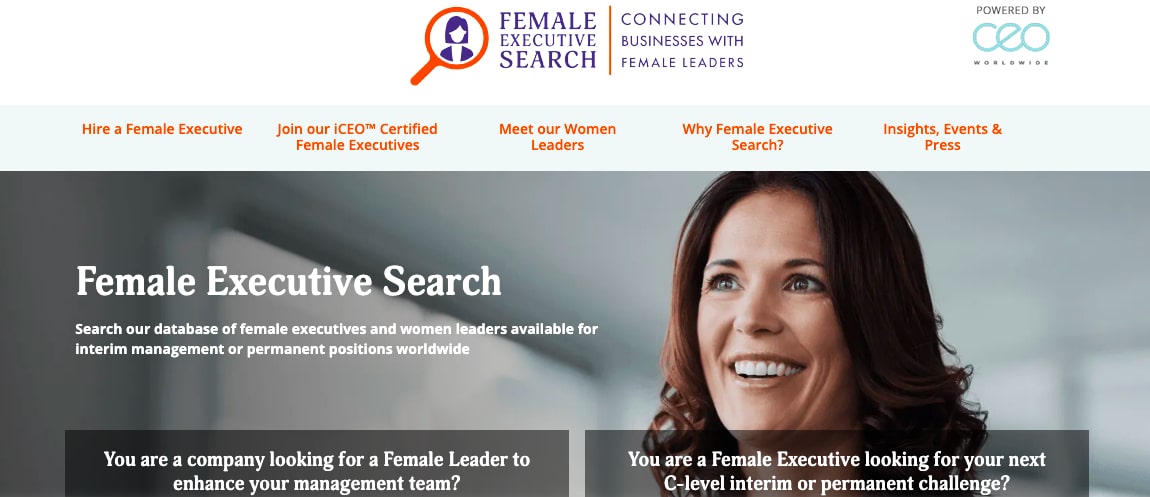 Research shows that companies with women on their leadership teams outperform their male-dominated counterparts. Female Executive Search aims to help more companies find qualified women candidates at the senior leadership level. Plus, it's available to companies worldwide.
The Mom Project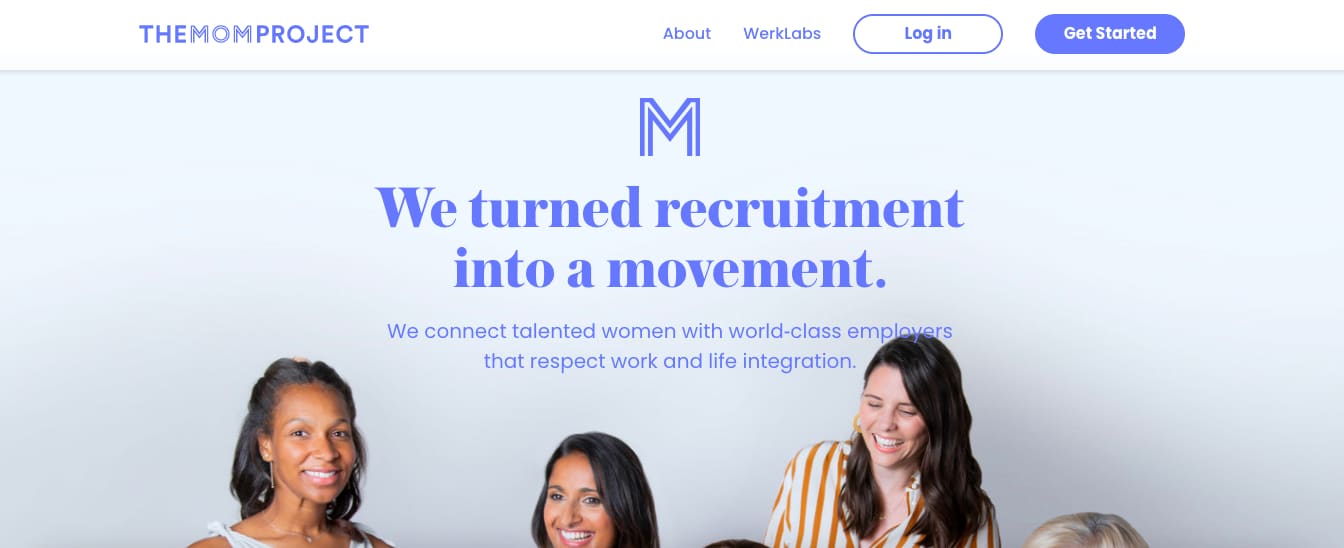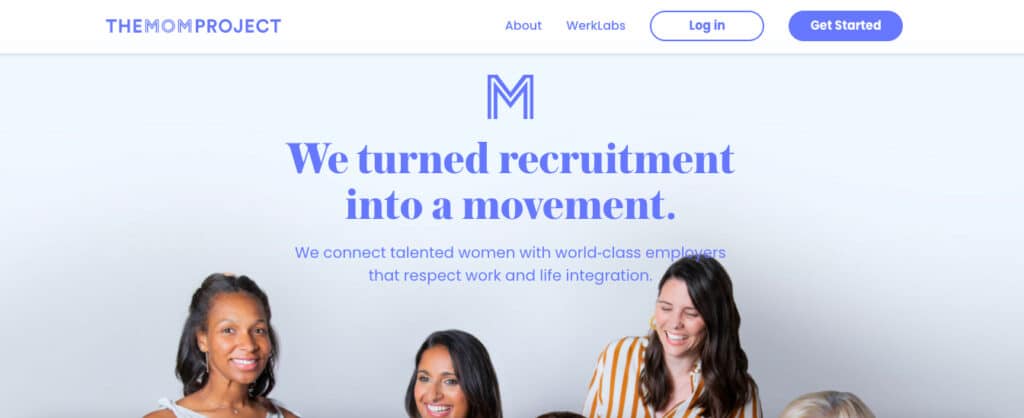 The Mom Project connects women who may have left the workforce to start a family at some point with career opportunities. The platform has rigorous standards for employers, who must show that they respect work-life balance and offer family-oriented benefits.
[Read: 35 Impressive Diversity In The Workplace Statistics]
LGBTQ job boards
Diversity hiring means bringing on candidates from a wide range of backgrounds and perspectives, and that includes sexual orientation. Here are some job boards to help you reach LGBTQ+ candidates.
Pink Jobs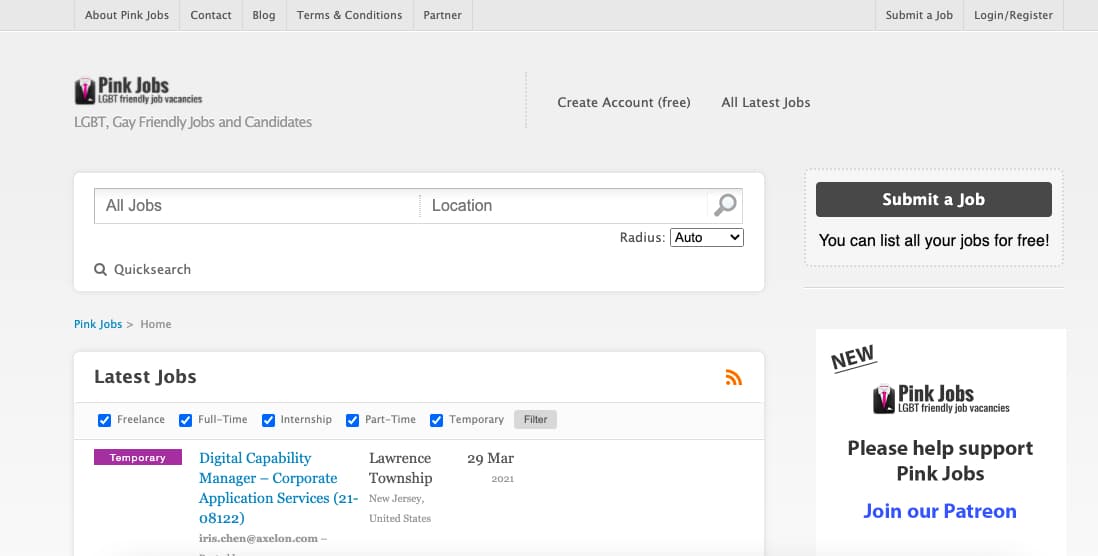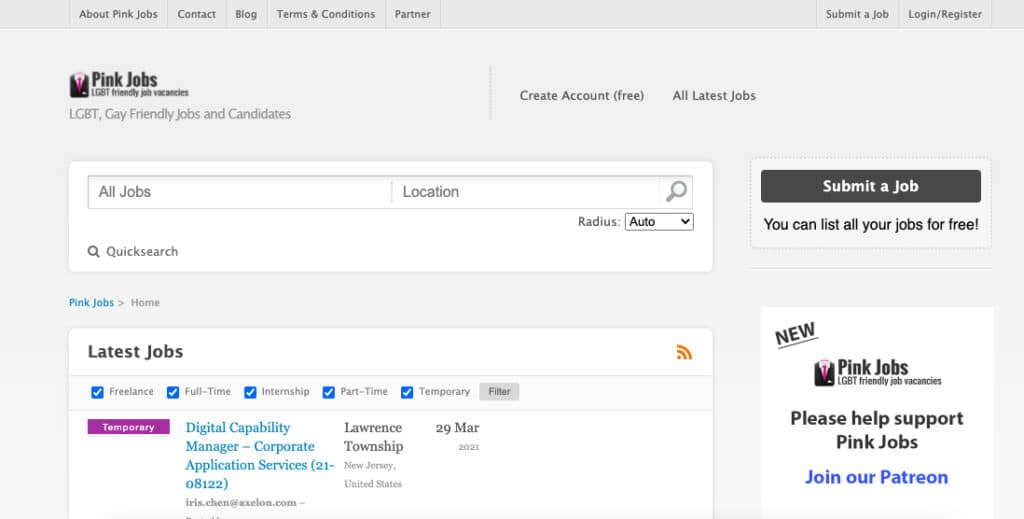 Pink Jobs offers both part-time and full-time job opportunities to LGBTQ candidates in North America, Canada, Australia, and Europe. One of the best parts about this job board? It's free.
Out in Tech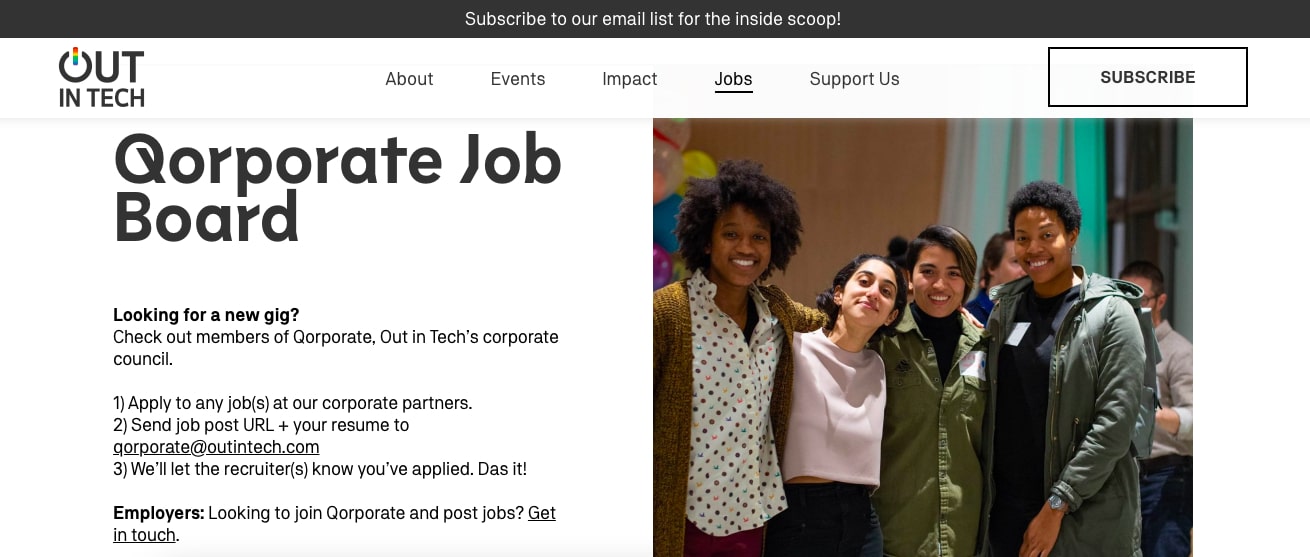 Out in Tech connects members of the queer community with opportunities in the tech industry. Rather than posting on a job board, you can get in touch with their corporate council for access to their email list.
Campus Pride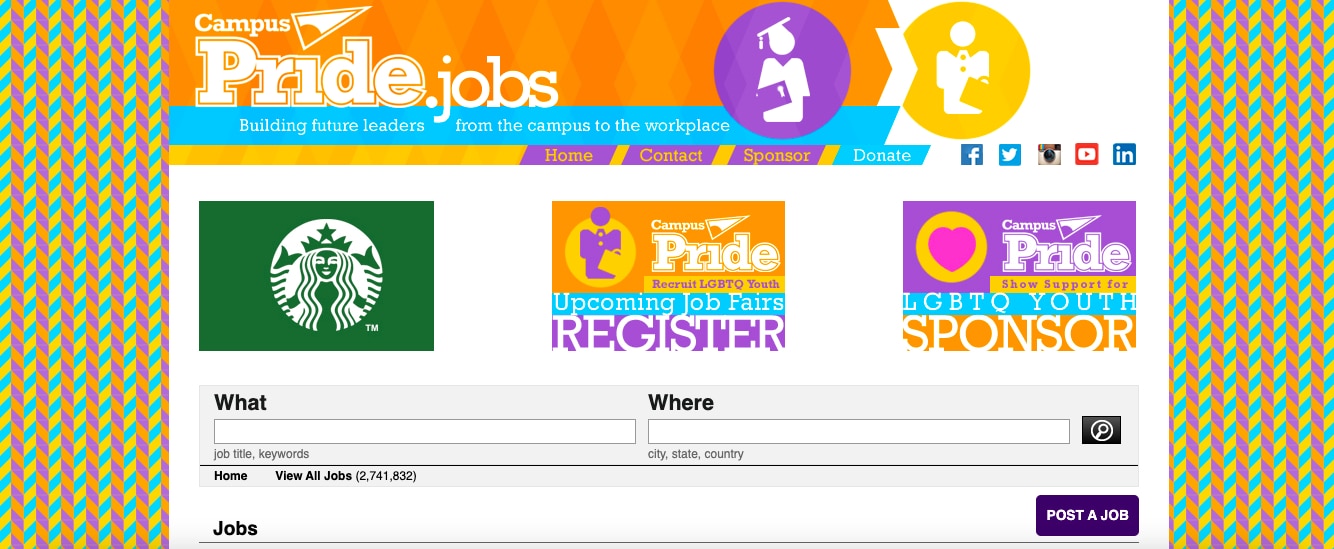 Looking for an entry-level employee? Try Campus Pride, a platform for upcoming and recent college graduates in the LGBTQ community. It's run by a nonprofit that connects with more than 1200 college campuses.
Job boards for older and retired talent
Many people are returning to work later in life due to economic changes brought by the pandemic. If you're open to hiring someone with lots of life experience, try one of these diversity job boards.
Workforce50

Workforce50 is a job board for candidates over the age of 50. It's relatively affordable at $49 per month, and gives you access to job seekers by state.
Retired Brains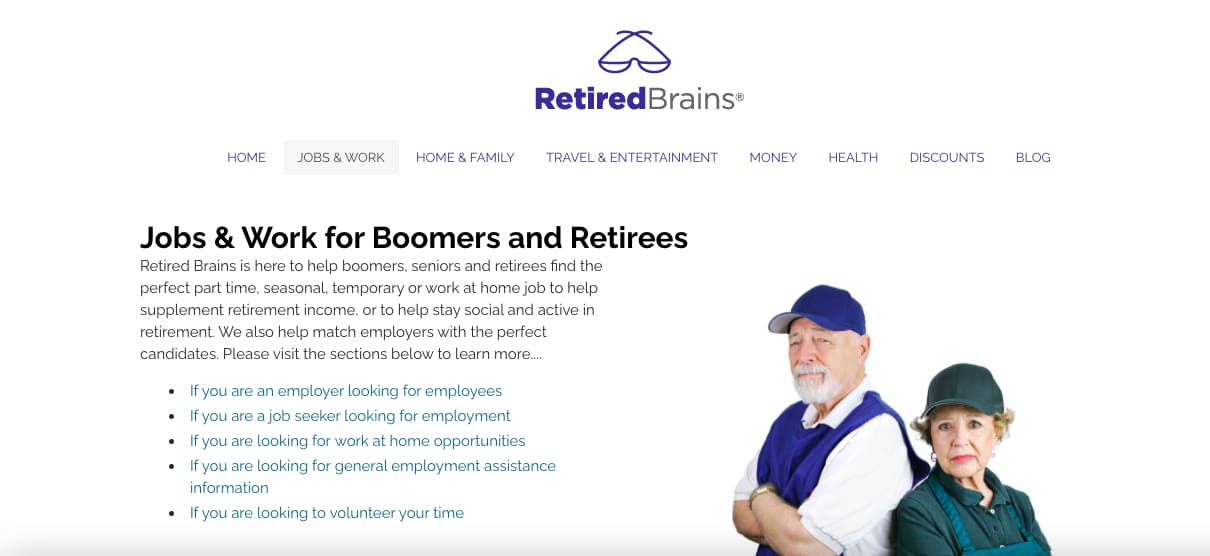 Retired Brains provides a host of different services for retirees, one of which is a job board. The platform specializes in temporary or seasonal work, but some people may be looking for full-time jobs, if that's what you have available.
Disability job boards
McKinsey research shows that the national GDP would increase by $25 billion if just 1% more disabled people were hired. Here are some diversity recruiting job boards that can connect you with disabled candidates.
Recruit Disability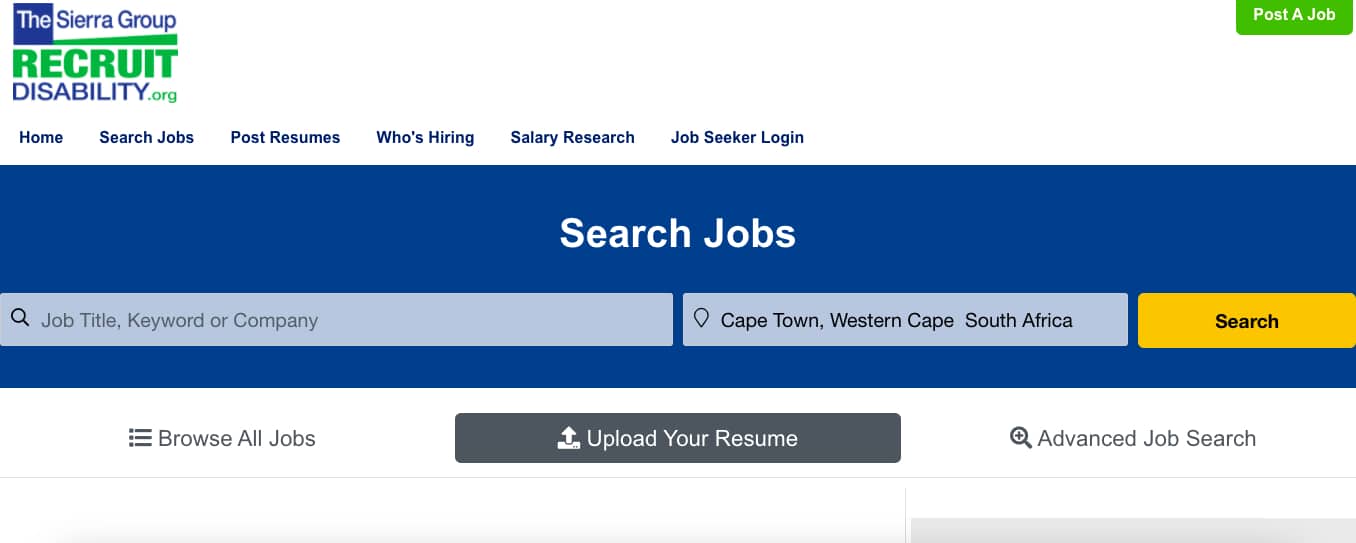 Recruit Disability is run by the Sierra Group, a rehabilitation engineering consulting firm. There are more than one million members on this platform, making it a great place to find talent.
Enable America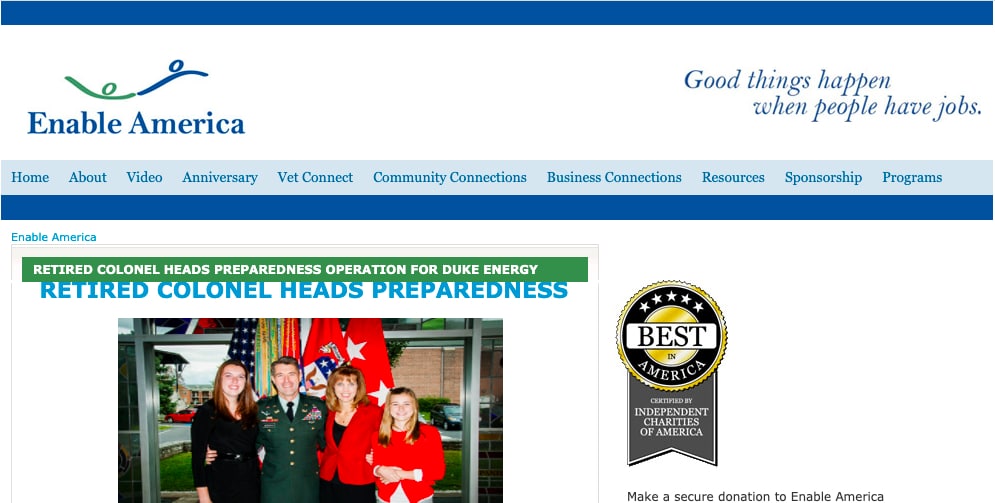 Enable America is a nonprofit that works to increase employment for those job seekers with disabilities. Not only does the site post job opportunities, but it also hosts regular events and networking for businesses and the community.
abilityJOBS

abilityJOBS is the largest job site for candidates with disabilities since its inception in 1995. In addition to job opportunities for the disabled, it also highlights specific openings for veterans with disabilities.
Veteran job boards
The unemployment rate for military veterans has slightly worsened since 2020, and it seems the pandemic is disproportionately impacting this interest group. To hire a veteran, try one of these job boards for diversity.
VetJobs


VetJobs is one of the largest military job boards with over two million listings. You'll face steep competition for candidates with a military background on this site, although there are between 60,00 – 90,000 candidates available at any given month.
RecruitMilitary

RecruitMilitary offers advanced features, like screening, to do some of the vetting legwork for you. The site also hosts virtual career fairs to help you bring candidates into your pipeline proactively.
Hire Heroes USA

Finally, Hire Heroes helps individuals who are in the process of transitioning out of the military and looking for a new career. The goal of this platform is to reduce unemployment among veterans with early interventions and career support.
Job board for candidates with a criminal record
The population of those with a criminal record is massive. The Brennan Center estimates that as many Americans have a criminal record as those with a college diploma. Yet, a criminal record shouldn't preclude someone from finding employment. Here are some resources that can help.
70 million jobs

An employer can gain access to a population of qualified individuals who may face difficulty finding a job due to a prior misdemeanor or felony charge through 70 Million Jobs.
Jail to Job

Jail to Job publishes and maintains a database of employers who are interested in hiring those with criminal backgrounds. Reach out to them to have your company added to the list.
---
These are just a few of the resources that can help your company improve diversity hiring. Learn more about our Diversity Recruiting Software, and check out our Diversity Hiring guide for more tools, resources, and advice on improving diversity at your company