Better Together: Vervoe & iCIMS
Streamlining your recruitment workflow and identifying top performers has never been easier with Vervoe's iCIMS Integration
Vervoe predicts job performance and gives you the opportunity to see how candidates will do the job before they get the job. Our job simulations and skills assessments use immersive question types that closely simulate the environments candidates will be hired in and bring any role to life.
Once candidates complete; instantly see your top performers as our AI expertly reviews, grades, and ranks your candidates in order of performance and for the things that matter most to you.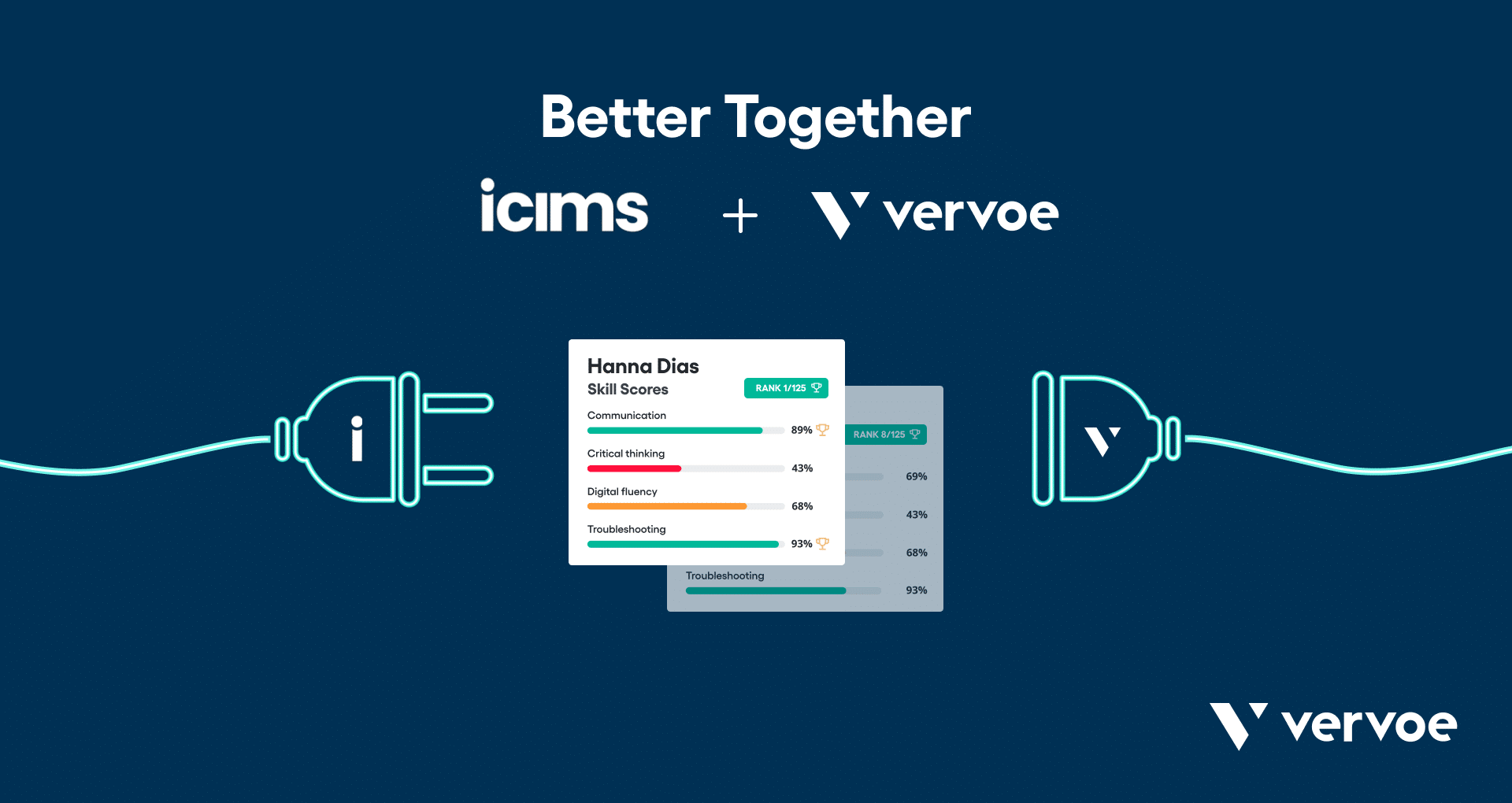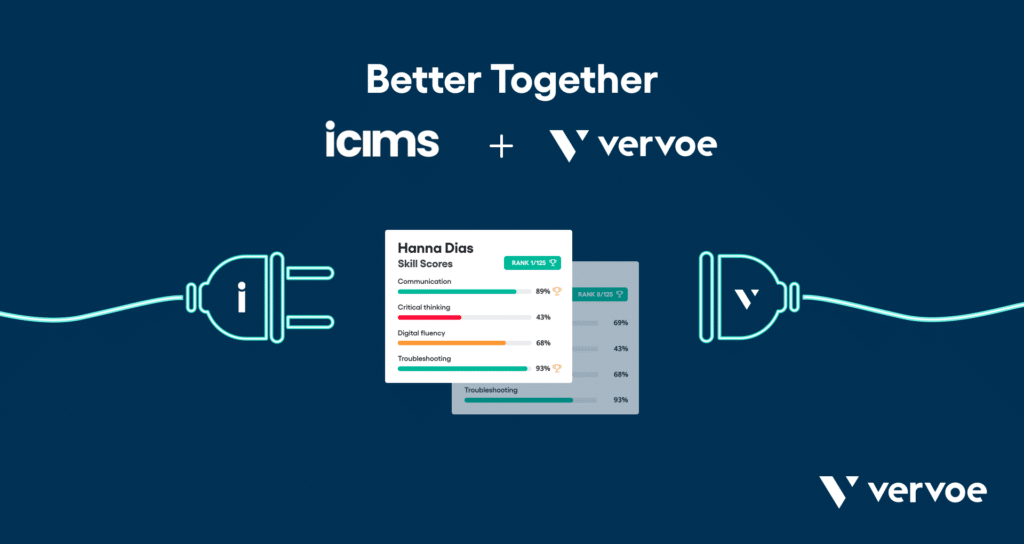 Benefits
Once candidates have completed your assessment you'll be able to see their overall score and their candidate report card which shows things like the skills tested, question-by-question responses, and completion data. You can also choose to manually adjust a candidate's score by grading individual questions from the candidate's report card.
Game-Changing Job Simulations: Watch an Account Executive isolate top prospects, lock in a meeting, demo, objection handle, and then close a deal. Or an SEO Manager review a live microsite and make recommendations to improve page speed and optimize content.
Highly Immersive Question Types: Whether it's coding or customer service, we take skills validation to a whole new level and help our customers regularly hire top performers. No more time wasted on reading resumes or phone screening. With Vervoe, you see candidates in action before making a decision.
Powerful and Unique AI: Our AI is highly predictive of performance because we've been trusted to grade millions of these responses and know what good looks like so you can make data-driven decisions. 
Instant Shortlist Of Top-Performers: Not a single CV to screen. Vervoe automatically ranks your candidates based on their ability to do your role.
A Winning Candidate Experience: 98% Of candidates love us. They get the best opportunity to show off their skills and shine.
300+ Roles In Our Library: Ready-made library of validated tests written by industry professionals across key roles and industries to help you hire the best – faster, easier, and bias-free. Alternatively, engage our assessment team for highly bespoke and customized assessments.
Say Goodbye To Unconscious Bias: The best way to predict a candidate's potential success within your company is by giving them tasks, challenges, and tools as close to a real day in the life of your role as possible.
We use a set of 3 different machine learning models, How, What, and Preference, that measure the quality of a candidate's response and predict performance.
The how model works across all questions, the what model is question specific and the preferences model is employer or role-specific meaning with a little input you can tailor the AI to value things as you do.

For example, if you're hiring a Call Centre Agent you might be looking for someone with skills like attention to detail and empathy. Our models process thousands of responses quickly looking for certain words or sentiments that reflect these values accurately whilst also analyzing how a candidate completes the assessment. You can choose to blindly grade a handful of responses and our Preference model will use this information to optimize scores based on the things that matter to you like correct spelling or a positive sentiment.
Custom Made for iCIMS
Already a Vervoe and iCIMS customer? You'll work with iCIMS and Vervoe to customize your integration workflow.
Want To Learn More? Talk To Sales Today