How To Hire a Manual QA Engineer
Complete with job descriptions, skill profiles, and interview templates. Use this Manual QA Engineer hiring guide to help you make the right decisions, fast.
Manual QA Engineer Recruitment Guide
What does a Manual QA Engineer do?
Manual QA Engineers have the responsibility of taking pieces of software and making sure that its functionality matches the initial design documents as well as ensuring the software is bug free. In order to verify that this software is operating correctly, a test plan will be created and executed against the software and analyzing the result.
Day to day tasks of a Manual QA Engineer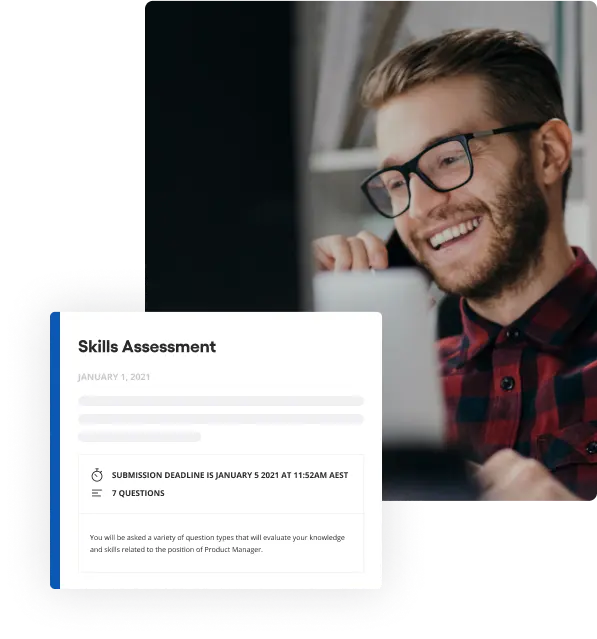 Manual QA Engineer definition
Manual QA Engineers get assigned pieces of software to test by software developers, and assist in identifying bugs and shortcomings through the practice of performing manual tests and analyzing that the result is what is expected.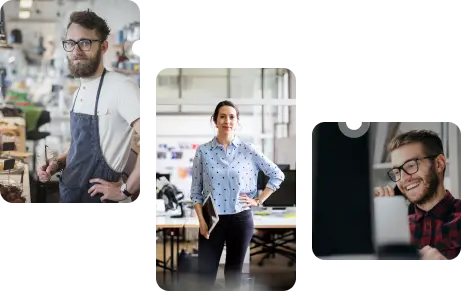 Manual QA Engineer Hiring Process
Build the Ideal Candidate Profile​
To find the best person for the role, you need to understand what the role involves. You can complete this with the hiring manager to define the role, its contribution, and the skills needed.
Write A Job Description Based On Skills
Once you understand the requirements for the role, you'll need to understand the skills for success. You can then write an effective job description to promote your role.
Selecting The Ideal Candidate
See which applicants have the right skills for the role. Send all your applicants a Vervoe skills assessment from the expert library, or customize one for your organization.
Interview Top Performers
Your skills assessment results will identify top performers. Focus your time on interviewing those that have met or exceeded your requirements. Assessment results will also help guide which skill areas to focus on in the interview.
Making An Offer
Once you assess your candidates against these skills, you're ready to offer the top performer(s). You should base your offer on the value that the candidate would bring to your team and your business as a whole. It is also important to ensure your compensation and benefits packages are competitive in the industry and help you attract and retain the top talent.
Build the ideal candidate profile
Skills needed for a Manual QA Engineer
Manual QA Engineer's need to be very detail focused and enjoy problem solving by picking apart different pieces of software and ensuring that they're functioning correctly. Therefore, they also need to be technical enough to understand what is happening in the code to some degree. Finally, having good communication skills is also very beneficial as they will need to interact with developers frequently.
For entry-level roles, you're likely to receive a larger number of applications, so in order to filter applications down to those who will excel in the role, make sure you ask questions around their critical thinking and problem solving skills as this is extremely important in the role.
WRITE A JOB DESCRIPTION BASED ON SKILLS
How to write a Manual QA Engineer job description
Once you've determined the skills required for the role, you can write the job description to advertise for your position. Here's what to include in your Manual QA Engineer job description:
Job Title: What position are you hiring for?
Summary: What makes your company unique? What would it be like to work for you?
Responsibilities: An overview of the role's day-to-day activities, and how the position contributes to the organization
Requirements: Skills a candidate must have to perform the job successfully
Benefits: Details of compensation, benefits, and any perks on offer
In building your candidate profile, remember you've already identified what skills are needed to succeed in the role. Here's where to list your "must-have" skills and maybe a couple of "nice-to-have" skills. For example, a Manual QA Engineer should be extremely proficient at tools like Jira, as this is a very good tool to document bugs and assign them to Developers to fix up.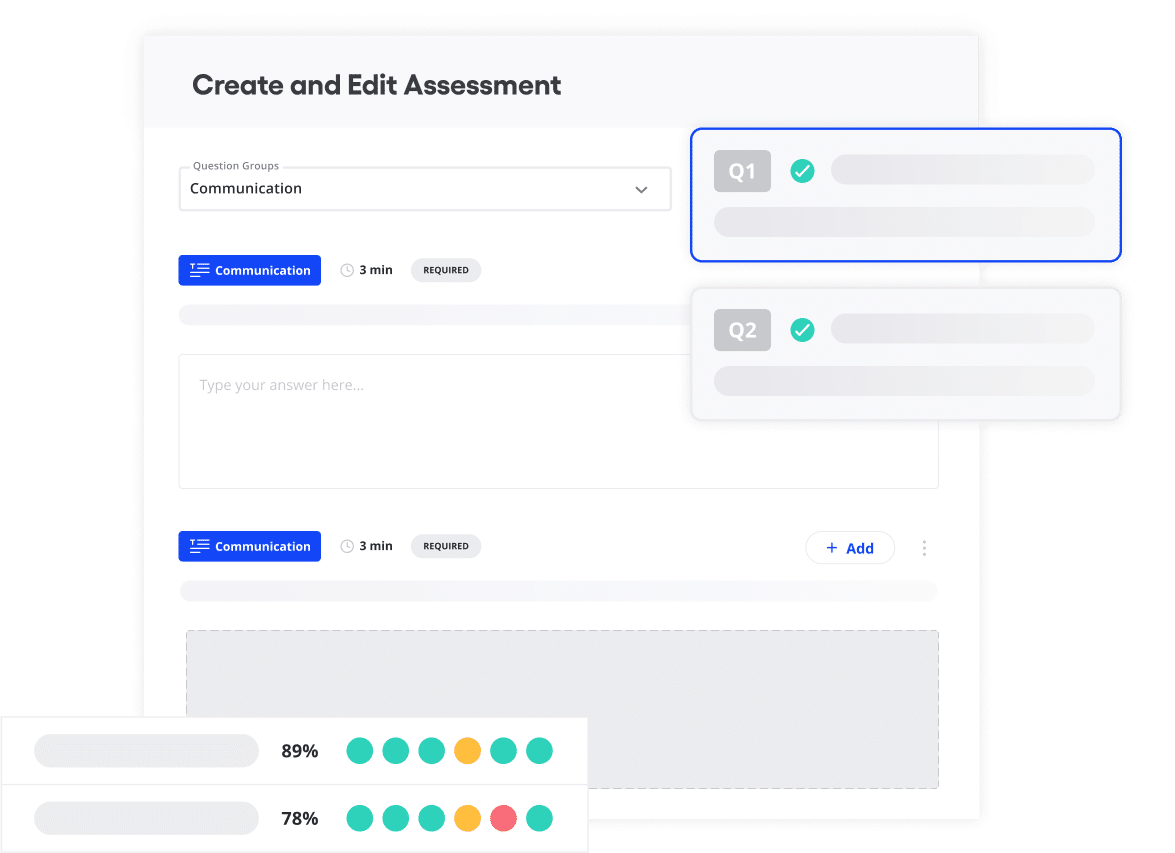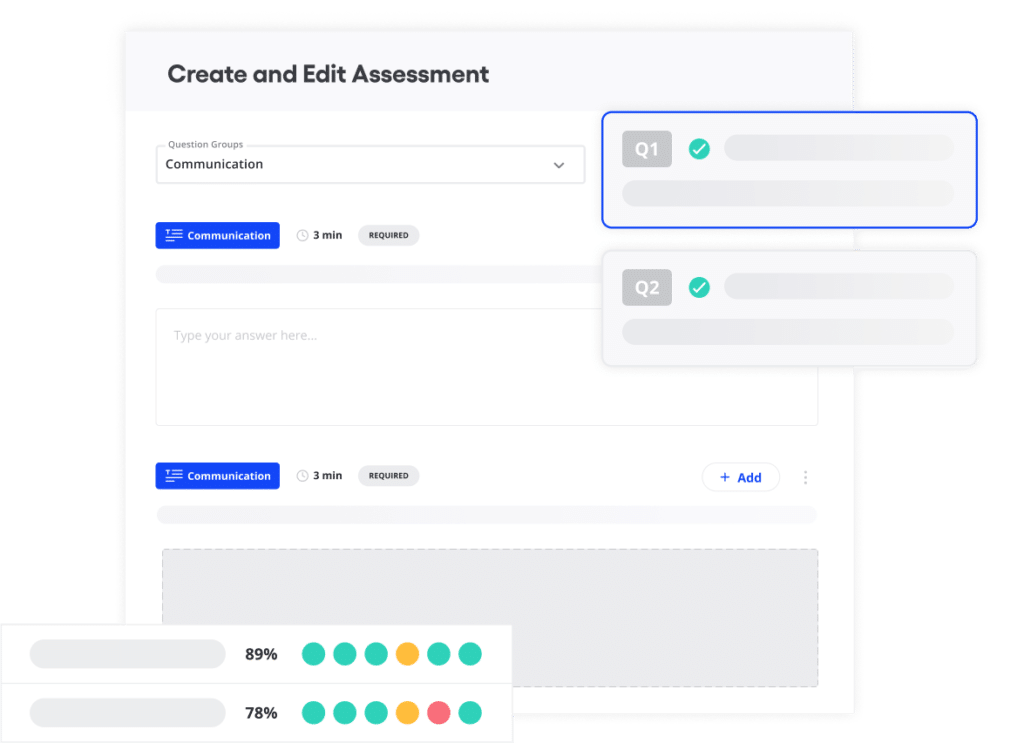 SELECTING THE IDEAL CANDIDATE
Sample skill tests for a Manual QA Engineer
Create a free account today to access the full assessment and more from our library
Think about the most important checks to test Web Application usability. Fill in the document with your suggestions
Question Type: Spreadsheet
Fill in the Document with a few (up to 3) Test Cases (to test Web Application). Please cover Functional and Non-functional testing
Expand your answer, provided to the previous question, to test Web Application from more sides. 
Record a video answer (up to 3 min), explaining your suggestions. 
You may take any web-site as an example. (There is no need to record your screen with the opened web-site. Just think loud)
How to interview a Manual QA Engineer
Once your Vervoe skills assessment has surfaced the most qualified people for your open role, you can focus on interviewing these candidates. The interview should focus on any skills that require development that were highlighted from the skills assessment.
Now you know that candidates can do the job, the interview becomes more of a relationship building exercise where you can get to know the candidate on a more personal level, understand their motivations, and how they would fit in with the team.
How much does it cost to hire a Manual QA Engineer?
In the USA the average for a Manual QA Engineer is $52,096 according to Salary.com whilst the average salary on ZipRecruiter.com is $91,169 and on Talent.com reports the average salary in $73,856 with the highest salary recorded as $102,375.
Manual QA Engineer Salary United States
In the USA the average for a Manual QA Engineer is $71,280 according to Payscale.com. This salary will be highly dependent on the industry of the organisation, the location and the responsibilities of the role.
Manual QA Engineer Salary United Kingdom
In the United Kingdom a Manual QA Engineer can be expected to have a salary anywhere between £25,000 – £57,000 (GBP). The two main factors that will have a large impact on this will be the location and industry of the organisation.
Manual QA Engineer Salary Australia
A Manual QA Engineer salary in Australia ranges from $64,000 – $120,000 (AUD), the salary depends on the seniority and the industry that the organisation is in.
Take your hiring to the next level
We've put together comprehensive recruitment guides for the most common jobs to help you identify the best candidates.