How To Hire a Digital Marketing Manager
Complete with job descriptions, skill profiles, and interview templates. Use this Digital Marketing Manager hiring guide to help you make the right decisions, fast.
Digital Marketing Manager Recruitment Guide
What does a Digital Marketing Manager do?
Digital Marketing Managers are responsible for developing and managing online content marketing strategies. They will use digital channels to generate leads and brand awareness, and use measurable analytics to continually improve performance.
This can include video, SEO & SEM, content marketing, design thinking, and data analytics. Depending on the size of the company, they can work autonomously across the entire brand, or be responsible for a single area within a larger organisation.
Day to day tasks of a Digital Marketing Manager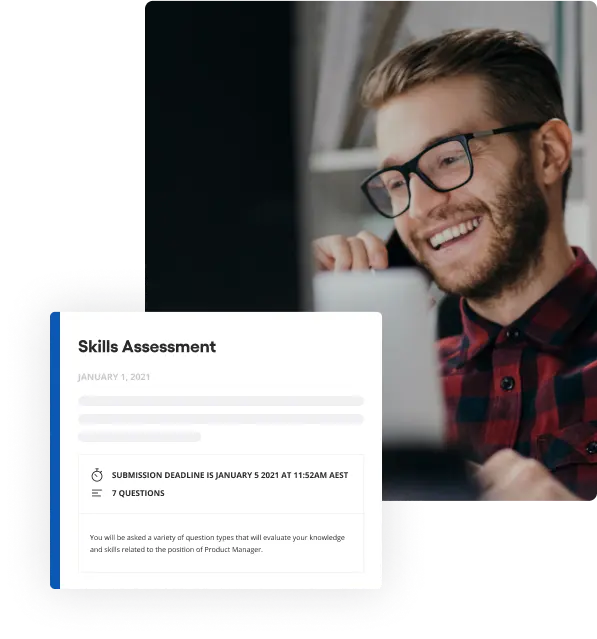 Digital Marketing Manager definition
A Digital Marketing Manager is primarily responsible for developing, implementing and managing digital marketing campaigns that promote a company via online portals. They play a major role in building brand awareness within digital platforms, as well as driving traffic to websites and generating new leads.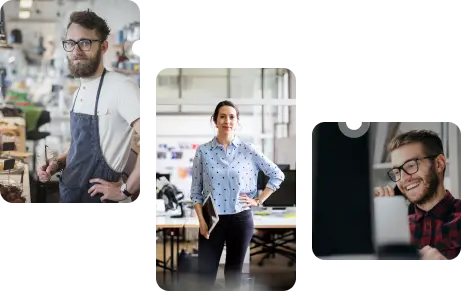 Digital Marketing Manager Hiring Process
Build the Ideal Candidate Profile​
To find the best person for the role, you need to understand what the role involves. You can complete this with the hiring manager to define the role, its contribution, and the skills needed.
Write A Job Description Based On Skills
Once you understand the requirements for the role, you'll need to understand the skills for success. You can then write an effective job description to promote your role.
Selecting The Ideal Candidate
See which applicants have the right skills for the role. Send all your applicants a Vervoe skills assessment from the expert library, or customize one for your organization.
Interview Top Performers
Your skills assessment results will identify top performers. Focus your time on interviewing those that have met or exceeded your requirements. Assessment results will also help guide which skill areas to focus on in the interview.
Making An Offer
Once you assess your candidates against these skills, you're ready to offer the top performer(s). You should base your offer on the value that the candidate would bring to your team and your business as a whole. It is also important to ensure your compensation and benefits packages are competitive in the industry and help you attract and retain the top talent.
Build the ideal candidate profile
Skills needed for a Digital Marketing Manager
A digital marketing manager must be enthusiastic and passionate about digital marketing, with a high level of proficiency in digital marketing and competency in modern social media platforms. They are required to be able to analyze and draw key insights from data, as well as possess high quality written communication skills for copywriting and collaboration. A successful digital marketing manager will be well organised and have a sound understanding of the customer experience. Additionally, they will be a team player that will collaborate with various stakeholders and have a creative mindset to always be ahead of the curve.
For senior-level roles, you're likely to receive a smaller number of applications than you would for an entry level position. Ensure you provide details about what it's like to work for your company, and what your company values are so applicants know whether your company is the right fit for them.
WRITE A JOB DESCRIPTION BASED ON SKILLS
How to write a Digital Marketing Manager job description
Once you've determined the skills required for the role, you can write the job description to advertise for your position. Here's what to include in your Digital Marketing Manager job description:
Job Title: What position are you hiring for?
Summary: What makes your company unique? What would it be like to work for you?
Responsibilities: An overview of the role's day-to-day activities, and how the position contributes to the organization
Requirements: Skills a candidate must have to perform the job successfully
Benefits: Details of compensation, benefits, and any perks on offer
In building your candidate profile, remember you've already identified what skills are needed to succeed in the role. Here's where to list your "must-have" skills and maybe a couple of "nice-to-have" skills. For example, a Digital Marketing Manager must have strong creative thinking skills, and it would be nice to have significant experience in creative graphic design.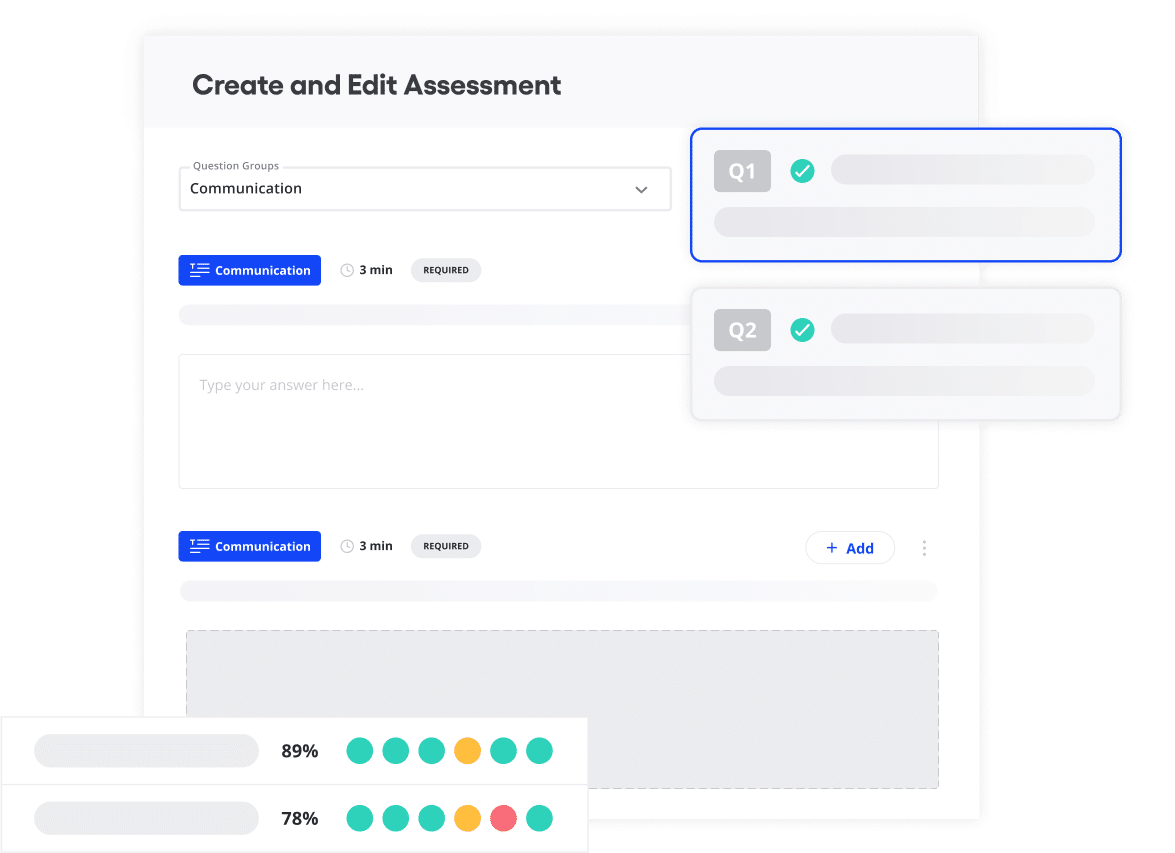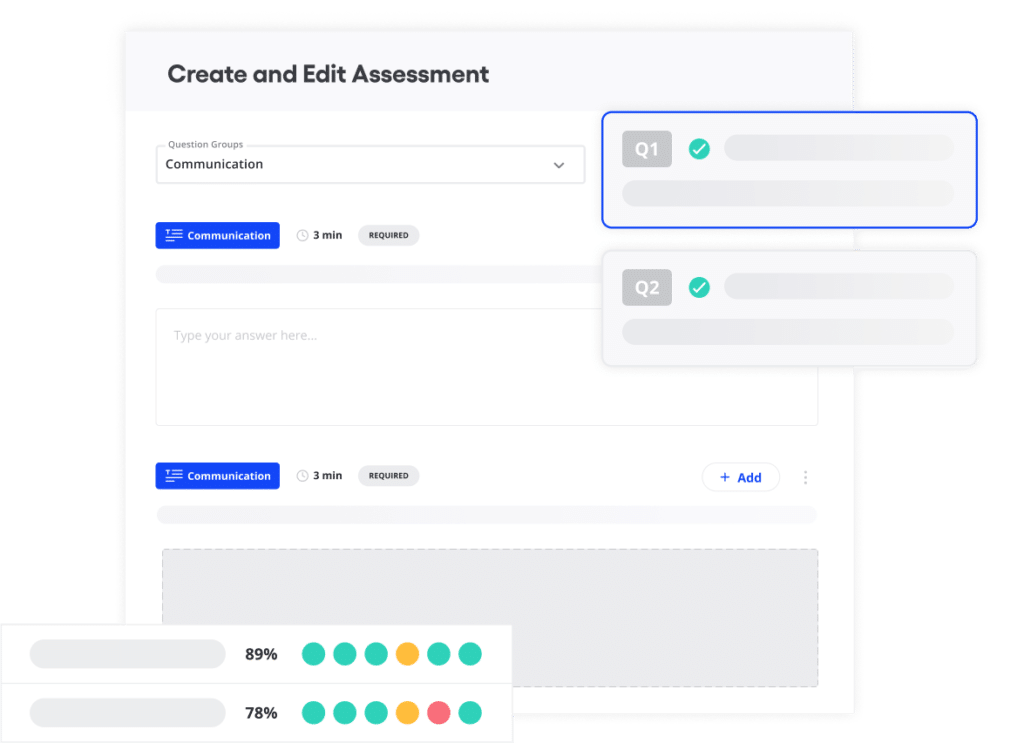 SELECTING THE IDEAL CANDIDATE
Sample skill tests for a Digital Marketing Manager
Create a free account today to access the full assessment and more from our library
Question Type: Multiple Choice
You write a blog post on Medium. The objective is to share a customer story and see if it resonates. Which metric do you care about most?
Imagine you are looking for thought leaders to collaborate with on a new article. How do you go about it?
Imagine you were successful in securing this position with our company. What channels will you activate to increase awareness and drive leads and how would you go about doing this?
How to interview a Digital Marketing Manager
Once your Vervoe skills assessment has surfaced the most qualified people for your open role, you can focus on interviewing these candidates. The interview should focus on any skills that require development that were highlighted from the skills assessment.
Now you know that candidates can do the job, the interview becomes more of a relationship building exercise where you can get to know the candidate on a more personal level, understand their motivations, and how they would fit in with the team.
How much does it cost to hire a Digital Marketing Manager?
The US average for a Digital Marketing Manager is $67,360 according to Payscale.com, while the reported average salary on Glassdoor amounts to $73,205. The top 10 percent of digital marketing managers earn $103,000 on average, with 75 percent receiving less than $53,000. The lowest reported salaries are as low as $24,500. A report by Burning Glass Technologies found that job roles that list digital skills as a requirement pay 29% more than those that do not.
Digital Marketing Manager Salary United States
Digital Marketing Manager salaries in the United States range from $79,065 – $146,153 (USD). Digital Marketing Manager salaries in the U.S vary depending on the education level of the employee along with any certifications they have.
Digital Marketing Manager Salary United Kingdom
Digital Marketing Manager salaries in the United Kingdom range from £26,000 – £40,000 (GBP). Digital Marketing Manager salaries in the UK vary largely based on location and depend on the size of the business which impacts the scope of the role.
Digital Marketing Manager Salary Australia
Digital Marketing Manager salaries in Australia range from $102,000 – $143,000 (AUD). Digital Marketing Manager salaries in Australia vary largely based on location and depend on the size of the business which impacts the scope of the role.
Take your hiring to the next level
We've put together comprehensive recruitment guides for the most common jobs to help you identify the best candidates.