In recent years, we've seen an undeniable shift towards content marketing. More than ever, organizations are recognizing the importance of adding value and connecting with customers more meaningfully, and the impact this can have on customer loyalty, brand reputation, and conversions.
And it's certainly working. According to a ProfitWell Report, brands that prioritize blog writing receive 67% more leads, and organizations with a content strategy see 30% higher growth rates.
Yet, mastering the art of creating a high-quality content marketing strategy with the right team is no small feat, and it certainly can't be achieved alone.
In this article, we'll delve into what content marketing is and five critical questions to ask before building a high-performance content marketing team.
What is content marketing?
Content marketing is a marketing strategy that helps brands establish authority and expertise, enhance brand awareness, improve SEO, and increase brand association to help drive conversions. A content marketing team is responsible for strategizing, creating, and distributing valuable content to attract and retain a loyal audience. This includes visual and written content for social media, blogs, websites, podcasts, eBooks, white papers, and more.
Content marketing's importance can be categorized into four primary benefits:
It helps you educate potential customers on the benefits of your products or services.
It enables you to build meaningful relationships with your customers.
It demonstrates how your products or services help to solve customers' pain points.
It helps to create brand loyalty and cement industry authority.
5 tips to build a high-performance content marketing team
Content marketing isn't as simple as building a team and watching the conversions roll in. It requires strategy, analysis, clear brand guidelines, and the right team to help create content that matters and converts.
But, before you even think about building your content marketing team, it's important to ensure the foundation is there first to help set your team up for success. Here are five questions to consider when building a high-performance content team.
1. Build a clear content marketing strategy
Without a thorough, well-documented strategy and plan, content creation is like walking somewhere blindfolded. Yes, there's every possibility you may get to where you need to be, but you'll no doubt have wasted unnecessary time getting there.
According to SEMRush's 2022 Global Report, 80% of companies with unsuccessful content marketing efforts don't have a documented content strategy.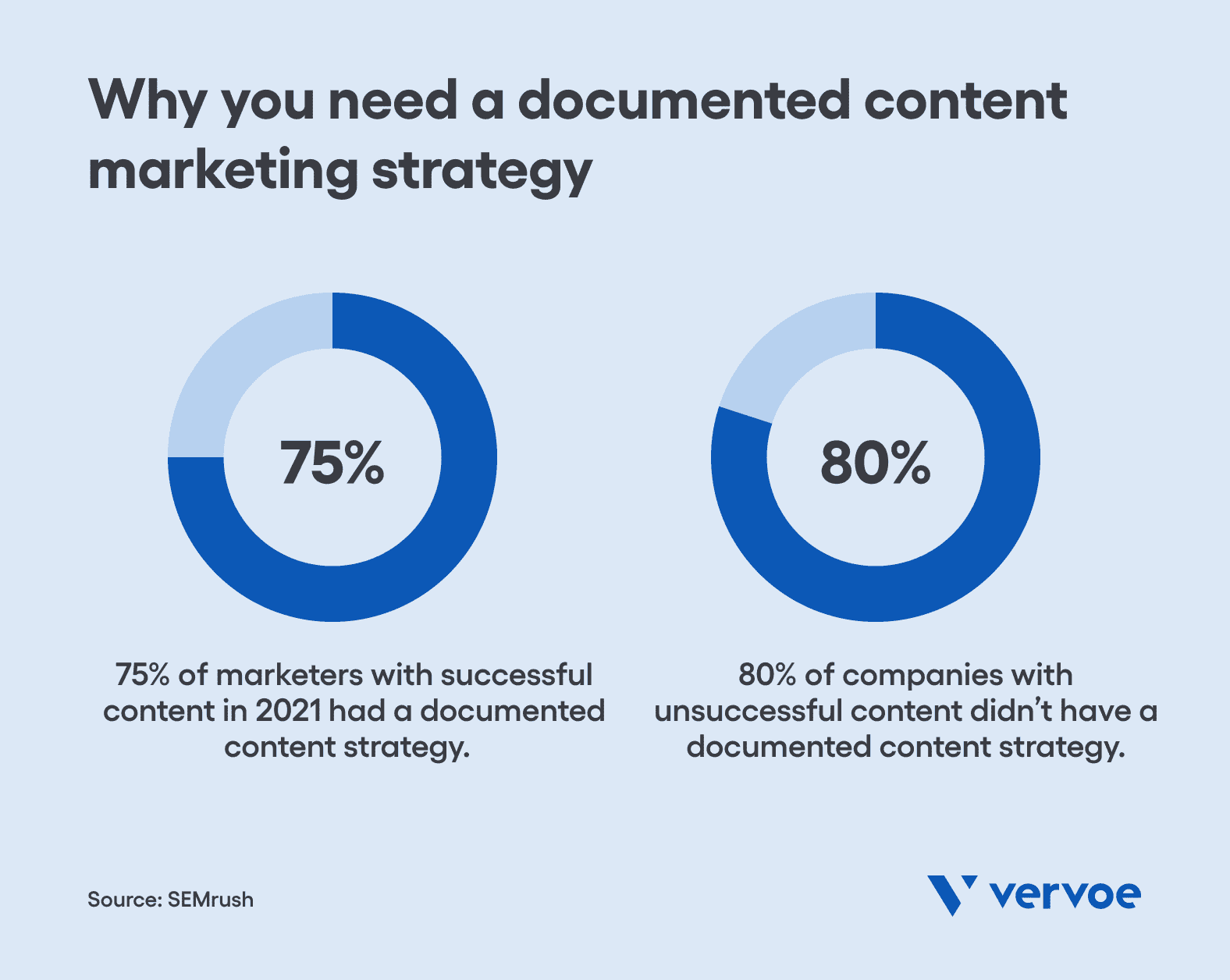 Before hiring a content marketing team, you need to know your purpose, goals, and strategy. This will help you define what roles are required, what each team member will be responsible for, and how many employees you'll need. Here are a few tips for defining your content marketing strategy:
Define your content mission statement and goals
The first step is to understand the purpose of your content, who you're speaking to, and what you wish to achieve. Start by creating a content marketing mission statement that defines your target audience, the types of content you'll use to speak to your audience, and what value you'll add to your readers.
For example, let's say you work for an online baby food company. Your content marketing mission statement might be:
"Our content provides parents in the United States with insights and tips to help support their babies' health and growth through nutritious foods."
From this, we've addressed the who (parents), the where (United States), and the what (food tips and tricks to support their baby's growth and health).
Additionally, we've left the how broad enough to lean on various content types. For instance, using the example above, this might include:
Article — A blog post on "The top 5 foods to avoid giving your baby and why"
Video content — A recipe video tutorial on "5 easy meals to soothe teething pain"
Social media content — A video interview or infographic series on "10 parenting tips for new mums and dads"
While every company's content mission statement will vary slightly, they will all follow the same blueprint by addressing what they do, who it's for, and how they'll do it.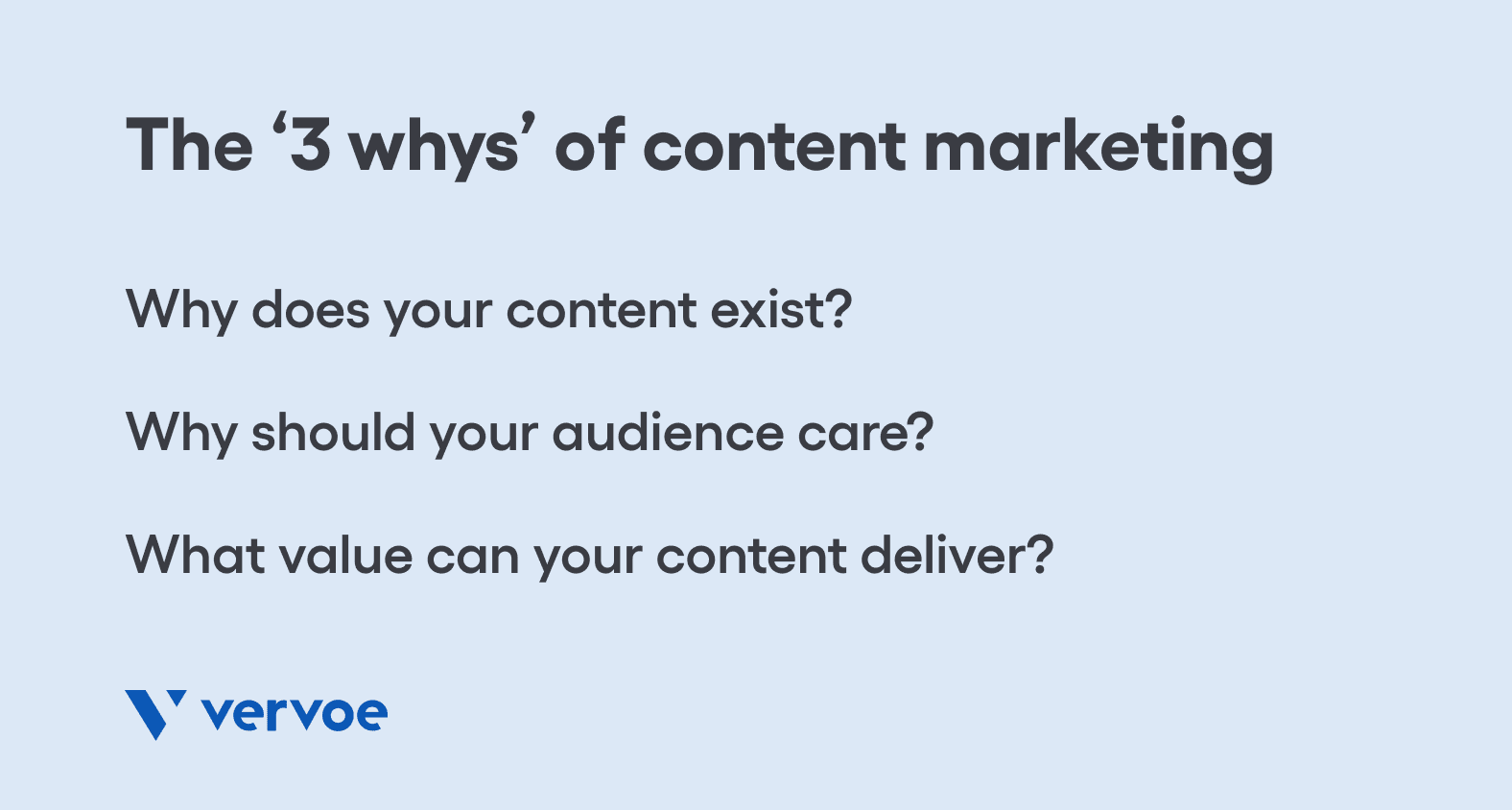 Once you've defined your content marketing mission statement, you have a foundation to set your goals upon. This might include improving sales, boosting website traffic, increasing sign-ups, boosting new email subscribers, cementing your brand personality, or establishing yourself as an industry expert and educator.
Whatever goal motivates your need for a content marketing team, define it and break it down to set tangible targets. For example, if your overarching goal is to boost organic website traffic, your KPI might be a monthly growth rate of 10% for the first six months.
Understand your audience
To know how, why, and where to interact with your audience, it's essential to define who they are. To do so, we recommend gathering the following data:
1. Gather analytics on your demographic
Seek insights from your social media platforms (analytics tab), website (Google Analytics), and email database (through your specific platform, i.e., Hubspot, Klaviyo, etc.) to get a clearer understanding of their age, gender, education, location, etc.
2. Speak to your customers directly
Don't be afraid to seek customer feedback to gain greater insight into their motivations. For example, ask questions about why they chose your product or service, what problem they are trying to solve, what content they find most valuable, etc.
3. Create clear buyer personas
The information above will give you a deeper understanding of your existing audience, what content they value and what pain points they're trying to solve. From this, you can create your buyer personas.
Simply put, a buyer persona essentially collates all the combined information you know about your audience and their needs to create one or more fictional personas representing your ideal customer.
For instance, using the same baby food company example from before, the ideal customer may be:
Demographic information: 'Simone', 35 years old, female, Los Angeles.
Goals: wants to feed her baby the best quality food on the market, and wants to prioritize her baby's growth and health.
Challenges: a lot of existing brands market their products as healthy, yet contain unhealthy filler ingredients. Simone's struggling to find a brand she can trust.
Preferred content types: social media influencers, blogs, magazines.
Objections: the more expensive price point.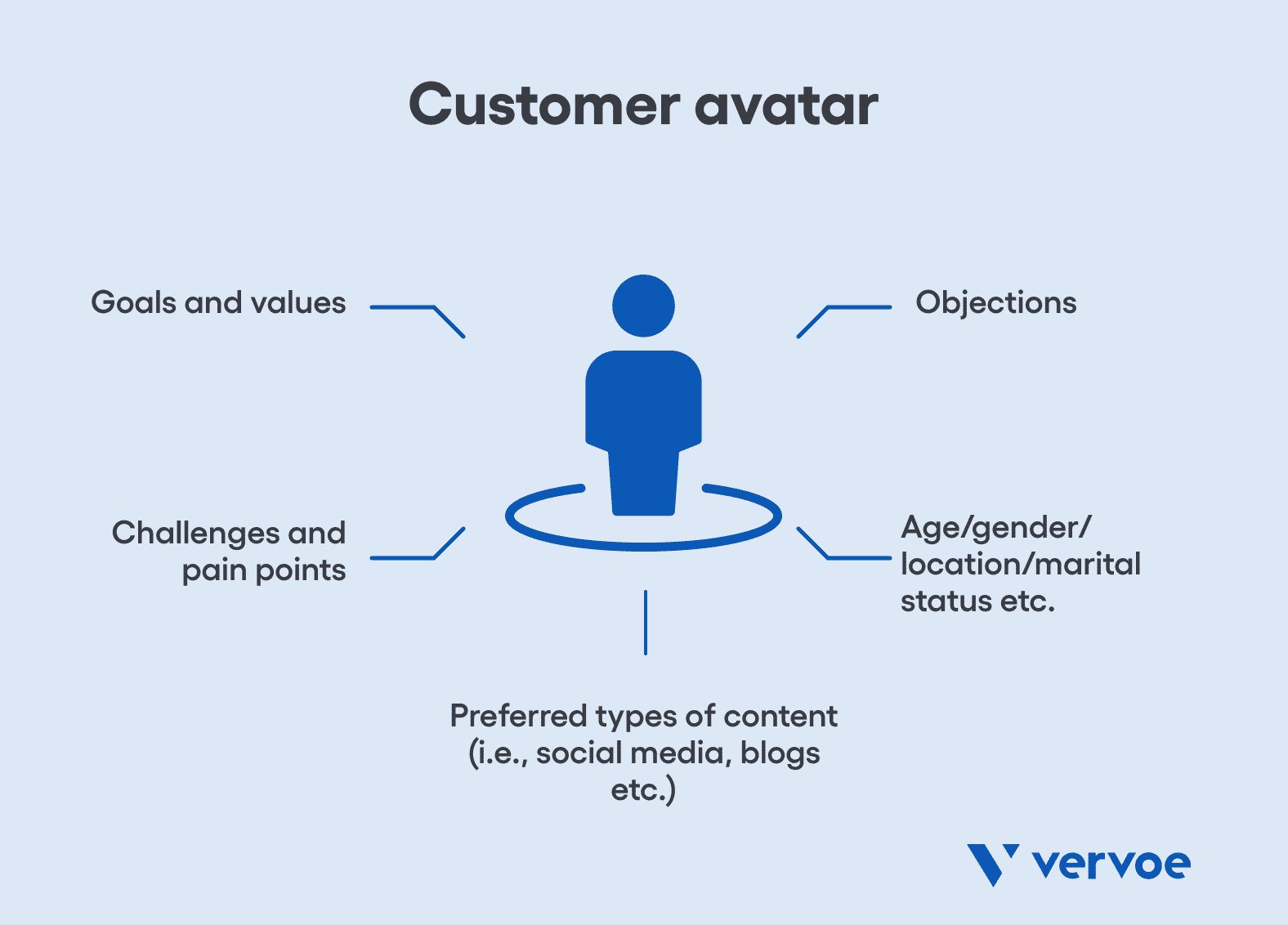 Assess what content channels and types are most valuable
Remember, your content is only effective if it's in front of the eyes of the right people. Choosing your content types and channels according to your audience's preferences is important.
Use Google Analytics to understand what content types and channels are getting the most interaction. Be sure to research what other forms of content your audience wants to engage with — i.e., video content, social media (Facebook, Instagram, Twitter, LinkedIn, Pinterest, etc.), webinars, podcasts, or eBooks. We recommend including a blog as a fundamental part of your content strategy, as it helps to improve authority and SEO.
2. Create a defined content style guide
Your content guidelines play an important role in forming your brand personality. It acts as a rulebook for your content marketing team to ensure consistency in the language used across all aspects of your business. Brand guidelines help align your team on how to present your brand externally and allow customers to get a feel for who your brand is at its core. Here are a few steps to get you started:
Source inspiration from existing styles and guides
Creating a content style guide doesn't require you to reinvent the wheel. Instead of spending unnecessary time crafting guidelines from scratch, lean on the brilliance of others and adapt it to suit your brand. For example, we recommend sourcing inspiration from the following:
Choose your tone
Ensure you have a unique tone that adds depth and consistency to your brand and speaks directly to your chosen audience. A useful place to start is by selecting what characteristics and personality traits your brand associates with, and use these as the basis for explaining your literary tone to your team.
For example, the SEMRush example below describes Nielsen Norman Group's four dimensions of tone of voice, which can be used to create simple tone profiles:
Funny vs. serious
Formal vs. casual
Respectful vs. irreverent
Enthusiastic vs. matter-of-fact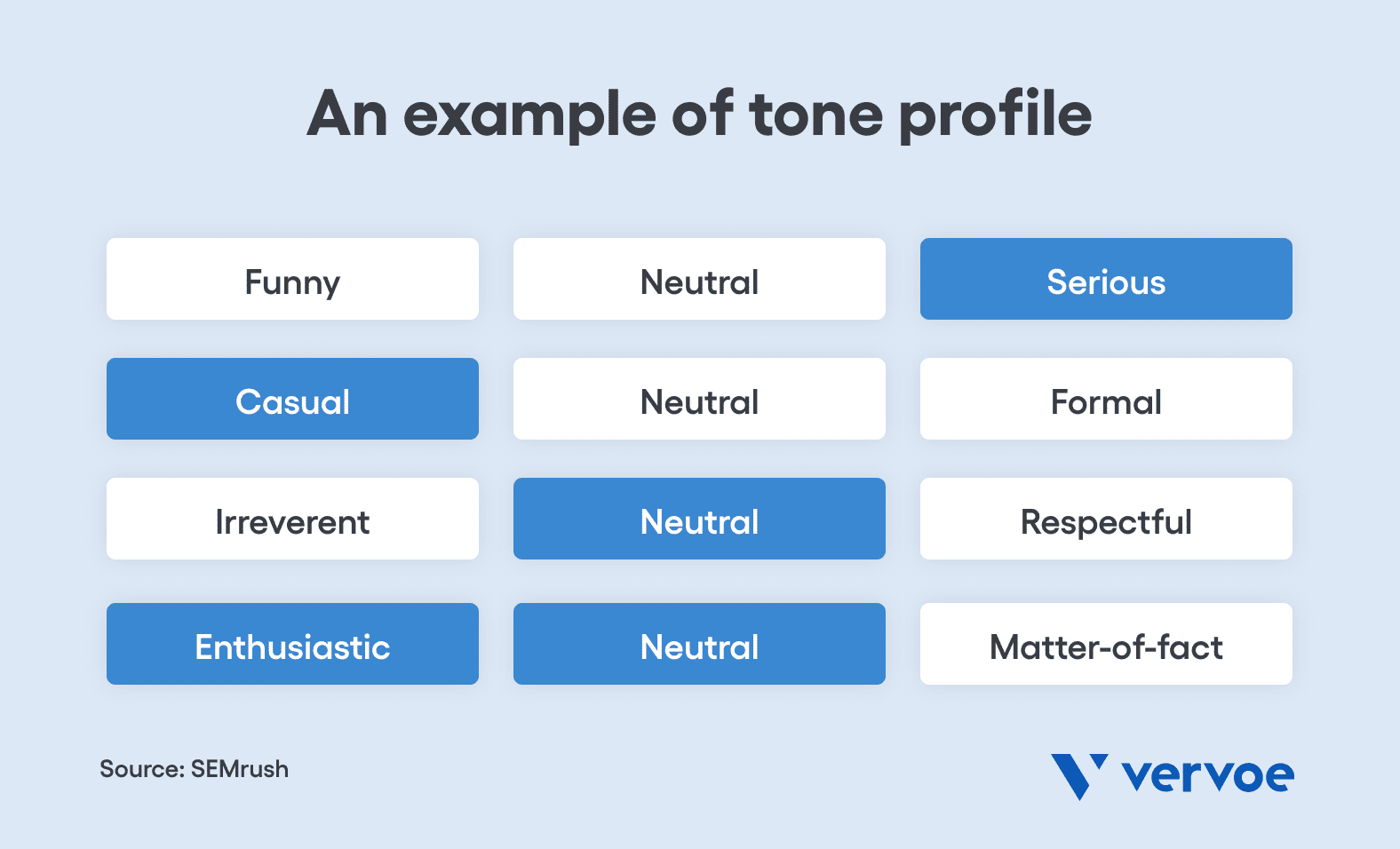 Once you've decided what words best describe your brand, whether that's using the tone profile above for guidance or selecting unique characteristics (i.e., cheeky, passionate etc.), it helps to give your team an example of what your tone looks like in practice (i.e., in the context of writing). For example, consider Mozilla's Guide for Firefox below:
| | |
| --- | --- |
| Like this: | Not this: |
| Your life is your business, not ours. Everything we make and do fights for you (assertive POV) | Do the work to protect yourself online (bossy) |
| It shouldn't be hard to own your life online (clear, confident, inclusive, concise) | Big Tech doesn't care about you. Choose Firefox (accusatory) |
| Privacy isn't a setting. It's a mindset (speaks directly to Mozilla's ethos) | You're doing passwords all wrong. Get Firefox Lockbox (accusatory, know-it-all) |
Define your grammar, punctuation, and mechanics
When writing a style guide, it's important not to assume knowledge or to expect your team to simply follow your lead. Spell out the basic rules to ensure consistency across the board. Consider how you want your brand to use abbreviations, acronyms, voice (i.e., active or passive), capitalization, numbers, emojis, and so forth. For example:
Will you use American English or British English?
What's your stance on emoji use?
Are you in favor of the Oxford comma?
Is it sitewide or site-wide?
Delve into the different content types
While a brand will have one overarching personality, the tone may differ a little between channels and types of content. For example, your tone likely won't be the same on social media as an eBook.
As a general rule of thumb, discuss what topics and education you share on each of your platforms. Secondly, share any relevant information and guidelines that will help your team write consistently across all channels — i.e., are your blogs more formal and in-depth than your social media posts? If so, explain how to write for each.
For example, Mailchimp's style guide outlines what they discuss on each social media platform:
Twitter: Product news, brand marketing, events, media mentions, evergreen content, "we're hiring!" posts
Facebook: Product news, brand marketing, events, media mentions, evergreen content, "we're hiring!" posts
LinkedIn: Product news, recruiting content, media mentions, evergreen content
Instagram: Design outtakes, cool office visitors, life at Mailchimp, cool stuff we made
3. Prioritize a diverse workforce
"The more diverse your marketing people are, the most emotional intelligence and empathy they will have for different audiences. So, it's incredibly important."

Jan Gooding, Director of Global Inclusion at Aviva.
Deciding what roles are required in your content marketing team is just one piece of the puzzle.
The next most important is ensuring you find candidates with a variety of skills, perspectives, and value — which means encouraging diversity.
As one of the most critical business functions responsible for leading creativity while maintaining analytical thinking, the content marketing team has much to gain from diverse employees. As a starter, diversity improves problem-solving, decision-making, innovative thinking, and productivity.
Here are three ways diversity can improve your content marketing
1. Diversity allows you to connect and speak to new audiences
People's ideas are formed from their culture, background, and experiences. Building a diverse content marketing team means allowing space for a variety of perspectives and ideas that resonate with a range of audiences.
2. Diversity helps to reduce bias from your messaging
Whether conscious or unconscious, there's no denying the prevalence of bias in marketing. Unfortunately, this often shows up in imagery and messaging, which potentially alienates certain audiences. Having a diverse content marketing team means more opportunities to notice potential biases showing up across campaigns.
3. Diversity can improve brand reputation
A team that welcomes diversity is also more likely to encourage inclusivity. And this often flows into marketing campaigns. When a variety of people from various backgrounds come together to form a creative team, we're more likely to see an inclusive approach that considers different cultures, ethnicity, gender, age, and more, which can have a positive impact on a brand's overall image and reputation.
According to a Harvard Business Review study, organizations that give equal opportunity for diverse voices to be heard are almost twice as likely to reveal valuable insights. Additionally, employees who work in a culture that encourages speaking up are 3.5 times as likely to contribute to their full potential innovatively. Here's how diversity in the workplace impacts a company's success: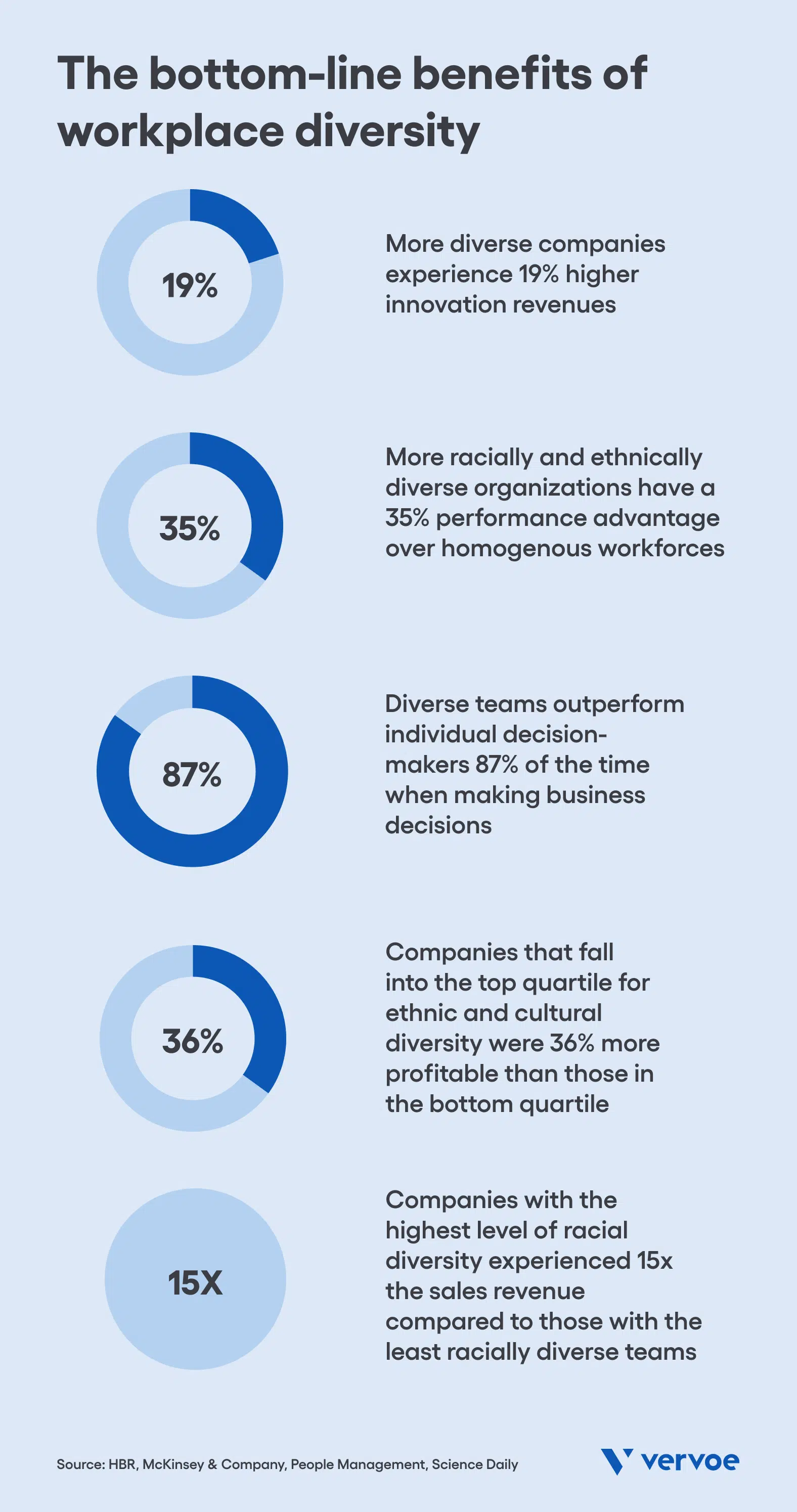 [Read more: The Ultimate Guide to Diversity Hiring]
4. Consider your team structure — in-house or outsourced?
When building a content marketing team, one major consideration is whether to hire an in-house team or outsource your content requirements to an agency or freelance marketers. The answer is: there's no wrong choice; it will simply depend on your resources, needs, and budget. 
Both options have pros and cons, so it's crucial to weigh your company's needs to understand best what solution will benefit your company. Let's take a closer look at both options:
| | |
| --- | --- |
| In-house content marketing team | Outsourced content marketing team |
| Pros: | Pros: |
| They're connected to your company goals, mission, and values. Thus, they're more invested in the outcome and quality of the work produced. They have a deeper understanding of your products/services and are familiar with brand guidelines. They can provide short-notice updates and do last-minute tasks when needed. It's easier to collaborate and brainstorm with an in-house team. | It may be more cost-effective than hiring individual employees. You can pay for only what you need if content requirements aren't always consistent. The team doesn't require onboarding as agencies are generally equipped with highly skilled professionals. You save costs on recruiting. |
| Cons: | Cons: |
| It's more time-consuming hiring the right person and onboarding them. After a while, employees may lack perspective and only see things with tunnel vision, lacking creativity and the ability to try new things. Employees may be more susceptible to burnout. | Agencies aren't loyal to just one company, which means quality assurance and deadlines may not always be met.There's no guarantee the agency will have experience in your industry. Thus, quality may be lacking in the work. |
5. Evaluate what roles you need to hire for
Next is evaluating what roles are required for your content marketing team structure.
Generally, this will be dictated by the industry you're in and how your target audience prefers to consume content (i.e., do they gravitate towards video content, or are they more likely to read a blog post?). A content marketing team structure can generally fit into three categories: strategy (i.e., SEO specialist and PPC management), management (i.e., social media manager and content marketing manager), and creation (i.e., content creators — graphic designers, copywriters, photographers, etc.)
Who to hire for your content marketing team
It's no secret that a successful content marketing team is one that offers diverse skill sets and unique perspectives that work seamlessly together to create valuable and results-driven content that sells.
While the ideal content marketing team structure may vary depending on business size, industry, and structure, here are six roles every content marketing team will benefit from:
Content marketing manager
To work with stakeholders and other teams to build the overarching content strategy and support team members in delivering the broader goals.
Soft skills: Leadership, analytics, ability to work under pressure, attention to detail, strategic and critical thinking, conflict resolution, decision making, listening and negotiating skills, and strong written and verbal communication.
Hard skills: An understanding of copywriting, marketing and data analytics, knowledge of Search Engine Optimization (SEO) principles, proficiency in marketing principles, and CMS proficiency.
Social media manager
To drive engagement, produce visual content, analyze data and insights, and create a consistent online presence across all relevant social media channels.
Soft skills: Leadership, critical thinking and problem-solving, strong written and oral communication, time management, creativity, collaboration, organization, and customer service skills.
Hard skills: Proficient in relevant social media channels, proficient in social media analytics and Google analytics, and a strong understanding of social media KPIs.
SEO manager
To create and implement optimization strategies to improve a website's search engine results and rankings and to provide content insights regarding relevant topics and keywords.
Soft skills: Time management, critical thinking, analytical skills, strong research skills, problem-solving.
Hard skills: Proficient in Google Analytics, proficient technical, on-page, and off-page SEO knowledge, basic HTML coding, proficient in keyword tracking.
PPC manager
To strategize and manage the organization's Pay-Per-Click campaigns and spend, which includes evaluating channel strategy, monitoring competitors' paid strategy, performing A/B testing, and more.
Soft skills: Multitasker, forward-thinker, problem-solver, analytical, time management, strong research skills.
Hard skills: Strong understanding of digital channel integration (PPC/Content/Social), proficient in Google Ads (Search, Display, YouTube, etc.), proficient in Google Analytics, SEO knowledge, keyword analysis, skilled in PPC strategies and principles, proficient in PPC tools.
Copywriter
To cement the brand's tone of voice and help execute the content strategy developed by the content manager and stakeholders.
Soft skills: Critical thinking, strong verbal and written communication, problem-solving, strong researching and interviewing skills, and editing.
Hard skills: Proficient writing skills, language skills, proficiency in grammar, punctuation, and spelling, an understanding of SEO, and CMS proficiency.
Graphic designer
To help create consistent branding across all design elements to inspire, educate, and connect with the audience.
Soft skills: Creative, adaptable, time management, strong communication, idea generation, attention to detail, problem-solving.
Hard skills: Proficient in Adobe Suite, strong understanding of typography, proficient in digital design (UI/UX), basic coding skills, strong understanding of branding, and strong understanding of design principles.
[Read more: 6 Crucial Roles for an Effective Content Marketing Team Structure]
How to hire for your content marketing team members
Sourcing the best talent for your team means having absolute confidence they have the skills required to succeed in the role. The reality? Traditional recruitment methods will only tell you how good a candidate appears on paper.
Yet, creating the ideal team requires understanding how a candidate's soft (i.e., empathy, organization, analytical, etc.) and hard skills (i.e., Google Analytics, Adobe Suite, etc.) will add value to the team and the broader strategy.
At Vervoe, we recommend adopting a skills-based approach to hiring. Vervoe's skills assessments are designed to test a candidate's job-ready skills as they apply to the role's requirements. Through a range of question types — including video, audio, text-based, multiple choice, and more — Vervoe's machine learning AI grades and ranks candidates' responses based on the organization's preferences and by benchmarking it against thousands of responses in our database to ensure accuracy.
Vervoe offers completely customized assessments created from scratch or ready-made assessments for various roles, including:
Content Manager:
Copy:
SEO:
Digital Marketing:
Social Media: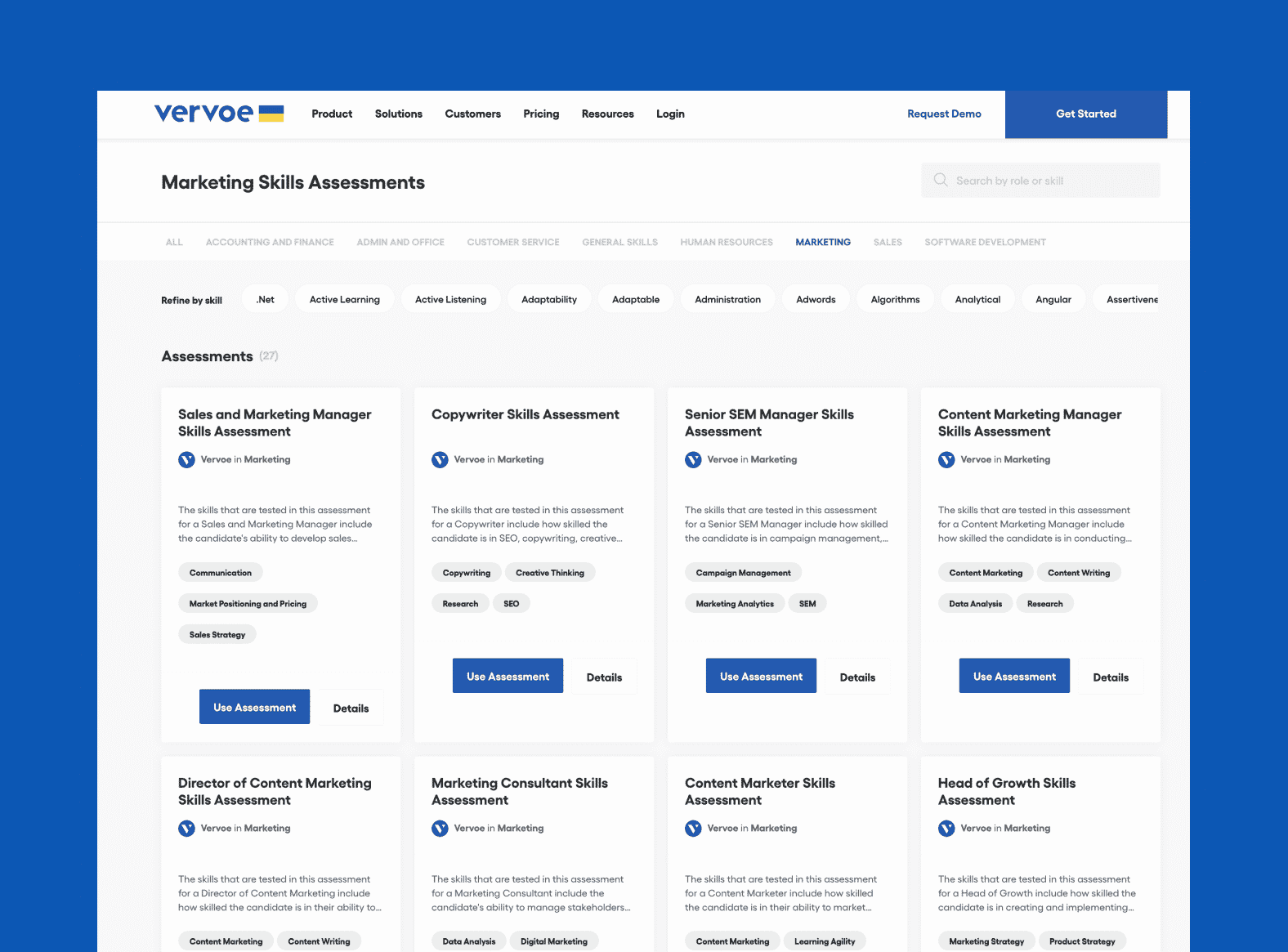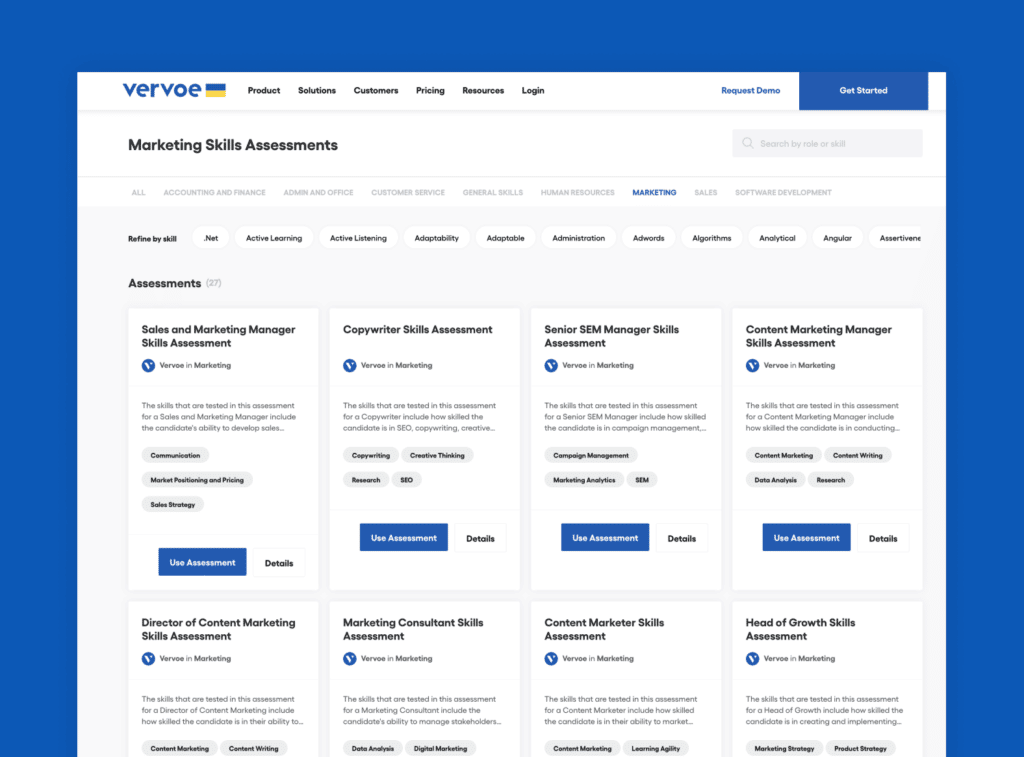 Final thoughts
A content-based approach to marketing is gaining popularity globally. On the one hand, consumers are seeking more education and valuable content; on the other hand, brands are starting to recognize its contribution to bottom-line success.
This year alone, SEMRush's 2022 Global Report saw a 22% increase in the volume of online searches querying what content marketing is. Yet, the quality of a company's content is only as effective as the quality of its strategy and team.
Building a content team starts with laying the proper foundation for success. This means ensuring you have a well-thought-through content marketing strategy and have defined and documented your brand guidelines. Additionally, it means deciding how and where your team will operate, and understanding the importance of inclusion and diversity. And lastly, it requires you to define how your team will be structured and what roles you'll require.
To start building your content team today, be sure to utilize Vervoe's ready-made Marketing Skills Assessments to ensure you find the best candidate for the role every time.