Product management is currently ranked as the 10th best job in the United States, making it one of the most highly sought-after jobs on the market.
With key players such as Zoom, Slack, Calendly, and Dropbox crediting their recent successes to product-led growth, it's hardly surprising that 43% of companies are hiring more product managers to help support growth, according to Product School.
From minimizing product failure and aligning customer and organizational needs to improving team collaboration and strategy, there's no denying the value product managers add to an organization — working in a unique role that seamlessly connects customer service, user experience, design, marketing, engineering, and product development.
In this article, we'll articulate what a product manager is, a breakdown of the current demand, and four questions to consider when creating a product team — including compensation, role type, team structure, and skill validation.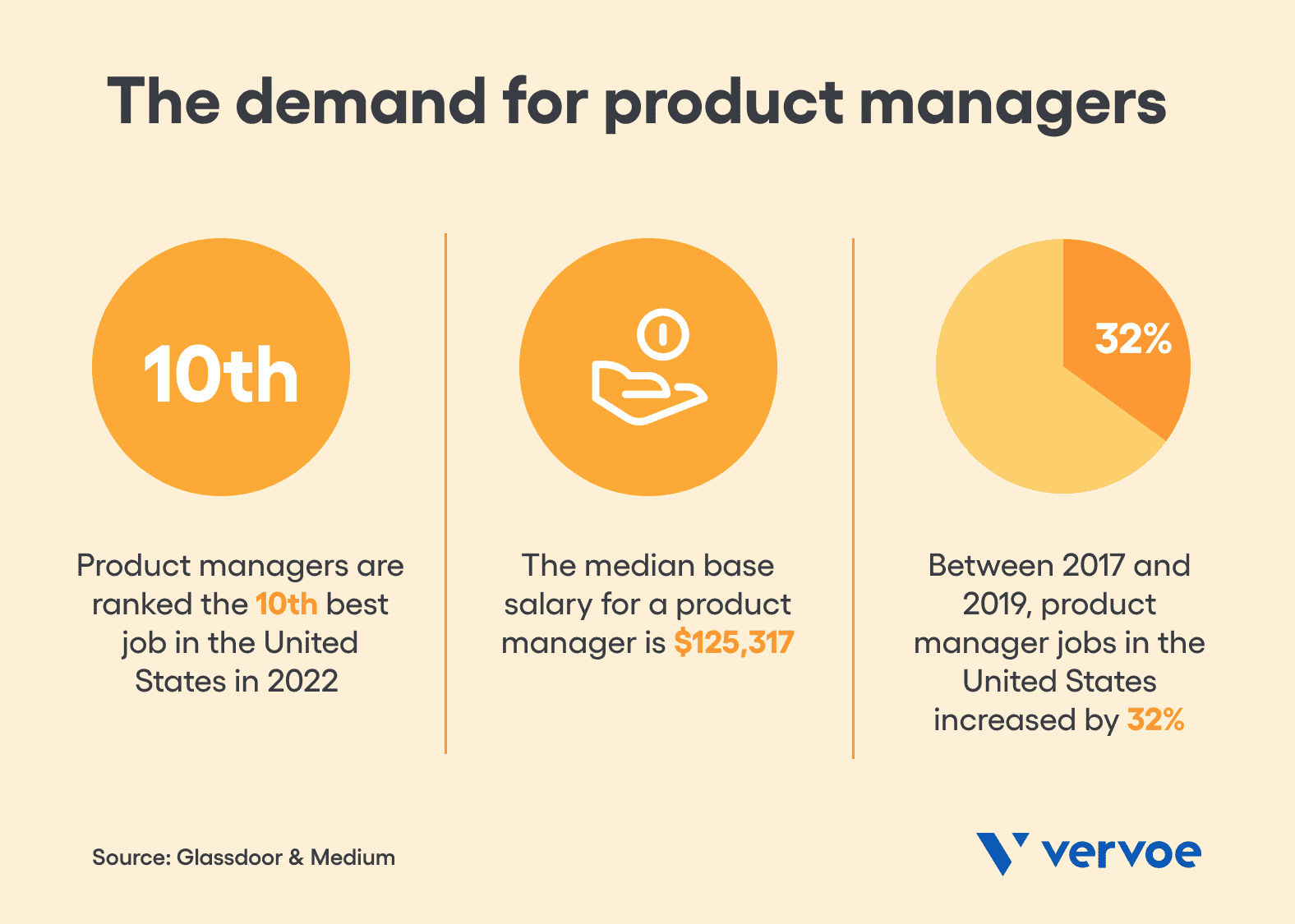 What is a product manager?
In a primarily digital world, customer connection and value are more important than ever. Product managers help strategize, streamline, and improve how customers connect with an organization's product.
The overarching goal of a product manager is to align a product with a company's objectives and a customer's needs. A product manager will work alongside various areas and departments — including customer service, product development, user experience, engineering, design, and marketing — to help strengthen team collaboration, explain technical elements and processes, provide clear expectations, and understand customer needs.
Traditionally, the product development process would rely on each department working independently — from the engineer designing the product technology to the marketing department promoting and showcasing its capabilities.
According to Atlassian, a product manager is generally responsible for the following:
Understanding and representing customers' needs
Analyzing competitors and watching the market
Building a product vision
Getting stakeholder alignment on the product vision
Supporting a team to help achieve its objectives
Prioritizing product features and working at a conceptual level
Outlining what success looks like
The rise in demand for product managers
From August 2017 to June 2019, the demand for product management roles increased by 32% in the United States.
Organizations are beginning to invest more money and trust into product teams to help support long-term organizational success. Consider the following findings from the 2022 Future of Product Management report:
43.6% of US companies are hiring more product leaders
31% of US companies believe more budget will be dedicated to product teams
35% of companies see product leaders driving annual planning
Today, market competition — especially in the SaaS industry — is at an all-time high, requiring businesses to find creative and sustainable ways to maintain an edge while speaking to customers' needs. Product managers play a unique role in bridging this gap between customer needs and product development.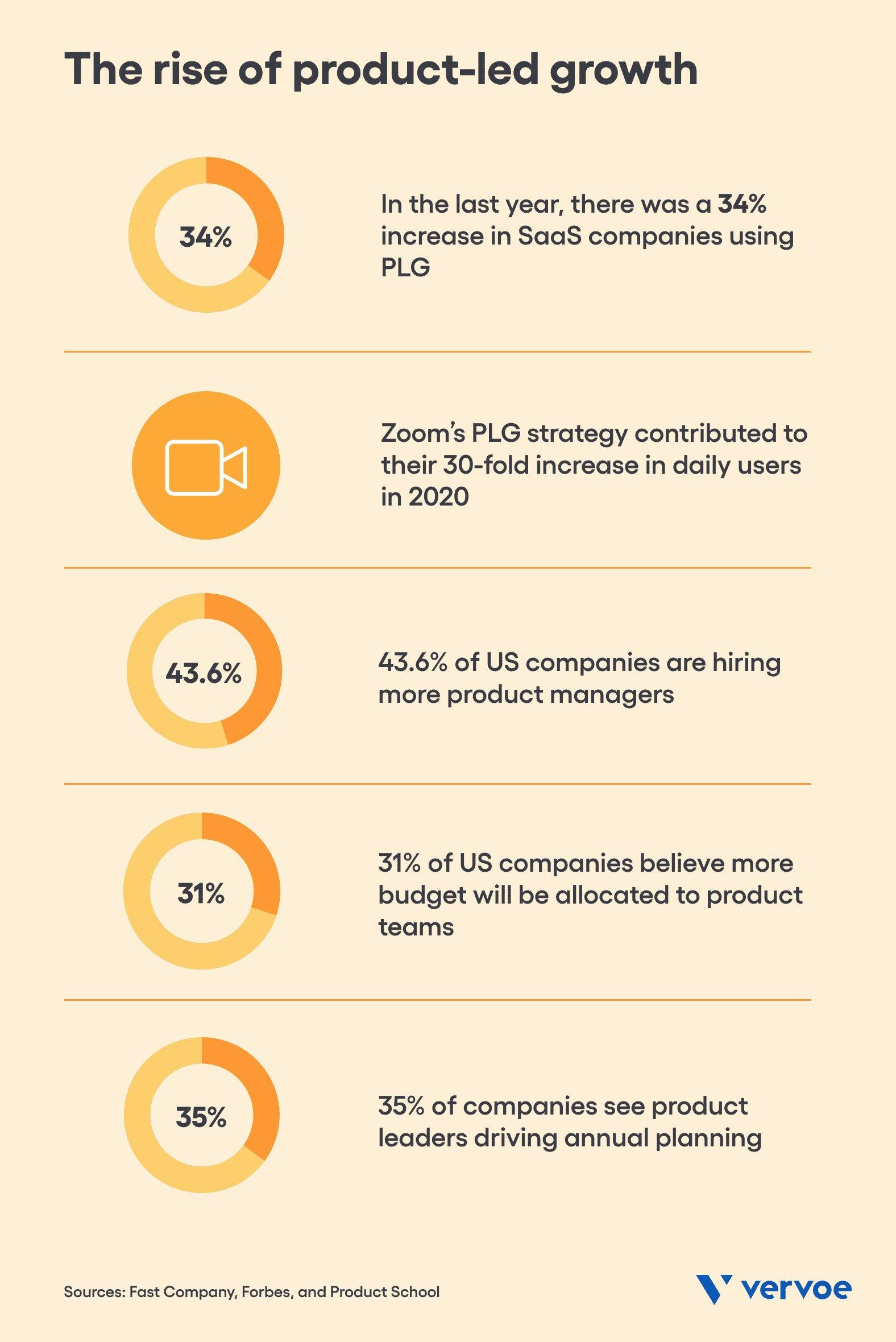 According to Medium, three primary factors have contributed to the increased demand for this role:
The increase in eCommerce roles primarily led by brick-and-mortar retailers digitally transforming their presence. This includes key players like Amazon, Wayfair, and Walmart.
Banks and credit card providers pushing for 'digital-first' financial services. This includes JP Morgan Chase, Capital One, Bank of America, Visa, and MasterCard.
Management consulting and financial advisory services shifting towards developing product practices. ‍
4 questions to consider when creating a product management team
1. What should your product team structure look like?
If it were easy to decide on the perfect product team structure, this article would be wrapping up right about now. But the truth is, there's no one-size-fits-all approach to building a product team, as your structure will be largely dictated by your product offering, organization size, and overarching objectives.
When determining your structure, ask yourself the following questions:
Who is your target market, and what are their needs and wants?
What are your overarching business goals?
How many products or lines of products need to be managed?
What budget and resources will be allocated to each product team?
Let's consider three product team structure examples explained by ProductPlan:
One manager per product
Depending on the organization's size or the complexity of the product features, you could opt for a structure centered around one manager per product or feature. The product manager will be responsible for deciding how many employees are required in the team and under what role titles (i.e., developers, designers, etc.).
Additionally, the product manager will be accountable for conducting market research, budgeting, setting objectives, collaborating with internal teams, and helping to facilitate product development. Given its autonomous structure, this particular option may benefit from having a VP of Product to help oversee the broader product team.
Multiple product managers allocated by skill set
Unlike the first option, this product team structure suggests allocating responsibilities to multiple product managers depending on their unique skills. For example, one product manager might be responsible for competitive analyses and market research, and another could manage the budget and resource allocation. Hiring product managers by skill set means leveraging various areas of expertise, which may include hiring a technical product manager, growth product manager, design product manager, etc.
While this team structure allows for more in-depth knowledge and expertise in each area, the potential downside is that the entire team could unravel should one of the product managers choose to leave, as they're the only ones skilled in their particular area.
Cross-functional teams
This team structure consists of a small group of professionals with unique expertise. This might include developers and a product owner working on a specific function of the product line that can be used across multiple products.
Spotify has used this model to create their 'Squad Model', whereby they used cross-functional collaboration by setting up multiple squads consisting of four developers and one product owner.
2. What types of product managers does your organization need?
There are several types of product managers, all with varying knowledge and skills. Before building a product team, you need to assess what expertise you'll require based on your organization's size, budget, and requirements.
Consider the Product Faculty's breakdown below of common product management roles.
| | | | |
| --- | --- | --- | --- |
| Role | Responsibilities | Suitability | Average Salary |
| Technical Product Manager (TPM) | Analyze market trends, support product training, conduct competitor analysis, and work on product development and improvements. | Startups Organizations that require technical product features and aspects | $120,000 – $144,000 |
| Digital Product Manager (DPM) | Facilitate product launch campaigns, analyze digital product features, and connect with customers to understand their needs. | Established companies looking to increase digital product development. | $80,000 – $100,000 |
| Software Product Managers (SPM) | Work with the designers to create products and features that align with customer needs and remove outdated software solutions. | Tech and software companies | $87,000 – $140,000 |
| Product Operations Manager | Manage daily team operations, develop best practices, support resource sharing, and ongoing training, and improve communication across departments. | Businesses with large organizational structures | $80,000 – $100,000 |
| Data Product Manager | Interpret and use data to drive decisions, make design improvements based on data, and work alongside analysts and data scientists. | Software companies and those in the process of launching new products | $80,000 – $129,594 |
| Product Marketing Manager (PMM) | Marketing-focused duties, learn technical product aspects, market product, and features. | Companies with technical products that require marketing | $70,000 – $105,000 |
| Growth Product Manager | Analyze and apply data to make product improvements, assess new ways for product growth, and research and coordinate with designers to improve profitability through refined features. | StartupsCompanies wanting to improve profitability | $71,000 – $146,000 |
| eCommerce Product Manager | Improve product sales and performance across eCommerce and develop business strategy. | Companies focusing on their online performance or those transitioning their eCommerce strategy | $71,000 – $109,000 |
| Product Design Manager (PDM) | Research products and trends, improve product features, and maintain design feasibility. | Companies across most industries | $73,000 – $123,000 |
3. Is your Employee Value Proposition (EVP) competitive enough?
Product managers are in high demand in the United States, yet their retention rate is low. What exactly does this mean? Product managers are currently spoilt for choice when it comes to job opportunities. Still, to accept and stay in a role, they want the complete package — including compensation, company values, and added perks.
Consider the following findings:
With the power mainly in the hands of product managers due to demand, organizations need to ensure their compensation is competitive, there's clear career progression, their brand values are strong, and the product is engaging. Let's delve a little deeper:
Are there avenues for growth?
The career progression of a product manager will vary drastically across organizations and industries, depending on size, structure, and requirements. Yet, in a highly competitive industry, organizations have the opportunity to set themselves apart from competitors by defining a career development plan to help keep employees invested in the company.
As with all roles, there is no one size fits all approach. While most organizations won't require all of the tiers outlined below, it will give employers a greater understanding of the opportunities for progression and what option might suit their existing structure.
Associate product manager — This entry-level role will require team collaboration, research, a customer-centric mindset, and the ability to research and collate information from various sources. To transition to product manager, the employee will need to refine their management skills, master the core product knowledge, and gain the ability to work autonomously.
Product manager — As the most popular role within the product management realm, the duties, skills, and expectations associated with it vary significantly across organizations. As a general guide, a product manager is responsible for at least one product team and product or feature. This particular role requires strong communication and interpersonal skills to effectively manage and support their team, coupled with strong technical skills and knowledge of the product.
Senior product manager — To transition from product manager to senior product manager, they'll need to demonstrate long-term vision and product strategy rather than dealing with short-term issues, plans, and projects. It will require alignment with the company's overarching business goals.
Group product manager — A group product manager is responsible for coaching and leading a product team and product managers while also liaising with stakeholders. The role is predominantly focused on managing people and leading the product.
VP of product — A VP of product is responsible for managing product managers and ensuring the team stays on budget. Strong leadership and team-building skills are fundamental to progress in this role. Depending on the organizational structure, a VP of product may also handle hiring and training their team.
Chief product officer — This is the most senior role in product management teams. While it will depend on the structure of the team and business, generally, this person is responsible for managing multiple product teams and developing the strategy and roadmap for the overall product. This person has the ability to think long-term and to define the tasks required to get there clearly. They will need to liaise with key stakeholders to ensure the vision aligns with the company's long-term goals.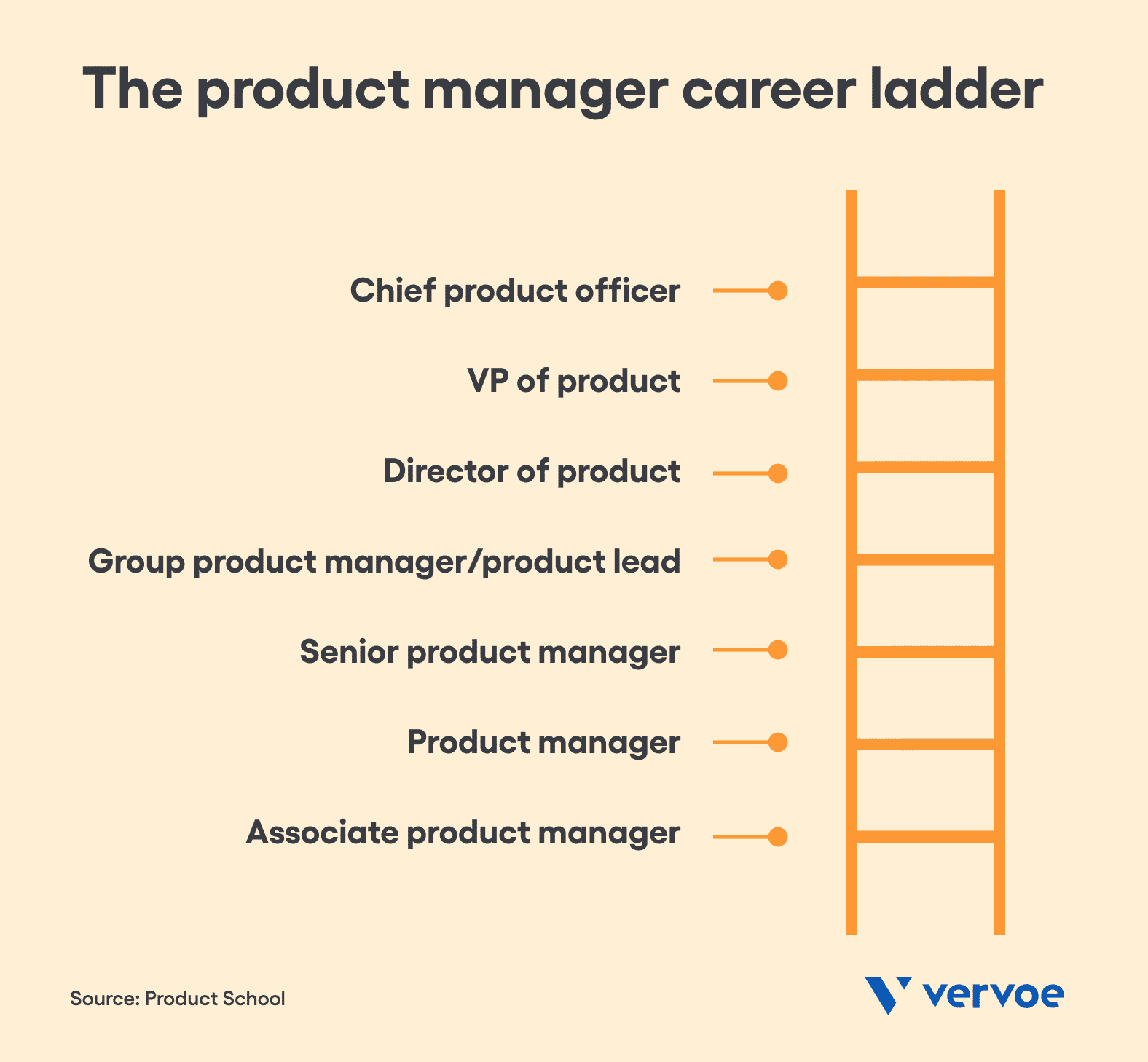 Is your salary competitive enough?
While compensation isn't the driving factor for retaining product managers, it is one of the most significant contributors to getting them through the door. According to the 2022 Future of Product Management report, 31.29% of product managers admit they'd change roles if offered a higher salary.
Product managers in the United States fall into the following salary brackets, according to Product School findings:
$61,000 – $90,000 — 8.09%
$91,000 – $120,000 — 28.98%
$121,000 – $150,000 — 20.1%
$150,000 – $180,000 — 24.8%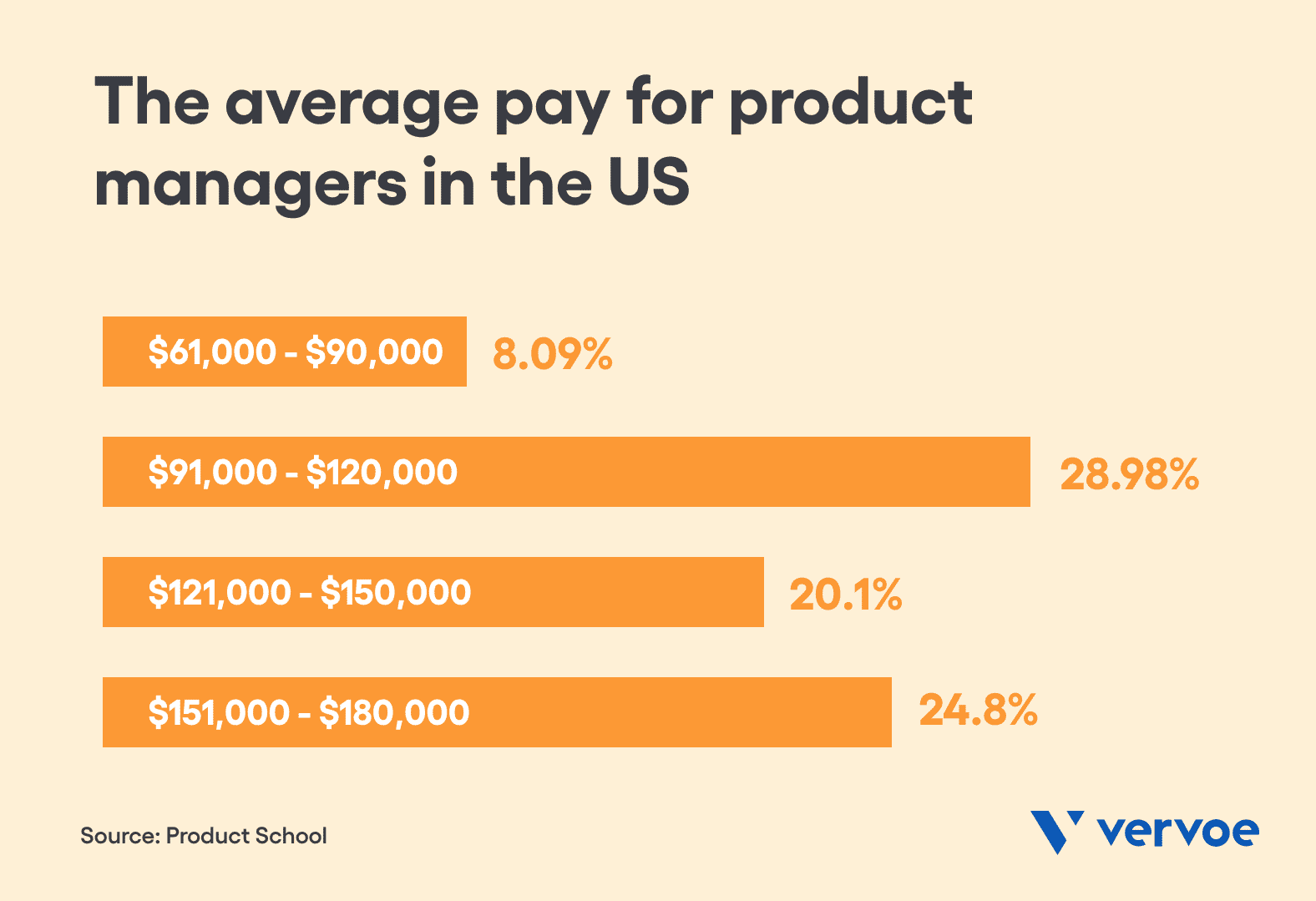 While the information on product management salaries seems to vary across sources, Product Faculty offers these insights into the average salaries of additional product management roles.
| | |
| --- | --- |
| Role | Average Salary |
| Technical Product Manager (TPM) | $120,000 – $144,000 |
| Digital Product Manager (DPM) | $80,000 – $100,000 |
| Software Product Managers (SPM) | $87,000 – $140,000 |
| Product Operations Manager | $80,000 – $100,000 |
| Data Product Manager | $80,000 – $129,594 |
| Product Marketing Manager (PMM) | $70,000 – $105,000 |
| Growth Product Manager | $71,000 – $146,000 |
| eCommerce Product Manager | $71,000 – $109,000 |
| Product Design Manager (PDM) | $73,000 to $123,000 |
Have you created a desirable place to work?
While a competitive salary might get candidates to sign the dotted line, it won't necessarily buy their loyalty. As such, it's essential to focus on the value you add to your employees beyond their compensation, including value alignment, company culture, and working conditions.
According to the 2022 Future of Product Management report, over 30% of product managers want flexible working arrangements, and more than 31% want to work on product types that align with their values.
Similarly, when considering whether or not to accept a role, an Amplitude survey found that candidates rank total compensation (81%), career development (64%), work/life balance (63%), the opportunity to have an impact (63%), cultural fit (60%), and benefits packages, i.e., healthcare, leave policy, etc. (46%) most important.
4. How are you going to assess candidates' suitability and skills?
Product management is a diverse field that can be entered through multiple pathways, some of which might not be obvious linear transitions.
According to an Amplitude study, the most common areas of study for product managers are business (23%), computer science/engineering (15%), social sciences (15%), other engineering (12%), and humanities (10%). The percentage of workers with unrelated qualifications, such as humanities and social sciences, demonstrates that one does not need a highly technical background to transition into the role. In fact, the same study found that only 12% of respondents have spent their entire career in product, meaning they've transitioned from other roles.
So, if traditional methods for assessing a candidate's assumed suitability are lacking (i.e., a degree that correlates with the role), how do employers assess their suitability?
The answer: skills-based hiring.
[Read more: How Skills-Based Hiring Can Transform Your Organization]
Why you should use skills-based hiring
Skills-based hiring is a recruitment approach that selects candidates based on their proven skills, capabilities, and talent rather than potentially redundant requirements like their educational background, college degrees, or previous experience.
While traditional hiring places weight on criteria that don't necessarily help determine if a candidate can perform the role's duties more successfully than others, skills-based hiring sees hiring managers analyze a candidate's key skills and abilities through skills assessments and job simulations.
A solution like Vervoe's AI-powered skills assessment platform can help achieve this.
How to hire a product management team with Vervoe
Vervoe is an AI-powered platform that assesses candidates' hard and soft skills in the context of the role. A Vervoe assessment uses a range of question types to take candidates through a job simulation that mimics the nature of the position and the kinds of scenarios they may encounter. This gives applicants a realistic preview of what a day in the life of the role looks like while also allowing organizations to better understand a candidate's suitability for the role.
Vervoe's machine learning AI automatically grades and ranks candidates' assessments by benchmarking their responses against millions of others on our platform. Not only does this help organizations find the best candidate for the job, but it also ensures an accurate, fair, and efficient recruitment process.
Businesses can choose from our ready-made Product Skills Assessments or opt for a tailored solution built from scratch. We offer the following product assessments:
Consider the following sample questions from Vervoe's Product Manager Skills Assessment:
Communication
Question Type: Audio
Collaboration
Question Type: Video
Imagine you are successful in this role and need to communicate a new feature for your product to the sales team. How would you ensure that each sales team member understands the new feature correctly?
Imagine that you have joined a company that is currently using multiple platforms to manage customer data and it's time-consuming for your team. What would be your strategy in finding a fit-for-purpose CRM platform to help consolidate the tech stack?
Final thoughts
From strategy and team alignment to customer connection and product development, there's no denying the critical role product managers play in an organization's overall success — connecting the customer, stakeholders, engineering team, marketing department, and sales.
With influential players like Zoom, Slack, Calendly, and Dropbox experiencing such impressive results owing to their product-led growth, it's safe to suggest that product managers will continue to be in hot demand well into the future.
Yet, with high demand comes even greater pressure for organizations to get their recruitment process right — because one shot is often all they get in today's candidate short market.
Organizations can set themselves up for success by doing the necessary groundwork. This includes assessing what team structure their organization needs, analyzing the type of product managers most suitable to their business, revisiting their EVP to ensure it's competitive, and reassessing how they screen and assess candidates' skills.
To get started on building your ideal product team, we recommend adding Vervoe's Product Team Skills Assessments to your hiring funnel for greater confidence, efficiency, accuracy, and fairness.