Writing competency is a fundamental skill for all businesses. Whether the job entails writing presentations, crafting copy to sell a service or product, or simply managing client and stakeholder communication, it's an unavoidable skill required across most roles to varying degrees. And its impact is undeniable — from improving customer connection and increasing conversions to enhancing brand reputation and ensuring clear internal communication.
Yet, writing skills in the workplace are drastically lacking, costing employers billions of dollars annually. According to a CollegeBoard study, blue chip businesses spend $3.1 billion on remedial writing training annually to get their team up to scratch with basic writing proficiency.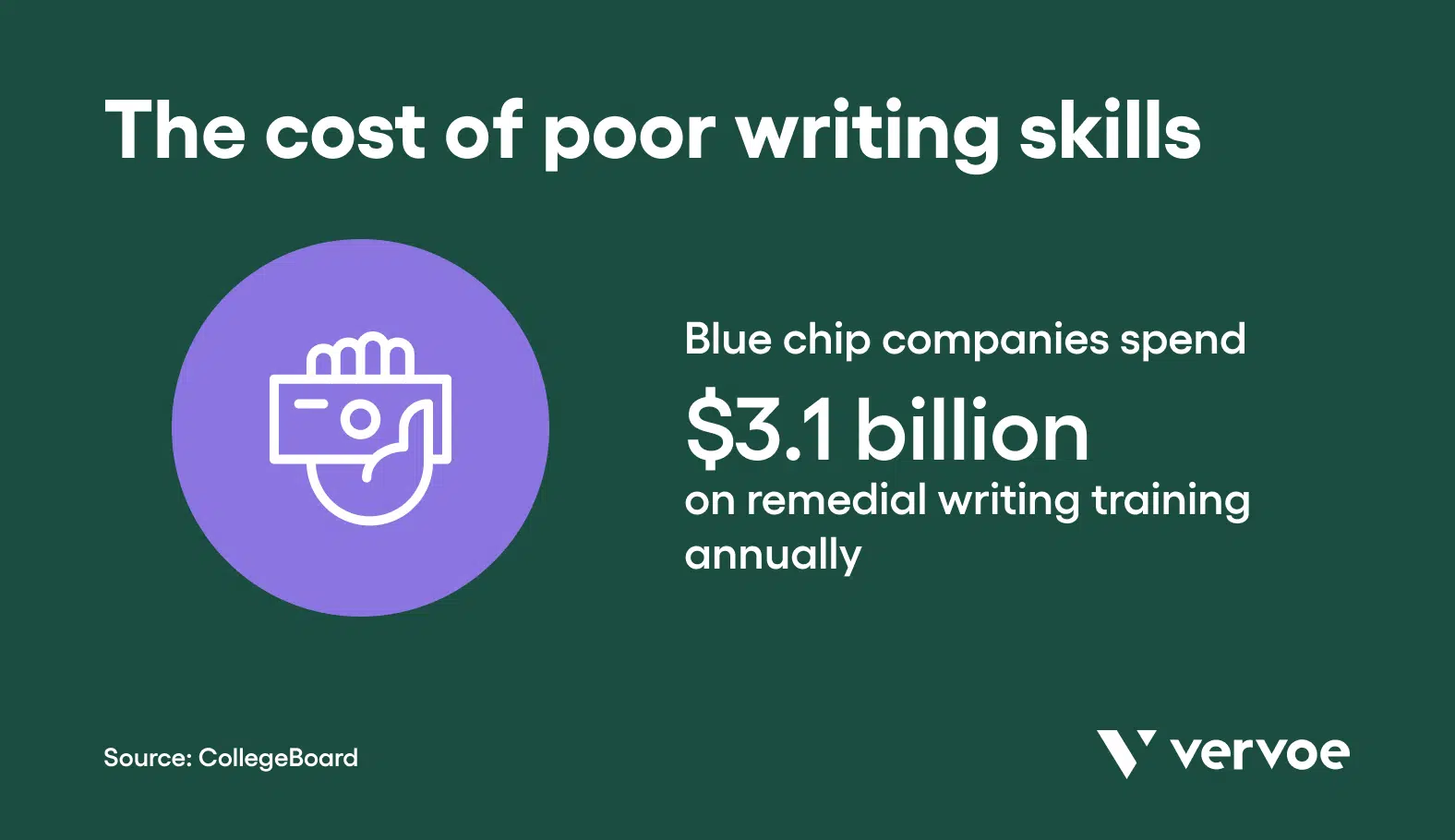 So, how can organizations avoid the exuberant costs associated with poor writing skills and ensure the candidates they select have the skills necessary to succeed in the role?
Enter: writing skills assessment tests.
In this article, we'll discuss what a writing skills assessment test is, why it's critical to a business's success, and three steps to help implement one in your hiring funnel.
What is a writing skills assessment test?
A writing skills assessment is a pre-hire test designed to help recruiters and hiring managers assess a candidate's writing abilities. By asking a range of tailored questions specific to the role's requirements, organizations can evaluate whether the candidate has the level of writing skills required to succeed in the role.
For example, this might include a writing exercise that assesses spelling and grammar, sentence structure, punctuation, and the ability to apply the right tone and language to the right situation (i.e., does the candidate know when to be empathetic and compassionate, or when to be direct and professional?).
Why writing skills assessment tests are important
Consider this: you start your work day by sifting through long-winded emails from colleagues that lack concision. You then read through a bunch of draft presentations submitted by your team that struggle to communicate tangible solutions and actions. Finally, you're preparing for a client call by reviewing their website, only to read industry jargon that lacks meaning. By this point, you've wasted much of your day trying to decipher poorly written work.
This alone emphasizes why writing skills are essential in the workplace and why pre-hire writing skills assessment tests are imperative to a company's success.
In business, the risk of not assessing candidates' writing abilities before hiring them can be costly. Consider the following findings: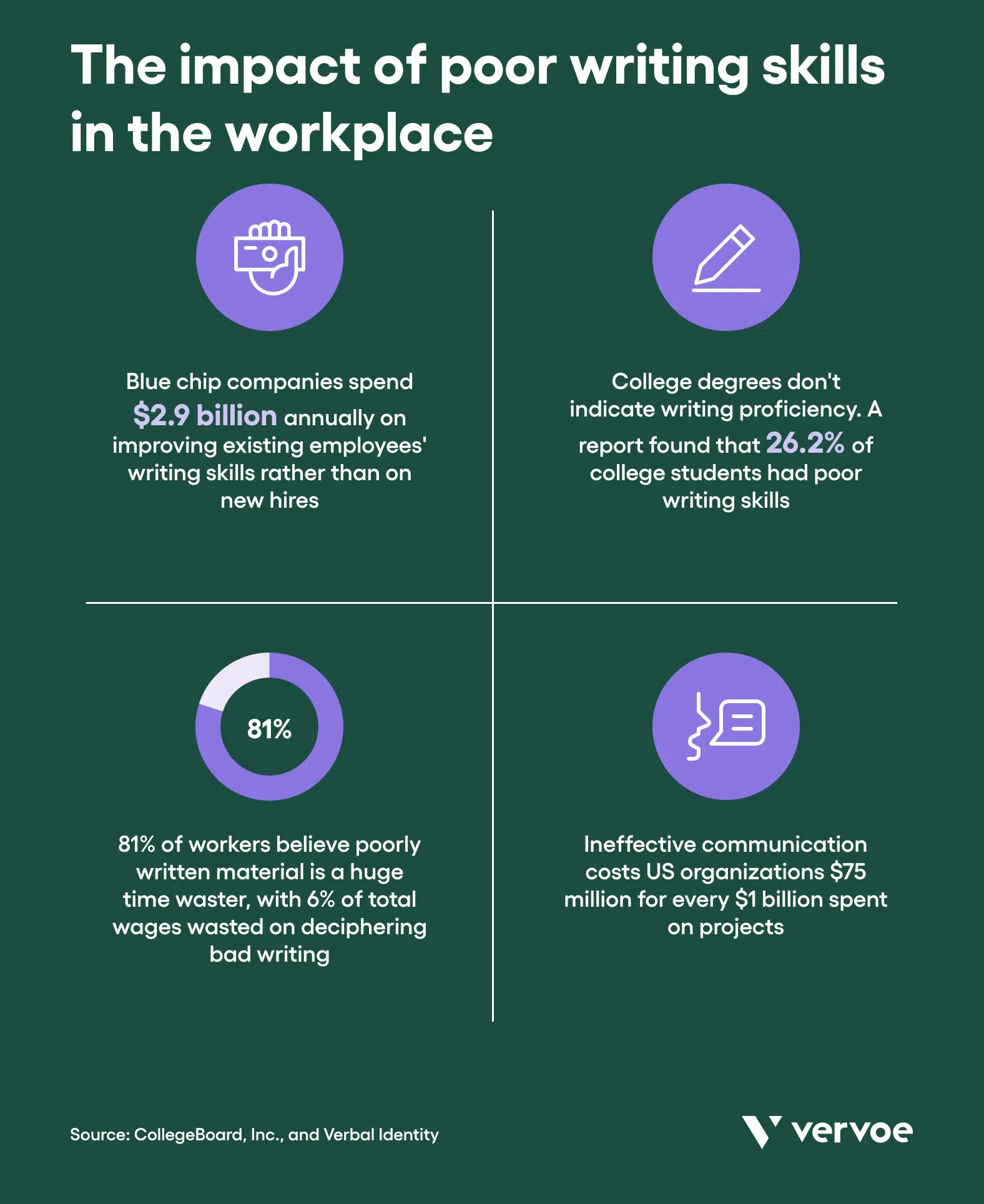 How to implement a writing skills assessment test in 3 steps
Assessing a candidate's writing skills will look different in every role, company, and industry. While some jobs will require writing expertise to sell products and services, others will look closely at a candidate's ability to communicate effectively with stakeholders and customers.
Here are three steps to help hiring managers assess writing competency for any role:
Step 1. Consider the role's core duties that require writing competency
It's important to note that writing skills aren't just a core requirement for copywriters; they're critical in most roles to varying degrees — including writing client emails, presentations, reports, internal communication, marketing, and more.
Before implementing a test to assess a candidate's writing skills for prospective employees, consider the core responsibilities of the role you're hiring for. Ultimately, this will influence what writing skills are most important and what assessment questions will adequately identify if the candidate is a suitable fit or not.
Consider the varying responsibilities of the following roles:
Administration roles
While administrative roles all sound similar in nature, the daily responsibilities will vary across roles and industries. Consider the following core responsibilities and writing components:
Role
Core Responsibilities
Writing Components
Administration Officer or Administrative Clerk
– Manage and coordinate client and team meetings
– Take phone calls
– Welcome visitors
– Follow up invoices
– Organize company records
– Organize office supplies
– Communicate with stakeholders and clients via email to arrange meetings or follow up on invoices.
Administrative Manager
– Supervise and manage administrative team members
– Ensure daily office operations are running seamlessly
– Develop and improve administrative systems, policies, and procedures
– Conduct employee performance reviews
– Liaise with administrative team and senior management
– Communicate, and provide feedback and instructions to employees
– Communicate with stakeholders via email
– Write training instructions on systems and policies for team
Administrative Service Manager
– Coordinate mail distribution
– Supervise the administrative team and operations
– Hire, onboard, and coach administrative team
– Develop and implement administrative policies
– Support complex activity, including reporting, budget management, and sensitive document handling
– Communicate with candidates when hiring and onboarding new team members
– Write policiesHelp with report writing
Administrative Support Specialist
– Compose and edit written material
– Prepare charts, brochures, instructional materials, flip charts, newsletters, correspondence, and reports
– All written material i.e., newsletters, reports, brochures etc.
Content Creators
Content creation is a broad title given to various roles that fall within the content space — ranging from marketing to transcribing audio files for legal clients. While a given, content creators' roles are predominantly focused on written communication and output, thus requiring a written assessment that covers the varied scope of the role. Consider the following roles:
Role
Core Responsibilities
Writing Components
Content Marketing Manager
– Manage the content marketing team
– Prepare content marketing strategy and plan
– Create an editorial calendar
– Write content Editing content
– Communicate with team
– Feedback
– Write content briefs
– Create a written content strategy and guide
– Write industry-specific content (i.e., articles, social media posts etc.)
– Editing
Copywriter or Content Writer
– Write marketing material for various platforms and mediums — articles, social media, emails, SMS, brochures, etc.
– All areas of the role
Transcriptionist
– Create written versions of live proceedings, audio recordings or video recordings
– All areas of the role
Assistants
From managing client communication and event coordination to writing meeting notes, assistant roles require strong writing skills for internal and external communication. Consider the following examples:
Role
Core Responsibilities
Writing Components
Executive Assistant or Personal Assistant
– Manage and organize calendars
– Book travel arrangements
– Answer and make phone calls
– Create presentations
– Take meetings notes
– Compile market research
– Organize events and meetings
– Coordinate calendar invites and emails
– Assist with presentations
– Take meeting notes
Virtual Assistant
– Schedule appointments and coordinate calendars
– Book travel arrangements
– Manage email accounts
– Provide client with updates
– Make phone calls
– Coordinate calendar invites and appointments
– Manage emails
– Provide client updates (particularly given the remote nature of the role)
Step 2. Evaluate what soft skills are important
Being a competent writer isn't just about possessing the right technical skills. It's also about having the right soft skills to ensure written communication is structured correctly and conveys the right tone, message, and meaning to the recipient.
For example, an administration officer who works for a Family Law Practice requires the right balance of soft skills to deliver clear client communication delicately. Soft skills such as empathy, self-awareness, compassion, strong communication, and resilience are important to the role's success. Yet, an executive assistant for a senior accountant will likely require different soft skills when approaching writing tasks, such as professionalism, directness, concision, and more.
Soft skills will vary depending on the role and industry you're hiring for. As such, identifying what soft skills are essential to your role's success will give you a greater understanding of your ideal candidate and help influence what kinds of questions to ask in a writing test to evaluate hard and soft skills.
Incorporating questions directly related to a candidate's soft skills is a great way to evaluate their technical writing while gaining greater insight into the additional skills required to deliver written communication with tact and intention. For example, consider the following soft skill questions from Indeed:
| | |
| --- | --- |
| Soft skill | Question |
| An open-ended question to assess their interpretation of the role and what they deem an ideal candidate to look like. | What do you feel are the three most important soft skills a candidate should possess to succeed in this role, and why? |
| Assessing resilience and conflict-resolution. | Can you discuss a time when you had to manage your team through a difficult situation? |
| Assessing organizational skills and time management. | How do you prioritize your tasks when you have multiple deadlines to meet? |
| Assessing decision-making and leadership skills. | Highlight a situation where you had to make a decision without managerial supervision. How did you approach this situation, and who else did you speak with? |
| An open-ended question to better understand what soft skills they may be lacking. | What do you feel will be your biggest challenges in this role? |
Step 3. Make sure your questions assess the five basic writing skills
As with any pre-employment assessment, you can't objectively and accurately test candidates if you don't know what you're looking for in their responses.
There are five core skills you need to assess to evaluate a candidate's technical writing competence:
Spelling — Does the candidate use the correct spelling and convention? I.e., American vs. British English
Grammar — Does the candidate use the correct word arrangements and inflections?
Sentence construction — Does the candidate's sentence read well, contain a subject, and convey a statement or question?
Conjugation — Does the candidate use the correct verb to express tense, mood, person, etc.
Paragraph construction — Does the candidate focus on a singular topic in each paragraph, and how long are their paragraphs?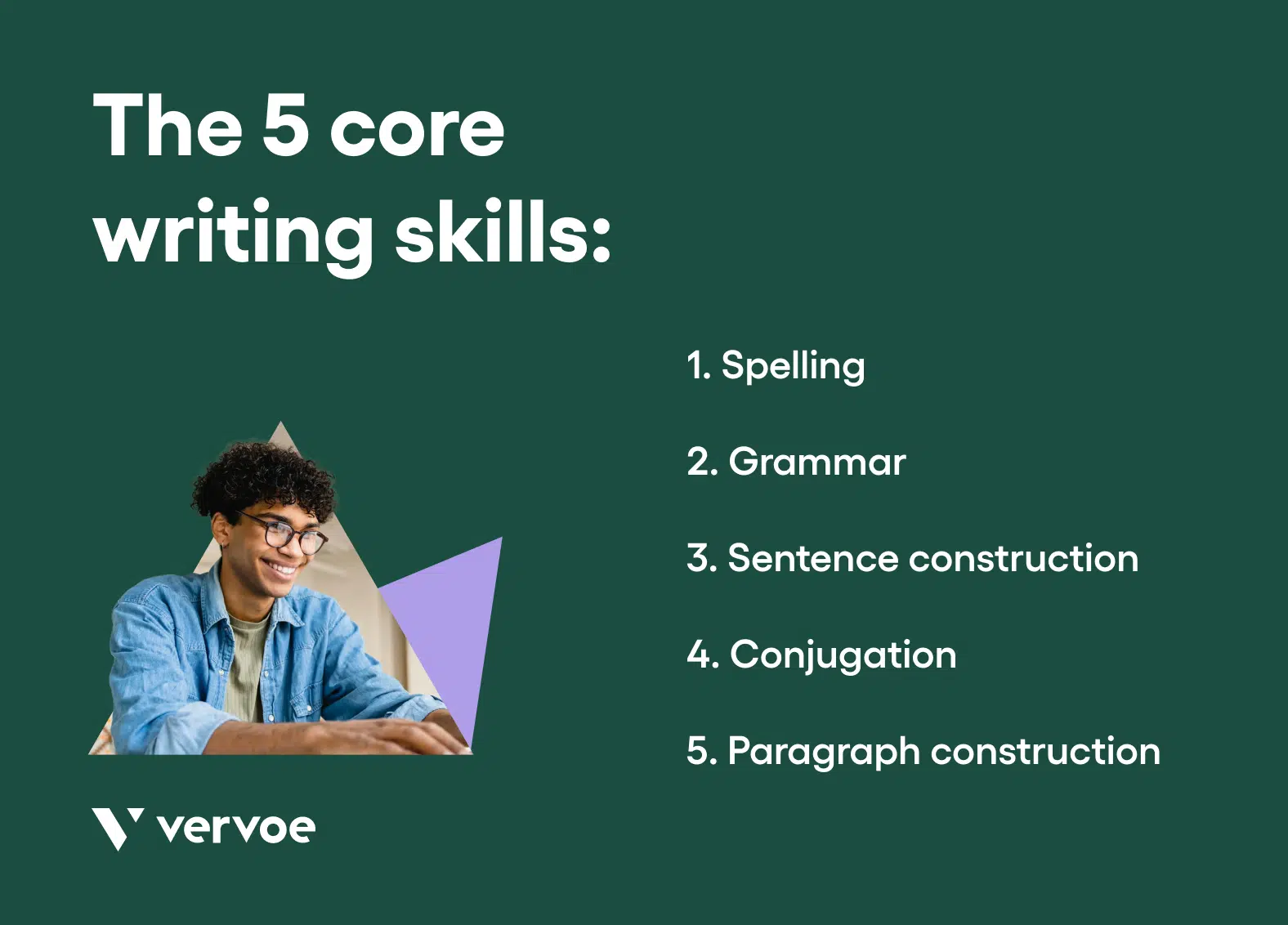 Knowing what situations and mediums require different writing styles and tones are fundamental writing skills required across all roles in the workplace.
For example, the tone, structure, and language used to send an internal message to a team member will differ from an in-depth stakeholder report. Testing a candidate's ability to apply the five basic writing skills while understanding context and tone is critical to understanding their capability and writing proficiency.
Let's take a closer look at a few examples of how you could assess writing skills in an assessment:
Writing skill
Role type
Question type
Spelling
Any role
Multiple-choice question:
Which of the following examples contains the correct spelling:
– I was consious not to mispronounce the word
– I was concious not to mispronounce the word
– I was conscious not to mispronounce the word
Grammar
Copywriter/Content Writer
Text-based:
Give the candidate an article written by your company (i.e., correct tone of voice and writing guidelines), without a title or introduction. Ask the candidate to complete the article.
Paragraph and sentence construction
Customer Service
Scenario-based question:
You've just received a customer support email from a disgruntled customer wanting a full refund. However, the product broke as a result of human error and isn't eligible for a refund. Your superior is happy for you to offer the customer a 15% discount on their next purchase.
Please respond to the customer's email.
An all-in-one writing skill assessment solution
Creating pre-hire skills assessment the conventional way is time-consuming, and unfortunately, the process doesn't get any easier when it comes time to grading and ranking candidates.
Firstly, you need an expert in the field that understands the right questions to ask based on their in-depth knowledge of technical writing elements. Secondly, you need sufficient resources, time, and specific criteria to manually sift through each response to grade and rank candidates accurately.
Sounds near impossible, right? Thankfully, with Vervoe, it's not.
What is Vervoe?
Vervoe is an AI-powered machine learning platform that assesses candidates' hard and soft skills in the context of the role. Using a range of question types, Vervoe's skills-based tests take candidates through an assessment that mimics the nature of the position, giving them a realistic preview of what a day in the life of the job looks like while also allowing organizations to understand a candidate's potential suitability better.
Vervoe's intuitive AI automatically grades and ranks candidates by benchmarking their responses against millions of others on our platform, ensuring an accurate, fair, and efficient hiring process.
How do Vervoe's skills assessments work?
At Vervoe, our skills assessments are entirely customizable to suit each organization and role's unique requirements. Vervoe's AI-powered assessment platform offers the following:
Customized assessments
Organizations can choose from our impressive library of ready-made assessments or opt for a tailored assessment built from scratch. Once you enter the job title in the assessment builder, the builder will prompt you with relevant skills to test and suggest questions.
Multiple question types
Not all AI is created equal, which is particularly true in our industry. While many other platforms' AI can only assess multiple choice questions, Vervoe's AI-graded question types are varied and flexible.
Choose from text-based questions, multiple choice, video, audio, spreadsheets, coding, and more, or use a mixture of all depending on your role's requirements.
AI candidate grading and ranking
Vervoe's intuitive AI automatically grades candidates' responses — whether text-based or video answers — and ranks top candidates in order of suitability. This allows organizations to accurately and objectively identify top performers and add reassurance to the hiring process.
Vervoe's AI uses three different models to measure and predict performance:
The 'how' model — this model works across all question types to track and analyze how a candidate interacts with your assessment.
The 'what' model — this model analyzes candidates' responses and benchmarks them against millions of others.
The 'preference' model — this model is employer or role-specific and relies on individual organizations training our AI to understand their preferences and what a great answer looks like to them.
How can Vervoe help you assess candidates' writing competency?
Through Vervoe's versatile question types, organizations have complete flexibility and control over how they assess their candidates.
Depending on the role, this might look like creating a writing exercise test from scratch or using our pre-made copywriter or content writer skills assessments. Or, if you're hiring for an unrelated role with writing elements, you can customize a skills-based test to assess multiple skills at once, including communication skills.
For example, suppose you're hiring an accountant. In that case, this can include a range of accounting questions (i.e., multiple choice, spreadsheet, and text-based questions) and additional questions that assess the candidate's writing capabilities.
Consider the following examples of Vervoe assessment questions for a copywriter role and an administrative clerk role:
Copywriter online test sample questions
Creative Thinking
Question Type: Document
Research
Question Type: Text
Copywriting
Question Type: Text
Write a paragraph (100-150 words) that shares a recent piece of business news you find fascinating. Your goal is to share the news with your colleagues. Be sure to provide your opinion of its effects.
Describe a project that you have worked on where you knew absolutely nothing about the topic when you started. Outline the research strategies you utilized and how you learned enough to write about it.
Based on this home page copy and image from Modcloth, write a brief story about who their target client is, what that client wants most, and the solution Modcloth is offering. In your description, don't limit your response to demographic information. Dig deeper.
[Read more: Copywriter Skills Assessment]
Administrative Clerk online test sample questions
Communication
Question Type: Video
Initiative
Question Type: Text
It's your first day at your new job. At the Monday morning meeting, you are asked to introduce yourself to the rest of the team, including the Director who is sitting in on the meeting. Please record and upload a video of yourself doing this.
If you are assigned a task you're not familiar with, what will be your process of completing it? Be specific with your answers.
[Read more: Administrative Clerk Skills Assessment]
Final thoughts
When it comes to business, we all work closely with language. Whether email communication, presentations, written reports, articles, or briefing team members, writing skills are critical to ensuring a business operates seamlessly.
Yet, poor writing skills cost organizations billions of dollars yearly, emphasizing the need to run candidates through a pre-hire writing skills test.
To effectively create and implement a writing skills assessment test, whether it's for a content writer role or a virtual personal assistant position, organizations need to consider the following steps:
Break down the role's duties to understand what tasks require writing proficiency.
Consider the soft skills required to help convey written communication skills in an on-brand tone.
Ensure you assess candidates on the five basic writing principles.
Once organizations weigh up the requirements to effectively assess candidates writing skills, they must determine how they'll achieve this. Do they have the resources to fulfill this in-house or will an external platform, such as Vervoe's AI-powered skills assessments, be a more viable solution for their business.