Marketing Manager Job Description
Use this comprehensive Marketing Manager job description template to help you attract candidates with the right skills to perform in your business. This job description example is optimized for easy posting to online job boards or career pages.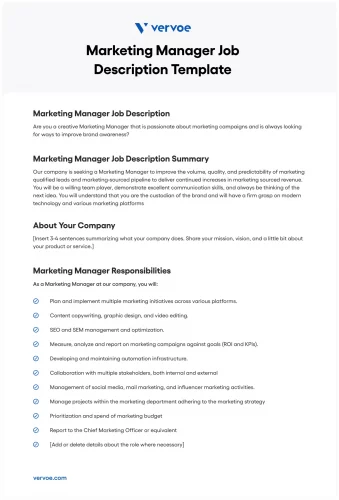 Sample Marketing Manager Job Description
Are you a creative Marketing Manager that is passionate about marketing campaigns and is always looking for ways to improve brand awareness?
Marketing Manager Job Description Summary
Our company is seeking a Marketing Manager to improve the volume, quality, and predictability of marketing qualified leads and marketing-sourced pipeline to deliver continued increases in marketing sourced revenue. You will be a willing team player, demonstrate excellent communication skills, and always be thinking of the next idea. You will understand that you are the custodian of the brand and will have a firm grasp on modern technology and various marketing platforms
[Insert 3-4 sentences summarizing what your company does. Share your mission, vision, and a little bit about your product or service.]
Marketing Manager Responsibilities
As a Marketing Manager at our company, you will:
Marketing Manager Requirements
Our ideal Marketing Manager will have:
Marketing Manager Benefits
Marketing Manager Education and Qualifications
In building your candidate profile, remember you've already identified what skills are needed to succeed in the role. Here's where to list your "must-have" skills and maybe a couple of "nice-to-have" skills. For example, a Marketing Manager must have strong creative thinking skills, and it would be nice to have significant experience in creative graphic design.
How To Write A Marketing Manager Job Description
Once you've determined the skills required for the role, you can write a job description to advertise your position to job seekers. Here's what to include in a Marketing Manager job description:
Step 1. Begin With A Job Summary
Step 2. Specify A List of Job Requirements
Step 3. Determine All Required Responsibilities
Step 4. Include Employee Benefits
Ensure that the entire recruitment process, from the job description to assessment to interview, reiterate your company vision and values. This will help you identify the right people for the role, and applicants will know whether your company is the right fit for them.
To find the best person for the role, you need to understand what the role involves. Before creating a Marketing Manager job description, we recommend building your ideal Marketing Manager Skills Profile. You can complete this skills profile with the hiring manager to define the role, contribution, and skills needed. Here are some examples of skills to include in your job description:
Marketing Manager Recruitment Guide
Use our recruitment guide, complete with job descriptions, skill profiles, salaries and interview templates.
What does a marketing manger do?
How to interview a marketing manager?
How much does it cost to hire a marketing manager?
Take your hiring to the next level
We've put together ready-to-use job descriptions for the most common jobs to help you identify the best candidates.