The traditional process wasn't going to work
Medibank is one of the largest telehealth employers in Australia, with almost 1500 nurses and mental health counselors, and GPs. With 24/7 Medibank Nurse and Medibank Mental Health Phone Support lines under pressure from the beginning of the health crisis, more health professionals were needed – and quickly.
For Jeremy Crawford, Head of Talent Acquisition at Medibank, meeting this demand meant a quick change in the recruitment process, and implementing an online interview platform, was vital.
"One thing we didn't have the luxury of during that particular mental health project was… just having more people across every function. It can be done, you can double or triple teams and just get more things done faster.
But couple the complexity of that role with volume, and the traditional approach of having more people in our talent team isn't something that we were too keen to explore."
Instead, Jeremy says, "what we were keen to explore is how do we increase that quality of candidate, and also do it in a fair and unbiased way so that we can adequately deal with some of those volumes. And make sure everybody's got a fair assessment of their application."
Focussing on the most important skills using Vervoe
To achieve this, a rapid shift in the way the Medibank recruited these roles was needed.
"The first thing we did was brought the most critical assessment elements up to the front of the process," says Jeremy.
"Traditionally, there was an application reviewed by the recruitment team. We make some assessments based on experience and what we can see on a CV. And then there's typically a phone screen, and we start to move people through almost a linear approach where they start to build and each stage that they pass, they progress.
"What we looked at is what is absolutely critical to our role, such as nurse triage, for example. These nurses need particular qualifications and experience. But at the end of the day, it is a virtual role. And so one of the critical elements they do need are proficient IT skills.
"That used to happen at an interview stage, fairly late in the piece. Utilizing Vervoe, we've moved that to the front of the process."
Focussing on these vital skills not only allowed the team to process thousands of applications in just days, but they were also able to more effectively communicate with applicants.
"People are either notified they're unsuccessful in a more timely manner or we're confident they're progressing with the basic core skills that are essential. Then we can focus on some other things, like values and character traits and informing people of what their role is."
Building the Medibank online experience
For Jeremy, this project was more than just a re-think of the traditional recruitment experience. It allowed the team to create a completely virtual recruitment experience that was truly reflective of Medibank's brand and values.
"I think it's really changed the way we think about what an online candidate experience looks like or what a virtual candidate experience looks like."
"It is different from a face to face experience. And so we can't just simply take one away and plug it into another. We have to really think about what their journey looks like."
When starting the project, Jeremy says, "We created, end to end, about 20 questions. And, there wasn't a single image or logo in there. I remember when we had someone run through it and just look at it and think, this is just a questionnaire. This doesn't look like Medibank at all."
Working with the Vervoe customer success team, Jeremy and his team were able to create assessments personalized to Medibank.
"From an employee experience perspective, that was really important to us. To make sure it can be tailored to look and feel like we need it to."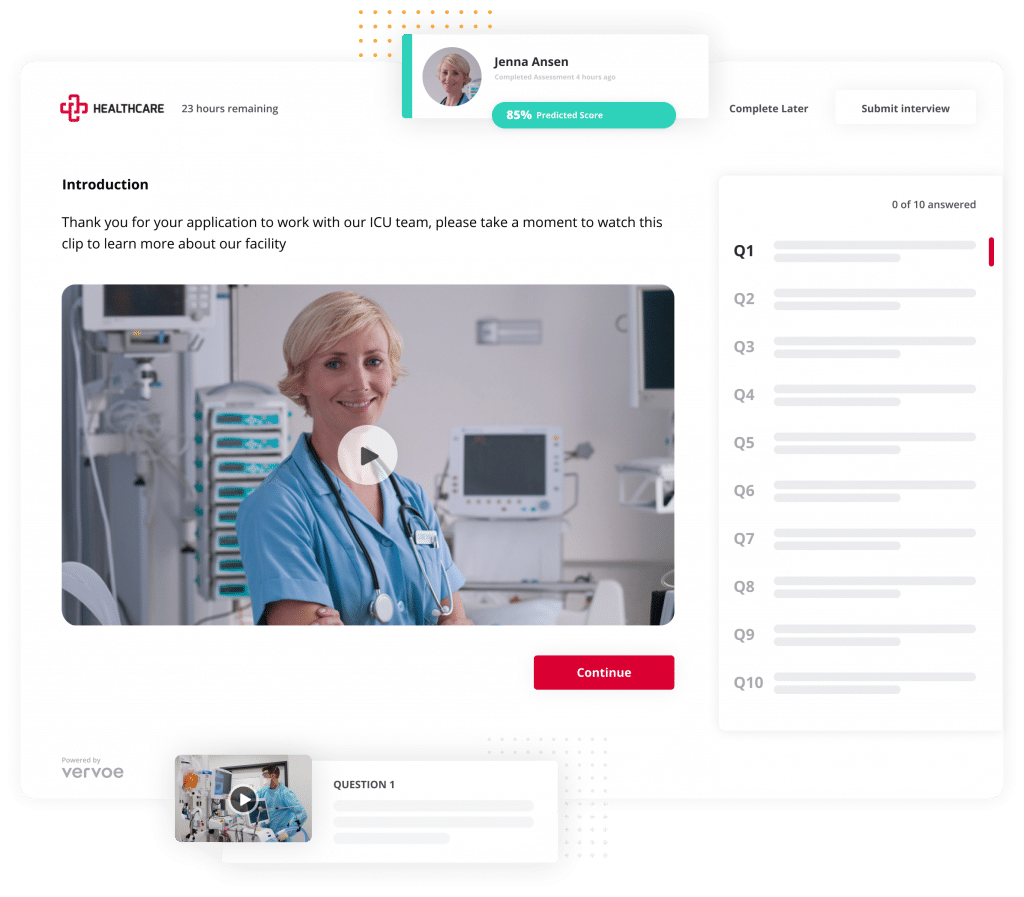 Jeremy was also conscious that conducting the application and screening process entirely through online assessments required extra communication to ensure an engaging candidate experience.
"Where we may not speak to you via phone, or we may not see you face-to-face, but we want you to have the same engaging experience that you would if that was the case," says Jeremy.
"We do ask quite a lot of [candidates] before they may even get an update on their progress. What we've done is really bolstered the communication there to say, this is an online assessment, and here's what it entails; but here's also the reason why it's important.
"Just giving them some comfort that it fits within a particular framework of this process, and giving them an indication of what that looks like and if they are successful, what kind of communication they will receive."
A 90% completion rate with over 3000 applicants
Jeremy admits that having to move quickly was challenging for their team. But the results speak for themselves.
"We just wouldn't be able to interview 2000 people in two weeks. But what we could do is utilize Vervoe to more accurately and in quite an unbiased way, assess everybody's application during that period."
"Rather than just assess the first 200 [applicants] and maybe hire 150 of them" Jeremy says using Vervoe has allowed the team to "actually assess all 3000 applicants in a two week period and still be able to select the best 150."
More impressive was how receptive candidates were to the process, and how the efficiency the process created allowed the team to communicate more effectively with the best candidates.
"Having 90% of all applicants complete that process, which allowed us to then communicate with them, provide them with some feedback and then also manage the best quality candidates through the process is something that just wouldn't be able to be achieved through sheer volume of going faster and harder, using a more traditional process."
From a leap of faith to enabling best practice recruitment
From the success of the project, Medibank are continuing to expand their online recruitment processes with Vervoe.
"For us, this was a pretty big leap of faith," admits Jeremy. "But it was one that was really the enabler to be able to achieve what we needed to for some of our external clients in response to the COVID-19 crisis.
Given we've had Vervoe involved in the process, just seeing some of the feedback and scores come through and the sheer number of people that were able to complete it – I think is a pretty good indication that we've built something that we'll continue to build it and improve it as we go."