SKILLS ASSESSMENT SOFTWARE
Skill assessments for any role, in any industry.
Getting your candidates to demonstrate their skills is now possible at scale using Vervoe skill assessments. 
Thousands of customizable tests
Automatically grade and rank candidates
Insights into on-the-job performance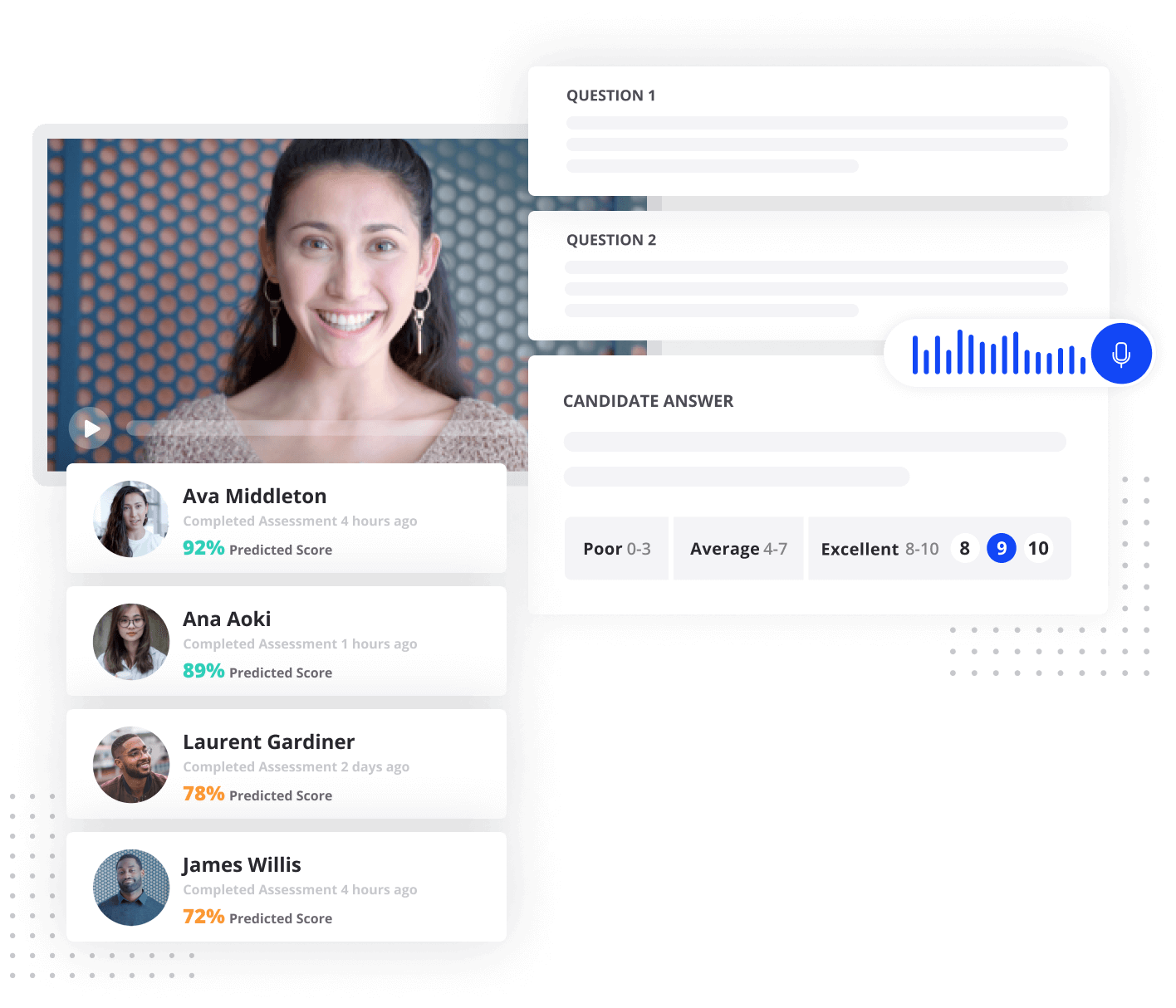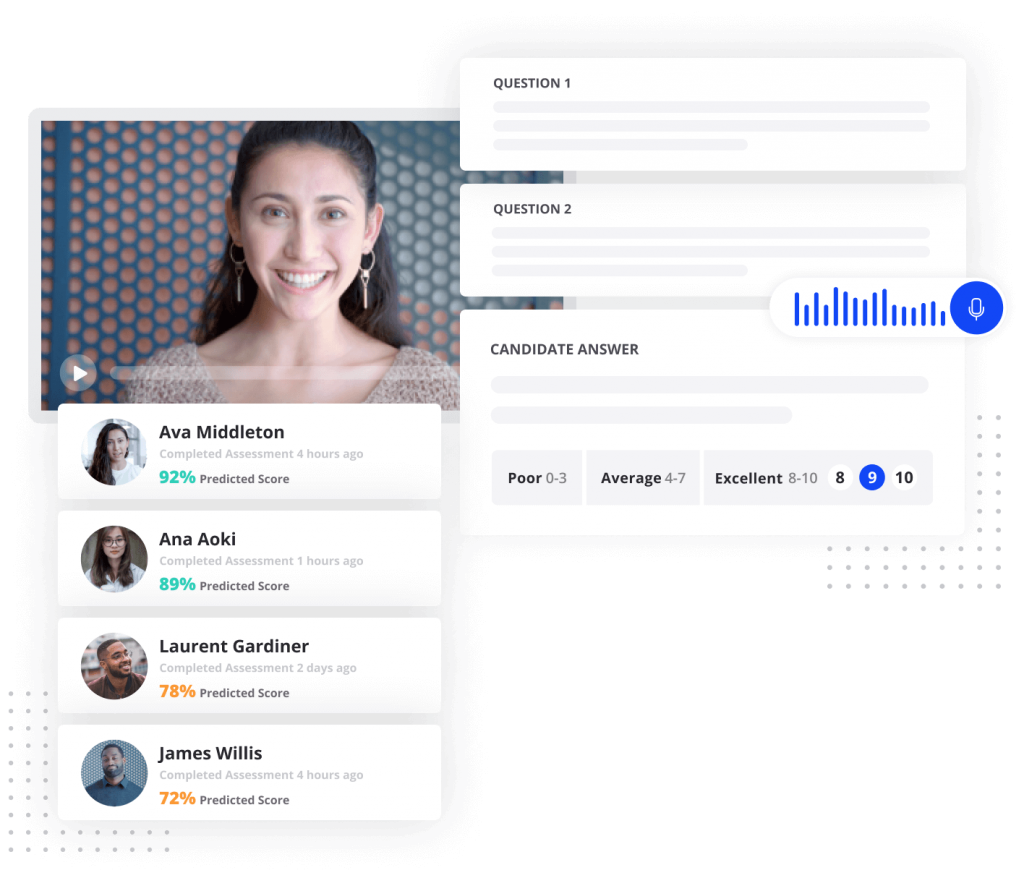 Using Vervoe has really helped us to continue with the best applicants for the roles we have advertised, rather than spending hours interviewing unsuitable applicants.
Debbie
via G2
"Hiring has improved significantly!"
Vervoe enables us to evaluate whether someone can actually do the job before we hire them. All hires through Vervoe have been far more capable from the getgo.
Will
via G2
Validate skills with real-world scenarios
See who can do the job, before they get the job.
Choose a skills assessment test
Choose an assessment that reflects the role. Combine technical and soft skill questions into one test. Use a skill test from our expert library, customize it for your brand, or bring your own script and questions.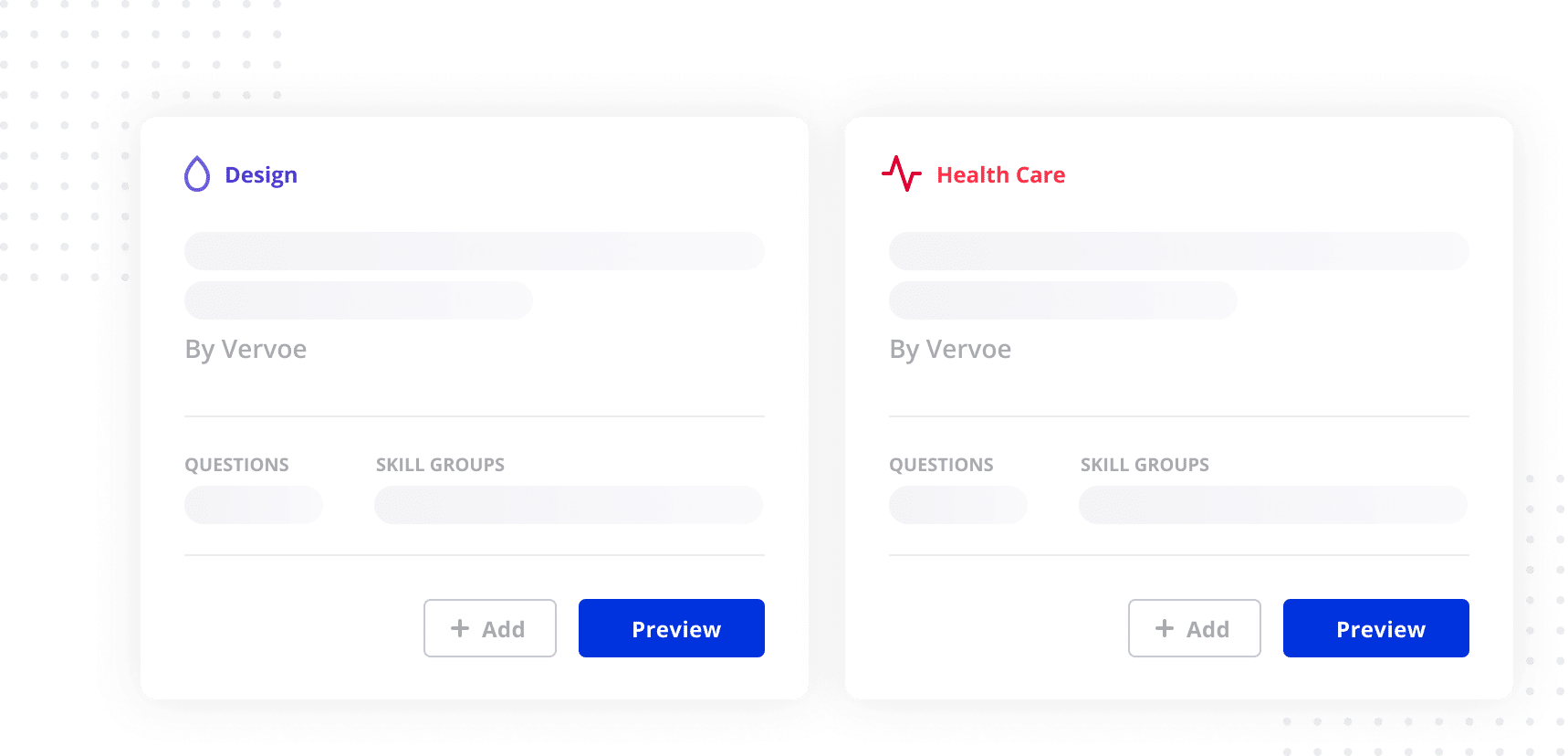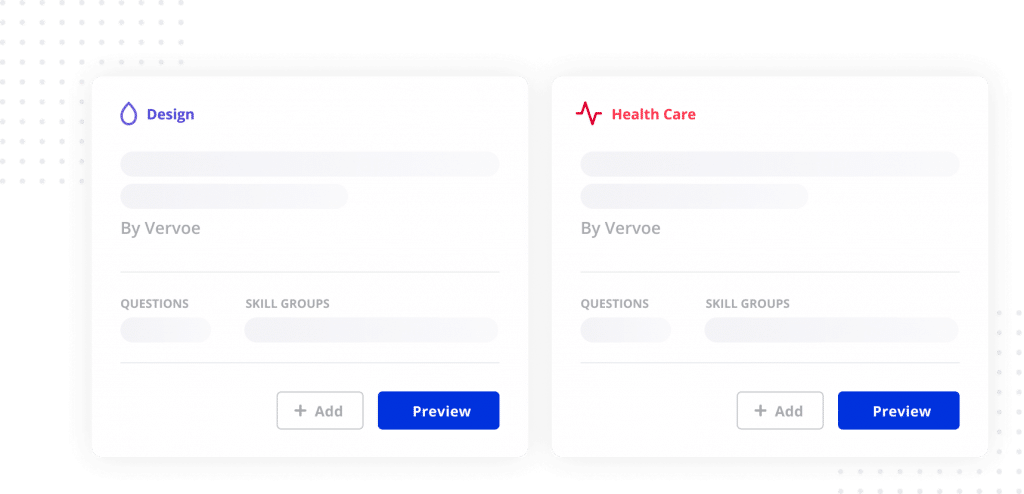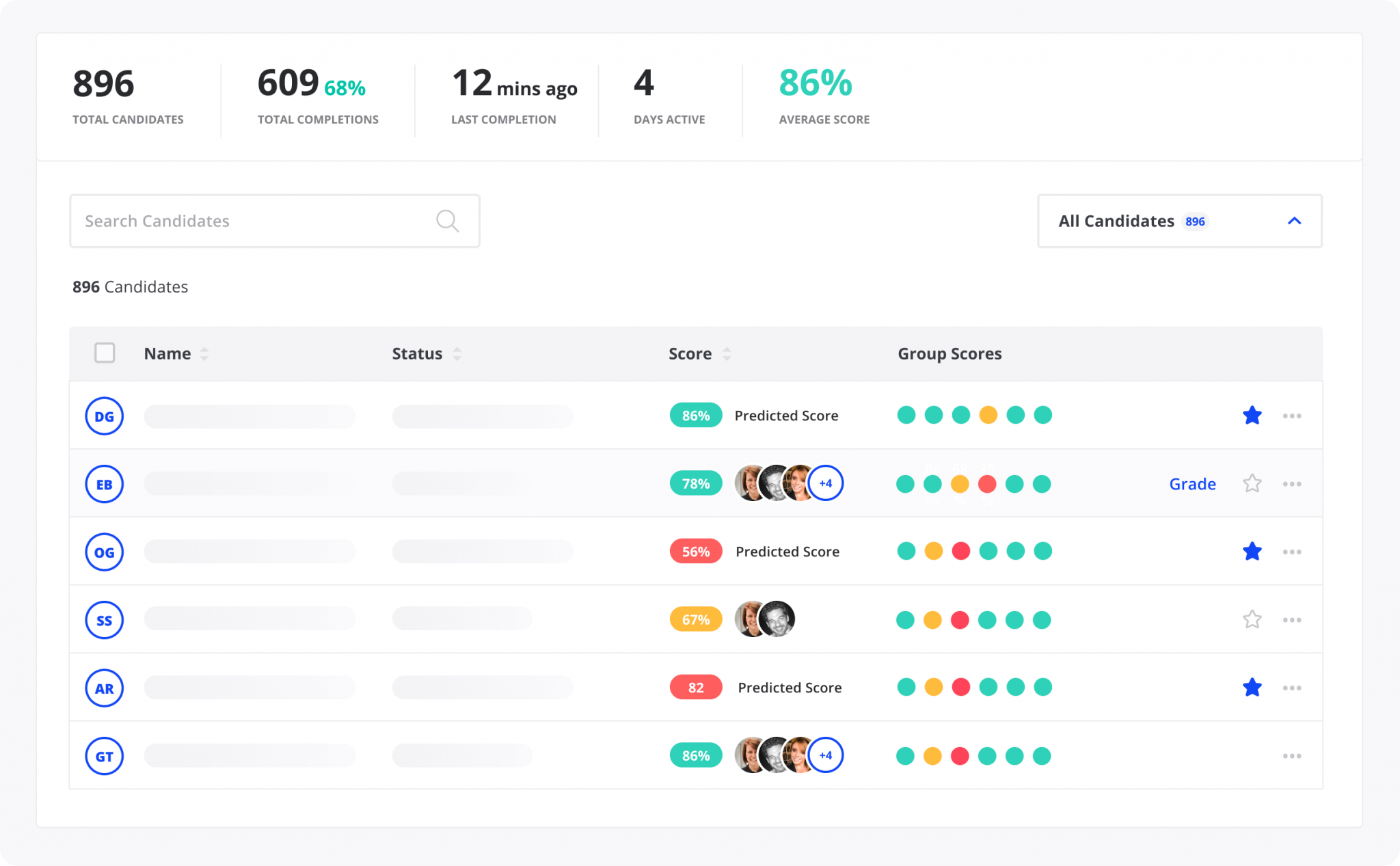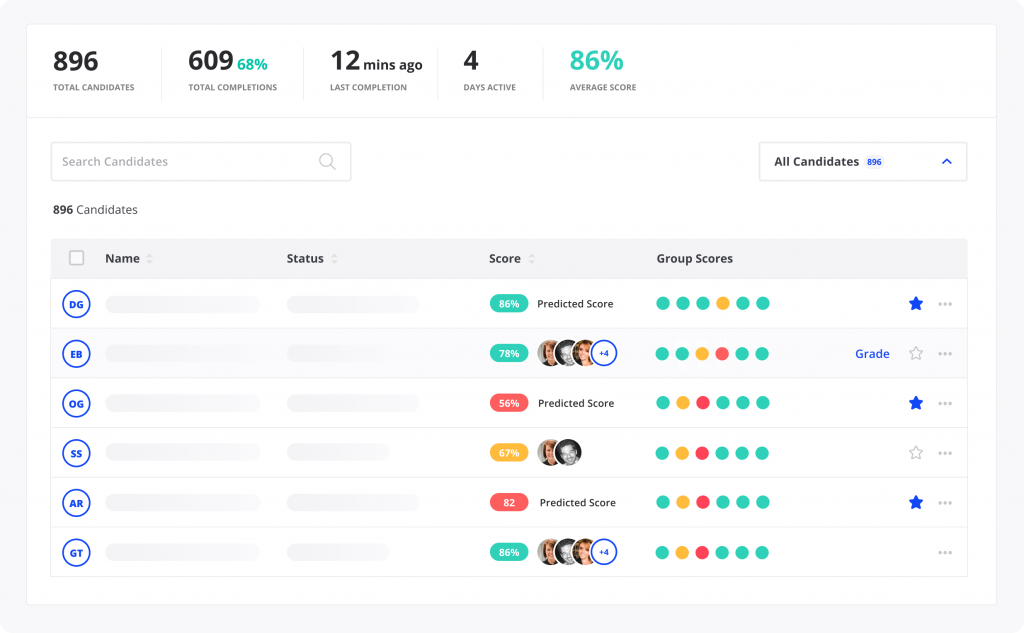 Invite every candidate 
to show their skills
Allow every candidate to complete an assessment. Show applicants what a day in the role involves, and let them showcase their skills.
Focus on the best 
person for the role
Easily find the most suitable candidates to progress based on their skills. Focus only on those with the validated ability to do the job.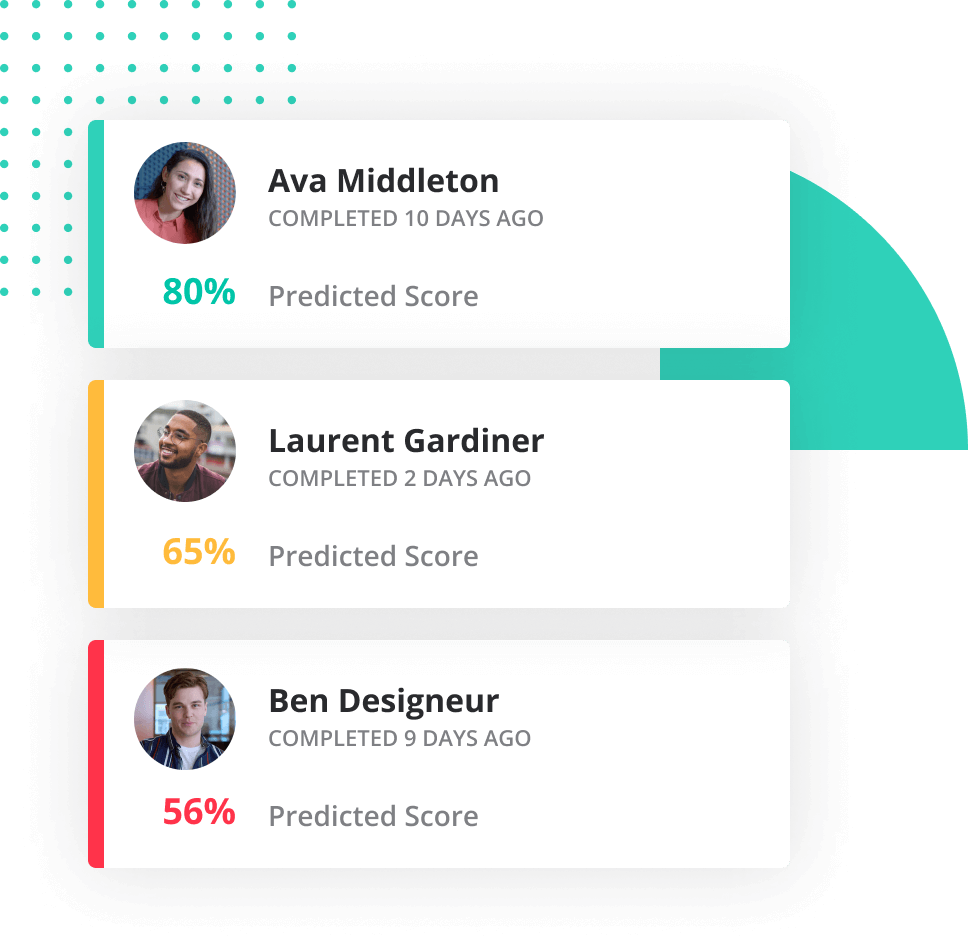 Let every applicant showcase their skills
Use automation and machine learning to scale your process
What is a skill assessment test?
Skill assessment tests, sometimes called skill tests or talent assessments, are online or offline employee assessment tools used by employers to validate the skills of job applicants.
Skill assessment tests are increasingly used during the hiring process. Up to 82% of employers use some form of assessment to narrow down the list of candidates that will be progressed to the next stage in hiring.
Using skill assessments helps companies ensure that candidates have the right skills to be successful in their role.
How skill assessment tests are used in the recruitment process
By far the most powerful way to use skill assessment tests is at the start of the hiring process. Here are some of the top reasons why inviting every job applicant to take the assessment is more effective than traditional methods.
You can reduce up to 90% of the time you spend on screening candidates by eliminating résumé and phone screening of unqualified candidates.
Achieve more with your mighty team. A small recruitment team can achieve 9x more using skill assessments than manual candidate screening.
You can avoid hiring bias by focussing only on skills as a screening method, instead of their background or education.
Reducing the time spent on low-value and repetitive activities allows your team to focus on high-value tasks.
Improve the relationship between recruitment and hiring managers by only giving them qualified candidates with validated skills.
You'll create a consistent recruitment experience that showcases your employer brand and allow you to communicate more effectively with every candidate.
What types of tests are most useful in the selection process?
The most useful tests for the selection process should be easy to implement, save time for recruiters and hiring managers, and predict job performance.
A leading study shows that the best way to do predict job performance in the recruitment process is to use a combination of a cognitive test, and a work sample.
Cognitive tests are usually a series of questionnaire-style problem-solving questions. Most cognitive testing methods aren't relevant for recruitment and selection purposes. They are separate from the context of the job that has to be done. Even if someone gets a high score, the type of problem they solved might have nothing to do with the skills they need to do the job correctly.
The best way to test someone's mental ability for a job is to ask them to complete a task they would do while in the role – such as in a work sample.
Work sample tests have traditionally been hard to administer at scale. Often, they require a candidate to be physically present and must be done under observation. Thankfully, that's no longer the case. With a flexible skills assessment solution, you can gather work samples from every applicant in a consistent method.
Skill assessment tests should be much more than a questionnaire. A flexible skills assessment tool allows you to conduct tests that reflect the day-to-day tasks of any role.
To come up with questions for the test, think about what your ideal candidate will need to do to succeed. If they're in finance, they may need to create or edit spreadsheet documents. If the job is for software development, ask them to write some code. For someone in sales or marketing, you might ask them to create a deck pitch or present an idea. And for client success or customer service, the skill assessment test could include email or audio responses to real inquiries.
Additionally, there are a few best practices when it comes to conducting a skill assessment:
Skill tests should be at least six questions. Eight to ten questions are best to balance getting a complete look at a candidate's skills while creating an engaging candidate experience.
It's best to start a skill assessment with easier questions at first, with more difficult ones toward the end.
Mix up the question formats! Use text and multiple-choice questions, but also include immersive style questions like document editing or audio responses.
Try to keep video responses to a minimum. Remember that not all roles require presentation or verbal communication skills. Think about what's most appropriate for the role.
Minimize the use of timed questions to account for technical difficulties and give the candidate the best chance of success.
The best way to test someone's ability to perform in a role is to ask them to complete a task they would do while in the role.
How to choose the best skill assessment test software
How quickly can you start assessing?
If you're new to skill assessment tests, it can be hard to know which questions to ask candidates. Ask the technology provider if they have a library of ready-made skills assessments for your roles, or if they can offer support to create them.
Can you use the tool for any role?
Many companies make skill assessments for one type of role, or only for certain industries. To get the best value out of any testing tool, make sure you can use it for roles across the business.
How easy is it to use?
Most skill assessments are mobile-friendly, which means that candidates can complete their tests anywhere and at any time. But make sure the admin side is tidy as well. If your hiring team can't access, change, send and review the results of tests easily, they won't use the tool, and that's wasted money for you.
How much will it cost?
The price you pay should reflect the way you're using the tool. Are you going to be charged for every person you send a test to? Or will you have to pay for extra user seats just so hiring managers can access candidates?
What does the candidate experience look like?
Candidates want to know what it will be like to work for your company. Being able to create tests that reflect the actual role lets them sample this experience, so applicants that complete your assessment are more likely to be engaged, and less likely to leave, once hired.
Make sure you choose a skill assessment tool that allows you to brand the platform and add your own messaging, so your online application experience reflects your brand and values.
Will you get support and training?
If you're new to skill assessments, it can be hard to know where to start. Consider whether you and your team will get the support you need to create and send assessments.
Don't forget your candidates! Make sure you'll be well-supported if your candidates have technical questions about their test.
It takes a top performer to identify top performers
Vervoe's been lucky enough to be recognized by a number of awards bodies across the globe.
Hire top performers faster, promote them quicker, retain them longer
Vervoe's automated AI-powered screening leads to:
Days average screening time
Fewer interviews per hire​
of Vervoe candidates perform better than regular hiring methods
of Vervoe candidates are promoted faster than regular hiring methods
Ready to see who has the right skills for the job?
Vervoe skills assessments are designed to replicate the tasks candidates will need to do on the job. 
Applicants can showcase their skills in relevant questions, and you can quickly see the top performers.
All assessments are auto-graded, and candidates are ranked so you can focus on the most suitable candidate for any role.
Get predictive insights into your top candidates. See how Vervoe can help you find the best person for the role.
Get email help day or night, 24/7.
A dedicated global client success team
Implement and start assessing in minutes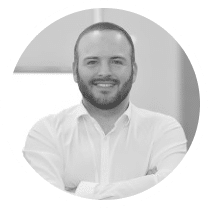 "Vervoe is the intelligent and bespoke online assessment tool I spent 2 years looking for. The best thing about Vervoe is its versatility in creating custom assessments that I can continue to evolve."
Daniel Stockdale – National Talent Acquisition Manager, Omnicom Media Group