Microsoft Excel has been on the market for nearly 40 years, and yet candidates with Excel skills are continuously in demand. Companies in virtually every industry seek employees with the knowledge required to format spreadsheets, create charts, and perform advanced analysis in this ever-popular program.
While programming languages and marketing skills change regularly, professionals who invest in learning Excel can feel secure that the efficacy of this tool is unlikely to change. In fact, people with certified Excel skills are more likely to get promotions and earn 12% more than non-certified users.
Recruiters often struggle to test for Excel skills during the hiring process. There's no easy way to test Excel skills in an interview. Instead, Excel tests can be used to rank candidates on basic Excel functions and to verify a candidate's ability to complete advanced analysis.
From there, hiring managers can use a job interview to ask for detailed explanations on how a user would use Excel to be successful in the business.
Ideally, the hiring manager would integrate an Excel skills test early in the hiring process to create a shortlist of candidates. From this shortlist, the potential employer can prioritize those candidates who have the specific skills they need to be successful in the role. Here's how this process works.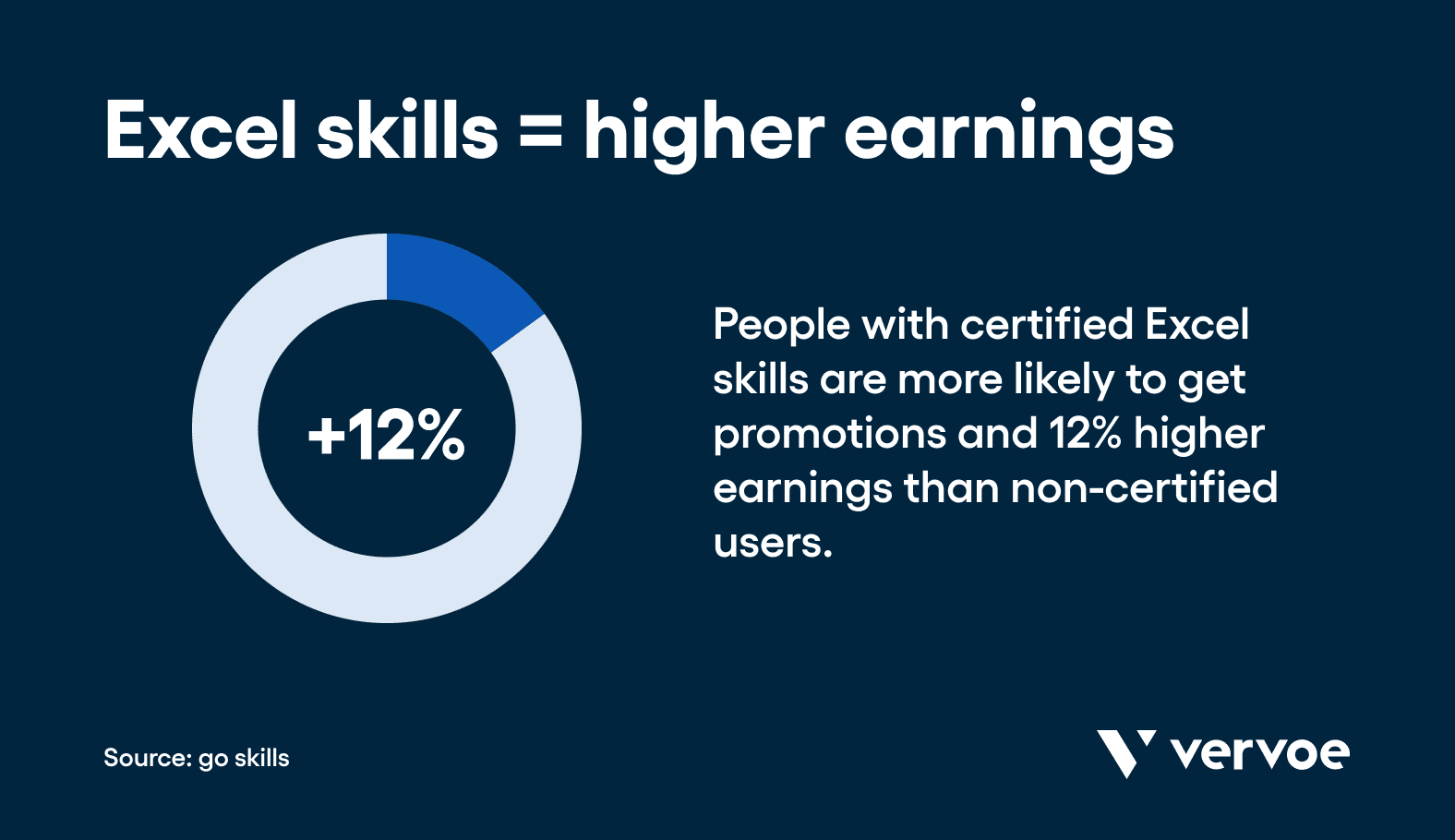 What roles require Excel skills?
Virtually every industry needs workers with basic Excel skills; one study found that Excel skills are required for 82% of middle-skill positions. Advanced Excel experience is only required for niche positions, such as an economist or data analyst.
CareerKarma compiled a list of some of the best jobs that use Excel in 2022, as well as the market outlook for hiring these roles.
| | | |
| --- | --- | --- |
| Job Title | Average Salary | Job Outlook |
| Sales Manager | $132,290 | 7% |
| Quality Analyst | $110,140 | 22% |
| Economist | $108,350 | 13% |
| Construction Manager | $97,180 | 11% |
| Statistician | $93,290 | 33% |
| Management Analyst | $87,660 | 14% |
| Operations Research Analyst | $86,200 | 25% |
| Financial Analyst | $83,660 | 6% |
| Accountant | $73,560 | 7% |
| Purchasing Manager | $72,270 | 6% |
| Cost Estimator | $66,610 | 1% |
| Market Research Analyst | $65,810 | 22% |
| Human Resource Analyst | $63,490 | 10% |
| Administrative Assistant | $40,990 | -7% |
| Office Clerk | $35,330 | -2% |
As you can see, many of these jobs are industry agnostic. Administrative assistants, office clerks, and sales managers can find jobs in many different companies. As you write your job descriptions, think about how your open role will be competing against potential employers who may well be outside of your industry.
[Read more: How To Write Effective Skills-Based Job Descriptions in 4 Easy Steps]
Excel skills can be categorized as beginner (or basic), intermediate and advanced. Excel assessments vary depending on which skills are considered intermediate vs. advanced. For instance, some consider pivot tables to be relatively intermediate.
It depends on the role for which you are hiring, the industry you're in, and if there are other employees who have compatible skills on your team already.
Here's a breakdown of how to design a skills assessment to understand how your job applicants stack up.
How to test basic Excel skills
For most companies, basic Excel functions cover the core features of Microsoft Excel. Someone with basic Excel knowledge is able to make use of the tools in the Home, Page Layout, and View tabs. They are also able to do basic spreadsheet formatting and get different view options, such as zooming in and out.
Our Basic Excel Skills Assessment offers questions covering four main areas of Excel:
Charts: Can the candidate create charts with data to help visualize the meaning behind the numbers or words?
Excel formulas: Microsoft Excel formulas help identify relationships between the values in the cells of a spreadsheet, as well as perform mathematical calculations using those values.
Excel functions: ​​A function is a predefined formula that calculates using specific values in a particular order. A basic user should know both the difference between a function and a formula, as well as how to do the SUM function, COUNT function, and AVERAGE.
Data management: Can the candidate set up worksheets and manage data entry to minimize spreadsheet errors, duplicates, and typos. They should also know some formatting basics.
[Read more: Basic Excel Skills Assessment Test]
A beginner Excel test should include tasks that require keyboard shortcuts, cell references, and ranges with data, not to mention formatting cells and the ability to zoom in to a cell.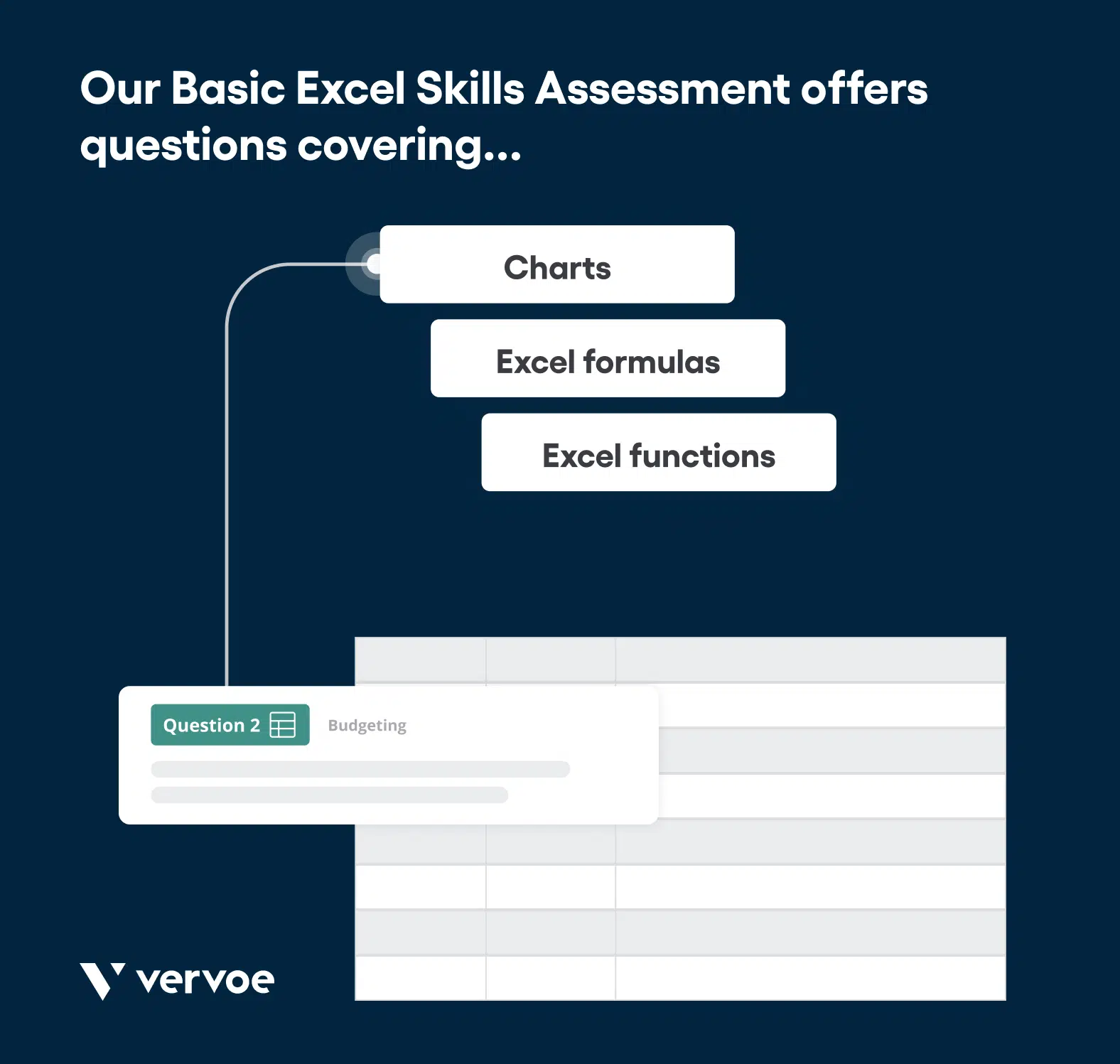 How to test intermediate Excel skills
An intermediate Excel assessment will allow a candidate to prove they know more than the basic test. An intermediate-level user knows the difference between an Excel function and a formula. They can understand how Excel functions "behave" when they are used across sheets and copied, pasted, or dragged between cells.
Essentially, intermediate Excel users are able to manipulate formulas on an Excel spreadsheet to perform basic data analysis. Filters, data tables, and conditional formatting are all examples of intermediate Excel functions. Excel tests that target intermediate skills might include some of the following: 
Charts, graphs, and bars
Pivot tables
Functions such as VLOOKUP, COUNTIF, and SUMIF
Filtering information to provide quality data
Creating macros
Managing data
The Excel test for intermediate users should ask them to organize large quantities of data and create a visual representation in a graph or table. Users should also demonstrate that they can go beyond the basic functions to save time in their day-to-day tasks.
Depending on your test provider, many basic assessment tests can be configured with other questions to serve an intermediate user. Vervoe's skill assessments can be customized to test a range of skills — not limited to Microsoft Excel — in one engaging, user-friendly flow.
[Read more: Skill Tests: Complete Guide To Assessments + Examples]
How to test advanced Excel skills
Advanced Excel skills are often the most difficult for a recruiter to assess. These skills go beyond the expertise of a normal user with an advanced Excel user is known as a "power user" — someone who uses the software beyond the standard capabilities.
There are more than 475 different Excel formulas that an assessment test could cover. An advanced Excel test, therefore, should focus on the functions that are most relevant to your company. An advanced Excel user should be familiar with most, if not all of Excel's functions and can process spreadsheet data with graphs, pivot tables, and automation. These users are able to build spreadsheet models, templates, and dashboards for other users in the organization who are working with limited knowledge.
At Vervoe, we offer preconfigured advanced Excel tests for you to use, testing Excel features such as:
Creating a pivot table and other charts
Advanced conditional formatting rules
Data manipulation and validation
Visual Basic for Applications (VBA)
The ability to analyze data using advanced functions and formulas
Power Query
There are other advanced skills that may apply, depending on your recruitment process. For more ideas on what questions to add to an Excel assessment test, check out our guide, Hiring An Excel Expert: Advanced Excel Skills Checklist.
Excel interview questions
Some companies choose to pair advanced tests with a technical or problem-solving interview in order to get a better sense of the candidate's thought process. The interview gives you the opportunity to see if they understand the mechanics of Microsoft Excel. Feasibly, someone could spend enough time taking practice tests, gain a surface-level understanding of Excel software, and still be the wrong fit for your organization.
Many companies interview candidates following the skills test. This gives you an opportunity to ask about other parts of the job description and dive deeper into their knowledge of Excel.
Here are some sample questions to consider asking in a technical interview:
How do you use a pivot table? Have you used a pivot table in the past?
What's an Excel macro? How would you use it?
How do you lock a worksheet to prevent others from editing it?
What are some limitations of VLOOKUP?
What is the difference between a formula and a function in Excel?
How can you reduce the size of an Excel file?
If you rely solely on an Excel assessment test or interview, you may risk hiring the wrong person. Consider asking about a candidate's soft skills in addition to their Microsoft Excel experience.
Conclusion
The easiest way to test a candidate's Excel skills is to offer interactive tests that allow hiring teams to verify the candidate's ability.
There are many online tests that candidates may use to practice; while it's helpful to use these tests for inspiration, ideally the test can speed up the hiring process with scalable, fast scoring that gives all candidates a fair chance at making it to the next stage.
Learn more about Vervoe's Excel tests and explore our database of questions here.