The simple fact is that hiring based on résumés doesn't work anymore. Some industries have been using other techniques, like design portfolios or mock pitches, for many years. But that doesn't work for every role. Nor does having the opportunity to screen and interview every candidate.
Pre-employment assessments are increasingly accessible to help build out the candidate profile.
In this complete guide to pre-employment assessments, we break down what these assessments are, the different solutions that exist, and how to choose the right solution for your organization.
What is a pre-employment assessment?
Pre-employment assessments are any tool used to evaluate candidates consistently. Recruiters and hiring managers use pre-employment assessments to determine technical skills, cognitive ability, and behavioral and soft skills profiles. Assessments can be delivered in person or online, and vary in length depending on the organization and the role.
How to choose the best pre-employment assessment software
When hiring managers and recruiters are considering which pre-employment assessment software to use, they generally consider the following:
What kind of assessment? Before you select any tool, you need to understand the different types of assessments available, and how they might apply to your unique organization and the roles for which you hire. Below, we list some of the top vendors, as well as the difference between various styles of assessment.
Where will you use assessments in your process? You need to decide if you want to use an assessment tool at the start of the process to screen candidates, or if you'd like to use them after conducting interviews. The most effective tools will help you save time by allowing you to test every candidate so that you can focus your time on those with the right skills.
How long will it take to implement? Some of the best solutions use AI to reduce time-to-hire and ensure a bias-free process. Be wary that most of these solutions require a significant amount of time and resources to implement.
How will the assessment fit in with the rest of your hiring process? From where you'll position your pre-employment assessment, to how you'll funnel candidates to it, it's important to consider this so you get the maximum candidate engagement. If you're expecting a high volume of candidates or have a number of roles to fill, consider placing the assessment in the job ad as the first step to "screen" candidates in and rank them. If it's a smaller more specialized role, perhaps you'll want to have the assessment towards the end of the process before the interview stage.
Does it integrate with my HRIS or ATS? It's not useful to your business if your assessment doesn't talk to your other systems. Ensure you investigate whether the platform integrates with your ATS. If you're a smaller business that doesn't need an ATS, you'll want to find a solution that can help you manage your candidate pipeline.
Will it automate candidate communications? Once candidates are invited to do the assessment or apply on their own, does the platform automatically remind them to start it, encourage them to complete it, or let them know they're running out of time to finish it? Automated messages that deliver this information are preferable for most organizations, so be sure to check your pre-employment assessment platform offers them.
Does it support all standard candidate data points or only some? Is the platform capable of testing both soft skills and technical skills or does it specialize in one or the other? You'll want to find a platform that can test the complete candidate profile, so you're not neglecting to a whole chunk of skills that could be vital to the job or to simply being a productive employee.
Top 7 pre-employment assessment software companies
Several software companies make pre-employment assessments. Each of these companies approach assessments in different ways.
Vervoe helps you hire based on merit, not background. The AI-driven Vervoe platform assesses candidates at the top of the hiring funnel so that you can allow all candidates to showcase their talent. By screening all candidates in, instead of out, Vervoe lets you surface the best person for the job without bias.
Suitable for roles in
Any industry. Assessments are based on real-world scenarios from real jobs.
Key features:
Vervoe uses millions of data points from real recruitment scenarios to automatically grand and rank candidates for any type of assessment. Instantly implement, then allow the platform to learn your preferences.
Vervoe includes assessments with multiple choice and free text questions, powerful document editing, and audio and video capabilities.
Assessment library: Select questions, scripts or simulations from testing library or create your own
Integrations: Greenhouse, Zapier
ATS: Additional option to implement a job flow that allows you to progress candidates through on- and off-platform hiring stages
Analytics: Autograding, completion, and difficulty ratings across assessments, shared candidate cards, sourcing effectiveness data, and custom reports for enterprise businesses.
Customers
Include Walmart, Australia Post, Chegg and Omnicom Media Group
Price
Free (forever) for simple hiring needs, with tiered pricing available for medium businesses and enterprise.
---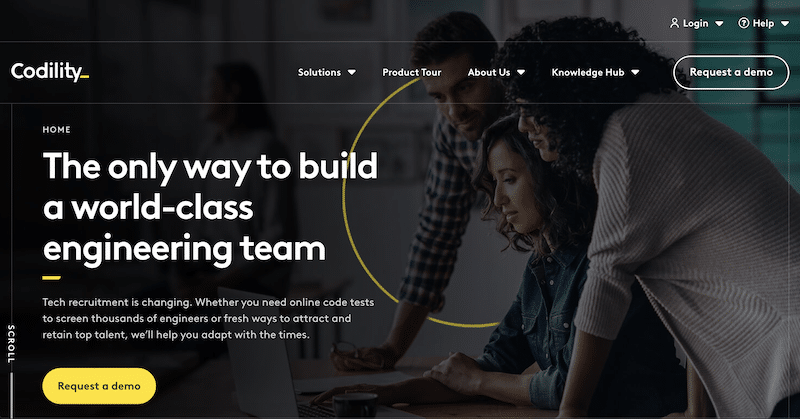 Codility specializes in helping businesses build top engineering teams, Codility offers code tests, live code interviews, and upskilling for organizations that need to hire remotely and at scale.
Suitable for roles in
Technical roles
Key features:
Assessment library: Expansive code assessment library. Able to be customized.
Integrations: Slack, Lever, Workable, Jobvite, SmartRecruiters, Greenhouse and others
Analytics: Cohort and individual analysis of performance, allowing you to grade and select at scale.
Customers
Include Okta, Dolby, Avature, Slack, and others
Price
Pricing is based on customer requirements
---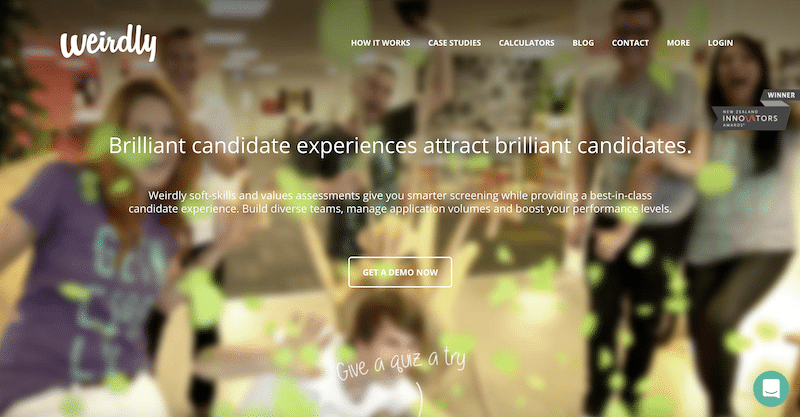 Values-based assessments for volume hiring. Fully customizable assessments according to the employer's role types and culture.
Suitable for roles in
A variety of roles
Key features:
Assessment library: Customizable assessments based on values and personality.
Integrations: Integrates with your ATS
Analytics: Upgrade to access quiz results and assessment metrics
Customers
Juicy Rentals, Spark NZ, Bunnings New Zealand, Countdown
Price
Starts at $99 month
---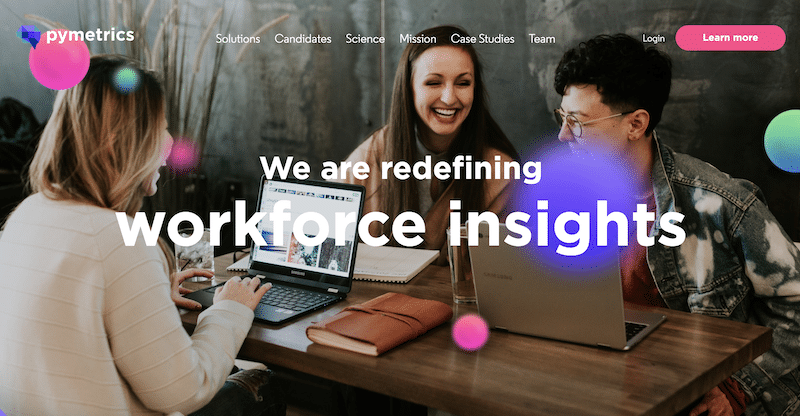 A custom AI solution, Pymetrics assesses the cognitive and behavioral traits of candidates. Results are trained based on existing employees.
Suitable for roles in
Various. Geared toward finance and retail.
Key features:
Assessment library: Neuroscience games. Benchmark results against your employees.
Integrations: Self-service API integration
Analytics: Candidate and internal staff profiles, interactive insights.
Customers
Include McDonald's, Accenture, Hyatt.
Price
Price depends on customer requirements.
---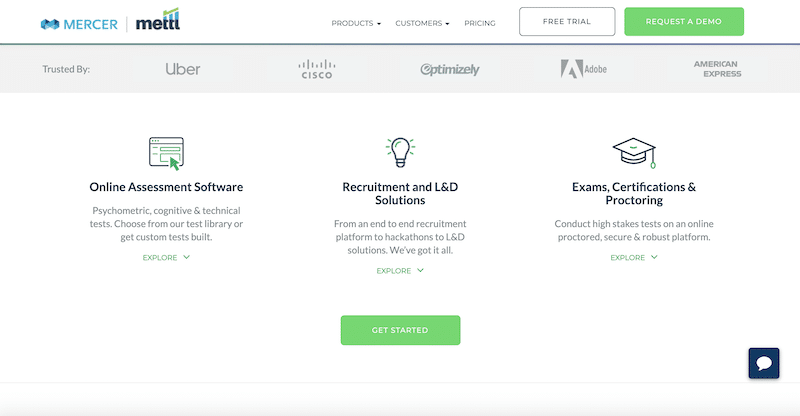 Online assessments for recruitment, certification, and training. Off-the-shelf psychometric tests, aptitude tests, and personality profiler.
Suitable for roles in
Various. Focus on IT and finance.
Key features:
Assessment library: Off-the-shelf psychometric tests, aptitude tests, personality assessments, code tests, and domain tests
Integrations: API integration
Analytics: Combined insights into candidate performance. It allows you to track the hiring funnel.
Customers
KPMG, Mercer, Cisco, Adobe
Price
Price depends on customer usage. Free trial available.
---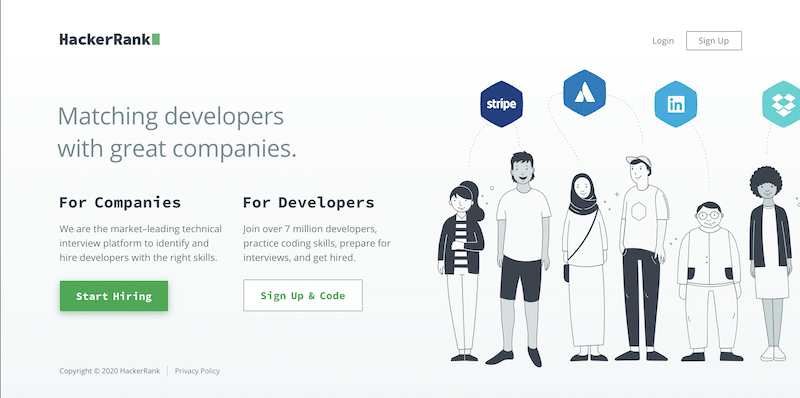 A developer skills platform helping employers select tech talent. Includes off the shelf assessments as well as live code interviews and competitions and also provides resources for learning and practicing developers to improve their coding skills and interview technique.
Suitable for roles in
Technical roles
Key features:
Assessment library: Thousands of off-the-shelf code tests in 35+ languages.
Integrations: Includes Breezy, Greenhouse, Jobvite, Taleo, Workday and more
Analytics: In-depth insights to help you track candidate performance and improve assessments
Customers
Include Atlassian, LinkedIn, Stripe, VMWare
Price
14-day free trial available. Plans start at $249 per month.
---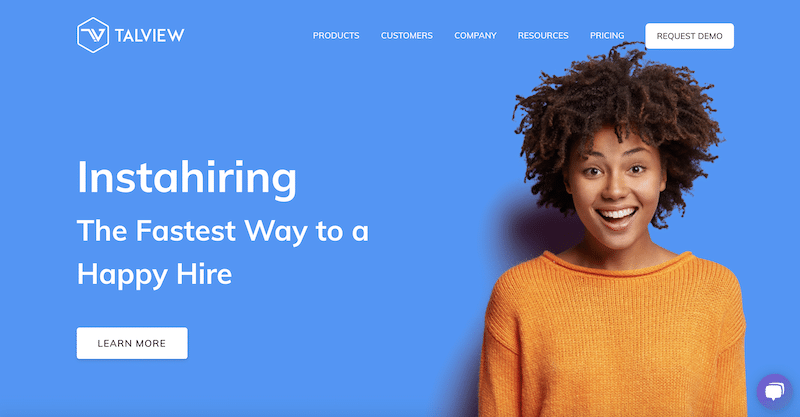 AI-powered chatbot, coding tests, essay assessments, and video interviews.
Suitable for roles in
Various, but geared towards manufacturing and retail
Key features:
Assessment library: Off-the-shelf and customizable variations
Integrations: Taleo, Greenhouse, SmartRecruiters, and others
Analytics: Candidate insights can be shared and used across the hiring process
Customers
Include Cognizant, Whirlpool, HCL, and others
Price
Price depends on customer usage. Free trial available.
What's the difference between a pre-employment assessment, a skills test, and an interview?
There are multiple steps in the recruitment process to assess whether a candidate is suitable for a role. Most recruiters will use a combination of methods to get a full picture of a candidate's capabilities, skillset, and behavior.
We often hear terms like pre-employment assessment, skill testing, and even interviewing used interchangeably. While they may have similar high-level goals, such as identifying a suitable candidate, they are fundamentally different methods of achieving those goals. It's essential to know the difference because each evaluation method will produce completely different outputs. Moreover, in some cases, it might make sense to combine one or more of these methods.
---
Special mention
One of the best discussions on this topic is a podcast called Hire Up, hosted by John P. Beck, Jr. The episode is titled Assessments Made Simple, Human, Smart, and features Dr. Scott Hamilton, the CEO of Hamilton & Associates Consulting.
Dr. Hamilton distinguished between each candidate evaluation method with ease and clarity. It's worth listening to the entire episode.
---
Skill assessments
Skills assessments, or skill testing, is all about understanding whether someone can do something or knows something. It can be a simple task, a range of complex tasks, or demonstrable knowledge. It's possible to test for almost any skill because you can simply watch people perform tasks.
In the podcast recommended above, Dr. Hamilton gives the simplest of examples: "if someone is going to have to weld metal, you want to see them weld metal."
That's why résumés and interviews are inherently inferior methods of validating skills. They are focused on what candidates claim they can do, not what they can do. Instead, it's far more compelling to see how people perform. Literally. Moreover, it's far more straightforward.
Skill assessments are context-dependent, and therefore subjective in nature. But it's also capable of being objectively assessed, which means it can be pass/fail. Confusing, right?
Let's take a writing test as an example. The style of writing you test depends entirely on the job. It could be anything from creative writing to technical writing. So the test is bespoke. At the same time, it is usually possible to objectively determine whether a candidate performed well. To use Dr. Hamilton's welding example, either someone knows how to weld metal, or they don't.
The opposite is usually the case in pre-employment assessments.
Pre-employment assessment
Pre-employment assessments generally focus on predicting how people will behave in hypothetical scenarios, not what they can do. They explore key personality traits based on the understanding that someone's personality can predict their behavior.
Most personality assessments are based on the Five-Factor Model, which asserts that there are five personality "supertraits":
Openness to experience
Conscientiousness
Extraversion
Agreeableness
Neuroticism
Therefore, if we gain an understanding of someone's personality, and particularly these five "supertraits," we will have a good chance of knowing how they will react in different situations. Unlike skill testing, this doesn't mean someone can do the job. But it may shed light on how they will do the job.
Now here's the tricky part. While skills can be taught, many people think that personality is fixed. However, that isn't entirely true. Studies have shown that personality can, and does, change over time. While most people don't change fundamentally, it is possible to change behaviors and habits, according to Carol Dweck. And it's those very behaviors that are relevant to how someone will perform in a job, not their personality per se. That's why two people with different characters can perform well in the same role.
Whether we believe personality is a fixed trait or not, it is not something that can be measured in binary terms such as pass/fail, like an Excel test. It's who we are and, if we subscribe to the theory that personality changes over time, it's who we are at the time of assessment. That means that the outcome of a personality assessment can't be viewed as "good" or "bad" in isolation; it can only indicate potential suitability for a specific job. Conversely, someone can be good at Excel.
Additionally, if misused, personality assessments can be harmful to the hiring process. That's why pre-employment assessments that test personality need to be validated. Skill testing, on the other hand, is inherently bespoke.
What does this all mean? Well, this is where it gets interesting. Let's start with the dictionary:
A test means "a procedure intended to establish the quality, performance, or reliability of something, especially before it is taken into widespread use."
To assess means to "evaluate or estimate the nature, ability, or quality of."
An interview means "A meeting of people face to face, especially for consultation."
Interviewing
Tests and assessments sound reasonably similar. They are ways of measuring ability or quality. On the other hand, an interview is a discussion. Technology also makes it possible to conduct one-way interviews using video, which is virtually discussions without real-time interaction. And yet, the most commonly used method for making hiring decisions is interviewing. For some reason, the notion that skills and behaviors can be evaluated without skill tests or assessments – but through a discussion – has become the norm.
Maybe it's because of a lack of resourcing. Maybe we trust our intuition more than third party methods. Or maybe it's a lack of awareness. But it doesn't make much sense because interviews don't predict performance. They typically focus on understanding what someone did in the past or discussing what they claim to be able to do without proof.
Can interviews nevertheless play a valuable role in the hiring process? Interviews should be used to get to know a preferred candidate after their skills and behaviors have been validated. Only candidates who have already demonstrated they can do the job should be interviewed. That would allow for a much more valuable interviewing experience and a far better use of everyone's time. Unfortunately, that is not usually the case.
How to combine pre-employment assessments
A robust hiring process will combine reliable insights about a candidate's ability to do the job and their expected behavior with high-quality human interaction. In theory, this could involve a skill test, some form of pre-employment assessment, and an interview. It very much depends on the type of role and the candidate experience the company wants to deliver.
Hiring is not a "one size fits all" endeavor. Every situation is different. But understanding what each evaluation method can achieve and, more importantly, what it will not deliver, will go a long way to helping companies build hiring robust processes.