At present, remote customer service professionals are some of the hottest property around.
With companies now offering customer support via phone, live chat, instant messaging, and social media, it's no surprise that the industry has seen an increase in demand for workers of this kind.
In this article, we'll explore the several factors contributing to the increase in open customer service roles and outline 10 top tips for fine-tuning your recruitment process to ensure you get the best talent with the right skills to fill your next job.
Why remote services roles are growing
Technological advancements are enabling businesses to seamlessly expand their remote workforces. There's no doubt that the sudden shift to working from home since the start of the COVID-19 pandemic took employers by surprise and presented many difficulties.
But tools and technologies including video conferencing, IoT, automation, virtual training, high-speed connections, and increasingly sophisticated cybersecurity have gone some way to alleviating those challenges. So much so that working remotely is now a viable option for many workers.
Most employees want the option to work remotely
This evolution in workplace culture also means that each company recruiting customer service professionals has little choice but to accommodate flexible working options. According to FlexJobs' 10th Annual survey, for example, a whopping 97% of workers desire some form of remote working in their next job.
Meanwhile, in March 2021, Microsoft's Work Trend Index found that 66% of employers across the globe are in the process of redesigning their workplaces to accommodate hybrid and remote working arrangements.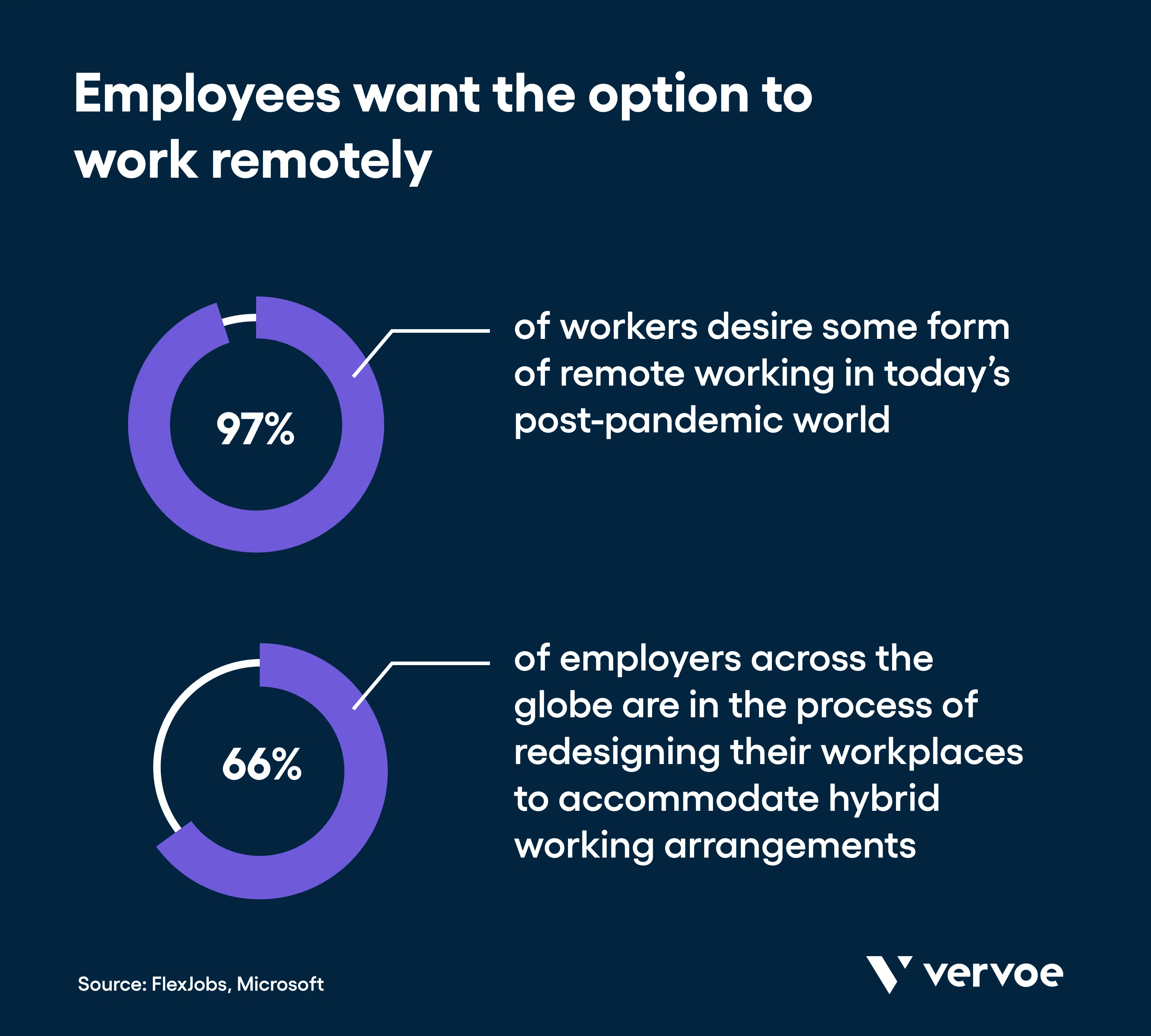 What does remote customer service mean?
Whether your organization is recruiting for customer service specialists, call center employees, customer service team leads, or roles with a similar job title, the goal is to find candidates who will provide customers with the same level of service they'd get in person.
Arguably, a remote team member can provide better service to a customer than an in-store equivalent because they have a wealth of knowledge at their fingertips, including the company knowledge base and customer profiles (purchasing history and notes on previous interactions).
Knowledge and skills required
New recruits will need a comprehensive understanding of the products and services your company offers, along with exceptional customer service skills and communication.
Remote customer service is sometimes negatively associated with overseas call centers and ill-informed staff, which is why it's doubly important to hire employees who have the skills to calmly manage complex interactions, confidently resolve problems, and exhibit patience and empathy.
Why hire remote customer service employees?
Providing the option to work remotely suits a significant portion of today's workforce. With technology increasingly capable of accommodating this preference full time, it's no longer the burden it once was for companies. And, it's good for business.
In 2020, NordVPN Teams investigated more than 10,000 companies to find out how the shift to remote working has impacted workers across the globe. The company discovered that in some countries, including the United States, Canada, the UK, and Austria, remote jobs have seen workers adding an additional 2.5 hours to their working day.
A monthly survey of U.S. workers, launched in May 2020, tracked more than 30,000 workers aged 20-64 to explore how remote working impacted productivity.
The data revealed:
Nearly six out of 10 workers believed they were more productive working from home than they expected to be
Up to 40% of respondents admitted their productivity was higher when working in a remote position throughout the pandemic than it had been in the workplace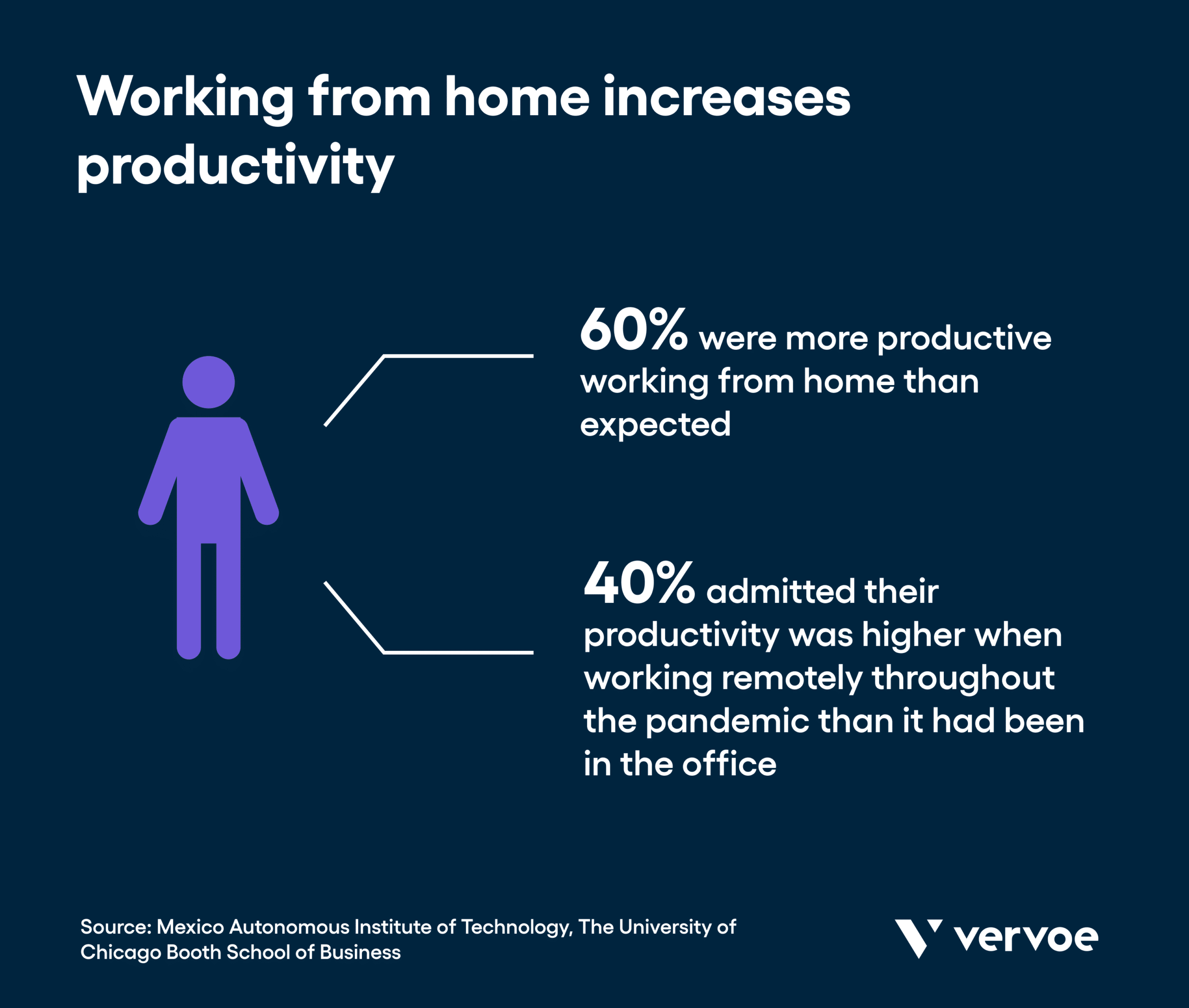 Remote hiring create a larger talent pool
In being open to the possibility of hiring customer service workers that are remote, organizations unlock access to much larger talent pools.
Building out a remote team for customer service with employees from across the globe using an ever growing list of available remote work tools means organizations can provide a 24/7 service across multiple regions, ultimately resulting in a more satisfied and loyal client base. It can also provide workers with the flexibility to choose their own schedules, improving your chances of attracting and retaining high-performers. 
A 2021 report from Microsoft Surface and YouGov found that 55% of employees are now using their lunch break to focus on their personal life and 56% reported an increase in their levels of happiness working from home.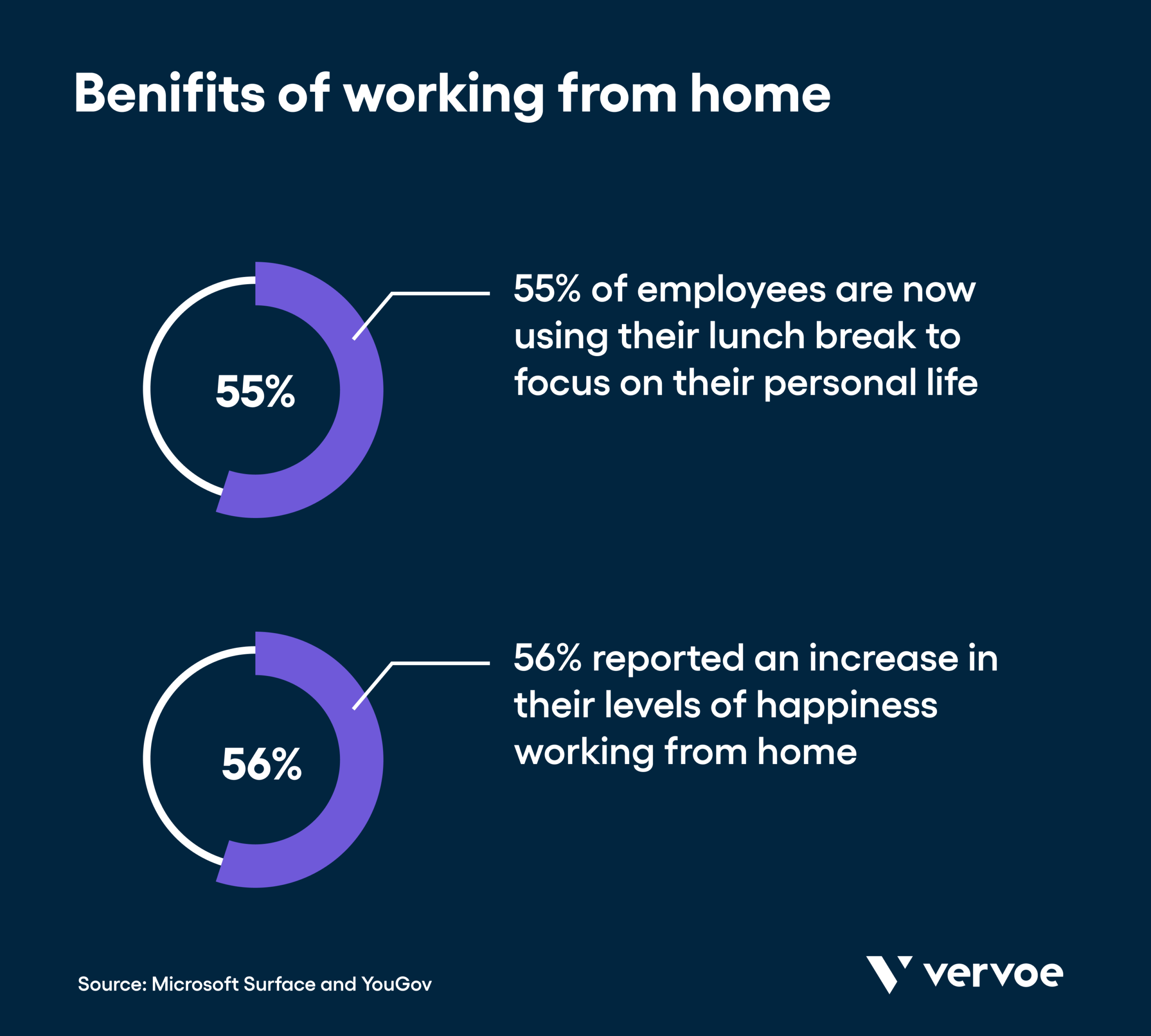 10 tips for hiring remote customer service employees
It's not always easy to find top-quality customer service employees who can flourish in a remote job setting. So we've compiled 10 top tips to help you get it right.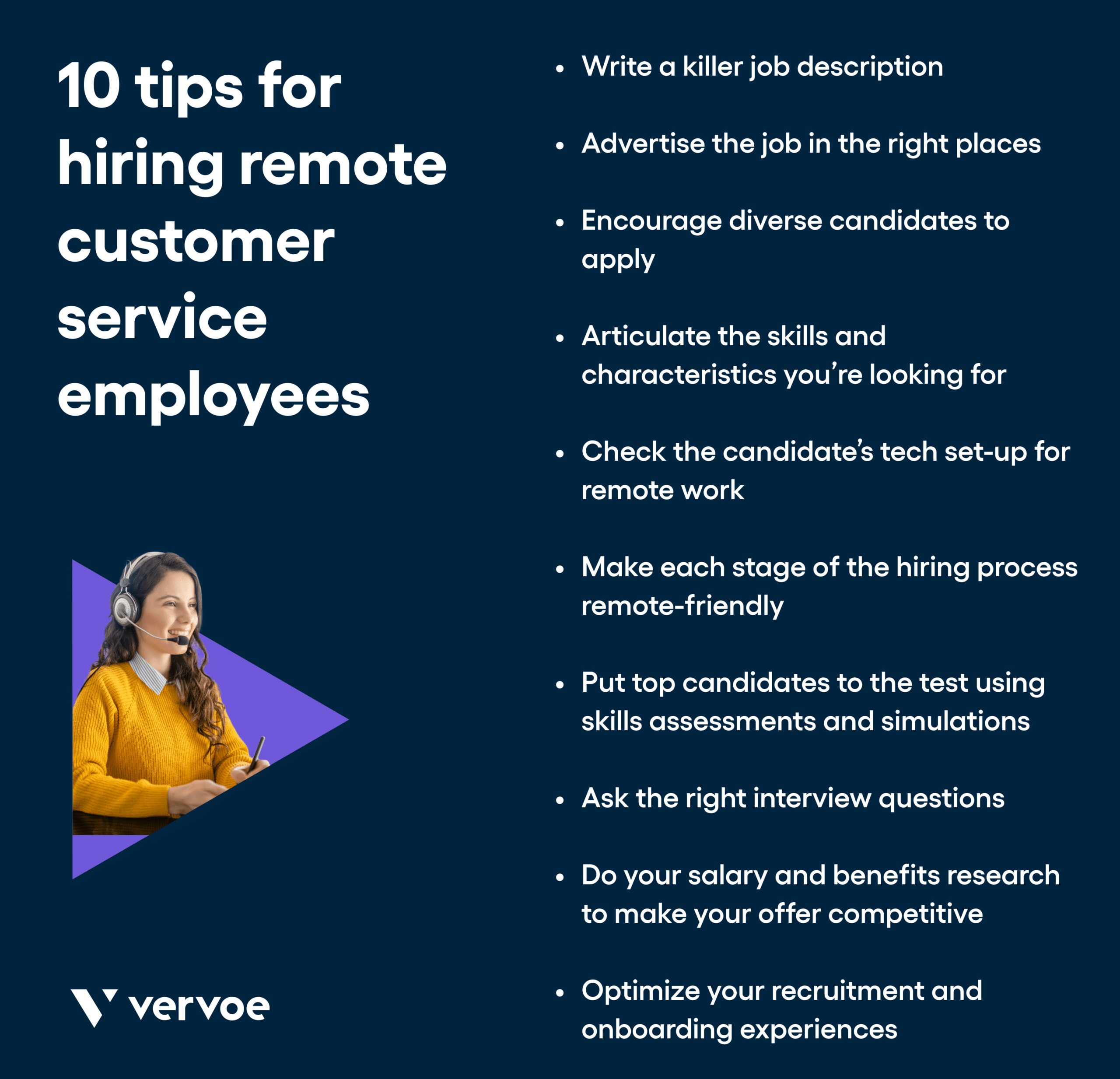 1. Write a killer job description
Your job description will need to include all the typical features people need on a job search, including details about the role itself, the hard and soft skills you're looking for, and how many years of experience you require.
But to ensure you hire the right person, you'll need to tailor your job ads to properly reflect the nature of a remote work position. For example, you'll expect candidates that apply for a job like this to be happy working from home, have a set-up that supports this, have good time management and personal management skills, and be comfortable communicating with your team virtually and across time zones.
You'll also need to explain how your business is maintaining a positive and engaged culture in this setting. Job listings could include examples of virtual events your company has hosted, links to blogs that communicate your company's values, or testimonials from existing remote employees.
Ultimately, it's important to sell your business as a great place to work.
2. Advertise the job in the right places
You'll need to select appropriate recruitment channels to source the talent most suited to the role.
Popular job boards like Indeed, Glassdoor, and LinkedIn are great places to identify, attract, and recruit top talent. You also may want to consider job boards targeting specific locations like Callcentrejob.ca, which is popular for customer service workers in Canada, SEEK, which is popular in Australia, and Pinoy Jobs, one of the top site for the Philippines market.
Be sure to leverage the social networks of your brand and your current employees, perhaps even offering staff incentives like bonuses for successful referrals. You can even consider targeting smaller customer service groups on social sites and forums to find candidates.
When planning your recruitment strategy, think through all of these options and create job postings specifically targeted at each one. This will improve your chances of getting your remote work opportunities in front of the right people.
3. Encourage diverse candidates to apply
The average customer wants to engage with professionals who understand and empathize with their individual needs and experiences. To ensure you hire remote customer service workers who can provide this level of personalized service and support to your entire customer base, you'll need to establish a customer service team that reflects a range of experiences, backgrounds, and identities.
Remote work opportunities are a fantastic way to encourage diverse customer service job applicants since those from marginalized backgrounds often benefit from flexible working options.
Customer service professionals can establish a working environment in which they feel comfortable and successfully juggle personal commitments alongside their working day.
Remote working successfully breaks down location barriers, so candidates living outside of (typically expensive) city centers can pursue roles they would have otherwise avoided.
4. Articulate the skills and characteristics you're looking for
Think carefully about which core customer service skills you'll require of your customer service workers and make sure these criteria are clearly articulated in your job description and assessed in your hiring process.
Ideally, you'll shortlist those with some experience of working remotely, who can point to a strong work ethic, excellent organization, and task management skills, and are confident in communicating and collaborating.
While good communication is a skill required of all remote workers, it's particularly important when hiring people to work in a job like customer service and support. People will expect your customer service and support team to communicate with clarity and efficiency, whether via email, instant messaging, social media, or video conference.
Pay close attention to every interaction you have with a potential hire, whether it's a thank you email following a first-round interview, or a phone conversation inviting them to attend an assessment day.
5. Check the candidate's tech set-up for remote work
Managing a remote workforce can be extremely frustrating if your team doesn't have the right set-up, such as an up-to-date computer, a dedicated quiet place to work, or access to high-speed internet services.
"Check for things like access to computers and phones, internet connection, updated software, VPNs, and the ability to sign-in to a company email," says Stephen Light, Co-Owner and CMO for Nolah Mattress. "These are all necessary requirements for a remote customer service job."
Your business might consider offering certain home-office provisions to ensure the transition to remote working is seamless and straightforward for anyone you hire. This could include office furniture, additional desktop screens, headsets, and desk lights, with someone coming on-site to check and install.
If your organization doesn't have the budget to provide equipment like this it might be worth incorporating a system check into the recruitment process to confirm candidates have the hardware and software required to perform the role.
6. Make each stage of the hiring process remote-friendly
Your new hires will be working remotely, so it makes sense for each stage of the recruitment process to reflect this. There is little success to be gained by inviting applicants to your workplace for an assessment day because you won't have the opportunity to see how they perform in a remote working environment.
Similarly, if you don't think you can successfully shortlist candidates to hire via a remote interview, you can't really expect your new hires to provide excellent service to your customers under the same conditions.
It's also important to remember that when you hire a remote team it means that candidates from a wide geographical area and those who require flexible working arrangements can apply. There's a good chance insisting on an in-person assessment will deter them from continuing with their application.
7. Put top candidates to the test using skills assessments and simulations
Sifting through piles of resumes and applications is not only time-consuming and inefficient, but it's also largely ineffective. You run the risk of missing out on top talent, unfairly favoring certain types of candidates, and failing to identify applicants who have lied or been misleading on their resumes.
Leveraging skills assessments or simulations enables your business to quickly and accurately shortlist suitable and qualified candidates. You'll even be able to tailor assessments to measure candidates' success and propensity to thrive in a remote working environment and delight the customer.
Vervoe's Customer Service Simulator, for example, lets you observe a candidate's performance inside a support center environment, using life-like support tickets, an in-depth knowledge base, and realistic time limits. This equips you with valuable performance data to make hiring decisions based on merit, not background or resume.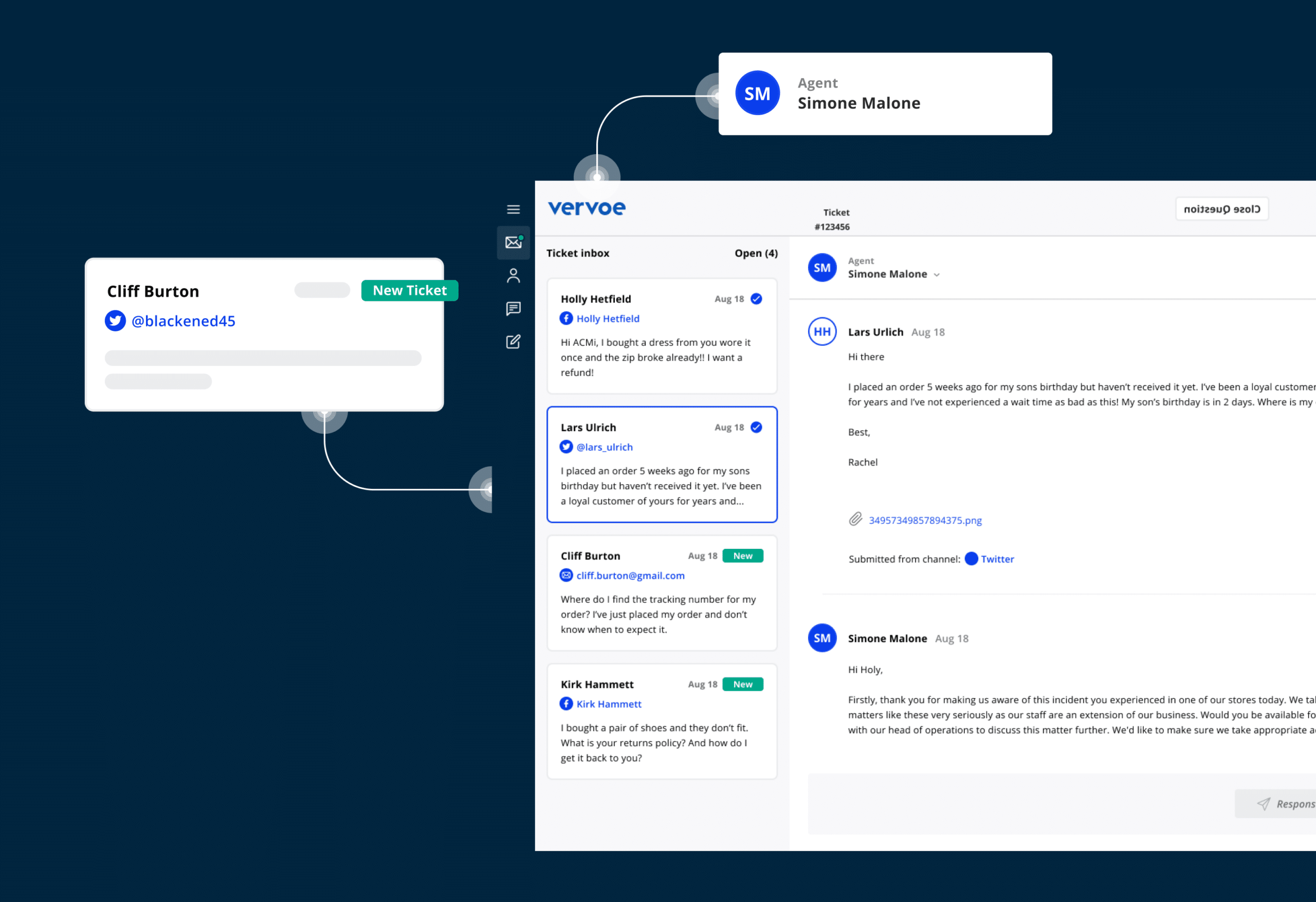 8. Ask the right interview questions
You'll need to revise your standard interview questions to determine how prospective candidates will fare in a remote working environment.
Possible questions may include:
Can they work independently?
Are they able to think on their feet?
What techniques will they use to connect meaningfully with a customer without face-to-face interaction?
Do they have experience working as a freelancer, an entrepreneur, or in remote working environments?
What hobbies or interests do they pursue that demonstrate a level of ambition, commitment for success, and a self-starter attitude?
If your organization hasn't invested in skills assessment or simulation tools like Vervoe's Customer Service Simulator to see how candidates perform in life-like scenarios, you might want to introduce a role-playing scenario during the interview stage of the recruitment process. This will provide a good indication of how applicants will interact with clients in a virtual setting and their confidence in navigating difficult support situations.
"[Roleplaying] is especially important given that you may not always be able to monitor how a remote customer service specialist is handling customers," says Bradley Katz, CEO of Axon Optics.
9. Do your salary and benefits research to make your offer competitive
It's vital to implement a carefully considered candidate selection process when you hire. However, if you want the luxury of choosing from the best of the best, you'll also need to think about your organization's service offering.
Prospective candidates expect competitive pay, a generous package, and opportunities for career progression. Increasingly, job-seekers are seeking employment with organizations that advocate for a healthy work-life balance.
What steps are you taking to support your workforce's mental health, prevent burnout, and support the challenges that come with remote working — including isolation and loneliness at the management level?
Remote workers will be attracted to a value proposition specifically catered to them. Consider offering ergonomic assessment services, budget for office equipment like desks, monitors, chairs, paying for membership co-working spaces, and even meal vouchers.
Do your best to demonstrate that the business values remote workers as much as in-office employees.
10. Optimize your recruitment and onboarding experiences
Slow recruitment and onboarding processes reflect negatively on your business and can deter top talent from including you in their job search.
Take too long to respond to prospective hires, whether it's scheduling an assessment day or providing feedback on their interview performance, and they will be left with a negative opinion of your brand. If they have multiple job offers on the table, don't expect them to wait around for you to get back to them before they accept another opportunity.
Make it easy for them to end their search and go with your company. Streamline your hiring process, communicate regularly with them as they move from stage to stage, and take every opportunity to communicate that you value them and their skills.
Ensure they can do much of their onboarding autonomously. Have resources outlining the history of the company, the products you offer, company structure, along with the passwords and accounts they'll need access to.
You'll also want to get your employee brand in order. Articulate company values, create videos made up of remote and in-office employees, bring the company culture out in a way that's creative, fun, and that they can experience remotely.
Finally, merch is a great way to welcome a new employee into the family. Organize for a branded merch back to be delivered to your new worker on their first day. Encourage them to share what they've received on social media, hopefully getting your company brand and culture in front of your next round of candidates.
Cover the technical day-to-day things they'll need to start their job, as well as the warm and fuzzy things that will welcome them to your business, and make it all remote-friendly.
Check out Vervoe's hiring guide to remote onboarding and discover how to help remote workers get productive faster.
Conclusion
From writing a killer job ad to streamlining your hiring process to hire for skills rather than background, hiring remote customer service employees can involve seriously rethinking your usually hiring process.
But by advertising in the right places, providing the right benefits, perfecting your communication with candidates, and using skills-testing tools like Vervoe, you can attract a rich pool of talent that will take your customer service to the next level.