The Great Resignation is well and truly upon us, revealing one glaringly obvious truth in this candidate short market: Organizations experience greater success when they employ people with the right technical skills.
With 65.1% of the American workforce lacking college degrees, according to the Economic Policy Institute, the need for degree-based hiring is changing rapidly. It's no longer about accolades, formal qualifications, and experience. It's about sourcing candidates with the relevant skills required to succeed in the role.
Enter: skills-based hiring — the modern approach that prioritizes competency over credentials.
In this article, we'll delve into the future of degrees, the shift towards skills-based hiring, and our top four reasons for choosing skills over degrees.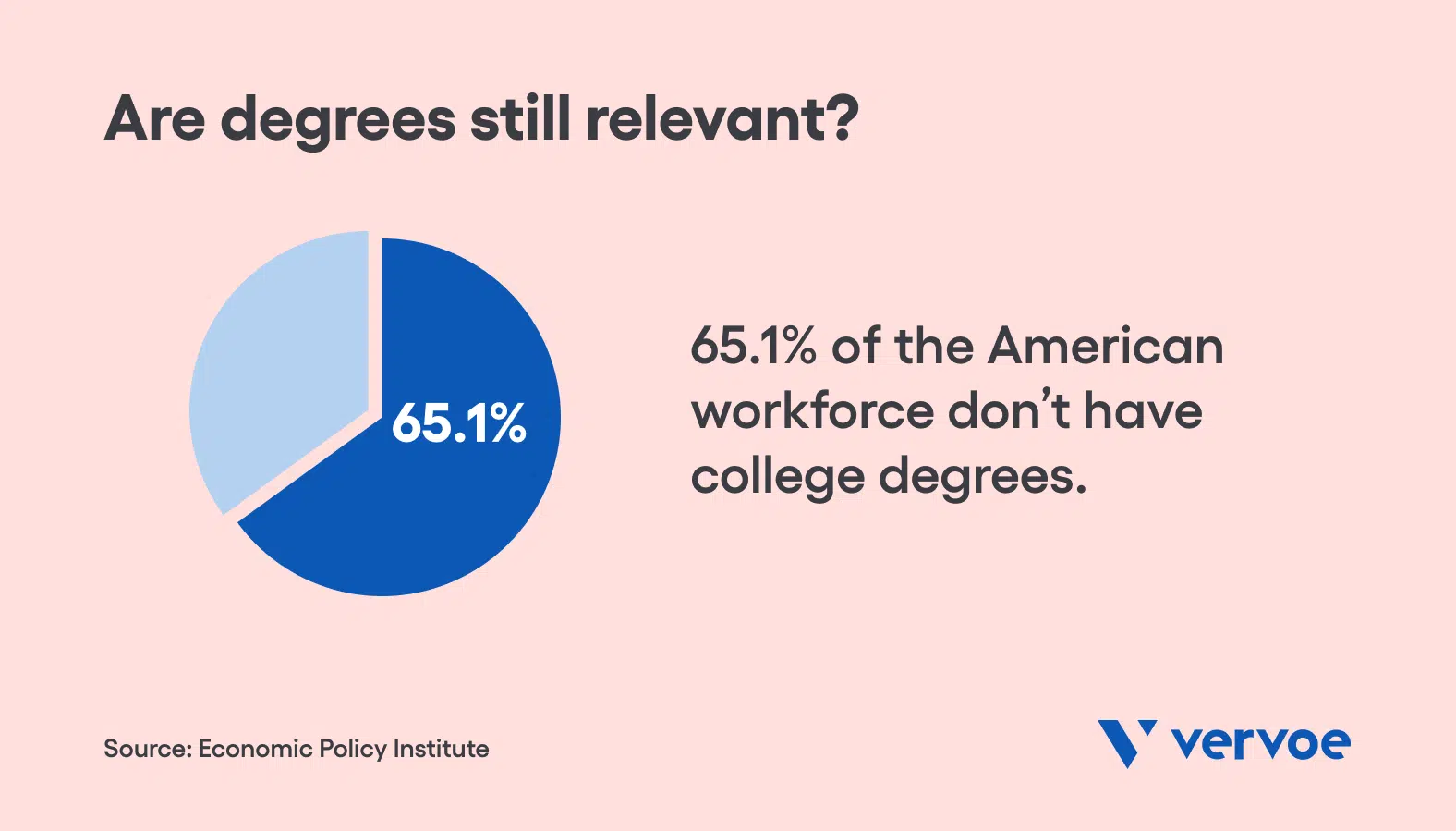 Is there a future for college degrees?
While skills-based hiring can replace the need for formal qualifications for most positions and industries, it doesn't eliminate the requirement for degrees across all jobs, yet.
For instance, highly-technical roles and those requiring licenses — such as doctors, teachers, and lawyers — require a high level of technical knowledge and practical teachings through tertiary education.
Skills-based hiring requires organizations to assess how they can accurately evaluate and measure roles to give candidates from all backgrounds a fair chance to prove their abilities.
What is skills-based hiring?
Skills-based hiring — also known as competency-based hiring — is built on the principle that the candidate most capable of performing a role's responsibilities is the right person for the job. Skills-based hiring focuses on talent and skills rather than experience and qualifications — a process often riddled with unconscious bias.
Gopika Maya Santhosh explains that skills-based hiring is about "skills, not schools. Performance, not pedigree. Results, not requirements."
Generally, skills-based hiring looks at a candidate's hard and soft skills through a skills-based assessment to determine their suitability for the role. For example, Vervoe's skills assessments feature a range of question types — text, multiple-choice, audio, video, presentation, spreadsheets, and more — to ask role-specific questions to predict real job performance. The candidates are automatically screened and ranked based on an organization's preferences using AI. This allows for an unbiased selection process that purely weighs up the candidate's skills against the role's requirements.
[Read more: How Skills-Based Hiring Can Transform Your Organization]
Why are we experiencing a shift towards skills-based hiring?
In the current candidate short market, it's more complicated than ever to source workers with the right skills. And this issue is only set to grow.
A Korn Ferry study predicts that there will be a global human talent shortage of more than 85 million people by 2030. To put this into perspective, it could cost employers up to $8.5 trillion in unrealized annual revenues globally.
What does this mean for the United States? The potential to lose out on $1.748 trillion in revenue as a result of the labor shortage. According to Korn Ferry, this equates to 6% of the entire US economy.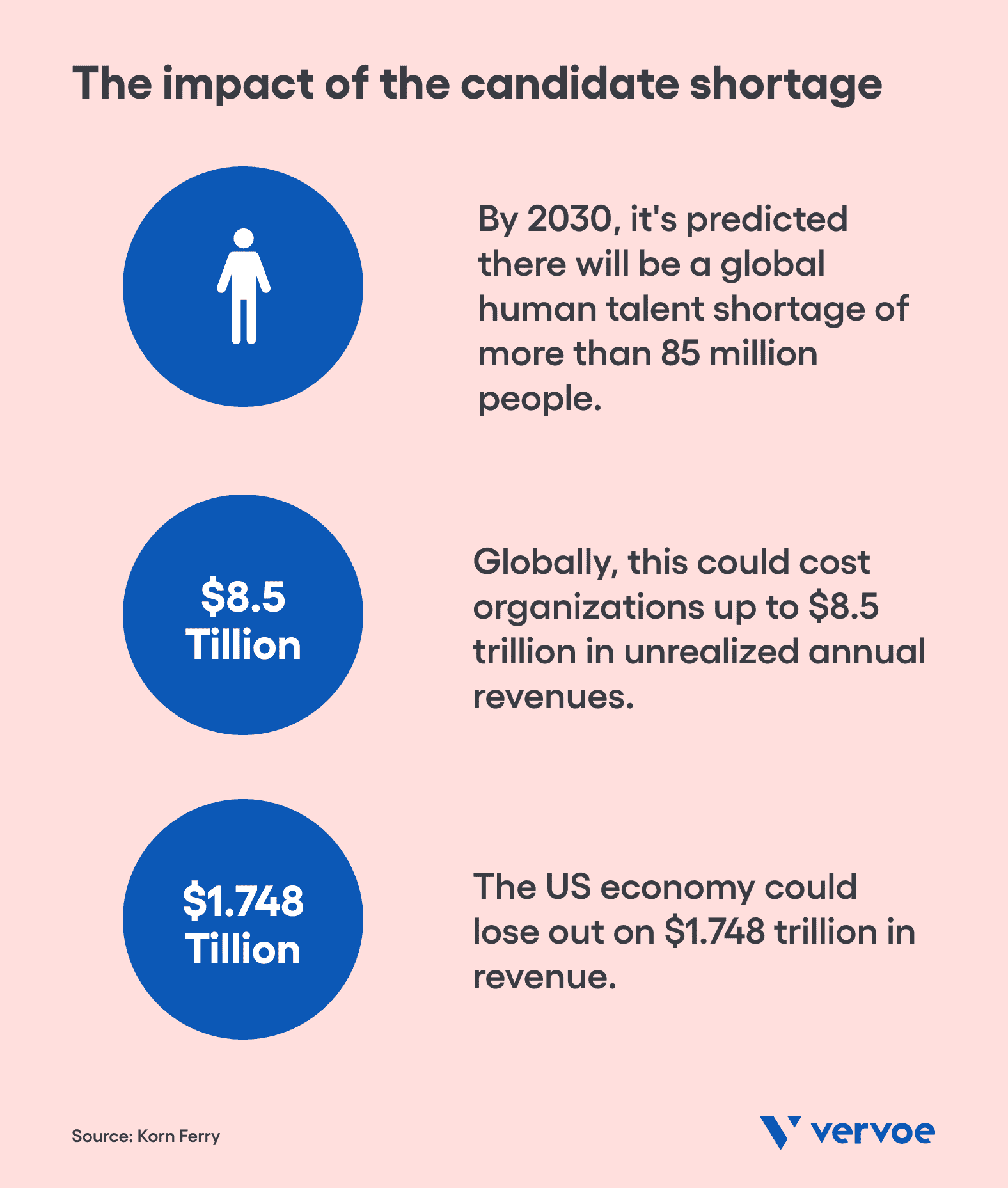 Harvard Business Review describes two primary factors contributing to this shift:
A structural change: When the need for talent exceeds supply (i.e., available candidates), employers are more likely to relax the need for degrees. According to Harvard Business Review, we experienced this from 2017 to 2019, when degree requirements were reduced to encourage more candidates to apply, primarily in IT and managerial positions.
A cyclical change: The height of the COVID-19 pandemic saw the US unemployment rate increase to 13 percent — a number we had not seen since the 1930s. As a result, many employers had no option but to eliminate degree requirements across several fields temporarily. As the most significant modern health crisis, this shift predominantly impacted healthcare workers. According to the same Harvard Business Review study, there was a 12% reduction in degree requirements in job postings for critical-care and intensive-care nurses, and a 5% decrease for registered nurses.
While both reasons have developed from a needs basis, it's encouraged many global employers to look inwards to reassess how vital degrees are to an employee's ability to succeed in the role. And to question if a qualification is guaranteed to translate to talent, skill, and a strong work ethic. Consider the following statistics:
Since 2019, there has been a 20% increase in managers hired without a four-year degree, according to a LinkedIn study.
In 2021, the US saw a 21% increase in job postings on LinkedIn that advertised skills and responsibilities rather than qualifications.
According to Glassdoor, some of the world's most prominent organizations are jumping on-board skills-based hiring, including Google, Apple, IBM, Hilton, Bank of America, and more.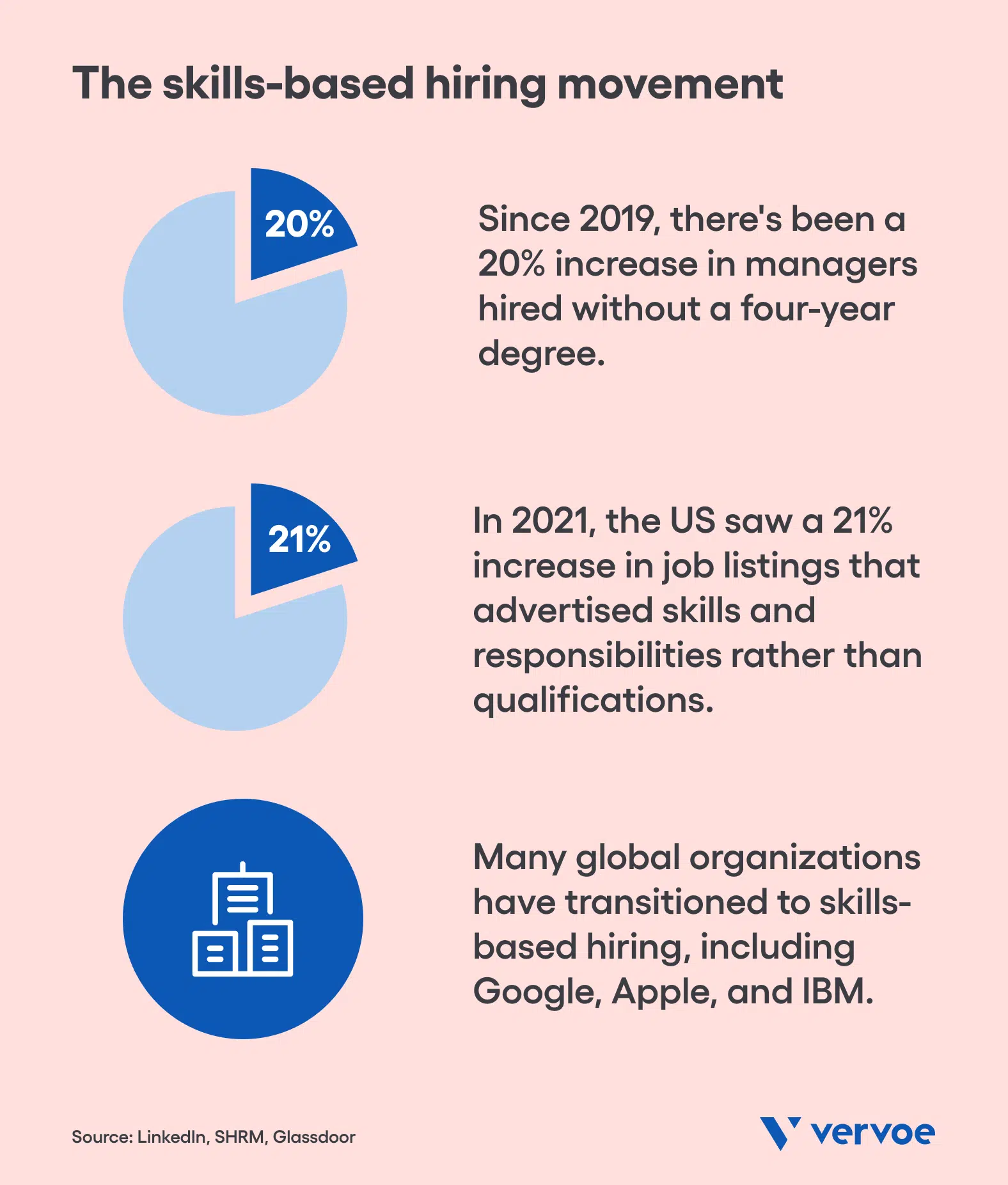 4 reasons to choose skills over degrees
From improving workplace diversity and productivity to lowering recruitment costs and closing skill gaps, there are many reasons why organizations around the world have chosen to replace degree-based hiring with skills.
This modern approach to recruitment presents a fairer, more inclusive, and more rewarding approach to sourcing top talent in a candidate short market, addressing many of the issues created by degree requirements.
Here are 4 reasons why your organization should choose skills over degrees…
1. Skills-based hiring helps you find the most qualified candidates
Why does this matter?
A 2017 CareerBuilder survey found that three in four organizations (74%) admit hiring the wrong person for a role. Additionally, two in three employees acknowledge that they've accepted job offers that weren't the right fit, resulting in 50% quitting within six months.
Yet, it's not just a skills mismatch causing concern for recruitment managers. 59% of hiring managers also struggle to find employees with important soft skills, according to LinkedIn.
The impact of not finding the right candidate for a role is a costly financial burden to an organization. A CareerBuilder survey found, on average:
A bad hire costs almost $15,000
Losing a good employee costs $30,000
How can skills-based hiring help?
Skills-based hiring focuses on the skills and competencies required to fulfill the role successfully. This gives employers a strong understanding of what their ideal candidate looks like when hiring and offers job seekers a realistic preview of the expectations and responsibilities of the role.
While a degree may give hiring managers confidence in a candidate's interest and exposure to a particular area or field of study, it isn't an accurate indicator of job performance or a candidate's suitability for a role. It's merely based on assumption.
A college experience is likely to help shape critical soft skills, such as team collaboration, time management, and written communication. However, it doesn't guarantee a candidate has the technical skills and understanding to perform the role.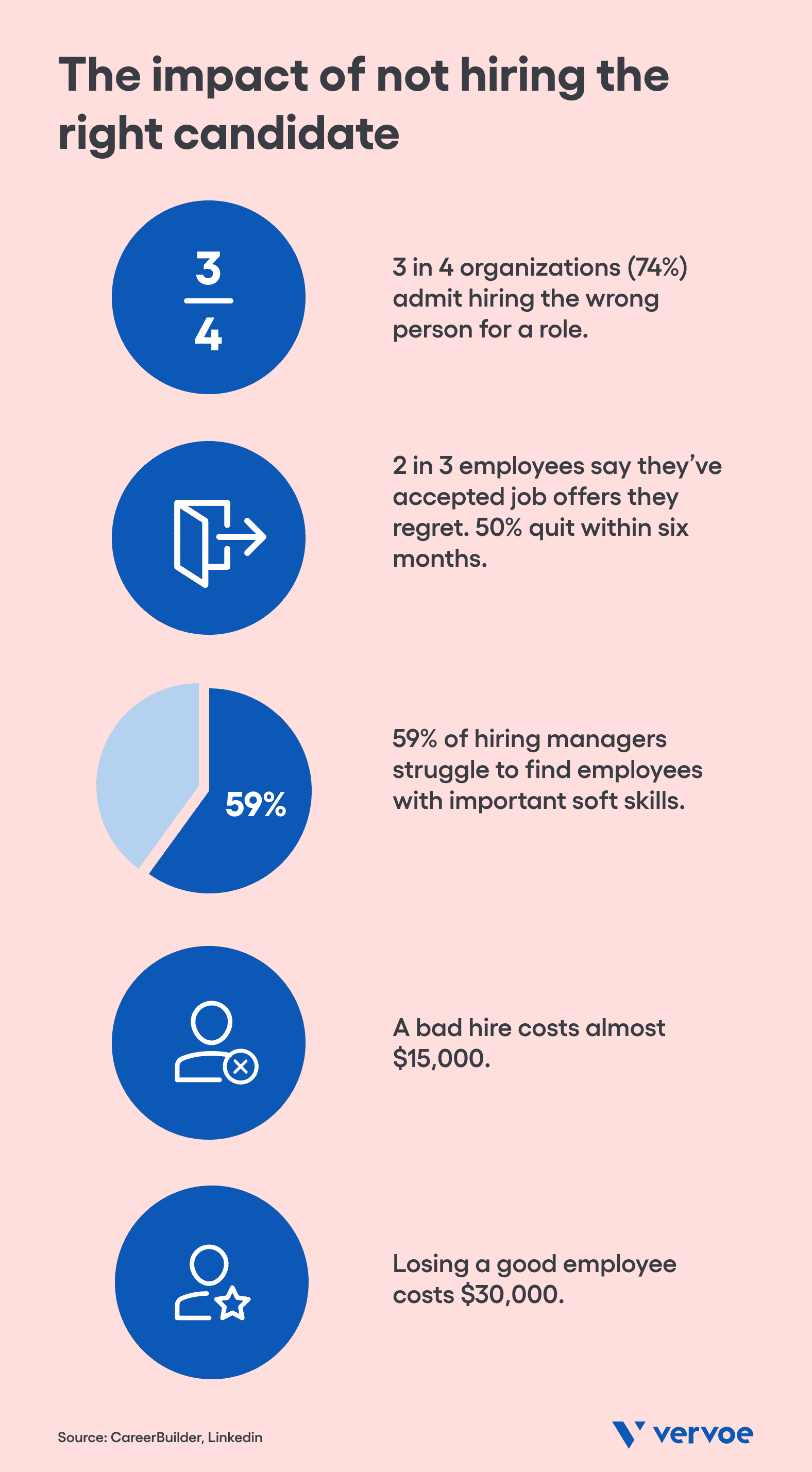 2. Skills-based hiring improves employee retention
Why does this matter?
With the great resignation in full swing, employee retention is one of the most important priorities for organizations worldwide.
According to PwC's 2022 Global Workforce Hopes and Fears Survey, resignations are expected to continue. One in five respondents admits they are likely to switch jobs in the next 12 months in search of higher pay, more job fulfillment, and the opportunity to be themselves.
How can skills-based hiring help?
LinkedIn data found that employees without a degree stay with their employer 34% longer than those with a standard four-year college degree.
There are a few potential reasons for this:
A realistic job preview: Skills-based hiring requires employers to deeply understand and articulate the hard and soft skills necessary to succeed in the role. A skills-based assessment replicates a real-life experience of working in the role, giving candidates a more accurate depiction of the expectations. Generally, this results in higher job satisfaction.
Increased skill investment: While not consistent across the board, there's an increase in employers offering ongoing job training and skill development, particularly in companies hiring based on skills. According to LinkedIn's 2018 Workplace Learning Report, 94% of employees admitted they'd commit to a company for longer if they invested in their career development. 
Employees with degrees seek higher salaries: College graduates are more likely to switch careers regularly in search of higher pay. Employers pay between 11% and 30% more for employees with a college degree, despite believing the performance and results are on par with workers that hold a high school diploma.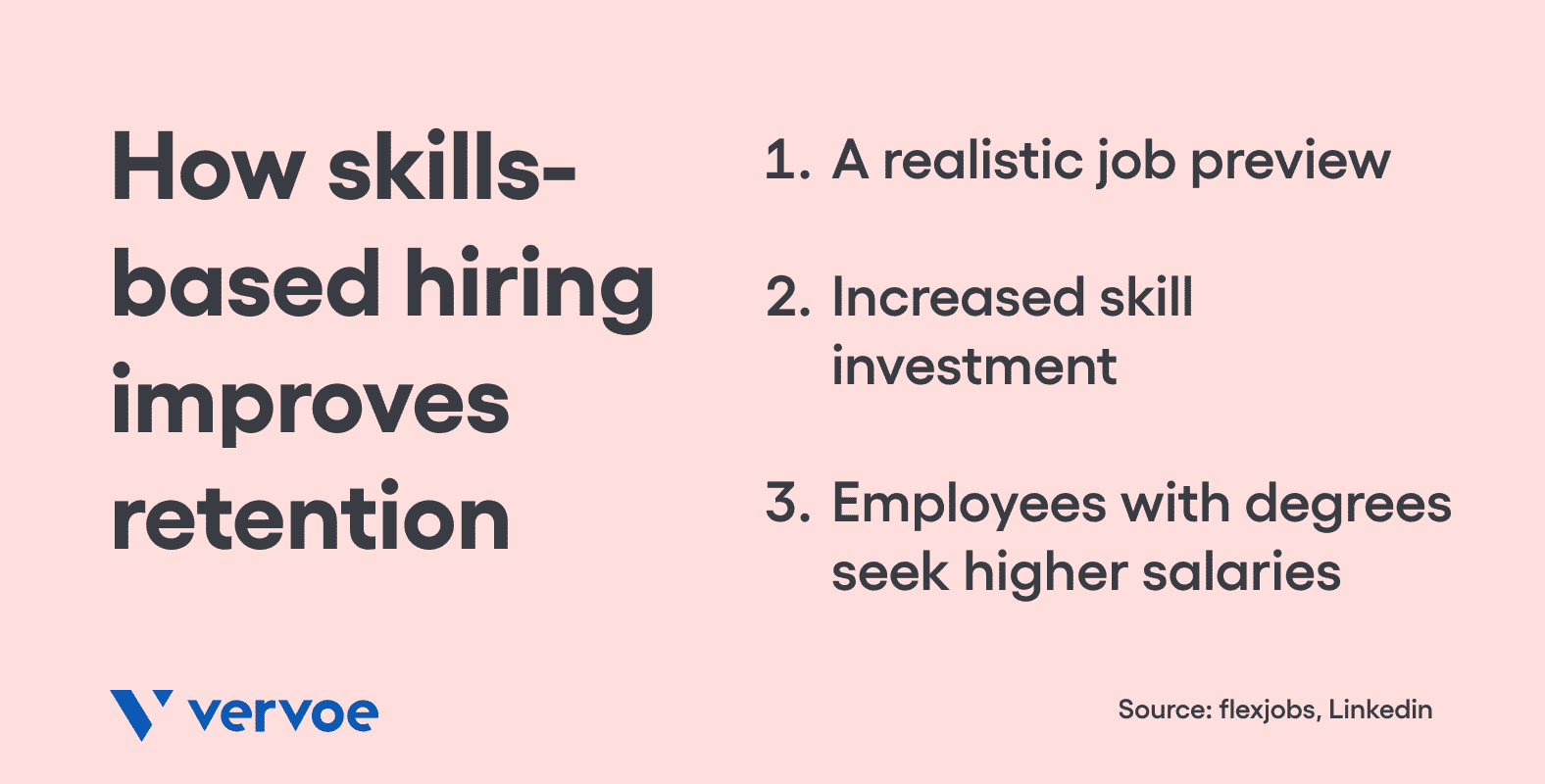 3. Skills-based hiring gives you access to a broader talent pool
Why does this matter?
According to Harvard Business School, 63% of employers admit that the requirement for degrees makes it harder to fill roles. Employers with stringent conditions (i.e., a degree requirement) are at a competitive disadvantage to those hiring based on skill. In a market with few job seekers to choose from, hiring based on college education significantly limits the talent pool.
Over half of the American workforce has not obtained a traditional four-year college degree. This means over 60% of the workforce is immediately eliminated from job listings that require degrees.
How can skills-based hiring help?
Reducing application requirements for candidates — such as the requirement for college degrees — helps to remove barriers that don't necessarily predict a candidate's ability to perform the role.
Adopting a skills-based hiring approach opens your organization to candidates who may have obtained their skills through non-traditional methods, such as on-the-job training or self-teaching. This gives employers access to a larger talent pool and adds a layer of confidence that the chosen candidate is the best possible person for the role.
4. Skills-based hiring improves workplace diversity
Why does this matter?
There's an ongoing trend in the recruitment space that's spotlighting the importance of diversity.
In addition to improving inclusion, innovation, and productivity, a diverse workplace is also proven to benefit a company's bottom line. According to McKinsey, organizations that fall into the top 25% for cultural and ethnic diversity were 36% more profitable than the 25% lowest-scoring companies.
But, it shouldn't just be the financial benefits that encourage employers to get serious about diversity. Job seekers are now actively searching for it, according to the following Glassdoor Survey findings:
76% of candidates and employees admit that an organization's stance on diversity is often a deciding factor when evaluating job opportunities.
32% of candidates won't apply to a job where diversity is lacking in the organization.
How can skills-based hiring help?
To grasp how skills-based hiring can support greater workforce diversity, it's important to understand how a college degree contributes to the issue.
Consider the following data:
Yet, according to the Pew Research Center, despite the positive increase in college diversity, it's important to note that students from lower socioeconomic areas generally attend less-selective colleges, which plays a significant role in hiring bias.
Skills-based hiring is based on selecting the job candidate with the skill set that best aligns with the role's requirements. It takes into consideration that a candidate's financial background should not dictate their ability to perform a role successfully.
Skills-based hiring does not necessarily favor underrepresented groups by default — particularly those disadvantaged in the schooling system, unable to receive the same level of education due to resourcing and funding issues. However, it does remove the unconscious bias associated with pedigree, making it much more accessible to candidates from varying backgrounds and financial statuses.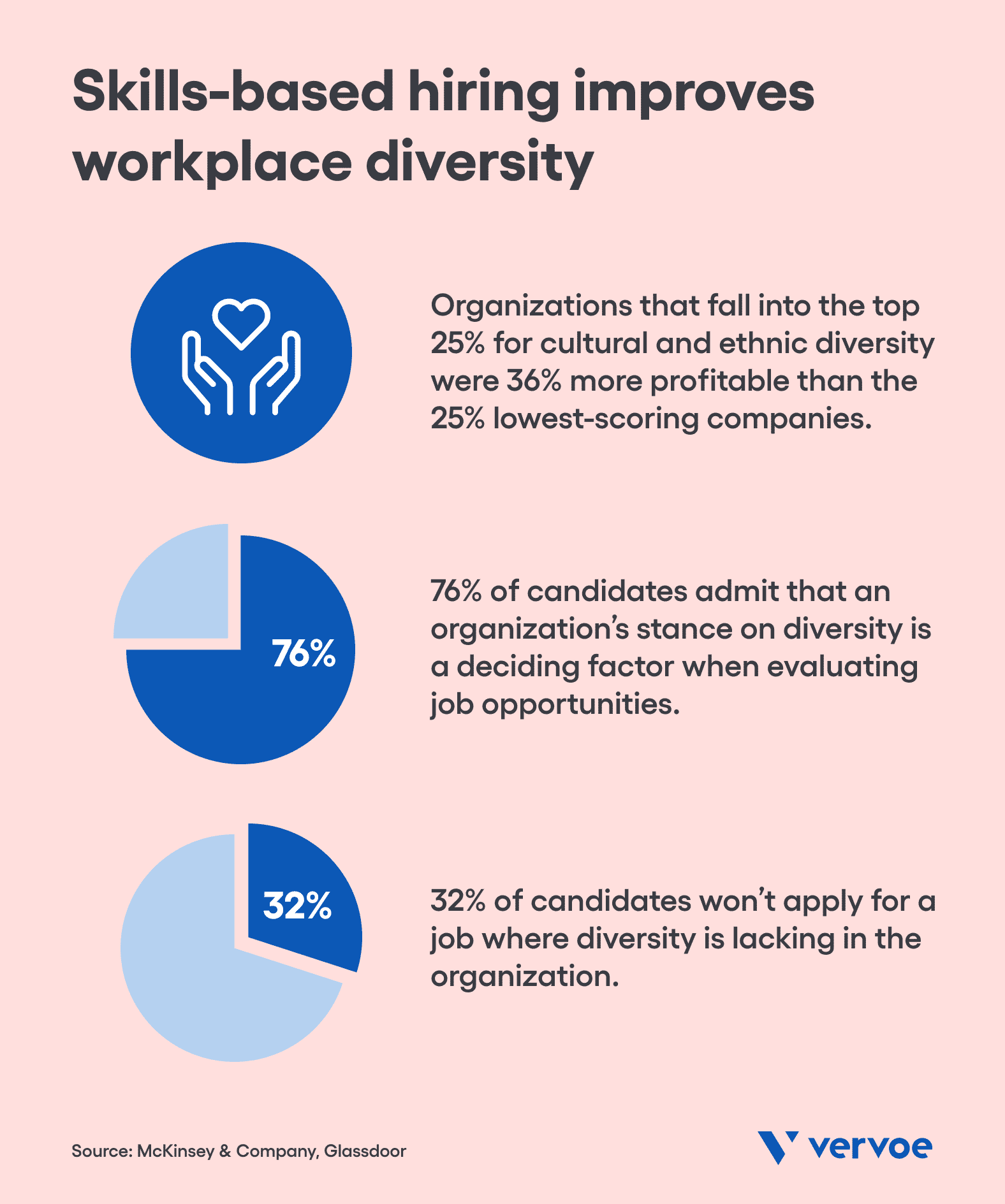 Final thoughts
We're in a candidate short market during a period where over half of the American workforce doesn't hold college degrees. This alone should highlight the need to reassess the importance of degrees.
With many global companies turning to skills over degrees — including Google, Apple, and IBM — it's creating stronger momentum for organizations of all sizes to follow suit. With a proven track record for improving employee retention, quality of hire, workplace diversity, and more, the benefits of skills-based hiring are undeniable.