For too long, recruitment decisions have relied on degrees and resumes. Now, technical skills-based hiring is on the rise thanks to its wide range of benefits.
When we think of technical skills, it's usually linked to practical abilities like learning a trade or heading off to university to obtain a degree. In reality, advancements in technology mean that the lines are starting to blur between what the average person has to do to obtain technical skills and how to keep them relevant and accurate.
In an age where the labor market has tipped in favor of candidates, recruiters are getting creative with ways to identify a good hire. Once upon a time, this meant interviewing candidates with the right qualifications on paper or asking them to complete a personality test to ensure they get along with the rest of the team.
As these outdated recruitment methods have been increasingly disproven, one of the most effective strategies to emerge as a way to find the right people, reduce attrition and boost engagement is skills-based hiring – especially for roles that require top performers to have certain technical skills that require validation.
An introduction to technical skills definitions
As the name would suggest, technical skills are the term we apply to the practical knowledge used to complete particular tasks. Sometimes referred to as hard skills, the concept applies to someone's ability to use technology, tools, or techniques as a means to accomplish tasks that are usually industry specific.
More often than not, specific job roles will require specific technical skills, but how people obtain them can vary. Depending on the field of study, technical skills can be learned and developed through higher education, apprenticeships, on-the-job training, and even via self-taught methods such as YouTube or Skillshare.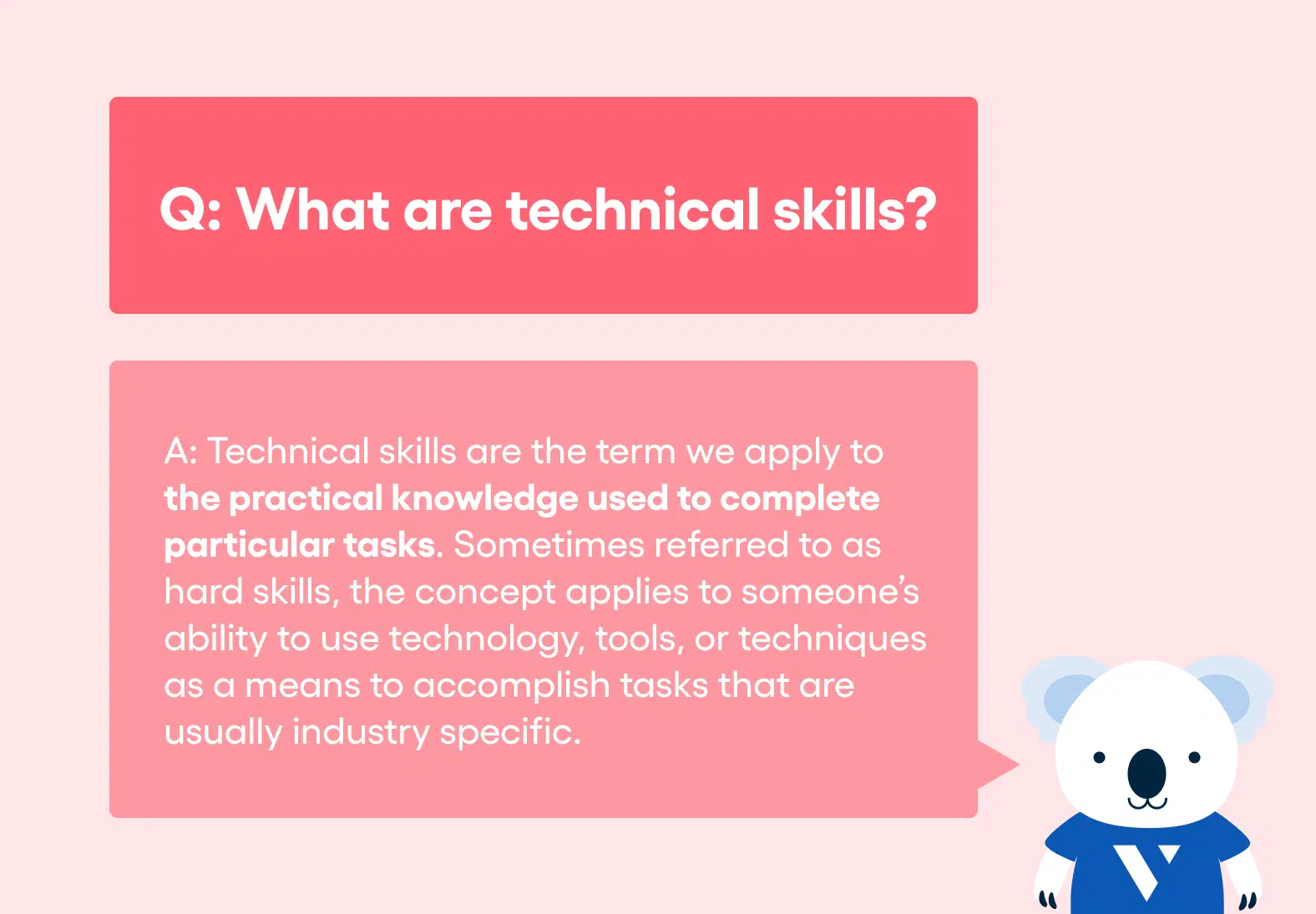 How technical skills are applied in the workplace
As an example of how technical skills are used in practical terms, an administrative assistant may need to know how to use a scheduling program to book meetings and upcoming events for managers, but a web developer needs to be proficient in programming languages. While both are classed as technical skills, the process is wildly different when it comes to undertaking training and validating them.
According to Stacie Garland, Director of Assessment Solutions at Vervoe, too many companies are making the mistake of underestimating the importance of technical skills — especially when hiring for roles that may not require explicit or clearly defined skills.
"A primary pain point for our customers is finding out if potential employees can integrate with a company's existing technology stack. Without validating if they have basic technical skills, companies can waste significant amounts of time training new hires simply from making these types of assumptions."
Of course, technical skills will always be more important in some industries than others. Without taking the time to assess and verify the technical skills of applicants, organizations run the very real risk of hiring someone who doesn't know what they're doing — but what are some of the other perks of this approach?
Why skills-based hiring is the future of recruitment
Skills, rather than jobs, have been earmarked as the future of recruitment. By making hiring decisions based on skills rather than degrees or resumes, organizations who are embracing this forward-thinking approach are not only futureproofing their companies — they're seeing results.
According on new data sourced from Deloitte, 89% of executives say that skills are becoming important for the way organizations are defining work, deploying talent, managing careers, and valuing employees. This is because skills-based organizations are 107% more likely to place talent effectively, 98% more likely to retain high performers, and 98% more likely to have a reputation as a great place to grow and develop professionally.
Skills-based hiring is particularly important for IT recruitment, as it's been identified as a key industry where there's nowhere to hide if a candidate doesn't possess the technical skills that they claim. Despite the well-documented layoffs, over 17,000 tech jobs were added in the United States in January 2023 alone.
Thankfully, technical skills are an asset that can be deployed across just about any industry, and will gain further momentum as we continue with our global love affair with digitalization.
However, it's also worth noting that skills-based hiring should cover three key areas: hard skills (technical skills), soft skills (power or people skills), and transferable skills (which can be applied across many roles).
For the purpose of identifying the most in-demand technical skills to focus on, we've collected the key capabilities to start hiring for as a tool to futureproof your company.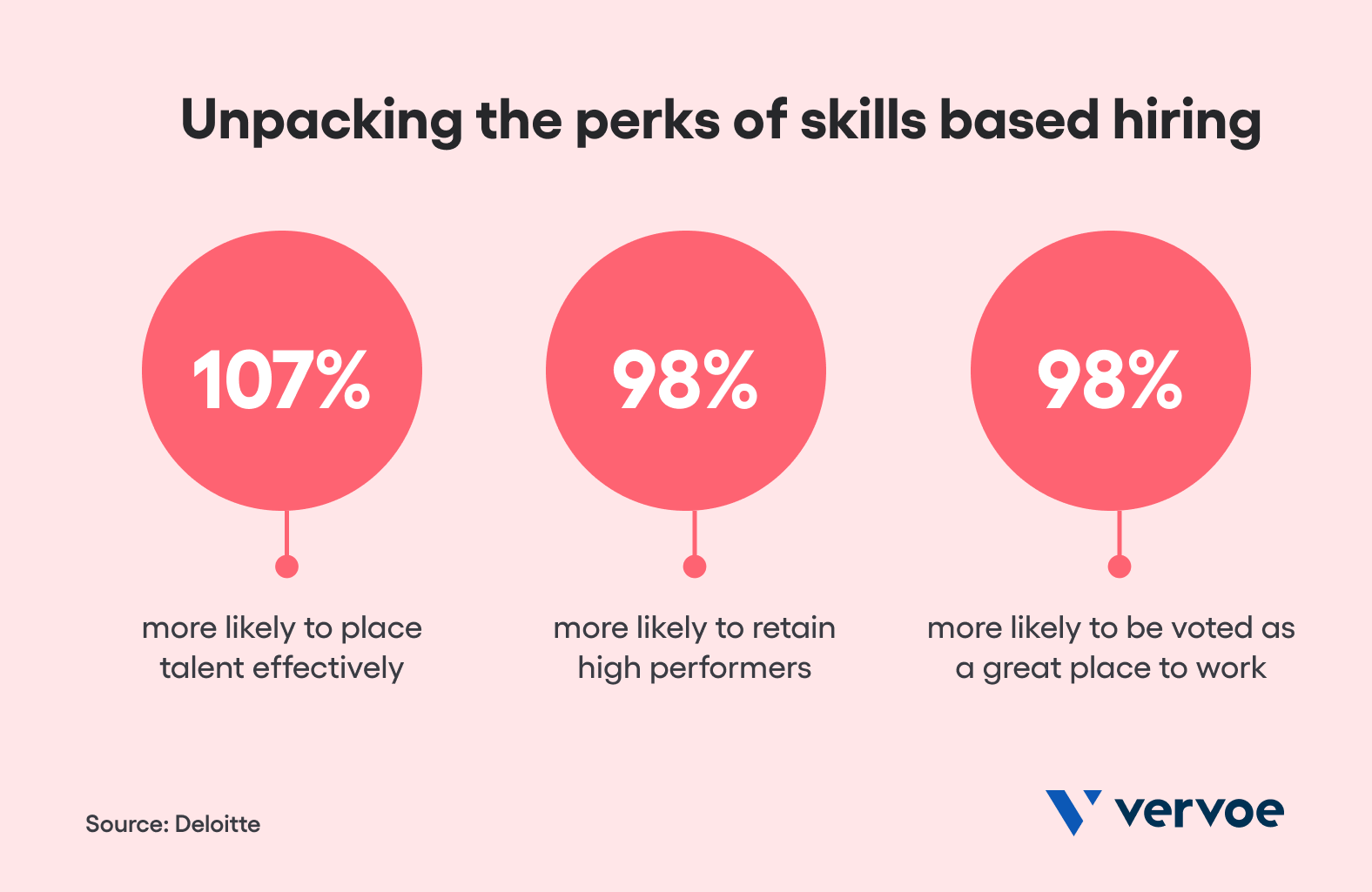 Top 5 most in-demand technical skills to hire for in 2023
Many companies around the world are in the process of undergoing a digital transformation, with the aim of using technology to transform their business processes and operations. As a result, there is a high demand and labor shortage for industry professionals with technical skills in areas such as digital marketing, e-commerce, artificial intelligence, and data analytics.
However, the explosion of data generated by businesses and consumers has created a high demand for professionals with expertise in data science and analytics. In contrast, this has also fanned the flames for an uptick in cyber attacks and breaches, so industry experts in this field are in demand as well.
If your organization is one of the thousands embarking on a recruitment drive to fill gaps created by a digital transformation, finding the right people to fill the right roles is a must — but it's important to remember that technical skills are often transferable across a broad number of positions. As such, these are the top five most in-demand technical skills we'll see in 2023.
1. Data Science
Data science is the study of data to extract meaningful insights for business. It is a multidisciplinary approach that combines mathematics, statistics, artificial intelligence, and computer engineering to analyze large amounts of data, and translate it for colleagues, employers, and clients. By presenting the data in a way that leads to actionable insights, data scientists will have no issue finding work across a broad range of sectors.
According to research commissioned by Tableau from Forrester, 70% of all jobs will involve working directly with data by 2025. This means that every organization will need people with the skills to interpret, translate and communicate it, but it's also worth noting that experience with data handling, statistical analysis, literature review, problem-solving, and communication may also be relevant as transferable technical skills.
2. Cybersecurity
According to the "State of Cybersecurity Resilience 2021" report from Accenture, the cost of data breaches will rise from around $3 trillion dollars each year to more than $5 trillion dollars in 2024. As such, one of the key strategies to combat potential threats, protect digital assets, and avoid becoming another statistic is to enlist the help of a qualified cybersecurity specialist.
The field of cybersecurity involves the protection of systems, networks, and sensitive information from unauthorized access, theft, or damage. Although the concept still applies to individuals, companies around the world are rightfully prioritizing cybersecurity in the wake of a growing number of threats, and attacks. With the rise of artificial intelligence, digitalization and remote working, cybersecurity is a key technical skill in demand.
3. UX Design
User experience (UX) design, and the closely related user interface (UI) design, will become increasingly valuable technical skills due to the extent of digital transformation. UX refers to the entire interaction that technology users have with a product, including how they feel about the interaction, whereas UI more closely relates to the visual elements of technology that users interact with.
As consumers continue to prioritize experience above other aspects of products and services they purchase, such as quality or value for money, the technical skills of UX and UI designers will become increasingly in demand. UX design was ranked by both Glassdoor and LinkedIn as one of the top 50 jobs to have in 2022, so it's unlikely that these technical skills will cease being valuable anytime soon.
4. Digital Marketing
From paid social media advertising to influencer-led campaigns, search engine optimization (SEO), email marketing funnels and more, digital marketing involves a diverse set of technical skills. Good marketers can specialize in one, several, or many — and as long as they can use their field of expertise to push the needle on whatever metrics matter to their organization, they won't find themselves out of a job in 2023.
When hiring a digital marketing professional, organizations need to have clearly defined parameters on what responsibilities they expect their new hire to pick up. Someone who excels in technical SEO analysis may not be so great at crafting articles or press releases, so be clear on whether your organization is in need of a specialist, or an all-rounder with more transferable skills.
5. Artificial Intelligence
AI is a broad term, encompassing general artificial intelligence, machine learning, expert systems, data mining, and more. In today's world, AI capabilities are in high demand across almost every industry, but will almost certainly apply to gaming, robotics, face recognition software, weaponry, speech recognition, vision recognition, expert systems, search engines, and more.
In fact, it even applies to each of the four in-demand technical skills outlined above, and candidates who are experienced with working alongside AI tools are soaring in demand across almost every sector. To become well-versed in AI, it's crucial to learn programming languages, such as Python, R, Java, and C++ to build and implement models, so someone who possesses these technical skills may be an asset for the future.
How to assess technical skills in an interview
Let's say that you're interviewing a candidate for an in-house cybersecurity position, and you want to know if they can configure firewalls in Apache, the world's most widely used web server software. Logically, you conduct a job interview with a candidate that advertises their experience with these types of technical skills.
As a hiring manager, you're mostly unfamiliar with the world of cybersecurity, but the candidate's background and credentials indicate that they're more than qualified for the role.
The interview goes well, the candidate reconfirms what their resume says and shows you their degree, so you make an offer of employment. Everyone is thrilled: the candidate lands the job, the hiring manager fills a vacancy, and the company believes that their cybersecurity responsibilities are taken care of.
Fast forward six months, and problems start to arise. As the in-house cybersecurity expert wasn't as experienced or proficient as they seemed on paper, the organization suffered from a data breach due to issues with the firewall configuration.
Not only did the organization face financial penalties, but the price of their loss of reputation was immeasurable. Needless to say, the cybersecurity specialist didn't stick around too long after the breach either.
So, what's the moral of this skills-centric story?
When learning how to assess technical skills in an interview, the reality is this: you can't. Traditional hiring methods don't work for highly skilled roles. Not only do they fail to provide an opportunity for candidates to showcase their technical skills, but they also fail to identify fabrications.
In fact, a whopping 78% of candidates lie on their resumes, and separating fact from fiction is essential for companies who don't want to risk making a bad hire. The solution? Implementing a technical skills assessment as a part of your recruitment process.
Why technical skills assessments are revolutionizing recruitment
Broadly, a bad hire is someone who does not work out in the role they were initially recruited for and ultimately leaves the organization — either of their own accord or through the termination of their contract — within the first 18 months. Aside from inconvenience, it's also expensive, with the average costs of a bad hire landing anywhere between $14,900 right up to $240,000.
The skills-based hiring revolution is not just putting a stop to bad hiring decisions, but it's helping to unearth an entire generation of invisible workers, which is crucial during the current era of labor marketing shortages and widening skills gaps.
Credentials often form the basis of hiring decisions, but also represent a systemic barrier where traditional skills testing software like resume screening tools eliminate talented applicants based on their education (or lack thereof).
In contrast, skills-based hiring promotes the concept of recruiting on merit rather than background, with both candidates and employers alike benefiting from the results. With an estimated 70 million people across the United States "skilled through alternative routes", the untapped market is considerable.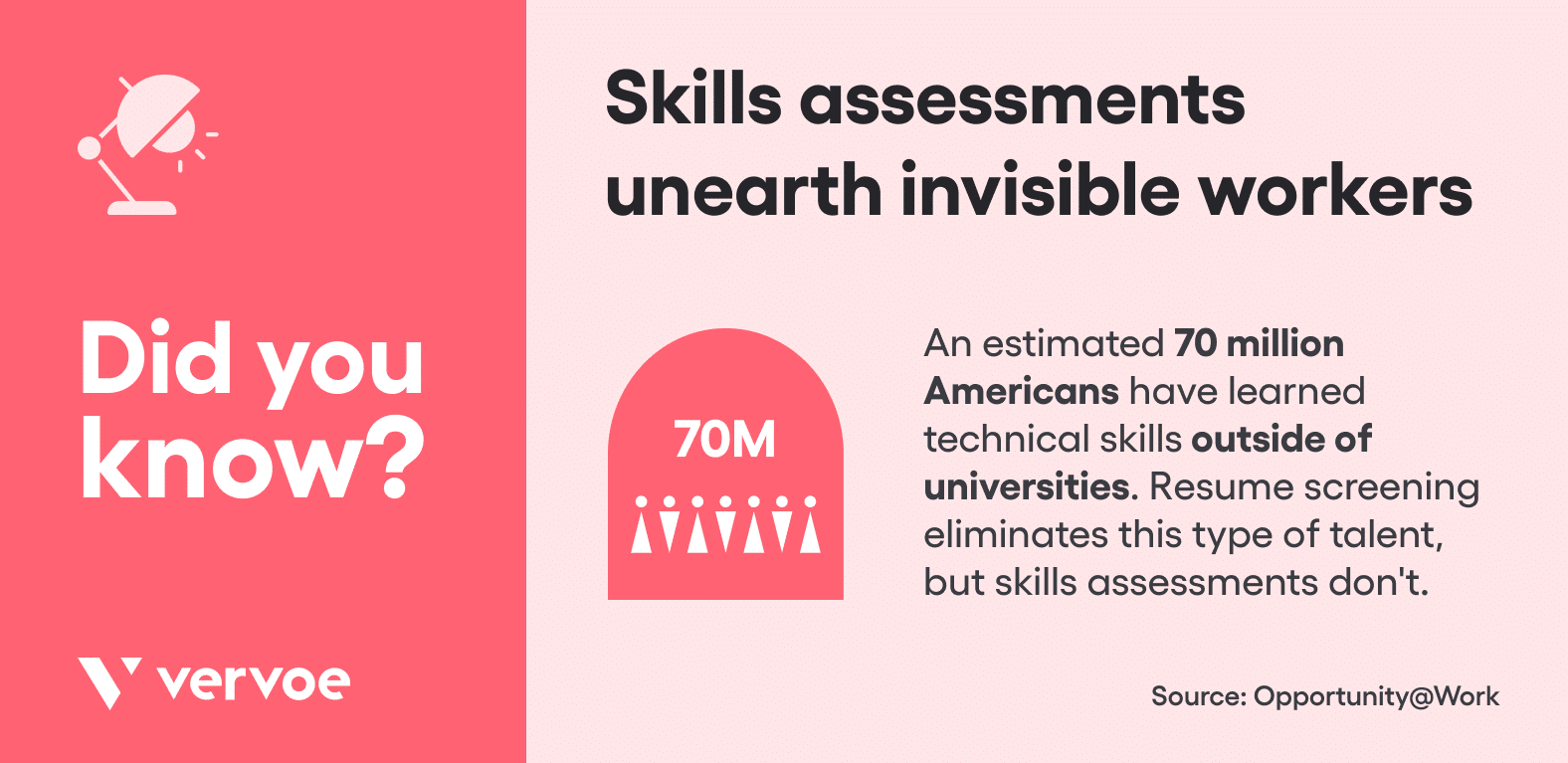 How to use technical skills assessments as a part of your recruitment process
Job simulations take applicants through a realistic day in the life of the position to assess how their skills align with the job's requirements. For roles like cybersecurity, digital marketing, and even customer service, job simulations are one of the most failsafe tools available to validate both hard and soft skills, and are pinned as the future of online job skills assessments.
When compared to the pitfalls of traditional recruitment processes, a job simulation allows organizations to understand which of their applicants has the technical skills required to succeed in the role while giving candidates a realistic job preview to help them decide if it meets their expectations.
Once the results of the job simulation are finalized, companies can expect to get a good idea not only of the applicant's technical knowledge, but their ability to manage stakeholders and work across departments.
For organizations looking to join the skills-based hiring revolution and maintain their competitive edge as an employer of choice, job simulations take the concept of a standard technical skills assessment, and elevate it to the next level.
Talent stands out with job simulations
What if we told you that there was a way to reduce attrition, make better hiring decisions, remove human bias, and use fully compliant AI grading to help you elevate your recruitment process in a way that benefits both candidates and employers?
Vervoe is an end-to-end AI-powered solution that is proudly revolutionizing the hiring process through skills testing, job simulations, and machine learning recruitment. We create tailored skills assessments designed to suit the specific requirements of a role, and our platform predicts performance using job simulations that showcase the talent of every candidate.
By assessing an applicant's ability to perform the role through a skills assessment, our skills assessments focus on the work — and not the person. To see people do the job before they get the job, book a demo today and let our experienced team run you through Vervoe's full range of ready-made and tailored solutions.