Artificial intelligence, AI, is commonly used by big companies in recruiting to reduce the time-consuming or resource-intensive parts of hiring. But that doesn't mean it's impossible to use AI recruitment for small business.
Companies like Walmart, Proctor & Gamble and Capital One all use AI recruitment tools somewhere in the hiring process to assess a candidate's suitability for a role. These tools use algorithms to understand data points from responses, making the hiring process faster, less expensive, and easier to manage high volumes of candidates.
AI might seem like an expensive, futuristic tech investment out of reach for small businesses. However, merchants of all sizes can benefit from AI in recruiting. Here's how small businesses can take advantage of AI for recruiting – without an Walmart-sized budget.
Trend forecast: AI in 2020 and beyond
AI is no longer the stuff of science fiction. Artificial intelligence has entered business operations in a major way, and there are many ways big companies are putting algorithms to work.
Today, artificial intelligence is most commonly found in marketing and customer service efforts. Chatbots, for instance, are designed to engage and interact with customers on social media and popup windows on a company's website. Walgreens tested a feature called "Cooler Screens" that scanned shoppers' faces when they look at the screens, using face-detection technology to deliver ads based on a person's age and gender.
The goal of AI in each of these examples is to provide personalized, timely service: which is why the implications for using AI in recruiting are clear. AI can help screen candidates by running and scoring a pre-employment skill test. A candidate submits a combination of video and written answers, and an AI tool can assess a mock sales pitch, a customer service call, coding competency, or a strategy presentation.
Pre-employment screening of candidates remains the biggest drain on recruiter resources. But, that's not the only step in the hiring process AI can make more efficient. Big companies are using AI in high-volume hiring events to automate routine and time-consuming tasks: collecting resumes, scheduling interviews, and updating candidates.
A 2019 survey on LinkedIn found that 67% of recruiters are already using some form of AI to save time in the hiring process. But, only 14% of companies say they've made an investment in AI for HR over the past two years, according to KPMG's The Future of HR 2019 report.
AI Recruitment for Small Businesses
SMBs have started to integrate AI in their business operations: one report found that among the 13.6% of small businesses leveraging AI, most are using it to improve business operations. There's plenty of opportunities to add AI capability to a small business's talent management practice.
You can consider adding AI recruitment for small business in the following ways:
Capture data from the recruiting process to make better future hires
Target candidates who are (passively and actively) seeking new work
Write better job descriptions and post open positions where they will be seen
Get deeper insights to inform HR decision-makers
At a small business already running a lean operation, AI can provide the insights and resources that much larger enterprises enjoy. A small business can dedicate an AI tool to candidate sourcing, freeing up a recruiter to handle in-person interviewing and contract negotiation. Or, an SMB can use an AI recruitment tool to find the right candidate the first time, rather than hire the wrong person and waste time and resources in the process.
"If you're looking to hire a greater marketer, there are applications that can help you identify the characteristics that separate the top 20% of marketers from the other 80% of marketers," Laurie McCabe Co-founder and Partner, SMB Group said. "Then, when you go search for new talent, you might realize, 'Wow, maybe I've been paying attention to the wrong things when I interview these people.' Other applications can help protect against unconscious bias in making hiring decisions."
AI can do jobs both big and small. Here are some ways small business owners can start adding AI into parts of the hiring process.
How to Use AI Recruitment for Small Business
Small business recruiters can use AI in hiring in three specific parts of the process:
Source Candidates from Massive Databases
Picture this: you own a small business, and you're seeking to hire a new manager. You know exactly what you're looking for in a manager, but few of the resumes you've received suit the position. So, what do you do?
Few small businesses have access to a database of hundreds of candidates to choose from when seeking to hire a new employee. As a result, you may search for candidates yourself online, or you may take a chance on someone you know isn't right for the job. Both of those options are time-consuming and a waste of resources.
AI can scan job sites like CareerBuilder to help you source the right candidate for your position. A tool like Ideal, for instance, uses AI that has been trained on previous hiring decisions from other companies. If your business doesn't have a dataset of past hiring decisions to help the tool learn what you're seeking, Ideal can use the experience of other, similar companies to help you find someone. 
Skip the Phone Interview with Prescreen AI
Another time-consuming part of the hiring process is screening candidates to decide with whom to move forward. Once you have a list of resumes, small businesses typically hold a phone interview to screen a person. In our experience, phone screening is both ineffective and adds extra admin that neither the candidate nor the recruiter enjoys.
Some companies replace the phone screening step with chatbots; others use a skills assessment to predict performance. Skill testing tends to be a better way to match candidates with open positions. A skill test indicates current knowledge and ability, versus the historic nature of resumes.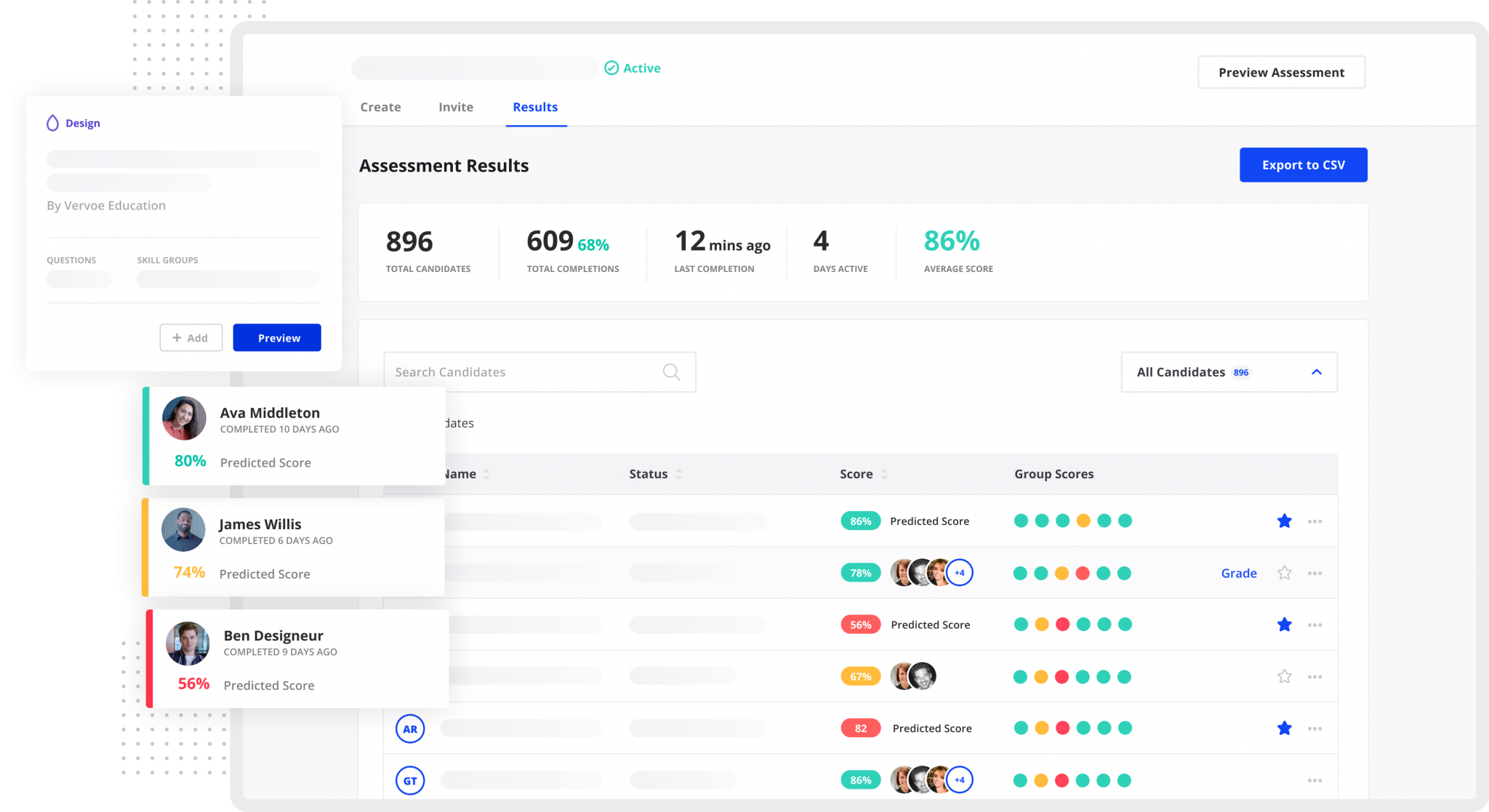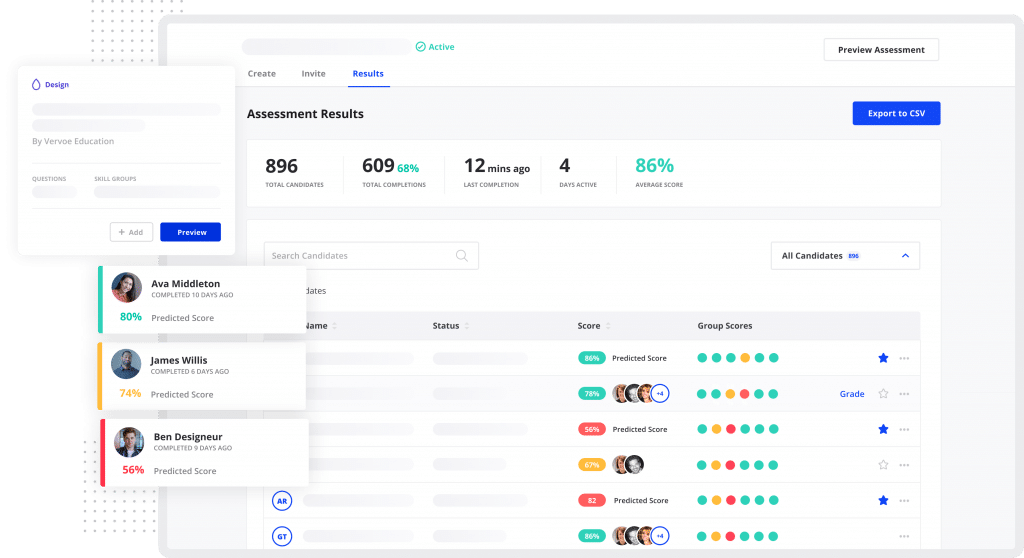 Vervoe's AI tool, for instance, learns as more candidates complete the skill assessment, ranking candidates based on performance instead of eliminating individuals for failing to reach some arbitrary benchmark.
Schedule Interviews with Ease
The back-and-forth of trying to find a good time to interview – not to mention the formal interview itself – is something that can destroy the candidate experience. There's a whole field of AI recruitment tools that make it more efficient and easy to set up a remote or in-person interview. Some allow candidates to self-schedule or reschedule interviews as needed from any device. Platforms can automatically confirm interview appointments and sync with your company's applicant tracking system. Reminder notifications are sent to candidates and interviewers by email or SMS.
Overall AI in recruiting leads to reduced time-to-fill, increased recruiter efficiency, and better candidate experience.
Best AI Recruiting Tools for Small Businesses
These tools use AI to improve recruiting results – on a small business budget.
Vervoe
Vervoe offers an affordable plan for smaller ventures with all the core benefits of the enterprise program. Use Vervoe's library of skill assessments to screen candidates without eliminating anyone from the hiring process prematurely. Vervoe's AI tool ranks candidates based on performance, giving your recruiter a neat list of applicants to continue interviewing.
SmartRecruiters
SmartRecruiters uses AI throughout its applicant tracking system to make hiring more efficient. From recruitment marketing to approvals and hiring, this powerful tool can help you reach more candidates, sort applications faster, and improve the overall employee experience.
ZipRecruiter
ZipRecruiter is a recruiting platform built for small businesses that includes a feature called "Candidate Calibration". This feature allows recruiters to thumbs up or thumbs down different applicants, and then feeds that data into the platform's AI to find better-fit applicants for openings in the future.
Workable
Workable uses AI throughout their tool, but many of the most powerful AI features come in the upper tier of their paid platform. Workable offers small businesses many candidate-sourcing features, with access to more than 200 free and premium job boards. Sign up for job description templates, career page builders, and automated candidate outreach.
Breezy
Breezy is totally free, if you just need its standard features. These free features include one active position and one active candidate pool. There's also a bootstrap plan that offers access to job boards and automated posting.
BambooHR
If you're looking for an end-to-end HR system, BambooHR is a good fit. The system tracks an individual from their application to when they leave the company. Recruiting features meet self-service HR in this all-in-one tool for small business people management.