Update: This article was originally posted 22 April 2019. As of June 2020 our free plan is no longer available.

Over the last 18 months, with thousands of new organizations using Vervoe, we learned that testing just a few dozen candidates for one role is enough for most people to understand if Vervoe is for them. We also needed to ensure our infrastructure could continue to support the growing needs of our customers.

We haven't removed the ability to try before you buy. A free trial is now available that will continue to allow you to experience the power of Vervoe.
---

Wait, what? That's right, we created a free tier so now anyone can use Vervoe for free.
Skill testing?
Video interviewing?
AI-powered automated grading of candidate responses?
Talent analytics?
And… the newly-released auto-gradable code challenges to conduct technical assessments?
But until now a solution like Vervoe has only been accessible to companies with a large budget.
All that's about to change.
We're leveling the playing field
Small businesses and startups need help to make better hiring decisions, faster, but they aren't necessarily hiring a lot of people. As a result, their budgets typically aren't very big, if they have a budget at all. That's why there aren't many solutions that focus on that part of the market.
But small businesses are critical to the economy because they account for 70% of jobs in OECD countries and 45% of jobs in emerging economies.
Vervoe helps companies focus on how candidates perform rather than where they've come from. And that should include everyone, not just big companies. We want to live in a world where companies make decisions based on who can do the job, and nothing else, so every candidate can get the job they deserve.
So we decided to offer Vervoe for free for small business, startups or curious hiring managers from larger companies.
We're making hiring about merit, not background
We're making the hiring process more about how people perform and less about their background. Every candidate – not just the privileged ones – get an opportunity to showcase their talent, then they're automatically ranked based on how well they perform.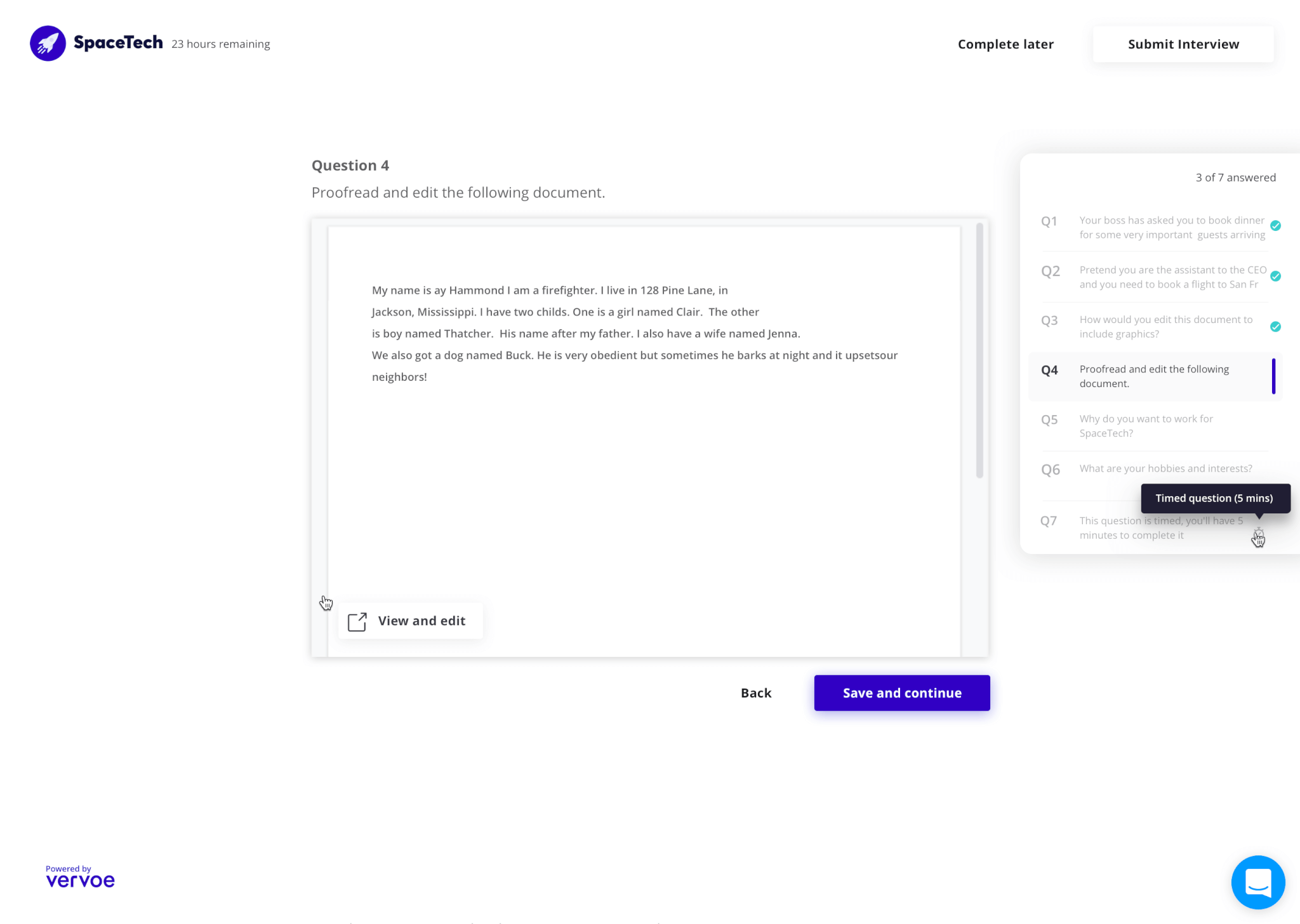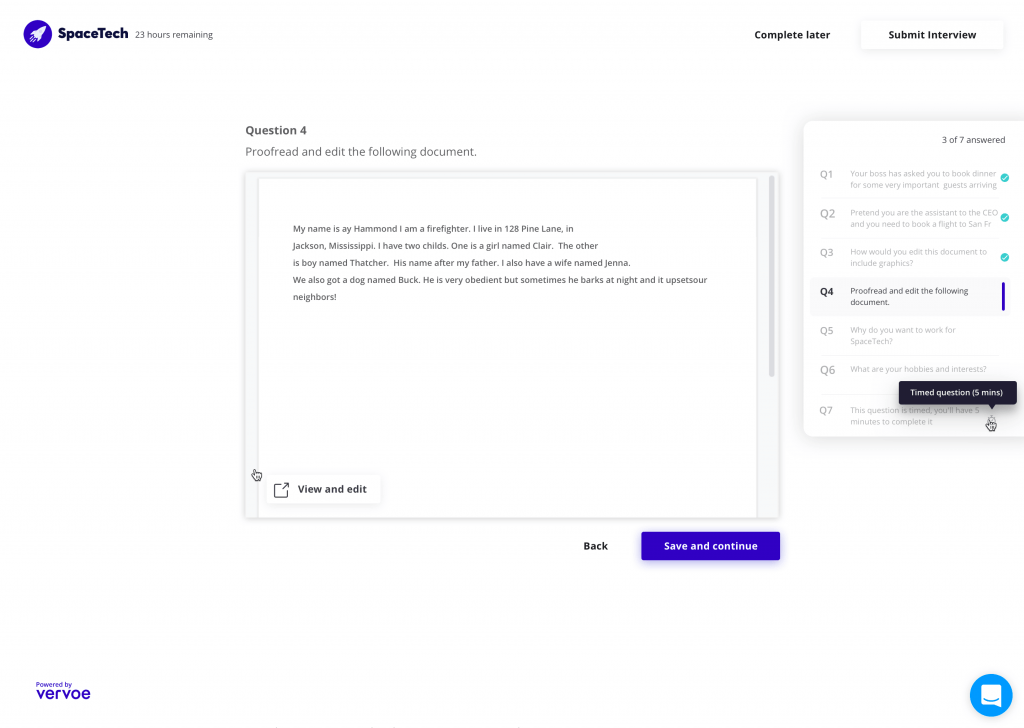 By doing so, we're helping companies build more diverse teams, and there is overwhelming evidence that companies with diverse management teams perform better than less diverse companies.
Finally, we're significantly reducing the risk of making bad hires. More than one in four employees quit to go to another company every year, and up to 80% of employee turnover is due to poor hiring practices. Bad hires can cost up to 2.5x salary, which can easily be over $100,000. By focusing on performance, you can make better hiring decisions, with confidence.
Check it out –
Candidates love it, and so do our clients.
AI-powered skill testing, for free
Vervoe's free tier lets two people from any company sign up and use Vervoe without ever entering a credit card or paying. Companies can hire one person every month, forever.
Vervoe's best features are available on our free tier, including AI-powered automated grading of candidate responses.
But wait, there's more.
We just released auto-gradable code challenges to conduct technical assessments.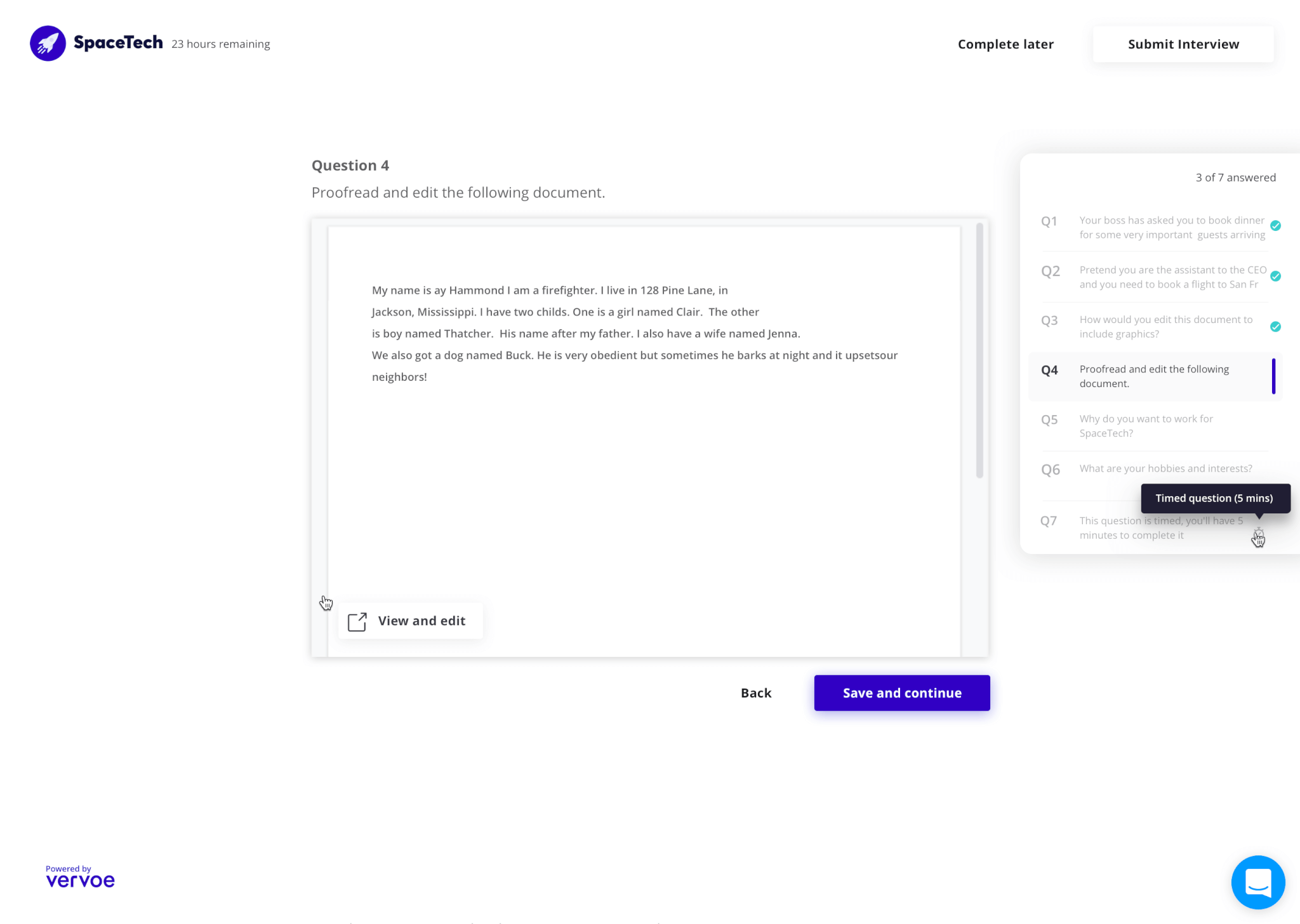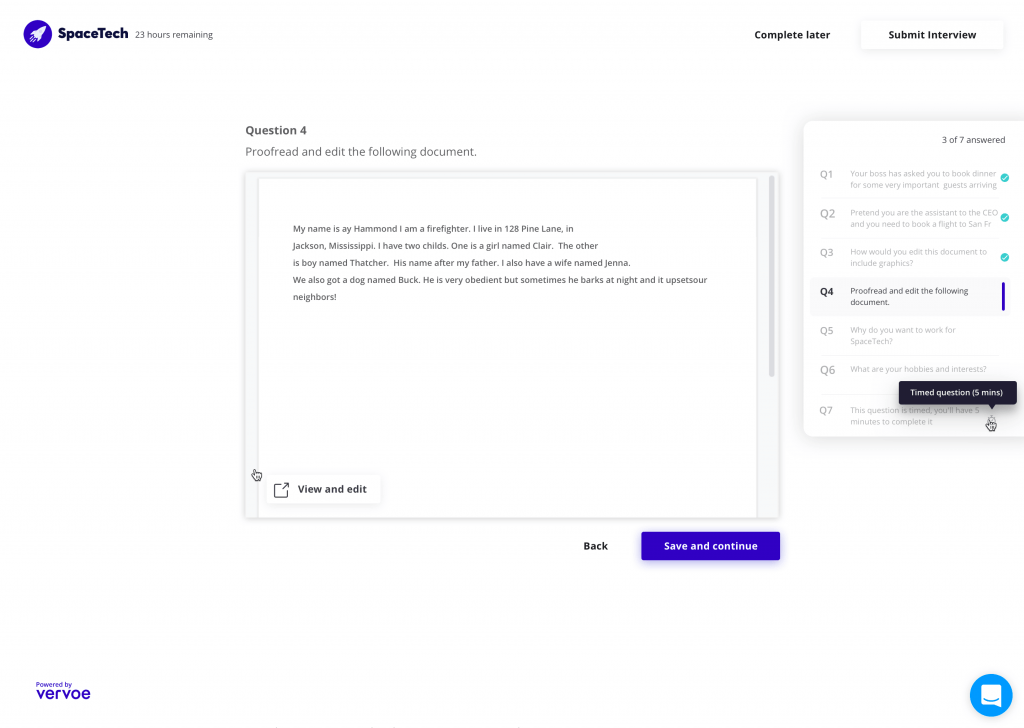 So now you can test engineers for the ability to write code, as well as soft skills, and you can do it all as part of one assessment.
With our new free tier you can start hiring immediately without having to worry about paying or committing. Just get started.