Virtual recruiting expands horizons.
For employers, virtual recruiting means an exponential increase in the talent pool. Instead of being bound by geographical constraints, businesses can access virtual talent located anywhere around the globe and across time zones.
For workers, virtual recruiting provides access to employers everywhere; not just those within easy commuting distance. Working virtually is a key enabler for improved work-life balance and subsequently increases loyalty and retention.
A Buffer survey discovered that 97.6% of workers would like to work virtually for at least some of the time for the rest of their career, while a McKinsey study found that approximately 30% of employees would consider switching jobs if their employer failed to offer full- or part-time virtual working opportunities.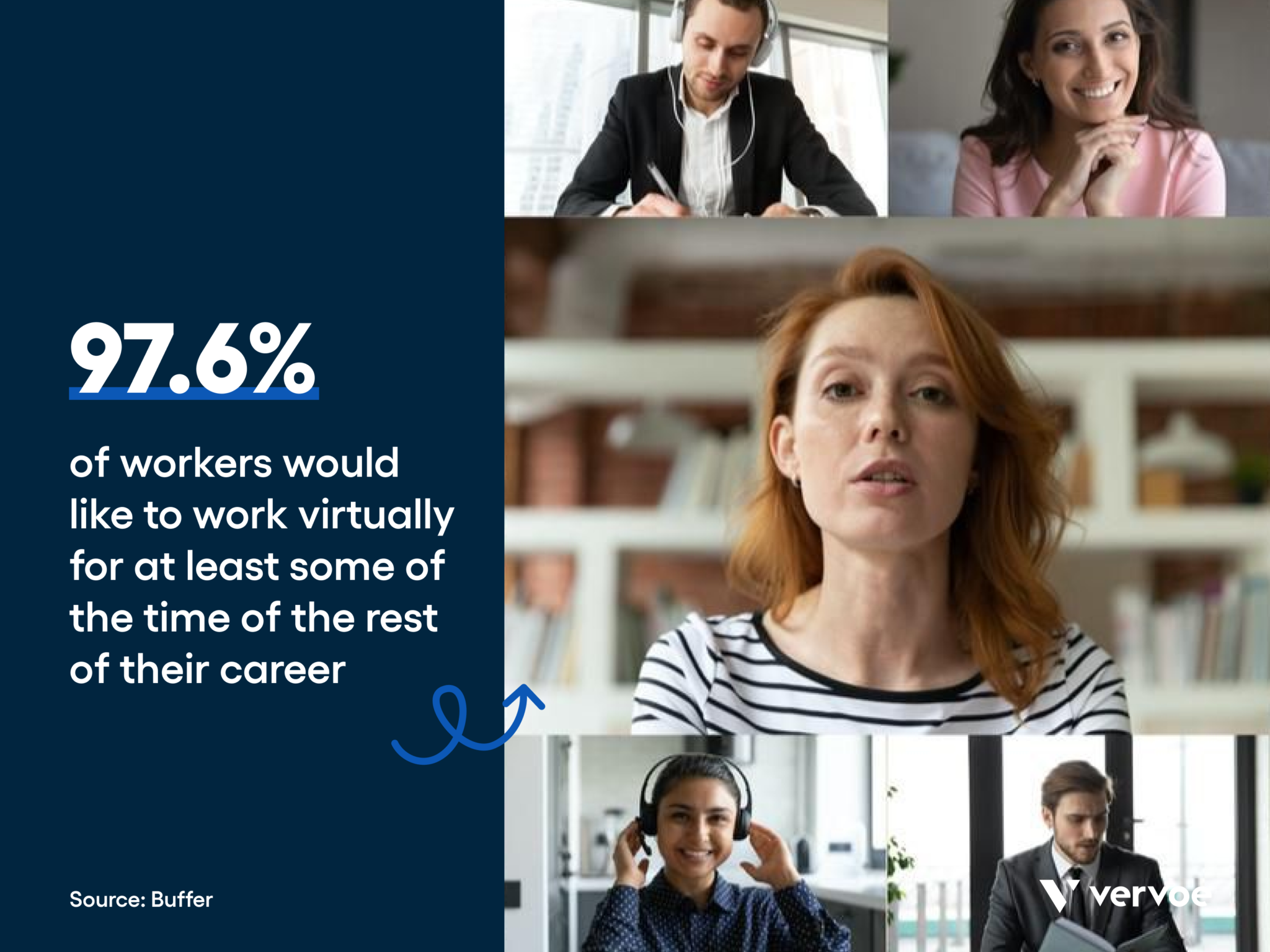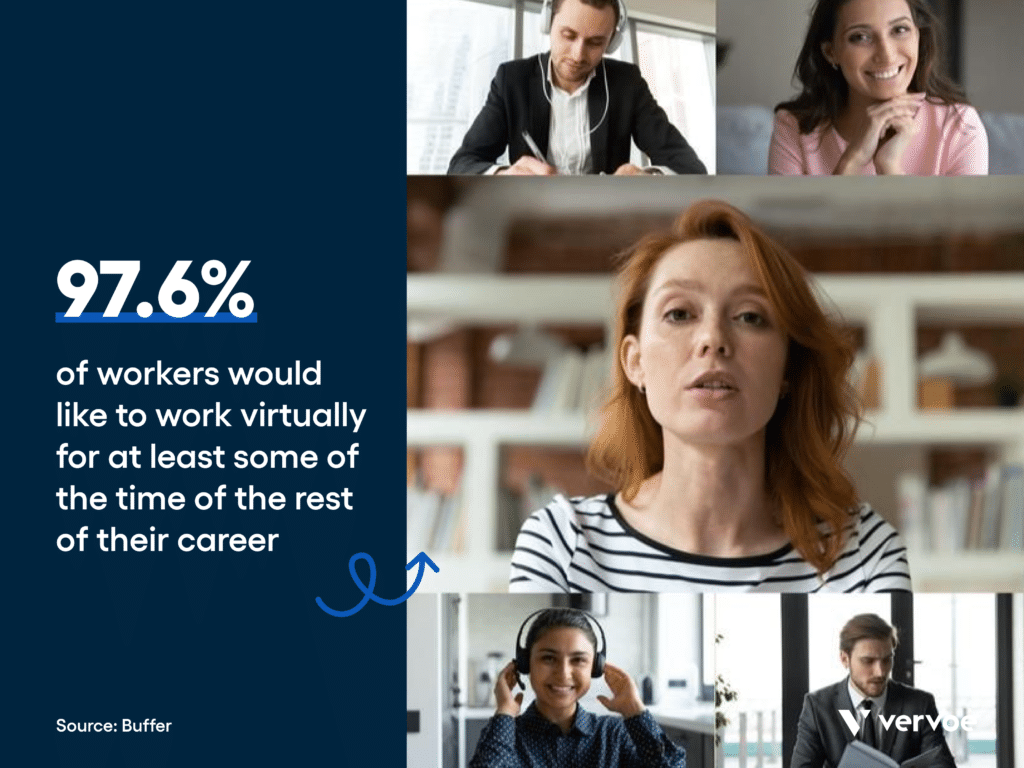 What is virtual recruiting?
Recruiting virtually means conducting some or all of the hiring process without the employer and candidate meeting face-to-face. This is made possible through the use of virtual recruiting tools including online interviewing software and online skills assessments.
Benefits of virtual recruiting
Some of the benefits of virtual recruiting include:
Access to a broader talent pool that is free from geographical constraints.
Easier interview scheduling without the need for commuting or booking office meeting rooms.
Virtual recruiting can save time even if the new hire ends up working in person in the office.
Employers can use one-way or real-time video interviewing.
Video interviews can be recorded for later review.
Employers can incorporate virtual recruiting tools that will increase hiring success such as skills testing and candidate surveys.
Virtual recruiting can be conducted in a way that reduces bias.
Challenges of virtual recruiting
Challenges involved in recruiting virtually include:
Technological acumen: While many hirers and candidates can understand how to use virtual tools with ease, others may struggle with the digital learning curve.
Technology failure: Even the most reliable online tools will not work if one of the parties has connectivity problems. 
Distractions: Not every candidate will have an opportunity to find a distraction-free environment (pets, kids) for a virtual interview. 
Reading body language: Recruiters who have traditionally assessed candidates by their body language (such as a firm handshake and the confidence with which they walk into a room) are limited to reading their facial expressions.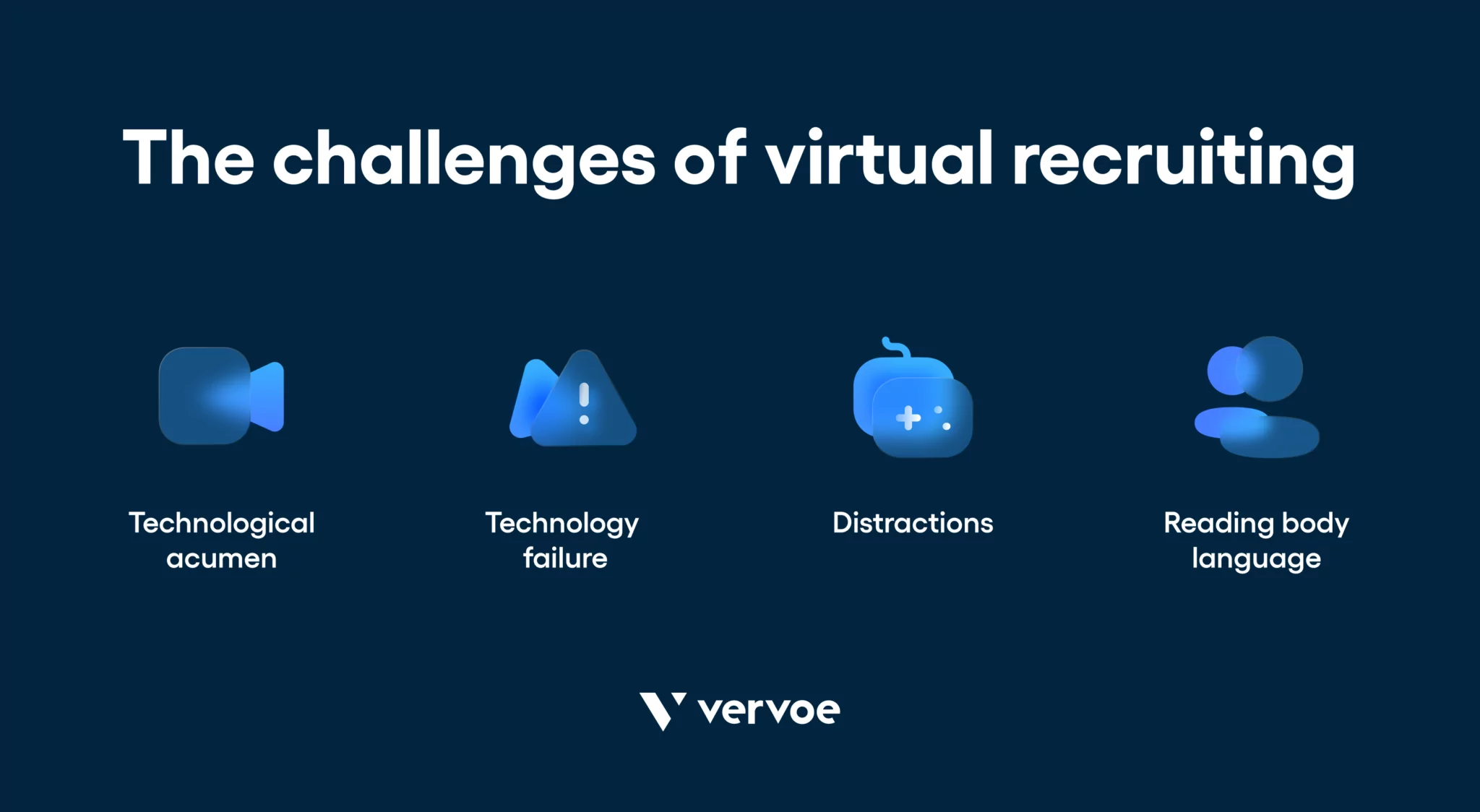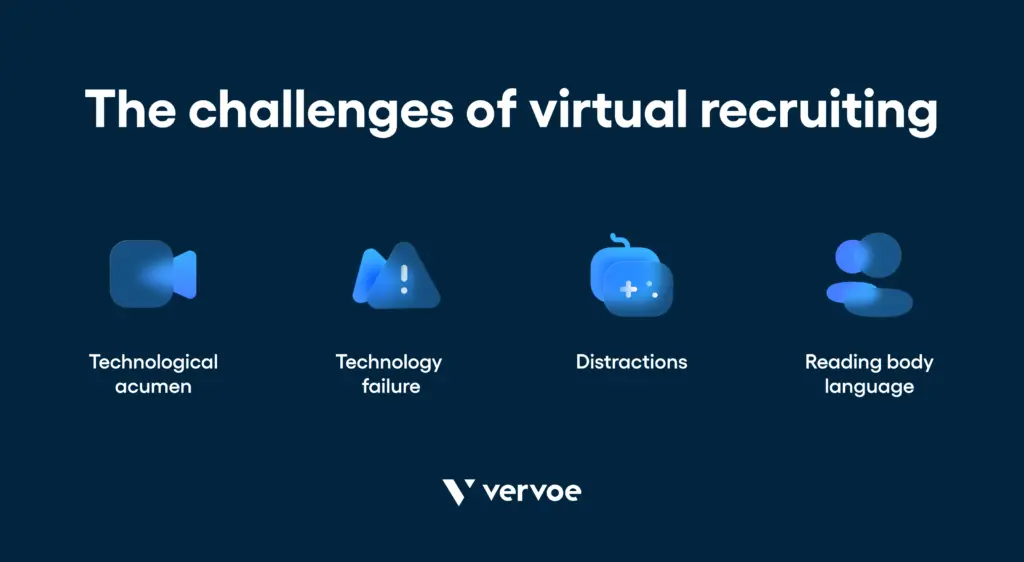 13 ideas for virtual recruiting success
Learn how to recruit virtually with these 13 virtual recruiting ideas to increase hiring success in your organization.
1. Build a virtual recruiting technology stack
Determine what you will need to run a successful virtual recruitment process. While it is possible to hire someone using only email and video conferencing software, there are several tools that can greatly improve your hiring outcomes. These include:
Real-time video interviewing software (as opposed to generic video conferencing platforms)
An applicant tracking system
Automated job posting tools
One-way video interviewing software
Automated candidate messaging systems
Candidate screening software
Skills testing tools
Virtual onboarding tools
Digital signatures
Candidate experience survey tools.
2. Automate wherever possible
Virtual recruiting strategies offer several opportunities to automate. Free up your recruitment and HR teams' time by automating job posting, candidate communication, onboarding, feedback, and screening via online skills testing.
Be sure to prioritize the candidate experience when automating the online recruiting process. Do not implement efficiency improvements that benefit the hiring team at the candidate's expense. For example, poorly-written automated candidate messaging can create an impersonal and "robotic" experience.
3. Attract virtual candidates with relevant benefits
Salary aside, many of the benefits that employers use to attract job seekers have traditionally been centered around the office: a ping-pong table, a nearby cafe, an office gym, and more. Employers seeking to hire virtual talent need to think creatively to replace these benefits with ideas such as best-in-class digital tools, access to a shared working space near the candidate's home, or access to excellent online training programs.
Virtual workers also need reassurance that they will have equal opportunities as in-office colleagues in terms of career development and promotion.
4. Set expectations and communicate effectively
Set virtual candidates up for success by giving them as much information as possible about the virtual recruitment experience and expectations. This could include letting them know the dress code (from the waist up, anyway) for video interviews, tips for using all the virtual tools involved in the hiring process and keeping them informed of timelines and next steps.
Good communication does not necessarily mean an extra burden on recruiters' time. Use automated candidate messaging tools to schedule emails and texts, or use a chatbot that has the capability to answer frequently asked questions.
5. Share the time zone burden
If you are recruiting across time zones, consider sharing the burden of late nights and early mornings. For example, if you are running two rounds of interviews, the first could be conducted during your office hours, while the second could take place later at night.
6. Promote your workplace values and culture
In a face-to-face interview situation, candidates usually have an opportunity to glimpse your workplace culture when they enter the building. They see what the facilities are like, how happy and engaged the workers seem, and dozens of other small factors that make up the overall culture.
This can be more difficult in a virtual recruitment situation. Use the job description, interview process, and onboarding process to promote your values and culture by showing them what it will be like to work with your company. For example, you may create a "day in the life" video to incorporate into the job post or host virtual recruiting events on social media.
7. Look for opportunities to reduce bias
There are several ways to reduce bias in virtual recruitment.
"Blind" resume reading software can be set up in a way that ignores information that could contribute to unconscious bias such as the candidates' name, gender, location, age, and more.
Better still, screening candidates with skills testing instead of resumes will mean virtual candidates are ranked only according to the skills that matter.
Reduce bias at the video interview stage by asking candidates exactly the same, standardized interview questions and assess them all in the same way. Conducting a panel interview rather than having a one-on-one situation also helps promote fairness and reduce bias.
8. Consider using one-way video interviews
One-way video interviewing is a way to save time in high-volume virtual recruitment by removing scheduling conflicts and enabling reviewers to assess pre-recorded interviews when it suits them. Every candidate answers exactly the same set of questions to help reduce bias. Be sure to set up candidates for success by providing them with tips for best-practice one-way interviewing.
9. Screen and rank candidates with skills testing
Incorporate skills testing into your virtual recruitment process to see who can do the job before you hire them. Skills testing will help you uncover the most qualified people based on how they perform tasks and challenges specific to your business. The top performers can then be moved to the interview stage.
With virtual recruitment, be sure to test candidates for virtual working skills such as self-motivation, technical acumen, time management, and communication.
10. Use virtual onboarding
Virtual onboarding saves time and helps new starters get up to speed in productivity faster. Benefits include:
Paperless onboarding
Getting administrative and compliance tasks done before the new hire's first day at work.
Setting up virtual meetings between the new hire and their manager, colleagues, and stakeholders.
Introducing the candidate to your organizational culture and values.
Creating an audit trail to prove candidates have completed vital onboarding tasks such as a Health and Safety induction.
11. Gather feedback on the candidate experience
Survey both successful and unsuccessful candidates to ask them what went well in the virtual recruitment process, and what they think could be improved. Candidates may reveal areas of improvement such as not communicating enough, communicating too much, a confusing or lengthy online application process, a badly-written job description, a poor video interviewing experience, and more.
12. Use virtual recruitment tool analytics
Use the analytics capabilities of your virtual recruitment technology stack to track metrics and KPIs such as understanding where your candidates are sourced from, where candidates are most likely to drop out of the application process, and time- and cost-to-hire. Armed with this data, look for opportunities to improve efficiency while prioritizing the candidate experience.
13. Have a plan B for when things go wrong
Video conferencing tools are becoming increasingly reliable, but things inevitably go wrong, such as the interviewee's internet connection being disrupted.
Create a plan B for this eventuality, and be sure to communicate it to the candidate before the interview takes place. Plan B might involve emailing the candidate to reschedule the interview, or continuing the discussion via another channel such as instant messaging or a phone call.
Don't blame or judge candidates for connectivity problems and other technical glitches. However, observing how they cope with a small challenge can be a helpful way of assessing their potential to deal with a larger crisis. Did they seem flustered, or did they remain calm?
---
Hire globally with Vervoe's virtual recruiting software, designed to give the complete picture to make great hires that optimizes your virtual team.