A recruiter reached out to me on LinkedIn last week to ask if I'd interview for their content manager role. Out of curiosity, I looked. It turned out to be the same role from a company I'd seen open three months ago when I was actively searching for a job.
The odds are, you've seen something like that as well. Job vacancies open for months — or closed and reopened several times a year. Maybe you even have a few job postings still open after months yourself.
Skills shortages occur when employers face difficulty filling vacancies — and that's what's happening right now. Over the past year, 75% of companies have reported difficulty recruiting qualified talent, according to ManpowerGroup.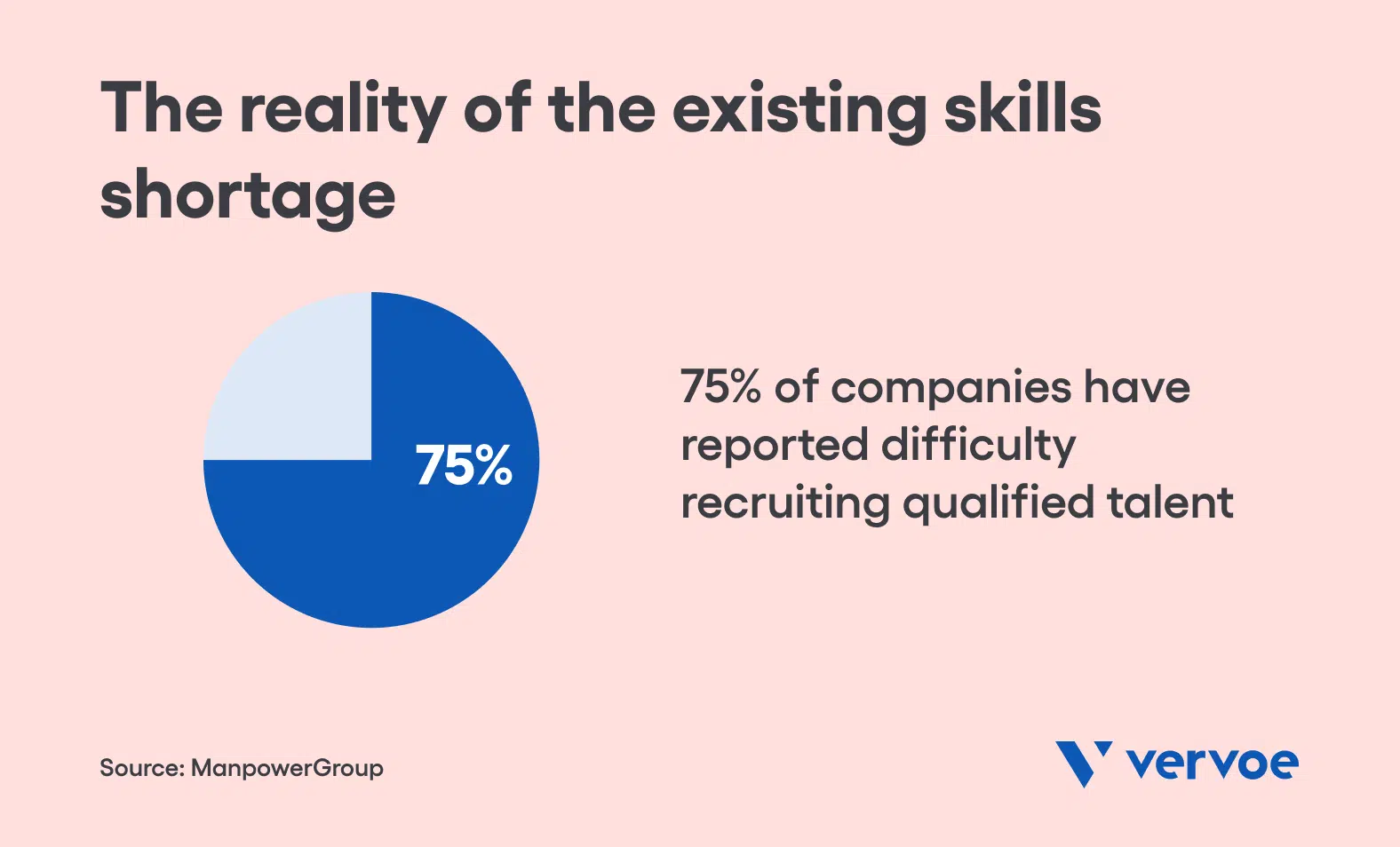 Whether it's fewer skilled candidates in the market or higher remuneration expectations, these difficulties challenge how businesses function.
Here are 10 data points that show the current situation, what's causing it, and what you can do about it.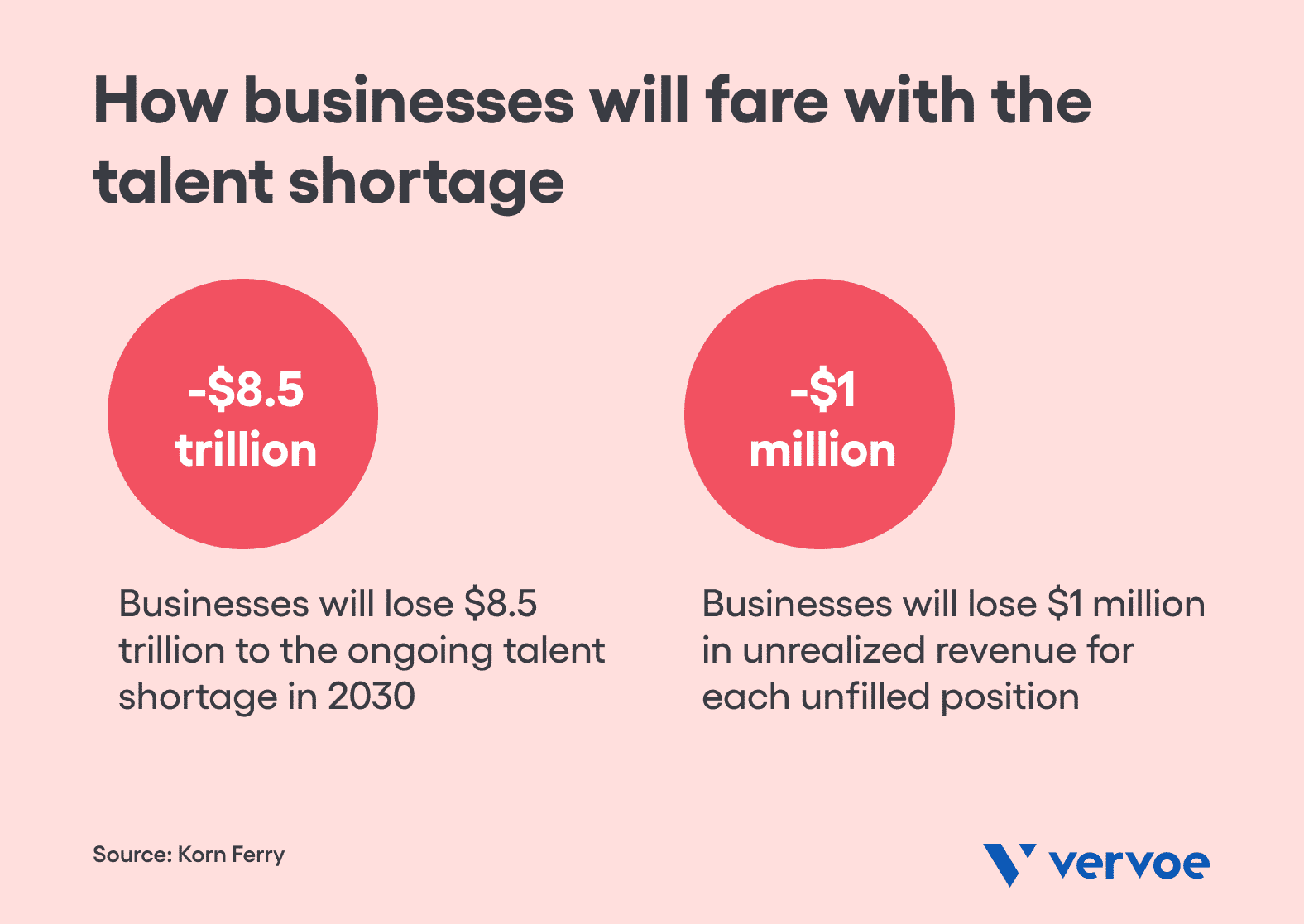 Skills shortage: The current market state
For the first time in history, up to 75% of organizations are struggling to find talent to meet their needs. That means fewer than three of 10 companies hiring for roles find the right candidate without difficulty.
Just six years ago, in 2016, the number of companies hiring without difficulty would have been six out of 10.
Unfortunately, in the past three years alone, the talent shortage has climbed significantly each year — to almost double pre-recession figures in 2022.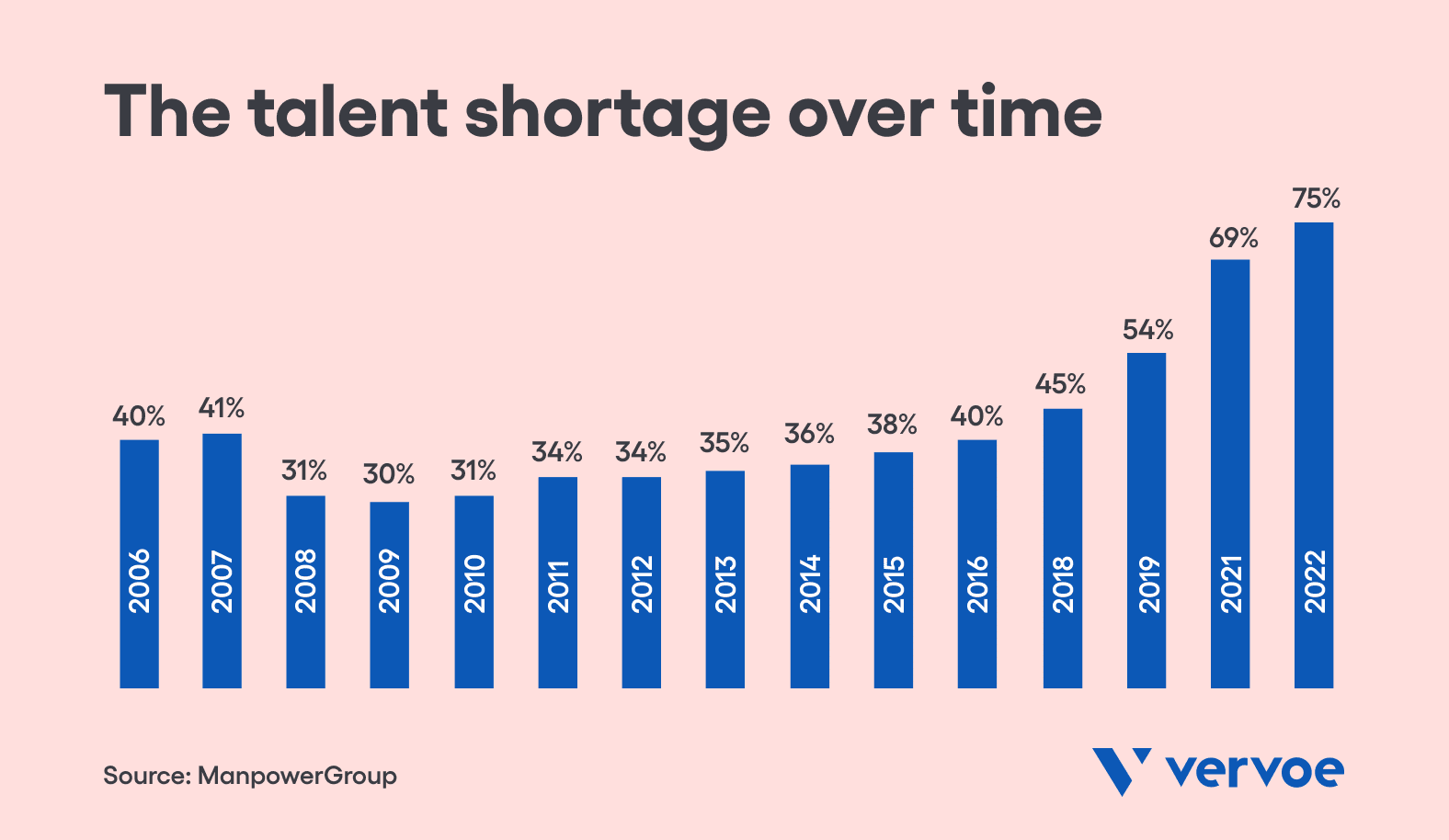 At the current rate, there'll be 85 million unfilled jobs by 2030. That's almost the entire population of Turkey or Germany.
The problem is that organizations are barely prepared for this shift, given the widening gap. 2 in 3 companies don't know how to equip their business with the talent they need to run efficiently in the face of technology and changing market trends.
And even your current employees aren't guaranteed. If the paycheck is small, they feel disrespected or don't see growth opportunities, meaning there's a high chance your people are looking for better jobs. In fact, 4 in 10 employees are thinking of looking for a new job, according to WorkHuman research.
We talked to a few organizations to understand their experience, and they all echoed the research.
"It's hard to find top talent and meet their demands. I have no problem looking for interns or juniors, but specialists are not easy to get," says Maciek Kubiak, Head of People at PhotoAiD.
What's causing this shortage?
The top three reasons organizations are experiencing a talent shortage:
Competition from other employers
Inadequate candidate work experience
A lack of technical skills
And it makes sense: the tech we use at work keeps evolving, and unfortunately, people aren't learning as quickly.
Most hiring managers and even employees believe AI and other tech forms change the skills people need at work. However, these skills aren't taught at school, and employees aren't receiving the training they need either.
It also doesn't help that some jobs need specialists with years of experience.
Therefore, the few people with the skills and experience on par with today's modern workforce get the pick of companies to work for.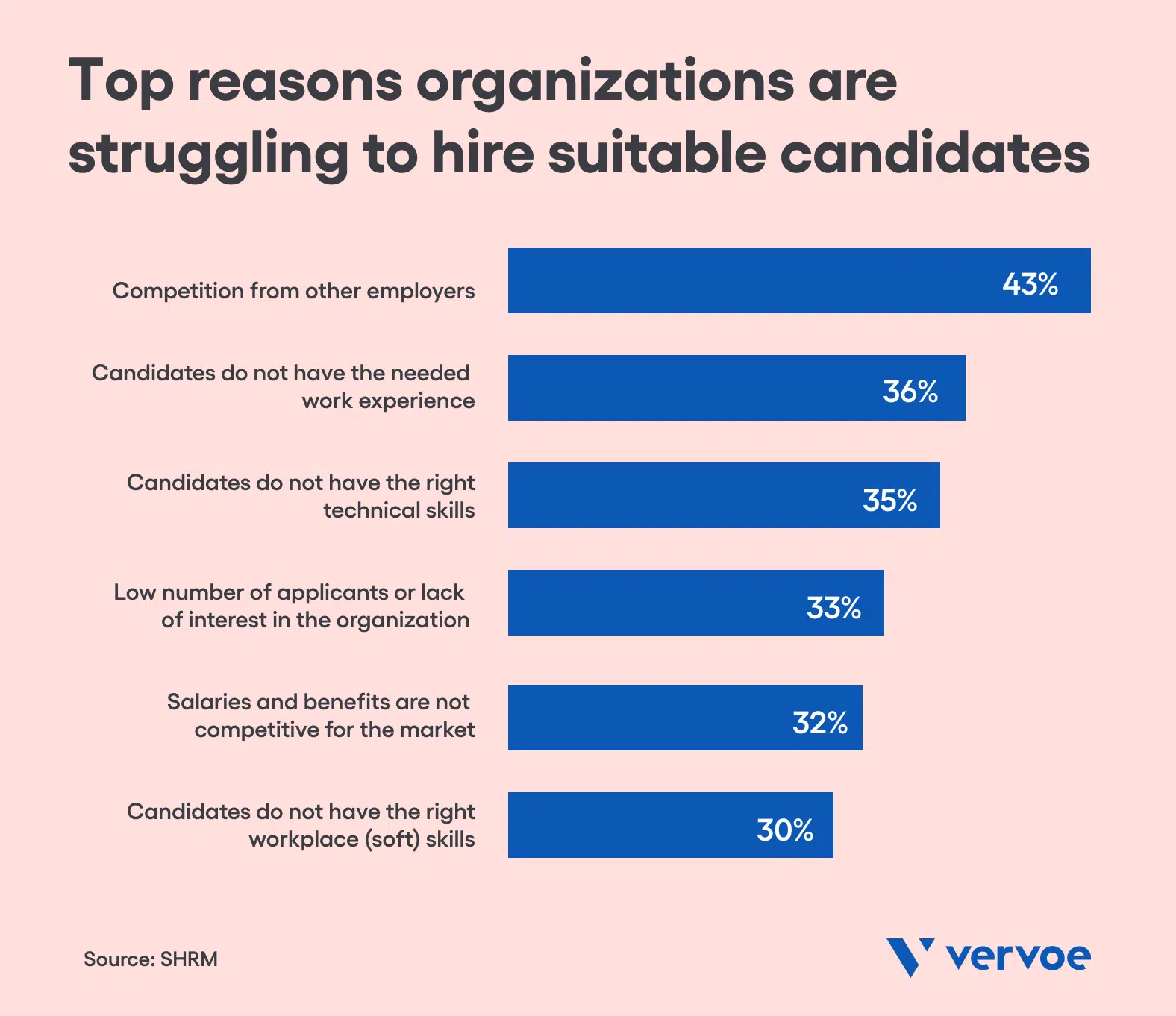 Our respondents also called out the rise in remote work as a major factor.
David Aylor, Founder of David Aylor Law Offices, says, "many people became accustomed to working from home when the pandemic broke out. Now that many jobs are returning to in-person environments, people do not want to give up the freedom they've found in remote work."
This echoes "lack of interest" and "non-competitive benefits" as other top reasons, as suggested by the SHRM report.
Effects: How businesses will fare with the talent shortage
If the Korn Ferry prediction is anything to go by, businesses will lose $8.5 trillion to the ongoing talent shortage in 2030 alone. That's approximately $1 million in unrealized revenue for each unfilled position.
That loss will likely come from the lack of efficiency and a loss of innovative contributions from great hires not made.
Hiring the right person can boost business profits by up to 40% every year, according to LinkedIn. But with more competition for skilled talent, organizations will either hire a mismatched candidate or fail to hire at all.
Who will the skill shortage affect most?
Large companies, G20 countries, and the tech and marketing field seem to be taking the biggest hits.
Companies with 250+ employees currently face and will continue to face difficulties recruiting compared to smaller companies. While a micro to small-sized company with less than 50 employees faces a 64% talent shortage rate, larger companies will come in at 74%.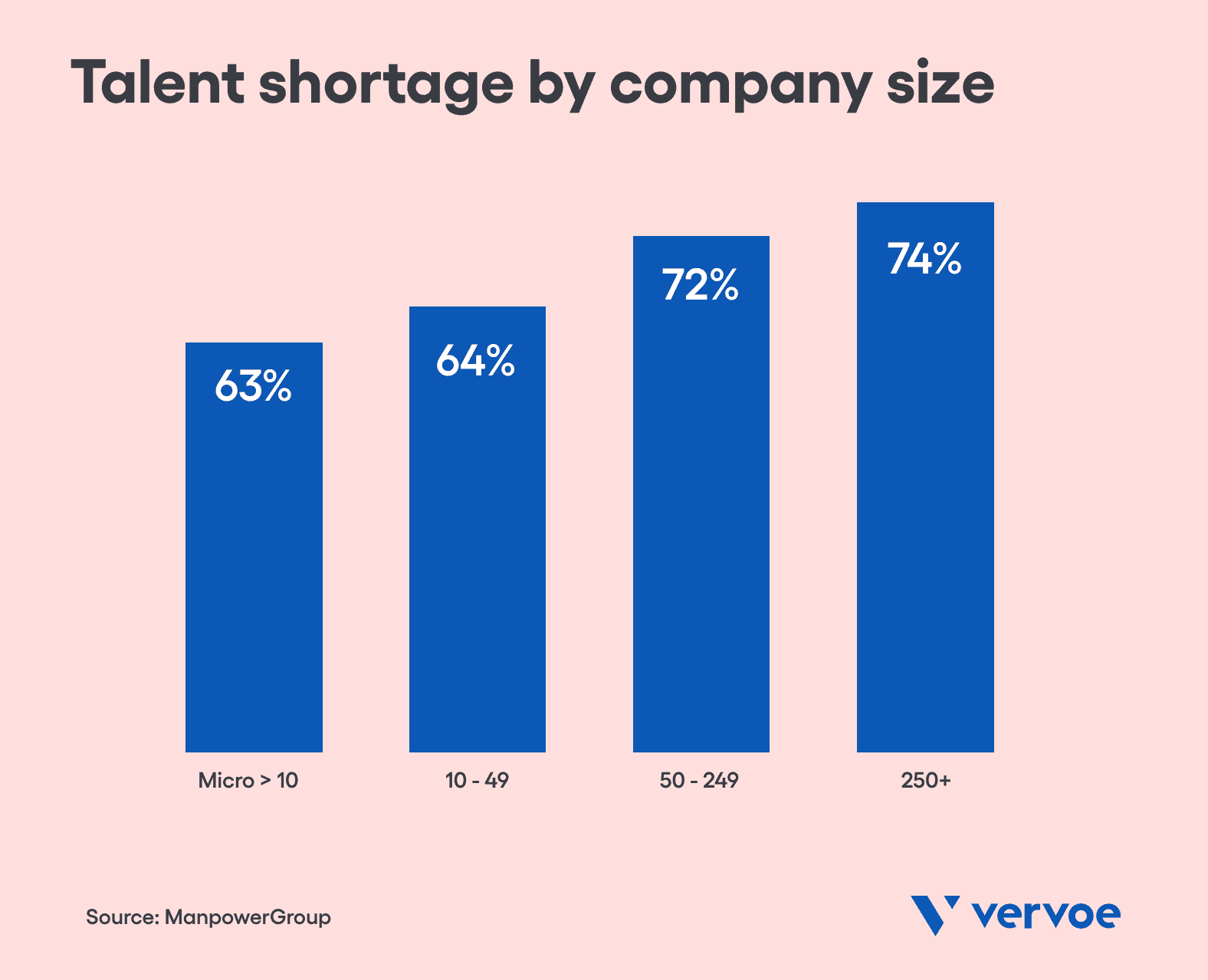 As for locations, Japan, Indonesia, and Brazil may each see 18 million positions go unfilled by 2030. Predictions also place China at an expected 12 million person talent shortage. And Russia and the US at an expected deficit of around 6 million.
As for industries, our respondents say it's harder to recruit tech people and marketing specialists, especially if you're not a remote company.
Roles in data analytics, web design, management, and sales and marketing top the list of business areas organizations should worry about.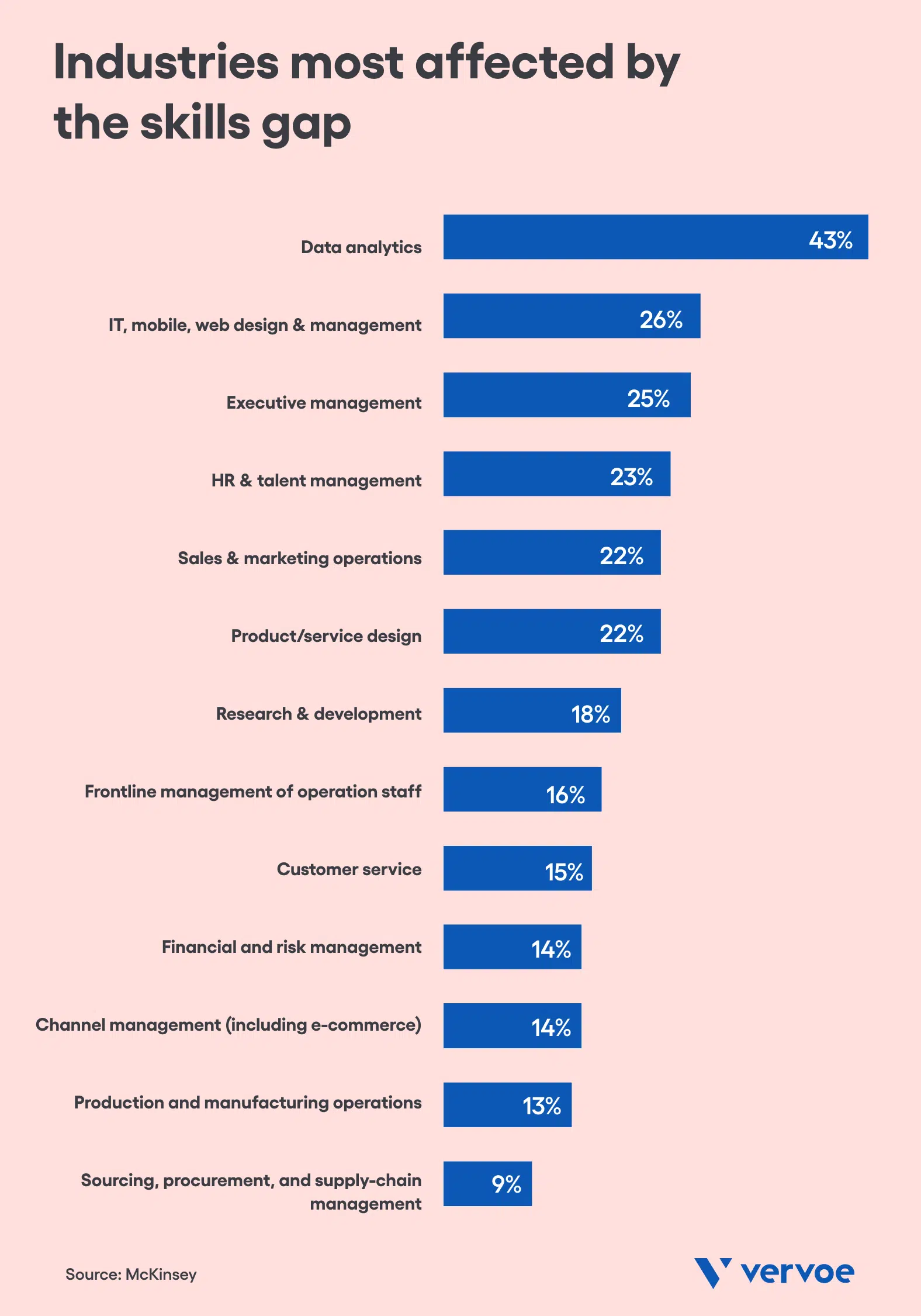 What people are doing to combat the skills shortage
Over 65% of organizations are turning to hiring to close potential skill gaps. The second most common tactic is reskilling existing employees.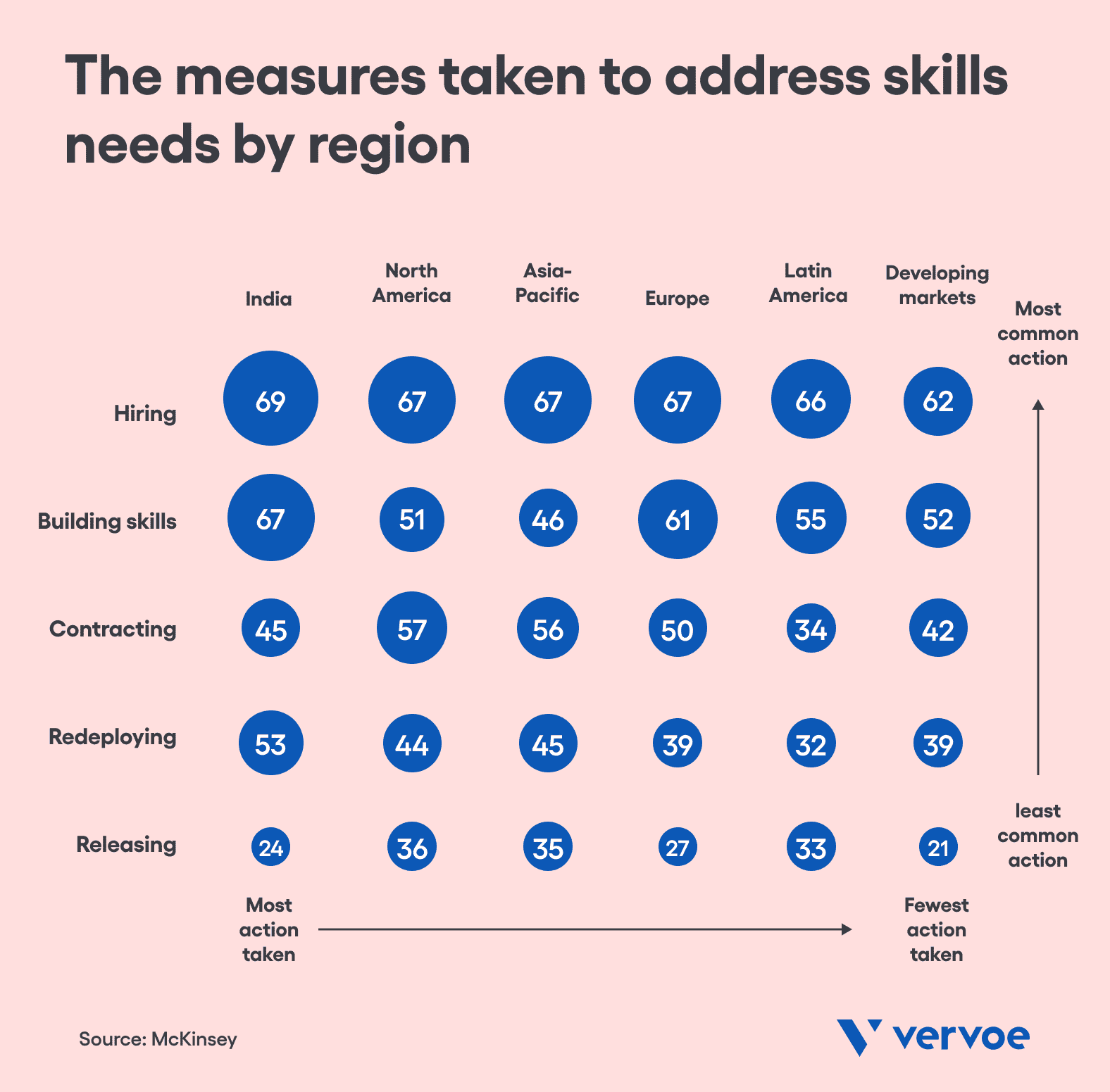 Here are some of the measures our respondents have taken to address their own skill needs:
Attending local events, volunteering, and hosting a scholarship program for full-time students to remain active in the community. This is great for employer branding.
Emphasizing company culture and workplace experience during interviews.
Hiring eager people and providing training.
Recruiting on social media (i.e., LinkedIn) and looking for people who are active on forums with proven expertise.
Using niche job boards to avoid a large number of inadequate applicants.
Encouraging employee referrals.
To summarize, Ellen O'Brien, Marketing Director at ArmoredThings, says "network like crazy. Contract to hire. Make current employees happy, so they spread the word."
Additionally, David from David Aylor Law Offices says, "don't pass over potential applicants because they don't have years of experience. Many college applicants do have unofficial work histories through internships. Ask them about their internship and what they did."
Tip: Supercharge your hiring efforts with skills testing. Add skills testing as the first step in your hiring process to quickly filter for the most suitable candidates in a sea of unsuitable applicants.
Could the skills shortage be self-inflicted?
It's easy to blame the skills shortage on candidates lacking skills. But evidence shows that organizations may play a part as well. Consider the following research:
Companies aren't offering competitive compensation, benefits, or compelling culture offerings. These are the same reasons why companies have a low retention rate.
Organizations aren't investing in training and skills-building for employees. An MIT and Deloitte study showed only 34% of employees believe their organization invests in skills development for them.
When there are many candidates, companies increase their requirements for applicants. And some job requirements tend to be 'nice to have' rather than the core skills needed for the role.
Even though degrees aren't a good indicator of success, companies prioritize degrees over skills.
Despite all the tools available to hire globally, companies still limit their search to a specific demographic location, even when the job can be done remotely. For example, while America suffers a tech skills shortage, India could have a surplus of 1 million high-skilled tech workers by 2030.
Hiring teams don't use niche job boards and tools like skills testing automation to find suitable candidates.
Let's consider the reasons for the Great Resignation, for example. Skilled workers quit due to low pay, few advancement opportunities, disrespect, and a lack of benefits and flexibility.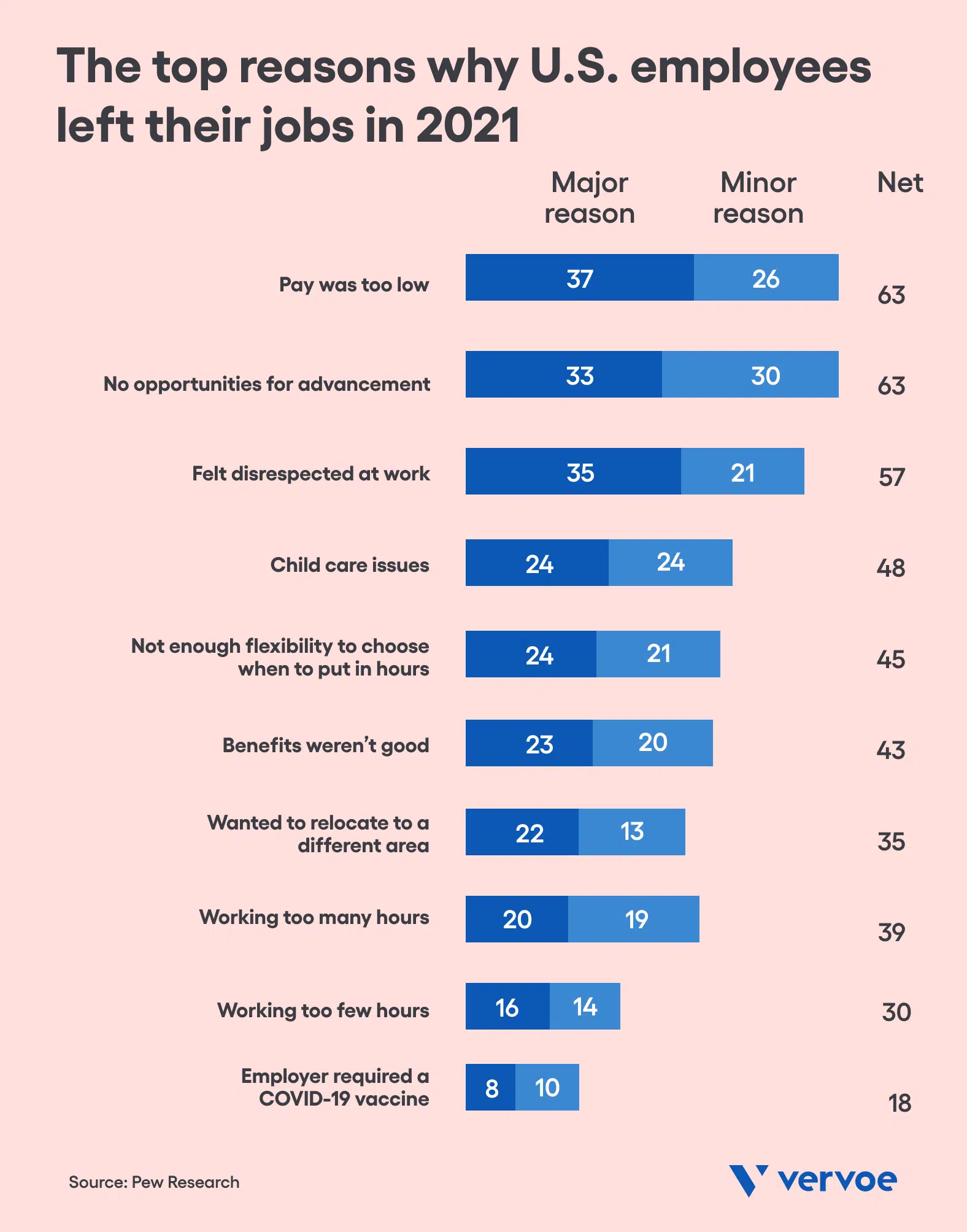 What does the research suggest? Employers who broaden the hiring scope, invest in their employees, and reflect that in their hiring process will attract, convert, and retain the most skilled candidates.
Employers who fail to do those things will not only miss out on attracting good candidates; they'll see 4 in 10 current employees looking for new jobs, also.
Bottom line: Reskill current employees and prioritize skills-testing for new applicants
In today's competitive labor market, employers who don't invest in the workforce they already have will lose them to other companies. So, one might assume the solution is simple: invest in culture, compensation, and flexibility, but don't leave out growth opportunities or skills building.
Besides retaining talent, companies that offer digital skills training are more likely to reap the reward and attract a higher quantity of quality candidates.
And when you receive that massive influx of candidates, set up skills testing as the first step. That way, you'll quickly filter out unsuitable job seekers, leaving room for you to focus your efforts on the skilled talent you find. This is important for the candidate experience, your employer branding, and making the right hire.
Book a demo with our sales team today or get started to learn more about Vervoe's skills assessments.