Shortlisting is the process of narrowing down a pool of candidates to those most likely to meet the criteria listed in the job description. Creating a shortlist of top applicants allows hiring teams to reduce time-to-hire, provide a better candidate experience, and save on recruiting costs by hiring the best candidate the first time around.
Shortlisting involves a few more steps beyond simply ranking candidates based on who you think is the best fit for the open role. The success of your CV shortlisting process hinges on two things: your shortlist criteria and the shortlisting tools you use to help you efficiently sort through candidates. Especially in a high volume recruitment event, shortlist software is critical to applying your shortlist criteria consistently, objectively, and fairly.
[Read more: The Recruiter's Guide to Shortlisting Candidates]
CV shortlisting software is often billed as "resume screening software" or as a capability included with applicant tracking software. Here are some resume shortlisting software tools that your hiring team can use to stay organized, streamline hiring, and target the best candidates early on in the hiring process.
Candidate selection tools
A candidate selection tool collects data about a candidate's skills using assessments, allowing recruiters to use data in the preliminary screening process to identify the best applicants. Many of these tools also include automated workflows to help teams communicate.
Candidate selection tools provide a way to measure a candidate against your pre-determined shortlist criteria. For instance, if one of your mandatory skills is using Microsoft Excel, you can test a candidate's Excel skills with an assessment and rank their results against other applicants. The candidate selection tool can then deliver a list of the top 10 shortlisted candidates with minimal manual effort from the recruiting team.
Here are a nine candidate selection tools designed to help with candidate shortlisting.
1. Vervoe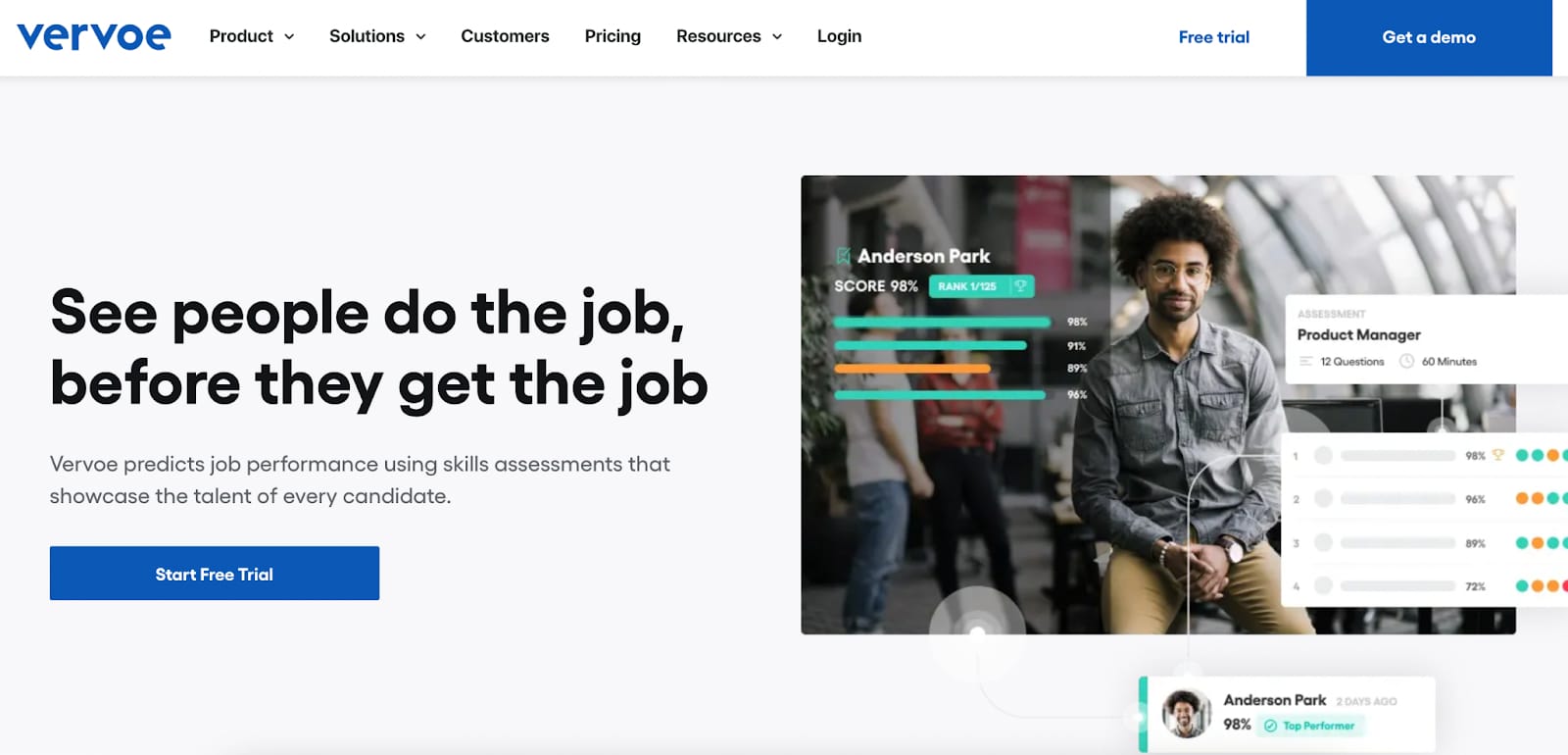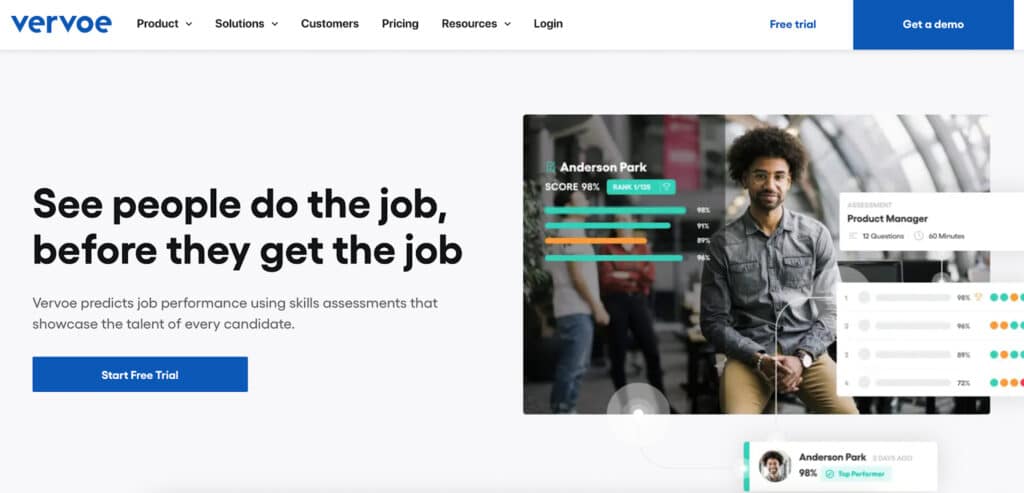 Vervoe offers skill assessments that are scored automatically — or, more specifically, candidates are ranked against one another so no one is ruled out. Within the platform, Vervoe's compare feature will allow you to review your shortlisted candidates' scores and responses side by side. If there are files, videos, or code responses, they will expand out into a modal for ease of use. Recruiters can go in and see each individual's strengths before extending invitations to the interview phase.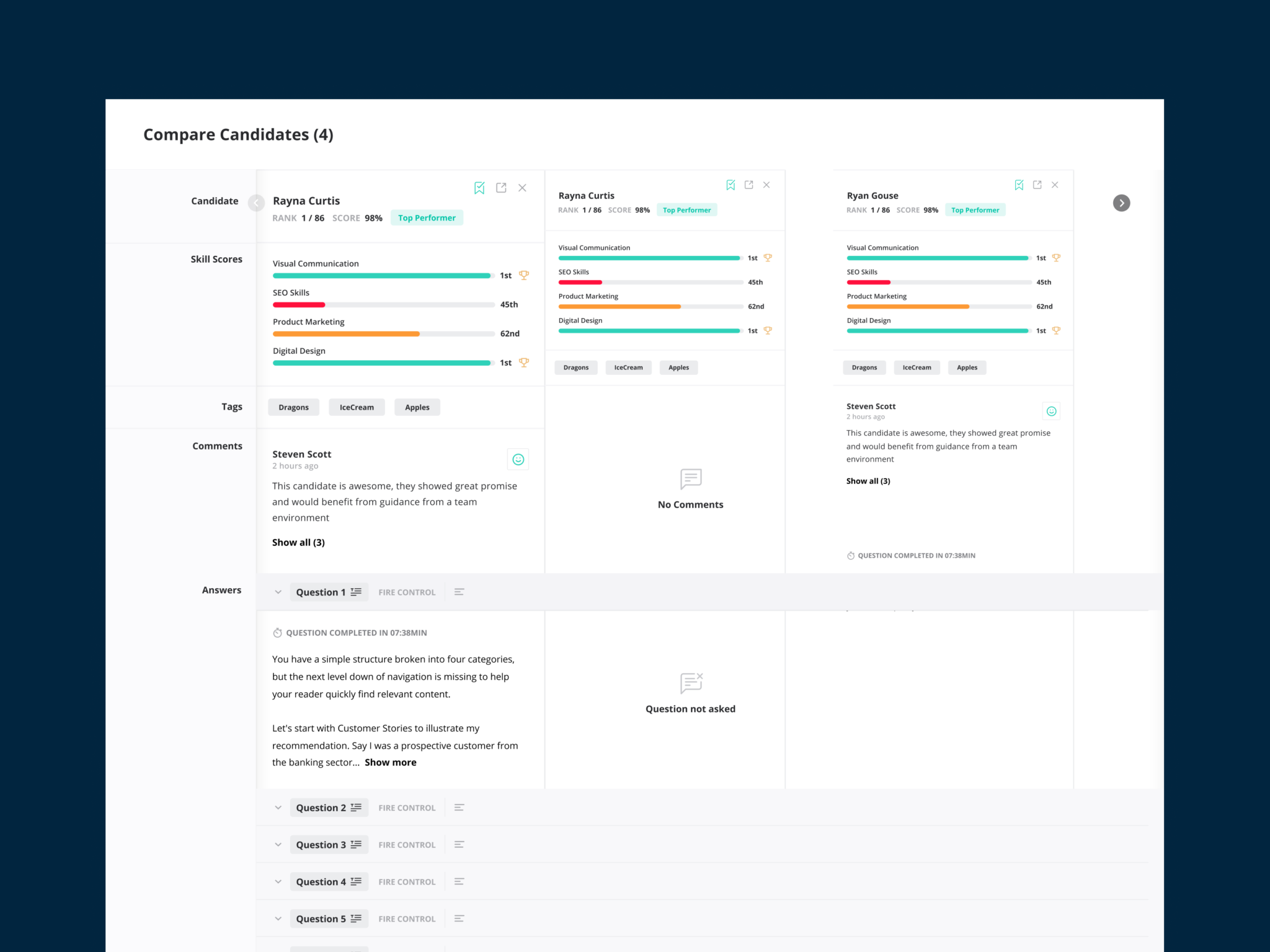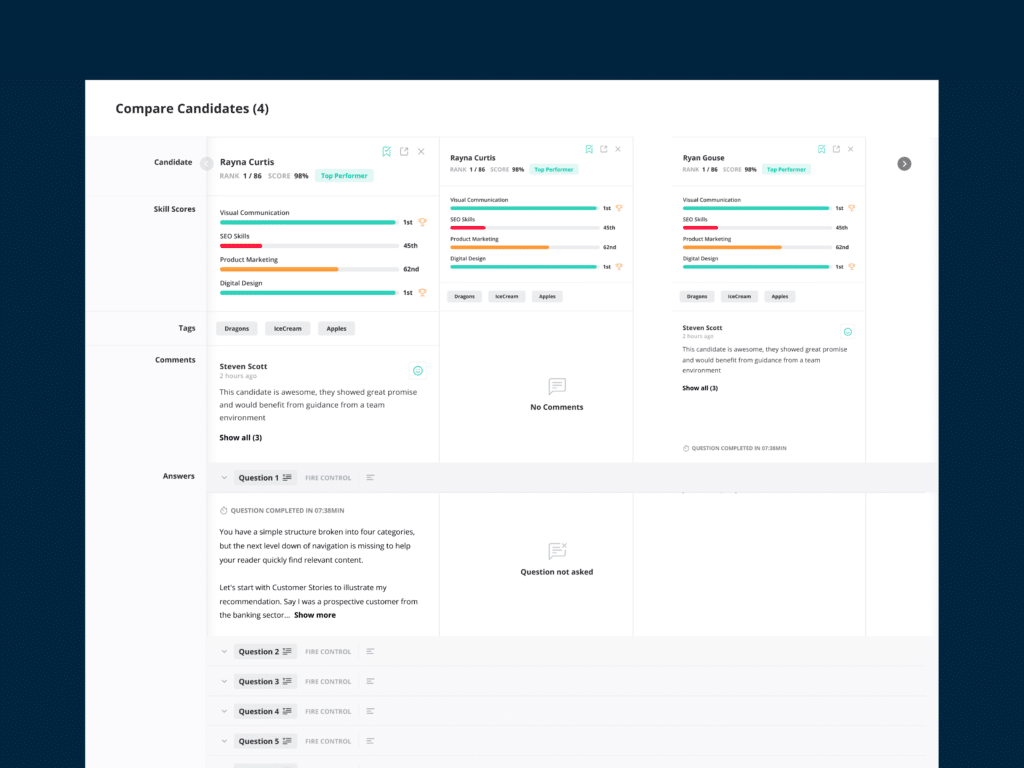 2. HackerRank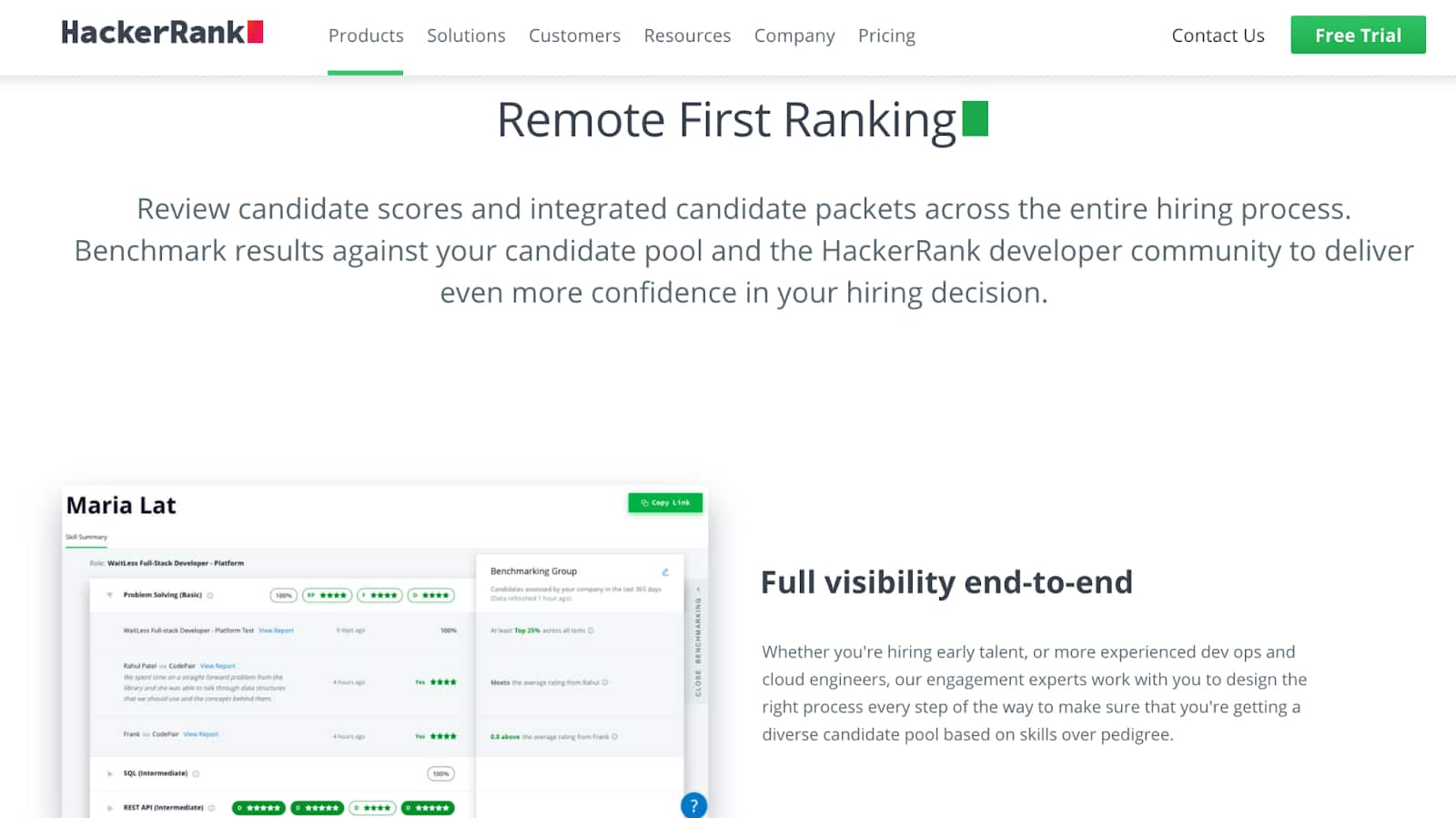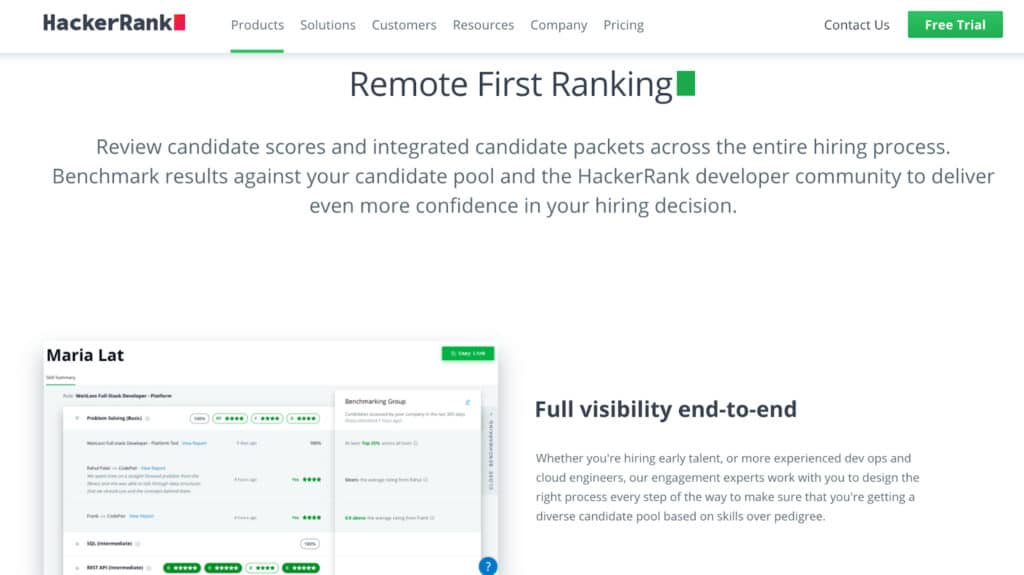 HackerRank offers deep technical testing for developers, coders, engineers, cloud architects, and other similar roles. HackerRank offers skill assessments benchmarked against the 11+ million-strong HackerRank developer community, one of the largest online developer communities in the world. For non-technical recruiters, HackerRank also helps you understand the strength of each candidate's score.
Applicant tracking systems
Many applicant tracking systems (ATSs) include features that automate resume screening. According to research from Jobscan, 98% of Fortune 500 companies use an ATS, to filter resumes before a hiring manager does their review.
An applicant tracking system parses resumes to see how well they match the job description or other criteria that a recruiting team has set for screening purposes. "Some applicant tracking systems will compare your resume to the job description and rank applicants based on how well their resume matches the job description. Recruiters can focus on top-ranked candidates instead of reading through each resume," wrote Jobscan.
The advantage of using an ATS is that it can escalate the best candidates for an open position. However, an ATS is limited in that it only selects a candidate based on the list of qualifications and certifications on a resume, rather than using a skill test to assess real capabilities and experience.
[Read more: The Best Applicant Tracking Systems — 10 Top Tools Reviewed]
3. SmartRecruiters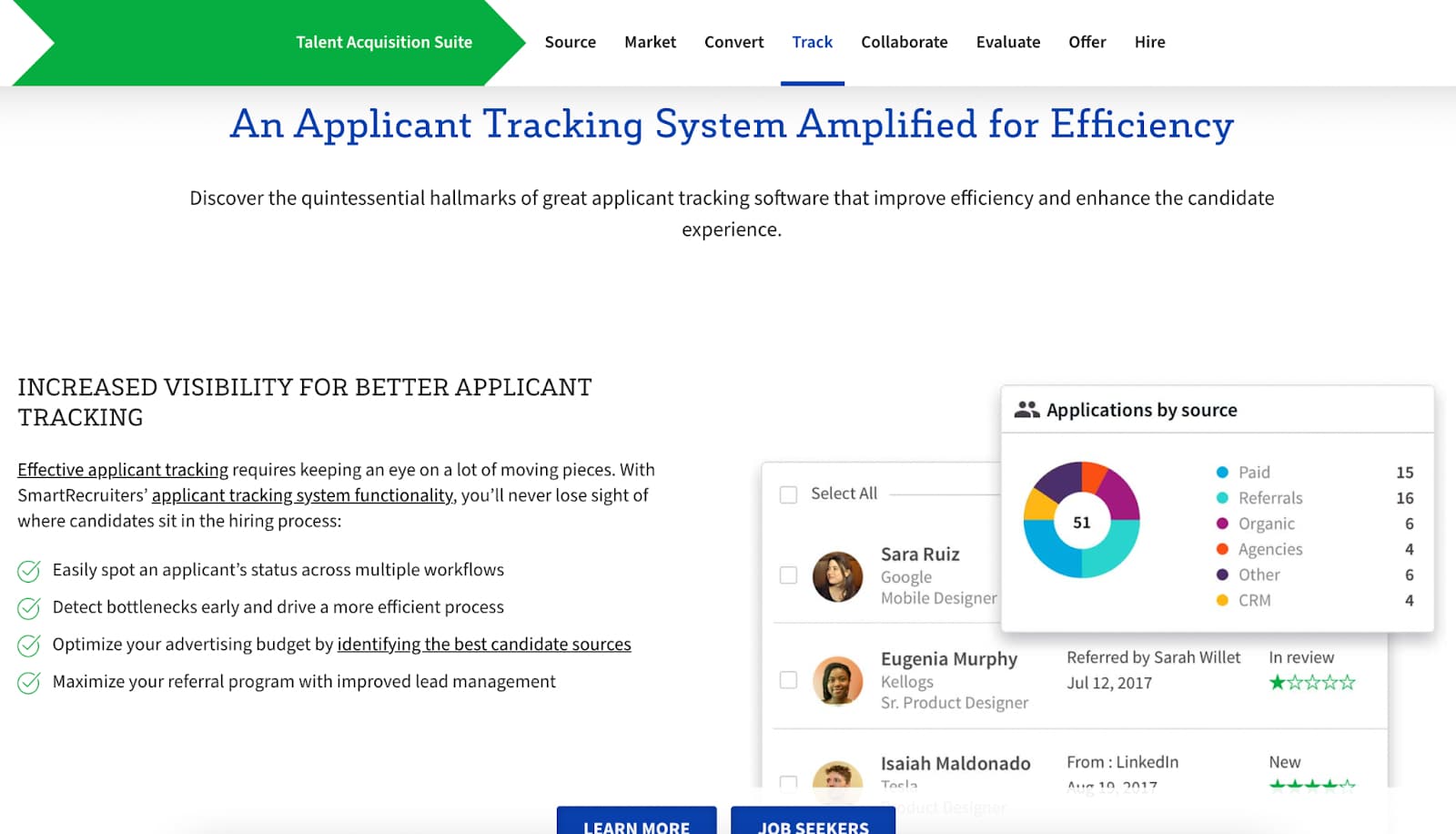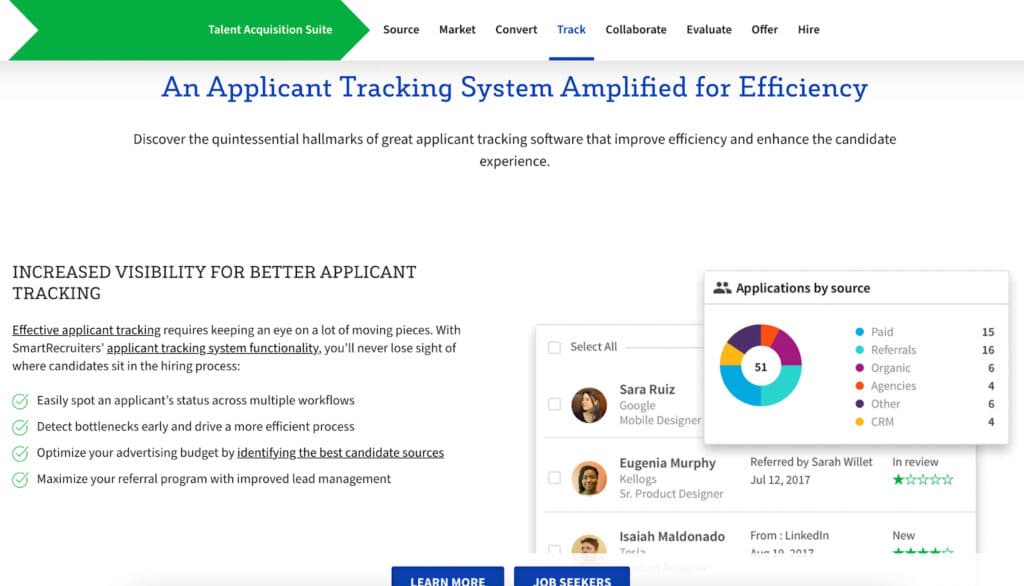 SmartRecruiters' ATS works with Vervoe and other skill tests to offer pre-integrated assessments tools that make it easy to generate a candidate shortlist. This ATS includes a useful feedback loop so you can see where your best candidates come from, allowing you to optimize your pipeline and continuously source great applications for all your open positions.
4. Workable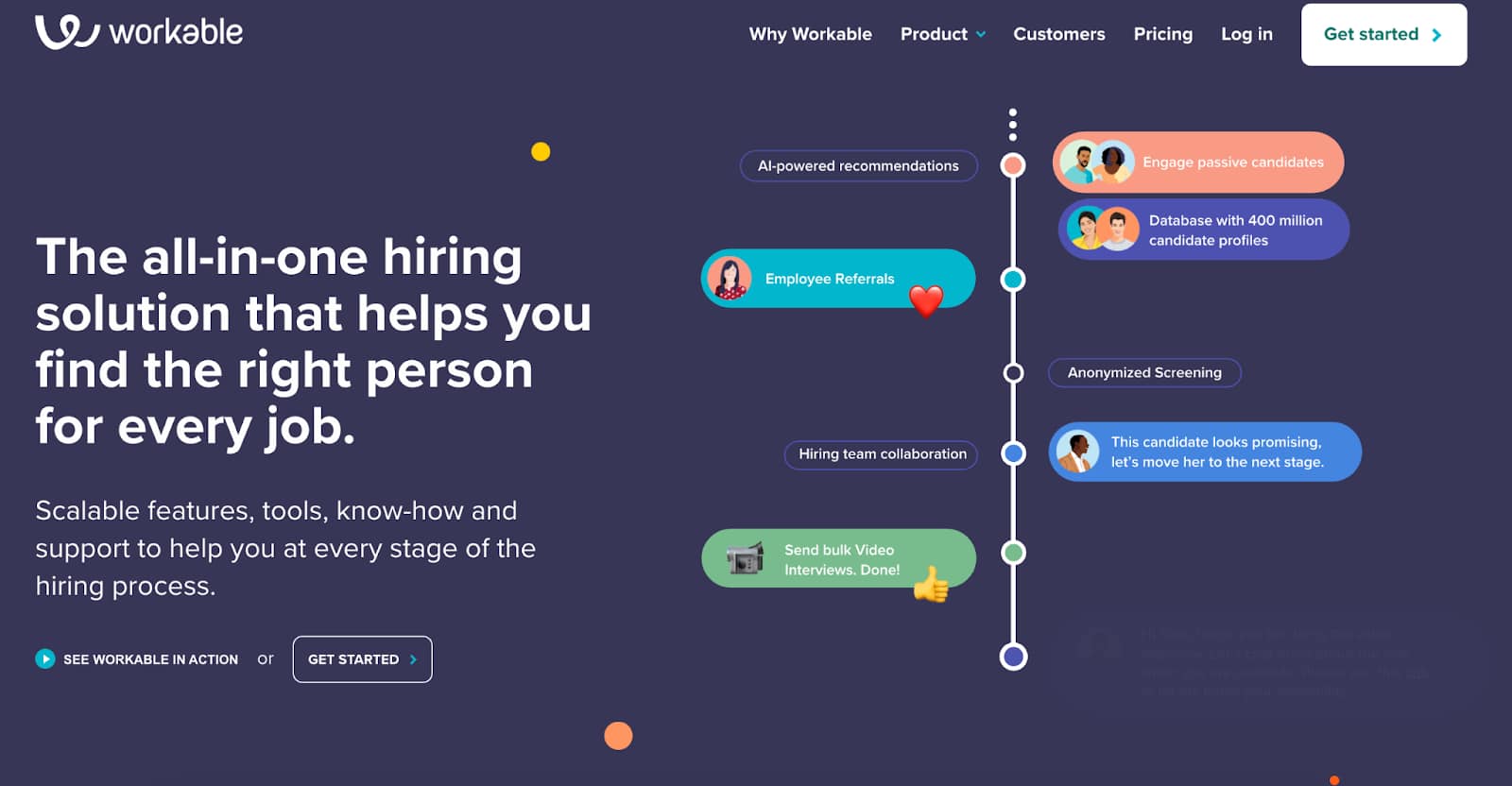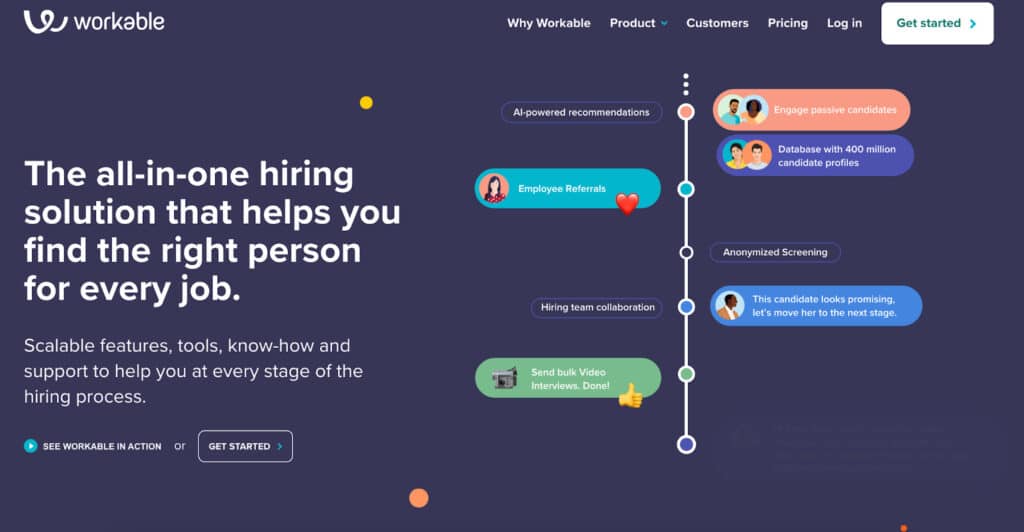 Workable combines machine learning and AI with more than 40 integrations in one extremely powerful hiring tool. Like Vervoe, Workable has a lot to offer beyond a simple sourcing tool: including access to a larger pool of premium job boards and levels of customization that helps small hiring teams collaborate over candidate shortlisting.
5. Ideal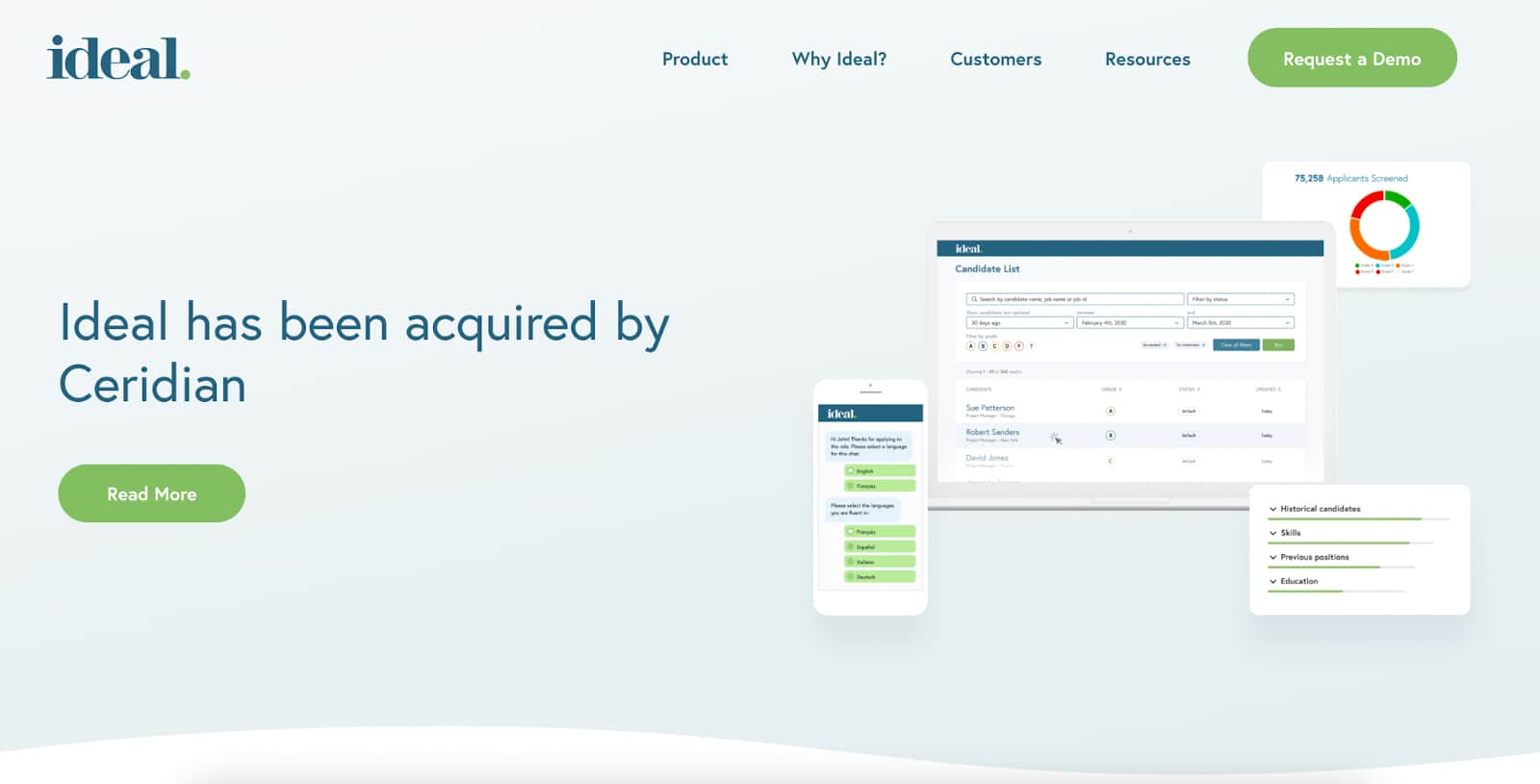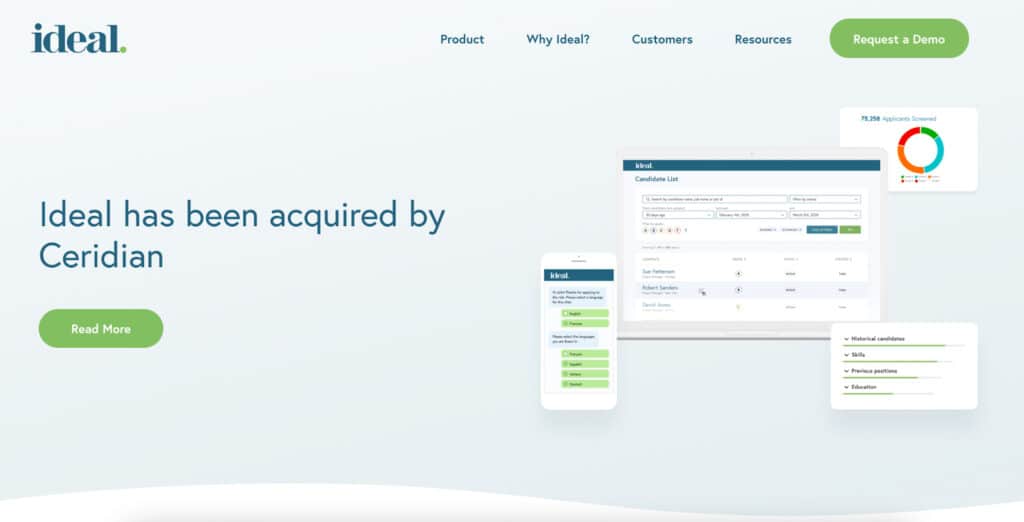 Ideal, recently acquired by Ceridian, is primarily a screening tool that also has shortlisting capabilities. It integrates with many popular applicant tracking systems to provide an algorithm that screens candidates using input from recruiter feedback, assessments, and candidate performance to improve over time.
Targeted sourcing tools
Finally, a separate category of shortlisting tools starts before the screening process. These sourcing tools aim to shortlist candidates through smarter job matching and on talent marketplaces. The goal is to create a pool of quality candidates who have skill sets that are as close as possible to the shortlist selection criteria.
While this method of shortlisting is comparatively weaker than using the other two categories of shortlisting software, it can still reduce a recruiter's time-to-hire. Here are two tools that can help with targeted sourcing.
6. Hired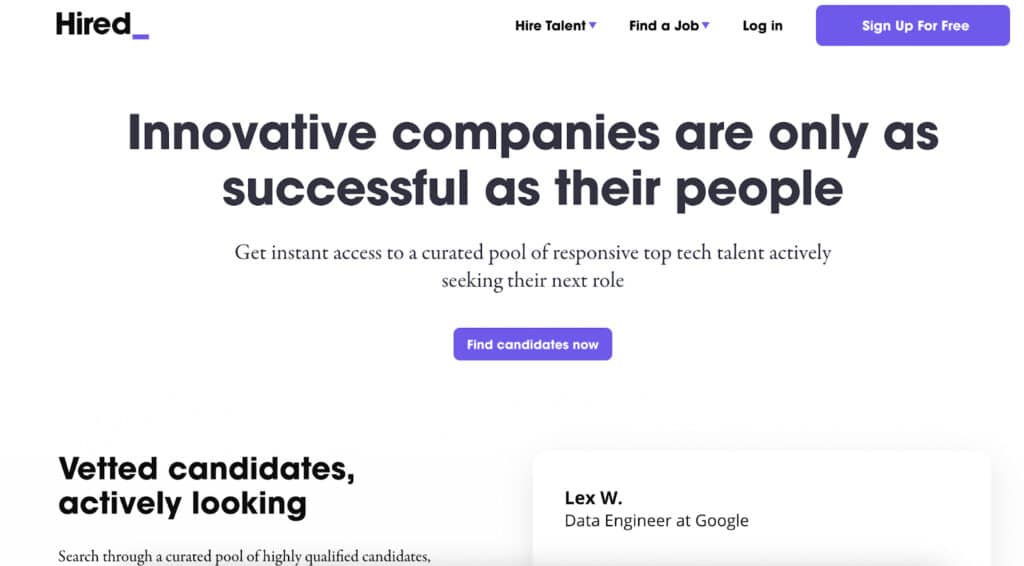 Hired is a website that offers pre-vetted candidates. This means that to even view jobs through the platform, candidates have to go through a process of vetting that verifies their experience, skills, and salary requirements. In theory, recruiters who are not hosting a high-volume hiring event can simply create their shortlist from the applicants collected through Hired.
7. SquarePeg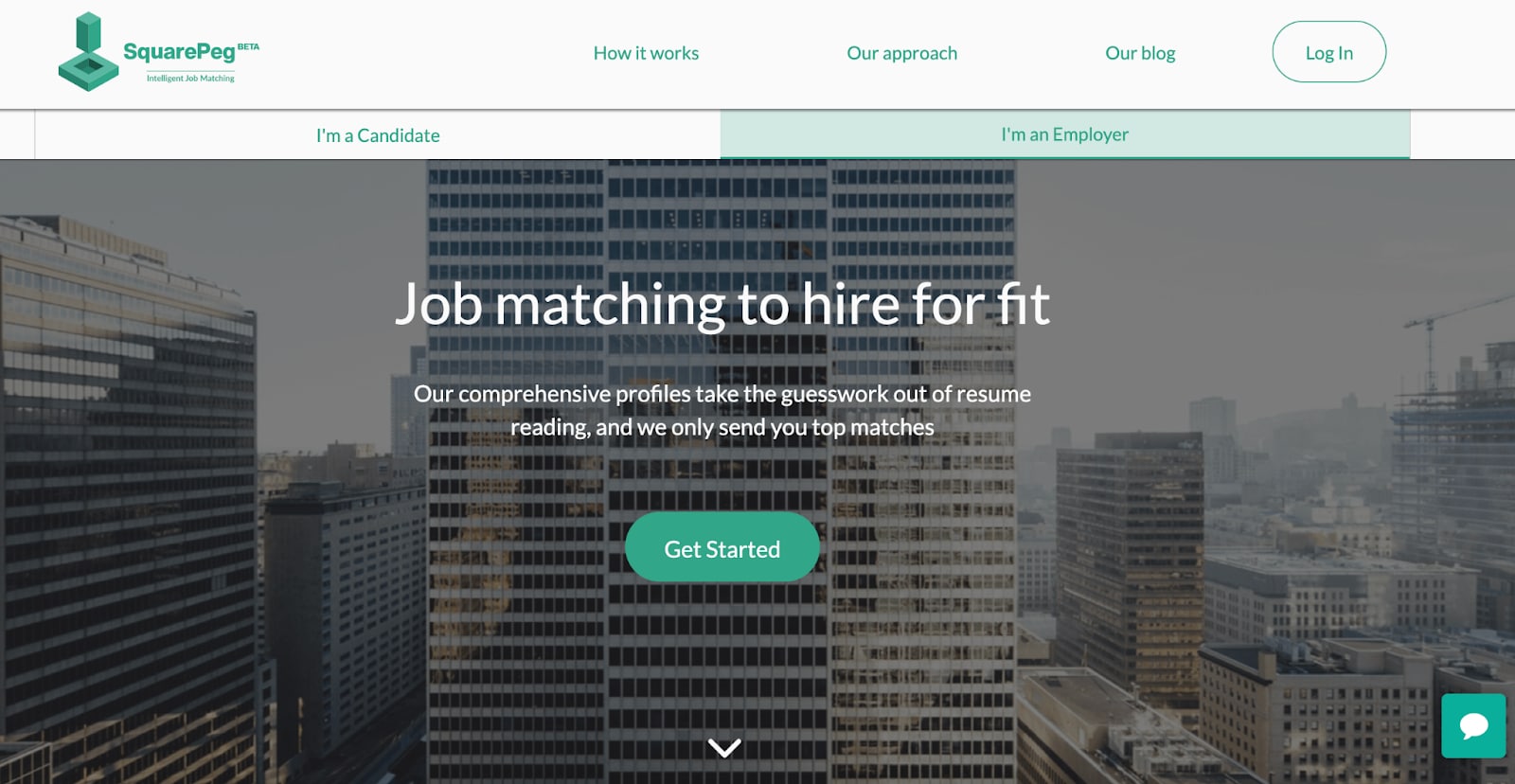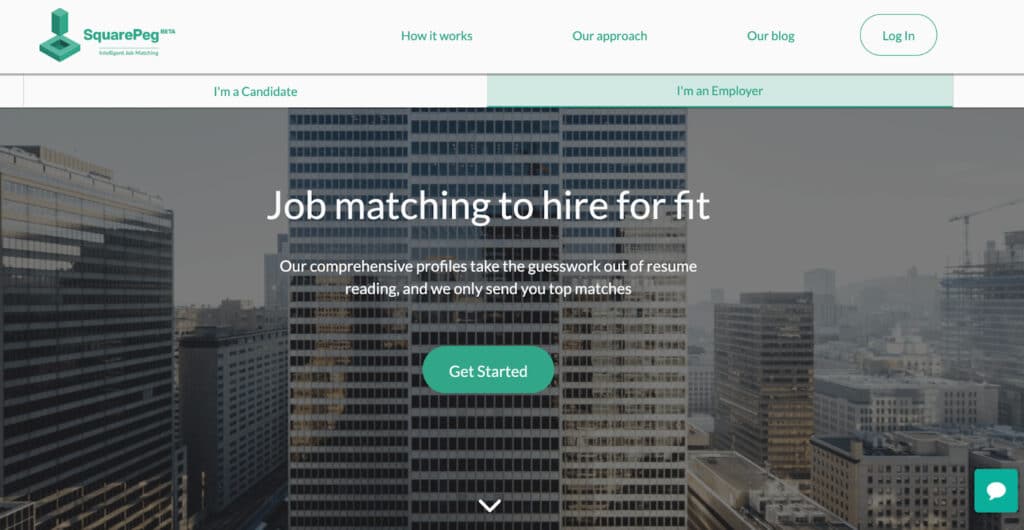 SquarePeg is both a shortlisting tool and service that does some of the upfront screening for you. The software uses a job matching algorithm that takes in hundreds of data points to find the top candidates specific to your company. The result is that SquarePeg sends a shortlist directly to your recruiting team. The downside? You'll have to get your shortlist criteria right — and you'll never see candidates who you may have missed out on if you get your criteria wrong.
Manual shortlisting tools
If you decide to create a candidate shortlist by hand, these tools make it easy to stay organized and share data amongst your hiring team.
8. Trello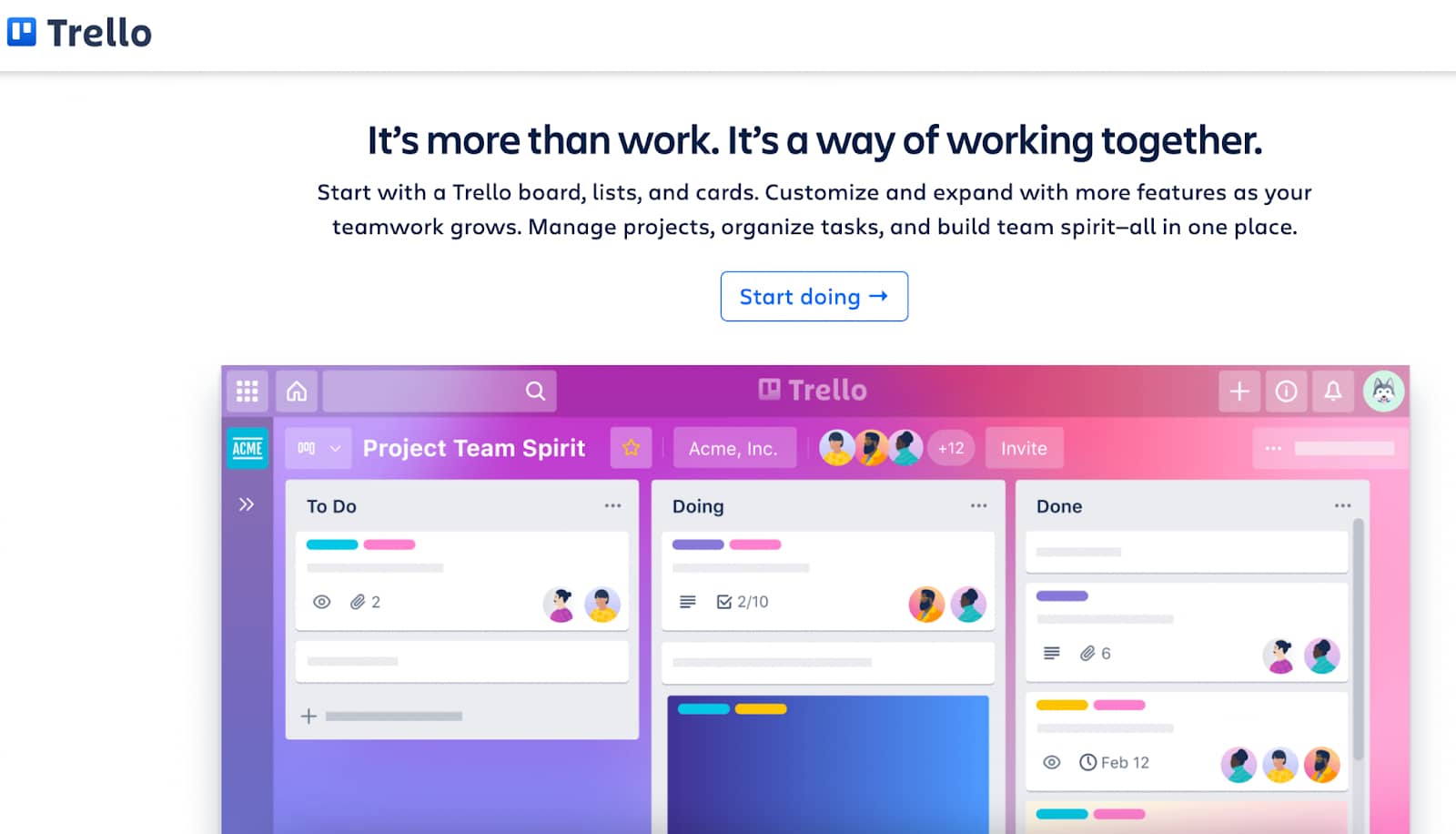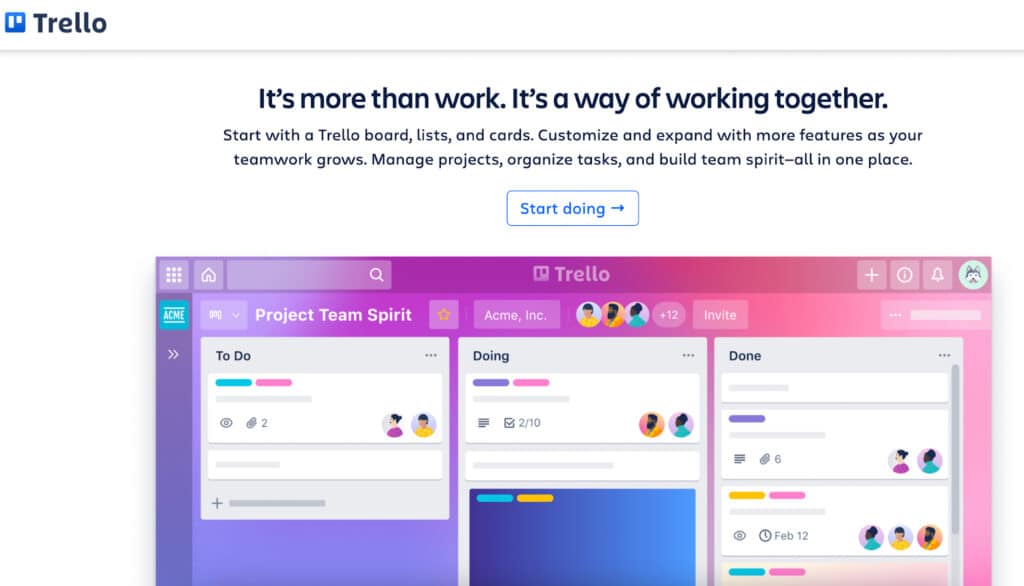 Trello is a project management tool that's also great for candidate shortlisting and managing the overall hiring process. Recruiters can create a Trello card for each candidate, capturing their application and contact details, and then move them along the hiring process as each candidate is vetted. This platform requires more manual input than many of the other shortlisting tools, but it also allows all members of the hiring team to see where candidates are in the process and align on the best candidate easily.
9. Google Sheets + Shortlisting Matrix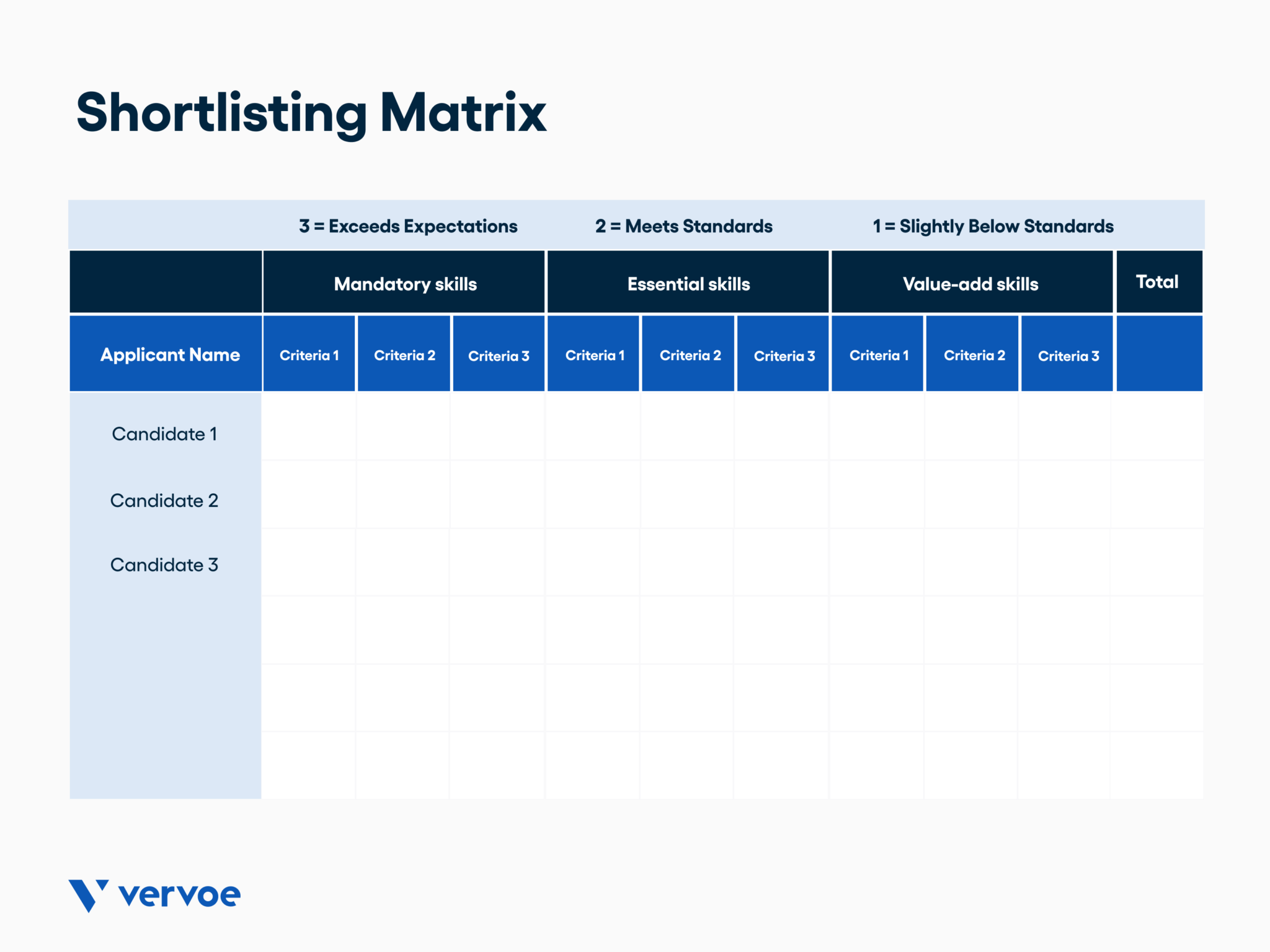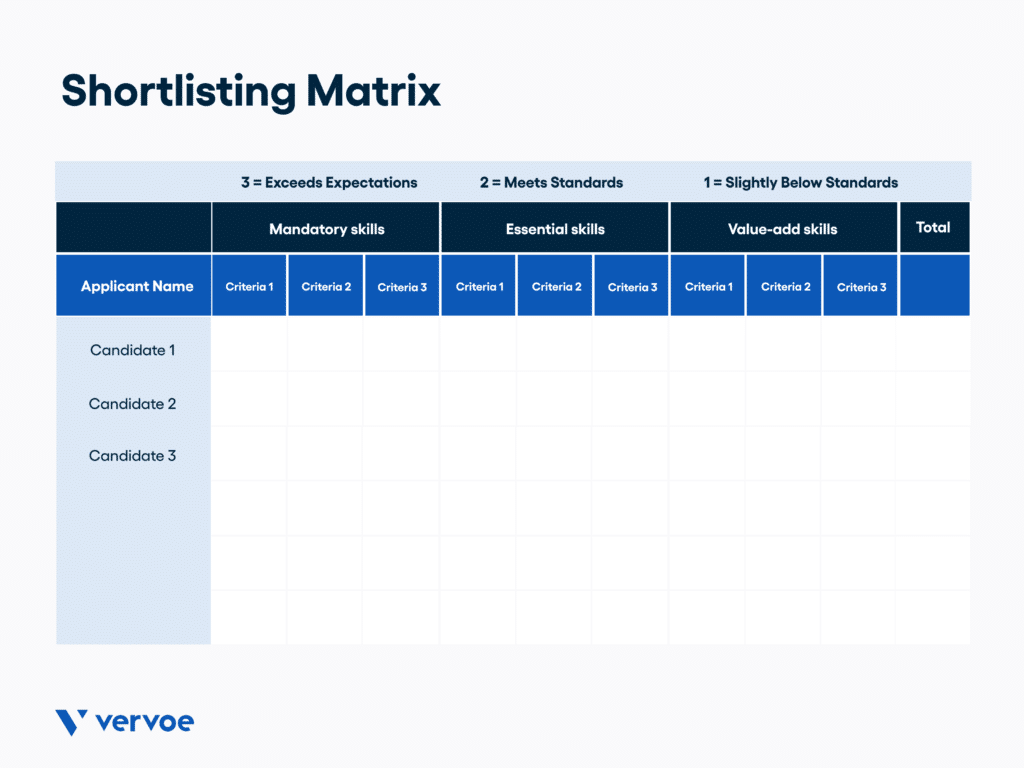 Vervoe's free candidate shortlisting matrix provides an easy spreadsheet for scoring and keeping track of each applicant's skills. Add your mandatory, essential, and value-add skills in each column. Then, score each candidate on a scale of 1 – 3 based on their level of expertise, with one being slightly below expectations and three being above expectations. Score candidates using these criteria and move top scorers to the candidate shortlist.
Ready to start shortlisting candidates? Sign up for a free trial of Vervoe today.